When it comes to Roma tomatoes, there is some confusion about whether they are determinate or indeterminate. In this blog post, we will explore the characteristics of both types of tomatoes to help you make the best decision for your garden.
Are Roma Tomatoes Determinate Or Indeterminate?
Answer: Roma tomatoes are determinate. They're the preferred choice for home and commercial growers as they are easy to grow, have good yields and are easy to harvest. You can also estimate the number of tomato fruits each of your tomato plants will yield for you.
What's the difference between determinate and indeterminate plants?
Determinate tomatoes grow to about 2 inches in size and can be harvested when mature. These tomato plants continue growing until they reach a determined height and are ripe for picking; then, they will stop producing new fruit. Determinates generally yield very well, although there are arguments that the indeterminate type yields more than it.
The indeterminates continue producing until frost cuts off pollination; this means there's no way of knowing how much fruit will grow in advance. Commercial growers grow either of the two, although the determinate tomatoes are make planning easy.
How tall do Roma tomato plants grow?
The plant grows to be about 4 to 6ft tall (about 48-inches) with a width of about 18-inches. The height varies depending on the strain and environment they are grown. You need to meet the right conditions for growing a tomato plant if you want a good yield.
How long does it take for Roma tomatoes to grow?
Ideally, it takes about 70 to 80 days for the Roma tomato plant to grow fully. It usually takes about eight weeks for the plant to germinate from the seed you've planted. You can grow the plant in tomato pots or grow bags and transplant them when necessary.
Tips For Growing Roma Tomatoes
I've heard a handful of people asking, "is it hard to grow Roma tomatoes"? It's not hard, but you must meet certain conditions for your plant to grow well. We've outlined some tips for growing Roma tomatoes. In general, it's the same process and requirements for growing almost all other tomato plants.
Finally
If you are looking for a determinate, high-yielding tomato variety that is easy to estimate the yield and grow, Roma tomatoes may be the right choice for you. There are many different Roma varieties to choose from, so do your research and find the one that best suits your needs. With a little bit of preparation and helpful tips like those in this article, you can successfully grow your own Roma tomatoes.
What variety of Roma tomatoes are you planning on growing in your garden this year?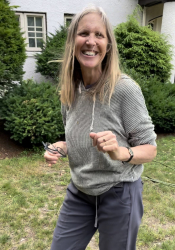 Latest posts by Jessica Zander
(see all)
Hello! I'm Jessica Zander, a garden coach and consultant based in the Boston area (zone 6b), offering virtual consultations across the country and Canada.
I've been passionate about gardening since the early 1990s, and in 2022, I launched You Can Do It Gardening to empower individuals to feel more confident in their gardening endeavors.
Following a 30-year career in nonprofit finance and operations, I transitioned out of that field in mid-June of 2023 due to the growing demand for coaching services. Interestingly, my years of presenting financial statements to boards and finance committees proved to be valuable experience for teaching people about gardening! I enjoy sharing skills, providing guidance and suggestions, and collaborating efficiently with clients to make significant improvements to their outdoor spaces, both small and large. I also regularly teach at the Arlington Continuing Education and Cambridge Adult Education.
My approach is direct and practical, akin to Mary Poppins, but tailored to your garden. Clients find satisfaction in saving money and taking pride in their own gardening achievements.