During the winter season, snow removal can be a very difficult task. And if you do not own a snowblower then choosing between the Ariens vs Simplicity snow blower while purchasing one can be a tough choice. The best snow blower will easily remove a heavy amount of snow without worrying about the load its engine takes.
We have made an in-depth analysis of both the Ariens and Simplicity to list down their features. You will be able to learn about their engine types, engine brands, pros and cons of both the brands, prices, best used for, and strengths/weaknesses.
If you are having a hard time deciding the suitable snow blower for your personal use then read below and make it easier for you to choose. Let's get started!
Which Is Better: Ariens Or Simplicity?
Ariens and Simplicity both have their strengths and weaknesses in a product. While one shines in a certain condition, the other can overtake it in another area with its exclusive features.
It all depends on your use and requirements for snow removal which makes Ariens or Simplicity the best choice for the situation. We have narrowed down the choices and tried to clear the confusion with the details below. Read about it!

The Ariens PAth Pro is a high-performance machine suitable for snow of 6 inches in height and above. The auger-propelled system keeps the speed in control as per your directions and allows easy adjustments to the speed.
The easy push-button electric start provides a smooth ignition experience even during extremely cold conditions.

Simplicity snow blowers are considered the best snow blowers by many due to their lightweight build and ease to use. If you love to own a snow blower that is versatile while easily operatable then the Simplicity snow blower is your best choice!
Snow Blower Feature Comparison
Here is a quick comparison between the both. You may choose as per your use or preference!
Ariens Path-Pro

Snow Blower

2 years of residential use.

90 days of commercial use
Which Is The Most Reliable Snow Blower Brand?
If maintained with a proper care routine, both machines can deliver reliable results and can last for more than twenty years with a minor issue to tackle.
Who Makes The Engines For Simplicity And Ariens?
The engine is the most critical component and the powerhouse of the snowblower. It drags the auger through light and heavy snow with the raw power that it channels to the machine. High-powered engines are the best to throw snow to long distances with ease.
Let us see what engines powered both brands!
Ariens Engine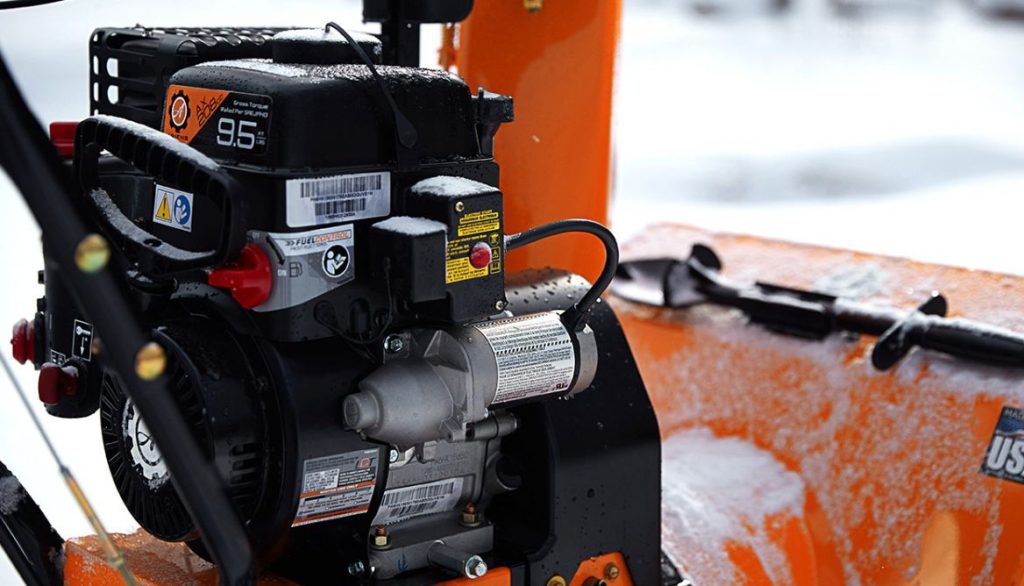 The Ariens manufacture their engine known as the Ariens AX engine. The Ariens AX engine is known for its power, build quality, and cost-effectiveness. It is easily capable to throw about 57 tons of snow per hour.
Their engines integrate the LCT (Liquid Combustion Technology) that enhances the overall performance and it has earned them the reputation of being the best in the market.
Simplicity Engine
Simplicity snowblowers are powered by the Briggs & Stratton Snow Series Engine. Extreme cold temperatures are not an issue for these engines. They can easily operate in temperatures lower than -20F.
In addition, a cast iron sleeve enhances its durability while enabling it to withstand wear and tear with ease.
Chassis Build Quality
Both of the brands make use of the steel frame chassis. To join the body to the chassis, bolts are used to secure them together. Although, the Ariens build their snowblowers with a rather unique feature that allows the handles to fold inwards and allow it to be easily stored while occupying less space.
Warranty
If you purchase any of the brands, you get a 2-year warranty by default from the company. While Simplicity does not offer any added value, Ariens gives their customers a choice to extend the warranty to a total of 5 years at the time of purchase.
Customer Support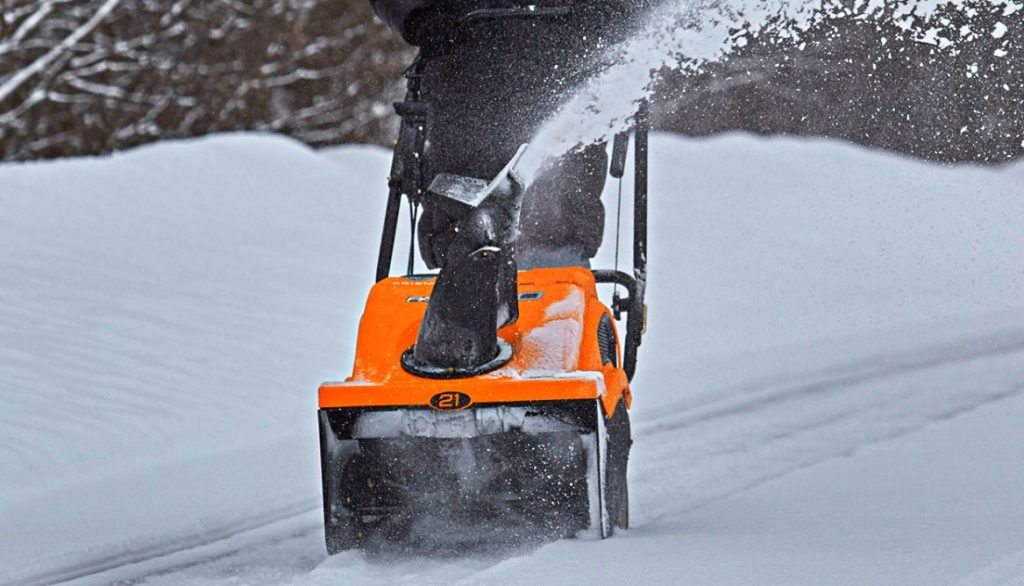 Simplicity and Ariens offer customer support that is a standard for any purchase. And any type of issue can be easily reported to the agent on call.
If you are using Ariens then making an account with them will allow you to access the customer support option. This will allow you to keep track of any of your purchases to be viewed in the future if needed.
Simplicity makes things easier by providing a toll-free number to all their customers to report any issues. You can also consult the directory to get in touch with a dealer near you for an in-person consultation about the issue.
Is the Ariens Customer Support Good?
Sometimes getting a minor quick fix is all you need! To make an account, signing in, and then waiting for a representative to contact you can be a rather bigger problem.
Although, with an account, you may be able to communicate your issue in a much clear manner as the product details are already displayed in front of the representative.
Is Simplicity Customer Support Good?
Simplicity tends to have a more direct approach. The toll-free number allows quick and uninterrupted communication with a customer care representative.
The number is easy to find and if you want an even more direct approach then visiting your local dealer can solve the issue within a few hours with a reliable result.
Who Makes The Best Two-Stage Snowblower?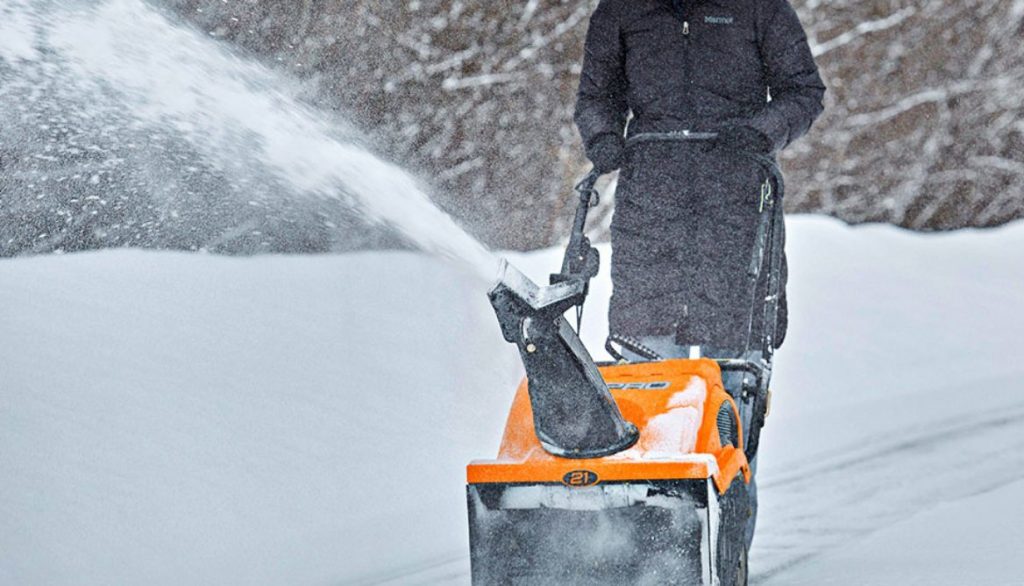 If you are going to choose a two-stage snowblower then better to keep some of the important features in mind. Powerful engine, durability, cost, clearing width, and throw distance are some of the notable features that have to be kept into consideration when opting for one.
The Ariens is famous for manufacturing top-quality products with high-grade materials and availability of parts on the go. While Simplicity has a larger Briggs & Stratton engine fitted into the snowblower for added power.
If you are a regular user and worried about parts replacement and availability then the Ariens is your best choice. Else, Simplicity is an excellent option!
Simplicity Snow Blower Reviews: Are They Effective?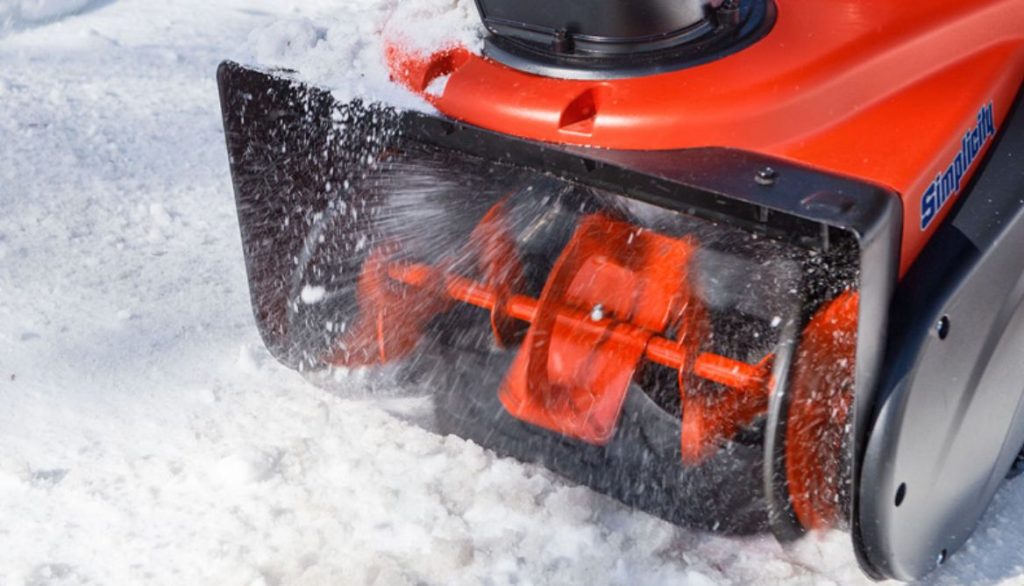 The Simplicity Single Stage Snow Thrower is a very versatile snowblower that offers the user unmatched perks when using it for light or heavy jobs.
This snowblower is a small-sized professional series model making it exactly the type of snowblower you need for heavy and difficult jobs that other machines cannot do. It is perfect for any type of residential snow removal job with ease.
If you have a large area for snow removal then it is not a problem for the Simplicity Single Stage Snow Thrower! Mild to heavy wet snow level during extremely cold months is not a big deal for this snowblower.
If the high level of snow is covering till the end of the driveway then bring out this beast to get rid of the snow in a matter of minutes.
Simplicity Single Stage Snow Thrower. 22″ 11.5HP. Model 1696755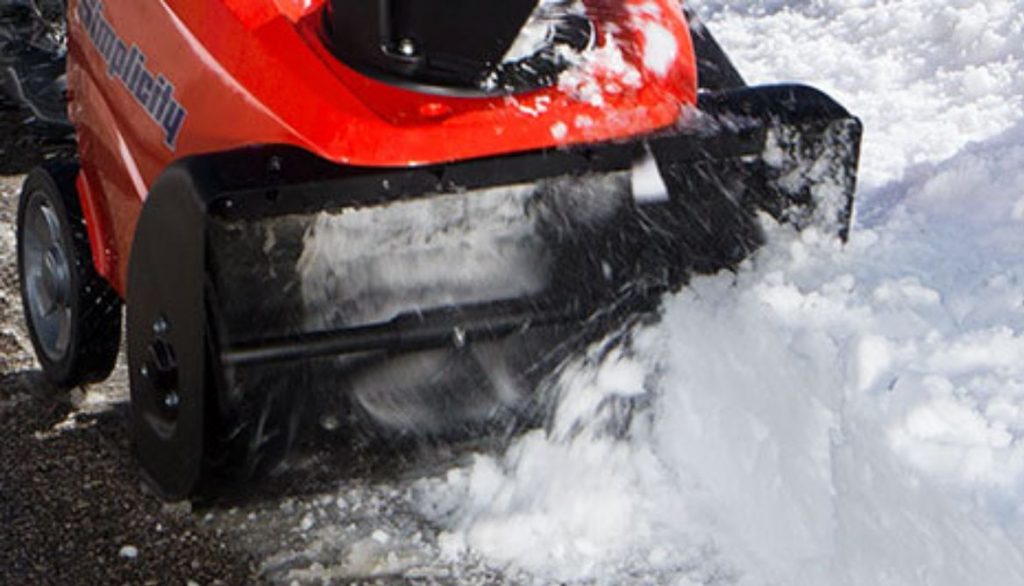 Providing efficient and quick snow removal, this single-stage snowblower is one of the best choices if you are looking for a lightweight and quick machine for snow removal!
Engine Specifications:
CC: 250 CCs
Engine Brand: Briggs & Stratton Snow Series
Engine Type: 4-Cycle OHV
Fuel Tank: 0.8 Gallons
Starting System: 120-Volt Electric /w Recoil
Torque: 11.5 lbs
 Auger Details:
Auger Diameter: 10 Inches
Auger Material: Polymer with Serrated Steel
Chute Material: Plastic
Chute Rotation: Electric
Clearing Width: 22 Inches
Impeller Diameter: 10 Inches
Intake Height: 12.5 Inches
Max Throwing Distance: 30 Feet
Stage Type: Single-Stage
Turning Radius: 200 degrees
Type Details:
Tire Type: Plastic Wheel
Tire Size: 8″ x 2″
Other Features:
Interlocking Controls: No
Remote Deflector Controls: No
Hand Warmers: No
Headlight Type: Halogen
Dimensions and Warranty:
Commercial Warranty: 90 Days
Consumer Warranty: 3 Years
Dimensions: 44.0L x 22.75W x 40.75H
Weight: 98 Pounds
Simplicity Snow Blowers: How Do They Work?
Simplicity snowblowers or snowthrowers have engines that are gas-powered while the headlights are electronic. If you are living in an area that has snowfall of 12 inches or less, then a single-stage snowblower will be an ideal choice.
These are easy to handle and lightweight making them quick to turn and cut corners quickly. A Single-stage snow blower is suitable for small to medium-sized clearing light and wet snow with ease.
The auger on the snowblower is responsible for cutting through the thick snow with its drill-like mechanism that assists with chewing the snow and throwing the collected snow to a distance of up to 35+ feet.
In most models, the auger gets into contact with the surface while moving forward. Keep in mind to not operate the snowblower on surfaces that have rocks or gravel. This will damage the auger or the housing of the snowblower.
Perks
It has a robust build and durable design that will ensure it last for many years.
The snowblower can be fitted with different accessories to make you work faster and smoother.
The ease of use for the snowblower is fantastic. And you can without any hassle operate it using all the features it offers.
The snowblower is known for its reliable performance that lasts for years. And it is an extremely high-powered snowblower.
Simplicity Snowblower Problems
If you are working on a slippery surface then the skid shoes do not balance the machine well. This proves to be a hassle on solid ice or wet snow.
The switches for the electric chute may freeze in extremely cold conditions. Making it difficult to make use of the switches.
How To Use Simplicity Snow Blower?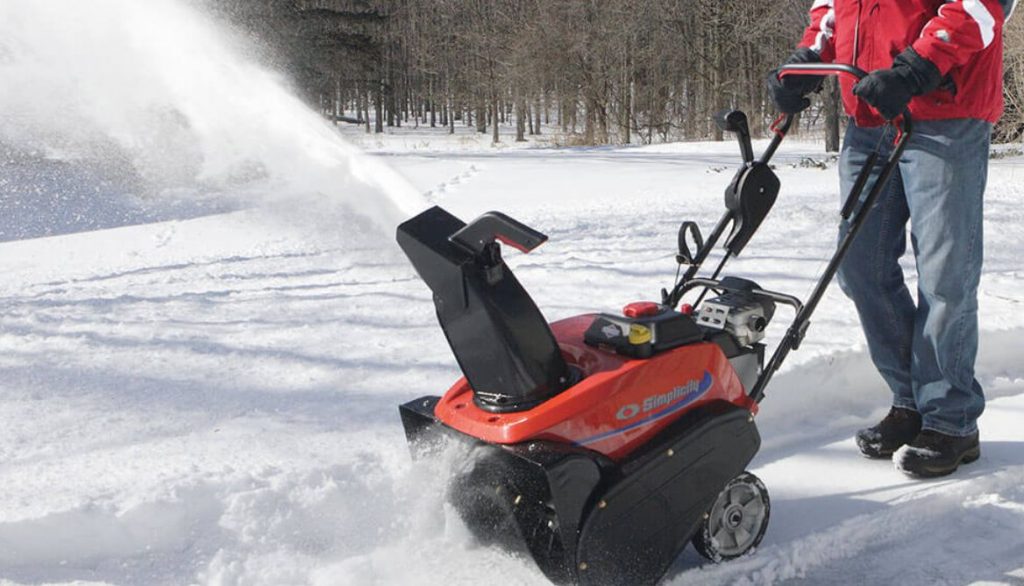 Gas-powered snowblowers such as models of Simplicity can be easily operated. But there are so Do's and dont's when making use of these versatile machines. Here are the steps on how to easily operate a Simplicity snowblower with ease:
First, you need to fill up the gas tank of the snowblower and plug it into a port if it has an electric start feature.
Now you need to adjust the height of the anti-skid shoes to tread on slippery surfaces easily.
Use the left-hand controls to move forward or reverse the snowblower while the right-hand controls allow engaging the snowblower.
Now you can use the left stick and the right stick to adjust the chute. Use the right stick to adjust the direction of the chute while using the left stick to set the height as per required. Some notches can lock the sticks in place during operation to avoid any mishap.
Throttle all the way up now.
Double-check that the key for the tank is in the proper place. Now press the primer button three times.
Make sure that the grey choke under the primer is pushed all the way to the other side.
You now have to start the engine by using the red button on the side of the tank.
If your snowblower does not have an electric start option and you are using the cord-pulling feature. Then ensure that you pull the cord handle very gently to start the engine of the machine.
Once you hear the sound of the engine, now return the choke to its place and you are all set to use the machine.
Precautions/Direction for Use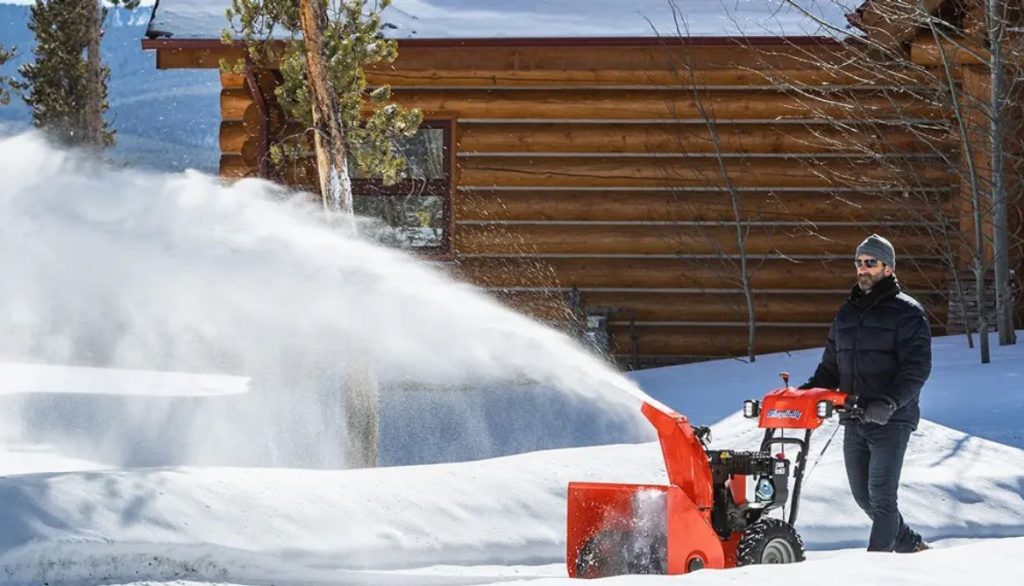 Here is a list of precautions you need to take while using the Simplicity snowblower:
Ensure that the fuel shut-off switch shows "on" and the gas tank is filled.
Do not use fuel that has been in the gas tank for a very long time.
Setting the throttle to 3/4 speed or higher will help you achieve the best results while clearing any height of snow.
Check if the throttle is set to full mode. This will help you to use the machine during extremely cold temperatures with ease even if there is a restriction in the air intake.
If your snowblower uses a key for ignition then insert the key or the snowblower will not start.
Frequently check the spark plug to avoid any hassles. If there is a crack in the porcelain insulator then change it. In case of burning, heavy carbon deposits, or damaged plug make sure to change it.
If you notice that the spark plug is wet due to fuel flooding. Then clean it thoroughly. Then turn the engine multiple times then insert the plug again.
Recheck if the carburetor is clogged or not with fuel if the snowblower has not been in use for a long duration.
Choosing a Simplicity Snow Blower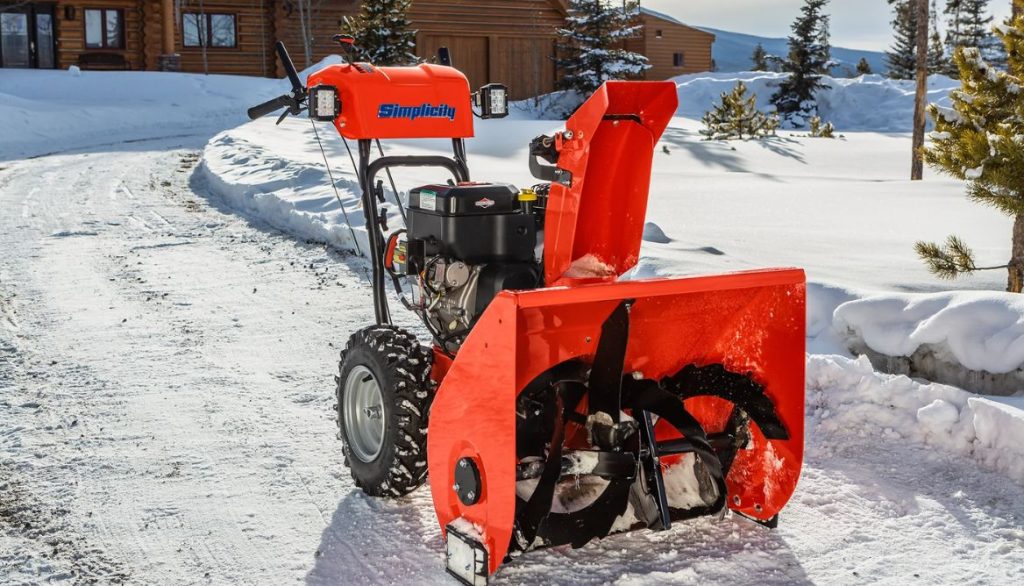 Want to know about the small details of the Simplicity snowblower before choosing one? Read the details below to know more!
Steel Chute Rotation
The steel chute rotation has two main functions, firstly it will help to keep the snow blower safe from debris that can pass through the auger and out of the discharge chute. Secondly, it will allow you to easily avoid blowing snow on certain things such as cars, people, or other houses.
Free Hand Control
Some Simplicity snowblower models have the electric chute rotation feature allowing you to control the machine with one hand while taking control of the direction and angle of snow discharge with the other hand.
This makes it very easy for the user to manage multiple tasks at a time. You simply do not have to be a professional to perfectly remove the snow using a Simplicity.
Easy-Turn
The easy-turn option on the snowblower is like the power steering feature of a car that has been fitted into the snowblower. It is easy! You just have to pull a trigger to release the power from the left wheel. This speed adjustment allows you to easily maneuver through tricky turns and corners.
Power Boost
The Power Boost feature is only in the professional models of the Simplicity snow blowers. This feature will automatically adjust the power to the auger and impeller. The power distribution is estimated according to the density and depth of the snow.
The feature is especially helpful while operating the machine in heavy wet snow or over a snow-packed mound on any type of surface.
Headlights
If you are a working person and you can't remove snow during the day. Then worry not! All two-stage snow blowers are fitted with high-powered halogen headlights that will illuminate your way.
You can work during the night and depend fully on reliable headlights without worry.
Verdict: Ariens Vs. Simplicity Snow Blower
The Ariens take the lead here! The Ariens AX engines have the LCT feature that gives them an edge over the Simplicity engines.
The build quality of the Ariens is much better than the others. Also, the auger design, clearing width, clearing height, and throw the power of the Ariens is way much better than any Simplicity snow blower.
The availability of the parts of the Ariens is also guaranteed and to top it off the parts are very cost-effective.
FAQ
Who makes Simplicity snow blowers?
Simplicity snow blowers are made by the company of the same name "Simplicity®" which is situated in Wisconsin, USA.
What engine is in a Simplicity snowblower?
The snow blowers are powered by Briggs and Stratton engines. One of the best-known engines around the globe for its quality and power.
Which is a better snowblower Ariens or Simplicity?
Simplicity snow blowers might be great. But Ariens has a very reputed image among the audience. Ariens is well-known for its LCT-manufactured engine and high-grade steel walled housing that can easily make its way through any level of snow.
Is Ariens a good brand snow blower?
Ariens is a very reliable brand in terms of cost, quality, and build quality. If you are looking for a snowblower that can cut through any type of snow then go for the American-made Ariens without a second thought.
What is the best time of year to buy a snowblower?
The best time to start hunting for the best snowblower deals is between August to October. It is best to be fully equipped to battle the snow during the extreme winter. Do your research and buy a suitable snowblower according to your region.
Conclusion
At the end of the day, it all depends on your use and requirements which will decide the type, brand, and size of snow blower you will use. If you want to remove snow from a small or medium-sized area then a single-stage is enough. But if a larger area needs clearing then the two-stage snow blowers will be an excellent choice.
This article narrows down the strengths and weaknesses of both brands making it easier for you to choose according to your need. Which one did you choose from both and what helped you make up your mind in choosing the Ariens or Simplicity? Let us know in the comments section. Your valuable feedback will help everyone!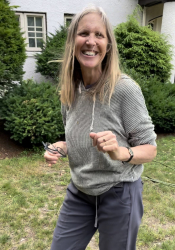 Latest posts by Jessica Zander
(see all)
Hello! I'm Jessica Zander, a garden coach and consultant based in the Boston area (zone 6b), offering virtual consultations across the country and Canada.
I've been passionate about gardening since the early 1990s, and in 2022, I launched You Can Do It Gardening to empower individuals to feel more confident in their gardening endeavors.
Following a 30-year career in nonprofit finance and operations, I transitioned out of that field in mid-June of 2023 due to the growing demand for coaching services. Interestingly, my years of presenting financial statements to boards and finance committees proved to be valuable experience for teaching people about gardening! I enjoy sharing skills, providing guidance and suggestions, and collaborating efficiently with clients to make significant improvements to their outdoor spaces, both small and large. I also regularly teach at the Arlington Continuing Education and Cambridge Adult Education.
My approach is direct and practical, akin to Mary Poppins, but tailored to your garden. Clients find satisfaction in saving money and taking pride in their own gardening achievements.