Compost is an excellent addition to any kind of garden; it improves the health of the garden and promotes strong roots and plentiful harvest. It is no secret that plants need a lot of nutrients and vitamins like humans; compost is like a nutrient source for your garden. Apart from its benefits to your plants, compost also helps to properly dispose of materials that would have otherwise been wasting in the garbage. If you're considering adding compost to your plants and you're looking for the right compost bin for you, then this article is for you.
Sale
FCMP Outdoor HF-DBC4000 Tumbling Composter
This octagonal-shaped composter is recommended for anyone looking for functionality, ease of use, and design. It offers 37 gallons of composting space in its two separate chambers. The dual chambers allow you to compost different materials at different times without ending one composting process abruptly.
---
Comparison Table – Compost Bins
| | Compost Bin for Beginners | Material | Size (gal) |
| --- | --- | --- | --- |
| 1 | FCMP Outdoor HF-DBC4000 Tumbling Composter | Plastic | 37 gallons |
| 2 | D.F. Omer Garden Composter Bin | Polypropylene | 110 gallons |
| 3 | Algreen Products Soil Saver Classic Compost Bin | Plastic | 94 gallons |
| 4 | Third Rock Kitchen Compost Bin | Carbon Steel | 1.3 gallons |
| 5 | VIVOSUN Dual Rotating Tumbling Composter | Galvanized Steel | 43 gallons |
---
Buying Guide – Compost Bins
There are many compost bins in the market today that it could get confusing to decide which is the right option for you. Here are some factors to properly consider before making the final decision on the right compost bin; these factors will ensure you get the perfect fit for your needs.
Composting Method
Before purchasing a compost bin as a beginner, there is a need for you to put into consideration the composting method you plan to use. Although both methods will provide you with nutrient-rich compost for your lawn or garden, each method decides just how much space you would need in the compost bin to be purchased.
The conventional composting method usually includes missing organic waste together like shredded newspaper, dead leaves, grass clippings, coffee grounds, weed, and many more. The warm composting method, on the other hand, is the use of red wiggler warm to consume the waste and then produce castings as compost. These castings, which are worm manure, are exceptionally rich in phosphorus, nitrogen, and several other micronutrients. The warm composting method usually requires small bins, while the conventional method goes best with large bins because it needs lots of air and moisture.
---
Best Compost Bins For Beginners: Top Picks
Composting has always been a great way to transform waster into rich fertile soil for your garden. It is a good alternative for anyone looking for a more eco-friendly way to garden or give their garden a nutritious boost. If you're confused about the right compost bin for you amongst the many available in the market, worry no more. We've narrowed the list down for you, and below is a list of the five best compost bins for beginners; let's take a look.
Sale
FCMP Outdoor HF-DBC4000 Tumbling Composter
Features: Plastic material, weighs 36.1 pounds, 37 gallons, steady nutrient-rich compost due to dual design, durable, great for patio use, made with top-quality material, well-constructed, lightweight, corrosion-resistant, and easy to use.
The FCMP Outdoor Dual Body Tumbling Composter is an excellent choice for your garden. Its dual design ensures that you have a steady supply of nutritious compost for your garden. The storage capacity of 37 gallons makes it ideal for medium households and it is made from recycled plastic. It features a steel frame that makes this bin is somewhat weather resistant.
This compost bin comes with aeration holes ensuring that your compost always gets enough air, and the internal tumbler ensures that the compost gets mixed adequately. It comes with large doors that can be detached allowing waste to be added and removed easily. Because of its dual design, the composting period can be speeded up as gardeners can simply collect waste in one bin as compost is being cooked in the second bin.
---
D.F. Omer Garden Composter Bin
Features: Made from recycled plastic, the storage capacity of 110 gal, lightweight, durable, easy construction, environmentally friendly, durable, and easy to construct.
If you're looking for a compost bin for your large garden, then D.F. Omer Garden Composter Bin might just be the right fit for your lawn or garden. This compost bin is easy to assemble and even easier to use; there is enough storage space to hold all your yard waste at the same time and make a massive batch of compost.
Dr. D.F. Omer's composter bin helps save the time of having to break down your yard waste and compost it in different batches. Its huge size however doesn't make this compost bin heavy as it is lightweight and environmentally friendly due to the recycled plastic used in its construction. This compost bin will always withstand different weather conditions and last users for a very long time.
---
Sale
Here's another environmentally-friendly compost bin worth your while. It comes with rugged construction and a large storage capacity that makes it an ideal choice for those looking for a large compost bin for their garden. Its dark plastic material helps regulate temperature and maintain moisture. In addition, it also features vent holds that helps to control odor.
Algreen Soil Saver Classic Compost Bin also comes with an open bottom so moisture and worms can enter the compost bin easily to enhance compost. The lid can also be detached easily so yard waste can be easily tossed in, and compost can be taken out with ease; it is also a self-watering locking lid that ensures animals stay out while air and water stay in. This compost bin will last its user for a very long time and offers you the best value for your money.
---
Sale
Third Rock Kitchen Compost Bin
Features: Made of carbon steel, 1.3-gallon storage capacity, weighs 2.4 pounds, lightweight, easy to use, durable, charcoal filter, and rust-resistant.
If you're on the search for an indoor compost bin, then this would be an ideal fit for your kitchen counter. This Third Rock Compost Bin is ideal for gathering those little kitchen waste like food scraps, eggshells, coffee grinds, peels, and many more and then turning them into nutrient-rich compost for your garden. This compost bin promotes zero waste and is very easy to use. Third Rock Compost Bin will fit perfectly on your counter or under the sink.
For those worried about the odor, this compost bin has got you covered with its charcoal filter that helps to keep the odor in. This means you don't have to worry about pests being drawn in by the smell; its carbon steel material also ensures that this compost bin serves you for a long time. It is also aesthetically pleasing and will therefore fit right into your garden. This bin is powder-coated to ensure that it doesn't scratch, chip, or rust while used. It is also easy to clean up after use for times when it isn't in use.
---
Sale
VIVOSUN Tumbling Dual Rotating Compost Bin
Features: Made of galvanized steel, 43 gallons storage capacity, weighs 26.8 pounds, durable materials, easy assemblage, and use, dark color for heat absorption, pest-proof, sturdy, and creative design.
Although last on our list, the VIVOSU Tumbling Composter is definitely not the least compost bin. It comes with a creative, smart design that makes it efficient and relatively easy to use and is made of galvanized steel, which makes it durable and ensures it lasts its users for a very long time. The bin is painted black to ensure it absorbs heat and retains moisture to improve the composting process. It is also pest-proof to ensure rodents and pests do not find their way into the compost bin.
This compost bin comes with air vents that promote air circulation and makes use that the compost gets adequate oxygen to prevent odor. The material used in construction also makes it sturdy and prevents any form of degradation and corrosion. It comes with a tumbling design that helps prevent having to mix the pile by hand while providing an easier and more efficient method of mixing the compost. The dual design also helps speed up the composting process as users can simply add fresh materials to one bin while compost is cooked in the other bin.
---
FAQs – Compost Bin
Do you need two compost bins? Although it is not necessary, it helps to speed up the process of composting and gives fibrous materials sufficient time to compose.
Should a compost bin be placed in the sun or the shade? Regular bins can be placed in the sun, but worm bins are best in the shade. However, bear in mind that sunlight is not what causes the compost to heat up but the microbes.
How far should the compost bin be from the house? Ten feet is just right; compost can attract flies and all kinds of bugs. Ten feet is just enough distance to place your compost bin from your home.
Do compost bins need water? The compost needs to be moist. If the compost is too dry, it might take a while to compost, but two wet and the compost might begin to smell. If you find the compost dry, you can boost it along by adding water and mixing thoroughly.
---
Final Words
If you want to save money or you're just looking for a more environmentally friendly method of fertilizing your garden or lawn, then composting is the best choice for you. There are so many options available in the market, but to save you time, we've compiled the top five compost bins for beginners to make it easier for you to make your choice. If you put the factors listed in the buying guide into consideration, you're sure to find what you're looking for.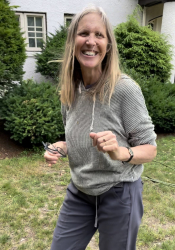 Latest posts by Jessica Zander
(see all)
Hello! I'm Jessica Zander, a garden coach and consultant based in the Boston area (zone 6b), offering virtual consultations across the country and Canada.
I've been passionate about gardening since the early 1990s, and in 2022, I launched You Can Do It Gardening to empower individuals to feel more confident in their gardening endeavors.
Following a 30-year career in nonprofit finance and operations, I transitioned out of that field in mid-June of 2023 due to the growing demand for coaching services. Interestingly, my years of presenting financial statements to boards and finance committees proved to be valuable experience for teaching people about gardening! I enjoy sharing skills, providing guidance and suggestions, and collaborating efficiently with clients to make significant improvements to their outdoor spaces, both small and large. I also regularly teach at the Arlington Continuing Education and Cambridge Adult Education.
My approach is direct and practical, akin to Mary Poppins, but tailored to your garden. Clients find satisfaction in saving money and taking pride in their own gardening achievements.