If you're thinking of growing tomatoes in a fabric container or you're already growing them, this review of the best grow bags for tomatoes is for you. The other bags we'll be reviewing are listed in the table below. We also talked about potato grow bags in another post. Want to make compost? You need a good rake!
VIVOSUN Grow Bags
If you're in a hurry, the best grow bags for tomatoes are the VIVOSUN Grow Bags. It is available in a plethora of sizes, it's strongly built, and darn affordable. The bag is made from tough fabric materials.
---
Comparison Table
| | Best Grow Bags | Material | Best For |
| --- | --- | --- | --- |
| 1 | VIVOSUN Grow Bags | Fabric | All plants |
| 2 | 247Garden Grow Bags | Fabric | All plants |
| 3 | ECOgardener Grow Bags | Fabric | All plants |
| 4 | iPower Plant Grow Bags | Fabric | All plants |
| 5 | GardZen Grow Bags | Fabric | All plants |
| 6 | Smart Pots Grow Bag | Fabric | Large plants |
| 7 | Green Valley Supply Felt Grow Bags | Felt | All plants |
---
Buying Guide – Grow Bags
For the next few minutes, you'll learn a few things that you should take into consideration when shopping for the best plant grow bags.
What Type Of Plant do You Want To Plant?
The type of plant you intend to plant can greatly influence the type of grow bag you end up buying. Some plant grow bags are designed specifically for growing tomatoes, potatoes, trees, vegetables, etc. What you want to grow will guide your choice.
Material
Grow bags are made from felt or fabric materials; these are the two most popular ones. We'd advise sticking to these two for your grow bag needs.
Size
Grow bag sizes range from 1-gallon to up to 1,000-gallons as we saw in the review of the best grow bags above. Look at the available sizes, and opt for the one slightly bigger than what you need. Thus, if you need a grow bag of 3-gallons, opt for 4 or 5-gallons. Ever thought about growing your tomato plants in a raised bed?
Color
Color isn't really an important factor. However, if you're bored with the conventional black color, then you should look at other available colors like green and tan. Is it possible to fertilize tomatoes with Epsom salt? Find out!
---
Best Grow Bags For Tomatoes Reviewed
Here's what we think about the aforementioned grow bags.
VIVOSUN Grow Bags
Features: Available in multiple sizes, sturdy handles, made from fabric, properly aerated, sun dryable.
Three things make the VIVOSUN plant grow bags stand out from the rest; their sheer quality, the strong handle, and a plethora of bag sizes to choose from. If you've ever used one of these for growing, you'll agree when we say it's made for tough work. VIVOSUN offers this grow bag in various sizes, the most popular being the 3, 5, and 7-gallon sizes. Other available sizes include 10, 15, and 30 gallons.
At a glance, you'll think the VIVOSUN plant grow bag will be of inferior quality. However, the reverse is the case. It's made from a thick fabric material. We particularly love the handles attached to the bag. It surely didn't flinch when we filled it with some sizeable potatoes.
The fabric used in making this VIVOSUN grow bag is properly aerated. This prevents the retention of too much water, and in return, saves your precious plants from overwatering. You will get about three years of usage from this bag, thanks to its quality. But you must ensure that you clean the bag properly after each use.
Also, dry the bag in the sun and don't leave them outside during the winter. They are designed to be used both inside and outside the house. Zucchini, eggplant, tomatoes, pepper, etc., all do good in the VIVOSUN bag. However, if you're growing tomatoes in it, opt for larger-sized bags.
---
Fabric Bags
247Garden also makes quality tomato grow bags. We managed to get our hands on the 5-pack 1-gallon units, and honestly, it's good. As you'd expect, they are made from aeration-friendly fabric material. Its design is like the VIVOSUN grow bag. However, the colors aren't the same. That notwithstanding, it's the same in quality, if not better. The handle is strong and sturdy and will enable you to carry the bags easily.
Lest we forget, the bag comes in various sizes, including the 2, 5, and 7 gallons sizes, to mention a few. There are also the 100-gallon and 200-gallon sizes available. Tell me why you won't get your hands dirty? You can as well opt for the bag specifically designed for growing potatoes.
---
If square-shaped plant grow bags are your thing, then you'll love the ECOgardener square bags. As the name implies, the ECOgardener bags are square-shaped. It is most suitable for planting if you prefer raised beds. It's also useful if you'd like to protect your growing plants from your pets at home. The grow bag is available in various sizes, with the 7 gallons (12") bags being the largest.
Carrying the bag is a little bit tricky, given the square shape of the bags. You'll have to spread your arms like a king walking majestically. Unfortunately, the larger bags don't have handles. A quick look at the bag shows they're made from fabric materials. The fabric material allows for proper aeration of the soil in the bag. This is in addition to the low drain rate, which saves your plants from losing precious water yet prevents waterlogging of the plant.
The ECOgardener square grow bag is ideal for growing many things, but most importantly, it's perfect for growing tomatoes. Washing is easy, and it's reusable. Thus, saving you money in the long run.
---
Canvas Bags
iPower Plant Grow Bags
Features: Multiple sizes, made from an aerated fabric material, come in packs, firm handles, circular shaped.
The iPower 3-gallon grow bag is an ideal canvas grow bag. As you'd expect, it is made from an aerated-ready fabric material that holds any soil together and provides your plants the needed environment for growing. Unlike the ECOgardener grow bags above, which is square-shaped, the iPower grow bag is shaped circularly. It is available in various sizes, starting from 3-gallons and peaking at 20-gallons.
To help gardeners like us save money on grow bags, iPower sells the bag in packs of 5 or 10. This is a cost-effective way of buying a grow bag. The bag comes with its handle, which is strong to the touch and doesn't look like what's going to snap. Again, given the bag's shape, carrying it with the handle is much less of a hassle than the other bags.
---
GardenZen Grow Bags
Features: Multiple sizes, comes in several packs, well-aerated, washable although they don't dry very fast, sturdy handles.
Taking a brisk walk away from our best fabric grow pots, we bring the best tomato grow – the GardZen grow bags. This bag is apt for growing a variety of items. See our review of the best grow bags in general.
Designed for optimum plant growth experience, it is made from a felt material, which surprisingly, shares a striking resemblance with the fabric bags. The GardenZen bags are available in a plethora of sizes ranging from 1 to 30 gallons.
We particularly love that the bags are circular in shape and are looking somewhat like the iPower bags. Each of the bags is well aerated and offers low drain capacity, thereby preventing water loss. The bags are washable and reusable; however, they take more time to dry properly than fabric bags.
---
Smart Pots Soft-Sided Grow Bag
Features: Large 1000 gal capacity, made from high-quality fabric material, enough room to grow two or more plants, other smaller sizes available.
The fact that it's called a smart pot doesn't make it smart. Just kidding, but hey, these pots are good, and they're a break away from the norm. Imagine having a 1,000-gallon grow bag at your disposal! You can grow more tomatoes in one bag at a time. Smart Pots specifically designed this pot to cater to individuals interested in growing larger plants. This means it's also possible to grow other things in it. The Smart Pots grow bag was designed to air prune roots and allow for proper aeration.
This promotes healthy root growth. If you intend to get the Smart Pots, we suggest going for the big sizes. Concerning big sizes, the Smart Pots offers this grow bag in various sizes – starting from 1-gallon to 1000-gallons. By the way, the 5, 10, and 20-gallon one seems to be more popular than the others except for this 1,000-gallon size. The bag is also available in a tan color to add color, a move from the traditional black color.
---
Felt Bags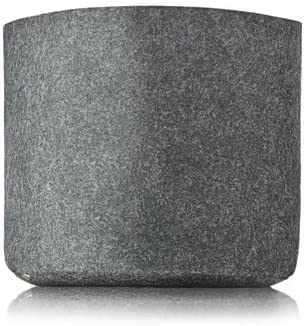 Green Valley Supply Felt Grow Bag
Features: Made from felt materials, multiple bag sizes available, comes in packs of 5, smaller sizes available but don't have handles.
Taking a break away from the norm, here's a quality grow bag made from felt. If you want to grow your tomatoes in a bag other than the normal fabric bag, this is for you. The Green Valley Supply grow bag is definitely a great bag. It's made from high-quality felt material. It takes away the loss of water some users experience when using certain fabric grow bags.
Green Valley Supply offers this in a variety of sizes. The 25-gallon 5-pack variant is the most popular. The GVS felt grow bag exudes an aura of durability and is lightweight. They are suitable for growing a variety of other things apart from tomatoes. We do have an issue with this grow bag. The 1 and 2-gallon bags don't have any handles. Other than that, the Green Valley Supply felt grow bag gets a yes from us.
---
What Size Of Bags Do You Need?
We've come across people in forums asking questions like what size of grow bags for tomatoes are the best? In all honesty, there's no definite answer for this, given that there are different types of tomatoes.
However, we'd like to point out one thing – get a 10-gallon grow bag. Bags of this size will accommodate your tomato plants up to the germination stage and may not need transplanting. Larger bags will serve the purpose; however, they may not be outrightly affordable for many.
---
Any Benefits Of Using Grow Bags?
Of course, yes. There are immense benefits you can derive from using grow bags to grow your plants. Here are a few of the benefits.
Allows For Healthier Root System. Once, we used pots instead of grow bags to plant some things. In the long run, we forgot to transplant. The result was that our plants began to have encircling roots instead of roots growing straight. This was chiefly caused by the fact that the roots cannot penetrate the plastic material of the pot. It so affected the plants that the stem became compressed and again, the roots had a poor nutrient intake. Annoying seeing a plant you nurtured not doing well, isn't it? Grow bags are the exact opposite. They are mostly made from fabric materials that are well aerated and have a low water drain rate. Thus, when the roots of your young plant grow to reach the bottom of the pot, they become air pruned. This reduces the chances of poor nutrient intake and won't allow for encircling. Sometimes, the roots penetrate the bags and begin to grow into the ground. Most gardeners like this.
Less Risk Of Overwatering Your Plants & Breathable. You can easily overwater your plants in a grow pot but not in a grow bag. Grow bags are designed to hold water whilst filtering out the excess ones. Plant grow bags are breathable and thus in the summer when things become hot, they don't trap heat. Thus, they don't end up cooking your plants since excess heat escapes just like the water. On the other hand, pots may trap heat and cook your plants in the summer because there's no escape route for excess heat.
Storage issues. When not in use, storing grow bags is as easy as folding them and tucking them away in a small space. But for grow pots, you'll need a relatively big storage location depending on the size and number of pots you intend to store.
Reusable. This is a huge benefit – and is a cost-efficient way of growing plants. Simply wash it after using it. Most grow bags are designed to last for a minimum of three years.
Portability. Grow bags have handles that allow you to move them easily from one place to another. However, we cannot say the same for the grow pots some of which are bulky.
---
Conclusion
Take advantage of the benefits offered by using grow bags and grow your next plants in the best grow bags for plants. Remember to look for pots suitable for your plant type and buy bigger sizes if need be. We also reviewed some of the best grow tents. Interested in growing plants this winter? Then do well to check them out.