Which are the best grow bags for terrace garden? The craze around them is exponentially increasing. The reason is, by using these you can easily grow different plants at home.
We have researched and ranked the top ones available in the market along with their specs, pros, and cons. Also, we will share with you pro tips on how to build a garden, and vegetables you can grow using the growing bags.
Many exciting things to learn ahead so let's not waste any time and begin!
Best Plants For Grow Bags
First, let's list down the plant that can be grown from these bags. Here they are:
Tomatoes
Potatoes
Salad greens such as rocket leaves, endives, and lettuce.
Basil
Zucchini
Squash
Eggplants
Cucumbers
Chili peppers
Bell peppers
Herbs such as fenugreek leaves, thyme, rosemary, dill, oregano, etc.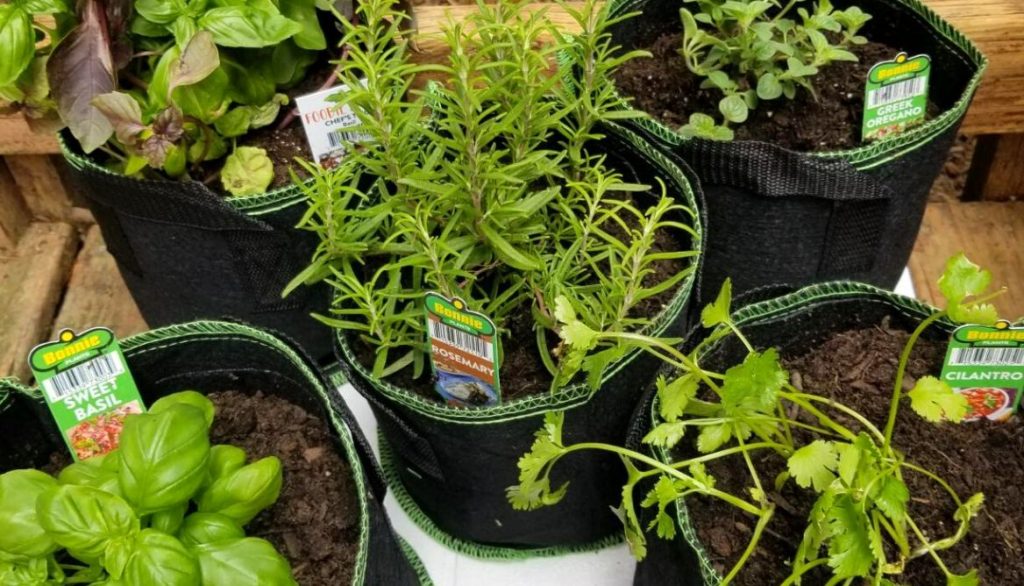 As you can deduce from the long list many plants can be grown at your home because of grow bags.
The possibilities are endless and we have not even listed the vegetables yet! (Scroll down to "Root Vegetables You Can Grow in Your Terrace Garden" to learn.)
Choosing A Grow Bag
Let us help you narrow your search for the perfect grow bag that can create a vegetable garden at your home. We are comparing our top picks side by side in the following table.
Garden4Ever 5-Pack

3 Gallon

Thickened 260g

Nonwoven Fabric
Elaiko is offering a great deal on the 40-gallon grow bags. If you are searching the market for fairly bigger fabric pots for your terrace then check out this one. The bigger size is the reason tomatoes and peppers love these bags! It also prevents weeds from growing and is round in shape.
The durability and air permeability are a given with this brand. On top of that, the bag is stitched around the edges with green threads to add attractiveness. Let's look to find out more about it.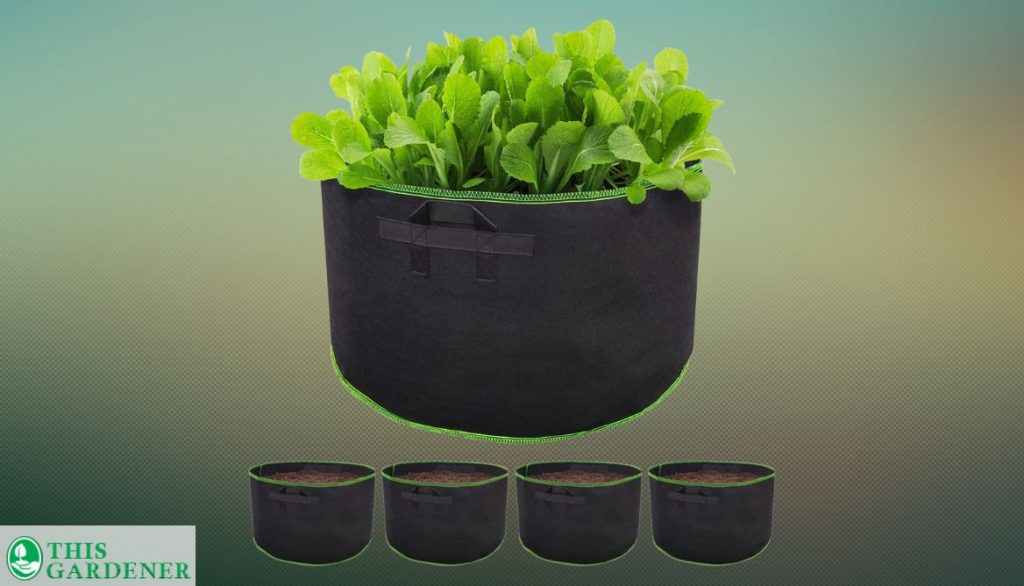 | | |
| --- | --- |
| | |
| | Floor-standing mount for stability |
| | The 40-gallon offers sufficient space for multiple saplings |
| | Weather-resistant helps the grow bag last many seasons |
Pros
BPA-free fabric
Made up of Polypropylene.
Air permeable technology helps provide oxygen to the roots.
Cons
Due to the large size portability is slightly compromised.
Customers choose 247 Garden's fabric pots because of the breathable material that promotes aeration for healthier, happier roots. It's proven to produce bigger yields and helps with quick growth. You can save your plants from transplant shock by using these.
These are available in black, tan, and white colored variants so go for the color that complements your terrace the best. It can grow garlic, onions, beans, and more. Let's learn about it further.
Tree mounts are excellent for balance

7-gallon pots can grow any plant or vegetable

comfortably

BPA-free materials relieve any health-related worries
Pros
The cylindrical shape lets deep roots spread downwards.
No root circling.
Care-free transplantation.
Cons
A few customers complained about moldiness after a couple of uses.
If space-saving is the ultimate goal while you can build a terrace garden then go for Garden4Ever's 3-gallon grow bags. These are only 3 gallons, with 10 inches of diameter so you can line up multiple bags on your terrace and have a huge variety of fruits, vegetables, and herbs grown from these.
It has all the necessary features required for a grow bag and more. Let's see what else is possible with these.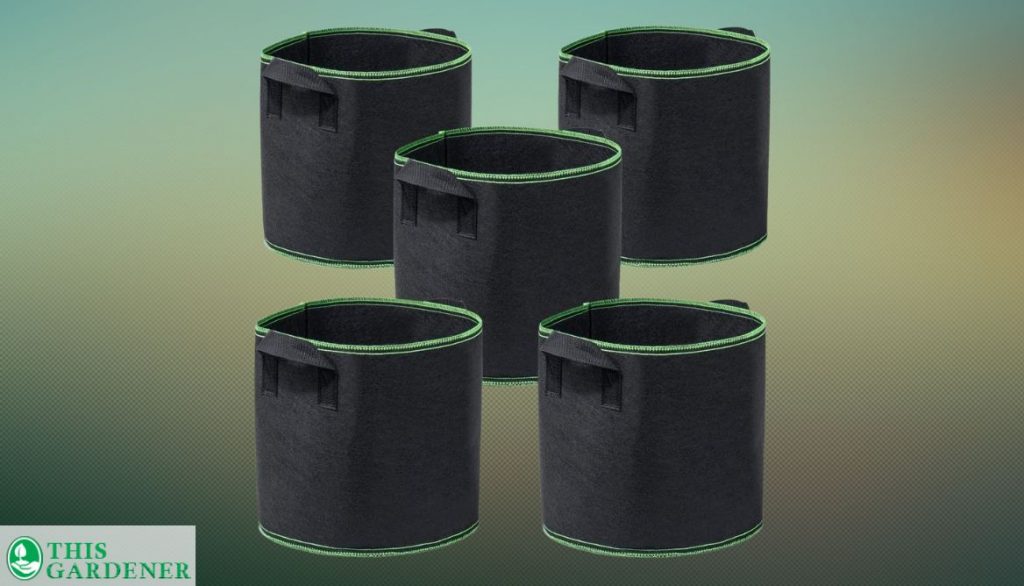 | | |
| --- | --- |
| | |
| | Floor-standing mount helps avoid tripping |
| | 3-gallon capacity for aesthetic plants and herbs |
| | Drainage hole excretes all the excess water out |
Pros
Sturdy handle straps.
Verified by Transparency on Amazon.
Optimal Soil Aeration and Water Drainage.
Cons
Roots can penetrate out of the pot if placed on soil.
Best Root Pouch is changing the game in Grow Bag product lines. Their plant bags are not only fulfilling the growing requirements of vegetables and fruits but will also beautify your home garden space.
Although the most important benefit of it is that its roots are air-pruned instead of choked up, and spiraled like in plastic containers. This way, plant stem, and leaves receive maximum nutrients and water from the soil. Let's view what else makes it awesome.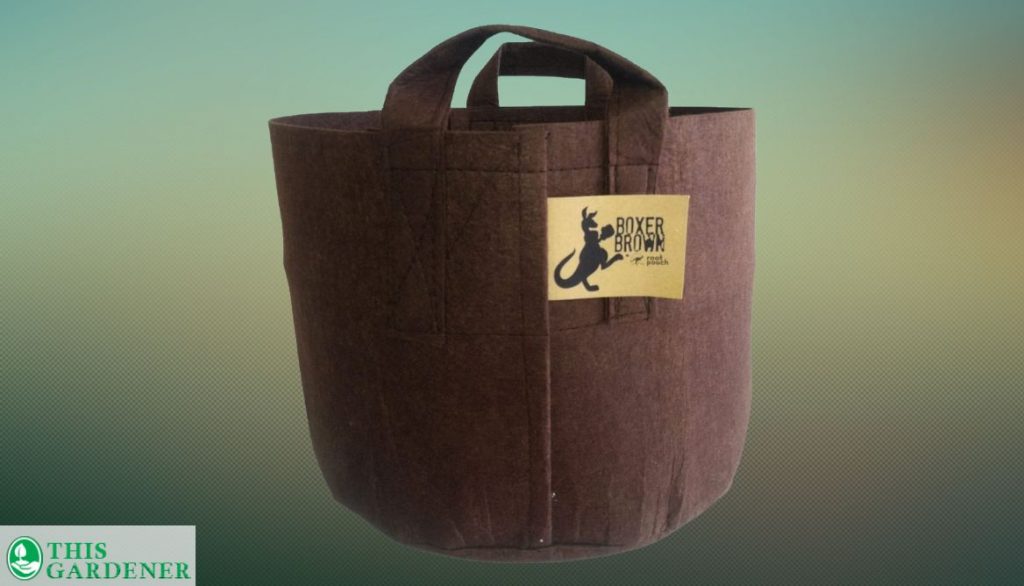 High-grade nonwoven fabric

Made via recycled plastic bottles

Usable with drip system, rain gutter system, or even

hydroponic flood trays
Pros
Made up of recycled plastic for a greener, healthier planet.
Beautiful earthy brown colored.
Roots are warm in winter and cool in summer.
Cons
Requires frequent watering.
Pannow has entered the market and is earning a great reputation for itself and its distinct, signature purple-colored specialty grow bags. It is a 15-gallon bag so you can even plant big veggies that require room to grow. The fabric is UV-resistant which allows airflow, and excess water to drain.
You can build a raised garden with this which will help you pull out weeds, harvest vegetables, and herbs, and tend to the soil better. What else is there to know, read below.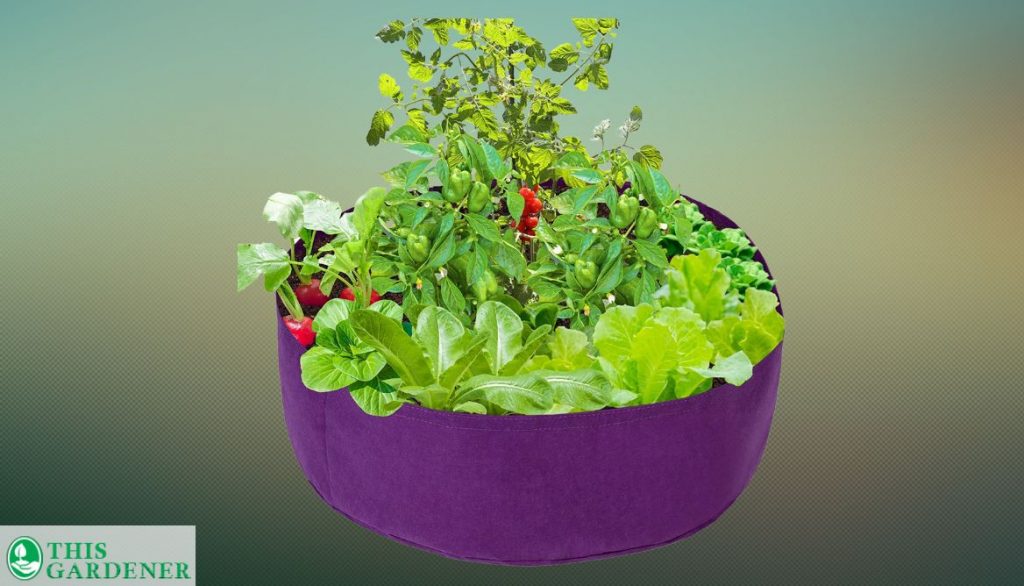 1mm thick breathable felt fabric

Large 15 Gallon size which can plant many seedlings at

once

Holds up well against harsh sun
Pros
Perfect solution for terrace gardens.
High-grade durability.
A round shape eliminates the need for installation.
Using A Plant Grow Bag In Terrace Garden Instead Of Plastic Pots
Let's talk about why should you opt for a grow bag over plastic pots and what are its biggest advantages.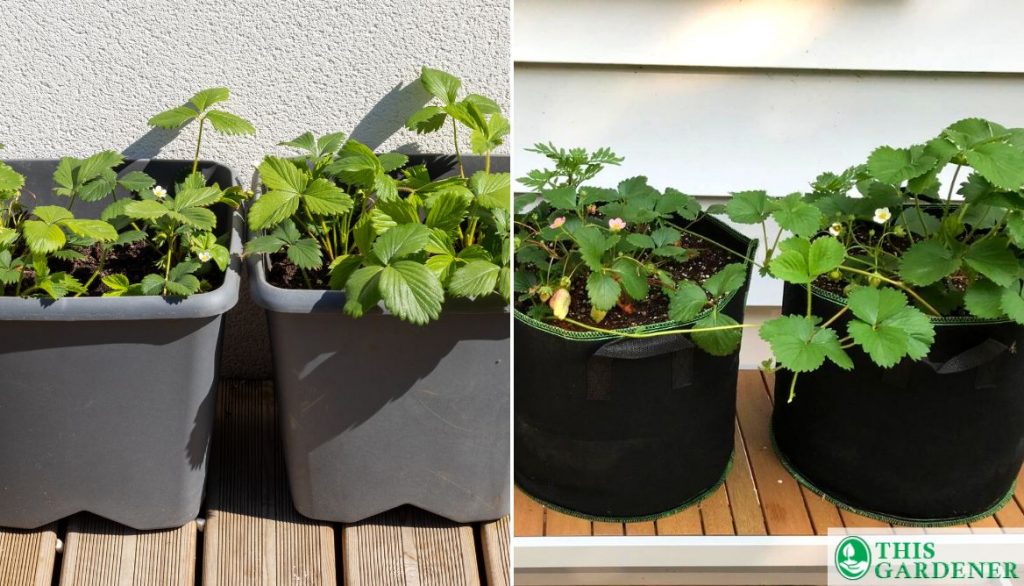 Grow bags are lightweight and have handles making them easier to move, carry, and empty in comparison to traditional pots and plastic bags.
They are foldable unlike plastic containers making them better in terms of storage.
The fabric allows air circulation and water drainage for healthy, happy roots.
It allows 'air pruning' and lets young roots grow, unlike plastic container which does not indicate that the root has reached the growing limit as a result strangles the plant.
Grow bags are more affordable than other containers.
These have a dedicated drainage system preventing over-flooding the bag.
Growing Tips
Often new gardening enthusiasts struggle with growing seeds into complete fruition. Studying the reasons behind the failures is usually our own mistake so we are sharing a list of a handful of tips to remember when you wear your gardeners' shoes.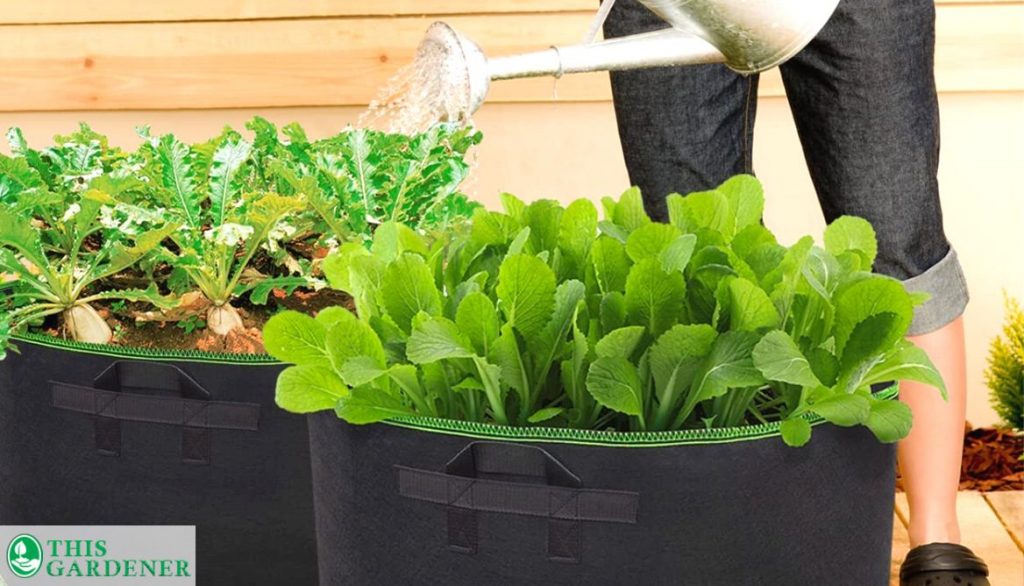 Keep potting soil loose. Hardened soil does not let roots breathe fresh air.
Use high-potash fertilizers when flowers' buds are appearing when growing eggplants, cucumbers, or tomatoes.
Do not plant the roots deeply. The main clump should just be below the top soil layer of the grow bag.
Frequently water the grow bags as all the excess water drains out. Keep a tray beneath it to collect that excess and routinely empty the tray.
Tall plants e.g. tomatoes should be supported by a bamboo stick or tied by a thread to hold up straight.
Move the bag around to provide the best intensity of sunlight and place it in the shade if the weather is hot.
Root Vegetables You Can Grow In Your Terrace Garden
The most exciting part about grow bags gardening is growing vegetables at one's own home. Root veggies benefit from the grow bag-raised garden the most as the bags' sides are soft encouraging air pruning and healthy root systems.
Let's have a look at the common vegetables you can grow.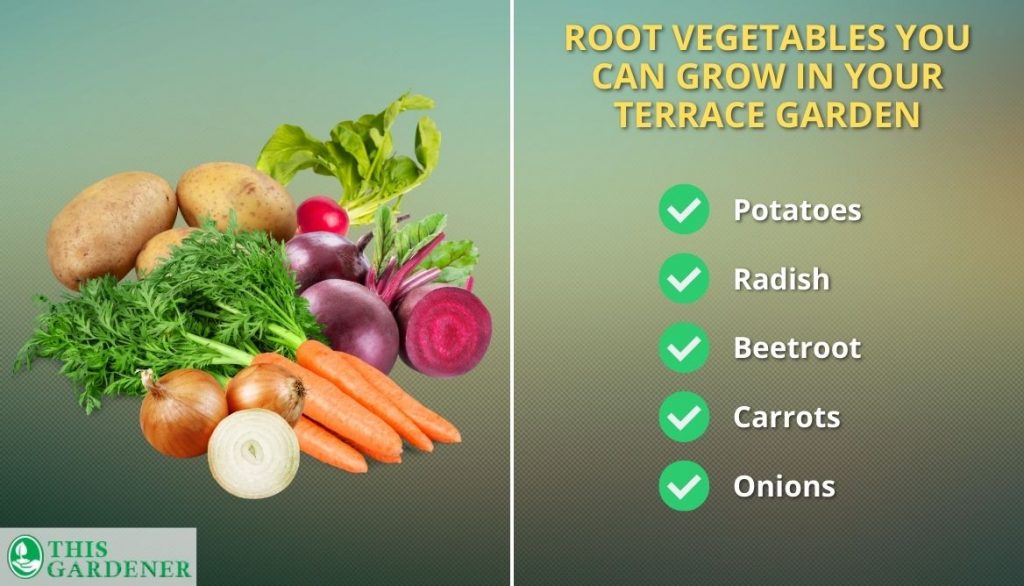 Potatoes
Potatoes grown from fabric bags are full of nutrients. The bags provide their roots to stretch long and deep which distributes the water and other elements well. You can harvest heaps and heaps of these with only seeds during a growing season.
Radish
Radish can grow in bags quite easily. This is why new gardeners can start by growing these.
Beetroot
Beetroot will be a plant that will keep on giving. This is why it is also loved by new hobbyists. These grow extremely fast and have edible leaves.
Carrots
Carrots will be ready for harvest if one regularly provides it sunlight and water it frequently. These will not give you much trouble.
Onions
Both onions and green onions can be planted in the grow bags. It is better to use species that are not too large. The overcrowding can hurt its growth.
Pros And Cons Of Grow Bags
Like everything else while grow bags have numerous advantages, it has a few faults which you should be aware of. Let's list them down.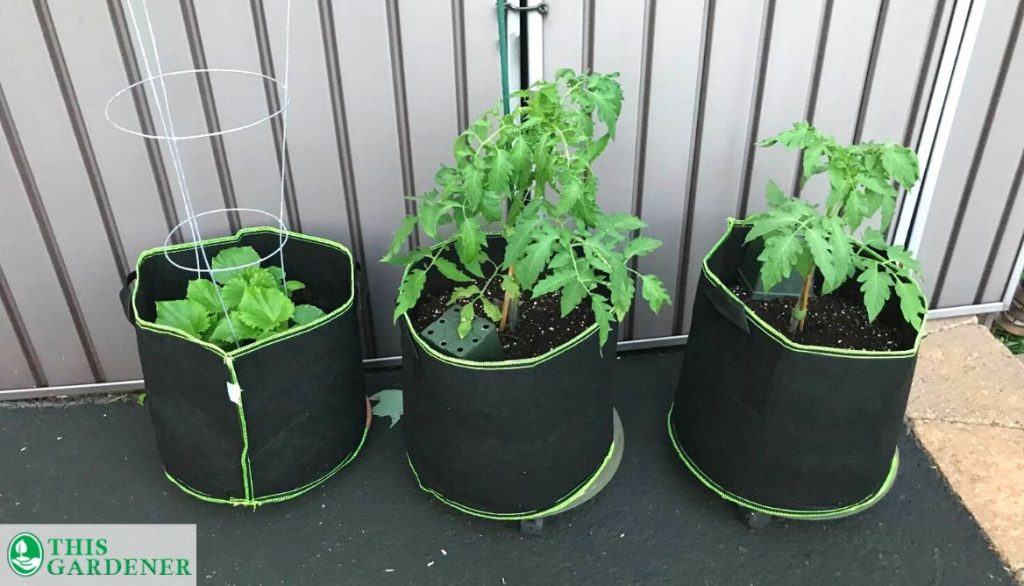 Pros
You can maintain the soil compost yourself.
Keep full of nutrients and fertilized.
Keep the plant in a cooler place during the summer heat, move to a warmer place during the cold, keep it indoors, or place it on an airy terrace.
Planting in grow bags encourages a robust root system.
Easily washable and storable.
Care-free tranplantation.
Cons
These are mostly in black making them unattractive. Bright-colored bags end up with visible mud stains.
Frequent watering is necessary as draining holes excrete excess water.
Tips For Successful Grow Bag Terrace Gardening
Alright, so you have taken it upon yourself to start gardening on your terrace but how and what should you grow? Let us enlighten you on everything you need to know.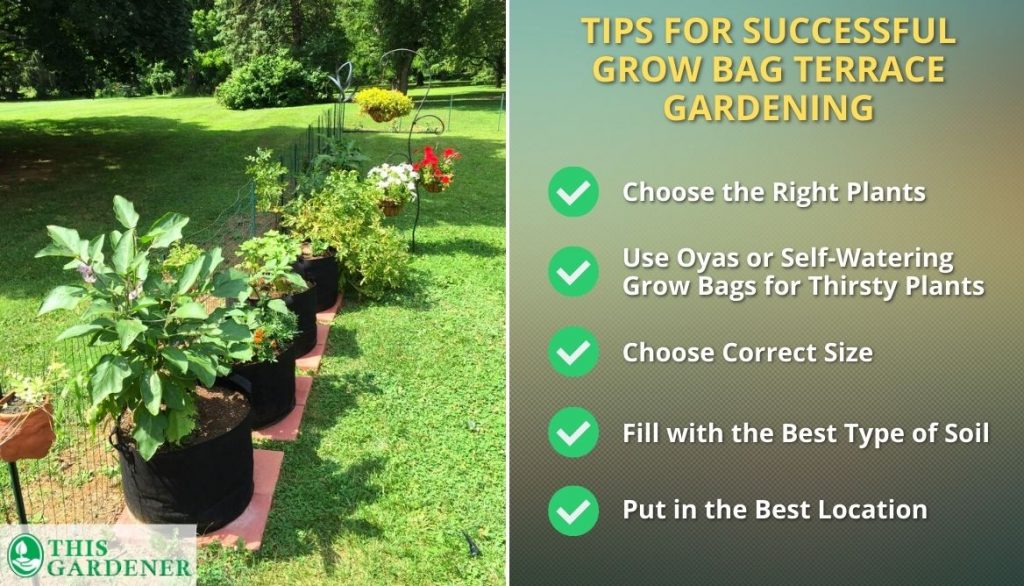 1. Choose The Right Plants To Grow In Grow Bags
Going for the correct sized species of vegetables and herbs is vital. If your grow bags are smaller than 5 gallons then go for compact varieties. The large-sized veggies will not have sufficient space for them in the bags.
Crops That Grow Well In Grow Bags
These are the crops that are suitable for growing bags. You can refer to our list when planting.
Strawberries
Kale
Green onions
Beets
Lettuce
Radish
Bell peppers
Potatoes
Arugula
Herbs That Grow Well In Grow Bags
Garlic
Parsley
Basil
Tumeric
Calendula
Ginger
Cilantro
Dill
Sage
2. Use Oyas Or Self-Watering Grow Bags For Thirsty Plants
Grow bags require very frequent watering. If one forgets to regularly water the moisture can dry out and plants can die. Therefore self-watering grow bags are making their way into the market. These have reservoirs at the base for constant moisture.
3. Choose The Correct Size Grow Bag
Grow bag's size should be appropriate for the plant. Here is a guideline on plants and their container size:
2 gallons pots can grow: sage, lettuce, basil, kale, green onions, thyme, radishes, chard, arugula, and rosemary
3 gallons should be used for: growing herbs like dill, cilantro, and parsley and vegetables like celery, beets, carrots, strawberries, and kohlrabi.
5 gallons can grow ginger, eggplant turmeric, okra, beans, lemongrass, cabbage, potatoes, cucumbers, broccoli, and peppers.
10 gallons are brilliant for growing: tomatoes, sweet potatoes, and almost all other vegetables due to the huge space.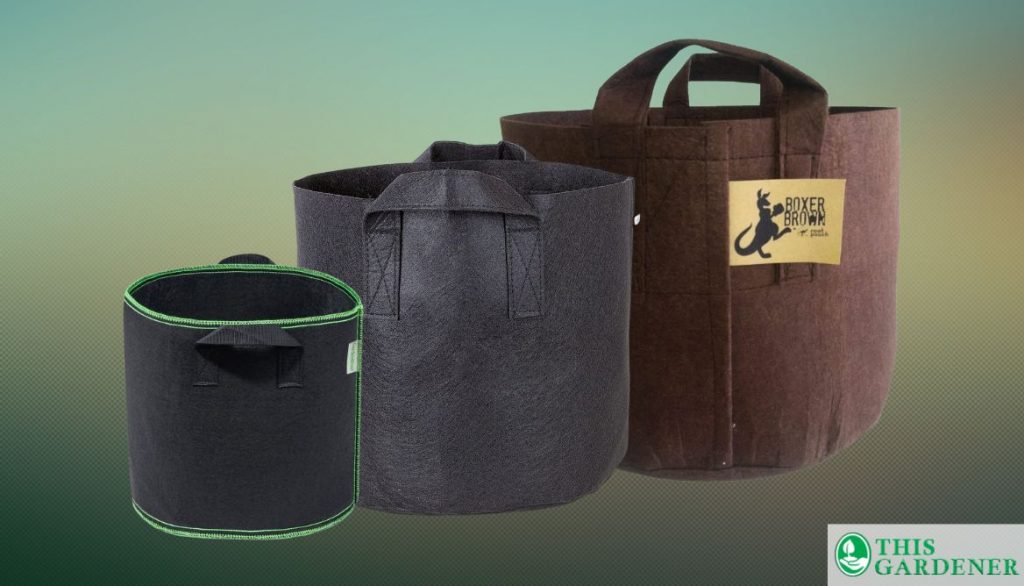 4. Fill Your Grow Bag With The Best Type Of Soil
The advantage of a grow bag is that you can main the soil of your choice so go for the best one. You can buy it or make it at your home as well. You will need:
Coconut coir or Peat Moss
Vermiculite
Compost
This mixture keeps the air flowing to the root as it does not let the soil harden.
5. Put Your Grow Bag In The Best Location
As it is easy to move the grow bags around gardening enthusiasts are advised to take full benefit of this.
Provide 6 to 8 hours of morning light to sun-loving plants.
Keep them in the shade when the temperatures climb up.
Put it where it can get fresh air.
Make sure there is no stagnant water under it.
FAQ
How Do You Use A Terrace Garden Grow Bag?
Place all bags in one line where they can get sunlight. Put a pot tray underneath to collect the drained water. If the trays are unavailable raise the bags on bricks to allow drainage.
Which Pots Are Best For A Terrace Garden?
Use fabric containers to build a terrace garden because they are easily movable, and the material is breathable for the roots.
Who Makes The Best Fabric Grow Bags?
Garden4Ever, 247Garden, and Elaiko are some grow bags brands gardening experts trust.
What Are The Disadvantages Of Terrace Gardening?
Wind speed is high at the terrace and water can remain stagnant if a slope is not present.
How Do You Protect The Terrace Garden From Heavy Rain?
Use a canopy, awning, or portable gazebo to create a roof over your plants.
What Can I Use Instead Of Grow Bags?
You can use a burlap bag, or make your fabric bag with old jeans, or pillowcases.
Conclusion
Grow bags are making gardening, growing plants and flowers accessible to people who have limited area. Use these to build gardens on your porches, veranda, or terrace.
You need to choose the bag that matches the plant's size and fertilize the soil composite. You can grow tomatoes, lettuce, eggplants, basil, parsley, zucchini, garlic, and many different types of plants.
Considering the strengths and flaws of each grow bag listed we will choose 247Garden 5-Pack 7-Gallon as the best grow bag and deal for your terrace. The capacity is not too small that it limits your options of plants to grow neither it is too big that it acquires all the space in your balcony.
We hope you can build a gorgeous terrace garden with the help of our guide. What are you planning to grow and what tip of ours surprised you the most? Share your thoughts in the comments section down below!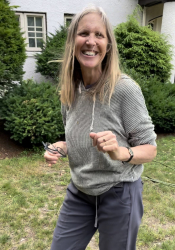 Latest posts by Jessica Zander
(see all)
Hello! I'm Jessica Zander, a garden coach and consultant based in the Boston area (zone 6b), offering virtual consultations across the country and Canada.
I've been passionate about gardening since the early 1990s, and in 2022, I launched You Can Do It Gardening to empower individuals to feel more confident in their gardening endeavors.
Following a 30-year career in nonprofit finance and operations, I transitioned out of that field in mid-June of 2023 due to the growing demand for coaching services. Interestingly, my years of presenting financial statements to boards and finance committees proved to be valuable experience for teaching people about gardening! I enjoy sharing skills, providing guidance and suggestions, and collaborating efficiently with clients to make significant improvements to their outdoor spaces, both small and large. I also regularly teach at the Arlington Continuing Education and Cambridge Adult Education.
My approach is direct and practical, akin to Mary Poppins, but tailored to your garden. Clients find satisfaction in saving money and taking pride in their own gardening achievements.