If you're looking for something simple to grow in your home, herbs might be the best option for you. They can grow anywhere, and we can all agree that they improve your cooking. Although growing plants took place outside for centuries, things have changed in recent years. Thanks to growing lights, you can conveniently grow your plants indoors, assured they would get all the nutrients they require. Herbs can get plenty of light when you try to grow them by the window side, but an LED grows light offers you all the light you need in different weather conditions. We will be reviewing the best LED grow lights for hearts with a buying guide to simplify the process for you.
Comparison Table: LED Grow Lights For Herbs
| | LED Grow Lights For Herbs | Wattage | Wave Length | Height |
| --- | --- | --- | --- | --- |
| 1 | EZORKAS LED Grow Light | 80 watts | 380-800nm | 36 inches |
| 2 | Mars Hydro TS 1000 | 150 watts | 660-665nm | 18 inches |
| 3 | Roleadro LED Grow Light | 75 watts | 460-740nm | 12 inches |
| 4 | Spider Farmer SF4000W Grow Light | 450 watts | 660-760nm | 12 inches |
| 5 | Ankace Full Spectrum LED Grow Light | 90 watts | 460-660nm | 15 inches |
---
Best LED Grow Lights for Herbs: Buying Guide
Grow light comes in different variations and also possesses different features. Knowing what to look out for ensures you get the best LED to grow light for your home. We've put together some factors to put into consideration when going shopping for a LED grow light.
---
Best LED Grow Lights For Herbs Reviewed
There's a lot of confusion going around when buying an LED grow light for herbs. Many contradictory opinions are going around about every product you come across. For this reason, people usually spend hours trying to figure out which grow light is suitable for their herbs. To save you from going down that frustrating road, we've compiled the best LED grow lights for you. After extensive research, below are the best LED grow lights that would be perfect for your herbs.
Sale
EZORKAS LED Grow Light
Features: 80 LEDs, adjustable lighting, nine dimmable levels, automatic timer, integrated clip, USB connector for power, simple control panel, lightweight and durable design.
It doesn't matter how much coverage you're looking for; this LED grow light will provide it for you. It offers about eighty LEDs which offers the full spectrum to ensure your plant grows appropriately. One thing we love about this is the gooseneck design it comes with and the adjustable lighting. You can choose to adjust these lights to nine dimmable levels and three spectrum modes.
These features ensure that the LED grow light is suitable for different levels of plant growth. As your herbs grow, the lights adjust to fit its growing stage. Fifty-two of the LEDs are red, and this color helps with bloom, germination, photosynthesis, and more. The remaining 28 LEDs are blue, which helps your herbs get energy from chlorophyll synthesis.
Another feature this LED grow light offers is the auto-on/off-time cycle. With three timing modes available, you can choose to let the light stay on for three, nine, or twelve hours every day. This model ensures that your herbs get the required amount of light, whatever your plant's growth level and weather condition. The EZORKAS LED Grow Light also comes with an integrated clip that's adjustable.
This design allows you to clamp the LED grow light to any surface so it doesn't slip off. It comes with a plug-in adaptor and a USB connector for power. It is simple to operate through the control panel; this control panel allows you to turn the light easily. You can also adjust any setting you want from the control panel. With many available options and features, we can all agree that this LED grows light is a perfect choice for your indoor herb garden.
---
Mars Hydro TS 1000 LED Grow Light
Features: high light intensity, very efficient, zero noise, 18 inches height, full-spectrum, 342 LEDs, easy set-up and operation, adjustable lighting, energy-saving, and durable.
This is another top choice from all the LED grows lights we researched; it is a great fit for your herb garden. With this Mars Hydro LED grow light, you can grow any herb species you want, even those that require full sun. Whatever stage of life cycle your herb is, this LED grows light has got you covered. With 18 inches height over your herbs, your plant gets to enjoy the full spectrum of the grow light. It is best for herbs like sage and chamomile that require high light because of their high light intensity.
The efficiency rate of Mars Hydro TS 1000 is very high with its white LED lights. Its efficiency ensures that you get at least a 30% higher yield than expected. It only consumes about 150 Watts even though it comes with about 342 LEDs. This means that it saves about 50% more energy than other grow lights and will help you save money on energy bills. This LED grow light is a perfect choice for all plant development stages, and since it comes with no fan, you can count on zero noise from your LED grow light.
This feature makes it an ideal choice for those who want to grow their herbs in the same room they sleep. You can also adjust the lighting of this grow light whenever you want to suit the herb's growth stage. It is easy to set up in your home and just as easy to operate; you don't need a guide to use this LED grow light. Its sturdy construction ensures that this LED grows light lasts several years of use.
---
Roleadro 75W LED Grow Lights
Features: Energy-saving, highly efficient, durable, lightweight, full-spectrum, heat dissipation design, 12 inches height, hanging bracket for easy set-up, versatile, simple operation, and zero noise.
If you want an LED to grow light that offers your plant a diverse range of light, then this is the ideal LED grow light for you. Roleadro lights ensure that your plant grows efficiently all year-round; you can plant even the most delicate herbs with this grow light. With only 75 watts, this s an LED grow light that helps you save on energy bills over the years.
It also comes with a heat dissipation design. This feature is possible because of the aluminum cooling plate it is designed with. It helps to effectively dissipate heat even when the grow light is cranked to the highest. This design also helps you avoid fan noise and ensures your LED grow light makes no noise while carrying out its operation.
The package comes with hanging brackets that make it easy to set up. You don't need a guide to start operating this grow light. You can get to it within minutes. It is also lightweight in case you have plans to move your herbs around the house. This LED grow light isn't just suitable for herbs; you can also use it to grow vegetables and other plants. Its good structure ensures that this grow light lasts you several years of use.
---
Spider Farmer SF4000W Grow Light
Features: consumes 456 watts, quantum board technology, water-resistant, aluminum heat sink, zero noise, uniform light coverage, dimmable design, can withstand high humidity, long-lasting, and high energy efficiency.
Another LED grow light that makes the list is the Spider Farmer SF-4000W Grow Light. It is an LED grow light that uses quantum board technology to cover a vastly growing area efficiently. This means that if you have an indoor gardening room, this grow light is more than enough to offer your plants all the light they need. The light consumes 456 watts and uses one of the best light technology you can find in the market.
With a lifespan of over 50000 hours, you can use this light for many years to bloom your plants in all seasons. This grow light is also water-resistant and can withstand high humidity levels. This feature makes it a great choice for gardeners living in tropical areas. It also uses an aluminum heat sink to manage the temperature. This helps to avoid the noise that comes with cooling fans.
One of the unique characteristics we love about this LED grow light is the uniform light coverage it offers. You can count on it not fading, and it will even cover all your plants. There are dimmable knobs and light switch built into the LED grow light that allows you to adjust the light at will. This feature is why this plant is ideal for all growth stages of your plant.
---
Sale
Ankace Full Spectrum LED Grow Light
Features: consumes 90 watts power, five dimmable levels, three lighting modes, adjustable stand, timer, replaceable bulbs, attached clip, durable design, and separate switches for each light.
This is another option you can go with; it offers you the same benefits as natural sunlight. With the Ankace Full Spectrum LED Grow Light, you get the best value for your money. One of its amazing characteristics is the replaceable bulb design. This way, you can always swap out the bulbs when they no longer work and keep your grow light working for many more years.
The gooseneck stand design it comes with is adjustable. You can control the direction and the height of the light. This feature makes it a great choice when you're short on space. It consumes 90watts of power and is estimated to last you for about 50,000 hours. This Ankace LED grow light also comes with a timer that makes it easy to operate.
You can simply set it on for as many hours as you want and switch it off automatically while attending to other activities. The lights on this LED grow light comes with different switches. This way, you have control over the lights and can save power. You can effectively use this LED grow light to grow your herbs in any location. The clip it comes with allows you to attach it to any surface, so it doesn't fall off. It features three lighting modes and five dimmable levels for your convenience.
---
Best Grow Lights For Herbs – FAQs
Is it okay to grow herbs with LED lights? Your herbs need at least 6hours of sunlight every day. If you don't have access to this sunlight, you can simply use an LED light to get the best results.
Will any Led light work for my herbs as a grow light? Technically, you can use any LED light to grow your herbs. However, this doesn't mean your plants will thrive. You cannot find the spectrum needed for photosynthesis with regular LED lights. This is where specialized LED grow light comes into the picture.
Should I leave my LED grow light on all day? No, this is not recommended. With the light on round the clock, your plant cannot carry out the respiration process. 12-18 hours is more than enough for your plant.
---
Wrapping Up…
That's it! We're done with our list of best LED grow lights for herbs. Now that we have provided you with all the information you need to make your choice, feel free to compare each of the reviewed LED grow lights till you find the ideal choice for your indoor herb garden. These LED grow lights have all the features you need to provide your herbs with all the lighting they need an increased yield. Give one of them a choice, sit back, and wait for the rewarding yield to come in.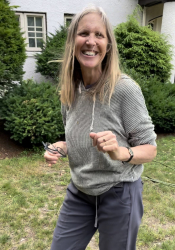 Latest posts by Jessica Zander
(see all)
Hello! I'm Jessica Zander, a garden coach and consultant based in the Boston area (zone 6b), offering virtual consultations across the country and Canada.
I've been passionate about gardening since the early 1990s, and in 2022, I launched You Can Do It Gardening to empower individuals to feel more confident in their gardening endeavors.
Following a 30-year career in nonprofit finance and operations, I transitioned out of that field in mid-June of 2023 due to the growing demand for coaching services. Interestingly, my years of presenting financial statements to boards and finance committees proved to be valuable experience for teaching people about gardening! I enjoy sharing skills, providing guidance and suggestions, and collaborating efficiently with clients to make significant improvements to their outdoor spaces, both small and large. I also regularly teach at the Arlington Continuing Education and Cambridge Adult Education.
My approach is direct and practical, akin to Mary Poppins, but tailored to your garden. Clients find satisfaction in saving money and taking pride in their own gardening achievements.