One of the initial steps to preparing the soil for a planting season is tilling it. And for this task, you'll need good rototillers. Knowing the rototiller cut out for the job can be complex, with many options available in the market. To help you on your search, this article reviews the best rototillers for large gardens and includes a buying guide to ensure you select the ideal rototiller for you. Now that it's clear what this article entails, let's dive right in.
Scotts Outdoor Power Tools TC70135S Corded Tiller
We picked the Scotts Outdoor TC70135S Corded Tiller as the best rototiller for a large garden because it ticked many of the boxes in our checklist. It's easy to set up and use, it's electrically powered, and it has adjustable tines and doesn't require much maintenance.
Comparison Table: Rototiller For Large Garden
| | | | | |
| --- | --- | --- | --- | --- |
| | Rototiller For Large Garden | Power source | Width | Depth |
| 1 | Scotts Outdoor Power Tools TC70135S Corded Tiller | Electric | 6 inches | 4 inches |
| 2 | Earthwise TC70016 Corded Electric Tiller | Electric | 16 inches | 8 inches |
| 3 | Tazz 35310 2-in-1 Front Tine Tiller | Gas-powered | 21 inches | 11 inches |
| 4 | Sun Joe TJ604E Electric Garden Tiller | Electric | 11 inches | 8 inches |
| 5 | Greenworks 40V Cordless Tiller | Battery-powered | 10 inches | 5 inches |
---
Rototiller for Large Garden – Buying Guide
When you're shopping for a tiller, there are some features you need to bear in mind. These features will ensure the rototiller you pick has all the features you're looking for to efficiently till the soil. Below are some of the crucial factors to look for in a rototiller.
---
Best Rototiller for Large Garden: Our Reviews
We've researched intensively, and below are the five best rototillers available for you today.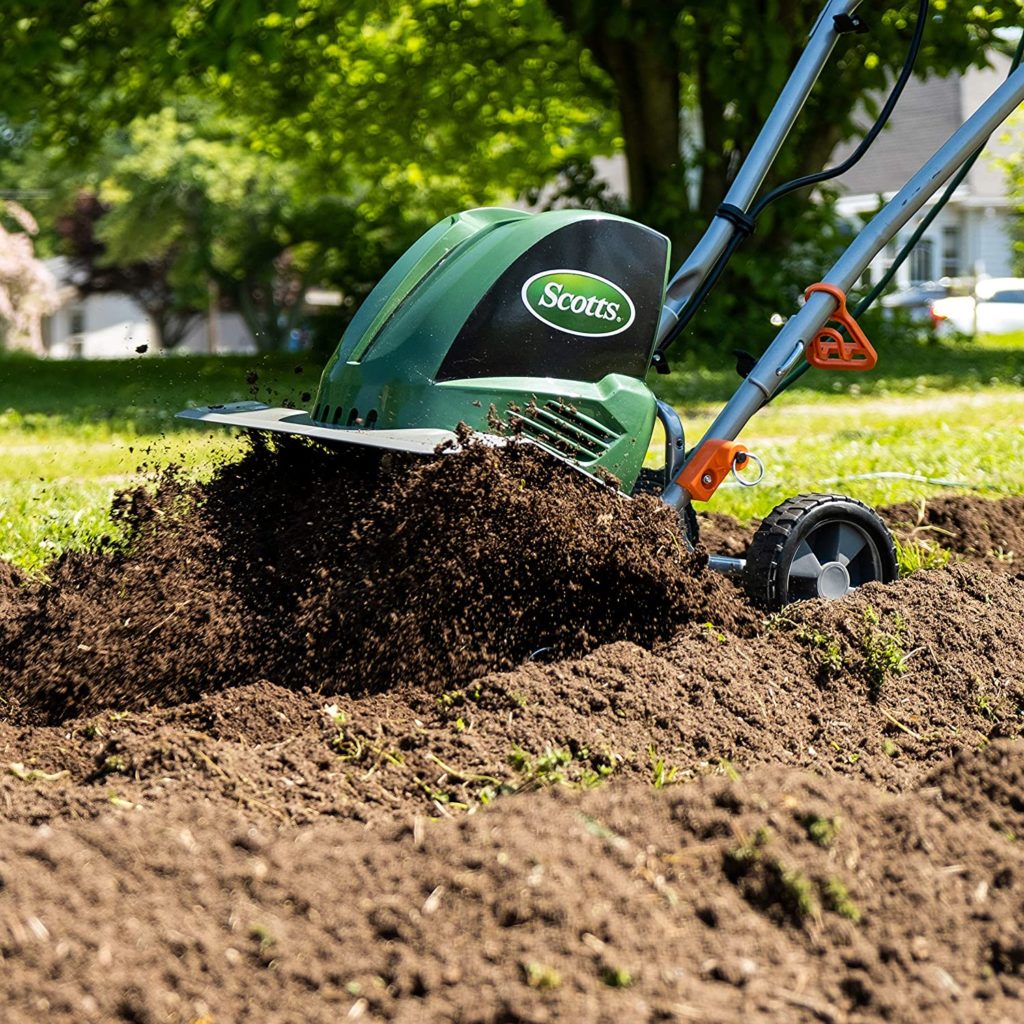 Scotts Outdoor Power Tools TC70135S Corded Tiller
Features: Lightweight, easy operation, easy usability, electric rototiller, little maintenance, easy assemblage, durable, adjustable tines, flip-rear wheels for easy transportation, powerful and versatile.
This rototiller is the best choice if you want to restore your garden and effectively tills the soil. If you have compacted soil and you will like to get it appropriately prepared for planting plants, this is the rototiller for the gob.
This tiller features six adjustable tines and can dig quite deep into the garden. It also tills up to 6 inches in width, making it an excellent choice for your large-sized gardens. If you want a rototiller built to last, this rototiller is the ideal choice for you.
The Scotts Outdoor Power Tools TC070235S Corded Tiller is one of the highly sought-after electric tillers and can therefore be considered lightweight. It works perfectly in rocky driveways and will carry out the job efficiently on clay soil. The tiller also offers you portability so you can easily maneuver around your garden beds.
It comes with flip-down rear wheels to ensure easy transportation. Since it is corded, it also features a cord retention hook to make sure your cultivator and rototiller do not get entangled. The blades are durable and will handle your soil very quickly. Since it runs on electricity, it has no fumes to worry about and is considered eco-friendly.
Again, it also needs little to no maintenance; this powerful machine will serve you for many years.
---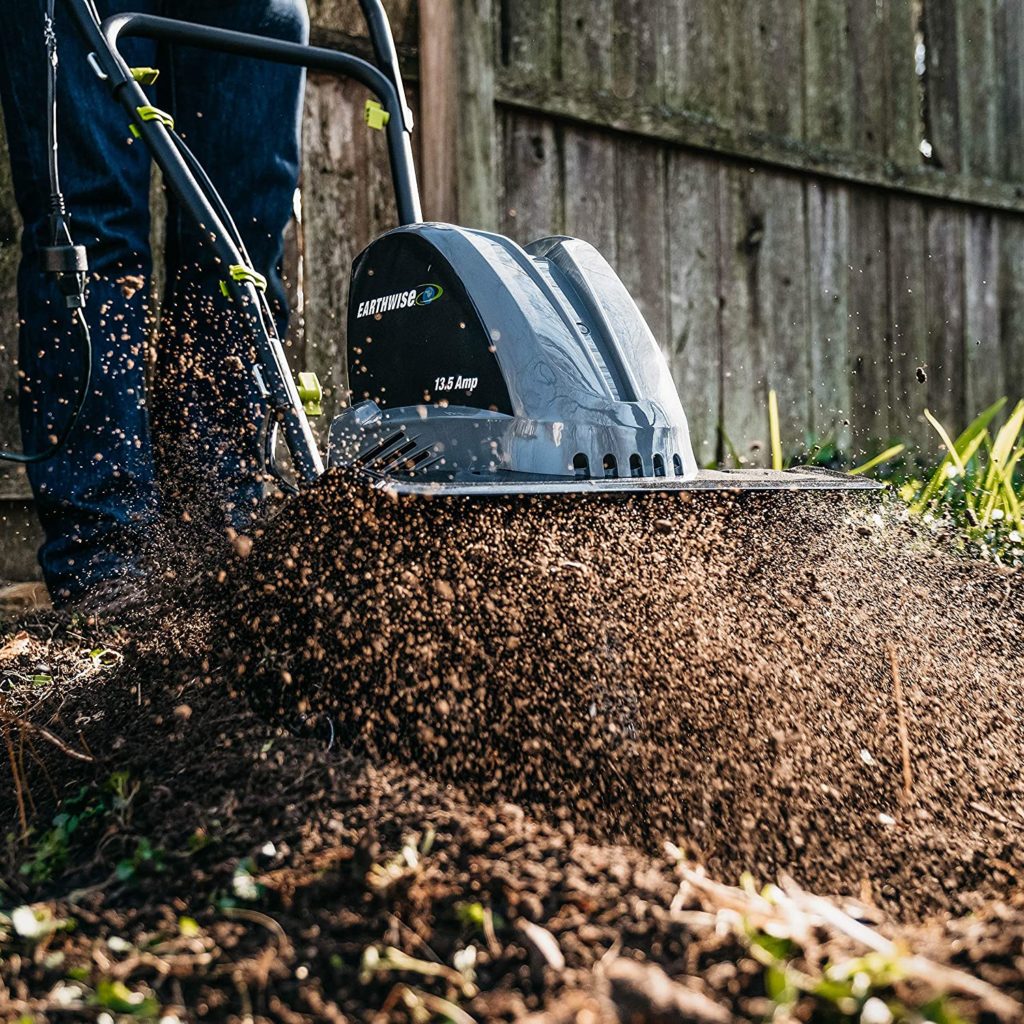 Earthwise TC70016 Corded Electric Tiller
Features: Electric tiller, heavy-duty operation, retention hook, easy maneuverability, push-button start, adjustable tines, flip-down wheels for easy transportation, durable construction, eco-friendly and easy maintenance.
If you want another shot at electric rototillers for large gardens, this is it. It will provide you with enough power to get the job done. Earthwise TC70016 Corded Electric Tiller comes with 16-inch tines, which allows it till hard soils effectively. You can easily adjust its width to allow you to use it for small and large projects.
This Earthwise rototiller is more powerful than most electric options because of its 13.5 amp motor. Although it is a corded tiller, it comes with a retention hook. The retention hook ensures the cord stays out of the way while you till to avoid any form of entanglement.
It also features a cushioned handle that allows for an excellent solid grip that is non-slip. This way, it is pretty easy to control and maneuver around your garden. The Earthwise Rototiller is one designed to make your garden work more straightforward and stress-free. It is an eco-friendly option because, unlike gas-powered tillers, there are no fumes to worry about.
Features like the push start button come standard on this tiller. For easy storage and transportation, this rototiller comes with flip-down wheels. It is lightweight for easy movement, and as long as you keep it connected to a power source, it will ensure you carry out your tiling job efficiently.
---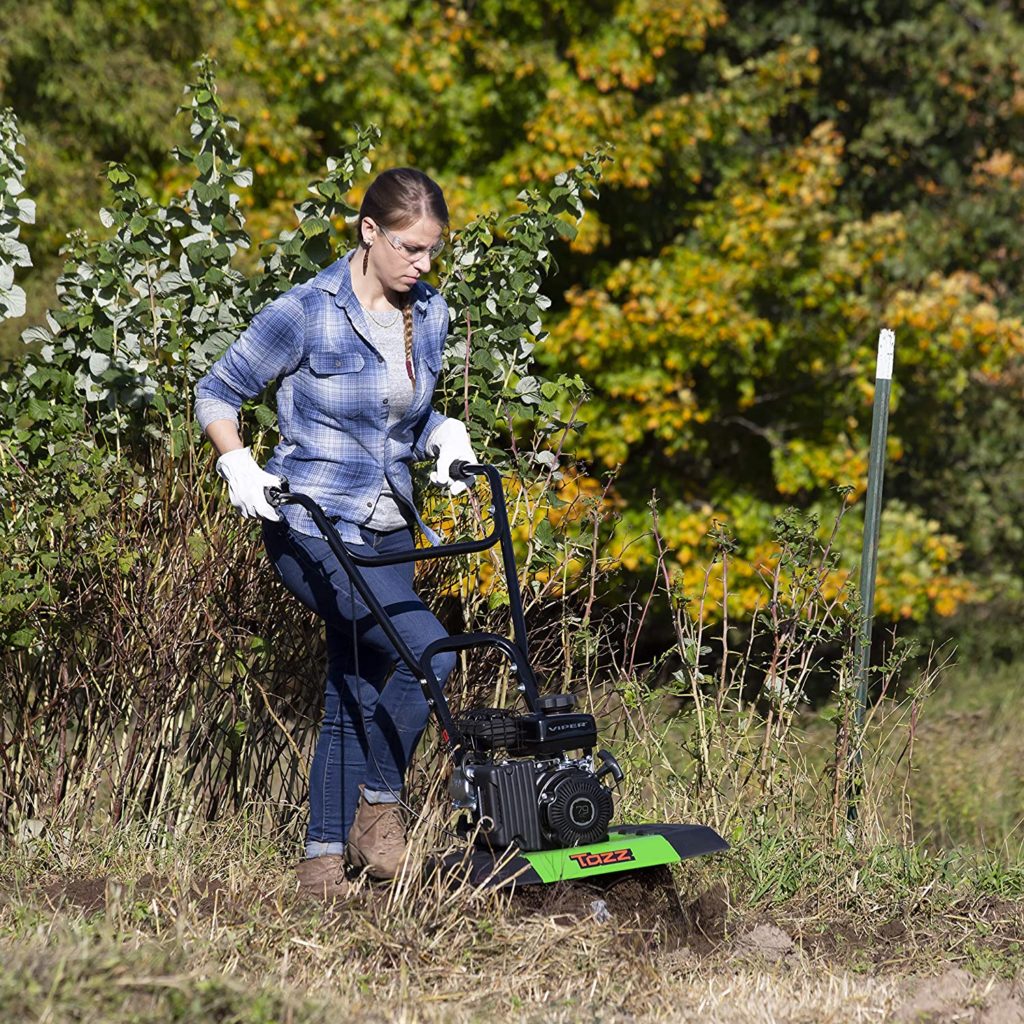 Sale
Tazz 35310 2-in-1 Front Tine Tiller
Features: Gas-powered, heavy-duty construction, fuel-efficient, easy usability, pull recoil start, steel front tines, large size, easy maneuverability, 21 inches width, 11 inches depth, adjustable tiller height, and width, balanced and durable.
If you want a rototiller that can perform heavy-duty tasks around your garden, then this gas-powered option might be your best choice. The Tazz 35310 2-in-1 Front tine Tiller comes with a powerful engine that's fuel-efficient and starts relatively easily.
It features a smooth pull recoil, so you don't have to deal with a gas guzzler. This Tazz Tine Tiller design ensures it lasts you a long time. Its tines feature steel material, and it features a bronze gear transmission; this accounts for its heavyweight of 83.8 pounds. This Tazz Tiler is easy to maneuver and is quite balanced.
Unlike other heavy tillers, the Tazz 35310 2-in-1 Front Tine Tiller can quickly turn around your gardening bed. The width of this tiller is adjustable, so you can use it on small and large projects.
However, its maximum width is 21 inches, saving you lots of time and energy otherwise spent tilling. With four height positions, this tiller design ergonomically accommodates any user. With over 11 inches of depth offered, your compact soil would be ready for planting in no time.
---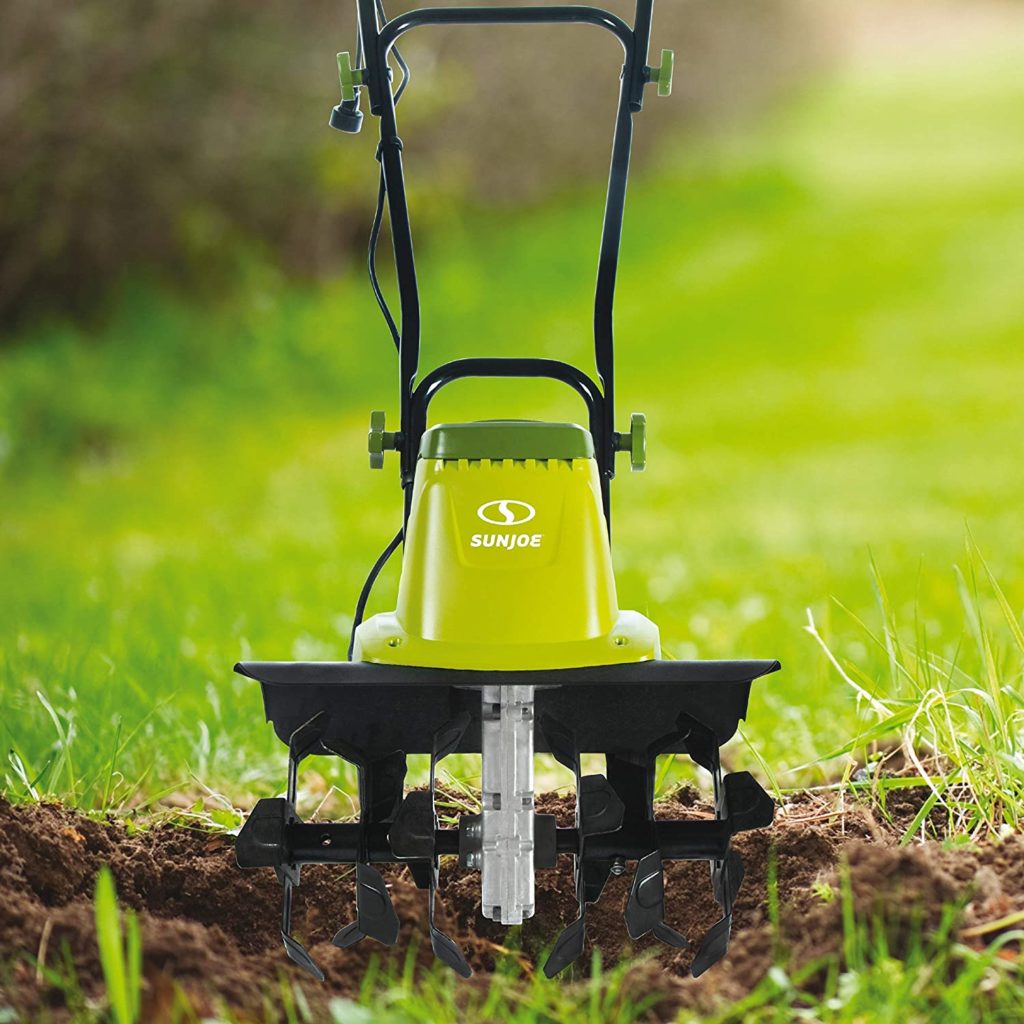 Sun Joe TJ604E Electric Garden Tiller
Features: Electric powered, 16 inches width, 8 inches depth, durable construction, versatile, adjustable tine angles, foldable handle for easy transport and storage.
One of the best rototillers you can find in the market today is the Sun Joe TJ604E Electric Garden Tiller. It covers about 16 inches in width to help you clear till faster and can go as deep as 8 inches in a single move. It is lightweight, which makes it easy to maneuver and also control.
With the adjustable tine feature integrated, it can handle small and large tilling tasks. There are many other reasons why this rototiller makes the list of best rototillers for a garden, like its powerful motor. The 13.5 amp motor allows this electric rototiller to crunch dirt and slices through the soil easily. 
The Sun Joe TJ604E Electric Garden Tiller offers you optimum performance and durability with six durable steel-angled tines. The rear wheels are adjustable, and you can set them to three different positions for easy maneuvering and adjustment. The handle allows for easy transportation and is also collapsible for when you need to store it away.
It is ideal for new and old beds and will offer you power as long as you keep it plugged in. Switching this rototiller on is also very simple as it features a push-start button. It is pretty easy to maintain and operate clean without worrying about fumes or damage to the environment.
---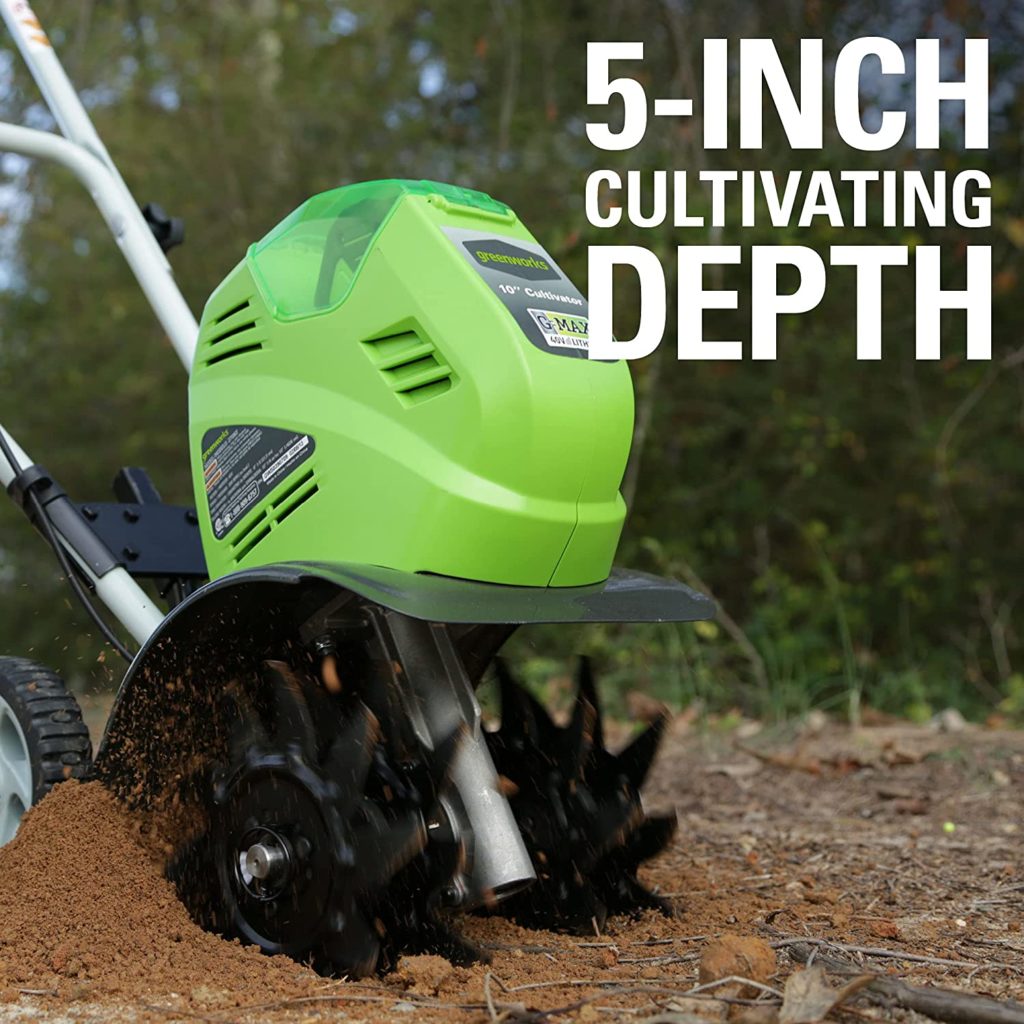 The Greenworks 40V Cordless Cultivator is the best for anyone who wants a mobile rototiller without dealing with the fumes and noise that come with a gas-powered rototiller. This rototiller is battery-powered, which means there's no cord to get tangled or fumes to worry about.
The battery has an impressive runtime of 40 minutes and offers enough power to tackle heavy-duty tilling jobs. One of the things we loved about this rototiller is that the startup comes with a two-step power switch. This switch helps you avoid accidental startups and will keep your pets and kids safe if you have any.
It is also a versatile choice and can be used for small and large garden projects. It also features adjustable tilling width and height for your convenience. The tines are in front and make it easy to remove dirt and properly loosen patches of soil. Its durable construction also ensures this rototiller serves you in your garden for many years to come.
---
FAQs – Rototillers
Is a rear-tine tiller necessary for me? It depends on your tilling needs. If you're tilling existing beds, it might not be necessary. However, if you have a large farm or you're tilling a compacted or new soil, you might need a rear-tine rototiller.
What power source is best for rototillers? It depends on what your needs are. Gas-powered rototillers offer more power and depth than electric or battery-powered rototillers. If you also don't want to deal with noise or fumes, electric rototillers are your best option.
How deep does a rototiller dig? The answer to this depends on the machine's weight and power. The average size for most rototillers is 8 inches deep. However, it is notable that gas-powered rototillers offer more depth than electric rototillers.
---
Conclusion
Part of the challenge of buying rototillers is knowing what to look for in a rototiller, and this article efficiently clears that up in the buying guide. We've also researched and reviewed the best rototillers for large gardens for you to save you time. You can peruse the rototillers reviewed above for the best option.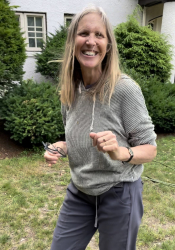 Latest posts by Jessica Zander
(see all)
Hello! I'm Jessica Zander, a garden coach and consultant based in the Boston area (zone 6b), offering virtual consultations across the country and Canada.
I've been passionate about gardening since the early 1990s, and in 2022, I launched You Can Do It Gardening to empower individuals to feel more confident in their gardening endeavors.
Following a 30-year career in nonprofit finance and operations, I transitioned out of that field in mid-June of 2023 due to the growing demand for coaching services. Interestingly, my years of presenting financial statements to boards and finance committees proved to be valuable experience for teaching people about gardening! I enjoy sharing skills, providing guidance and suggestions, and collaborating efficiently with clients to make significant improvements to their outdoor spaces, both small and large. I also regularly teach at the Arlington Continuing Education and Cambridge Adult Education.
My approach is direct and practical, akin to Mary Poppins, but tailored to your garden. Clients find satisfaction in saving money and taking pride in their own gardening achievements.