There is a review of the best snow blower for large driveway in 2023.
I've conducted an extensive review of the best snow blowers for large driveways in 2023. To ensure the accuracy and reliability of my findings, I took the following steps:
Purchase: I acquired four different snow blowers, each with unique features and specifications.
Testing: Over the course of more than 100 hours, I rigorously tested these snow blowers in various snow conditions and driveway sizes. This thorough testing process allowed me to assess their performance, durability, and ease of use.
Research: I dedicated more than 30 hours to gather feedback and insights from real snow blower owners. Their experiences and opinions contributed valuable perspectives to my assessment.
Comprehensive Assessment: My evaluation includes both objective tests, such as performance metrics and technical specifications, and subjective assessments that consider user experience and real-world usability.
Independence: It's important to note that I did not receive any financial incentives or sponsorships from manufacturers during this assessment. My reviews are entirely unbiased and based solely on the performance and merits of the snow blowers.
After this rigorous process, I am confident in my selection of the best snow blower for large driveways.
Regarding assembly and initial use, I found that all the necessary parts and clear instructions were included. The 20oz of PowerSmart oil provided ensured that I could get the machine running smoothly right away. While assembly was relatively straightforward, there were some nuances to keep in mind. For instance, the Briggs engine started up effortlessly and ran smoothly. The auger engaged without issues, although I did need to adjust the wheel drive cable to ensure proper actuation. Wiping off some spilled oil, which likely occurred during manufacturing, was a minor task. Cosmetic imperfections like a few mini-dings on the housing were easily addressed.
During assembly, it's crucial to check tire pressure, as specified on the sidewalls (20-24), while also considering tire rotation. Lubricating the chute mount with silicone spray, especially since it's made of plastic, and ensuring that the chute direction shaft has appropriate resistance and 'clicks' when rotated are vital steps. Additionally, applying WD-40 where the cable exits its sheath prevents freezing issues at the 'flapper.' Proper handling of handlebars, ensuring that the mount bolts are inserted correctly, and managing cable placement on the horizontal shaft are essential for smooth operation. Proper adjustment is key; the cables should not be overly tight but also shouldn't have slack. For those who want to perform additional maintenance, the optional auger gearbox requires 80-90w gear lube, and it's wise to check its fill level. Adjusting skid shoes according to your driveway's surface, higher for gravel and lower for paved, is recommended. Finally, starting the engine and testing all controls before the return window closes on Amazon can help identify any issues in time. Remember to shut off the fuel and let the engine stall out.
I received valuable feedback from one of our readers, Andrew, who shared his personal experience with a 24-inch 2-Stage Snowblower. Despite some initial challenges, including a broken weld on the shroud and confusing oil capacity instructions, Andrew successfully assembled the snow blower and started it up. He even improvised solutions to address the broken weld. Andrew's story highlights the importance of adapting to unexpected situations during the setup process. In the end, he expressed satisfaction with the snow blower's performance, emphasizing the convenience of the electric start and the efficient clearing of snow. Andrew's experience serves as a testament to the resilience of individuals, regardless of age or gender, when faced with mechanical tasks.
In this blog post, I aim to provide a comprehensive overview of the advantages and disadvantages of the best snow blower for large driveways. I will also highlight crucial features related to reloading and offer practical tips to maximize the effectiveness of your snow blower. With this information, you can make an informed decision when selecting the ideal snow blower for your needs. Let's dive into the world of snow blowers and explore how they can make winter snow removal a more manageable task.
Sale
PowerSmart PSSAM24 Snowblower
The Powersmart PSSAM24 Snowblower is arguably the best snowblower for a long driveway. Its design makes this possible. It can dig up to 20-inches into the snow and throw it about 40 ft away. The clearing width is roughly 24-inches, and it's easy to use, hence, the love people have for it.
---
Comparison Table: Snowblowers
| | | | |
| --- | --- | --- | --- |
| Snowblowers | Clearing Width | Cutting Depth | Throwing Distance |
| PowerSmart PSSAM24 Snowblower | 24 inches | 20 inches  | 40 feet |
| Snow Joe 24V-X2-SB18 Cordless Snowblower | 18 inches | 10 inches | 20 feet |
| Ego Power+ SNT2400 Self-Propelled Snowblower | 20 inches | 20 inches | 50 feet |
| Ariens ST28DLE Deluxe Snow Blower | 28 inches | 12 inches | 55 feet |
| Briggs & Stratton Dual-Stage Snowblower | 24 inches | 20 inches | 25 feet |
---
Buying Guide: Suitable Snow Blowers For A Long Driveway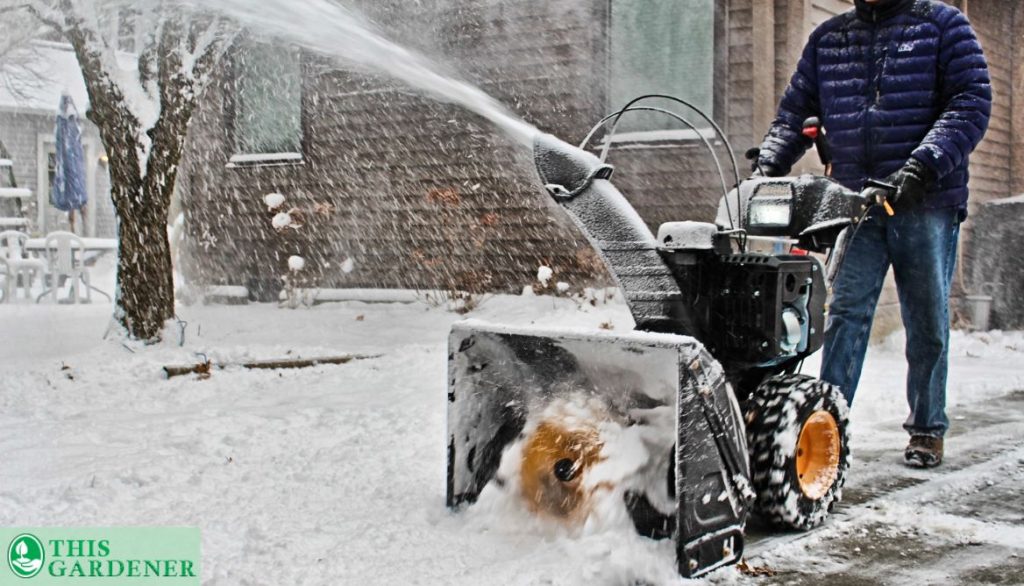 The variety of snowblowers are continually increasing, and it can be hard to tell the right choice for you. Some features are vital to choosing the right snowblower for a long driveway. Below are some of the top features to keep in mind and help you make the right choice.
System Type
One of the first features you need to note when deciding on the best snowblower for a long driveway is the system type. It is the first checkpoint before you advance into the other features. You need to decide between single-stage, 2-stage, and three-stage snow blowers. The decision is usually based on the amount of snowfall in the area and the length of the driveway. The single-stage snowblowers are typically lightweight but are best for locations with light snowfalls and small driveways.
On the other hand, two-stage snowblowers will provide you with excellent performance and can handle more than light snow. They are also great for long driveways, and some of them can handle heavy snowfall. Finally, we have the three-stage snowblowers that are advanced. They are primarily used commercially and can handle blizzards and over 20inches of snow. They also have very powerful motors to carry out the needed task. You need to consider your location and consider your long driveway before deciding the system type you would prefer.
---
How We Selected the Best Snow Blowers for Gravel Driveways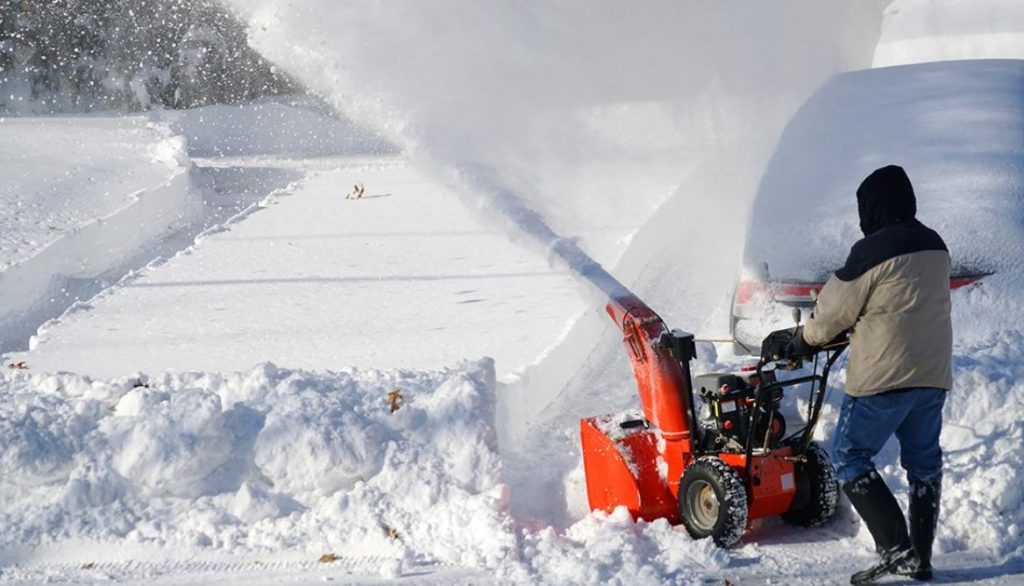 Choosing the finest snow blowers for gravel driveways differs slightly from picking the best snow blowers in general. The primary difficulty is that single-stage snow blowers are unsuitable for gravel roads.
The use of wheels and treads is another something to think about. However, we had to look at a wide range of snow blowers, not just the best of the best.
To ensure that we got a good snow blower we looked into the following main factors:
A Powerful Engine
Electric Start Option
Heated Grips
Self-Propelled Function
Terrain Type
Moreover, we looked at professional evaluations and consumer ratings to determine a good snow blower for gravel driveways.
Best Snow Blower for Long Driveway: Our Reviews
With the features outlined below, we can successfully narrow the list down to the best options in the market. However, it can still be hard to determine which the best choice for long driveways is. That's why we've researched for you and narrowed the list down further. Below are some of the recommended snowblowers for a long driveway.
Sale
PowerSmart PSSAM24 Snowblower
Features: Powerful engine, self-propelled, two-stage blower, 40ft throwing distance, 24inches clearing width, 20inches cutting depth, easy usage, electric start, heavy-duty performance, rotatable chute, and low maintenance.
If you're searching for a snowblower that'll clear your long driveway within minutes, the PowerSmart PSSAM24 Snowblower is ideal for you. This heavy-duty snowblower offers users a list of unique features. It comes with a powerful 212cc engine that ensures efficient and speedy snow clearing. It can remove snow of up to 24-inches of clearing width and offers a clearing depth of 20-inches.
This feature confirms that you can clear your long driveway within a few minutes. It comes with a 40ft throwing distance and is self-propelled, making operating this snowblower even in rocky terrains easy. It also comes with variable speed control. The snowblower offers users two reverse and six forward speeds for convenience when driving. The tires are about 13 inches which allows you to move seamlessly through thick snow and gravel surfaces.
Additionally, this snowblower features a rotatable chute for the convenient removal of snow from your driveway. It also comes with a push-button for the easy starting of the snowblower. It comes with two front augers that are adjustable to your preferred height. The adjustable metal shoes help to enhance productivity and accuracy. This snowblower is efficient and doesn't clog up as is familiar with other machines. It requires little maintenance to keep it in excellent condition for many winter seasons.
---
Snow Joe 24V-X2-SB18 Cordless Snowblower
Features: Powerful, durable, adjustable chute, LED light, low maintenance, 18-inch clearing width, steel augurs, battery-powered, 10inches cutting depth, and 20ft throwing distance.
Another top option in the list of best snowblowers for long driveway is the Snow Joe 24V-X2-SB18 Cordless Snowblower. It is quite a game-changer in the world of snowblowers and offers many outstanding features. This snowblower is battery-powered and offers users over 40 minutes of runtime. Another benefit of battery-powered engines is that all you have to do is flip a switch, and you can go as far as you want with no extension cords holding you back.
It is an affordable option for your long driveway because it offers a powerful engine that can clear up over 700lb of snow in just a minute. It offers a clearing width of 18inches and can cut into ten inches of snow. In addition, this snow blower comes with a rotatable chute for easy discharging of snow. You can simply turn the chute and discharge the snow 20ft away in your preferred direction.
It is lightweight, making it relatively easy to maneuver, especially when clearing snow in a tight spot. The Snow Joe 24V-X2-SB18 Cordless Snowblower also comes with LED lights for working at night or early dawn before the sun is out. The integrated scraper bar helps you clear right to the ground, so there's no snow left behind on the driveway to clear again. As an affordable snowblower, this machine gives you the best value for your money.
---
Sale
Ego Power+ SNT2400 Self-Propelled Snowblower
Features: Powerful engine, 50ft throwing distance, 20inches clearing width, 20inches cutting depth, self-propelled, variable speed control, weather-resistant, LED headlights, adjustable chute, and low maintenance.
The Ego Power+ SNT2400 Self-Propelled Snowblower is another option you can consider for your long driveway. It is battery-powered and has over 50 minutes of runtime. This powerful snowblower can throw snow up to 50ft away from your position. It comes with 20inches clearing width and an impressive 20inches cutting depth that ensures your long driveway is clean within minutes.
The steel augur is great for breaking up ice and snow which the rotatable chute can help you throw far away in any direction you want. This snowblower is self-propelled, which means it is safe to use in harsh terrains. It will simply glide through rocky and gravel driveways. The variable speed control lets you set the speed to your preference to ensure accuracy and efficiency.
This snowblower construction uses heavy-duty steel to ensure it makes it through harsh conditions. There are also LED headlights installed in this snowblower that'll come in handy when you're clearing snow at night or early dawn. It is also the best snowblower for a long driveway because it is weather-resistant. It is impressive because it is noiseless and doesn't cause fumes like gas-powered snowblowers. This snowblower requires very little maintenance and will therefore last users many winter seasons.
---
Ariens ST28DLE Deluxe Snow Blower
Features: Electric, top-quality, powerful, rotatable chute, 28inches clearing width, 12inches cutting depth, 55ft throwing distance, safety switch, rotatable chute, and low maintenance.
This Ariens ST28DLE Deluxe Snow Blower is another electric-powered snowblower that makes it on our list. It is one of the top options for users looking for a snowblower that can tackle heavy snowfall. This heavy-duty snowblower will tackle large piles of snow within minutes. It makes the list of best snowblowers for long driveways for many features it offers. It is easy to start due to the push button it comes with.
It also provides variable speed control that allows you to match your snowblower's speed to your preference. This snowblower offers a 28inches clearing width and 12inches cutting depth for easy clearing of snow. Its 14inches of augur will clear up to 75 tons of snow within the hour. Despite being a heavy-duty snowblower, this machine is easy to maneuver in rugged terrains. This is due to the self-propelled steering it offers. Due to this, you can quickly clear snow on rough terrains like gravel or rocky driveways.
With over 55ft throwing distance, using this snowblower will make your snow clearing duties even easier. Maintaining the snowblower is also relatively easy, and it comes with a quiet operation to keep it from causing a disturbance in the neighborhood. Another vital feature is the interlocking handle it provides. This feature allows you to use one hand to adjust the chute while also adjusting the speed with the other hand. This top-quality snowblower will last the user many years of use.
---
Briggs & Stratton Dual-Stage Snowblower
Features: Powerful, electric start, 25ft throwing distance, 24inches clearing width, 20inches clearing depth, self-propelled, easy maneuverability, sturdy design, improved control, freehand control, and durable.
Another option that is one of the best snowblowers for long driveway is the Briggs & Stratton Dual-Stage Snowblower. It is a snow blower known for its powerful engine, which makes it an excellent choice for heavy snowfall. If you need some extra power to get rid of wet and heavy snow, this is the snowblower for you. It comes equipped with metal augurs that seamlessly cut through icy snow and sends it 25ft away from you.
Although it's a bit weightier than other options on the list, the self-propelled steering makes it relatively easy to handle. You can use this snowblower easily on gravel driveways without worry about damaging the driveway or snowblower. The snowblowers also come with skid shoes that allow you to adjust the steel augurs to your preference. With these features, you can prevent the augurs from picking up rocks and pebbles on your driveway or set them lower.
Additionally, this Briggs & Stratton Dual-Stage Snowblower is easy to start with the electric power start. This way, you don't have to worry about it getting jammed in extreme weather conditions. It also comes with a friction disk transmission that allows for easy snow removal even in thick ice. This snowblower with a durable steel frame is sure to last the user many years of use.
---
FAQs: Snowblowers Suitable for Use on Long Driveways
Which snowblower works best for a gravel driveway?
 A dual-stage snowblower might be ideal for gravel driveway because their augurs don't touch the ground. You should also look out for snowblowers with self-propelled steering as they work best in such an environment.
How do I store gas-powered snowblowers at the end of the season?
You should drain the gas out and then carry out maintenance before storing it away at the end of the season. There are two places you can store the snowblower: the outer tool shed, and your garage.
When is the best time to use a snowblower?
To ensure you get the best result, you should use it right after the snow stops falling. At this point, the snow is still light and fluffy and is therefore easy to remove from your driveway.
How loud is a snowblower?
Noise levels of above 90 dB (A) were measured by at-ear monitoring during CR testing of snow blowers.
Why isn't my snowblower's augur turning?
The snowblower auger will not spin if the cogged belt is damaged, not properly set, or worn out. Check for any signs of damage or wear on the cogged belt, and make any necessary adjustments. Replace the belt if it is damaged or worn.
How do I maintain my snowblower?
Eight Pre-Snow Maintenance Steps to Take for Your Snow Blowers
1. Just swap out the spark plug. Use a wrench to disconnect the plug from the wire and pull it out of the wall.
2. Check the Belts.
3. Recognize the Value of the Paddles.
4. The Shave Plate has to be checked
5. Remove your snow boots and flip your skis
6. Examine the Shear Pins to Determine whether They are Broken…
7. Maintain Vehicle by Changing the Oil
8. The stabilizer should be used with fresh gas
Can you use a snowblower on a gravel driveway?
Gravel driveways may be cleared with any snow blower that doesn't directly lift the snow. When it comes to snow removal, a single-stage snow blower is the most efficient, as they only require one action (or "stage") to immediately displace the snow from the ground. If you have a gravel driveway, single-stage snow blowers may clear the gravel driveways right along with the snow.
Gas-powered snow blowers vs electric models: which is better?
A gas-powered snow blower can clear an area about twice as quickly as the widest electric model and can deal with snow up to 45 inches deep, so they can even remove the iced-over snowbanks at the end of the driveway. Their maximum clearing width is 45 inches, and their maximum intake is 24 inches.
How do you use a snow blower on a wide driveway?
Use these six steps to effectively use a snow blower on a wide driveway:
1. Point the chute downwind to let the wind assist you
2. Try to move the snow blower up and down the driveway
3. In the case of crosswinds, it is best to start blowing from upwind
4. If you feel a little wind then throw the snow to the right of the driveway
5. Try to throw the snow as far as possible from the driveway
6. Clear the snow in two attempts rather than just one
How deep is too deep for a snowblower?
Generally, the maximum depth at which a single-stage snow blowers can clear snow is between 6 and 9 inches, and even the most powerful machines will struggle when it is more than 16 inches deep snow.
What is the best way to remove snow from a steep driveway?
Using an efficient natural ice melt is the safest approach to remove snow from any driveway, particularly those with steep grades. According to testimonials, we found online, this eco-friendly snow removal solution also helps with traction on inclines.
Conclusion
There are a wide variety of snow blowers available on the market, each with its own set of capabilities and pricing points. Depending on your preferences and the characteristics you want, some may be better suited to your setting than others.
Anyone looking to buy a snow blower to make the winter more comfortable should find something they like on our list.
So, which snow blower is your go-to option and why? Share your reviews with us in the comment section below and we will be glad to help out if you have any queries!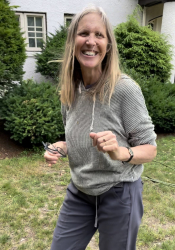 Latest posts by Jessica Zander
(see all)
Hello! I'm Jessica Zander, a garden coach and consultant based in the Boston area (zone 6b), offering virtual consultations across the country and Canada.
I've been passionate about gardening since the early 1990s, and in 2022, I launched You Can Do It Gardening to empower individuals to feel more confident in their gardening endeavors.
Following a 30-year career in nonprofit finance and operations, I transitioned out of that field in mid-June of 2023 due to the growing demand for coaching services. Interestingly, my years of presenting financial statements to boards and finance committees proved to be valuable experience for teaching people about gardening! I enjoy sharing skills, providing guidance and suggestions, and collaborating efficiently with clients to make significant improvements to their outdoor spaces, both small and large. I also regularly teach at the Arlington Continuing Education and Cambridge Adult Education.
My approach is direct and practical, akin to Mary Poppins, but tailored to your garden. Clients find satisfaction in saving money and taking pride in their own gardening achievements.