A tiller or cultivator is one of the most useful tools that the majority of experienced and amateur gardeners can have. It is crucial to select the best tiller for breaking new ground because it is impossible to grow good plants and vegetables in hard soil.
In this article, we'll discuss the three main types of tillers for breaking up new ground. We'll go over our top picks and verdict on the best tiller. So, let's dive into the details!
Quick Comparison of Our Top 3 Tillers
Using an ineffective Rototiller or a spade to loosen new or compacted soil takes too long and strains your back. To do the task, then you need one that is really powerful and efficient. A Rototiller is also known as Garden tiller.
We have listed our Top 3 Tillers in the table below so you can compare them based on their common features. They are the most potent tillers you can buy and are perfect for working on huge sections of rocky and hard soil rich in clay.
Champion 19-Inch

Rear Tine Tiller

Integrated

Transport Wheels

13-inch self-

propelled

agricultural tires 
Our Picks For the Best 6 Tillers
There are numerous tillers on the market, each presenting unique characteristics. We're taking our time to talk about 6 of the best-selling popular models. In our lists here, we would describe their basic characteristics, features, pros, and cons.
The Earthquake Pioneer is made to provide you with more control while continuing to offer all of the advantages that dual directions are renowned for. From breaking ground to laying a flat seedbed, tilling soil, and removing sod.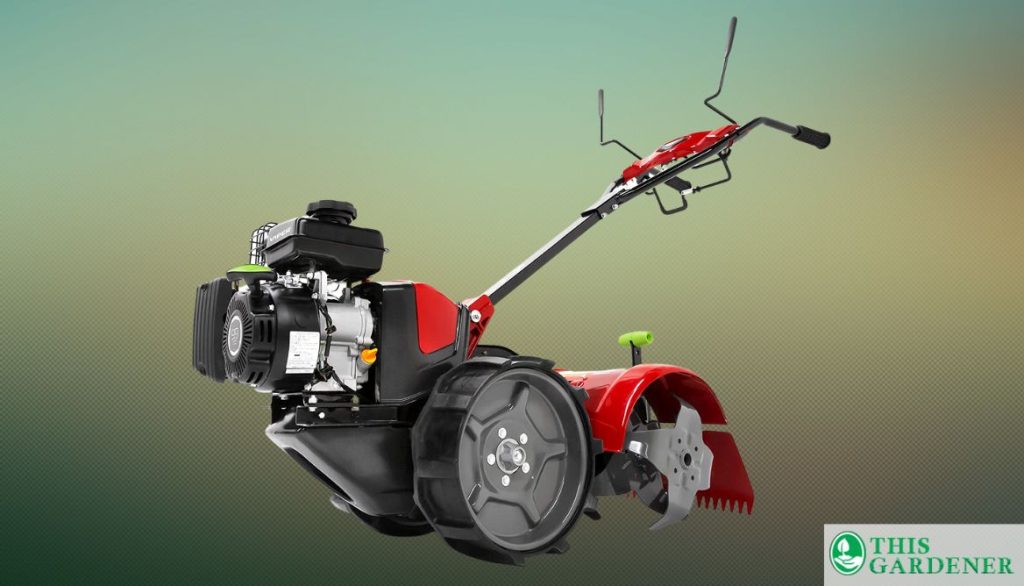 The transmission center on the tiller lowers gravity while allowing for balanced and stable tilling. Although earthquake 37037 does the same amount of tasks as other tillers, it is very efficient and has an engine that is lighter and quieter than a conventional rear-tine tiller.
Specifications of Earthquake 37037 Pioneer Dual-Direction Tiller
EARTHQUAKE 37037 Pioneer dual rotation

tilling

99cc 4-Cycle Viper Engine

11'' Maximum tilling depth

Self-Propelled Airless Wheels
Pros
Earthquake engine is powerful.
Its reverse is instantaneous and easy to use without shifting.
It has airless wheels that never need to be inflated.
It contains stamped steel tines that help to prevent soil compaction.
It is equipped with counter-rotating and standard rotating tines.
It is durable and long-lasting.
It is easy to assemble.
Its weight is light.
Earthquake pioneer engine does not make noise.
Cons
The shift lever is on the transmission, not in the operator position.
Turning is difficult since the drive wheels cannot turn independently.
The Sun Joe Tiller has a strong engine that quickly breaks up soil while easily slicing through it at a fast pace. Sun Joe makes even the most difficult yard and garden chores more comfortable and less tasking.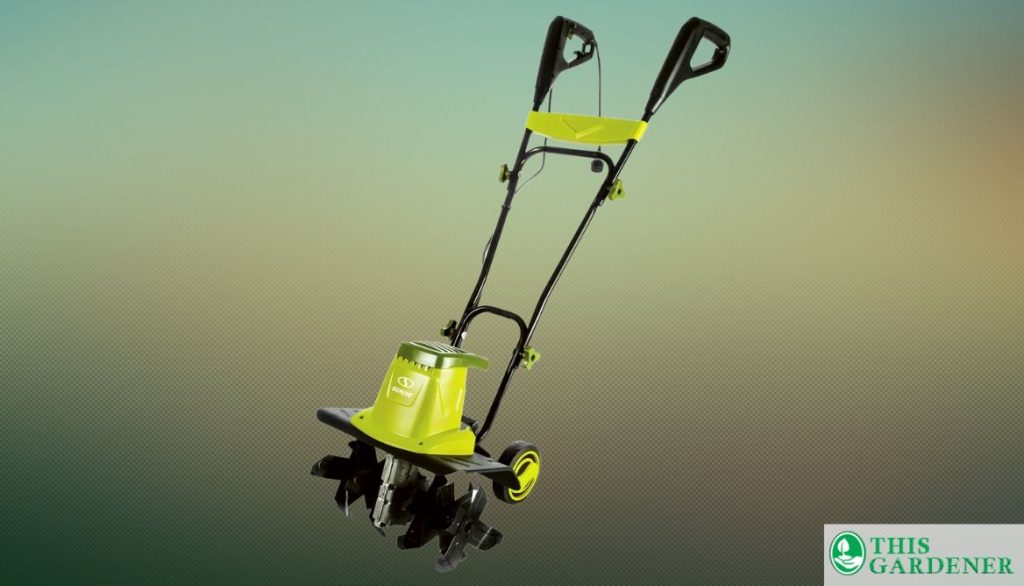 Sun joe's electric tiller has a folding handle that makes it simple to store when not in use. Its 3-position, Adjustable rear wheels make it simple to move wherever it is needed. it's a good option for your flower or vegetable garden if you're seeking the best electric tiller.
Specifications of Sun Joe TJ604E 16-Inch Electric Tiller/Cultivator
Sun Joe TJ603E 16-Inch 12-Amp Electric

Garden Tiller/Cultivator

21 x 17.88 x 17.67 inches

3-position wheel adjustment
Pros
It is simple to assemble and needs no maintenance.
It has a strong AMP motor engine.
It is durable.
It has 6 steel angled tiller tines for maximum performance and durability.
Sun Joe is light in weight.
Its design is sleek.
The handle folds for easy storage and transportation.
The wheel may be adjusted in three positions.
It needs no maintenance.
Cons
The first blades of Sun joe are inferior to the replacement blades.
The 19-Inch compact Tiller from Champion handles difficult terrain with ease. The depth gauge is simple to set and is located beneath the tiller, allowing you to work consistently at a certain depth and adding to your balance under various circumstances.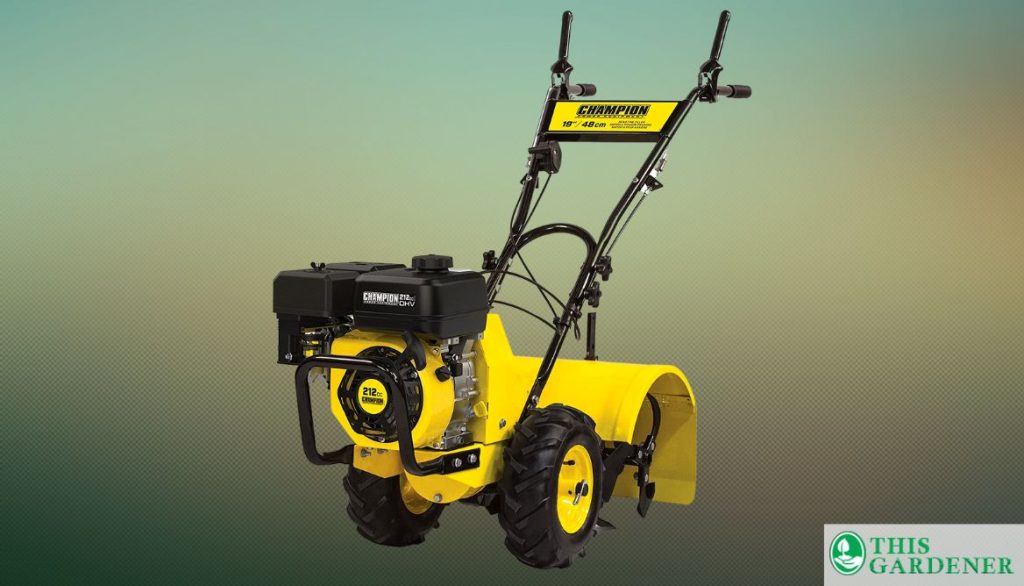 This machine is a perfect combination of power and performance, which help you to till the hardest soil. The adjustable tilling depth and width help you tackle large plots of ground with the least amount of effort and to till narrow spaces or wide rows.
Specifications of Champion 19-Inch Rear Tine Tiller
| | |
| --- | --- |
| | Champion 19-Inch Rear Tine Tiller |
| | |
| | |
| | |
| | 58.70 x 19.70 x 49.60 inches |
| | |
| | |
| | |
| | |
| | |
| | 13-inch self-propelled agricultural tires  |
| | |
Pros
Champion is powerful and built of cast iron.
A heavy-duty cast-iron box houses the gear-driven transmission.
It is dependable and long-lasting with a two-year warranty.
It has free lifetime technical support from experts.
It is great for large difficult areas and uneven ground.
Cons
Sometimes during turns, wheels come off the rim, making mobility difficult.
16 inches is the maximum tilling width.
The 8-inch maximum tilling depth, which is fixed, may not be as deep as that of the other rototillers in this study.
Exorbitantly expensive when compared to other models.
Earthquake 20015 is our number one top pick of the best tiller for breaking new ground. It has the ability to cultivate, mulch, and aerate rocky soil. This tiller has a high-performance Viper engine and has the ideal amount of power to turn any type of soil.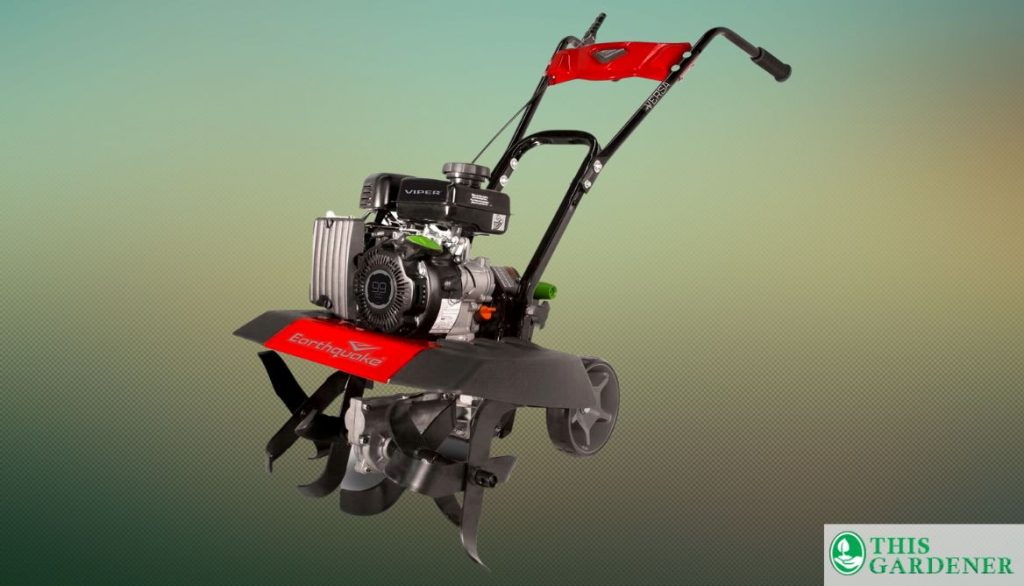 Front-tine rototillers with gas engines have always cost a little more than electric tillers. But earthquake 20015 is unbelievably cheap for its quality. You can be sure you're buying a machine that will last thanks to its fantastic features and super-wide tilling capabilities.
Specifications of Earthquake 20015 Versa Front Tine Tiller
| | |
| --- | --- |
| | Earthquake 20015 Versa Front Tine |
| | |
| | |
| | 99cc 4-Cycle Viper engine |
| | |
| | |
| | 21" maximum tilling width |
| | |
| | |
| | |
| | Integrated Transport Wheels |
| | |
Pros
The Earthquake features an adjustable tilling width that ranges from 11, 16, and 21 inches.
Removal of outer tines without additional tools.
Earthquake 20015 has the combination of two tools, a cultivator and a tiller.
Versa can swiftly transform from a tiller into a cultivator.
Maneuverability is simple.
It is Lightweight and easy to manage.
It has the lowest center of gravity for stable operation on uneven terrain.
Recoil with a smooth draw for a simple start.
Cons
Earthquake versa may not be appropriate for virgin land with lots of dense soil and sod.
It has no reverse features.
It has short handles.
The muffler is susceptible to rusting.
The Mantis Tiller Cultivator 7940, powered by a 25cc Honda engine, is essentially a 4-cycle variant of the 2-cycle Mantis 7920. The Mantis tiller has been the most well-known and reputable small tiller in the world, notably in America, for more than 40 years.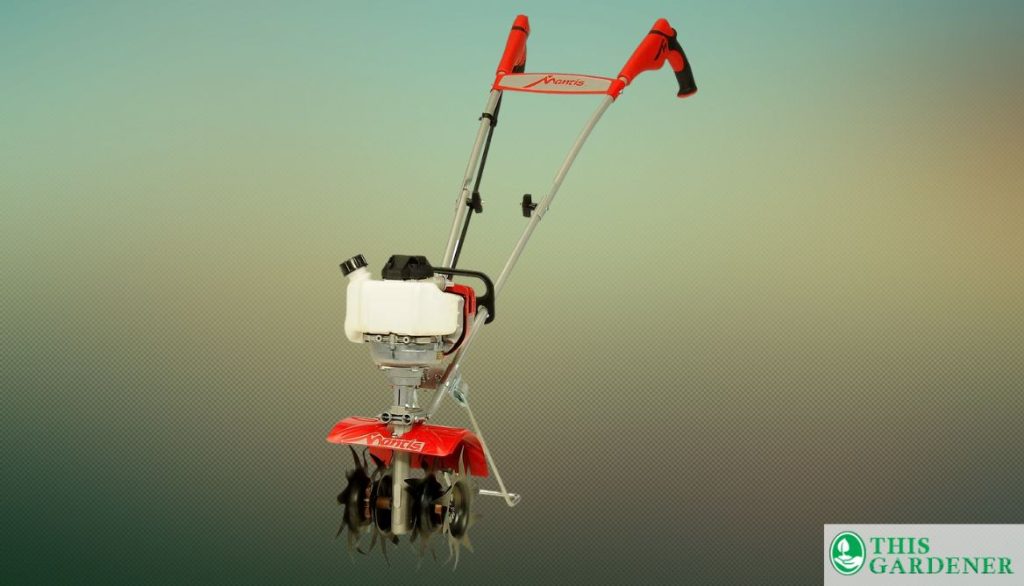 The Mantis Tiller is prepared to help you create the garden of your dreams, yet it is lightweight and easy to operate. Its unique, patented serpentine tines, which have a lifetime breakage guarantee, turn the soil into a fine grain that is suitable for planting.
Specifications of Mantis 7940 4-Cycle Gas-Powered Cultivator
| | |
| --- | --- |
| | Mantis 7940 4-Cycle Gas-Powered Cultivator |
| | |
| | |
| | |
| | 29.25 x 13.5 x 9.5 inches |
| | 10'' maximum tilling depth |
| | |
| | |
| | |
| | |
| | |
| | |
Pros
Mantis features strong, reliable commercial engines.
Mantis has a high-quality transmission to produce the most power for weeding, digging, and tilling.
It also has a comfortable handle that can be flipped around with fingertip controls.
It has handles that fold up effortlessly for storage and travel.
No mixture of oil and gas, there is a big tank for gas and oil reservoir.
It has a kickstand for stable support while the motor is off when stopping for a break.
The tines spin at a solid 240 rpm, excellent for even the hardest garden soil.
Cons
It takes a while to put it together.
The acorn Nuts on the screw-on knobs will loosen up due to the machine's vibration.
Difficult cleaning of the tines.
This is our second-best tiller for breaking new ground, it has a powerful 79cc Viper engine with a full 21″ tilling width tiller and an easy-to-convert 11″ cultivator. It has incredibly strong, durable, and forged tines attached.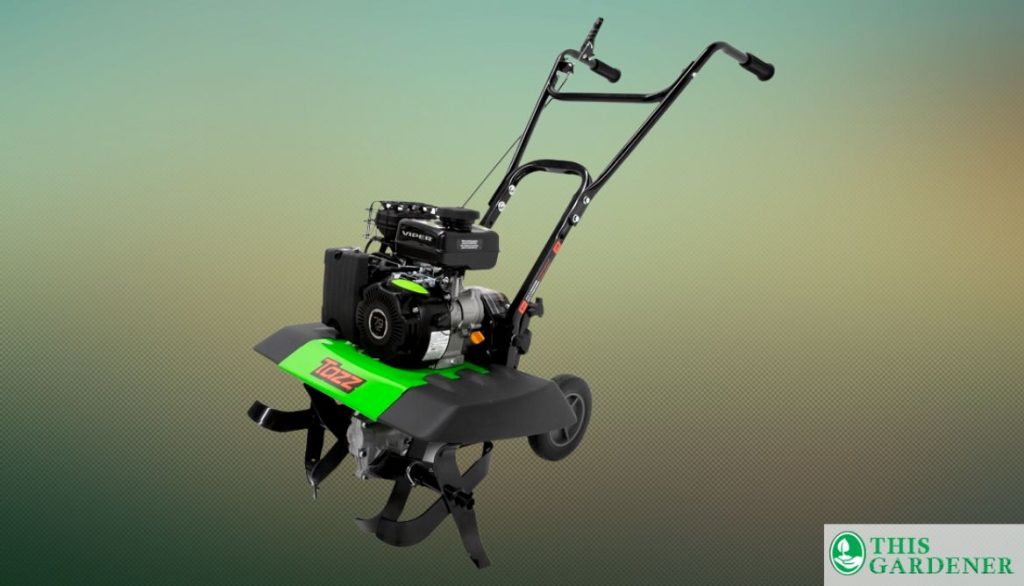 Tazz provides the unsurpassed garden tilling adaptability required to achieve your preferred tilling depth and starts up quickly with the pull of a trigger. Its handlebar and drag stake adjustments provide the operator control and flexibility as it turns coarse or rocky soil into the finest grain.
Specifications of Tazz 35310 2-in-1 Front Tine Tiller/Cultivator
| | |
| --- | --- |
| | Tazz 35310 2-in-1 Front Tine Tiller/Cultivator |
| | |
| | |
| | 79cc 4-Cycle Viper Engine |
| | 130 x 61 x 90.2 Centimetres |
| | |
| | |
| | |
| | |
| | |
| | |
| | |
Pros
The Tazz 35310 has a powerful and fuel-efficient 79cc Viper engine.
It starts up easily.
It is 2-in-1, A 21"tiller and 11" cultivator
It is equipped with a flexible handlebar with 4 different settings to comfortably fit any user
It is constructed of durable parts, such as a bronze gear transmission and forged steel tines.
Quick toolless removal of the side shields and outer tines.
It is stable and balanced with a low center of gravity.
Cons
It's not the best to use if you want to break up highly rocky ground because it struggles with this task.
In locations with a lot more vegetation, it could be necessary to make a second pass.It takes time to assemble.
Factors To Consider While Buying Tiller For Breaking New Ground
Picking the best tiller for you can be difficult because there are so many different alternatives available. You'd need to think about a few things before choosing a tiller in order to prevent making a poor choice. Let's take a look: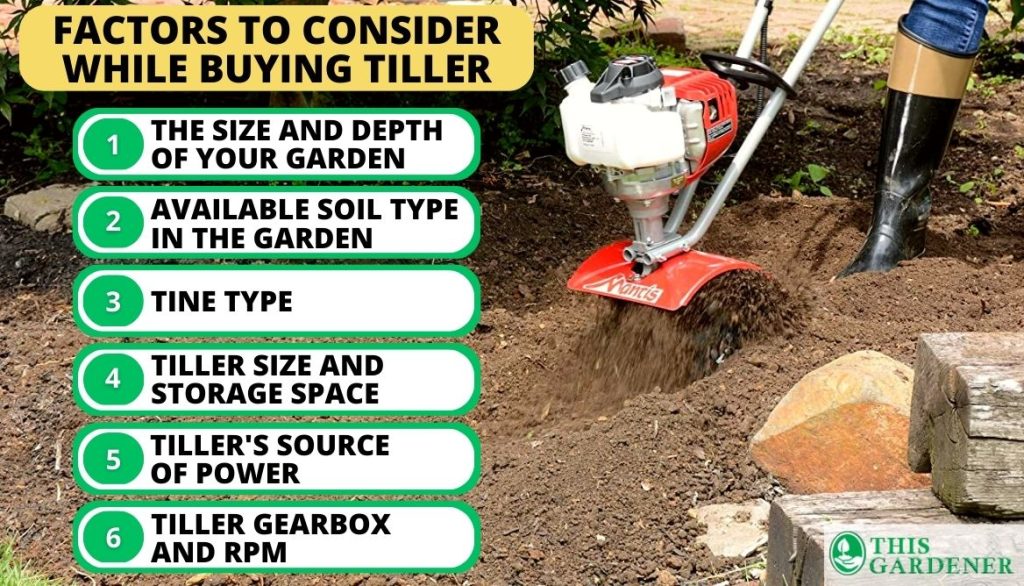 1. The Size And Depth Of Your Garden
One of the first things to think about is the size and depth of the garden you wish to cultivate. Although size is a relative concept, a decent way to estimate it is to think about how long it would take to till the ground while standing still.
If your yard is large and dense, you will need to get a gas-powered tiller. On the other hand, your little farm needs an electric driven tiller. Urban farmers use electric tiller frequently since their plots of land are typically not very large.
2. The Soil Type Available in the Garden
Before making a decision, you should also take the soil type in your garden into account. Depending on the extent of the land, these can be powered by either gas or electricity. Heavy-intensity garden tillers would be needed for hard soils like dry clay or rocky terrain.
However, if the soil doesn't require intensive tilling, such as fine loamy soil, you can make do with tillers with smaller engines that aren't made for hard lifting.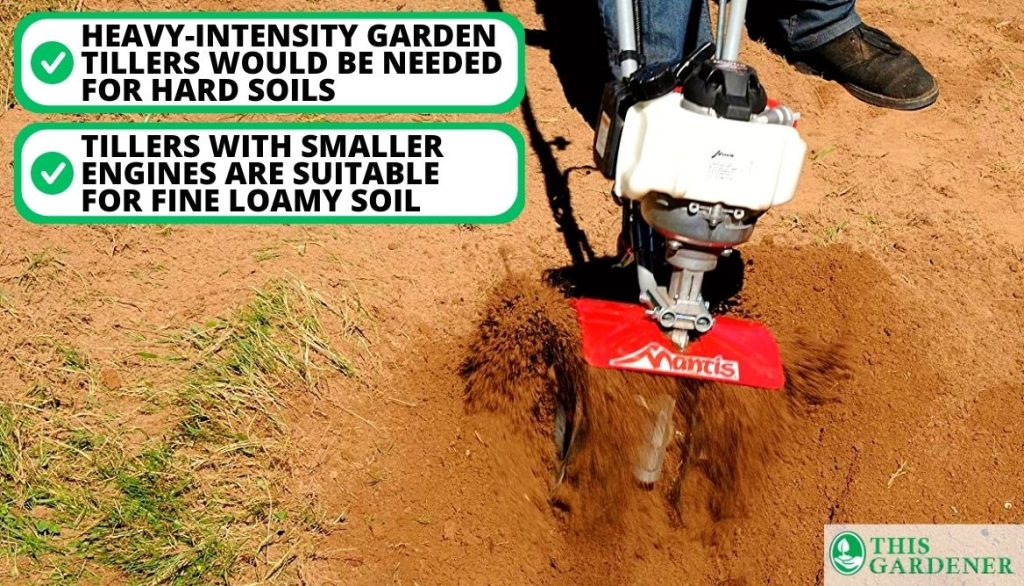 3. Tine Type
You should think about tine kind as well since several tillers have a mechanism that makes the tiller tines removable so you may adjust them to the soil's condition. However, some inexpensive tillers may just have one type of tine.
You can choose from four different types of tines based on your needs. The types are described below, and each one is distinctive in terms of capability and design.
Cultivators or Mini-tillers
Front-Tine Rototillers
Rear-Tine Rototillers
Early-Tine Rototillers
Combined cultivator and tiller
4. The Size Of The Tiller And Available Storage Space
Before you buy a particular tiller you must consider the facility to store your equipment as improper storage space can affect the efficient tilling depth of your machine.
You need a location that is dry, cool, and well-ventilated. Keeping it secure would be terrific, especially if you have children.
5. Tiller's Source of Power
In general, gasoline or electricity can be used to power tillers. Each one has benefits and drawbacks.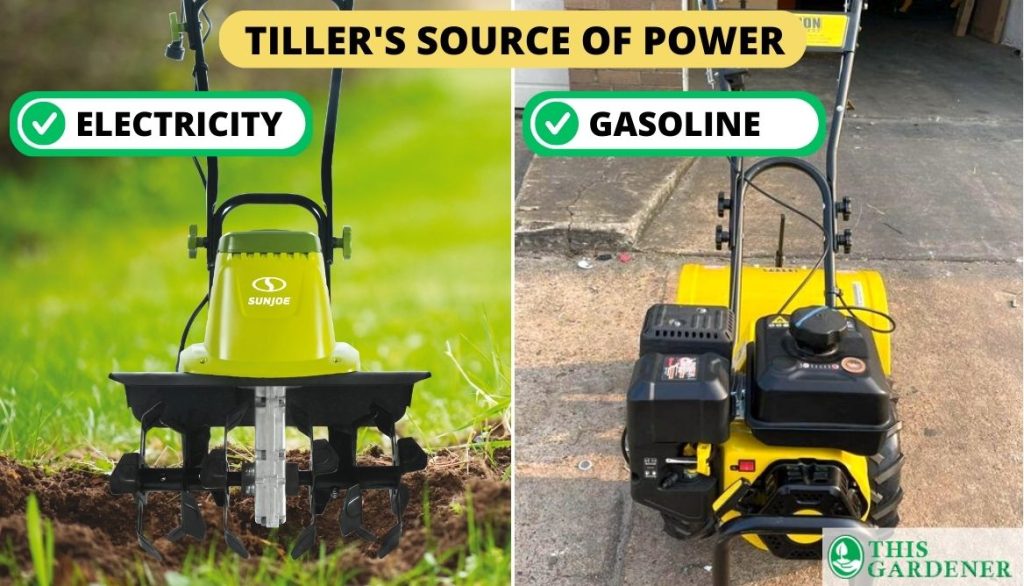 Garden tillers for cultivating fresh ground can be propelled manually, electrically, or with gasoline, depending on the model.
Your decision would, of course, depend on what is most convenient for you.
The size of the land may determine whether to get a gas- or electric-powered garden tiller, as was already mentioned.
In the long run, you'll save money over time because electric tiller is far less expensive to run than gas tillers.
6. Tiller Gearbox and RPM
A mechanical device called a gearbox is used to transfer power from an engine or other source to a machine or vehicle.
The rotational energy of the engine is changed into a rotational speed suitable for the wheels using a gearbox.
So, while choosing a tiller, you must consider your tiller's RPM.
A gearbox transfers speed from a rotating power source to another device.
A tiller transmission is a gear system that allows a rototiller to go forward and backward at various speeds.
I. Transmission Box of a Tiller
The gearbox is different from the transmission box, please get it right.
The term "transmission" refers to the entire drivetrain, which includes the differential, gearbox, clutch, belt, prop shaft, and final drive shafts.
The speed-changing mechanism might either be of the gear or belt variety.
II. A Tillers RPM
Revolutions/rotations per minute are referred to as RPM. Although according to the International system of units, it is not a unit. RPM is a measurement of the speed at which a tiller's tines rotate. RPM increases with rotational speed.
The Three Main Types of Tiller For Breaking New Ground
The three main types of tillers commonly used are discussed below: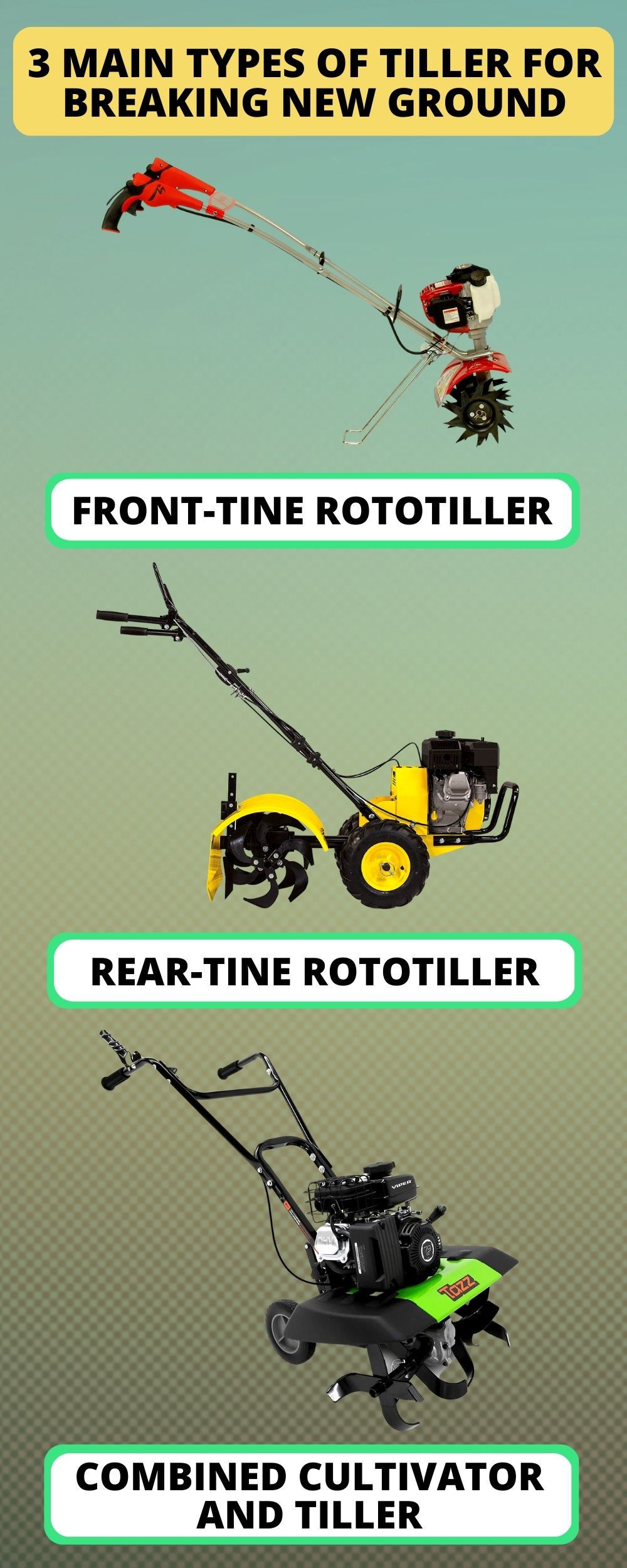 Front-Tine RotoTillers
Front-tine rototillers are also called tillers/cultivators. Even in the tightest of turns, a mid-sized front tine tiller with an engine of at least four horsepower will be simple to operate and manage.
Front-tine rototiller can be powered by a gas engine or an electric wire
Some of them can be as large as rear-tine tillers.
Front-tine rototillers often till the soil to a shallower depth than other types of tillers.
They resemble a typical garden rototiller more.
Their design resembles that of a cultivator.
The tiller's front-set tines and its two non-powered wheels are indicated by the name.
Although the front rototiller resembles a larger cultivator, it is significantly more suited for deeper cultivations.
A front rototiller is appropriate for an established garden bed that requires little maintenance.
Electric tillers tend to be more compact and weaker than their gas-powered counterparts.
Gas-powered front tine rototillers are more commonly utilized than electric ones because they are powerful.
Rear-Tine RotoTillers
Rear tine rototillers are garden instruments with their tines, or tilling blades, placed behind their wheels and engine.
Gas engines are almost universal in Rear tillers, which is wonderful for people who want to use them more frequently.
A rear rototiller avoids the need for long, tiring workdays thereby saving time and energy.
The rear rototiller is the best tool to use when working huge areas of land.
Both fixed and adjustable handles are available for rear tine tillers.
The tiller is easy to use because the handlebars may be adjusted to your height.
Certain rear tillers models come with useful features like drag bars.
This bar aids in maintaining steady tilling depth, controlling speed, and enhancing balance.
The rear-tine variants are easier to push than their front-tine equivalents and feature larger engines.
Since rear models are heavier than front models, they are able to maintain a firmer footing with fewer "jumps" than the front variants.
Combined Cultivator and Tiller
A combined cultivator and tiller are mostly written on as 2-in-1. The soil can be carefully loosened and aerated with a tiller and cultivator. Moreover, it dislodges insects and destroys weed roots.
A cultivator is used to mix loose soil or to break up small weeds before they become established, whereas a tiller is used to break up hard soil.
Vertical-Tine Tillers
Tillers with Vertical-tine are a relatively new choice on the market, and they are not nearly as common as any of the other tiller varieties discussed here.
Instead of cutting through the dirt downward like front-tine and rear-tine models, these machines' tines cut through it forward. They are consequently quicker and simpler to utilize.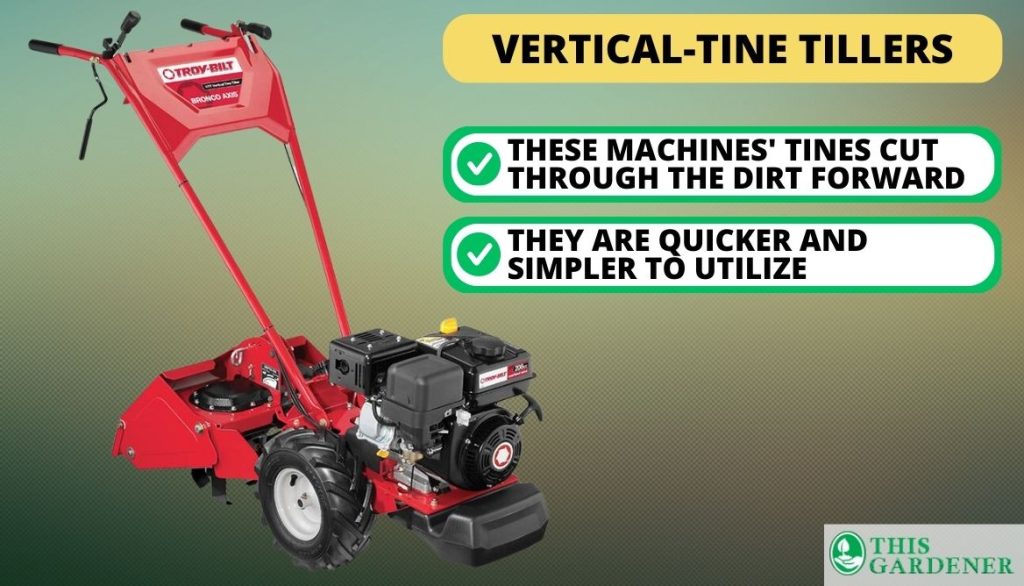 How to Place the Tines of a Tiller
You should place the tines of your tiller slightly inclined in the direction you want to till or travel.
Due to the tines' increased ability to effortlessly and deeply penetrate the soil, this will result in the most effective tilling activity.
For efficient soil tillage, the tines should also be spaced closely, around half an inch apart.
The Engine Power of a Garden Tiller
Engine power, which is measured using various metrics for each type of engine, should be the key factor to consider while buying your garden tillers.
A tiller's engine or motor strength determines how quickly and easily it can turn heavy soil; a little engine could sputter or jam, necessitating numerous passes over the same area of ground.
In order to compare gas-powered engines to electric ones, certain tiller manufacturers may quote engine power using horsepower; in this case, strive for at least half a horsepower or more.
Electric motors are measured in watts or amps, but the power of a gas-powered tiller engine is expressed in cubic centimeters and the number of cycles or strokes.
What is the Best Period to Till New Ground with Tiller
Tilling your garden requires a specific period and techniques to get the best result and you should also consider the condition of the soil as well as the weather condition of your area.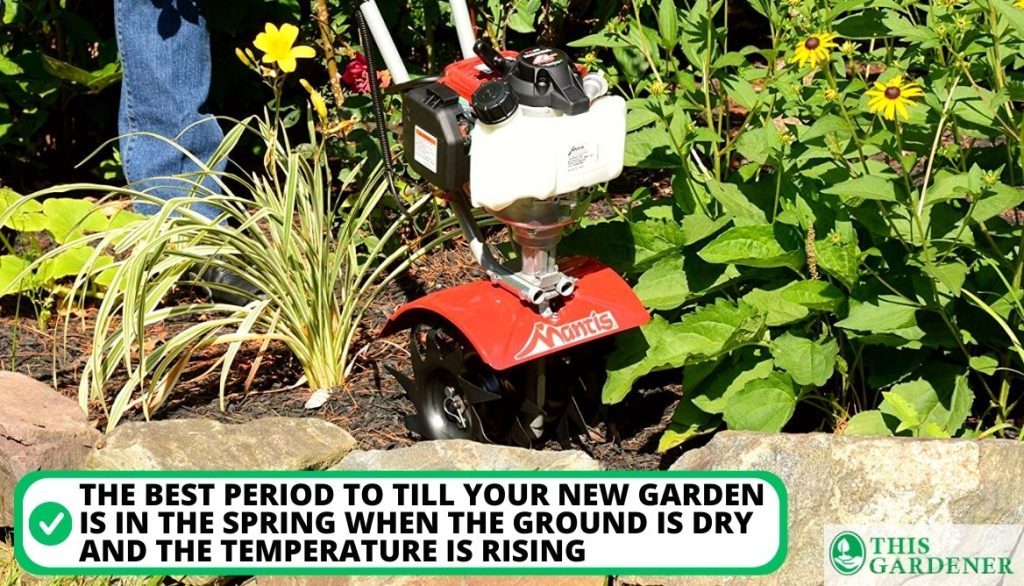 The best period to till your new garden is in the spring when the ground is dry and the temperature is rising.
Depending on the geography and environment, this might happen for some people as early as March while others would have to wait until May or early June.
You be careful not to till your soil when is it moist because it might damage your soil.
Before tilling your new ground, check the moisture content of the soil with your hand but if you cannot feel it. then you can use a dry towel to see the wetness in the soil.
Avoid Frequent tillage because it also contributes to deterioration in overall surface water quality.
Another thing to avoid is not tilling your ground too deep to avoid erosion and waterlogging.
Elements That Decide When to Till the Soil Most Effectively
Soil temperature and soil moisture content are the two primary determinants of whether or not to till the ground in the fall or spring.
These two elements may significantly affect soil compaction, clod size, tillage depth, and soil fracture.
The many aspects of the soil moisture content are its drainage, topsoil depth, slope, organic matter, and texture.
As a result, tillage techniques and, ultimately, yield and soil quality performance, can be influenced by soil moisture and temperature.
Removing the Grass in Your Yard Using a Tiller
It can be exceedingly laborious to remove grass from your lawn or an open field in order to make room for planting or a playground area. It might cost a lot of money, effort, and time.
One of the most efficient ways to complete the task is to use a tiller to remove the grass.
To remove grass using a tiller, you must first purchase a sturdy tiller. Rear-tine rototillers, which we have covered extensively in this post, are among the best garden tillers for removing grass.
This is due to the soil particles being ground up by a tiller as it penetrates the soil deeply.
In contrast to cutting off your garden's organic matter using sod, you get to keep it. Additionally, harmful chemicals are not required.
Front-Tine Vs Rear-Tine Rototillers – The Best Between the Two
Front- and Rear- tine Rototillers excel at various tasks that are unique to each. It's challenging to decide which of the two tillers is best because of how closely they relate to the task at hand.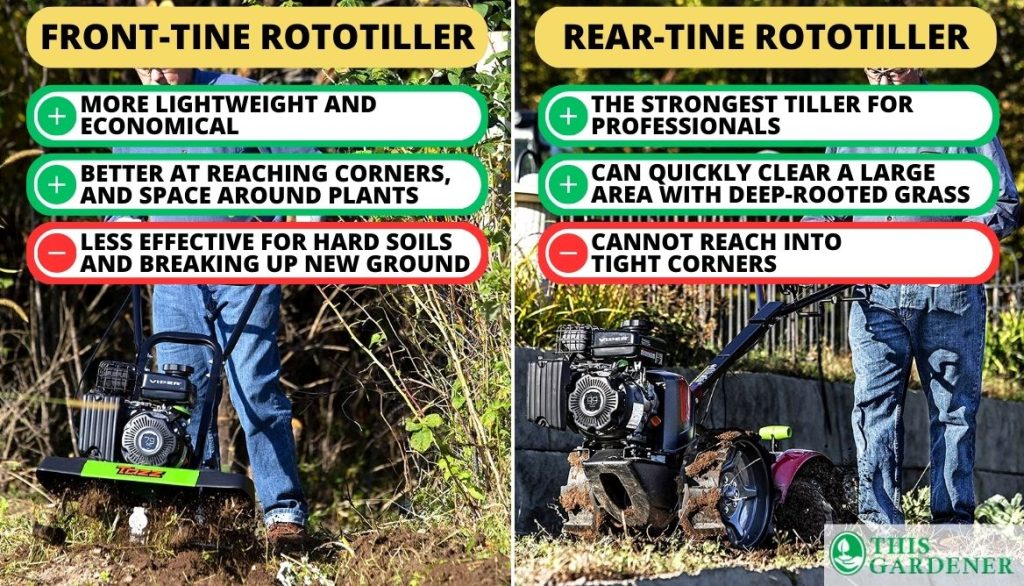 When working in a small yard with rocky and compacted soil, front-tine tillers are the most efficient for controlling costs and conserving resources.
The strongest tiller for professionals, however, is a Rear tine tiller when you need to plow a huge, wide space with loose dirt.
Rear Rototillers are more effective than front-tine tillers at removing tough soils and breaking up new ground.
Front Rototilers are better at reaching corners, and space around plants since they are light in weight, while rear tine tillers are best for big open expanses of gardens but cannot reach into tight corners.
A front tine tiller is more suitable for removing new weeds in existing garden bed between plant rows.
A large area with thick, deep-rooted grass and weeds can be quickly cleared with a back tine tiller.
Gas Engine Vs Electric Motor Tillers
Gas-driven tillers are the most potent engines available, but they are also the most sophisticated, making them more challenging to use than electric-powered tillers.
Gas-powered tillers are portable and not reliant on being close to an electrical outlet because they are fuelled by gasoline.
Gardeners are more likely to use electric-driven tillers since they are cheap and offer a simple one-button start-stop operation.
Electric units are lighter than those driven by gas since they have fewer moving parts, which also means they require less maintenance and are less likely to break down.
In addition to being more environmentally friendly, an electric motor also makes far less noise than a gas-powered tiller.
Gas Engines
Pros of Gas Engines
Sufficient power to complete any tilling task.
Gas Larger garden tillers can work through soil that has been substantially compacted.
Available for both front and rear tiller.
Cons of Gas Engines
Tillers with gas engines are heavy.
Gas engines are noisy and emit dangerous fumes when they are operating.
It requires frequent fuel maintenance.
Electric Motors
Pros of Electric Motors
They demand little to no upkeep.
An electric tiller is quieter when in use than a gas tiller.
If you are close to a power outlet, pluggable electric garden tillers offer an almost limitless runtime.
An electric tiller is lighter than a gas tiller.
An Electric tiller works well in cramped, compact areas.
Cons of Electric Motors
Gas motor tiller is simply more powerful than electric tiller.
Another drawback to using an electric motor tiller is that it limits your mobility.
An electric tiller is excellent only for medium- to light-duty tilling activities.
What is Rototilling?
Rototilling is the process of working the soil using a strong machine that spins metal tines called Rototiller. An efficient instrument for maintaining a lawn or getting a yard ready for sod or seed is a rototiller.
Is Rototilling a Good or Bad Option for your Soil?
In your garden, should you use a rototiller or practice no-till gardening? The solution is not as simple as you may suppose. To assist you in deciding which option is best for your garden, we examine both sides of the argument.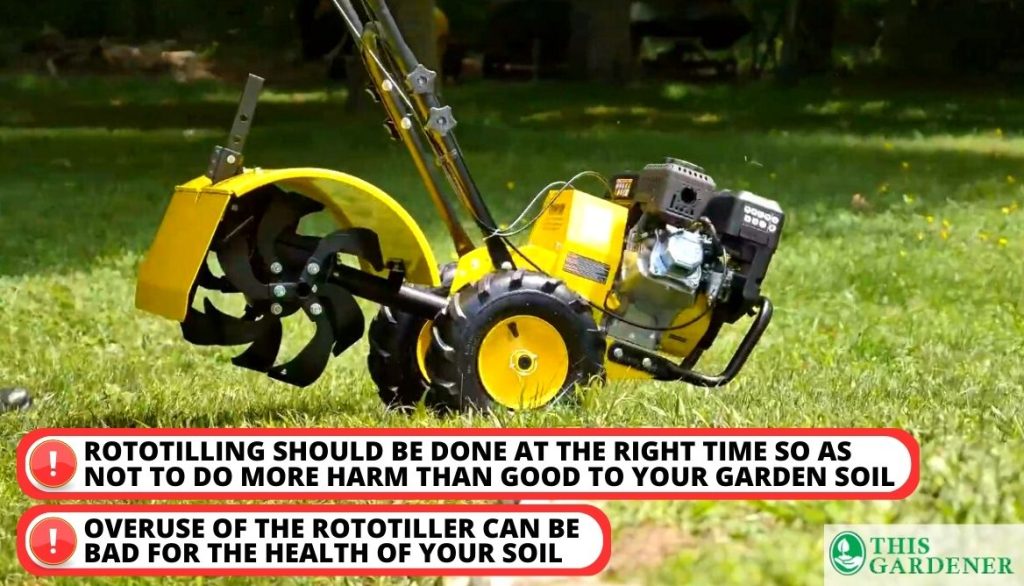 Tilling is well among gardeners. Some claim that without it, your garden is healthier while another part agreed that no tilling is best for your garden.
Tilling is helpful for preparing the less fertile and hard soil not suitable for planting especially throughout the growing season.
Rototilling should be done at the appropriate time especially during spring so as not to cause more harm than good to your garden soil.
But, you should only use a rototiller when necessary because overusing it can be bad for the health of your soil.
If it becomes necessary, then you should also be aware of how to prime the yard, use the tools correctly, and choose the right rototillers for your garden.
Rototilling's advantages could, however, exceed its drawbacks.
Benefits Of Rototilling
The benefits of Rototiling are listed below:
Maintaining clear pathways between rows of plants by eliminating the need for spade digging or hoeing.
They are effective weed controllers and can easily chew through soil clods or weedy patches.
It is necessary to break up the grass into clumps, aid in plant germination, and lengthen plant life.
Garden tilling aids in soil aeration, enabling water, oxygen, and other nutrients to efficiently reach plant roots.
Tilling also aids in dismantling the habitats of other pests, assisting in keeping these pests out of your garden.
Rototilling helps to balance fertilizers and organic material in the soil.
Drawbacks of Rototilling Your Garden
If you're sick of weeding your garden every year and the issue just seems to get aggravated, maybe the rototiller is the issue because you use it so frequently.
Tilling actually makes weed problems worse than it ever does well.
Thousands of weed seeds that are now on the soil's surface are pushed deep into the soil each time it is tilled.
Shake up and damage the soil's structure
Contribute to runoff and soil erosion
Lessen crop residue, which aids in protecting plants from intense rain
The soil structure may completely disintegrate.
It's possible for microbial activity to decrease or stop altogether.
There could be closed soil pores, which would hinder water infiltration and increase runoff.
According to Iowa State University, these consequences are significantly worse if till goes on for many years without a break.
In addition to a complete disintegration of the soil structure, a hardpan could also form.
Our Verdict on the Best Tillers for Breaking New Ground
The Earthquake 20015 versa is the first option we suggest putting home gardeners in mind. This has a dual purpose for cultivating gardens and loosening up compacted soil.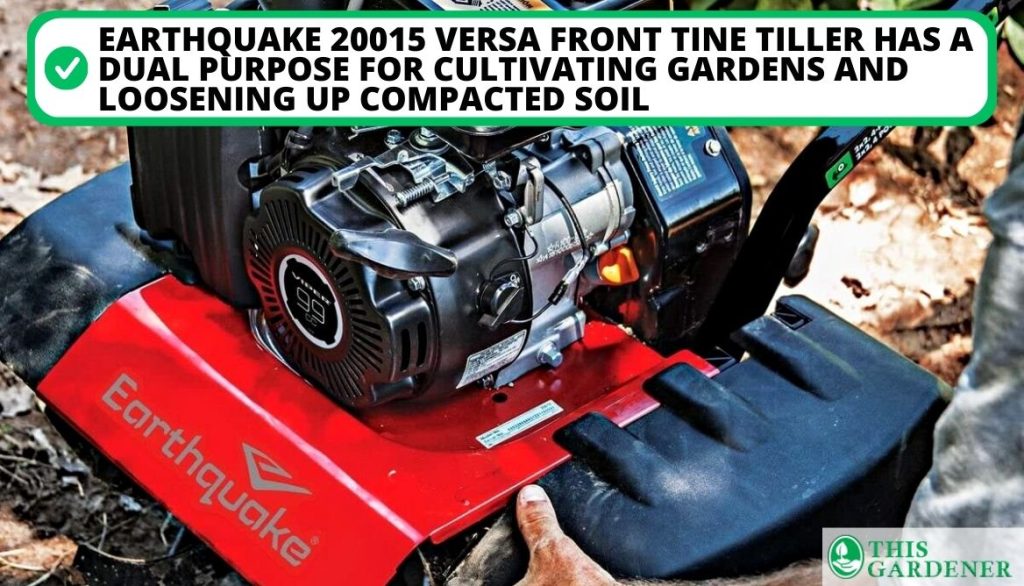 The Top Criteria We Used To Choose
We have a lot of factors to consider when choosing the best tiller. Each product was carefully investigated and scrutinized based on:
Cost-effectiveness.
Size and depth of the tiller.
Tillers's quality – tillers perform a lot of physical labor, thus they must be able to tolerate severe work.
Warranty – this aids in ensuring the security of your investment.
We also considered each model's maneuverability and alternatives for going backward or forward.
FAQ
Can a tiller break new ground?
Yes, a tiler can break new ground.
Can a mantis tiller break new ground?
Yes, Mantis can break new ground.
Will a tiller work on hard ground?
Yes, a tiller with a strong engine can work on hard ground.
What is the difference between a rotavator and a tiller?
Tillers can only break up the top few inches of soil in a small garden or yard, whereas rotavators are better suited to loosen deeper layers of soil and huge farms.
Can you break ground with a front tine tiller?
Yes, you can break ground with either an electric or Gas front tine tiller.
Conclusion
Tillers are essential agricultural instruments required for breaking new ground that is rough or compacted. The three main types of tillers that are most frequently used are front and rear tine tillers or tiller and cultivators combined.
For tilling large areas and getting rid of tough weeds, rear tillers with gas motors are the most effective and powerful. Front tine tillers and electric motor tillers work best for compacted, hard soil in tight spaces.
What type of tiller is suitable for your garden? Let's know your need in the comment section. Thanks for reading.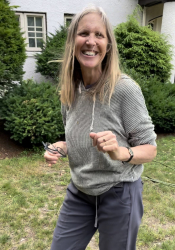 Latest posts by Jessica Zander
(see all)
Hello! I'm Jessica Zander, a garden coach and consultant based in the Boston area (zone 6b), offering virtual consultations across the country and Canada.
I've been passionate about gardening since the early 1990s, and in 2022, I launched You Can Do It Gardening to empower individuals to feel more confident in their gardening endeavors.
Following a 30-year career in nonprofit finance and operations, I transitioned out of that field in mid-June of 2023 due to the growing demand for coaching services. Interestingly, my years of presenting financial statements to boards and finance committees proved to be valuable experience for teaching people about gardening! I enjoy sharing skills, providing guidance and suggestions, and collaborating efficiently with clients to make significant improvements to their outdoor spaces, both small and large. I also regularly teach at the Arlington Continuing Education and Cambridge Adult Education.
My approach is direct and practical, akin to Mary Poppins, but tailored to your garden. Clients find satisfaction in saving money and taking pride in their own gardening achievements.