Have you been thinking about whether "are electric snow blowers any good" before buying one for yourself? Electric snow blowers have many advantages over gas-powered ones, including being more compact, lighter, and quieter. They're more convenient to handle, store, and carry, but there are a few drawbacks that you must know before considering them.
If you like electric snow blowers and want to know more about them, this article is for you. We have covered the highly rated features, essential materials, and comparison with gas snow blowers.
Let's start exploring electric snow blowers!
How We Chose the Best Electric Snow Blowers
Below are a couple of trials we did to test each snow blower effectively. The results were surprising and gave a clear idea about the best among them.
First Trial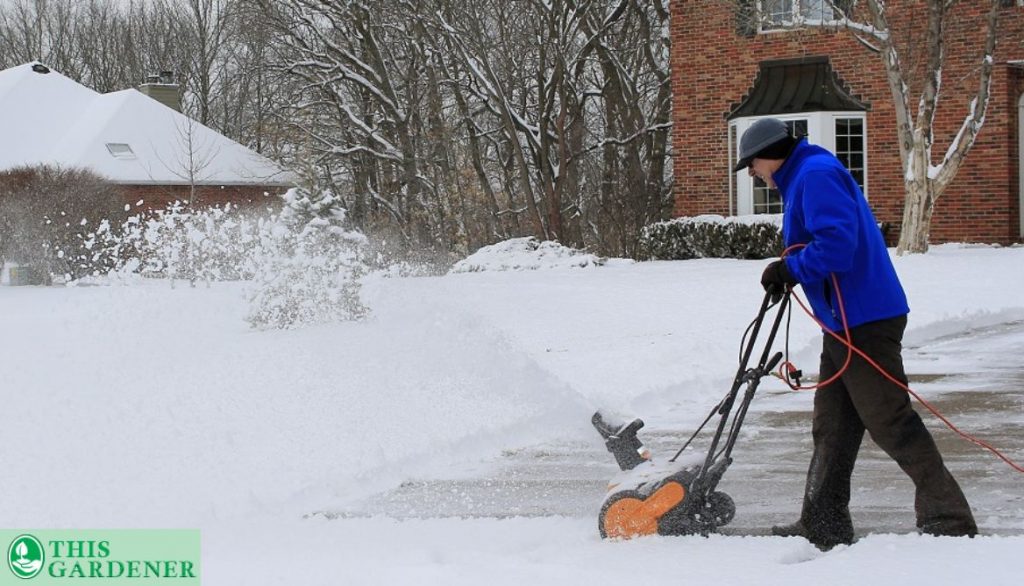 We put the snow blowers through their trials, using them in a wide range of environments. In the first round, we tested each model on several days' worth of snow-covered sidewalks, decks, and driveways.
It was an excellent test for blade strength in crusted and icy conditions, with 4–6 inches of snow on the walkways and another 7 inches of snow on the driveways. The blade responded well and the snow was removed effectively.
Second Trial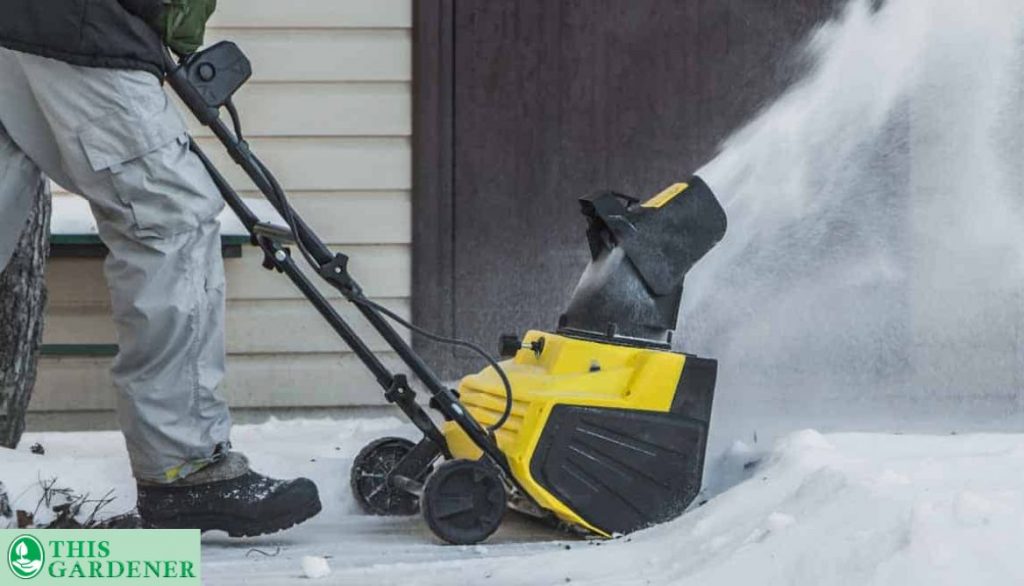 The second trial was in the midst of a huge storm. Early on, we plowed 5 inches of fresh snow off several major driveways. We tested the snow blowers on a wet snow condition with 5 inches of snow depth as it changed to rain and then finally to sleet later that evening.
Just after we finished shoveling, another foot of dense snow fell, requiring us to start over. We kept an eye on the performance of each snow blower during our tests, noting any issues we wished to avoid, any advantages over gas-powered snow blowers, and any other user expectations unique to electric snow blowers.
Results
Electric versions generally function well in a broad range of snow conditions and have simple controls, adequate power, a long-lasting battery, and reliable parts.
We anticipated that most of our readers would be interested in electric snow blowers with a bottom blade that scrapes through snow and ice and a customizable funnel. We also figured that most people would value a snow blower that doesn't require any upkeep and is both lightweight and silent.
The Best Electric Snow Blowers: Our Top Picks
Check out our top picks for electric snow blowers down below! For your convenience, we think you should consider purchasing any electric models on this list.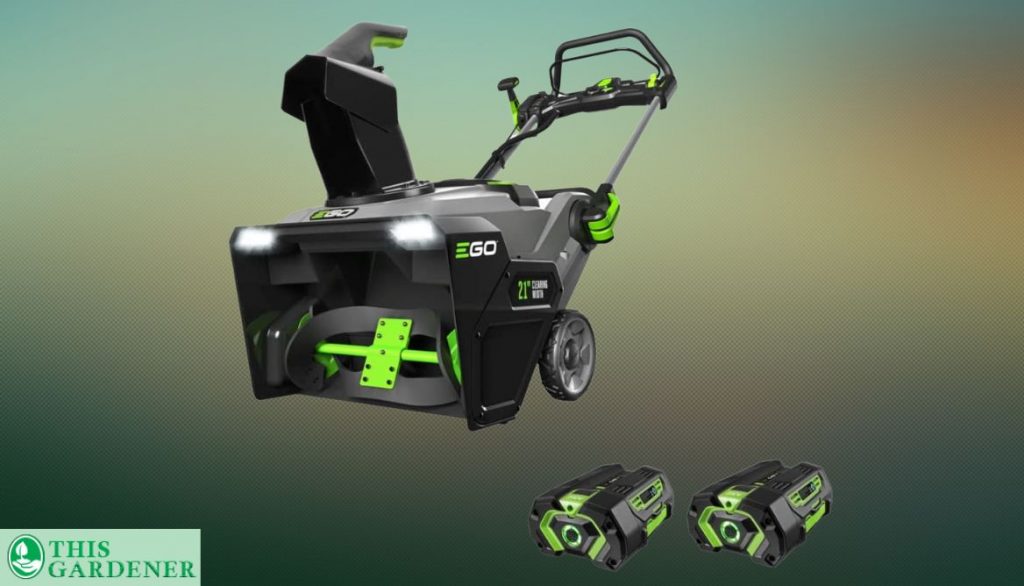 | | |
| --- | --- |
| | |
| | 56-volt ARC lithium batteries |
| | |
| | |
| | |
| | |
| | |
| | |
The EGO Power+ SN2102 may be the best electric snow blower for you if you want all the power of a gas snow blowers. When switching between different EGO blowers, you won't have any trouble with the batteries, and the company's commitment to environmental sustainability makes it one we're delighted to endorse.
The two interchangeable ARC Lithium batteries used in every EGO blower provide it with astounding 56 volts of snow removal capacity, thus, this becomes the only cordless snow blower on the market that can compete with gas snow blowers
As a result, it can supposedly manage both light and heavy snowfall, rather than only light snowfall, like most other electric snow blowers. LED lights are included inside the device for usage in low-light situations.
The effective clearing width of the EGO Power+ is 21 inches, and it can throw snow up to 35 feet. A full charge is said to be able to remove an eight-inch snowfall from a ten-car driveway. It also features far more steel components than its competitors.
This organization has made headlines recently for its efforts to develop eco-friendly goods. With their dedication to creating lithium batteries that lessen carbon emissions from lawn care equipment, EGO was selected as Home Depot's 2019 Environmental Partner of the Year.
Most individuals searching for an electric snow blower won't need all the features that the EGO Power+ offers, but it does hold a high reputation against gas snow blowers with a comparable price tag. The fact that it blows snow quietly and cleanly is a major plus.
Be aware that this blower is somewhat heavy at 55 pounds and will require considerable strength to move it.
What We Like
The amazing clearing width of 21 inches
Competitors focusing on light snowfall will find it difficult to compete with how well these items handle thick and saturated snow.
The battery life is sufficient to remove an eight-inch snowfall from a ten-car driveway.
What Could Be Better
It may be challenging to use for certain people due to its 55-pound weight
An increased cost is associated with superior performance and functionality
2. Toro Power Clear 60-Volt Cordless Electric Snow Blower
Toro Power Clear 60-Volt Cordless

Electric Single-Stage Snow Blower

Cordless electric, 60V battery

system, Brushless DC Motor
The Toro Power Clear is an electric blower that delivers the same performance as its gas snow blowers counterpart. Plough in any weather with confidence thanks to its 40-foot snow throw capability and all-around LED lighting.
The bundled battery may also power other Toro equipment, such as lawnmowers and string trimmers. You'll be doing your part for the environment by reducing the number of one-time-use goods in your garage.
In addition to being easy to handle on decks and stairs, it is also very easy to install. This snow blower won't wake the neighbors as it operates without a gas motor, which is a major plus.
The Toro Power Clear may be used to remove any type of snow, although it works best on hard surfaces like asphalt and concrete. A full charge should be able to clear wet snow depths of 2 to 9 inches from an area that equals the size of a 12-car driveway; for deeper snow or longer runs, consider carrying a spare battery.
This high-powered blower is designed for accuracy; its locking deflector enables you to direct the snowfall precisely where you want it to go.
Toro asserts that it is attempting to reduce the environmental impact of its factories. For instance, the irrigation testing center in Riverside, California, has installed a closed-loop system that uses recycled water.
Exhaust scrubbing technology has been installed at its engineering test center in Bloomington, Minnesota, cutting CO emissions by as much as 90%.
The Toro is an excellent electric snow blower alternative due to its reasonable pricing and enough power. If you have a large driveway to clear and an outside power outlet is nearby, you should consider using it.
What We Like
In contrast to its gas snow blowers, it holds the top spot.
As a result of the 360-degree illumination provided by the LEDs, it may be used even when vision is poor.
The company is actively pursuing a more sustainable future for each of its products.
What Could Be Better
Works well on asphalt and concrete but may have trouble gripping other surfaces.
At 55 pounds, it might be too hefty for some people to comfortably utilize it.
| | |
| --- | --- |
| | |
| | Battery-powered models, 40 volts |
| | |
| | |
| | |
| | |
| | |
| | |
This is a single-stage snow blower and it can quickly get rid of snow. It operates on a 40-volt lithium-ion battery system for up to 50 minutes of use and has a quiet motor that won't disturb the neighbors. The 3-watt LED lamps included in the package make morning cleanup a breeze.
The lightweight, 32-pound structure can be carried up and down stairs to reach snow that would otherwise be inaccessible. This snow blower is capable of clearing more than 2,500 square feet of snow each hour despite its ability to deal with snow up to eight inches thick. You may direct the snowfall up to 20 feet in any direction by rotating the snow chute 180 degrees.
The Snow Joe iON18SB, with its all-electric motor, has earned the prestigious Energy Star label in recognition of the company's dedication to protecting the environment.
Remember that this snow blower's compact size means its runtime is less than that of other electric versions; hence, it is best suited for clearing medium-sized driveways and sidewalks.
A number of reviewers noted that they were able to clear more snow in the same amount of time using a shovel, suggesting that it could be too lightweight for your requirements.
What We Like
Extremely lightweight, even compared to some of the less powerful alternatives on this list
Effectively whisks away new powder in a timely manner.
Efficiency Star-Rated
What Could Be Better
It may lack the muscle to clear heavier, wet snow, or wider roads and walkways.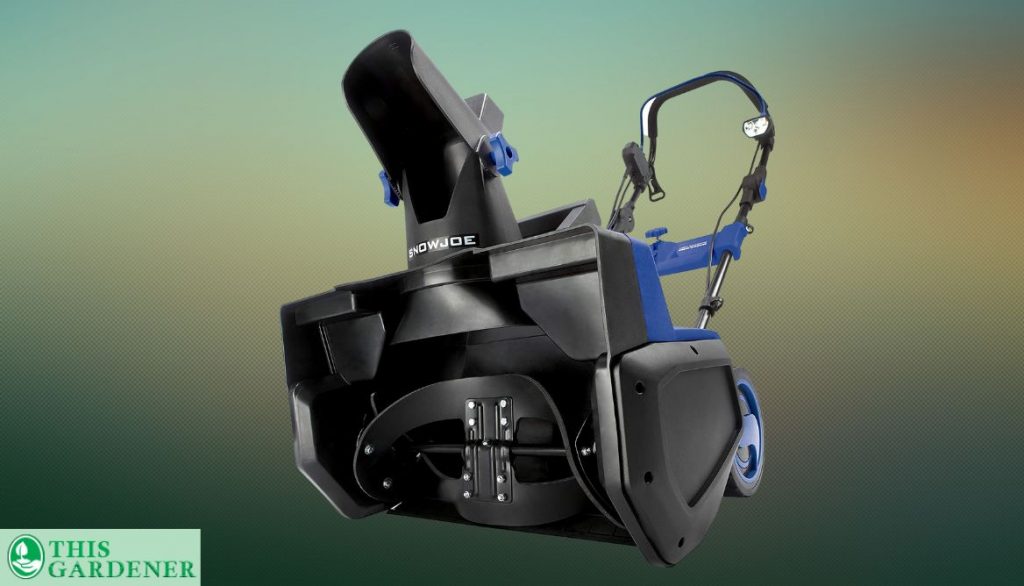 | | |
| --- | --- |
| | |
| | Corded electric, 15-amp motor |
| | |
| | |
| | |
| | |
| | |
| | |
Are you trying to shovel your driveway without using any gas snow blower? With the Snow Joe SJ627E, you won't even need to break a sweat to finish the job. This snow thrower is extremely adaptable, and at only 35 pounds, it's far more manageable than comparable gas snow blowers. A separate safety switch provides an additional safeguard.
As much as 840 pounds of snow may be moved every minute, and it can throw snow as far as 25 feet. Because of this, it's perfect for cleaning wide paths and roads, but it can be too tiny for wider areas. Similarly, this corded version can only be operated when physically connected to a power source.
It's important to remember that this snow blower has a small funnel size which means that heavy snow could build up within, so light and fluffy precipitation will be most effective.
If the snow begins to pack down, the supplied clearing tool may be used to dismantle the blockage quickly. The twin integrated LED headlights ensure visibility in every lighting situation.
The Snow Joe brand is open about its very few eco-friendly efforts. They have a wide selection of Energy Star items and offer options for recycling old rechargeable batteries.
What We Like
An extra layer of safety provided by the switch was greatly appreciated.
It's not necessary to fret over running out of petrol or battery life.
Another lightweight choice that improves portability
What Could Be Better
While you won't have to worry about running out of petrol or batteries, a cord will need to be handled and maneuvered around.
Small chute sizes might make compacting difficult.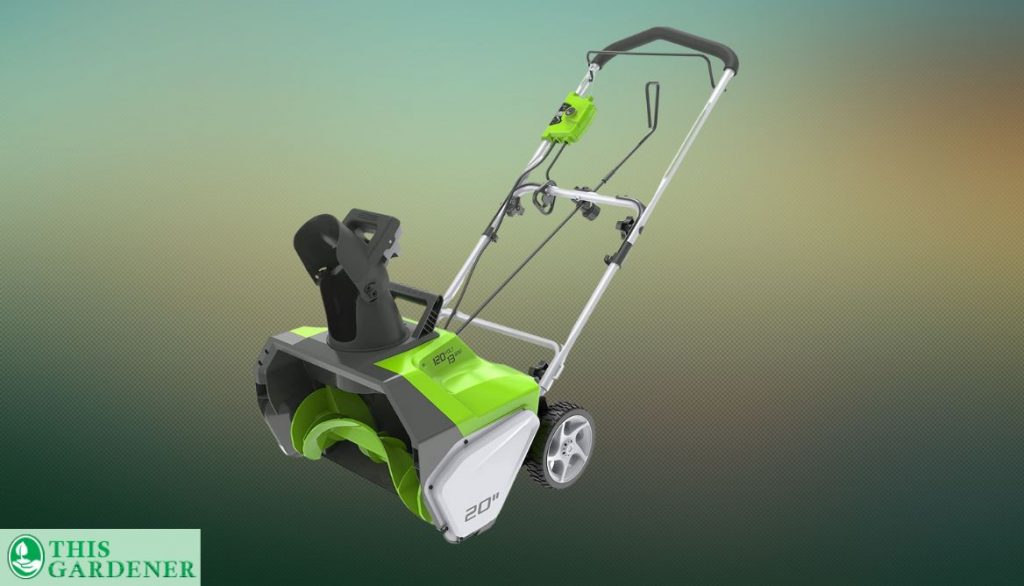 | | |
| --- | --- |
| | Greenworks Snow Thrower 2600502 |
| | Corded electric, 13-amp motor |
| | |
| | |
| | |
| | |
| | |
| | |
The Greenworks Snow Thrower is a powerful yet silent blower. It has a 13-amp motor that works on twin LED lights to make it easier to use in the dark before morning. This snow blower is the most effective on our list, moving 850 pounds of snow per minute despite its little size and modest appearance. And because it weighs only 30 pounds, nearly anyone can use it.
Snow up to 10 inches thick can be removed with this equipment with a 12″ path. According to the manufacturer, it is capable of hurling snow up to 20 feet, however many customers find it can only throw snow 10 feet at most because of the 13-amp engine.
This makes this model ideal for driveways that are quite narrow or modest yards. If not, you'll end yourself repeatedly blowing the same snow about.
In-depth complaints about its build quality claim that the Greenworks snow blower is built of subpar plastic and struggles to remove compacted snow unless it is first broken up with a shovel. Others discovered that utilizing it on uneven areas or gravel roads made it simple to destroy.
Besides that, it has quickly risen to the top of the market for electric-powered personal yard equipment, Greenworks doesn't seem to have much information regarding its environmental standards that is readily available to the public.
You can quickly swap batteries between gadgets since many of the brand's products use the same batteries.
Overall, the Greenworks Snow Thrower appears most effective at removing snow from narrow and asphalt roads. A more potent blower could be necessary for those with more severe snow-clearing requirements.
Consider adding an extension cable to the final price, as you will need to buy one separately to use this snow blower.
What We Like
850 pounds of snow can be removed per minute more quickly than many rivals.
This product is the lightest on our list, weighing only 30 pounds.
What Could Be Better
Due to its 10-foot throwing radius, it has trouble with steep driveways or longer sidewalks. It must be close to an outlet to be plugged in.
Materials often appear cheaper, although this is to be anticipated for the affordable alternative.
Is an Electric Snow Blower Right for You?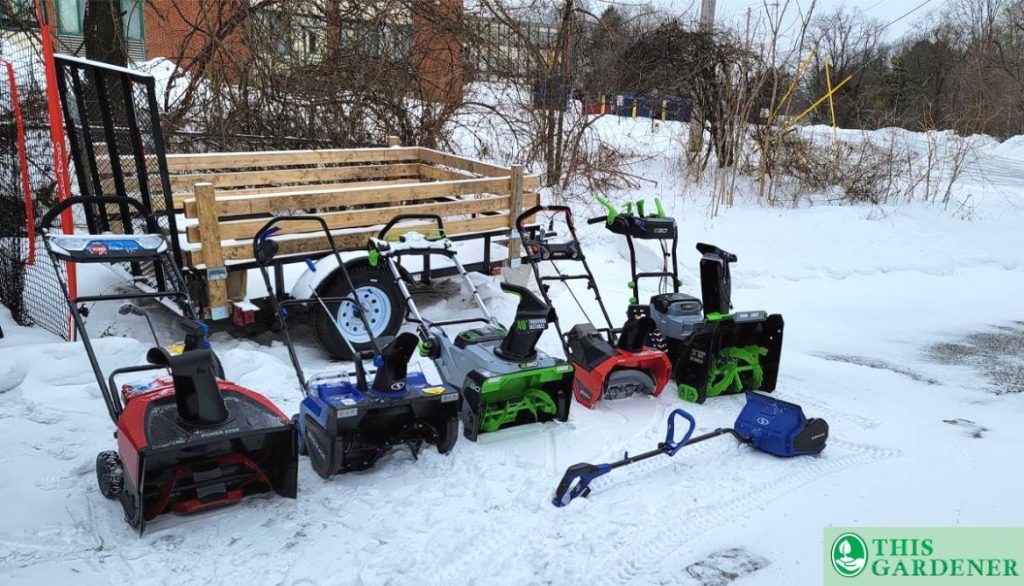 The environment is highly benefited from these electric snow blowers, but few of the winter tasks should be done with other equipment rather than these. Below are some of the highly noted merits and demerits compared to gas snow blowers.
Electric Snow Blower Pros
On frigid days, it will start right away.
No need to pull-start it
Lightweight, with a lot of foldable storage options
Fewer obligations for long-term upkeep
Electric Snow Blower Cons
Less power compared to gas snow blowers
Specifically intended for use on horizontal surfaces
To get the most out of your electric blower, stick to paved roads.
Powered either by batteries or an external source
Which Does It Better – Electric Vs. Gas Powered Snow Blowers?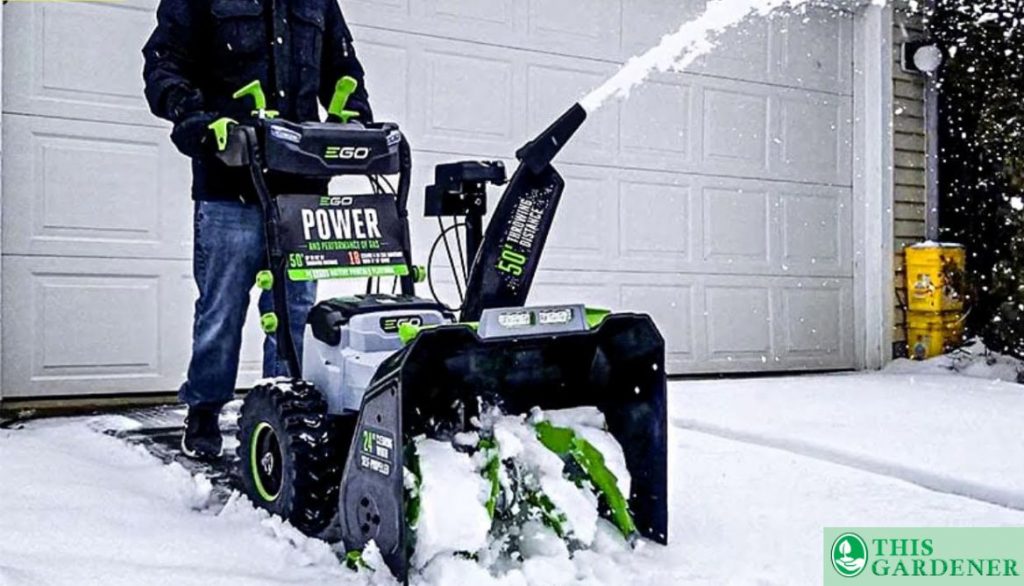 Both electric and gas snow blowers have perks and drawbacks. Both can move substantial quantities of snow, but understanding their differences will help you choose the best between them.
Clearing Snow
There is no rivalry here. Electric snow blowers can only hold around a foot of snow at most. Gas snow blowers are capable of handling double that. Large volumes of fluffy snow and heavy moist snow may be handled more easily by gas snow blowers.
Ease Of Use
As you can't utilize anything until you keep it in working order, maintenance is an important factor to consider when evaluating usability. There is a lot less work involved in maintaining electric snow blowers compared to gas snow blowers.
However, you must be careful with electrical wires while using blowers requiring charging. And you'll need an extension cord if you want to do any work outside the confines of your home.
Even though battery-operated snow blowers are just as transportable as gas-powered ones, recharging the battery takes far longer than filling the gas tank.
The bottom line is that you'll have to pick according to your convenience if you're trying to decide between an electric and a gas snow blower.
Durability
In contrast to a gas snow blower, electric models aren't suitable for extensive use. They are a more cost-effective and eco-friendly alternative in locations with less snowfall. However, they are less reliable on dense or wet snow and more prone to overheating and breaking.
On the other hand, gas snow blowers feature some of the most robust designs on the market.
Further, replacing an electric blower is typically less expensive than repairing the engine on an older gas-powered one. Maintaining and repairing a gas snow blower is quite cheap.
Eco-Friendliness
There are several ways in which the use of fossil fuels is detrimental to the environment. In addition to being a major source of air pollution and climate change when burned, simply collecting them can be problematic.
More specifically, fracking releases carcinogenic, hepatotoxic, and teratogenic substances into the water supply.
The aforementioned issues are avoided by using electric blowers since they do not require fossil fuels.
What do You need to Keep Your Blower Running?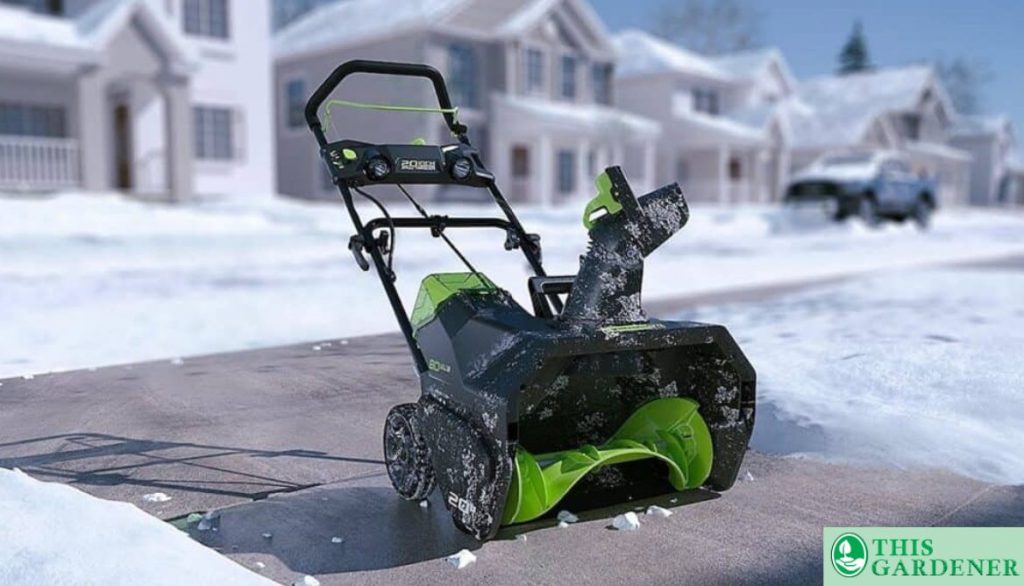 Problems can arise with even the most well-maintained snow blower. Always have these spares available to guarantee your equipment will work when you need it most:
Belts
All of the vital sections of the blower are actuated by these crucial pieces. Machines with single-stage snow blowers require one drive belt, whereas those with two-stage snow blowers require two.
Shear Pins
Dual-stage variants have them to prevent damage to the motor and gearbox in the event of a heavy impact from the auger. You should always have several spares on hand.
Fuel Stabilizer
There's no use in keeping a snow blower out till the spring if you use it once a week. However, when left unused, gasoline degrade and thickens in the tank, fuel lines, and carburetor. This process can be slowed by using a gasoline stabilizer.
Snow Blower Features to Consider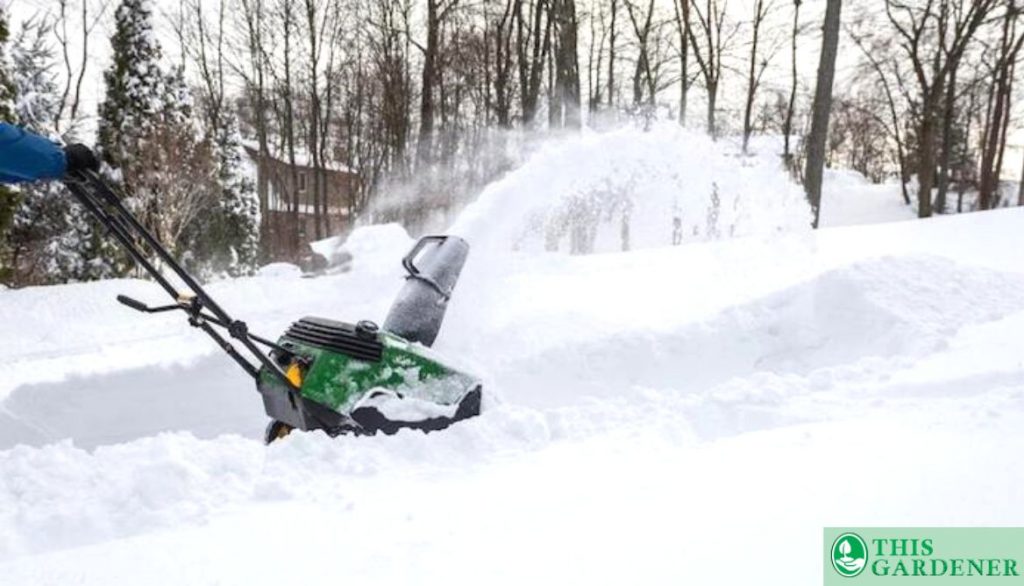 Snow may be directed in whatever direction you choose with the help of a reliable snow blower's single-lever chute control. Samples are often available for inspection at retail establishments. Given how often you'll adjust the chute's settings, choosing a comfortable handle height is important. Here are some more factors that should not be overlooked.
Dead Man's Switch
Every snow thrower we evaluated included a "dead man's switch" that cut power to the auger and impeller if the user lets go of the handlebars.
Trigger
Trigger release on the handlebars in multi-stage versions allows for effortless steering by cutting power to one or both wheels.
Discharge Shoot Control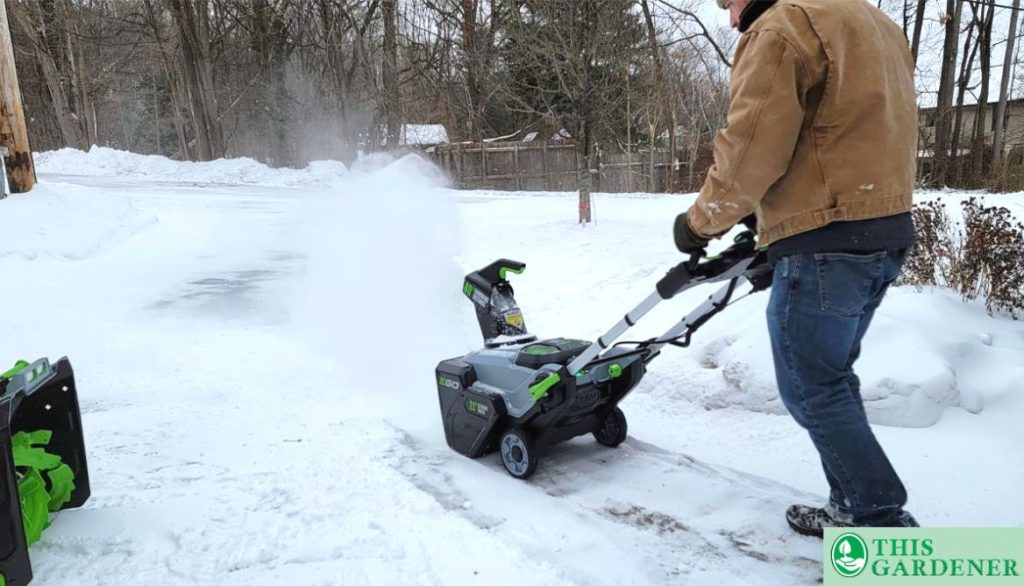 Adjusting the discharge chute's vertical and horizontal orientation is as simple as pushing a lever on a joystick. That's handy; however, the lever may be tough to use if you wear bulky gloves.
Many modern devices use hand-operated controls with a simple crank. Perhaps that's a better choice in colder locations. However, you'll want to try out the crank before you buy to ensure it's in a good spot (typically adjacent to the handle).
Multiple Speeds
In contrast to single-stage snow blowers, which typically only have one forward speed, multistage machines often offer anywhere from four to six forward speeds, plus one or two backward speeds, for the drive wheels. Having a range of speeds to choose from is helpful in the deep snow to avoid getting stuck.
Long Handle
Single-stage variants with a longer handle provide for precise control over the height and angle of the snow thrown from the discharge chute.
Electric Start
Most modern gas snow blower types may be started electrically when plugged into a nearby outlet, making it more convenient than tugging on a pull cord in chilly conditions. Electric models without an electric starter also protect the pull cord for longer use.
Headlight
Many two-stage snow blowers and three-stage gas machines have this capability, allowing you to continue working in the dark.
Which Electric Snow Blower Option Is Better: Plug-In or Cordless?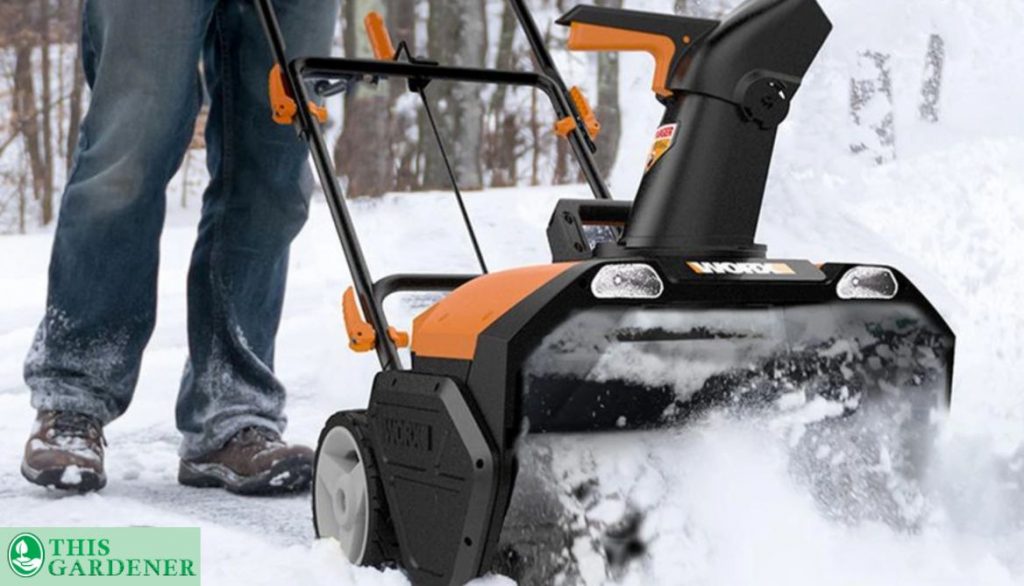 You need to choose between a cordless and a plug-in model before you can settle on the best electric snowblower.
Cordless battery-powered electric models are portable but only last an hour. If you're unprepared for the first snowfall or if cleaning your driveway takes more than an hour, this might be an issue. You may get an extra battery from some manufacturers for your snow thrower as a backup, but this will increase your overall investment.
The extension cord limits the range of a plug-in electric blower's power source. If you have a long driveway or no nearby outside outlets, this might be inconvenient.
Although cordless battery-powered snow blowers are generally considered as being less powerful than plug-in equipment, recent advancements in lithium-ion technology for battery snow blowers have mostly removed this distinction.
Is that being said, which layout works best? The answer to that question depends entirely on your particular requirements. There is little practical difference between the two, so it's crucial to keep that in mind.
Are Electric Snow Blowers Any Good – FAQ
Do electric snow blowers work as well as gas snow blowers?
Gas snow blowers, although having fewer restrictions with each passing season, still provide advantages that electric and cordless snow blowers do not.
How long does an electric snow blower battery last?
Most battery snow blowers have a duration of 30 to 45 minutes. However, this varies greatly depending on the density of the snow.
Are electric snow blowers hard to push?
It depends! Self-propelled electric snow blowers eliminate the need for manual pushing but can weigh more than 150 pounds due to the additional motor.
Can I leave electric snow blower outside?
Yes, if you keep it off the ground, block off the snow thrower, and cover it with a thick tarp, your snowblower may be securely stored outside.
Are electric snowblowers good in heavy snow?
The typical electric snowblower can clear a path through the snow as deep as 12 inches. For snow that exceeds the snowblower's clearing capacity, further passes may be necessary.
Conclusion
When it comes to clearing snow from your yard, electric snowblowers are your best bet. That's because they require almost less upkeep and can fit into virtually any narrow space in and around your house.
These snow blowers are the greatest option as they meet both criteria of being portable and adaptable. With these electric blowers, you can remove wet snow from more areas.
We hope that you found all you wanted to learn about the best electric snow blowers in this article. So, what are your thoughts now? Are you going to buy any of the products we listed above? Share your thoughts with us in the comment section below!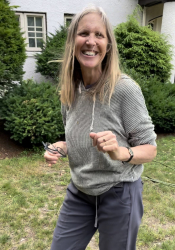 Latest posts by Jessica Zander
(see all)
Hello! I'm Jessica Zander, a garden coach and consultant based in the Boston area (zone 6b), offering virtual consultations across the country and Canada.
I've been passionate about gardening since the early 1990s, and in 2022, I launched You Can Do It Gardening to empower individuals to feel more confident in their gardening endeavors.
Following a 30-year career in nonprofit finance and operations, I transitioned out of that field in mid-June of 2023 due to the growing demand for coaching services. Interestingly, my years of presenting financial statements to boards and finance committees proved to be valuable experience for teaching people about gardening! I enjoy sharing skills, providing guidance and suggestions, and collaborating efficiently with clients to make significant improvements to their outdoor spaces, both small and large. I also regularly teach at the Arlington Continuing Education and Cambridge Adult Education.
My approach is direct and practical, akin to Mary Poppins, but tailored to your garden. Clients find satisfaction in saving money and taking pride in their own gardening achievements.