Ariens is a trustable brand for snow blowers, but which variant suits your requirements? Let's dissect Ariens deluxe vs platinum snowblower. We will be able to understand the difference between the models deeply and which offers the best value for the buck.
Ariens has various series of snow blowers. The series is categorized to help the buyers identify the level or stage of snow blowers and upgraded features.
Buyers can recognize which machine to purchase by keeping in mind the amount of snow they have to remove and select the series and its model accordingly.
What do the Deluxe series and Arien Platinum series entail? What are their special features, differences, and which models live up to the expectations? Read it here.
Ariens Deluxe vs Platinum: What's The Difference?
Deluxe models are the best sellers offered by Ariens. They achieved the title due to their high-performing engines, clearing width, height, and other features.
Platinum models were developed to enhance the beloved deluxe further; hence both series have the same chassis.
Although, platinum snow blowers have a higher snow clearance rate per hour than the deluxe series snow blowers. The credit goes to the higher-grade engines in platinum models.
The platinum series also has attractive features such as Quick-Turn Chute Rotation, heated handles, 3-blade high-speed super high output impeller, and Directional Snow Tread Tires.
Ariens Deluxe Snow Blowers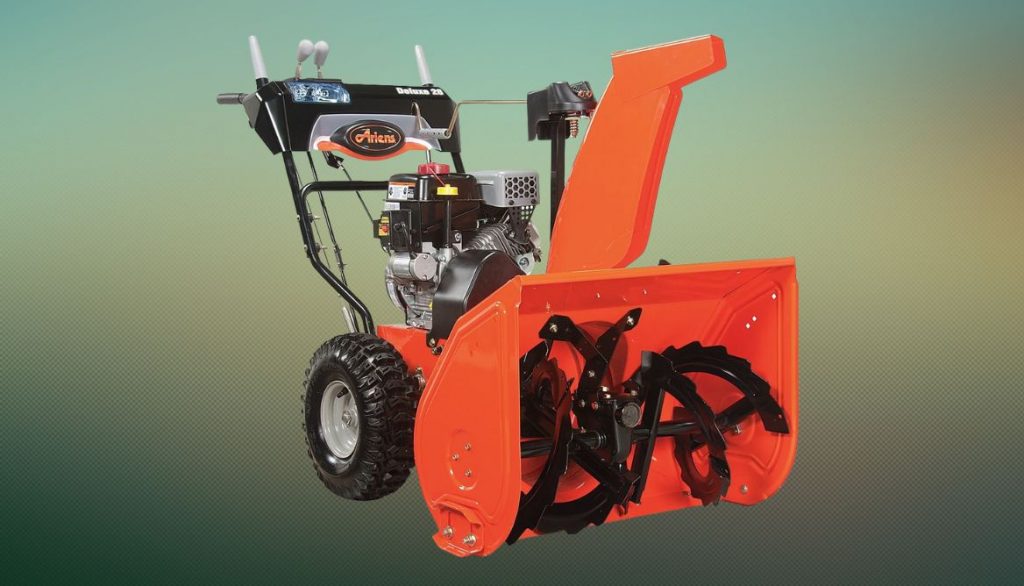 Ariens Deluxe series is the most successful one. The range has models that are for homeowners as well as professional snow clearers.
Deluxe models have impressive chewing width. The "Deluxe 24" as the name indicates offers a 24-inch clearing width meanwhile the "Deluxe 30" offers 30-inch clearing width.
Deluxe Snow Blower models have halogen headlights, a sturdy all-steel frame and dash, an electric start push button, and auto-turn steering among many of its qualities.
Deluxe Series Features
Let's look at the deluxe snow blower series' features in detail.
Auto-Turn™ Steering Technology
Deluxe 28 and Deluxe 30 EFI have auto-turn steering technology. Auto turn enables the operator to turn the machine around without dragging, pulling, or applying extra force.
The machine itself smoothly and automatically turns on its axis. Users can even make a sharp turn. They do not have to slow the speed of the snow blower when approaching a turn.
The user will only have to slightly push on the handles left or right and the snow blower will turn on its wheels.
Extremely Dependable Ariens AX Engine:
This series consists of models with engines ranging from 254CC (12.5 FT/LBS) to 306 CC EFI (15 FT/LBS). The EFI engines start easier, use less fuel, and have consistent power. These snow blowers are rated so high by engines' impressive torque, throttle control, and electric start.
Ice Auger Chute Control
Uncomplicated chute control makes for easy handling and operating of the snow blower machine. It provides 200° rotation spread out in two and a half cranks.
Locking Chute Deflector
Locking Chute Deflector provides more control over the direction of the snow throw. It uses a notched lever that locks the deflector in place. However, it can be freed easily and directed differently if needed to readjust.
Ariens Platinum Snow Blowers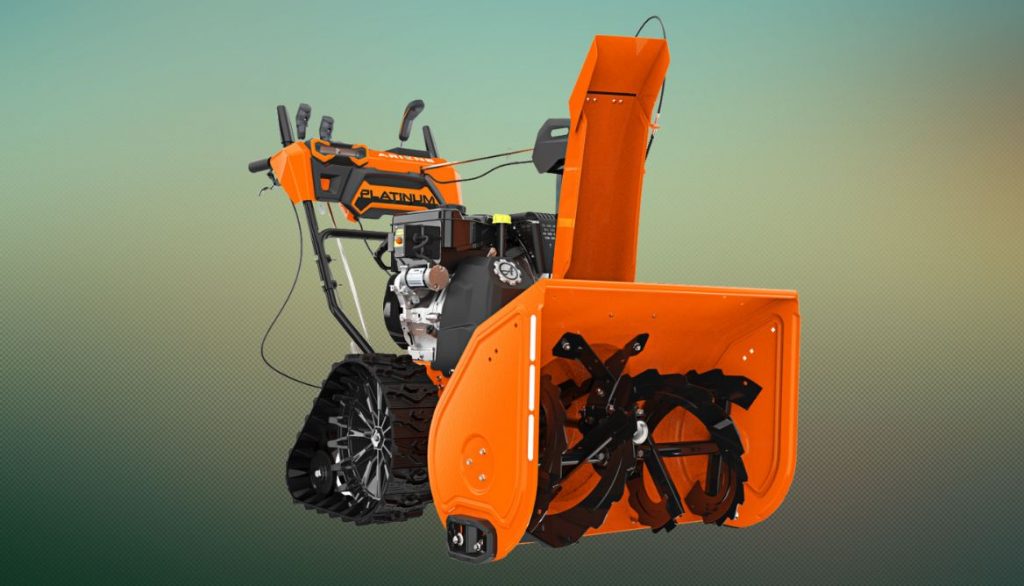 Ariens Platinum Series consists of Ariens Platinum 24 SHO, Platinum 24 SHO EFI, Platinum 28 SHO RapidTrack, and Platinum 30 SHO.
Their engine ranges from Ariens AX 369CC GEN 3 to Ariens AX 414CC GEN 3 with torques of 17 ft/lbs to an impressive 20 ft/lbs.
Its variant consists of an Electronic Fuel Injection Engine, Directional Snow Tread tires and track, a Super High Output impeller, a 14″ Auger diameter, a halogen headlight, and hand warmers.
Platinum Series Features
Let's look at the special additional features of the Ariens Snowblower Platinum series.
Quick Turn Chute to throw snow
Quick turn chute control is a joystick that helps change the direction and aim of the snow throw.
The operator does not have to manually move the chute, saving energy and time and allowing more snow removal.
Extremely Dependable Ariens AX Engine
This range boosts powerful engines such as ARIENS AX 369CC GEN 3, ARIENS AX 369CC, and ARIENS AX 414CC GEN 3.
The snow blower engines are made-to-last with sturdy bodies and impressive torques to guarantee top-tier efficiency and performance.
When engines are coupled with a clearing width of 30 inches snow blower can clear up to 82 tons of snow per hour.
Heated Hand Grips
The Platinum SHO Snow blower models are equipped with heated hand warmers. This added feature makes the snow removal job much more delightful for the operator in harsh winter.
Special Features of Ariens Snowblowers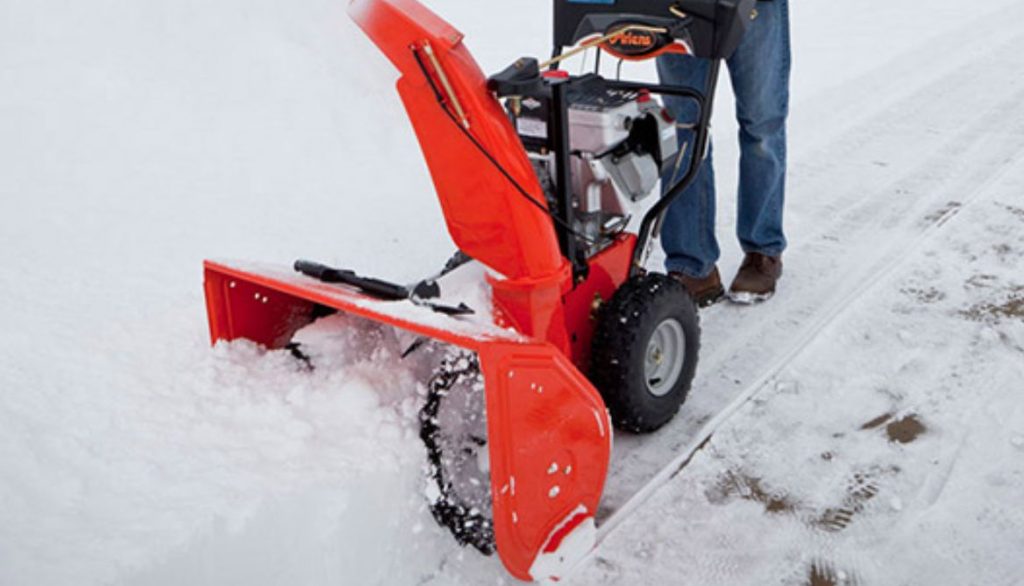 Ariens Snowblowers are well-reputed in the market for not only how much snow they can handle but the extensive features, accessories, user-friendly operation controls, and warranty the machines have.
Let's look at some that make Ariens snowblower the best in the market.
Customer Experiences
Arien machines are popular among most people because of their powerful engines and features such as heated handles, Quick Chute technology, and Auto-Turn.
Along with those, folding handlebars for storage, 6 forward and 2 reverse speed, reversible skid shoes make for an excellent customer experience.
These qualities make snow clearing a piece of cake.
Ariens Warranty
Ariens is a trustable brand, especially because each snow blower has minimum 3 years product warranty for residential use and 90 days for commercial use.
Each snow blower also has 5 years gear case consumer warranty and a 1-year commercial warranty of that gear case.
Chassis Build Quality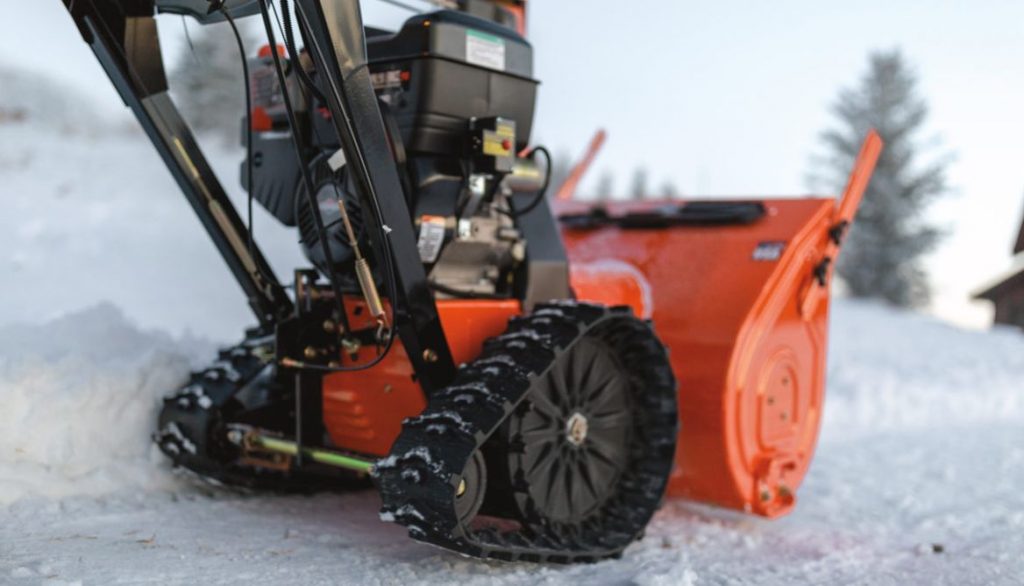 The chassis Build quality of Arien Snowblowers is why customers consider its purchase a smart investment. Users have been able to use their machines for up to 25 years with regular maintenance.
Snowblower models are equipped with cast iron gear cases, alloy steel gears, steel impeller, 3-blade auger, skid shoes, and scraper bars which are also made of steel.
The high-grade material of the chassis promises longevity for the Ariens machine.
Size
Ariens two-stage snowblowers can house heavy-duty components while also having foldable parts for convenient storage.
Ariens compact series starts at as low as 43.4 inches in height, 26.4 inches in width, and 53.3 inches in length.
Deluxe series starts as low as 45.3 inches in height, 26.4 inches in width, and 58.6 inches length.
The Platinium series starts as low as 45.9 inches in height, 26.4 inches in width, and 58.3 inches in length.
Weight
Ariens Snowblower Series is designed to have well-divided weight so it can be maneuvered without compromising on the components' quality.
The compact series has a weight as low as 84.4 kg.
The Deluxe series has a weight as low as 111.4 kg.
The Platinium series has a weight as low as 129.7 kg.
What Ariens Snowblower Should I Buy?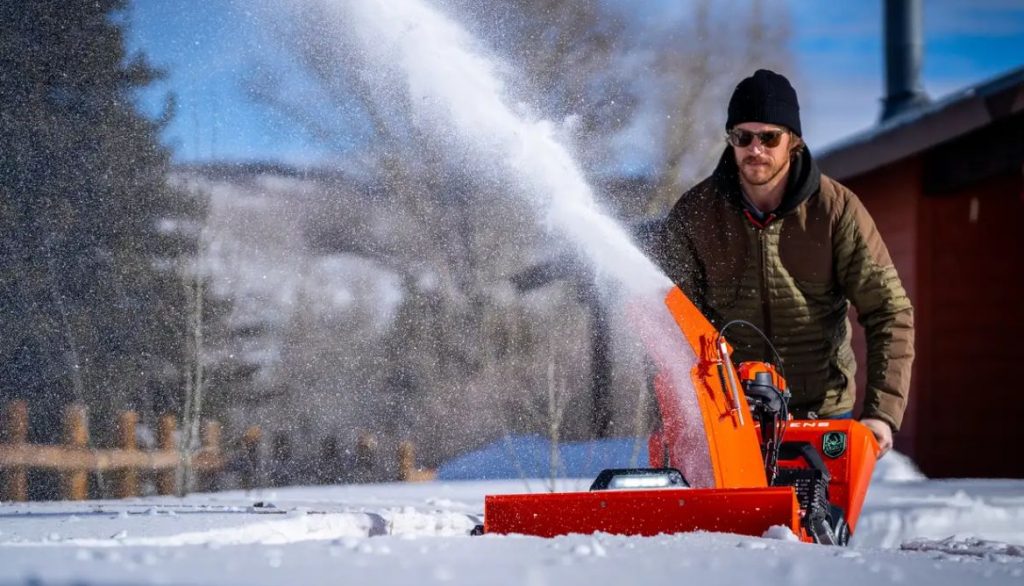 Your purchasing decision should depend on your budget when selecting between the Deluxe and Platinum series.
The former has all the great qualities of the latter minus some handling features and a slightly less powerful engine. If judged by price to offering ratio Deluxe series will win.
Although if your pocket gives you a margin, go for a platinum model, as the upgrades are not to be missed. Those not only enhance the blower's performance but contribute to easy handling.
Small snowblowers for compact areas
Ariens, aside from two-stage blowers, also has single-stage series. Do not forget or shy away from having a look at those before you decide on which blower is suitable for you.
Path-Pro and Professional 21 are made to throw snow in compact areas or if the snow depth is between 6 to 9 inches. They are also light in comparison to two-stage blowers.
Popular Snowblowers of 2022/ 2023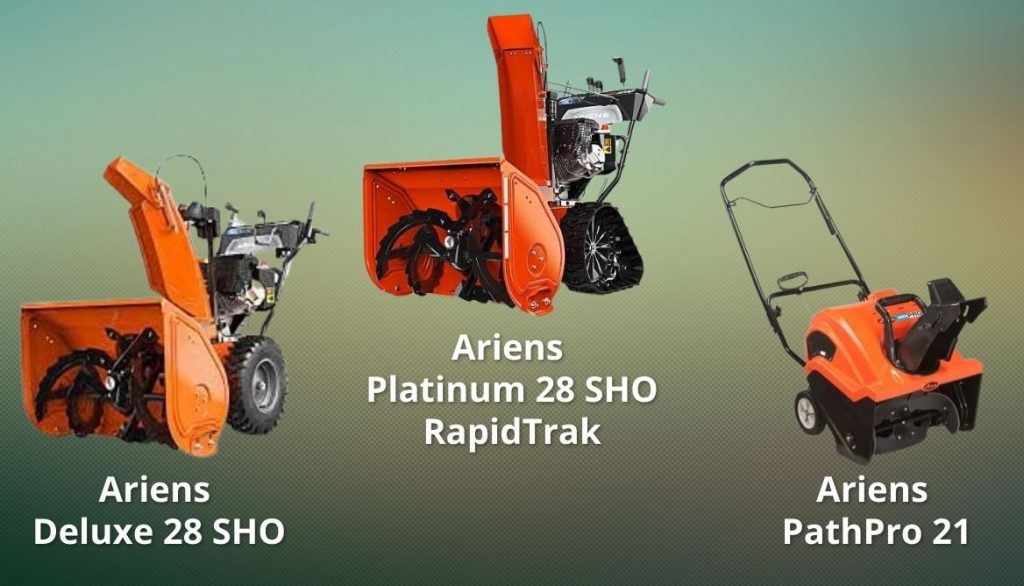 We have combined a list of Arien's most popular snow blowers of 2022/ 2023 to help you deduce which models are customers' favorite and hence reliable.
Deluxe 28 SHO is undoubtedly a super-hit because of its power and value. It's powered by an Ariens AX 306cc engine and has a Super-High-Output, usually only available in Platinum models.
Next in line is, Platinum 28 SHO RapidTrak. This snowblower solves the issue of an uneven gravel surface and the blower encountering chunks of hardened ice. Powered by 369cc Ariens AX and from the Platinum family, it has headlights and heated handles.
We have PathPro 21 on the list because of its lightweight, easy handling, convenient storage, and ability to handle up to 9 inches of snow with 35 feet's snow throw distance.
Verdict: Ariens Deluxe Vs Platinum Snowblower
If you get frequent and heavy snow you would want to make your snow removal pleasant. To make it not hectic and frustrating, invest in Platinum snow blowers. The heated handles, track-based machine, and super-high-output option will help you a ton.
Otherwise, if you only prioritize engine power and chassis quality with options of EFI engine and SHO, too, Deluxe has it all. The platinum series is based on Deluxe and has a few upgrades but Deluxe does not fall behind much.
FAQ
What is the difference between Ariens Deluxe 28 and Deluxe 28 SHO?
The difference between Deluxe 28 and Deluxe 28 SHO is that the latter has Super High-Output Impeller. SHO helps with greater output and throwing distance.
Is Ariens better than Cub Cadet?
Ariens edges past Cub Cadet. Ariens has better chassis build quality, a 5-year warranty, and customer support that goes above and beyond when needing them for repair or troubleshooting.
Does Ariens still use Briggs and Stratton engines?
No. Ariens Snowblowers are mostly equipped with its AX engine series.
How many horsepower is an Ariens Deluxe 28?
Ariens Deluxe generates 12.5 lbs/ft of power.
Conclusion
If the matter is to clear your yard from snow, the Deluxe and Platinum series are wise choices.
Considering both are two-stage blowers with powerful engines. Both have variants for SHO, EFI engine, Auto-Turn, and headlights. However, if you are looking for an extra comfortable usage experience go for a Platinum Snowblower.
What do you think one should prioritize when it comes to snow blower purchasing: budget or comfort? Would that affect your selection between Ariens' Deluxe or Platinum snowblowers? We are awaiting your comments.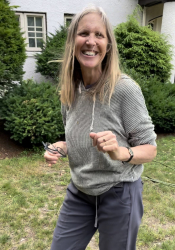 Latest posts by Jessica Zander
(see all)
Hello! I'm Jessica Zander, a garden coach and consultant based in the Boston area (zone 6b), offering virtual consultations across the country and Canada.
I've been passionate about gardening since the early 1990s, and in 2022, I launched You Can Do It Gardening to empower individuals to feel more confident in their gardening endeavors.
Following a 30-year career in nonprofit finance and operations, I transitioned out of that field in mid-June of 2023 due to the growing demand for coaching services. Interestingly, my years of presenting financial statements to boards and finance committees proved to be valuable experience for teaching people about gardening! I enjoy sharing skills, providing guidance and suggestions, and collaborating efficiently with clients to make significant improvements to their outdoor spaces, both small and large. I also regularly teach at the Arlington Continuing Education and Cambridge Adult Education.
My approach is direct and practical, akin to Mary Poppins, but tailored to your garden. Clients find satisfaction in saving money and taking pride in their own gardening achievements.