Which is the best humidifier for mushrooms? Many avid mushroom growers are left troubled by this, as keeping the correct humidity level is vital for their proper growth. Don't worry, though; we will help you solve this problem and more.
Read on to learn why mushroom humidifiers are essential, their different types, and our recommendations.
Let's get started!
Why Opt For a Humidifier for Growing Mushrooms
One of the most crucial elements in mushroom cultivation is humidity. They can't develop into fully mature specimens without constant moisture. They can halt and crack due to a lack of humidity.
This is where humidifiers come in. They are perfect for dry climates. They help:
Create more humid conditions in the air and make it favorable to the mushroom substrate and growth.
To protect your mushrooms from illnesses and bugs.
In making your mushrooms larger and longer lasting.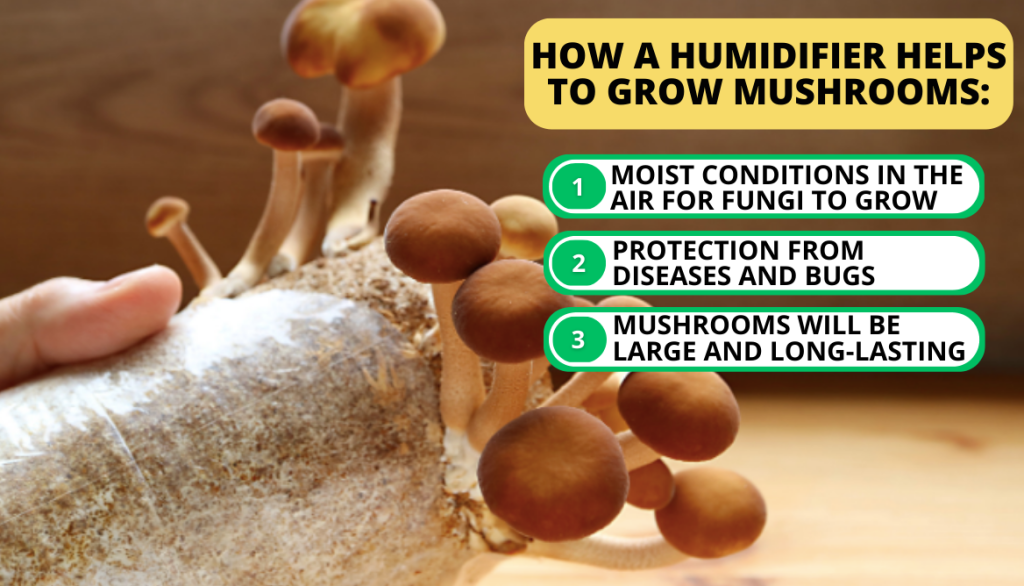 A Quick Look at The Best Humidifiers
Let's take a look at our favorite picks. Some important features to look out for are its capacity, operation mode, and runtime.
Bringing dampness into your space is simple with the Honeywell Cool Moisture Humidifier. Using evaporative technology, it raises and then maintains the desired relative humidity and fresh air in the space.
The water is sterilized using UV technology, and the wicking filter removes minerals so that only clean mist is released.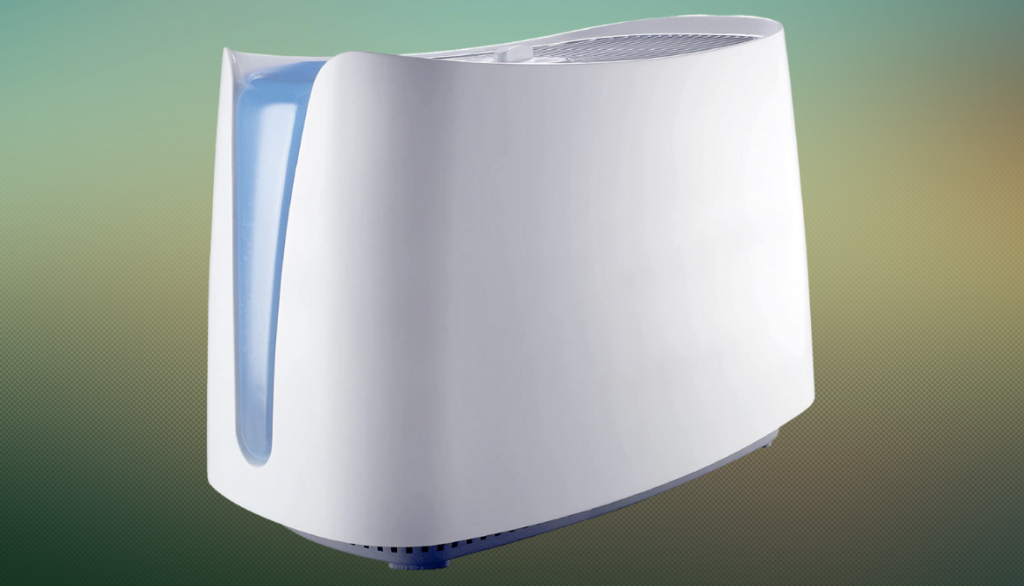 Honeywell Cool Moisture Humidifier Features
Pros
Very quiet in operation
Is capable of increasing the humidity level of big areas
Has a UV light filter, providing cleaner and fresh air
It is easy to clean, as the tank and tray are safe for dishwasher use
Cons
It is not a filter-free humidifier, so it will be harder to maintain properly
This ultrasonic humidifier is a powerful machine that can cover a space of 280 sq ft. It can function for up to 24 hours while emitting a low cool mist, making it safe for nighttime use. It has an adjustable mist knob to control the relative humidity in the fresh air which makes it a great option for your grow room.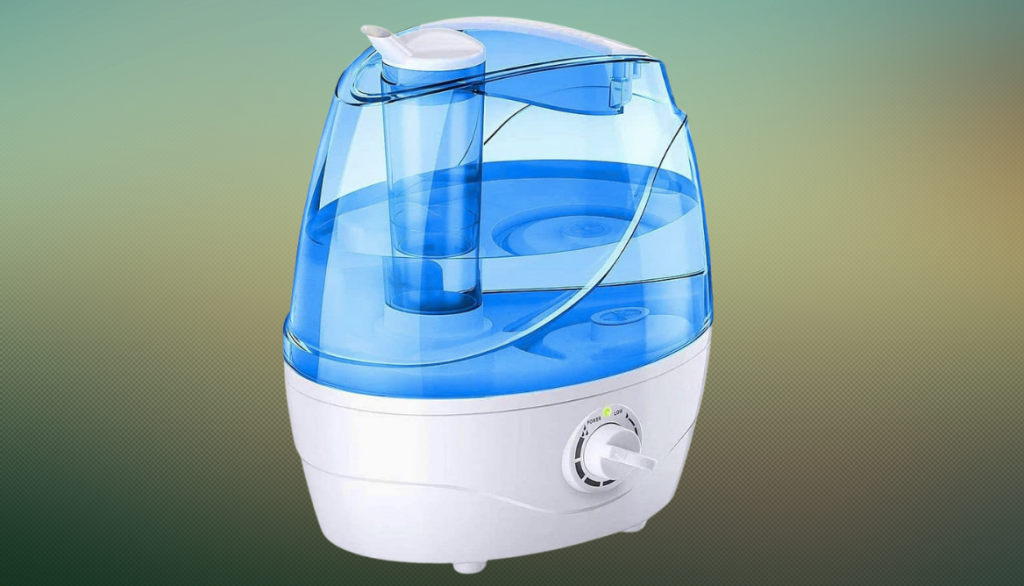 HemingWeigh Ultrasonic Humidifier Features
Pros
Extremely quiet in operation
Has a knob for adjustable mist
It automatically shuts off when water in the tank runs out, making it safe for night use
Has a great cool mist output without any dust particles
Cons
Some customers reported that it stopped functioning a year
The LEVOIT Hybrid Ultrasonic Humidifier uses a combination of its warm and cool mist functions to create a relaxing environment throughout your house. Its sensors can sense the surrounding humidity level and can turn it on or off, maintaining a perfect humidity level all the time.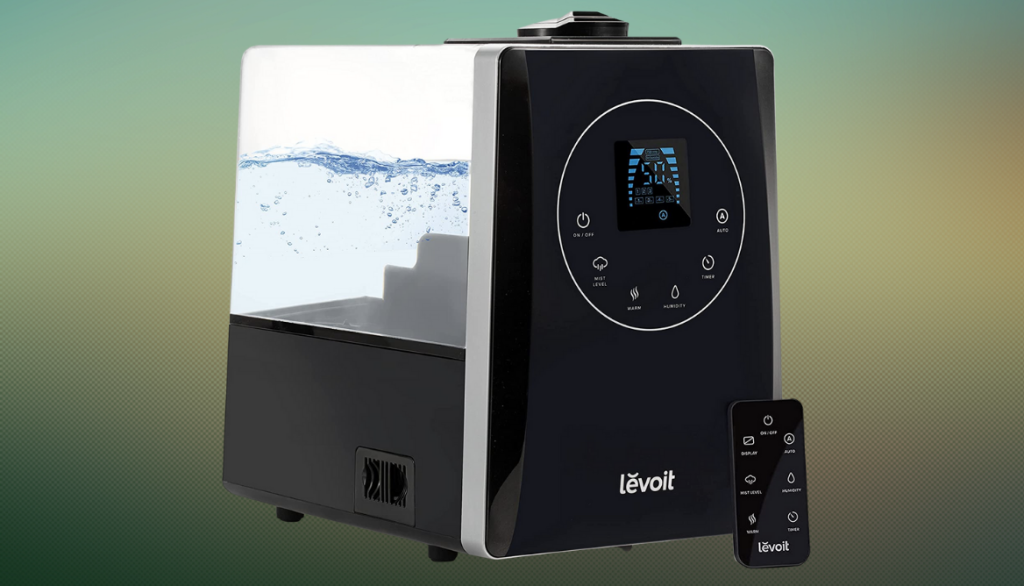 LEVOIT LV600HH Ultrasonic Humidifier Features
Pros
The built-in sensor helps maintain mist output for a healthy humidity level.
Its large output makes it perfect for a large room or a vast open area.
Its adjustable cool mist output keeps the surroundings at a humidity level of your choosing.
Its remote control allows you to change its settings from a place of comfort and convenience.
Cons
Some customers reported having a leaky water tank
The Vicks Warm Mist will be a great addition to your fruiting chamber. The evaporative humidifier's 3.8-liter tank allows for 24 hours of warm mist at the lowest setting, and there's also an automatic shut-off feature.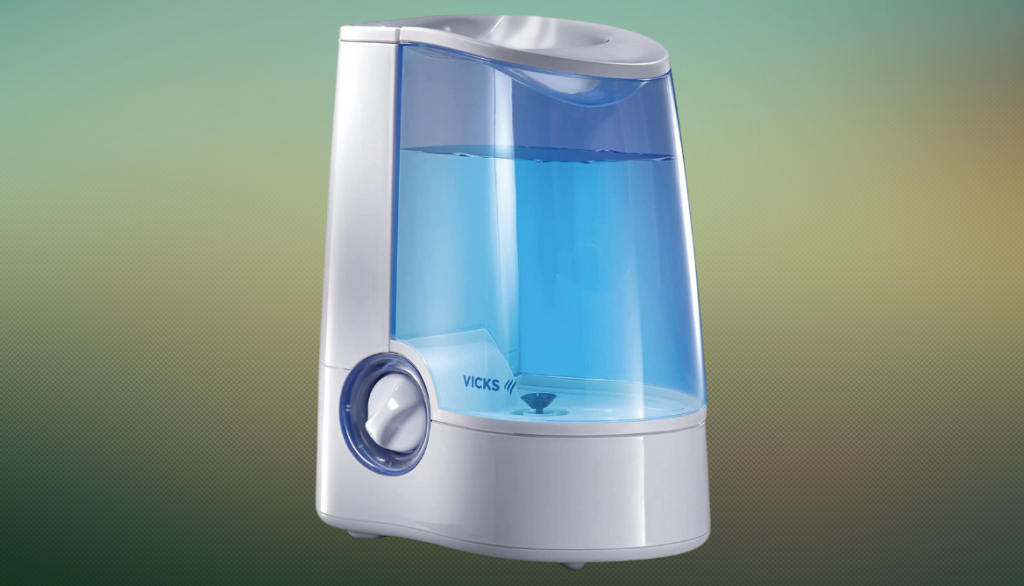 Vicks Mist Humidifier Features
Pros
Its large tank ensures a long runtime
Perfect for protection against allergies due to dry airflow
It is very quiet in operation, making it perfect for anytime operation
Cons
It has a high power consumption, so electricity costs may be high for you
Best Humidifier for Mushrooms Important Factors Discussed
The appropriate conditions will allow mushrooms to flourish in your yard. Humidifiers allow you to keep space at the right moisture level. However, there are a few factors to keep in mind when purchasing one for mushroom cultivation.
Size
The ideal humidifier will meet your needs in terms of size and use:
Many mushroom farmers find that bigger humidifiers are simply too difficult to use.
However, one with a large water tank, above 3 liters, will allow it to run for longer and so will regulate the moisture better.
Wattage
One factor to think about while shopping for a humidifier is its power consumption. Some important points to consider are:
Cool mist humidifiers generally require a lot less energy than warm mist ones, since they have to vaporize water droplets before emitting the water droplets.
Look for an energy-efficient humidifier when making your purchase.
In addition, it's a good idea to check for energy-saving extras like a shut-off feature or programmable timer that limit the appliance's use to when it's actually needed.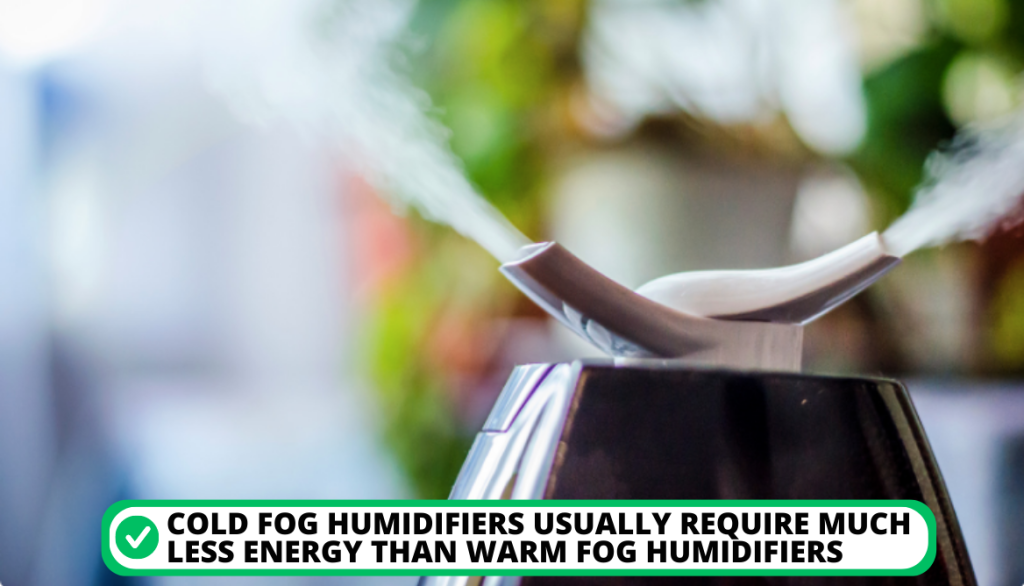 Maintenance
If you take care of your humidifier, you can guarantee that your mushrooms will always be growing in ideal conditions. Here's how you can keep your humidifier in good condition for optimal usage:
1. Cleaning the humidifier
Humidifiers come in a wide variety of shapes and sizes, thus cleaning instructions may vary. To maintain it to continue working at its optimum and to avoid the growth of germs, the filter should be removed and cleaned at least once a month.
2. Parts replacement
The humidifier's performance may decline as a result of component wear and tear. It may be time to change the filter or other components if you find that the water flow has dropped or the air output is less than usual.
If you need to know what the original replacements are, you may do so by consulting with the company.
3. Monitoring humidity levels
Mushroom growth and health can be negatively affected by either too little or too much dampness. That is why it is essential to:
The right humidity level provides optimal conditions for the growth of mushrooms in the grow room and increases their yield.
Air that is too dry can lead to slow growth, while air that is too humid can cause mold or rot.
Humidity control can help prevent these microorganisms and keep your home mushroom nursery safe.
Monitoring humidity levels will help determine when it is necessary to ventilate the room or treat the mushroom blocks.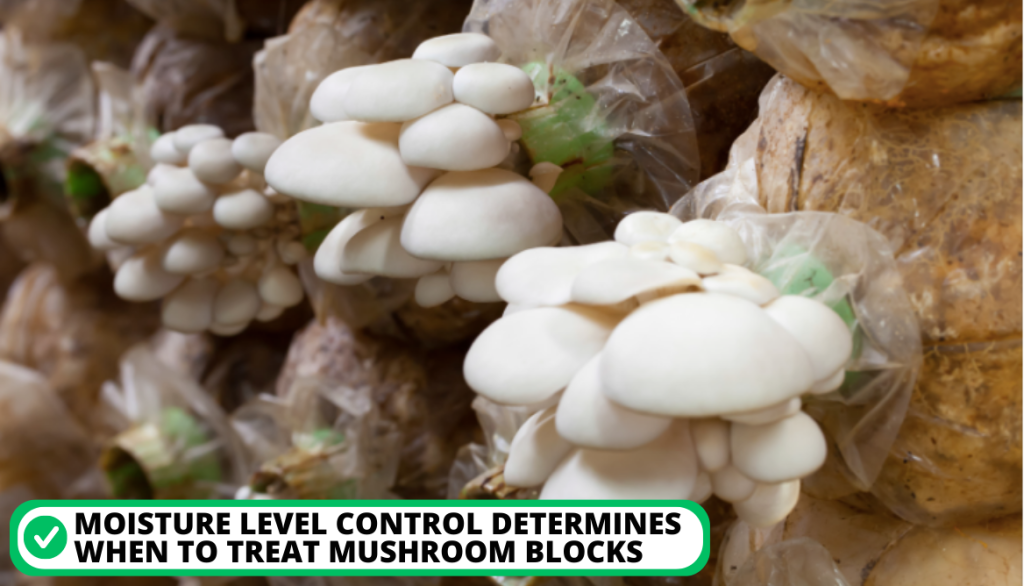 For more details, check out this video.
Choosing Guide: How to Pick up the Best Humidifier
Humidifiers are not usually advertised for use to grow mushrooms. So even if it is highly rated, it may not be the best suitable option. To help you, here are some points to keep in mind to ensure you buy the best product:
Size of grow chamber: More humidity must be put into the air to maintain humidity levels in a bigger fruiting chamber. In addition, growers typically need a somewhat larger, more powerful machine than normal ones. However, if the humidifier is too large, it might create a too-humid environment, which can lead to mold growth.
Convenience: Consider the machine's portability, capacity, intuitiveness of controls, and clarity of displays before settling on a certain model. It's never a good idea to buy a machine without first knowing how easy it is to operate.
Ease of maintenance: Humidifiers need to be cleaned every day, at the very least. The machine might become a breeding ground for microorganisms, which could subsequently spew out into the environment. In addition, some models frequently require new components. If it is impractical to keep it in working order, then purchasing a powerful humidifier is not a sensible investment.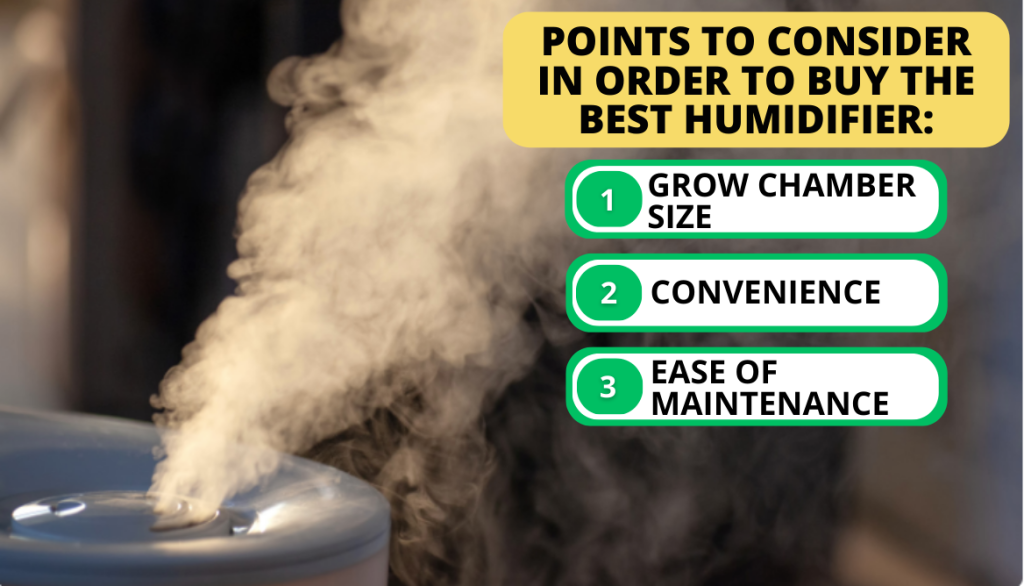 A Dive Into 5 Different Types of Humidifiers
One may find it confusing but there are actually five different types of mushroom growing. It can be from the spray bottle to DIY humidifiers. Each one has a different purpose. Some are better suited for mushroom growing while others are less so. Let's take a look.
1. Spray Bottle
Spray bottles will be adequate if your fruiting chamber is on the small side. Fruiting chambers are discussed. It's as easy as spraying the inside of the room and turning on the fan.
To keep the humidity in your chamber at a steady level, you should spray it several times daily.
You should also use a fan to circulate the air in your room. Humidity changes are harmful to the fruiting process, so the spray bottle will help keep things steady.
Attention! Spraying the substrate from the spray bottle directly may harm the mushrooms and their yield.
2. Ultrasonic Humidifiers
The cold mist produced by ultrasonic humidifiers is the result of a vibrating disc. Instead of depending on the air to suck water into itself, as it does during evaporation, they instead force water into the air. There are both pros and cons to these models:
These devices can increase relative humidity to far higher levels than evaporative humidifiers, and they do so while producing significantly less noise.
However, their cost is typically higher than that of competing designs.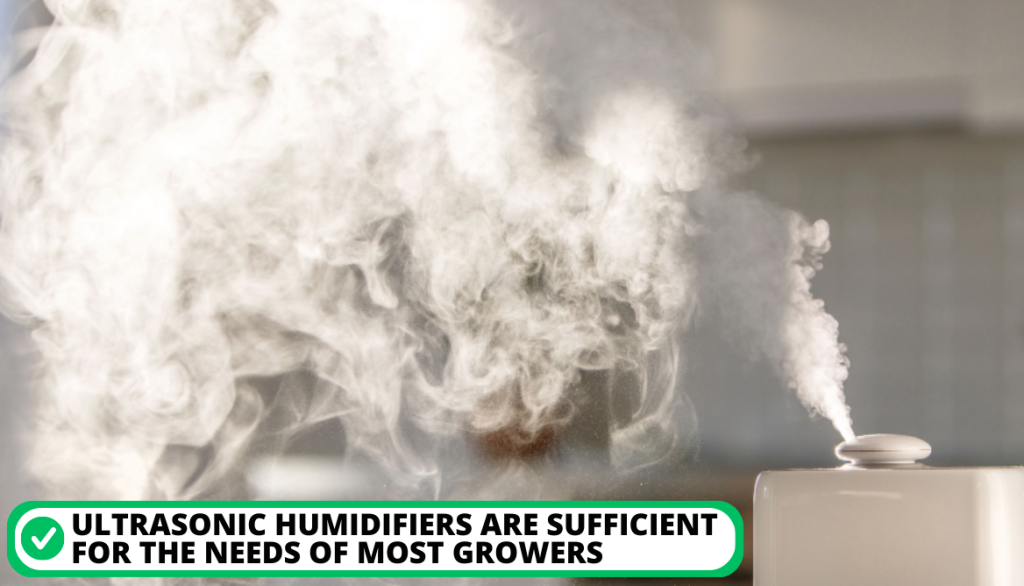 3. Warm Mist Humidifiers
As opposed to cool mist humidifiers, these machines:
Boil water to create steam, which is then allowed to cool to a warm mist before being released into the air.
Fungi that like low temperatures will also not thrive under these.
While warm mist humidifiers are more affordable up front, they may end up costing more over time due to their inefficiency.
4. Wicking Humidifiers
There are some things you should know about wicking humidifiers:
They have a wick within, which is a thin strip of material that moves water up and over a fan.
The wick absorbs water from the internal reservoir, and the fan blows the moisture away.
The fact that these devices have built-in safety mechanisms is both a benefit and a drawback.
Unfortunately, Wicking Humidifiers cannot function above humidity levels of 85%, and since mushrooms favor levels of over 90% to grow, they are not considered a very good option.
5. DIY Humidifiers
It can be made with a fogger and a vessel. Most of the DIY humidifier designs are identical to commercially available ultrasonic humidifiers, without the guarantee and electrical license. For the most part, ultrasonic humidifiers are sufficient for the needs of most growers.
Check out this video for more insight.
Our Recommendation
In our opinion, after trial and error, the best humidifier for you would be to go with the HemingWeigh humidifier.
HemingWeigh Humidifier
Even though it has a smaller tank, its energy efficiency is top-notch.
It also allows you to adjust the humidity level through a knob.
The small mist droplets produced by the HemingWeigh ultrasonic humidifier is ideal for mushroom cultivation
It is able to reach the roots even in dry soil and supply them with the water and nutrients they require for growth.
FAQ
What type of humidifier is best for mushrooms?
An ultrasonic humidifier is your best option as it will keep the moisture in a perfect state and won't break the bank when it comes to the cost.
What humidity chamber for mushrooms?
Make sure the fruiting chamber has tons of passage for air and is in a darker place. The temperature should be 60-65 F and the humidity above 90% for ideal growing conditions.
What is a mushroom humidifier?
The mushroom humidifier is the best humidification system for the nursery. It's crucial for the mushroom's well-being and productivity in the growth chamber, where high humidity is required.
Can mushrooms grow in 99% humidity?
Mushrooms cannot grow in 99% humidity as too much moisture can encourage the growth of mold.
Do mushrooms need a high or low-humidity drawer?
Mushrooms require a low-humidity drawer to keep them fresh for as long as possible.
Conclusion
Getting the correct humidifier is essential for mushroom growth. And as we have seen, there are a variety of types to choose from. Make sure to choose one that is best for your needs and keep in mind the size of your grow room.
Factors like the size, the wattage, and the ease of maintenance are key, as they will determine the health of your mushrooms. A humidifier that is too small, too power-hungry, or requires frequent maintenance will have a poor effect on the mushrooms' health while also proving very costly for you.
Which product did you like the most and why? Let us know in the comments.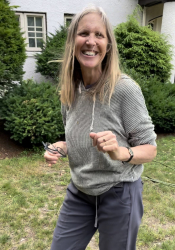 Latest posts by Jessica Zander
(see all)
Hello! I'm Jessica Zander, a garden coach and consultant based in the Boston area (zone 6b), offering virtual consultations across the country and Canada.
I've been passionate about gardening since the early 1990s, and in 2022, I launched You Can Do It Gardening to empower individuals to feel more confident in their gardening endeavors.
Following a 30-year career in nonprofit finance and operations, I transitioned out of that field in mid-June of 2023 due to the growing demand for coaching services. Interestingly, my years of presenting financial statements to boards and finance committees proved to be valuable experience for teaching people about gardening! I enjoy sharing skills, providing guidance and suggestions, and collaborating efficiently with clients to make significant improvements to their outdoor spaces, both small and large. I also regularly teach at the Arlington Continuing Education and Cambridge Adult Education.
My approach is direct and practical, akin to Mary Poppins, but tailored to your garden. Clients find satisfaction in saving money and taking pride in their own gardening achievements.