Beautiful lawns don't come easy; they're a result of several hours of precise cutting using lawnmowers. Cutting a lawn can be two-sided; it can be easy, or it can be hard. It all depends on the type of lawnmower you're using, the terrain you have, and the type of grass. For this review, we'll take a look at the best petrol lawn mower for large gardens. Small garden owners are welcome to read.
PowerSmart DB8621S Gas Lawn Mower
The best petrol lawn mower for large gardens is the PowerSmart DB8621S Gas Lawn Mower. It's affordable, comes with a Briggs & Stratton 163cc engine, and is easy to set up – not to mention that it's self-propelled. There are adjustable height levels as well as side discharge functions.
---
Best Petrol Lawn Mowers For Large Gardens: Comparison Table
| | Petrol Lawnmower | Swath Size | Self-Prop. | Engine | Height |
| --- | --- | --- | --- | --- | --- |
| 1 | PowerSmart DB8621S Gas Lawn Mower | 21-inch | Yes | 159cc Briggs & Stratton | 5 levels |
| 2 | Remington 22-Inch 159cc Gas Lawn Mower | 22-inch | No | 159cc PowerMore Engine | 3 levels |
| 3 | Troy-Bilt TB330 21-inch Gas Lawn Mower | 21-inch | Yes | 163cc Briggs & Stratton | 3 levels |
---
Gas Lawn Mower For Large Gardens – Buying Guide
In the lines that follow, you'll find some important tips you should have in mind before you purchase a gas-powered lawnmower. Let's begin with size.
Size
Your garden is probably large, and that explains why you are reading this review. To that effect, you'll need a similarly equipped mower that can reduce the time it takes to cut your lawn significantly.
Lawnmowers come in various sizes. The size literally refers to the dimension of the cutting swath; the cutting swath itself is the part of the mower that cuts your grass as you move the mower.
A gas-powered lawnmower has a wider swath than gas and electric mowers. However, having a large swath doesn't necessarily mean good news. A large swath will definitely mean having a larger mower which in turn, means having a large engine. If your mower isn't self-propelled, maneuvering during use can become a pain in the butt and will tire you out quickly. We recommend a mower with a 20-24 inch swath.
---
---
Best Petrol Lawn Mower For Large Gardens Reviewed
---
For making mowing the lawn easier for a lot of people, the PowerSmart self-propelled lawn mower is the overall best petrol lawn mower for large gardens. The ease of using this mower is quite commendable.
---
Away from PowerSmart, we present you the Remington gas mower with a string trimmer. Unlike the PowerSmart mower which has small 8-inch wheels, this unit has 14-inch wheels.
---
Want more value at a great price? Who doesn't? The Troy-Bilt TB330 mower is our pick. It sports a 163cc Briggs & Stratton engine churning out about 5HP. The engine propels the 21-inch cutting swath. A 22-inch cutting swath would have been better considering the fact that the mower is priced higher than the others.
---
FAQs – Petrol Lawn Mowers For Large Gardens
What mowers do professionals use? Getting a petrol lawnmower should be based on your needs first, and then the recommendations of a professional. Professionals tend to tilt towards notable brands like Honda, Greenworks, Troy-Bilt, Remington, etc.
Can I use unleaded gas in my lawnmower? Briggs & Stratton shared guidelines for the perfect petrol type for your outdoor tools like the lawnmower. But to answer the question, if the manufacturer states otherwise on the product manual, you should use unleaded gas.
Which petrol lawnmower do you recommend? There are tons of petrol lawnmowers that are designed to meet your lawnmower needs. In this review, we settled for the PowerSmart DB8621S Gas Lawn Mower. It's arguably the best, but who knows, you might just have a better opinion.
---
Wrapping Up…
As earlier mentioned, the beauty of your garden is complemented by a beautiful lawn. Only a good lawn mower can give you such. Choose wisely from the best petrol lawn mowers for large gardens we've reviewed so far. Thinking about growing plants in your backyard lawn, then read our best grow bags buying guide!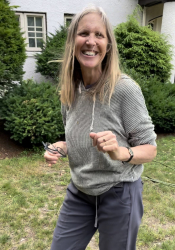 Latest posts by Jessica Zander
(see all)
Hello! I'm Jessica Zander, a garden coach and consultant based in the Boston area (zone 6b), offering virtual consultations across the country and Canada.
I've been passionate about gardening since the early 1990s, and in 2022, I launched You Can Do It Gardening to empower individuals to feel more confident in their gardening endeavors.
Following a 30-year career in nonprofit finance and operations, I transitioned out of that field in mid-June of 2023 due to the growing demand for coaching services. Interestingly, my years of presenting financial statements to boards and finance committees proved to be valuable experience for teaching people about gardening! I enjoy sharing skills, providing guidance and suggestions, and collaborating efficiently with clients to make significant improvements to their outdoor spaces, both small and large. I also regularly teach at the Arlington Continuing Education and Cambridge Adult Education.
My approach is direct and practical, akin to Mary Poppins, but tailored to your garden. Clients find satisfaction in saving money and taking pride in their own gardening achievements.