When you're working with mulch, it's important to have the right tool for the job. A pitchfork is a great option for moving mulch around, but not all pitchforks are created equal. So, which is the best pitchfork for mulching? Keep reading to find out!
Truper 30323 Pro Manure Fork
If you're in a hurry, kindly take a look at the Truper 30323 Pro Manure Fork. It has sturdy tines and a 50-inch fiberglass handle, the head is forged and riveted, and its lightweight finishing makes it easy to use and carry around.
We reviewed some of the best pruners for people with arthritic hands.
Comparison Table Pitchforks For Mulching
| | | | |
| --- | --- | --- | --- |
| | Pitchfork for mulching | Size | Features |
| 1 | Truper 30323 Pro Manure Fork | 50-inch | Sturdy tines, fiberglass handle, lightweight finishing, easy to use, forged and riveted head. |
| 2 | Roamwild Multi-Digger Garden Digging Spading Fork | 40-inch | Large cushioned dual grip design and has a 40-inch fiberglass handle, clump breaking diamond-shaped tines, weighs only 4.5lbs, and has a large footplate, it comes fully assembled |
| 3 | True Temper 2812400 10-Tine Bedding Fork | 48-inch | Hardwood handle with rubber grip points on the end, lightweight finishing and has 10 sturdy tines |
| 4 | MLTOOLS Gardening Rake Shovel Sieve | 40-60 inch extendable | Extendable 40-inch handle, 3-in-1 design for multipurpose use, sturdy finishing and is lightweight, 50-degree scoop sieve. |
| 5 | Radius Garden 20301 PRO Digging Fork | 43-inch | Four sturdy tines, ample footplate space, carbon steel resin-covered shaft, lightweight,  |
---
Pitchforks For Mulch: A Short Buying Guide
Mulching is an essential part of gardening, but it's hard to find the right pitchfork.
It can also be difficult to find one that doesn't cost too much money. Ideally, you want a pitchfork that will be strong enough for your needs and won't break on you when you're trying to get the job done.
In this guide section, we provide some tips on what to look for in a pitchfork, so you can make sure you're getting the best possible product.
Tasks Needed
What are the tasks you'll need the pitchfork for? In this case, mulch. Do you need to move a lot of mulch, or just a little? Do you have a lot of garden beds, or just a few? Once you know how much mulching you'll be doing, it's easier to narrow down your options.
There are pitchforks with four tines and those with three. Four-tine pitchforks are better for breaking up large clumps of mulch, while three-tine pitchforks are better for moving mulch around without damaging delicate plants.
It's important to note that pitchforks are slightly different from garden forks. Garden forks have shorter tines and are sturdier than pitchforks. Pitchforks, on the other hand, have longer tines and are more delicate.
If you plan to insert the pitchfork into the ground, you'll need something very sturdy with solid tines.
---
Best Pitchfork For Mulch: Our Top Picks
There are a lot of different pitchforks on the market, and it can be difficult to determine which one is the best for your needs. Here are five of the best pitchforks to help you deal with mulch in the garden.

Have you ever had the pleasure of using a Truper 30323 Pro Manure Fork? If not, then you're missing out! Here's why!
This Truper fork is perfect for anyone who needs to get things done quickly and efficiently. The tines are sturdy and it has an easy-to-grip handle made of fiberglass and is 50 inches long! This means no more bending over while working either.
The tines on this Truper fork measure 9 inches wide and are one-piece with the head. They're strong enough to help you handle materials weighing as much as 400lbs, making them one of the strongest pitchforks in the market.
Need we also mention that this pitchfork comes with a lifetime warranty? That sounds interesting. The Truper 30323 Fork checks all the boxes for quality, reliability, and affordability. If you're in the market for a new garden fork, be sure to check it out.
---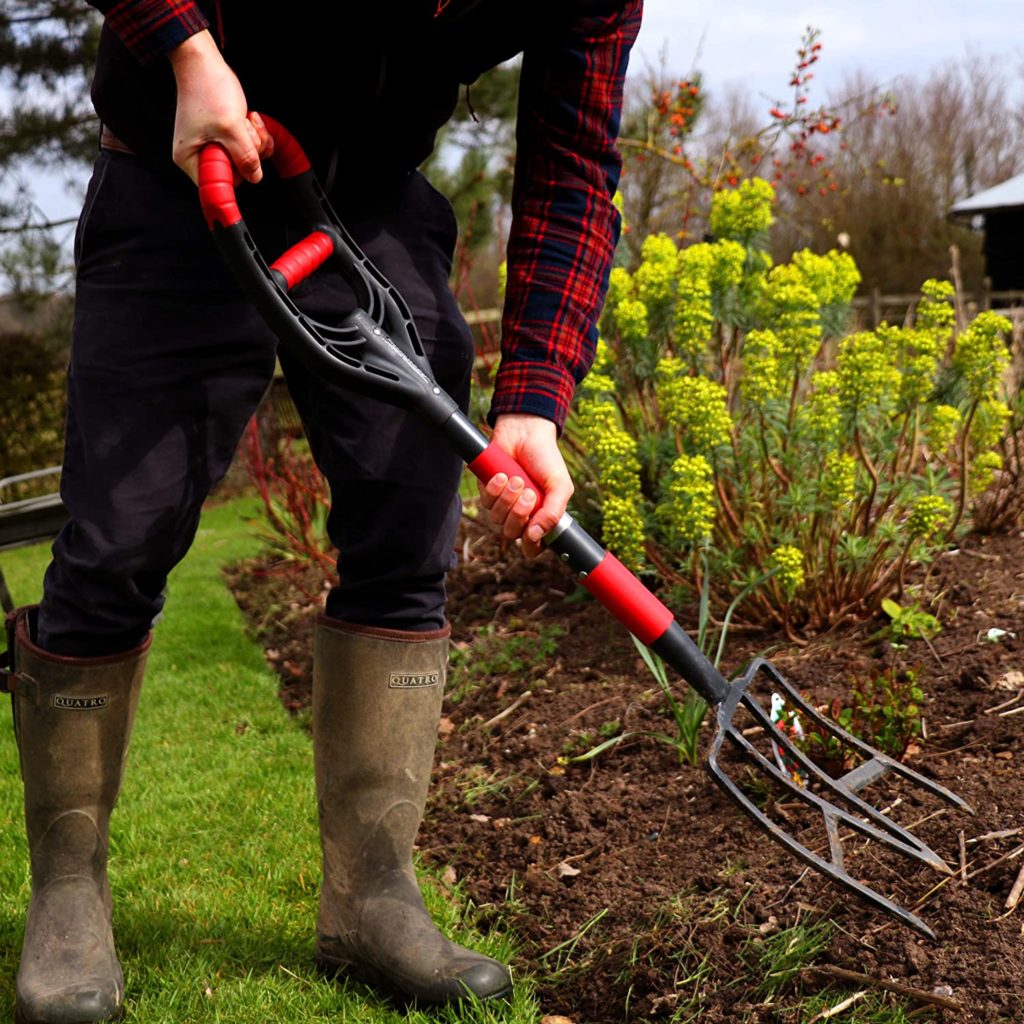 If you love spending time in your garden, but dread the manual labor of cultivation and maintenance, then you'll love the Roamwild Multi-Digger Garden Digging Spading Fork!
This top-of-the-line tool is perfect for breaking up clumps of dirt and soil, and its large footplate makes it easy to use. The cushioned dual grip design ensures comfort during use, and the 40-inch fiberglass handle provides strength and durability.
Weighing only 4.5lbs, this fork is easy to use and maneuver. It comes assembled right out of the box so you can get started with your tasks whether you're a professional gardener or a weekend warrior.
Why not ditch that old rusty spade and upgrade to the Roamwild Spading Fork today? You won't regret it!
---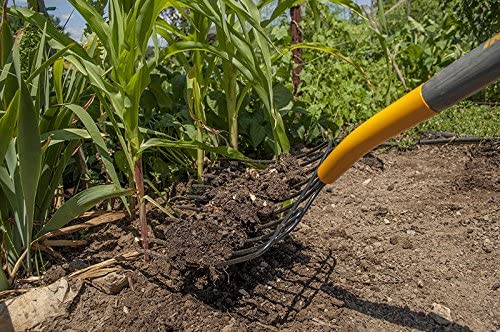 The True Temper 2812400 10-Tine Bedding Fork is also well worth considering. This handy tool has a 10-tine steel head with a durable powder coat finish, making it perfect for breaking up garden soil and creating uniform clumps.
The wooden 48-inch handle provides comfortable handling, even when the weather is hot, and the tines are spaced to easily grab clumps of soil. The handle is made of durable, high-quality hardwood material that will last a long time, except you are rough with it.
The middle section of the handle has just enough thickness to provide balance while still being lightweight so as not to strain your arm or shoulder when using the fork.
If you're looking for an affordable bedding fork that will stand up to heavy use, then the True Temper 2812400 10-Tine Bedding Fork is definitely worth checking out.
---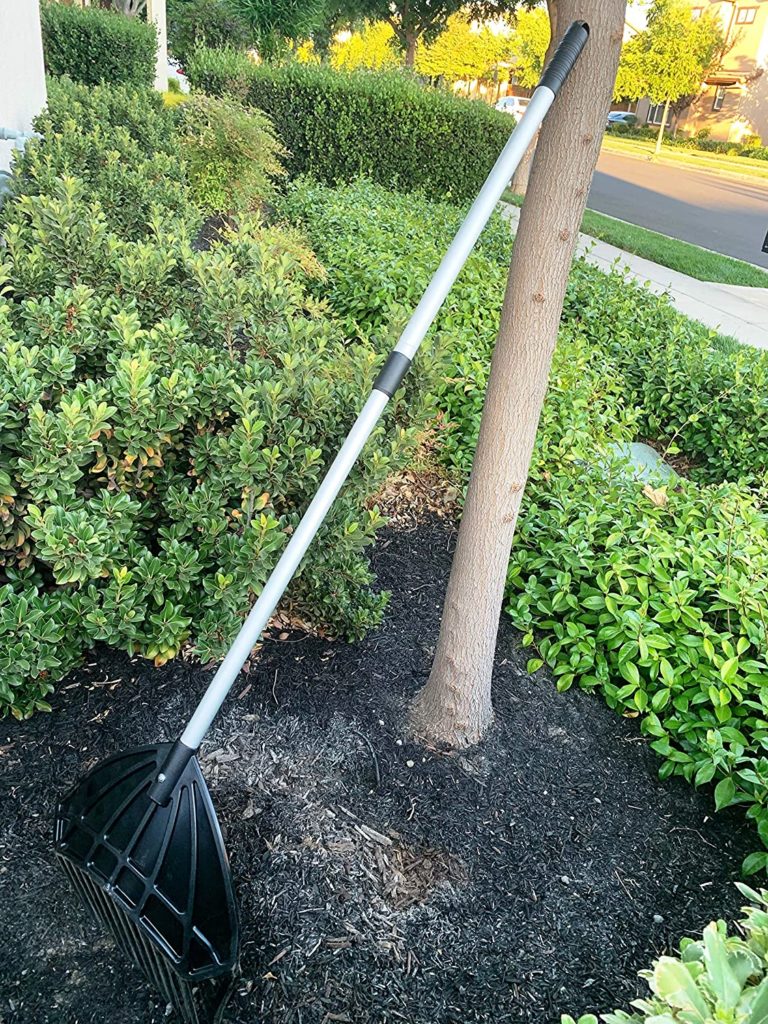 The MLTTOOLS Gardening shovel fork is a 3-in-1 tool that is perfect for all your gardening needs. It can be used as a shovel, rake, or sieve. The versatile tool is made of durable stainless steel and has a comfortable wooden handle. It is also easy to store and transport thanks to its compact design.
It features a 40-60 inch extendable handle that makes it easy to reach the ground. The rake part of the tool can be used to level off soil or remove debris. It has 12 tines that are made of durable stainless steel.
While this shovel fork isn't ideal for heavy-duty tasks, it can come in handy for the less strenuous ones that may involve multiple tools. Concerning weight, it weighs a little under 2lbs and is arguably one of the lightest pitchfork shovel combinations you'll find on the market.
In all, the MLTOOLS Gardening Rake Shovel Sieve is perfect. This three-in-one tool can rake, shovel, and sieve soil with ease, making your gardening tasks a breeze.
---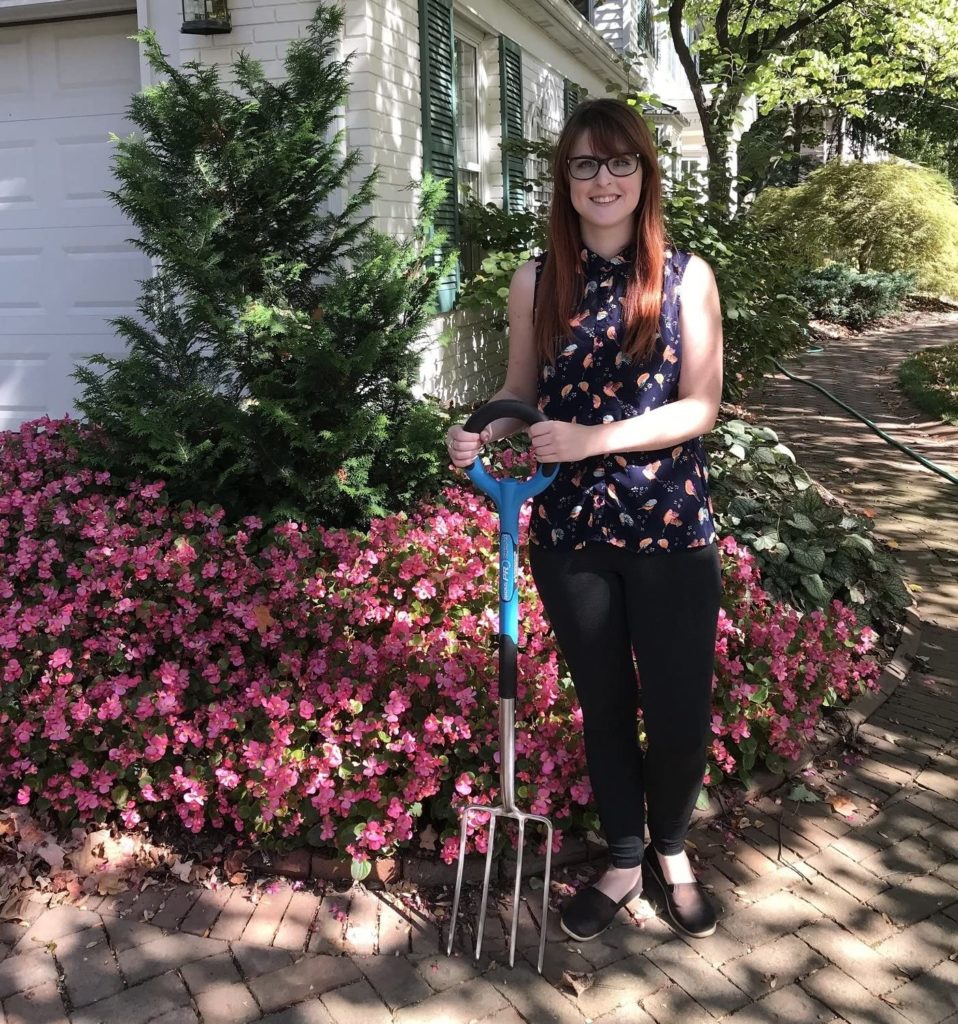 The Radius Garden 20301 PRO Digging Fork is a gardening fork that features a comfortable grip and tough steel construction. The Radius Garden 20301 PRO Digging Fork has only four tines, making it ideal for digging in hard soil or clay.
With an ergonomic handle designed to reduce wrist strain, this garden fork offers comfort and durability in one package. The handle is 43-inches long and is no doubt sturdy enough for any gardening task. Plus, it comes with a limited lifetime warranty.
This digging fork has an ultra-lightweight design and offers plenty of foot space so you can properly press it into the soil with ease.
The Radius Garden 20301 PRO Digging Fork is one of the best digging forks on the market. It's comfortable to use, well-built, and backed by a solid warranty.
---
Frequently Asked Questions
What kind of pitchfork do you use for mulch?
If you intend to move mulch around very often in your garden, we suggest getting a pitchfork with sturdy tines. It should be lightweight, have a solid handle, and must be able to handle some rough mulching work.
How do you spread mulch with a pitchfork?
To spread mulch with a pitchfork, start by picking up some mulch from the pile. Hold the handle of the pitchfork in one hand and use your other hand to guide the tined end into the ground. In this way, move a few inches worth of mulch or more at a time into place.
What should I look for in a pitchfork?
When looking for a pitchfork, you'll want to consider the following factors: the size of the fork, the material it is made from, and whether it has a grip. The size of the fork will determine how much mulch or soil you can move at one time. The material it is made from will determine its durability, and the grip will determine how comfortable it is to use. You should also consider the price and the warranty.
---
Finally
We hope you enjoyed this review about the best pitchfork for mulch. For this review, we went over the top five products on the market and gave our opinions about them. We also provided a buyer guide to help you make an informed decision about which product is right for you. We hope you found this review helpful and informative. Thanks for reading!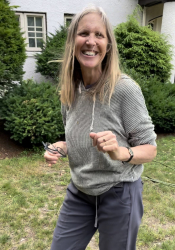 Latest posts by Jessica Zander
(see all)
Hello! I'm Jessica Zander, a garden coach and consultant based in the Boston area (zone 6b), offering virtual consultations across the country and Canada.
I've been passionate about gardening since the early 1990s, and in 2022, I launched You Can Do It Gardening to empower individuals to feel more confident in their gardening endeavors.
Following a 30-year career in nonprofit finance and operations, I transitioned out of that field in mid-June of 2023 due to the growing demand for coaching services. Interestingly, my years of presenting financial statements to boards and finance committees proved to be valuable experience for teaching people about gardening! I enjoy sharing skills, providing guidance and suggestions, and collaborating efficiently with clients to make significant improvements to their outdoor spaces, both small and large. I also regularly teach at the Arlington Continuing Education and Cambridge Adult Education.
My approach is direct and practical, akin to Mary Poppins, but tailored to your garden. Clients find satisfaction in saving money and taking pride in their own gardening achievements.