Plants need regular pruning to remove deadwood, which hinders their growth. Pruners have only one job; to make even cuts with your hands intact afterward. Making uneven cuts hurts plants and makes it difficult for them to heal, so you need a pruner you can trust. When choosing a pruning shear, you need to make sure it can get the job done. Not all pruners are comfortable to use, especially for people who have arthritis. Hence, we've aggregated what we believe are the best pruners for arthritic hands.
Sale
Gonicc Professional Titanium Pruning Shears
Pruners are pretty easy to use, but if you have arthritic hands, they can cause you a great deal of discomfort, especially if you end up with one that's smaller for your hands. For this review, we chose the Gonicc Professional Pruner as the best pruner for arthritic hands. It's easy to use, it's affordable, it's lightweight, and it's a bypass-styled pruner, but it's not suited for tougher pruning tasks. For tough tasks, we recommend the Felco High-Performance Pruning Shears.
---
Comparison Table: Best Pruners For Arthritic Hands
Here's a collection of the pruning shears we recommend for people who have arthritis.
| | Pruners For Arthritic Hands | Best For |
| --- | --- | --- |
| 1 | Gonicc Professional Titanium Pruning Shears | For smaller hands |
| 2 | Garden Elite Premium Pruning Shear | For women/all |
| 3 | Honmamon Onoyoshi Pruning Shears | Left-handed users |
| 4 | Felco High-Performance Pruning Shears | For men/all |
---
Buying Guide – Best Pruners
The type of pruning shears you invest in and its features determine your pruning experience. Pruners are designed to shape and trim dead branches or damaged foliage. You must consider the features, size, metal quality, and ergonomics of the pruner you decide to buy. Since they are among the most used gardening tools, this means you may spend hours using them. 
Let's take a closer look at the things you need to consider carefully before choosing your shears. 
---
Best Pruners For Arthritic Hands Reviewed
Below, we shared our thoughts about the best secateurs for arthritic hands. You'll also find the best secateurs for small hands here. We're certain that these pruners will make cutting plants a comfortable experience for you.
Sale
Gonicc 8
Features: Quality blade made of Ultra-fine polishing technology, ergonomically designed non-stop handles, ultra-strong drop forged body, wired spring, and handles.
The Gonicc 8″ Professional Pruning Shear is a small-sized bypass pruner suitable for small hands. It's lightweight and sports an ergonomically designed body that makes using it easy. The rugged blades in this pruner are designed from premium titanium steel and finished with ultra-fine polishing technology. It makes the blades durable, comfortable, and capable of making the required lightweight cuts with the utmost ease. 
Concerning sharpness, the blades are very sharp and prevent free pulp adhesion caused by rust on the blades. The sturdy handles in this pruner are made of quality aluminum and wrapped with foam for an ergonomic feel. This pruning shear has a cutting diameter of less than 3/4″ size tree branches or shrubs. It also comes with a sap groove that channels off saps trickling out from plants and prevents the blades from sticking. 
This pruner is reliable, sharp, and very comfortable for long hours of lightweight pruning jobs. The blades of this pruner allow you to cut the firm and spongy stems of live plants quickly with the bypass motion of the blades. The price of this Gonicc pruning shear is very reasonable for the quality that you will get. The blades are sharp, and your plant canes won't turn sideways when cutting.
---
Garden Elite Premium Pruning Shear
Features: Hard and sharp non-stick steel blade, lifetime warranty, long-lasting, durable, and reliable garden primer, coiled metal spring, and an ergonomic rubber grip.
The Garden Elite Premium Pruning Shear is best suited for women with small hands. It helps you make every minute you spend in your garden count by offering you the best comfort. This pruner is an excellent choice to buy if you want a high-quality pruning shear for your plants. The blades are made of high carbon Japanese SK-5 steel that creates clean and fast cuts, thereby making your gardening enjoyable. 
Additionally, the blade is also coated with non-stop Teflon, which makes it rust-resistant and prevents sap and debris from sticking to the blade. The blade of this pruner is corrosion-resistant as it is coated with PFTE or Teflon. Furthermore, the blade features an anodized finishing that guarantees its reliability and durability for every season. Concerning warranty, this pruner also comes with a lifetime warranty along with Garden Elite customer support.
The handle is designed ergonomically for comfort by coating it with non-slip rubber grips and an easy-to-use thumb lock. The blades on this shear are molded by the best craftsmen for optimal cutting and sharpened easily for perfect cuts. With a cutting diameter of 25 mm, you can prune flowers, bushes, hedges, and branches smoothly with this pruner. 
---
Honmamon is a Japanese cutlery specialty that manufactures and sells quality kitchen knives. Honmamon Onoyoshi Pruning Shears is best for left-handed users with small hands handmade by Japanese craftsmen. The whole blade is heat-treated and passed through the process of forging and edging by the best craftsmen. This process of forging steel into a blade makes them extra strong and durable.  
This pruner is a bypass pruning shear, and the blade length is 55mm. The blades are made of carbon steel for making clean cuts. It comes with a wired spring that pulls the handles to each other after every cut and allows for long hours of pruning. 
Honmamon Onoyoshi Pruning Shears features a button lock that allows you to lock it after use. This feature protects the blades when they are not in use and ensure you don't accidentally cut yourself. In all, the Honmamon pruner is a good pruner for left-handed users.
---
Sale
Felco was established over 70 years ago in Switzerland to provide tools from the best available materials. Their products have remained durable over the years and are always made with the utmost precision for comfort and an impeccable user experience. It has an ergonomic design with a cushioned spring that reduces the impact of trimming plants on your hands. Also, it has a revolving handle for better comfort and suitable for any type of pruning. 
This pruner is a high-performance pruning shear and comes with a wire cutter for thin wires. The pruner also comes with a sap groove that reduces blade sticking while trimming plants and sports blades made of hardened steel that promises high performance while pruning. This pruner features an anvil pruning shear with a screw-mounted blade for clean and smooth cuts.
The blade gives you access to twiggy branches and allows for close cuts, and the swivel action in this pruner requires thirty percent less effort than conventional models. This pruner's blade has a 200mm length and a cutting diameter of 25mm. It's sturdy and feels durable.
---
---
Conclusion 
Investing in a pruning shear for a small hand is not an easy decision to make. There are a lot of features you have to consider. When you plan to invest in any gardening tool, you need to take your time and do your research. Having read through our review and noted the essential features to look out for, you need to take out time to do your research before making a purchase.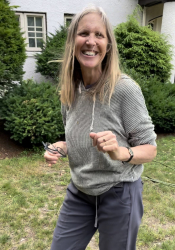 Latest posts by Jessica Zander
(see all)
Hello! I'm Jessica Zander, a garden coach and consultant based in the Boston area (zone 6b), offering virtual consultations across the country and Canada.
I've been passionate about gardening since the early 1990s, and in 2022, I launched You Can Do It Gardening to empower individuals to feel more confident in their gardening endeavors.
Following a 30-year career in nonprofit finance and operations, I transitioned out of that field in mid-June of 2023 due to the growing demand for coaching services. Interestingly, my years of presenting financial statements to boards and finance committees proved to be valuable experience for teaching people about gardening! I enjoy sharing skills, providing guidance and suggestions, and collaborating efficiently with clients to make significant improvements to their outdoor spaces, both small and large. I also regularly teach at the Arlington Continuing Education and Cambridge Adult Education.
My approach is direct and practical, akin to Mary Poppins, but tailored to your garden. Clients find satisfaction in saving money and taking pride in their own gardening achievements.