Managing space, providing aeration, keeping soil moist or wet soil, and ensuring that root rot does not occur can be tedious work. But, it can be avoided by using the best rectangular grow bags!
Grow bags having drainage holes to remove excess water are made of a breathable nonwoven fabric that provides amazing aeration and prevents root circling. In this article we will discuss our best picks, pros, and cons, and why grow bags should be used. Let's get started!
Comparison Chart
Angeliox 3 Pack 8

Gallon Grow Bags

Okuna Outpost

Rectangle Grow Bags

11.81"D x 7.87"W x

19.69"H

Inside Mount,

Outside Mount

Inside Mount,

Outside Mount, Tree

Mount

Inside Mount,

Outside Mount
Rectangular Grow Bags: Our Top Picks
After careful comparative study and testing we finalized the following best picks. All the below grow bags excel in various scenarios and offer amazing advantages while growing root veggies or other shallow roots plants. To know more, read below!
Auroal Plant Grow Bags are made out of breathable material. These grow bags provide fantastic aeration, water circulation, and healthy growth to plants. The design of the bags does not let the plant roots get tangled or curled at the bottom.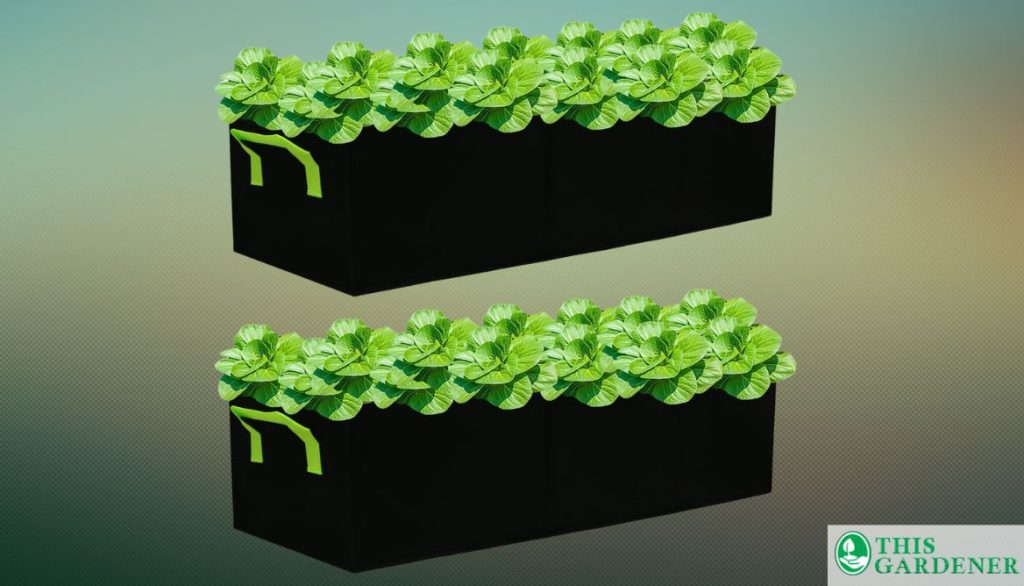 The grow bags are corrosion-resistant and can be used multiple times. Also, they have reinforced handles that allow you to move them with ease.
Auroal Plant Grow Bags Specification
Let's take a closer look at the specifications!
Chili, vegetables, fruits, flowers, medicinal

materials

Lightweight, Reusable, Breathable

Inside Mount, Outside Mount
Auroal Plant Grow Bags Pros and Cons
Before we dive into further details of using grow bags, let's take a look into the pros and cons!
Pros
These grow bags are durable and can last for years.
It consists of 3 different compartments that can be used to grow different types of plants.
Cleaning and washing the grow bag is super easy.
The grow bags can drain excess water to keep the soil in optimum condition.
They provide excellent soil aeration for the plant.
Cons
Hard to move once they are filled with soil.
They are shorter in height than expected.
Recommended for: This grow bag is growing small plants in compact places such as balconies, small yards, or patios.
The Angeliox 3 grow bags are made from thick 300g nonwoven fabric that is highly resistant to wear and tear. Carrying the grow bag is easy as it has strong handles at the side. This product is BPA-free and environment-friendly. To know more read on!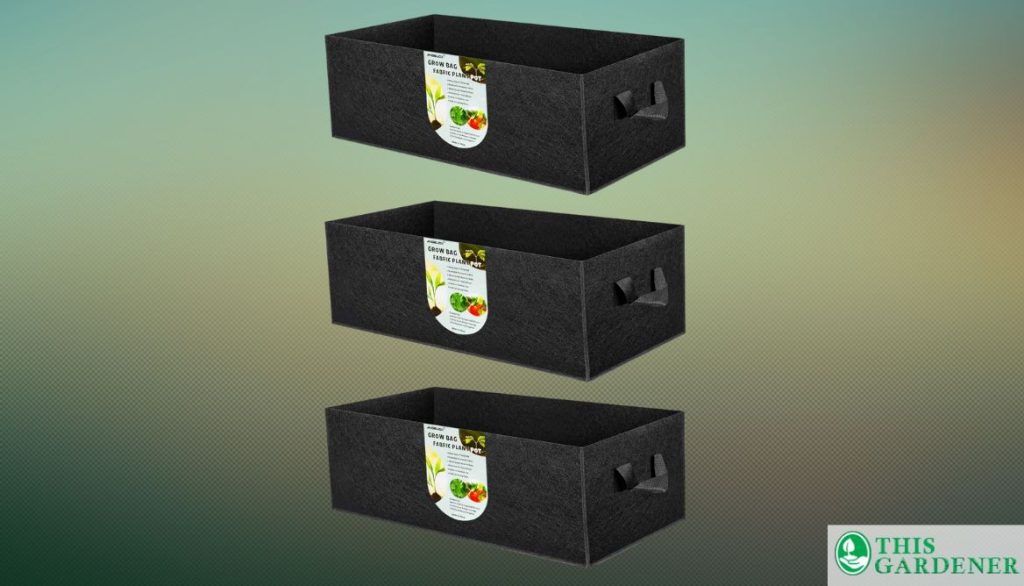 Angeliox 3 Pack 8 Gallon Grow Bags Specification
Listed below are the key specifications to consider when selecting the grow bag!
| | |
| --- | --- |
| | |
| | |
| | |
| | |
| | |
| | 11.81"D x 7.87"W x 19.69"H |
| | Vegetables, flowers, radishes, tomatoes, chili |
| | |
| | Inside Mount, Outside Mount, Tree Mount |
| | |
Angeliox 3 Pack 8 Gallon Grow Bags Pros and Cons
To get a better understanding of whether grow bags are your best choice, it's crucial to consider the pros and cons!
Pros
The grow bags are made from highly-durable and breathable material providing aeration.
They are suitable for both indoor and outdoor planting.
They are lightweight and can be easily moved anywhere.
Vegetables, fruits, and small herbs can be grown in these grow bags without any problem.
They aid in healthy growth as they do not let root-bounding or curling.
Cons
They are not suitable for large plants.
The sides of the bags may sag or collapse if not supported.
Recommended for: The design of the grow bags makes them best for growing potatoes and other plants with root systems for vegetables. Although, other plants can also be easily grown in them.
Okuna Outpost Rectangle Grow Bags are designed for ideal capacity to allow you to grow multiple types of plants. Also, they are ideal for plants that do not have deep roots.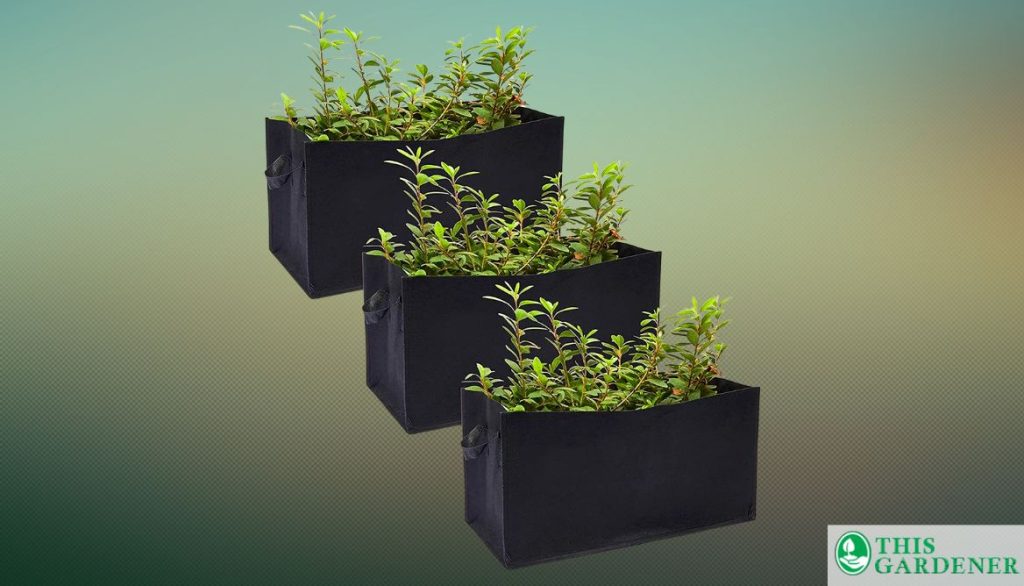 The nonwoven fabric helps reduce overwatering. Ideal plants to grow in them are chilies, peppers, carrots, onions, or similar-sized plants. Read below and find out!
Okuna Outpost Rectangle Grow Bags Specification
Now that we have an idea of the basic information, let's review its specifications!
Plants and deep-rooted plants (e.g. tomatoes,

cucumbers, chili peppers, and potatoes)

Inside Mount, Outside Mount
Okuna Outpost Rectangle Grow Bags Pros and Cons
Let us explore some of the pros and cons that make these grow bags special!
Pros
These grow bags are made from environmentally friendly material.
The shape is designed for good space management.
The fabric of the grow bag allows drainage and control of excess water.
Handles at the side make it super easy to move or carry the bags.
They are made from durable material that lasts for years.
Cons
The material could tear if mishandled.
Sharp objects like stems of plants, sticks, stones, or thorns could puncture/damage the bag.
Recommended for: What makes Okuna Outpost Rectangle grow bags more than other bags is their ability to accommodate small and slightly larger plants like tomatoes and peppers.
Anphsin Non-Woven Garden Grow Bags are perfect for gardeners looking for an efficient way to grow their favorite plants and vegetables. The build quality, design, and reusability make them a sought choice for many gardeners. Learn more about them now!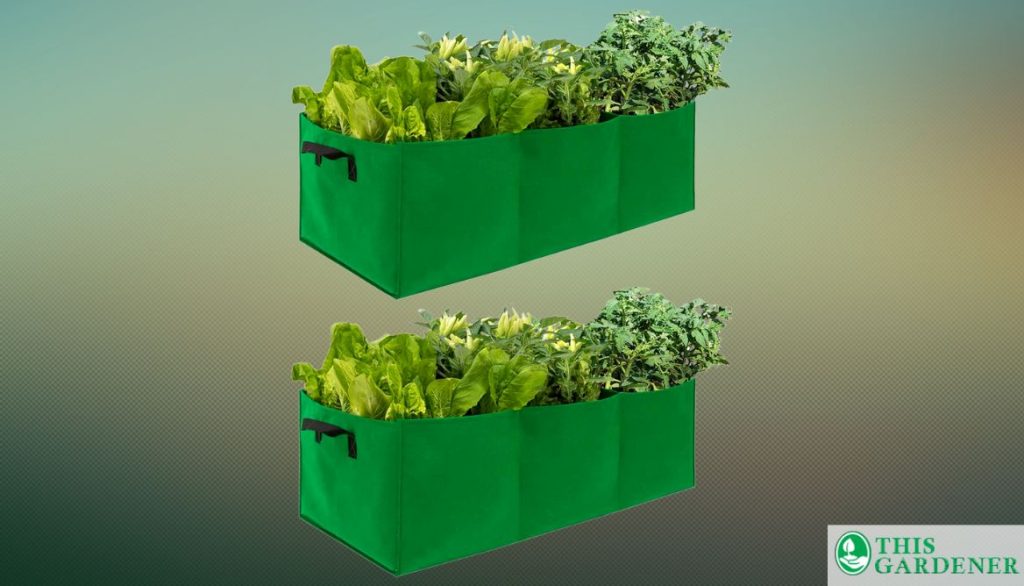 Anphsin Non-Woven Garden Grow Bags Specification
Here are the specifications you should know about the product!
Strawberries, potatoes, carrots, radishes,

onions, peppers, fruits, and flowers

Floor Mount, Outside Mount
Anphsin Non-Woven Garden Grow Bags Pros and Cons
Before you decide whether to use grow bags for gardening, it's important to highlight the pros and cons they have!
Pros
These grow bags promote root air pruning and help the plant to grow healthy.
They are lightweight so you can easily rearrange or move them around.
The reusability of the grow bags makes them cost-effective too.
Their large size and multiple compartments make them suitable to grow 3 different plants.
Excellent drainage and soil aeration due to breathable material.
Cons
They may not be able to retain their shape after some time.
Requires a lot of soil to be filled.
Recommended for: They have been known as all-purpose grow bags for gardening! They can be used for veggies with root systems and more plants of different sizes. Also, they are easy to store after use.
Criteria for Picking the Best Grow Bags
There are specific criteria for choosing any type of nonwoven fabric to grow bags, especially the needs and preferences. We selected grow bags of multiple brands and carefully inspected how they could be utilized for various types of plants and different locations.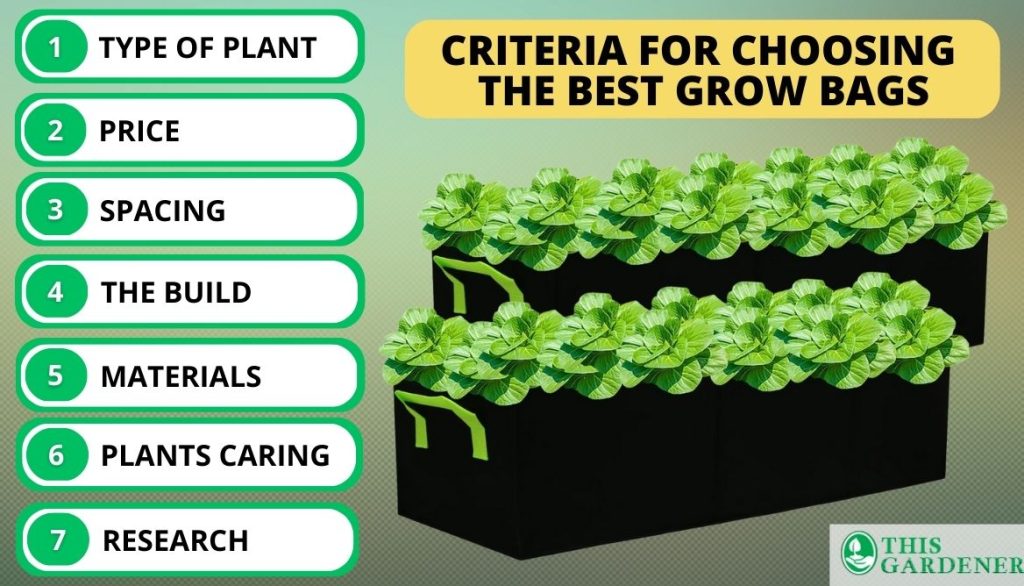 Among all the options we carefully screened out and selected the above-mentioned. How you choose the right nonwoven fabric grow bags depends on your needs and the space available!
Type of plant: Selecting the bag depends on the type of plant you want to grow in it. Such as root vegetables, flowers, herbs, or any other type of small plant.
Price: You may consider the price tag and the cost-effectiveness of the grow bag.
Spacing: The most crucial part of choosing the best grow bag is estimating the space available for the placement, size, and shape.
The Build: The quality and type of material used to make the grow bag also are important factors to select them.
Materials: Recyclable plastics felt, nonwoven durable fabric (Polypropylene), and other types of materials are some of the preferences of many gardeners.
Caring for the Plants: One of the criteria for selecting the grow bags is maintenance-free or less care is required. Drainage and aeration can reduce your effort for planting. This is super helpful if you are growing a large number of plants.
Feedback and Research: Reviews from users are also a strategy to determine which grow bag is "tried and tested" by gardeners and plant enthusiasts.
So, considering all these options is a more reliable approach to establishing a healthy garden.
Why are Rectangular Grow Bags Recommended?
Here are some reasons why growing plants in a rectangular grow bag rather than a round grow bag is the best choice. Read below!
Easy Organize: These nonwoven fabric grow bags are easy to organize and arrange even in a small place.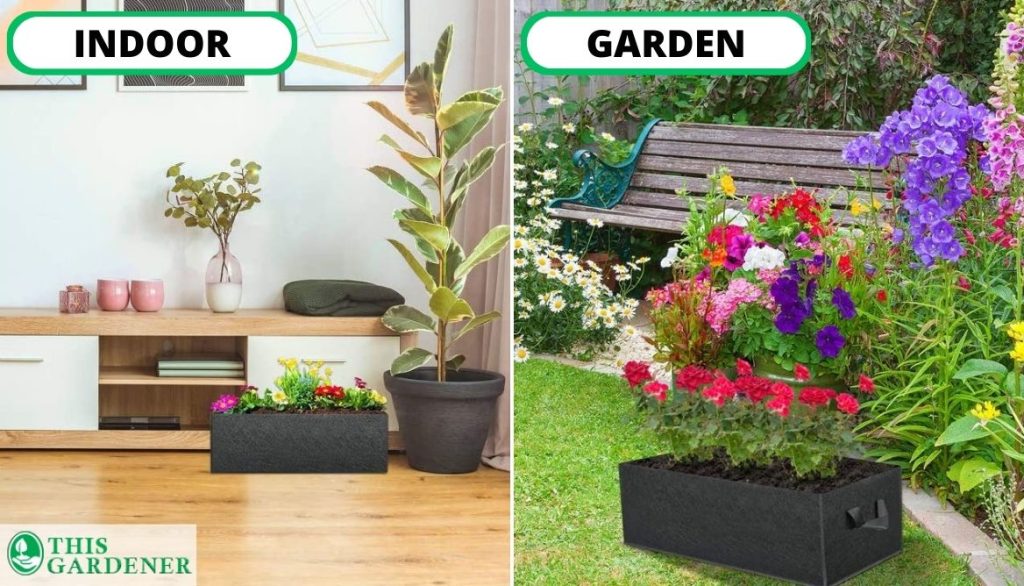 Healthy Grows: They promote healthy root growth by helping avoid root-related diseases.
Space Management: Managing space is easier due to the rectangular shape.
Water Retention: If maintained properly, they prove to have good water retention due to their long shape and high amount of soil capacity.
Water Flow: Drainage of water is easier and more efficient with the use of rectangular grow bags.
Root vegetables can be easily grown especially those that have smaller and less spreading roots.
Mobility: You can transport a large number of grow bags by simply lifting them using the handles. They are super easy to move around.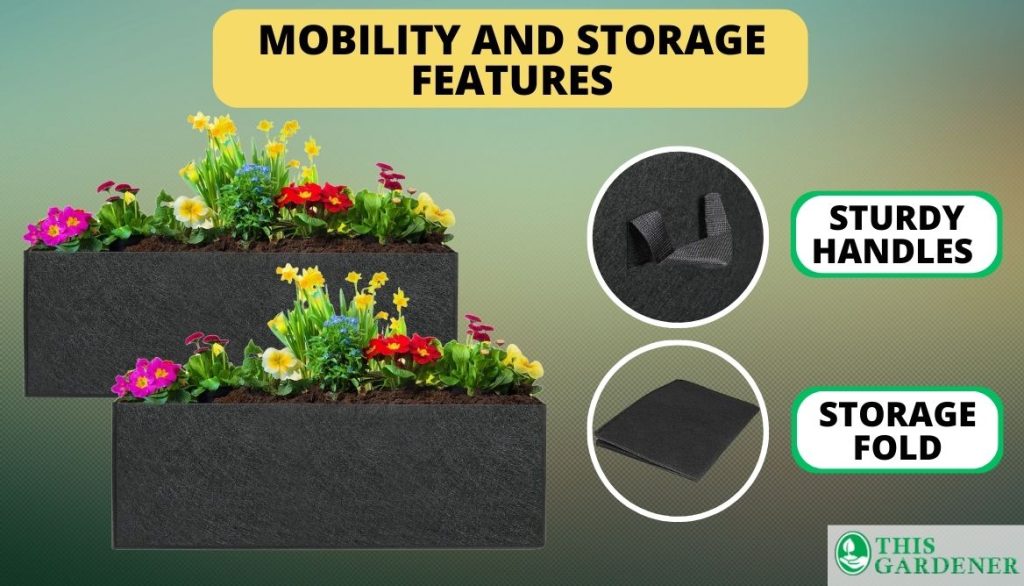 Preference: Some crops are ideal for rectangular grow bags rather than traditional pots such as potatoes, carrots, and onions.
Location: You can set them in different settings such as small gardens, balconies, or even farms.
Pricing: They are outstanding as a cost-effective alternative to traditional pots as they can be used for several seasons.
Storage: You can fold grow bags and store them for later use.
Cleaning: Terracotta or plastic pots may not be easier to wash but you can wash and remove stains or odors from the grow bags.
Characteristics of Rectangular Grow Bags
The rectangular nonwoven fabric bags are ideal for herbs, small plants, and root vegetables. Some additional features like air pruning, material bags are made from, and the capacity to hold soil are also taken into consideration. Let's find out in detail!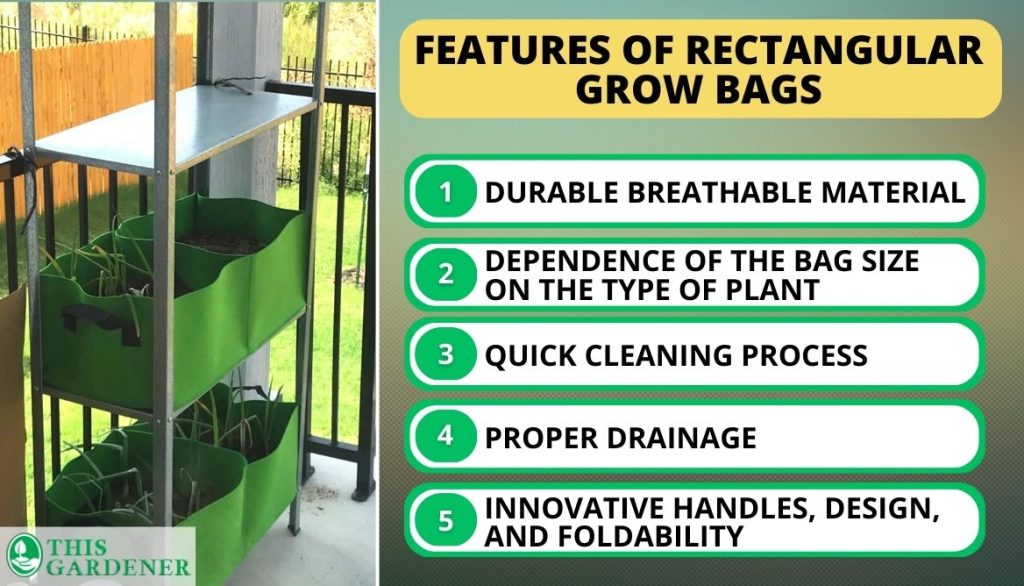 1. Material and Added Advantages
The unmatched advantage of a grow bag is the material the bags are made of such as BPA-free, nonwoven fabric, breathable fabric, or environmentally friendly material. Better air circulation means healthier plants and grow bags achieve this even without being outdoors.
The durable double-stitched material of these fabric pots or garden bags securely holds the soil inside while fruits and vegetables grow in optimum conditions.
2. Size Has an Impact on Plant Growth
The bag size solely depends on the type of plant you want to grow in the grow bags. If you are growing small-sized vegetables then 1-gallon or 5-gallon grow bags offer the best space management.
Always ensure that the root system and garden space are before purchasing the grow bags or you might end up buying the larger sizes that will fill more than the expected space.
3. Quick Cleaning Process
Growing plants results in the accumulation of bacteria and microscopic pests. Also, the soil, compost, and fertilizer contain chemicals that need to be washed out of the grow bags. If you want easier cleaning then opt for small grow bags to grow veggies, herbs, or small plants.
Here is how you clean the grow bag!
Remove the soil or any other content in the grow bag.
Rinse it with water.
Now make a mix of one-part bleach/washing powder and nine parts water.
Soak the grow bag in the cleaning mix for 30 minutes.
Take it out now and rinse it with clean water.
Let it dry completely in sunlight.
4. Drainage System
Plastic or terracotta pots do not provide better drainage for a plant to grow healthy. But, a grow bag made from fabric will allow proper drainage and help prevent diseases that usually occur when the roots hit the water at the bottom of a pot for a prolonged duration.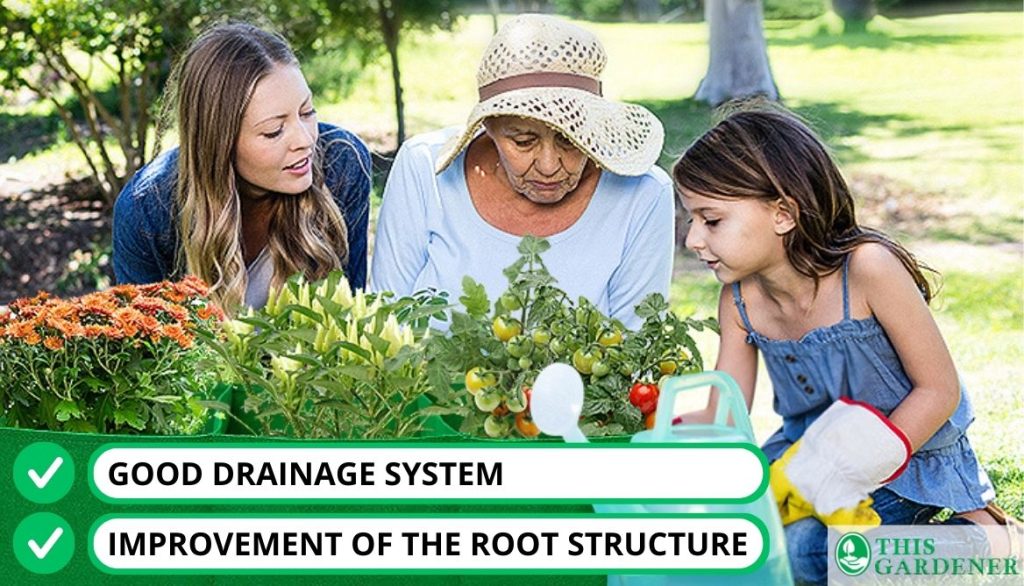 5. Innovative Handles, Design, and Foldability
Some things you should pay attention to:
Fabric pots do not have reinforced handles like grow bags. Plants may require to be moved multiple times indoors or outdoors due to sunlight or aeration. Doing this strains your hands.
The best grow bags brand always ensures to add sturdy handles to their bag design.
Also, if you grow veggies or fruits then some might be sensitive to long exposure to sunlight. They require to be moved indoors and this is where handles are essential.
The best grow bag will also have an easy-to-store design that when not in use could be stored away just by folding it.
This way multiple grow bags can be stored in a small space.
You do not have this advantage with fabric pots.
Final Thoughts and Why are We Trustworthy?
We have tried and tested various grow bags and found out that the above-mentioned grow bags are the best to grow veggies, fruits, or herbs. Also, we inspected features like fabric quality, material type, and dimensions. And we can proudly say that the top pick of grow bags provides extra benefits to you.
All the bags that we selected serve the purpose well but our personal favorite is the Auroal Plant Grow Bag. Breathable fabric, sturdy handles, durable material, and ample space to grow vegetables, herbs, flowers, or other smaller plants make them the perfect addition to your garden.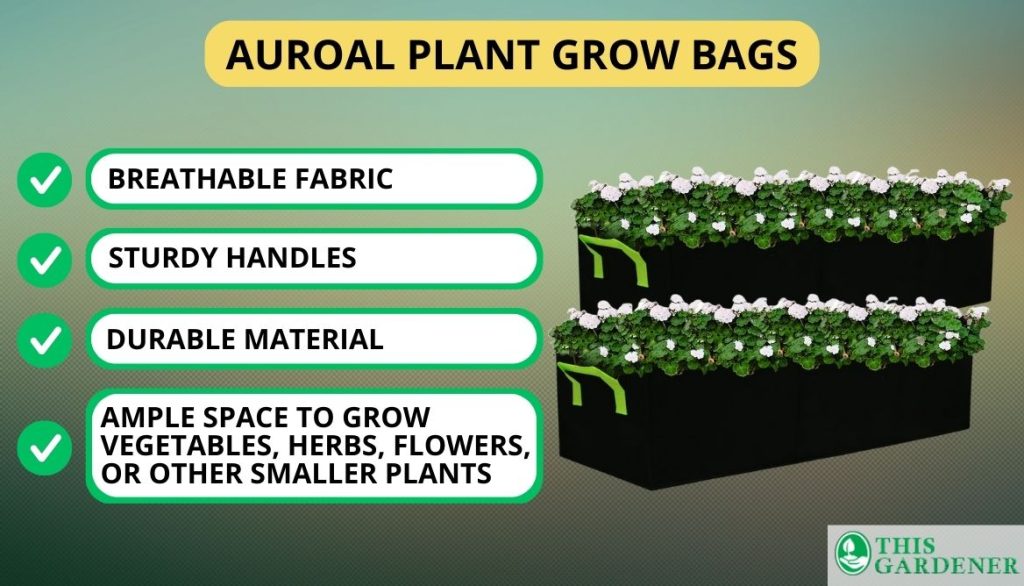 FAQ
How many times can you use a grow bag?
Grow bags can be used multiple times and they can last 5 years or more depending on the care you give them, especially the ones made from recycled plastic or fabric.
How do you make a rectangular grow bag?
To make a rectangular grow bag, cut rectangular-shaped panels from a fabric. Stitch the seams. Then invert it and stitch handles from a smaller piece of fabric. Make sure to leave a small opening at the bottom of the bag for drainage.
Are grow bags better than plastic pots?
Grow bags are better than plastic pots in terms of drainage, aeration, and mobility.
What size grow bag is best?
The best grow bag size for growing herbs, small fruiting plants, peppers, tomatoes, and similar plants is a 5-gallon.
Conclusion
Large-sized plants may need a garden or a big yard to grow but you can establish your mini-garden with the help of the best rectangular grow bags. With minimum care and proper management of the area, you can turn even a small-sized place into a beautiful garden.
We selected the best range of grow bags for you to choose from. Have you had any experience using rectangular grow bags before? Share your thoughts in the comments section!