Are you a Deere owner who is tired of manually tilling the garden or farm? Today, we will help to choose the best tiller for John Deere 1025R, to save you time, energy, and money in the long run. So, let's dive into the details!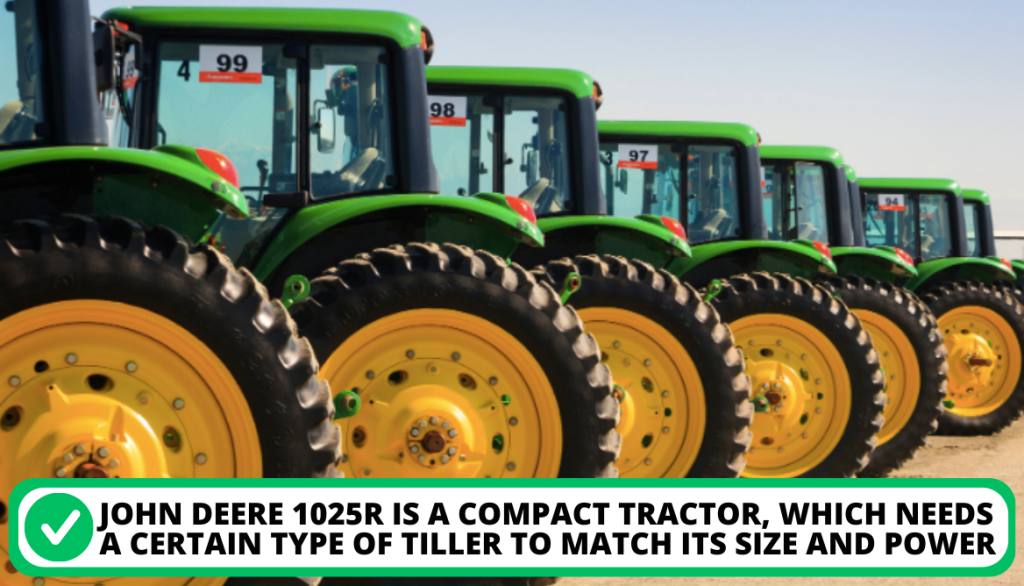 A Glimpse Into the Rotary Tillers for John Deere 1025R
A Rotary tiller is an essential tool for farmers and gardeners, providing an efficient way to break up and prepare the soil for planting. The John Deere 1025R is a compact tractor that requires a specific type to match its size and power. Rotary tillers are a popular choice for the John Deere 1025R, because:
They can be easily attached to the tractor's three-point hitch and powered by its rear PTO shaft.
These typically have multiple tines that rotate horizontally, breaking up the soil and leaving a smooth surface for planting.
They come in various sizes and can be adjusted for different depths, making them a versatile tool for any farming or gardening project.
Top Tillers for John Deere 1025R
After researching and testing various products, we have narrowed down the top three picks for John Deere 1025R. These have been chosen based on their compatibility, durability, performance, and positive customer reviews. They offer a range of features, including adjustable depth control, durable tines, and heavy-duty gear drives.
We believe that these will provide you with efficient and reliable performance, making your tilling tasks easier and more enjoyable.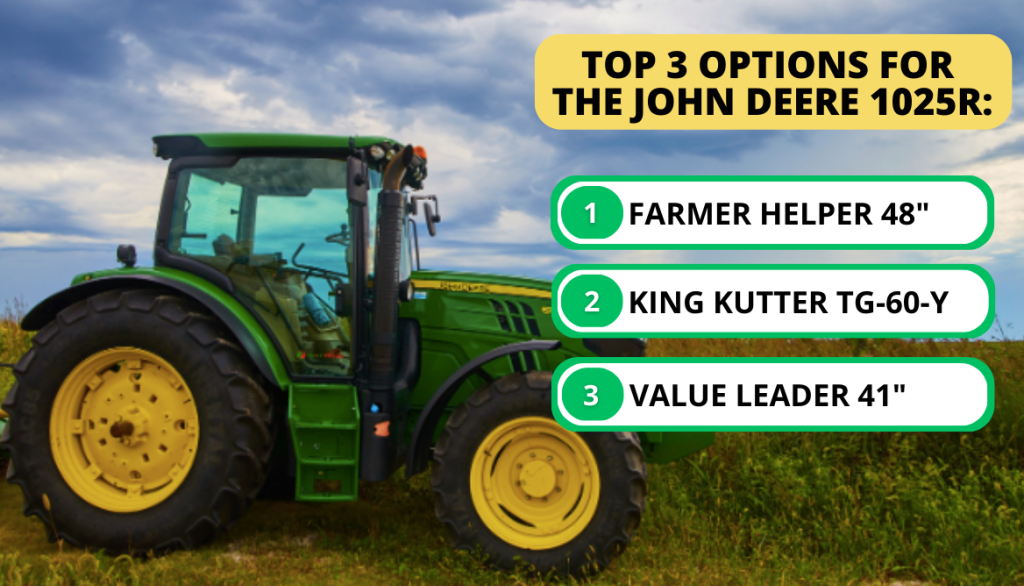 The Farmer Helper 48″ is a versatile and powerful tiller designed for subcompact tractors. This makes it very ideal for farming and gardening tasks. You can control the depth as well which allows you to till at varying depths. This is best when tilling the soil for different types of crops.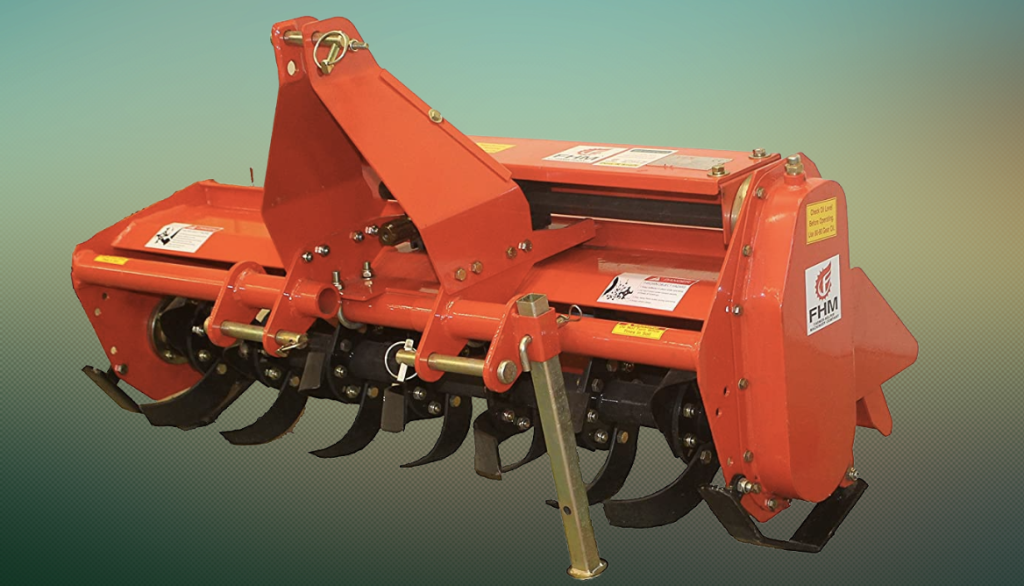 There is an adjustable SideShift feature that you can use to adjust the left and right positions.
It has really heavy-duty gears and a PTO shaft.
With a slip-clutch driveline, you get added protection against debris and better power transmission.
It is designed to provide reliable performance for years to come.
Pros
Adjustable depth control
Efficient power transmission with heavy-duty gears
Slip-clutch provides additional protection
Easy to attach
Farmer Helper 48″ Specs
Recommendation: The Farmer Helper is best recommended for gardeners with large land and who need a lot of power. If you already own a tractor, then this is one of the best choices for you.
If you are looking for a large tiller, then this is one of the most powerful and reliable ones out there. Agriculture professionals can make really good use of this tiller due to its wide tilling width of 5-foot.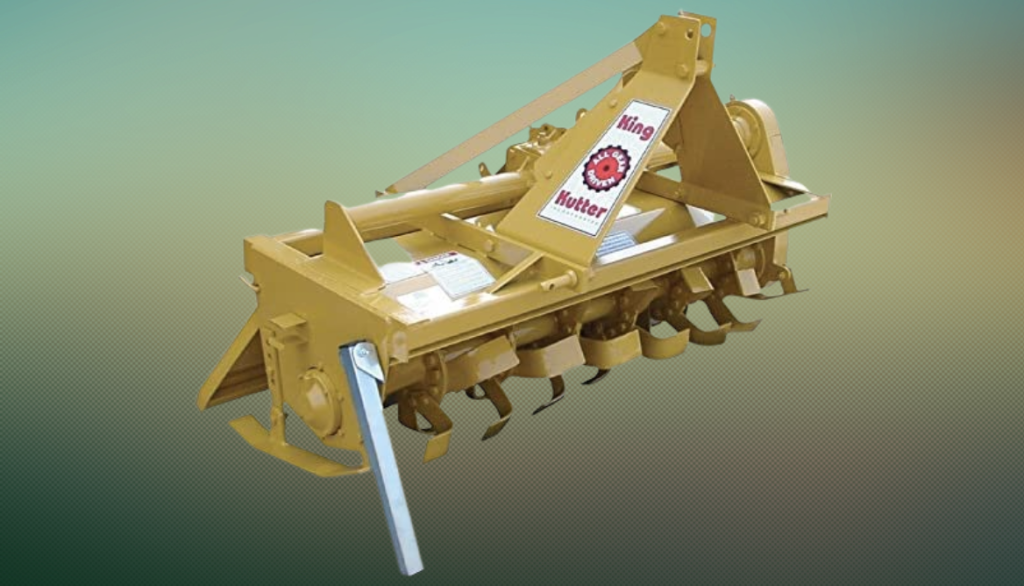 It has a sturdy gearbox and provides a really good transmission.
The tines are also durable and you get adjustable depth control as well.
It is great at dealing with tough tilling jobs.
Overall, it is a very reliable choice for farmers and gardeners alike.
Pros
Reverse-rotating tines provide better soil penetration
Precise Tilling Depth due to adjustable depth control
Construction is really good
Large tilling width
Powerful and reliable
Cons
It is heavy and difficult to maneuver
Assembly required
King Kutter TG-60-Y Specs
Recommendation: It is best suited for those who require a heavy-duty tiller to use with their sub-compact tractors. With a wide tilling width and good working depth, you can easily penetrate hard soil.
The Value Leader 41″ is designed to use with a sub-compact tractor. It is constructed really well so it handles tough tilling jobs with ease. There is a slip clutch driveline with a PTO shaft that allows it to perform smoothly upon any impacts as well.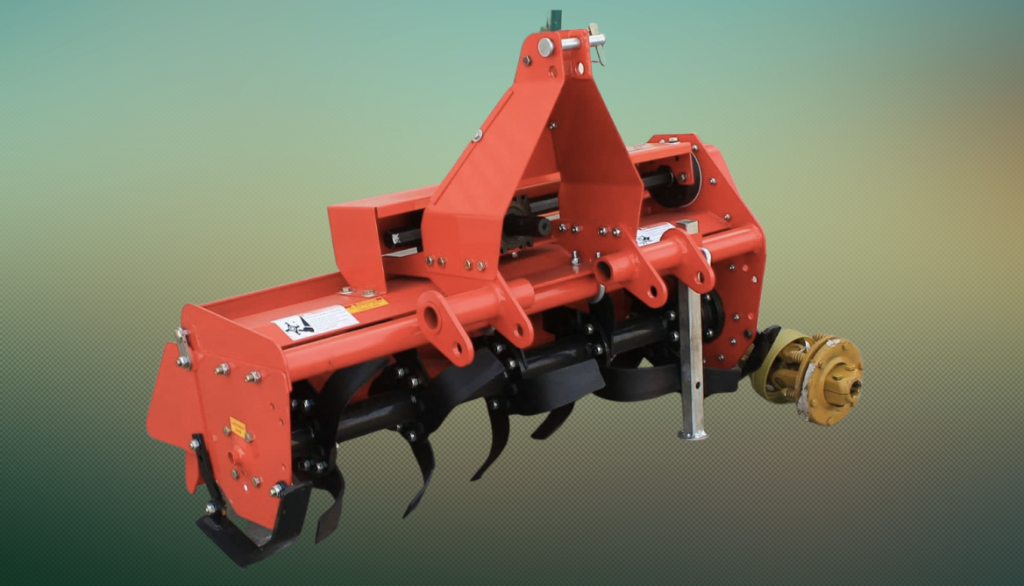 The skids are also adjustable so it adapts well to different soil conditions.
It has a 41″ tilling width that makes it really good for small projects.
The operation and maintenance are also quite easy.
It comes in a compact size so storing isn't a big problem.
It is quick hitch compatible, so you can easily attach it.
Pros
Quick hitch compatible so easier to attach and detach
The depth control is adjustable
It is very compact in size
It is lightweight so easier to transport
Handles sudden shocks with ease
Cons
Not good for heavy-duty tilling
Value Leader 41″ Specs
Recommendation: Value Leader 41″ is best suited to small garden and landscape projects. The adjustable skid shoes can adjust to different soils. It is a very versatile product with various tire track compatibility and thus becomes a really good choice for most gardeners.
1025R: Which Tiller Will Provide the Best Value
Choosing one to buy for your 1025R is a hard choice. There are a lot of different options present in the market:
In the end, the final decision depends upon your preferences and needs. There are a lot of additional factors that you need to consider like tilling width, depth, compatibility, etc.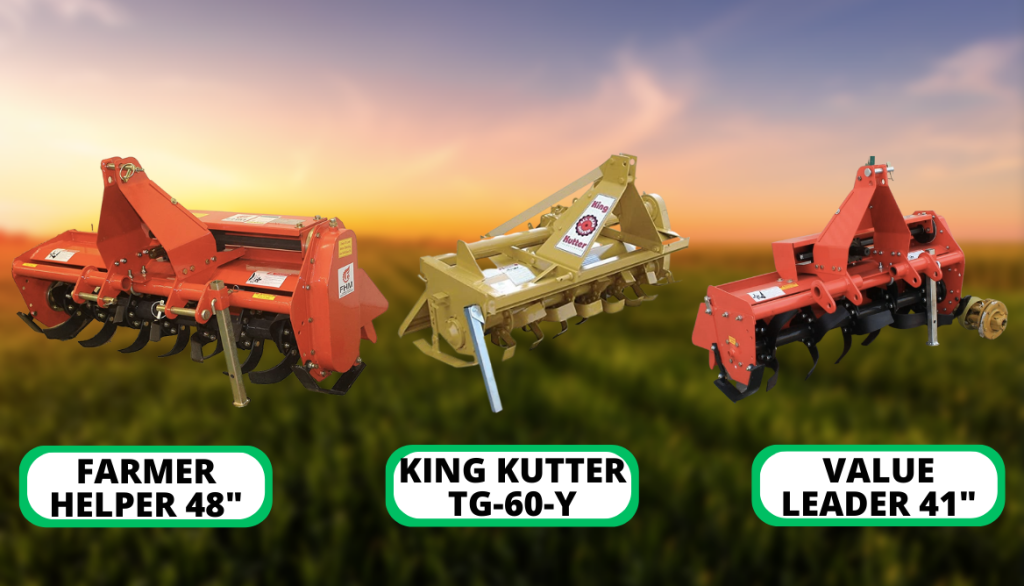 Recommended Tiller Size for 1025R
A John Deere 1025R can easily accommodate one with a width of up to 48 inches.
There are a lot of people who recommend sticking with a 42-inch width. This is because you get better performance and maneuverability.
You should also keep in mind that the power output also determines the size.
If your tractor has more than 20 horsepower, then it can easily handle wide ones.
Finally, the decision depends upon your specific needs. You should consider factors such as the size of the garden, the type of soil, and your overall budget.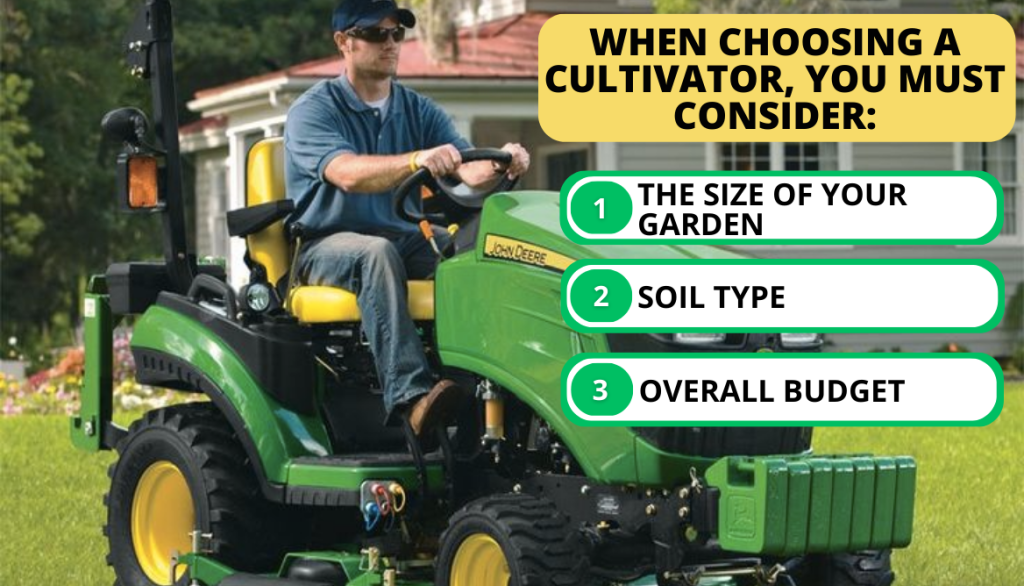 Choosing the Right Tiller for Your John Deere 1025R
Choosing the right tiller for your John Deere 1025R makes all the difference in the success of your gardening endeavors. So, here are some of the factors that you should be looking for when choosing a tiller:
Tiller Width
When choosing one, make sure to select the one wider than the maximum width of the tractor.
This allows you to till out the tire tracks with each pass.
If your tractor is old and has wider width with less horsepower, then you can buy an offset one. The advantage of doing so is that it allows full cover only using a single track.
If you have a tractor like a Kubota bx then using a 4-foot is ideal.
In the case of large tractors, simply choose a wider one than the tractor.
Drive Mechanism
Tractor Supply offers tillers that the PTO drives. Power transfer takes place in two different ways. It is not possible to determine the type of drive just by looking. It is completely enclosed for keeping the dirt out. However, you can see the enclosure from one side.
Chain Driven
There are generally two drive options available in tillers. The first one is the roller chain. In this option, each of the shafts contains sprockets. It is a much less pricey option. The other one is a gear drive which we will discuss later.
You can also use the standard chain in case of any damage according to a Land Pride representative.
This allows for a really easy repair.
You can get various options at Tractor Supply that have different drive mechanisms.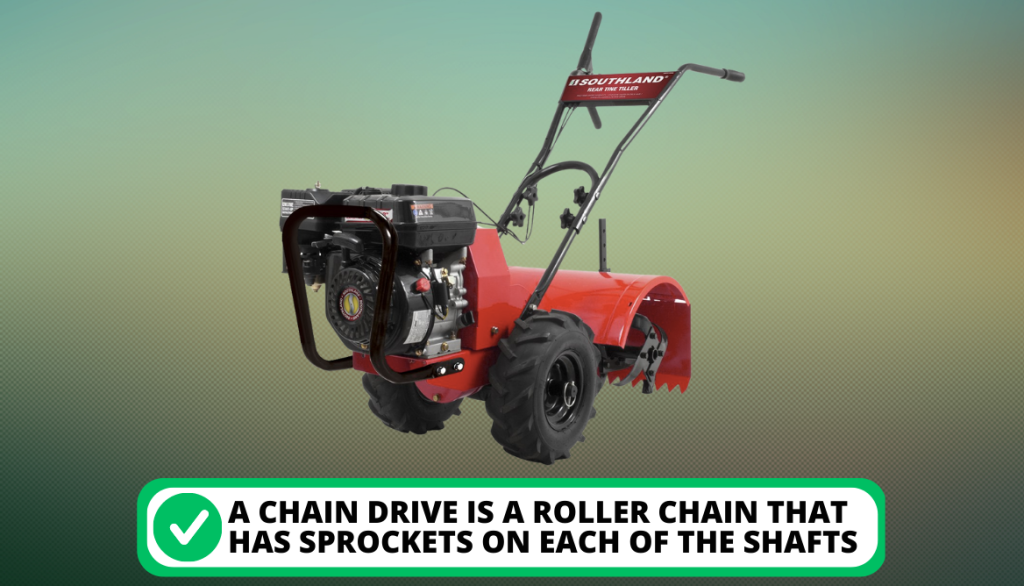 Gear Driven
The gear-drive is the other drive choice that comes with a series of gears.
These gears transfer the power from the shaft to the axle shaft.
On the surface, this version seems more reliable than the chain-driven one but this is not the case.
According to different manufacturers, the gear drive loses a lot of power with the gear transfer.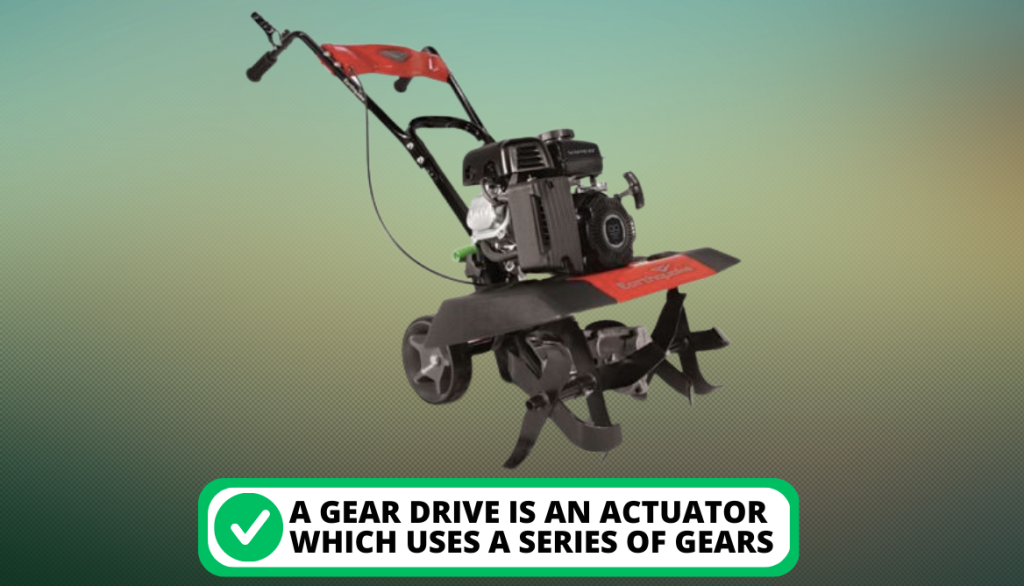 Weight
A light tiller is very different from a heavier one. When you need to deal with harder soil, then it should have enough weight to prevent any bounce. So, your basic goal should be to always choose the bigger one. Worn-out tines cause the tiller to bounce. You should also consider a quick hitch for easy attachment and detachment.
Rotation Direction
Reverse rotation tillers dig deep by working against the direction of travel. This is great because it prevents lunging and also tire tracks. The downside is that you have to face flying rocks and sod. Forward lunge is produced by forward-rotating tillers.
Therefore, our recommendation would be to go with a forward rotating one as it doesn't have the problems of the other one.
Rotation Speed
It is also an important aspect to look for a tiller with a rotatory speed of 180rpm when choosing the best one. In the end, your choice should be the one with a fast rotating speed for the best performance.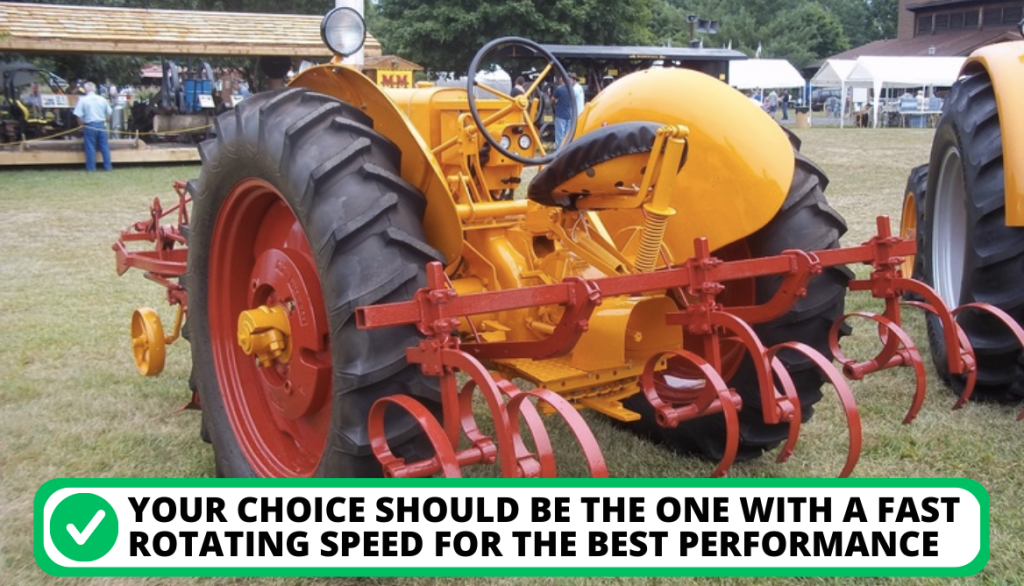 Verdict
All the products are worth it but our personal favorite is The Value Leader 41″ due for the following reasons:
Value Leader 41
Quick hitch compatibility makes it easier to attach
Added protection from sudden impacts and shocks
Adjustable depth and skids make it suitable for different soils
Compact in size and easily portable
Maintenance is quite easy.
FAQ
Does John Deere make tillers?
John Deere does make tillers. You can get a wide variety of them that are suitable for different tractors.
How much weight can a John Deere 1025R lift with forks?
A John Deere 1025R can lift up to 754 pounds with forks.
What size tiller for my tractor?
The tiller size should be a little bit wider than your tractor. This combination will provide the best results.
Which tillers are the best?
Farmer Helper 48″ Tiller, King Kutter Tiller, and Value Leader 41″ Tiller are some of the best in the market.
How many hours will a John Deere 1025R last?
A John Deere 1025R will easily last for thirty thousand hours if properly maintained.
Conclusion
Choosing the best tiller is a crucial decision that can greatly impact your farming success. It's essential to consider factors such as the size and weight, as well as the type of soil you'll be working with. Having a quick hitch system makes it easier to attach and detach the tiller, saving you time and effort.
By taking the time to do your research and selecting the right product for your needs, you can ensure a more efficient and productive farming experience.
What factors do you consider when choosing a tiller for your tractor? Leave a comment below!
Latest posts by Daria Last
(see all)