Most tillers work with a tractor. They can complete the task quickly and effectively, especially if your farm is big. But what is the best rotary tiller for a tractor?
We've put up a brief comparison, 4 recommendations for promising results, and factors to take into account when choosing the finest rotary tiller for your tractor to help you choose the thing that best meets your needs. Let's begin right away!
Quick Comparison
The table below shows a slight comparison between our top picks with the necessary specifications you need to take a decision toward your need.
CountyLine

Rotary Tiller,

4 ft., RT4CL

RK by King

Kutter 54" XBX

Tiller

BUSH HOG®

RTX Series

Rotary Tillers
Best Rotary Tiller for a Tractor: Expert's Top Picks
In this section, we've carefully chosen the top-selling tractor rotary tillers on the market so that you may get the greatest value for your money while still getting your tasks done.
If you need to cultivate and aerate food plot, RT4 is an excellent rotary tiller for you. It can also dig trenches and garden soil. This tractor rotary tiller has a changeable direction with a rotor rotation of reverse and forward that improves maneuverability.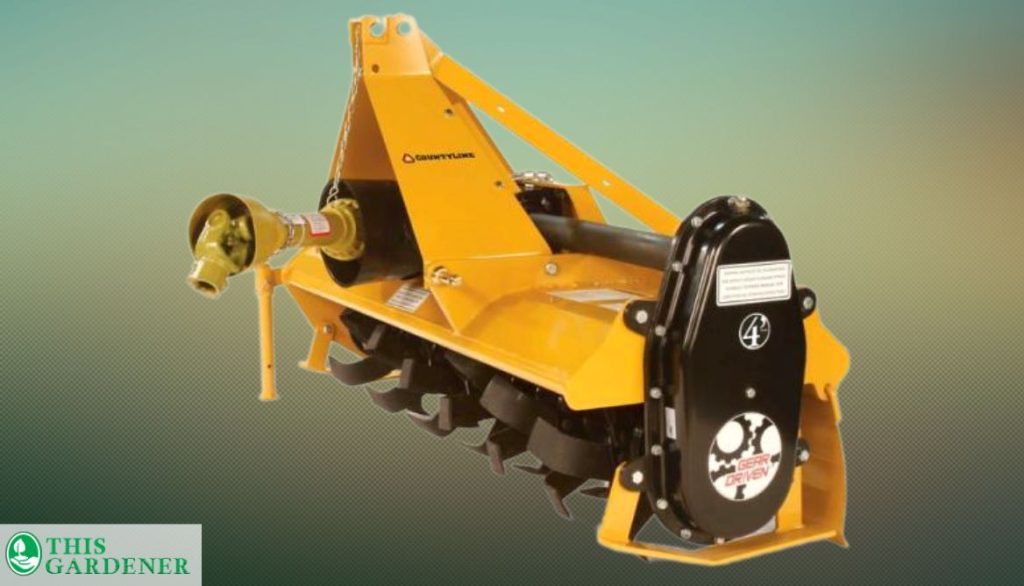 The body panels are protected against rust with a corrosion-resistant powder coat coating. You should absolutely take the RT4 tiller into consideration if you own a Kubota BX, Deere 1-series, Massey GC17xxx, etc.
Specifications of CountyLine Rotary Tiller, 4 ft., RT4CL
| | |
| --- | --- |
| | |
| | |
| | |
| | |
| | |
| | |
| | |
| | 38 in. H x 55 in. W x 28 in. L |
| | |
| Manufacturer part number: | |
Pros
It requires little space for storage.
It has self-sharpened tines.
The tines don't chip or bend easily from heat treatment.
RT4 has Adjustable runners with 1 in. to 4 in. working depth.
It has a slip clutch and heavy-duty PTO shaft.
There is category pin 1 in its package.
Cons
Neither the fittings nor the gearbox on countyline RT4 rotary tiller comes lubricated.
The gearboxes of countyline tillers break down frequently.
Skid tractor Tillers are good for landscape, nurseries, and garden work, it has efficient forward and reverse function. It is useful in a seedbed or garden soil preparation. To get the required results, operators can adjust the tilling depth using the depth sign and curl.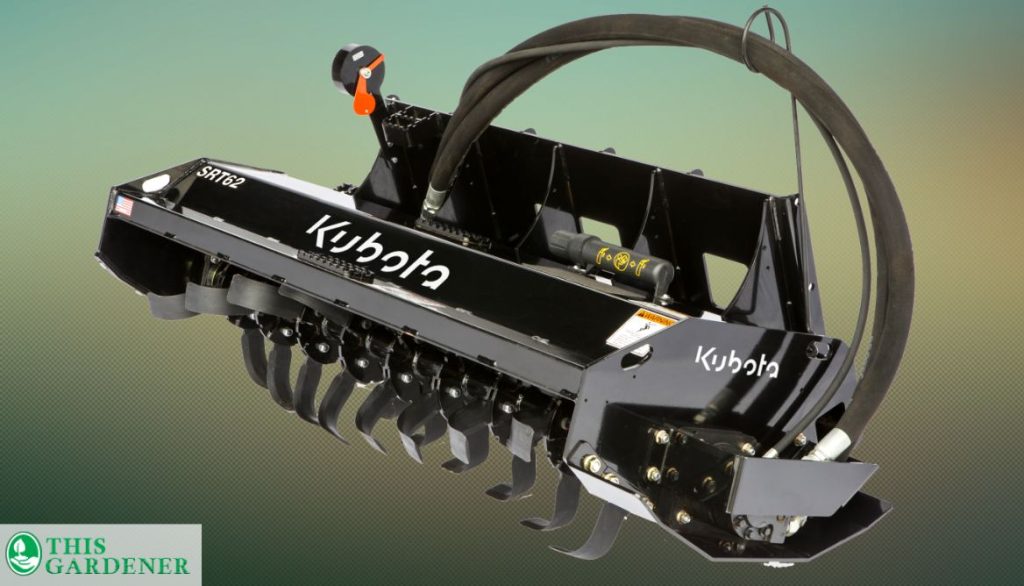 SRT may be offset 6″ to the right for tilling adjacent to fences, buildings, or sidewalks and is offered in widths of 62″ and 76″. The C-shaped tilling tines have bi-directional cutting edges and are made of forged, hardened steel.
Specifications of SRT Skid Rotary Tillers
| | |
| --- | --- |
| | |
| | |
| | |
| | |
| | |
| | |
| | |
| | |
| Manufacturer part number: | |
Pros
There is a depth cue and offset feature on it.
The operator can revolve the skid steer hitch on the tiller skid shoes.
Its forward and reversal tilling is effective in removing debris and breaking up hard soils.
SRT62 gives users the option of low or high flow.
It has removable skid shoes and an SRT bolt in a spiral shape.
The sharpened tines on a tiller are durable.
The motor guard of SRT prevents the motor, couplings, and hydraulic hoses from being damaged.
Its steel shanks are adjustable scarifier shanks that have been toughened.
Cons
The company offers subpar customer service and maintenance.
It's heavy in weight.
It is not unexpected that a King Kutter rotary tiller has made it to the list of the finest rotary tillers for tractors as the company has been one of the market's most well-regarded rotary tiller producers for more than 40 years.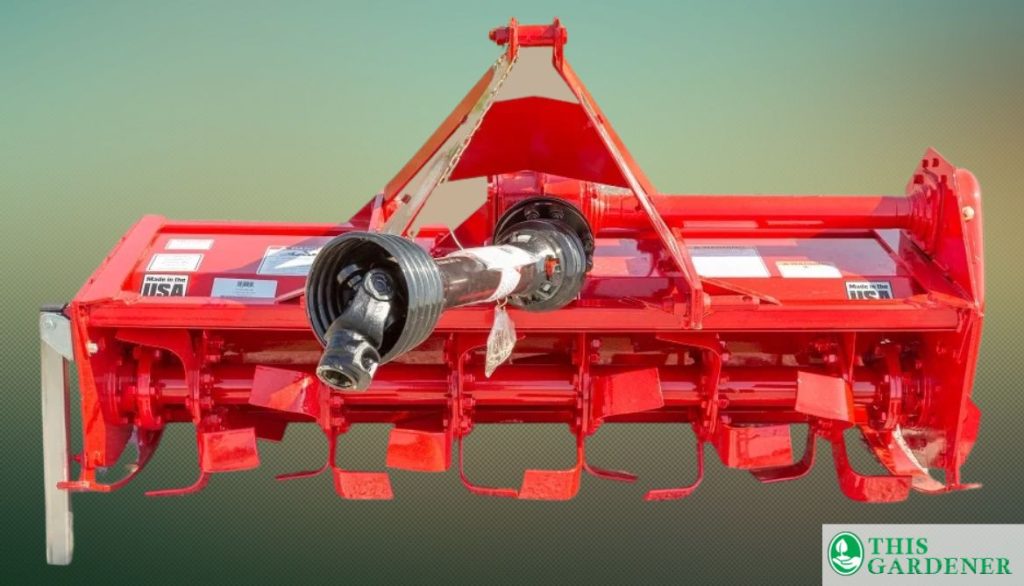 All the high-quality features of full-size tillers are present in this RK by King Kutter XB Xtra Gear Driven Rotary Tiller. Rk King Kutter is ideal for mulching in cover crops and stubble, preparing seed beds, and remodeling pastures and orchards just as victory tractor implements.
Specifications of RK by King Kutter 54″, XBX Tiller
| | |
| --- | --- |
| | |
| | |
| | |
| | |
| | |
| | |
| | |
| | |
| Manufacturer part number: | |
Pros
Its shafts and gears are oversized with a balanced and robust rotor shaft.
RK King Kutter has large bearings with safety seals.
It has a heat-treated, long-wearing tine and extra long A-frame with back braces.
It connects to a 3-point, 540 RPM tractor and has adjustable skids for depth control.
It is well-balanced to reduce vibration.
Its torque tube structure absorbs stress loads.
The frame is welded rather than bolted for robustness, and it incorporates a support platform for a more straightforward hookup.
Cons
The chain for the back door is too short.
The RK King Kutter tiller could bog down at the least digging.
King Kutter tiller may be susceptible to rusting quickly.
The heaviest-built bush Hog tiller is of good quality tractor tiller, it was designed for the most demanding applications and high-horsepower tractors. It can assist you with a variety of ground-tilling jobs in gardens, food plots, and other places where you need to get stuff.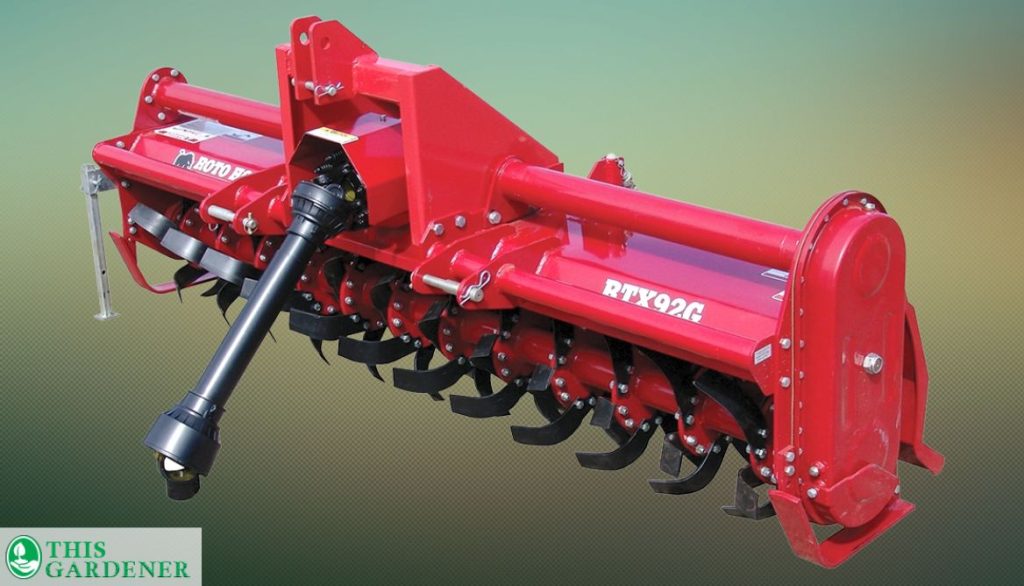 The nine blades per flange ensure maximum soil breakdown even in challenging or tightly compacted conditions. As opposed to a chain-driven as Titan attachments rotary tiller, which will deteriorate and may break. These tractor tillers use a gear drive with an oil bath in the side gearbox.
Specifications of BUSH HOG® RTX Series Rotary Tillers 
| | |
| --- | --- |
| | |
| | |
| | |
| | |
| | |
| | |
| | |
| | for 50-90 PTO HP tractors |
| Manufacturer part number: | |
Pros
RTX rotary tiller has L-shaped blades with a maximum cut depth of 10″.
It has a 235 RPM/540 PTO Financing Rotor speed.
The gear drive has an oil bath and it is inside the gearbox which makes it more durable.
The Bush hog has a heavy-duty rotor with bigger blades, and an A-frame hitch.
It has a very high tilling width.
It is a heavy-duty rotary tiller made for tractors.
The center and side gearboxes come with a five-year limited warranty.
Cons
It has a low tilling depth compared to the RK King Kutter tiller.
It lacks forward tilling and is only available in standard and reverse tilling.
Definition of a Rotary Tiller?
A rotary tiller is a tool used to break up soil and prepare a seedbed for planting. It has a set of curved tines that are attached to a revolving shaft. It is sometimes known as a rototiller, power tiller, rotavator, rotary hoe, or rotary plow.
Uses of a Rotary Tiller:
Garden Preparation.
Growing plants.
Addition of crops, and the mixture of Organic Matter.
Grass and weed removal.
Digging of Trench.
Middlebusting.
Choosing the Perfect Rotary Tiller Based on Your Needs
What should you think about while buying tractor Rotary Tillers? We have got the answers right in this section.
The following is what you should consider when buying the best rotary tillers complimenting your needs.
The Brand of the Rotary Tiller
The manufacturer is one of the main things you should consider. It must come from a reliable brand with a track record of producing attachments of the highest caliber. Many years of use are guaranteed by a product that is properly built and made of sturdy components.
The Tilling Width of the Tiller
You need to take into account the working width of the tiller, so you can finish your tilling in the possible shortest period while maximizing efficiency. Naturally, the size of the land you will be working on should be another major factor in deciding the ideal tractor rotary tiller's width.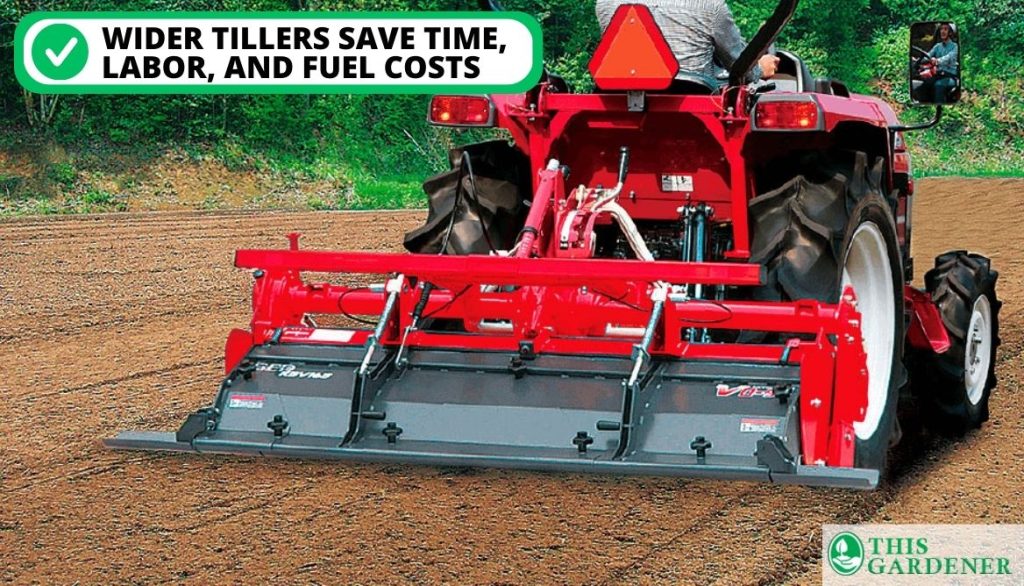 Since they can cover a huge area in a single pass, broader tillers are preferred by those who need to work on large areas because it saves them time, labor, and fuel costs.
Build Quality
A tiller is used for heavy-duty tasks, which subject it to shocks and vibrations from the whirling tines that constantly rebound on it. You need to watch out for the type of material used to construct the tiller, as tillers made of steel or iron last longer than those made of plastic.
Constantly verify the materials used to make each part of the tiller because some manufacturers do not publish all of them, but you may find out about them through genuine online evaluations from previous customers.
Horsepower Rating
Another key thing to take into account is the tractor rotary tiller's power and HP rating, as this will affect how well the tiller can operate. The number of tines causes an increase in horsepower. A tiller with six tines per flange requires 23% more horsepower than one with four tines.
Moreover, heavier objects have more tines. This means that a machine with a greater power rating will have more tines to do the task. It will be more efficient at aerating soil and spanning a wider area.
Quick Hitch Compatibility
Tiller is connected to a tractor using a hitch. The finest tiller to choose is one that you can quickly hitch and is compatible with your tractor. Some tillers have a more sophisticated hitch feature, whereas others do not.
RPM of the Tiller Engine
Depending on the manufacturer, tillers typically operate between 200 and 300 rpm at full engine speed. You can operate the RPM at any frequency, but the ideal choice is to buy a tiller with high RPM so you can adjust it from low to high depending on the task you need to do.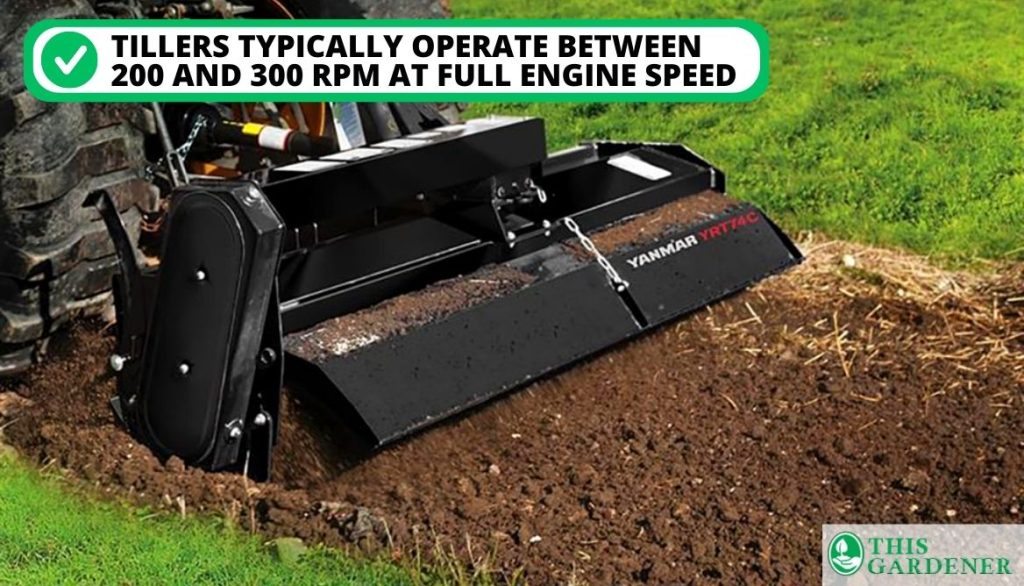 Tiller Weight
You must consider the weight of your rotary tiller in relation to the tilling task you intend to perform. Whereas light tillers are intended for loose ground, heavy tillers like Titan attachments rotary tiller are for hard terrain.
Keep in mind the following since it will affect how much your tiller weighs.
The Quantity of Tines
The size and number of tines fitted on the tractor tiller can make it heavier or lighter, as can the material utilized to create your tiller, as we briefly touched on before.
The Material Your Tiller is Made of
Manufacturers use Steel, Cast iron, and Metals in making rotary tillers, however, not all three weigh the same, which affects the weight by making it heavier. Steel is heavier than metal while cast iron is heavier than Steel.
Steel is better than all its counterparts because it doesn't wear out easily but the tiller made from steel might be expensive. Heavy tillers can dig deeper than light tillers depending on the weight and material.
Additional Considerations Before Choosing a Rotary Tiller
There are some other aspects that we haven't covered because they aren't as complicated as the ones we've already discussed, but we still need to mention them so you'll be aware of them even though it's not absolutely required.
The Tilling Depth
In terms of tilling depth, you should avoid tilling too deeply to protect your soil. You're fine with a few inches of tile depth. The width is the most crucial factor so that you may timely till your ground.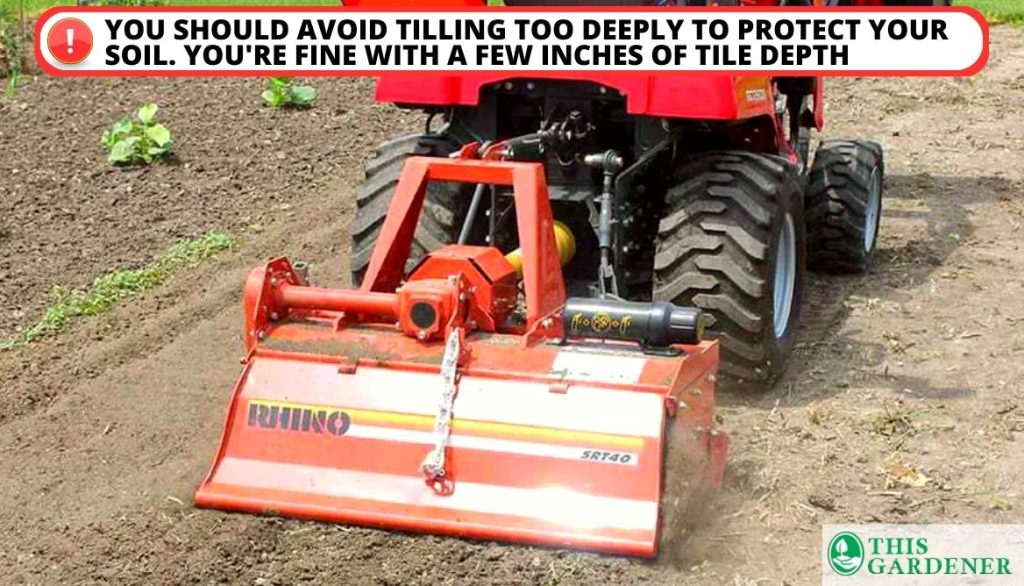 The Accessibility of Parts and Services from the Company
The firm may or may not provide free servicing or part replacement during the warranty period. But you can be sure that you will have access to experts to fix your tiller if a problem arises, even if you have to pay extra.
Warranty
Well, every manufacturer lists the number of years that a tiller can last, but keep in mind that many tillers won't survive the number of years that are mentioned on them. It might be impacted by consumption volume as well.
Gear Drive or Chain Drive
Although a gear-driven tiller typically lasts longer than a chain-driven rotary tiller, a gear-driven tiller is heavier, which may affect your tiller's weight.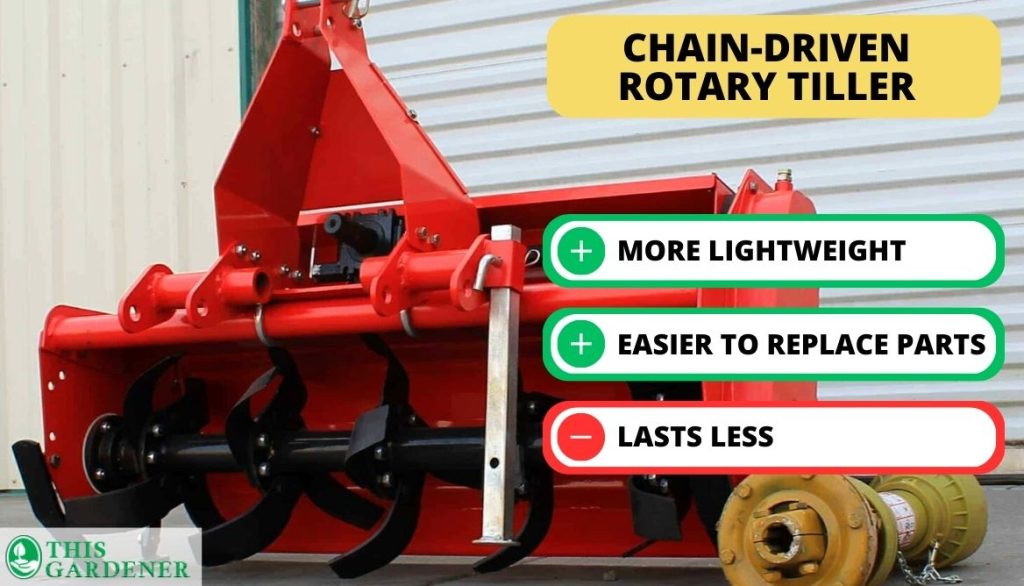 In the odd event that you break a chain, you may easily get a replacement at almost any agricultural supply store, allowing you to resume operations the same day.
With gear-driven versions, you've wasted at least a day even if the parts arrive overnight, thus the opposite cannot be claimed.
If you're wondering what a heavy-duty tiller with a chain drive shaft looks like, go no further than the Farmer Helper Rotary Tiller.
Safety Options
It's important to look for a tractor rotary tiller that is equipped with safety features like a shielded PTO shaft, a rear flap to protect against flying debris, and a freewheel transmission that allows the blade shaft to turn without transferring movement to the tractor.
Buying vs Renting a Rotary Tiller
If you need to till a garden but are unsure whether to buy a tiller or rent one, read on because you need to respond to the following inquiries.
How much does a tiller cost to rent?
How frequently do you intend to use it each year?
How far is the rental property from your garden?
What kinds of tillers do you need for your garden?
Ok, let's pick these questions two at a time as they relate to finding out the best option for you.
How Much Does a Tiller Cost to Rent and the Frequency of Time You will Use it?
A rotary tiller costs from one-third to fifty percent more to rent than to buy.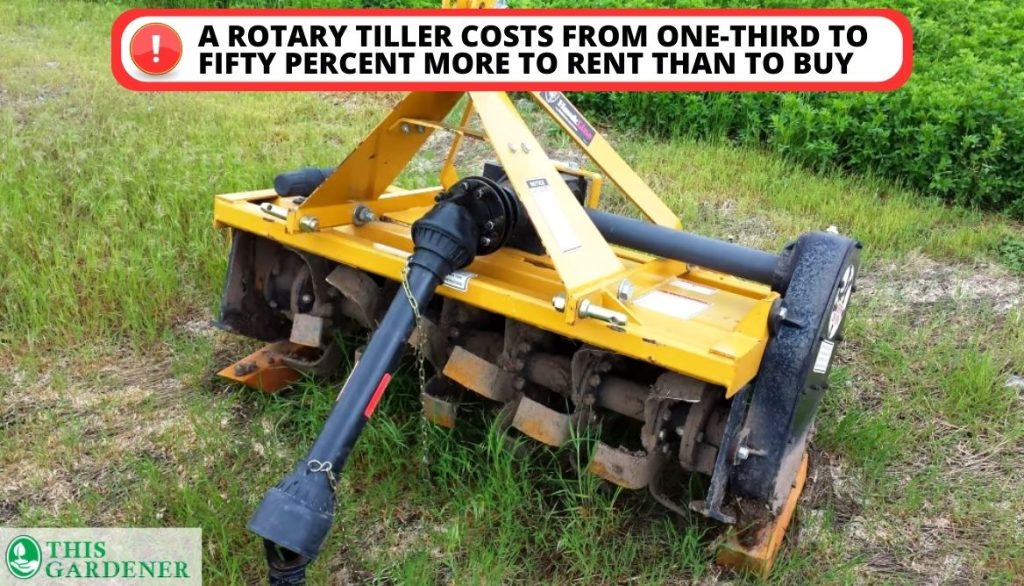 If you can save the money all at once, buying a tiler would be advised if you plan to use it frequently throughout the year.
Having peace of mind and not rushing your task are additional benefits of purchasing your own tiller.
But if you need it just once or twice a year you can resolve to rent one.
How Far is the Rental Property and What Type of Tiller do You Need?
Transporting the tiller from the rental location to yours will add to the cost of renting a tiller, which can be added to a minor purchase price.
Also, The type of tiller you need may not be accessible for rent and you could have to handle the available tiller, which may not be adequate for your task.
But if You choose to rent a tiller if you don't need a certain type of tiller for your garden, the distance is relatively short, and moving the tiller to your garden is inexpensive.
3-Point Rotary Tiller for Tractor
A 3-point-tiller is a type of rotary tiller made for your tractor's three-point hitch.
The PTO stub shaft on your tractor provides digging power to the tiller.
Using a 3-point rotary tiller offers smooth cultivation for farms, hobby farms, and commercial gardens.
Every farmer is thought to need a 3-point rotary tiller as a basic piece of yard maintenance equipment.
Tillage operations and seedbed preparation are streamlined using a 3-point tiller.
Terrace farming and dryland farming are best done using a 3-point tiller.
Our Top Choice for the Best Rotary Tiller for Tractor
The BUSH HOG® RTX Series is the top choice out of all the rotary tillers that are listed above. It contains every feature a tiller buyer might want. Yet, the following are the most intriguing criteria we considered when choosing this rotary tiller.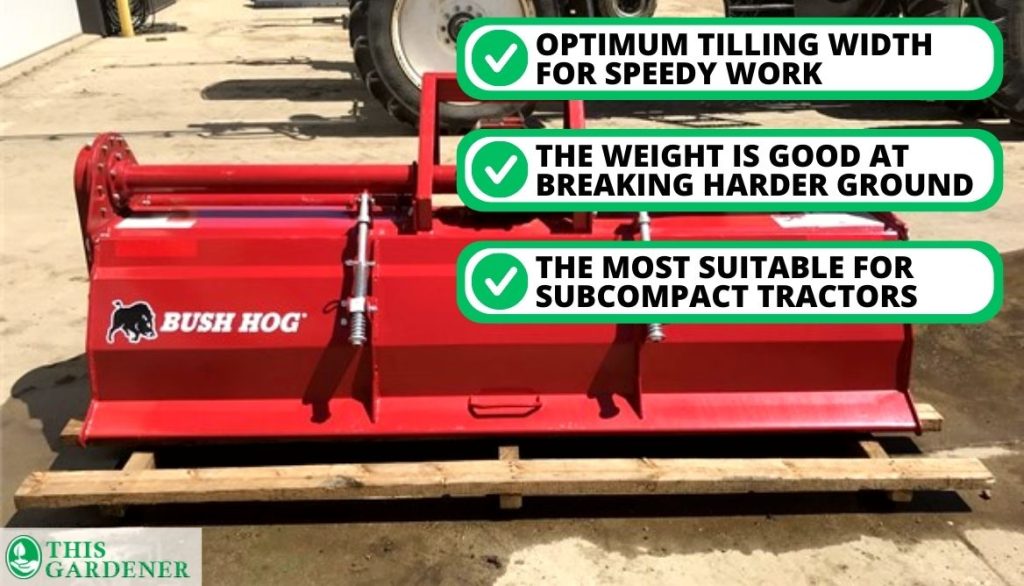 The company, known as Bush hog, is well-known for its successful products.
Optimum tilling width for speedy work.
The tiller's weight is good at breaking harder ground.
Bush hog is a 3-point tiller, the most suitable for subcompact tractors.
It is a gear-driven, good-quality rotary tiller.
 FAQ
What size tiller for my tractor?
An average rotary tiller with six to nine flanges can be operated by a 25-horsepower subcompact tractor.
Should the tiller be wider than the tractor?
Yes, the tiller's width should be more than the tractor's wheelbase to cover tire tracks as it travels along them.
What is the RPM of a rotary tiller?
The RPM of a rotary tiller is the revolution of its engine per minute.
How many horsepower tractor do I need for a rotary tiller?
For a rotary tiller, you'll need a tractor with at least 25 horsepower.
What type of tiller is best?
3-point tillers are the best for tractors.
Conclusion
The best rotary tiller for the tractor is dependent on a few variables, like brand, weight, horsepower, drive, etc. 3-point tillers are the greatest kind of tiller for tractors, and you should buy these according to your demands.
If you only till every now and then, renting a tiller might be an option, but buying the tiller will yield promising results. According to us, Bush Hog products are still the best and perform exceptionally.
Which tiller brand will you buy for your farm? Please leave your answer in the comment section. Thanks for reading.