It is required for the operator's general safety to wear essential protective wear when operating a tiller. The power used by these great tools to break up loose soil or difficult terrain can cause serious injury if you do not use them.
In this post, we'll go over the essential safety gear you should always put on when using a tiller, as well as the necessary precautions you should follow and the ideal Garden tiller speed. If you have been searching for information like this, pay close attention to the conclusion.
An Introduction to Safe Tiller Operation
Tillers come in a range of sizes, from rotary tillers for tractors to walk-behind tillers that can also cultivate the ground. All garden tillers must be handled carefully and correctly by knowledgeable people.
Garden Tillers can be dangerous equipment, especially for people who aren't strong or tall enough to handle the tiller, like children or other users.
Rototiller accidents can be serious and leave victims with burns, back pain, lacerations, and bruising on their hands, legs, and wrists, so to use a Garden tiller safely you have to follow these tips.
You should also inspect the area you want to till and remove heavy rocks that might damage your rotiller's blades.
Check the tiller to find out the good condition and proper installation of the garden tiller.
Read and comprehend the instructions in the owner's manual.
Before starting the engine, release the clutch levers and shift into neutral ("N"), if one is available.
You should verify that every belt is securely fastened and doesn't exhibit signs of excessive wear.
You should put on any required protective gear as directed by the manufacturer.
You must inspect the area to ensure no children or pets are present before you begin the operation.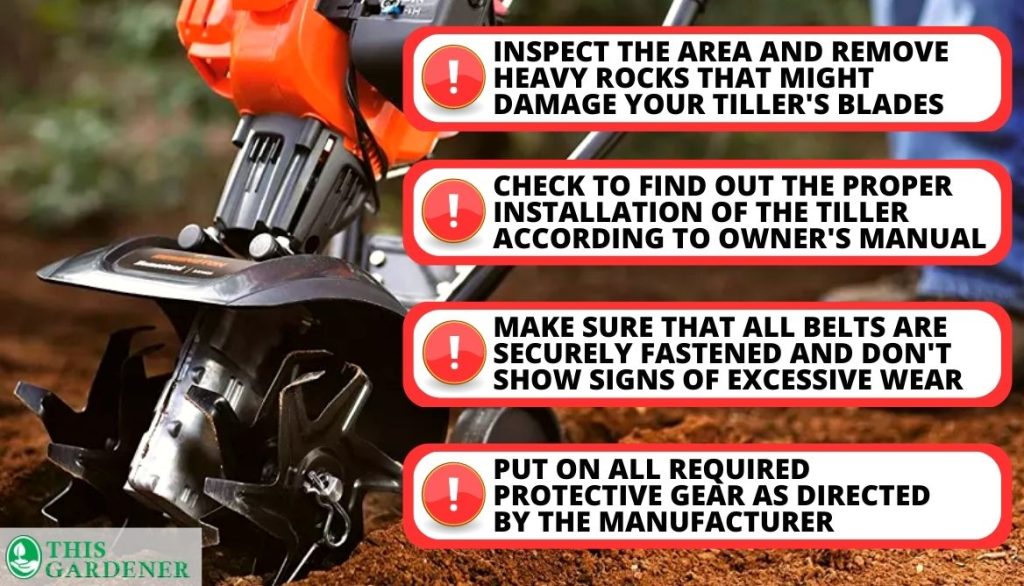 Safety Equipment You Need Before Operating a Tiller
Before using a garden tiller, you need to gather a number of Protective Personal equipments that are essential to prevent accidents while working. We would mention the safety gear you would need to set up before the proper operation.
The PPE Needs includes:
Safety Boots
One of the most crucial PPE items while using a Rototiller is a pair of safety boots because your feet will be in close contact with the tiller's blades.
The footwear should be produced of sturdy material to protect your feet from harm caused by its tines or by stray stones thrown by the rotiller in action.
When using safety boots to properly operate the Rototiller, the front of the boots should be fitted with a steel toe cap, which offers great foot protection up front.
An example of a safety steel shoe is Carhartt Men's Traditional Welt 6″ Steel Toe Work Boot Industrial.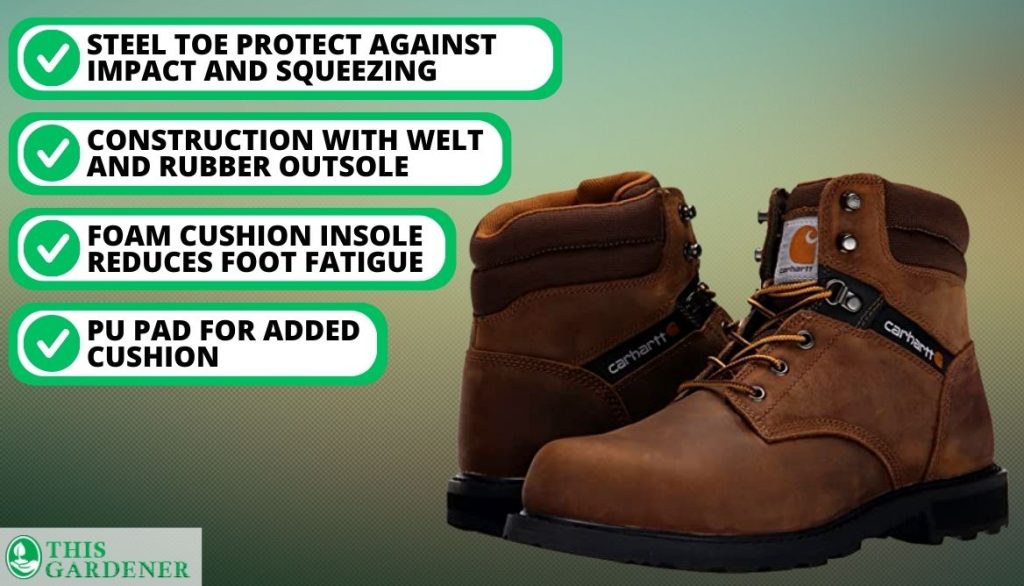 Strong Work Trousers
As a tiller operator, you should cover your legs with sturdy pants to protect your skin from sharp objects that could be flung by the moving blades.
Several layers of blocking materials are sewn together to produce safety pants.
This technique lessens the likelihood of cuts and shields your legs from flying items in the event of an accident.
Hard objects, such as shattered glass and barbed wire, might fly around during cultivating or tilling the ground, particularly if you have never tilled the soil before.
There are two types of trousers you can choose to wear and they are:
Type A Safety Pants or Trousers
These close-fitting clothing are constructed in a way that guards the front of your legs with a sheath.
In addition to being worn as basic trousers, they can be worn over everyday work attire. It is not expensive and is mostly used by workers on construction sites and woodcutters.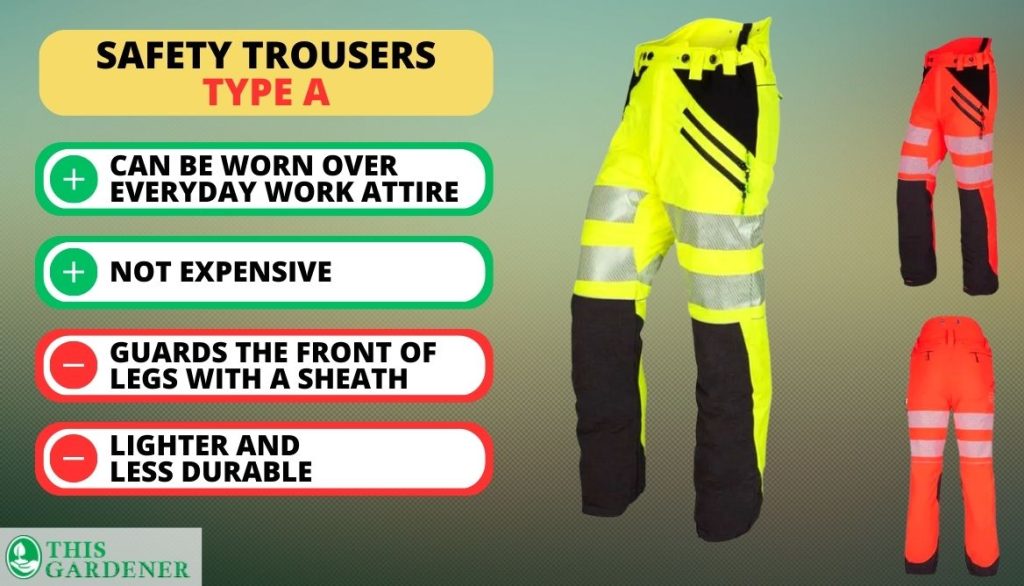 Type C Safety Pants or Trousers
The type C PPE trousers contain a protective covering all the way around the leg, providing good protection against injury from all angles.
It is expensive, but it is the most recommended and mostly used by Arborists. It is heavy than type A and always be worn alone.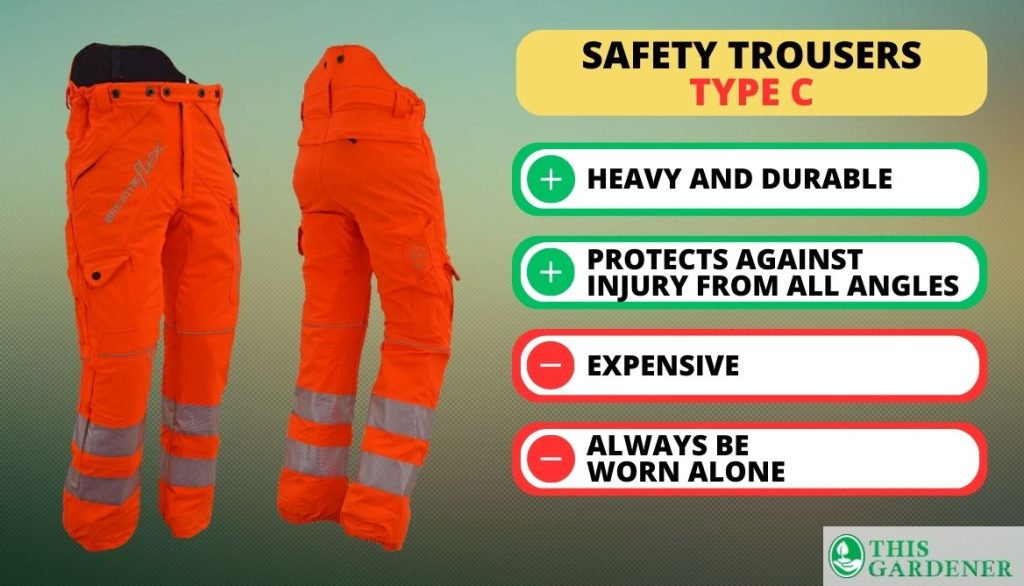 Sleeve Covering Shirt or Top
For arm protection, the rotiller operator should wear a shirt with long sleeves. The top part of your body is farther from the blades than the lower half. You still run the risk of being cut or scratched by things that are thrown out or wrapped around you if are half exposed.
Safety Glasses/Face Visor
The face and eyes should be shielded from flying debris including dust, wood chips, and small stones. Foreign objects may be thrown in any direction and are always tossed around quickly.
Eye protection is cheap and can stop vision problems that could change your life. Choose safety glasses with side protection or that wrap around, such as the MEIGIX Safety glasses Industrial Goggles with Anti-fog Lens.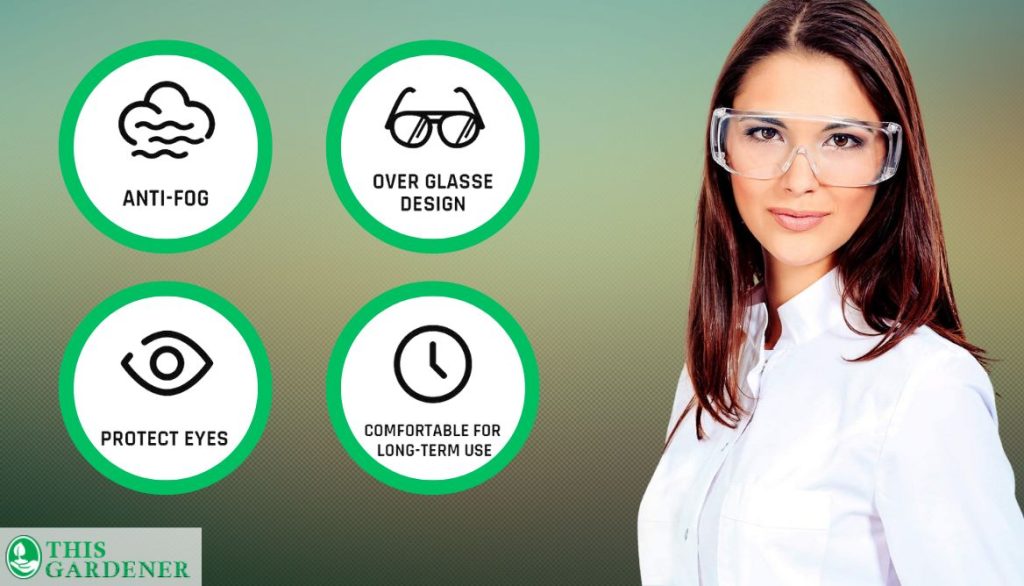 Ear Defenders
Ear defenders should be worn to prevent specks of dirt and noise from going into the ear. Garden rotillers generate excessive noise, and prolonged exposure to this noise can damage your hearing and give you a headache. A good example is 3M Peltor X4A Over-the-Head Ear Muffs.
Strong Work Gloves
Yes, you need thick work gloves whenever you want to operate machines like garden tillers because you won't want to damage your soft hands. A pair of waterproof work gloves like Microfoam Seamless Knit Nylon Gloves are better than loose-fitting canvas-type work gloves.
In addition, your work gloves should be put on last so you can put on your safety goggles and ear muffs with ungloved hands so they can be better worn.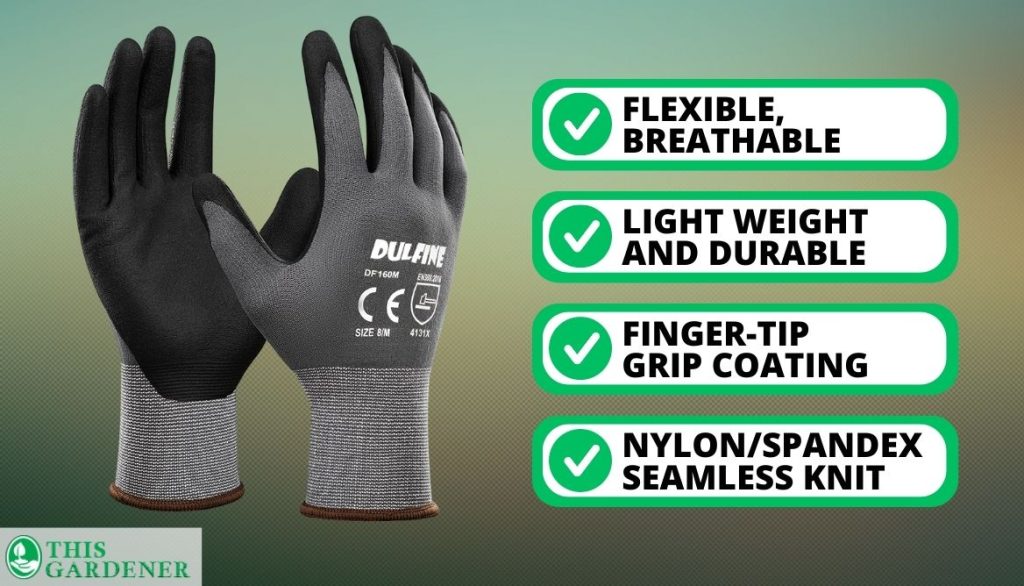 How to Stay Safe When Operating a Garden Tiller
Before using a tiller, there are a few safety measures to follow, we have included them below.
Be clear of any rotating blades with your hands and feet.
When using a garden tiller, always use safety glasses or goggles.
Use hearing protection; tiller engine noise can reach 90 dB or more.
Put on long pants and avoid loose clothing.
Wear solid shoes.
Take frequent pauses from your work and stay hydrated, especially on warm days.
The Best Working Speed for Your Garden Tiller
We are all aware that various tillers can operate at various speeds and tasks. The regular maintenance one could give is to stick to their abilities in accordance with the work you want to do.
In order to get the most production and protect your rotiller, keep the following in mind.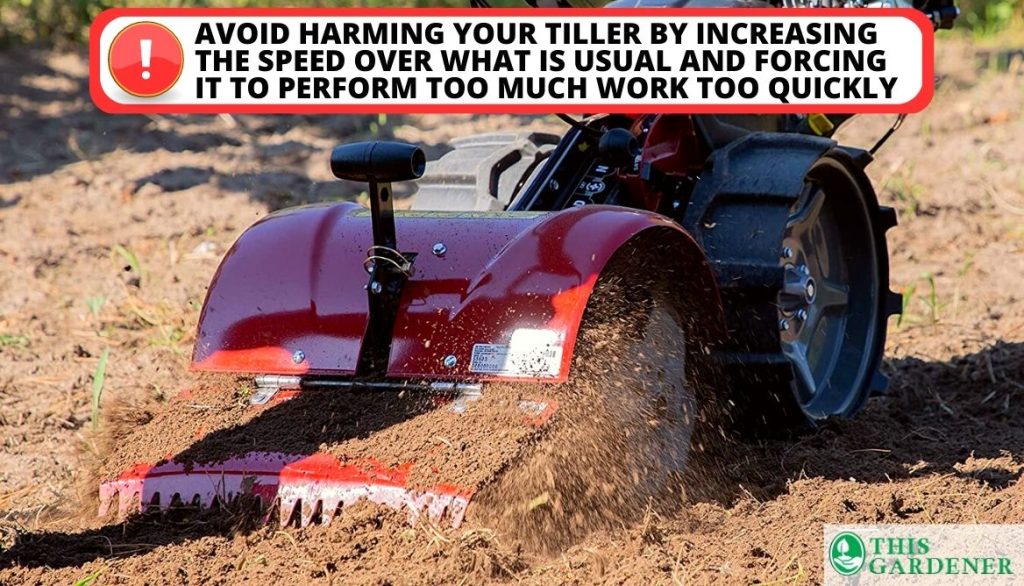 Avoid harming your tiller by increasing the speed over what is usual and forcing it to perform too much work too quickly, no matter how fast and furious you want to be.
Avoid damaging your soil by not digging deeper than necessary to preserve the life of your tiller.
You should avoid moving parts swiftly or pausing on tillers too long too soon.
Do not abuse your tiller to avoid potential hazards.
Ensure that your tiller comes into contact with big objects only occasionally to prevent it from using its power excessively.
Likewise, if your tiller is not moving swiftly, there is no need to push it forward. Your tiller will move whether it is self-propelled or not.
The Most Important Safety Equipment You Should Use
A long-sleeved shirt, long pants, safety glasses, and ear muffs are a few examples of the safety equipment we've mentioned above that should be worn at all times.
If you don't wear safety gear when using a tiller, you risk hurting your skin, feet, or eyes.
But, you can sometimes tolerate the loudness. Therefore, the only item you can avoid having is an earplug.
You should avoid being around loud sounds frequently and for an extended period of time to prevent hearing loss.
FAQ-Frequently Asked Questions
How do you use a tiller?
Study and comprehend the instructions in the operator's manual before using a tiller.
How do you use a tiller safely?
Use a tiller safely only in well-lit areas and don't ignore safety considerations.
What equipment is used for tilling?
A tiller is equipment used for tilling.
Conclusion
Every task that calls for the use of machinery necessitates the use of personal protective equipment as well as certain steps that you must take before using it.
A tiller is a strong tool designed to perform demanding tasks. So make sure you prioritize safety, read the owner's manual and keep children and pets away from them when they're in use.
What are the PPE Items you do not always wear when operating a tiller? Please leave your response in the comment section below.
Thanks for reading to the end.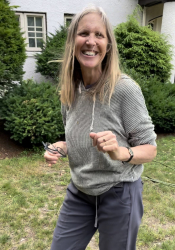 Latest posts by Jessica Zander
(see all)
Hello! I'm Jessica Zander, a garden coach and consultant based in the Boston area (zone 6b), offering virtual consultations across the country and Canada.
I've been passionate about gardening since the early 1990s, and in 2022, I launched You Can Do It Gardening to empower individuals to feel more confident in their gardening endeavors.
Following a 30-year career in nonprofit finance and operations, I transitioned out of that field in mid-June of 2023 due to the growing demand for coaching services. Interestingly, my years of presenting financial statements to boards and finance committees proved to be valuable experience for teaching people about gardening! I enjoy sharing skills, providing guidance and suggestions, and collaborating efficiently with clients to make significant improvements to their outdoor spaces, both small and large. I also regularly teach at the Arlington Continuing Education and Cambridge Adult Education.
My approach is direct and practical, akin to Mary Poppins, but tailored to your garden. Clients find satisfaction in saving money and taking pride in their own gardening achievements.