The snowing season is just around the corner so we are here to prepare you. You have purchased your snow blowers, but what about their upkeep?
Let's discuss the best spray lubricant for snowblower chute, what to remember while purchasing spray lubricants, and the pros and cons of each.
We have made a list of top customer favorites and more options if there is an issue with availability, so there is no need to look elsewhere.
Our Top Picks
The lubrication is important for the snowblower's maintenance as a jammed chute can strain the blower. We have compiled a list by considering the brand of the sprays, the life, and longevity of the sprays, reviews, and ratings by the users.
Additionally, we also considered the cost of the sprays and size ratio, product guarantees, bottle design, add-ons, and accessories.
Now let's determine which is the best spray lubricant for snowblower chute:
DuPont Non-Stick

Dry-Film Lubricant

Aerosol

Liquid Wrench

Silicone Spray

DuPont Teflon Snow

and Ice Repellant

Spray Lubricant for

snow blowers and

metal

Spray Lubricant,

prevents rust, repels

water. Recommended

use on Wood

Spray Lubricant for

snow blowers, snow

shovels, door gaskets
DuPont's Non-Stick consists of Teflon fluoropolymer dry-film that lubricates the snowblower chute reducing friction, snow build-up, and clogging.
The dry film is sprayed wet to help penetrate crevices and then dries forming a micro-thin coating resisting chemical contamination without sticking.
Liquid Wrench Silicone is an ultra-slippery lubricant. When it is used in a snowblower chute, more snow will slip out smoothly keeping the machine's life healthy and even extending it.
It is a nonstick spray lubricant and should be used outside or in areas with ventilation as its vapors are flammable. It should not be inhaled and should be used only with a covered nose, mouth, and eyes.
DuPont Teflon Snow is specially manufactured to prevent ice buildup. Users love it for their snowblower chute, snow shovels, gutters, and roofs too.
It is used for preventative measures and for pre-treatment.
This spray lubricant as the name suggests is a heavy-duty one so it can be used on engines of RVs, Boats, motorcycles, and tools so easily trust it with your snowblowers.
The grease and slip it will provide will keep increasing the throw distance of your blowers.
WD-40 is a household name, but this particular Spray Lubricant is specially formulated for water resistance.
It can be used on both metal and non-metal substances, including rubber, plastics, and vinyl.
As it is very strong in resisting water, it is excellent for usage in the kitchen and bathroom.
Free All Spray Lubricant by Gasoila is best used to fight rusty surfaces, corrosion, and grease-sliding parts.
It will clear out carbon and tar deposits. It does not contain silicones.
B'laster Spray Lubricant does a marvelous job of lessening friction from snowblowers' chutes, locks, hinges, conveyor belts, tools, and window tracks.
Made to reduce wear and enhances performance.
Squeaks Gone by PlanetSafe Lubricants as the name suggests eliminate any squeaks or resistance.
It resumes movement in your snowblower chute, tools, bike chains, hinges, garage doors, metal bolts, bearings, etc.
Stens Spray Lubricant is specially formulated for snowblower chutes and freeing snow clogging. One application can increase the snow throw up to 3 feet.
It can be used on a snow jet or snow shovel to remove sticky ice.
CRC Power Lubricant is designed to work in extreme weather conditions and reduce friction in the most stubborn snowblower chute.
It is also multi-purpose, so you can use it with motor engines, automotive parts, household tools, and electrical equipment.
What to Consider When Choosing the Best Non-Stick Spray for Snow Blowers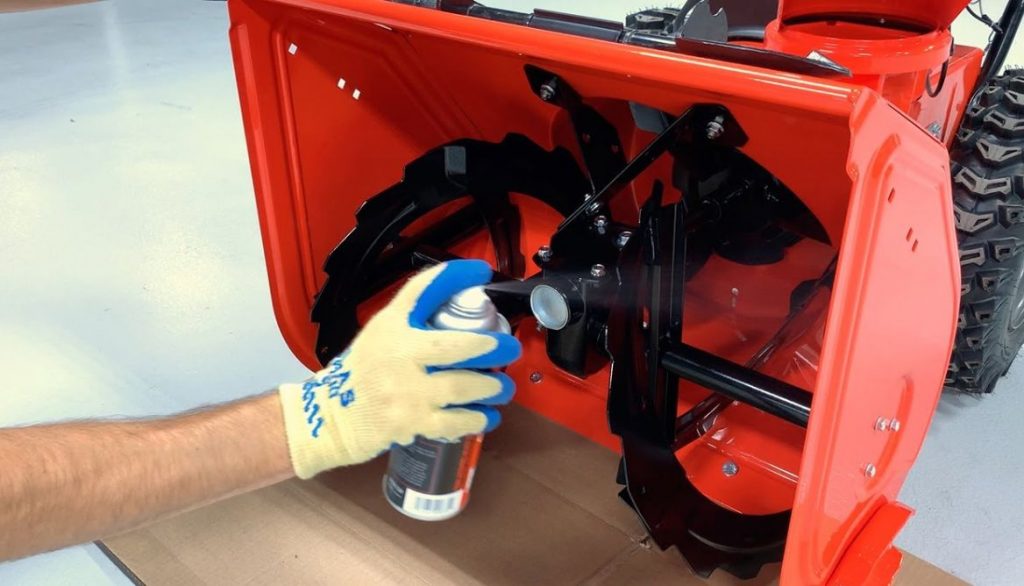 To use your snowblower effectively and get the best out of it for the longest time one needs to take special care of the snowblower chute and its protection.
So we have listed the factors you should consider in how to determine the best spray lubricant for the snowblower chute:
Drying Time
Faster drying time is important because as soon as the lubricant dries, it will react and bond with metal and create a protective layer from corrosion, rust, and dirt.
Faster drying time will also let you apply a second layer after a little wait time.
Ideally, lubricant non-stick spray should be applied in a warm, dry environment to help with the drying time and react with metal.
Safety
Safety is extremely important to consider. If you have kids and pets, it is wiser to purchase non-toxic, non-hazardous spray.
Unfortunately, most non-stick sprays are flammable and contain dangerous components for eyes, ingestion, and inhalation so read the label details completely and take proper precautions. Only use in a ventilated place.
Functions
The main function of the non-stick spray lubricants is for them to make the snowblower chute slippery, and smooth so that ice whether dry or not passes through it without any resistance or choking so make sure your spray checks this box with justice.
Rust prevention
An additional feature that sprays should have is that it eats away the rust and prevent any further oxidization.
Water resistance
Sprays should shield the chute from water, moisture harboring, and ice residue.
UV protection
Sprays should have the ability to protect the surface's paint from cracking if it's applied to it.
Longevity
Lubricant should be long-lasting because reapplication after one or few uses can be time-consuming and tiresome, but importantly the spray will run out quickly, which is not cost-effective.
Cost
Cost is a big factor when considering buying a non-stick spray lubricant. There are many brands and types available in the market now and one should invest in the best deal after weighing and comparing their features.
Often, costly non-stick spray lubricants are not as effective or more or less the same as those with lower prices.
Customer Rating
Customer Rating is always important to read. Listen to the people who have already experienced it firsthand and give unbiased notes.
Customer reviews are also important to read because many customers would guide new buyers on the specifics of their usage, what mistakes to avoid, and valuable hacks when applying it.
Durability
Durability is highly important when it comes to non-stick spray lubricants because it contains flammable gases and toxic chemicals. Any leaks can cause severe damage.
Brand
The brand does not have to be "big" but responsible with responsive customer support and one that provides a warranty, refund, and exchange so if you accidentally make an incorrect purchase the brand is there to help.
FAQ
What do you spray on a snowblower chute?
One should spray non-stick spray lubricant to their snowblower chute.
How do you lubricate a snowblower chute?
You should use a non-stick spray lubricant to grease the snowblower chute. Shake the bottle well. Stick and aim the nozzle straw at the interior of the chute. Wait for it to dry and apply another coating to ensure double shielding.
How do I make my snowblower chute slippery?
Clear out any ice residue in the chute and timely apply spray lubricants to keep it slippery and corrosion free. Application before every use is recommended.
Should you lubricate snowblower chute?
It is necessary to lubricate the snowblower's chute to prevent clogging, clear any sticking ice inside the chute, maintain the snow throw, and extend its life.
Can I use WD 40 on my snowblower chute?
Yes. WD-4o can be sprayed on the chute. WD-40 has a specialized Water-resistant variant for it.
Can I spray Pam on my snowblower?
Yes. It can lubricate your snowblowers but a specialized non-stick spray is a better option.
Conclusion
We hope your search for the best spray lubricant for snowblower chutes was narrowed by this article. Let us know in the comments about your experiences with snowblowers lubricants. Which one worked best for you?
Description: Snowfall season is approaching. You have purchased your snowblower but what about its upkeep? Let's discuss the best spray lubricant for snowblower chute.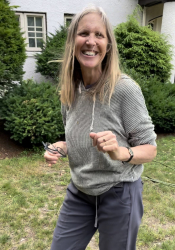 Latest posts by Jessica Zander
(see all)
Hello! I'm Jessica Zander, a garden coach and consultant based in the Boston area (zone 6b), offering virtual consultations across the country and Canada.
I've been passionate about gardening since the early 1990s, and in 2022, I launched You Can Do It Gardening to empower individuals to feel more confident in their gardening endeavors.
Following a 30-year career in nonprofit finance and operations, I transitioned out of that field in mid-June of 2023 due to the growing demand for coaching services. Interestingly, my years of presenting financial statements to boards and finance committees proved to be valuable experience for teaching people about gardening! I enjoy sharing skills, providing guidance and suggestions, and collaborating efficiently with clients to make significant improvements to their outdoor spaces, both small and large. I also regularly teach at the Arlington Continuing Education and Cambridge Adult Education.
My approach is direct and practical, akin to Mary Poppins, but tailored to your garden. Clients find satisfaction in saving money and taking pride in their own gardening achievements.