Ariens is a well-known name for the reliability, quality, and cost-effectiveness delivered by their snowblowers. But which is the best Ariens snowblower in the market from the wide range of snowblowers they offer?
Snow has always been the destined enemy every winter of homeowners around the world. And the battle never ends during the winter season. With large heaps of snow to be shoveled out of the property, homeowners become infuriated and seek a solution.
The solution is a high-powered snowblower that can throw out all that snow in less time with minimum effort. This is where Ariens jumps in to save you by providing their top-notch snowblowers product range.
The article will handpick the best snowblowers from their whole product range and allow you to gain insight into the quality, features, cost, fuel efficiency, and pros/cons. Let's get started with the analysis of their product range!
Best Ariens Single-Stage Snowblower
Best Ariens

Single-Stage

Snowblower

Best Ariens

Two-Stage

Snowblower

Best Professional

Ariens

Snowblower

Ariens Path-Pro

21 in. Single-Stage

Snow Blower-208cc

Ariens ST24LE Deluxe

24 Two-Stage 254cc

Snow Blower

Professional Kraken -

32 Hydro EFI

RAPIDTRAK
A single-stage blower is designed for small to moderate amounts of snow. They cannot handle heavy snowfall or moist snow.
Rather, they can only remove snow that is a maximum of 6″ inches in height. These types of snowblowers are usually snowthrowers. They have a very limited throw distance.
Why we like it
Quality build, electric start, quick ignition, and an easy access maintenance hatch make the Path Pro series the most suited choice if you want an easy-to-handle machine.
Who should buy it
This model is perfect for homeowners that are looking for an affordable option as a snowblower.
Best Ariens Two-Stage Snowblower
Two-stage snowblowers are made for heavy-duty work that comprises clearing out large commercial locations, large-sized parking lots, driveways, and even fields. The two-stage delivers unmatched power in terms of throwing ability and movement.
If you have snow that exceeds the 6″ mark then you are advised to go for a two-stage snowblower. A high-powered engine, large auger housing, and a huge chute are some of the notable characteristics of a two-stage blower.
Why we like it
The Deluxe has a total of 5 different models that you can choose from. All of the models are two-stage snowblowers that offer a high amount of snow extraction, an impressive clearing width, auto-turn steering, and 16″ tires that provide reliable traction on surfaces.
Who should buy it
If you live in a region that is usually hit by heavy snowfall and blizzards, then the Deluxe models are perfect for you. They can withstand outdoors easily and require little maintenance work to keep them in shape.
Best Ariens Compact Snow Blower
When you house the full potential of a snowblower into a smaller design, you get a compact snowblower. These machines may look small, but they deliver quite the punch when clearing the snow from your sidewalk, driveway, or other location.
They are designed for easy handling and unrivaled agility when moving around to clear the snow. If you are someone that loves to own a smaller machine while enjoying the features of a decent-sized snowblower, then the Ariens compact snowblowers are your smartest pick right now!
Why we like it
Being a two-stage snowblower it provides more power to chew through the toughest snowfalls during the winter season. The small and lightweight design makes it easier to handle while the traction it provides is applaudable.
High-quality metal frames and components, an electric start, self-propulsion system are some notable features that make it special.
Who should buy it
If you are looking for an easy-to-handle, small-sized machine, and a powerful engine then the Compact series is ideal for you. These snowblowers are pocket-friendly and will take less of your home space.
Best Ariens Track Snow Blower
When the terrain becomes a challenge then, Ariens drops in its "Track snowblowers". These all-terrain type snowblowers are designed to operate on smooth, slippery, uneven, and even steep surfaces. The tracks allow for maximum grip even on the most slippery surfaces.
The track type successfully moves through impossible terrain or is a hassle for the wheeled snowblower. Having a strong grip also makes the mobility of the snowblower an effortless experience for you.
Why we like it
Professionals just love the Kraken! The high-powered engine delivers unmatched power. Features such as an electric start, a huge 32″ clearing width, auto-turn ability, LEd lights, and premium quality metal used for construction make it a preference for most professionals.
Who should buy it
If you are the owner of a commercial property or a homeowner of a large estate then this is your perfect snowblower. The Kraken is a tough machine that easily takes care of some serious snow problems.
A powerful engine, large clearing width, and strong throw make it a modern-day marvel that tackles heavy snowfall.
Best Professional Ariens Snow Blower
Professional snowblowers are named due to their performance for more snow clearing than expected. Professional snowblowers are high-powered machines specifically made to clear snow of heavy amounts without choking or trouble.
The powerful engine enables you to remove dry or moist snow with ease. What makes these types of snowblowers is their ability to work in all types of environmental settings.
Being reliable, durable, and suitable for small to large areas while proving the capability to work all day is the identification of a professional snowblower.
Why we like it
For professionals who remove heavy amounts of snow from commercial properties or large areas, the Professional 28 – Hydro Rapidtrak is the machine to have faith in! If you are working on a medium or large-sized driveway, then it can easily remove the snow in no time.
With a highly-powerful engine and the ability to take sharp turns smoothly. The Professional 28 is an excellent machine to invest in as a professional snowblower.
Who should buy it
Professionals who work with heavy amounts of snow on a daily basis can rely on this machine without a second thought. The powerful engine, long throwing distance, and durable build ensure a long lifespan.
Types of Ariens Snow Blowers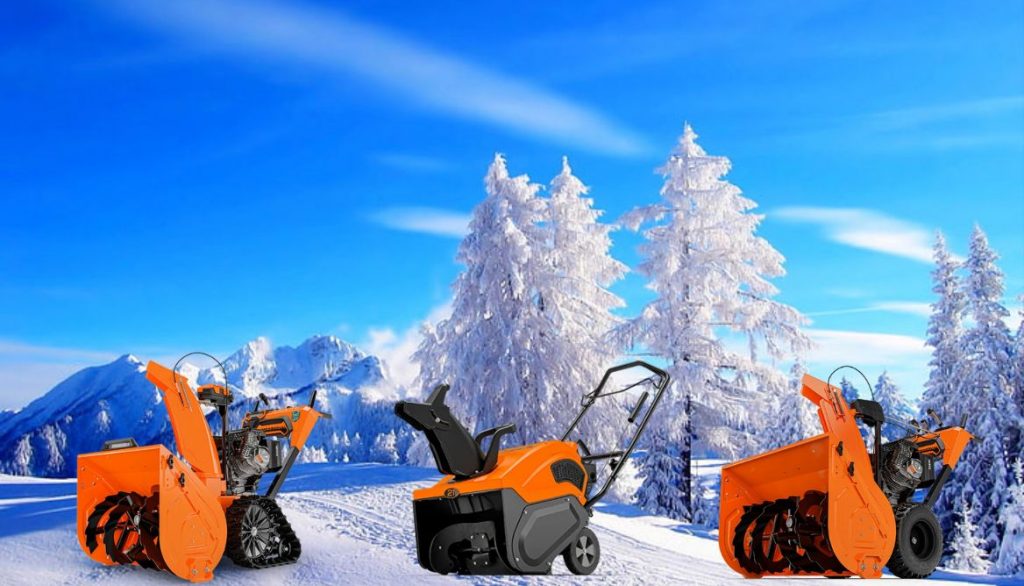 The Ariens snowblowers are divided into categories to make it easier for customers are manufacturers alike to understand their usability and functionality as per needs.
Each series has its pros and cons that make them suitable for one task or another. So, if you have a specific need then Ariens has the perfect product for it.
Classic Series Snow Blowers
The Ariens classic series is no joke when it comes to clearing out snow. These machines may be built smaller in size but they put quite a show when used for snow removal. They can easily remove 59 tons per hour which is a lot of snow out of your property.
Ariens snowblowers took into consideration many snow blowers aspects such as single-handed operation and an 11″ auger which works perfectly in fulfilling its purpose.
Professional Series Snow Blowers
The professional series boasts its reputation with a 420cc engine that offers peak performance while clearing the snow. Even the heaviest and largest heaps of snow are a walk in the park for this series.
If you want to clear snow in large areas in less time with minimum effort then these are the machines for you. The 23.5″ housing and ability to toss the snow up to 60 feet make these monstrous machines the talk of the town.
Ariens has made it very clear that these are meant for the pros, but even you can own one if the need arises.
Crossover  Series Snow Blowers
As the name suggests, this series is a hybrid mix of the two-stage and single-stage snowblower into one cutting-edge marvel. If you are looking for two-stage power and single-stage precision and mobility, then you have made the right choice.
These machines allow the user to move through deep snow with less effort due to the 20″ housing and 14″ wheels. A perfect experience for most people who favor effortless snow removal in their routine life.
Platinum Series Snow Blowers
If your daily routine during winter requires removing heavy loads of snow then you can without a second thought choose the platinum series snow blowers. Fitted with the most high-tech features while being able to remove a large amount of snow is what defines these beasts.
Features such as a high-powered Ariens® engine, heated handgrips, and automatic steering are only the tip of the iceberg when defining the special features of the platinum series.
Deluxe Series Snow Blower
The Ariens deluxe series is the most versatile series by Ariens. The Ariens Deluxe is manufactured with various options of machine width and different engines. These are designed to fit the requirements of different scenarios with perfection.
The Ariens Deluxe offers an auto-turn steering feature with easy maneuvering and mobility while walking behind them. You can expect a surprising throwing distance of 50 feet and a 62 to 72 tons per hour snow removal rate. These machines have a history of kicking even the largest piles of snow out of the user's property!
Compact Series Snow Blowers    
The most agile and easy-to-use series is without a doubt the Ariens snow blowers compact series. They can do what most of the other series do while being smaller in size. They are easy to move around while offering a 59 tons per hour clearing snow rate.
The 11″ auger and 24″ housing will bite down that ice like cotton candy while delivering a choke-free experience to the user. Do not let the small size of the machine deceive you at all. These are made to perform excellently even in the toughest situations!
Path Pro Series Snow Blowers
The Ariens snow blowers Path-PRO series by Ariens are single-stage snow blower that is designed to fit your home space with ease. Storing Ariens Path is not an issue as the handlebar can easily fold allowing them to fit into a limited space in comparison to other snow blowers.
The Ariens Path is fitted with a tireless Ariens® AX engine and rubber paddles, this snowblower may look small but it offers efficient performance for a 9″ snow that needs to be removed.
About the Ariens Company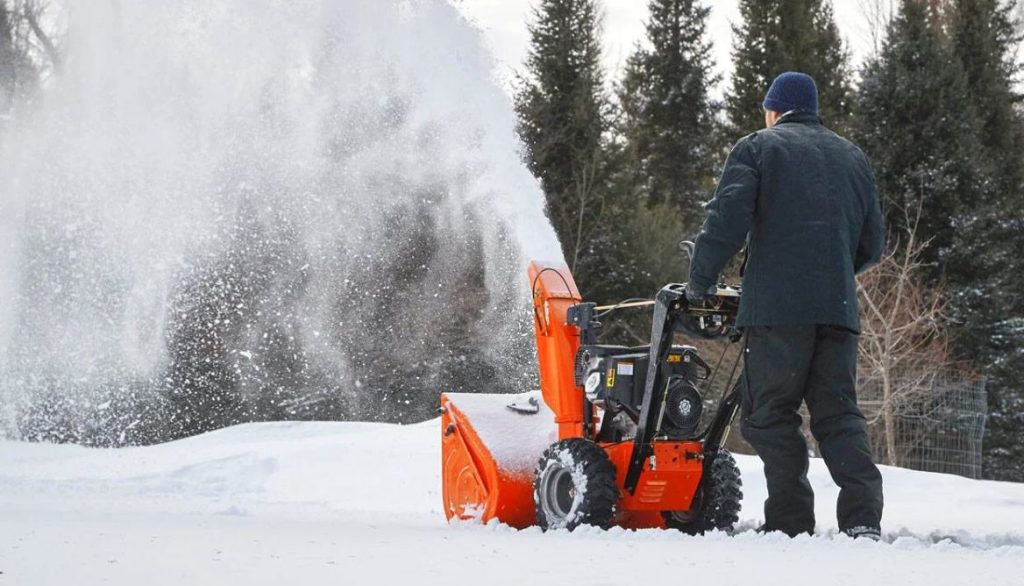 Ariens is a family-owned and operated business that was established in 1933 by Henry Ariens. One day, Henry took his sons to the garage to let them have a look at his newly built gas-powered roto-tiller.
This was what sparked the establishment of the company. While other manufacturers were still trying to understand imported tillers, Ariens took into their own hands the tough ordeal of making an original product which sparked the interest of many people.
They also ensured that their knowledge and pioneering enthusiasm reflected their hard work in the products manufactured by their company. The company has spearhead producing some of the finest products since then.
In 1945, the company introduced its notable mobile mortar cases that sparked new boundaries of innovation. They mastered the lawn and garden maintenance market by introducing walk-behind and riding lawnmowers.
In 1960, they further expanded by introducing their first snowblower that had the best testing ground to prove its metal. The area it was manufactured in recorded snow levels in feet rather than mere inches.
Right now the company is more focused on its power equipment that is crossing new boundaries as we speak. Year after year they show promising results through major innovations.
Why Choose an Ariens Snow Blower?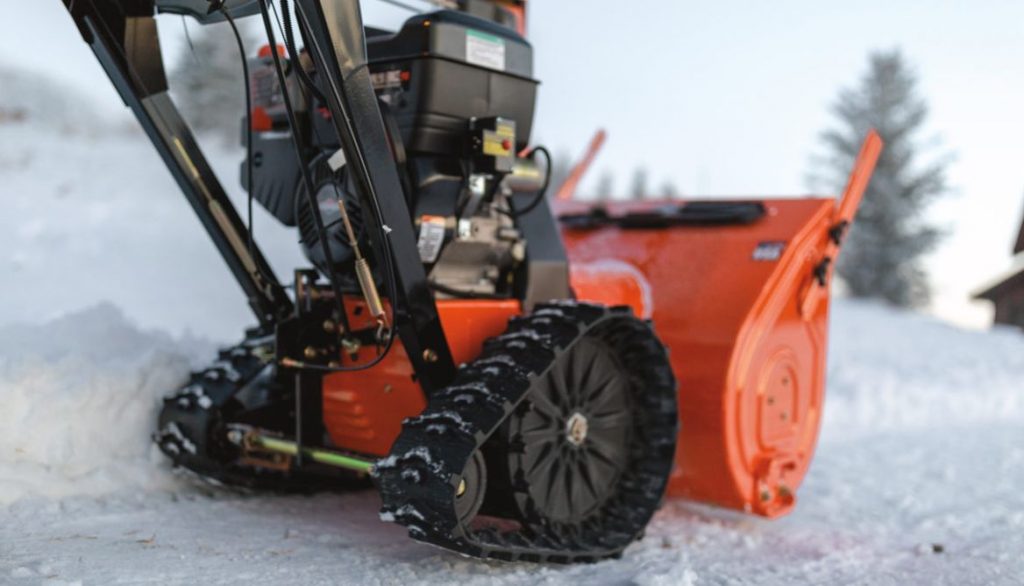 Ariens is a name that has made its presence known since 1960 in the snow blowers business. With millions of units sold and excellent feedback gained from their customers. It has cemented its reputation among the very best in the snow blowers industry.
It is a name that has been a long-lasting companion of many families around the globe. Ariens is best known for its unmatched customer care service and warranty, along with quality assurance in all its product ranges.
They facilitate their customers by providing interactive services such as the "snowblower selector" on their website that helps to select and even compare different snow blowers to choose the best suited for your needs.
Blowing Precision and Consistency
If you are someone that loves perfection then Ariens is the brand for you. Their blowing precision is spot on in providing a smooth and satisfying outcome when using the snowblower in any level of snow on your property.
The snow removal process brings out snow from any nook and cranny of your yard, driveway, and sidewalks. Giving you a clean and tidy surface after the snow blowing is done.
Secondly, consistency is what all Ariens snow blowers offer their customers. You will rarely experience as much power drop or any other aspect of the snowblower. Ariens knows that consistency is the key to success.
The Fuel Gauge
Almost all Ariens snow blowers are fitted with Electronic Fuel Injection (EFI) technology that boosts performance and fuel efficiency greatly. EFI engines have revolutionized snow blowers since their integration with high-quality engines.
The fuel-to-power ratio has been a game changer providing less fuel consumption and more performance delivered by the snow blowers. This means that you are getting more runtime and less fuel cost which is a major advantage for you as a user.
Ariens has always sought innovative technological solutions for its customers. And they have delivered what they promised by using the EFIs in their snow blowers!
Warranty
Ariens takes customer care and warranties very seriously. They are known for impeccable and timely responses to queries related to warranty.
Their "Sno-Thro" warranty is known to give an unrivaled advantage to the customer by extending the warranty and providing a warranty for parts and even the snow blower engine. They offer their customer a warranty that spans a 5-year duration.
The warranty starts at the time of your purchase and is supported by a very reliable chain of distributors near you. You can visit the local dealer at any time for warranty-related queries.
How to Choose the Best Ariens Snow Blower for You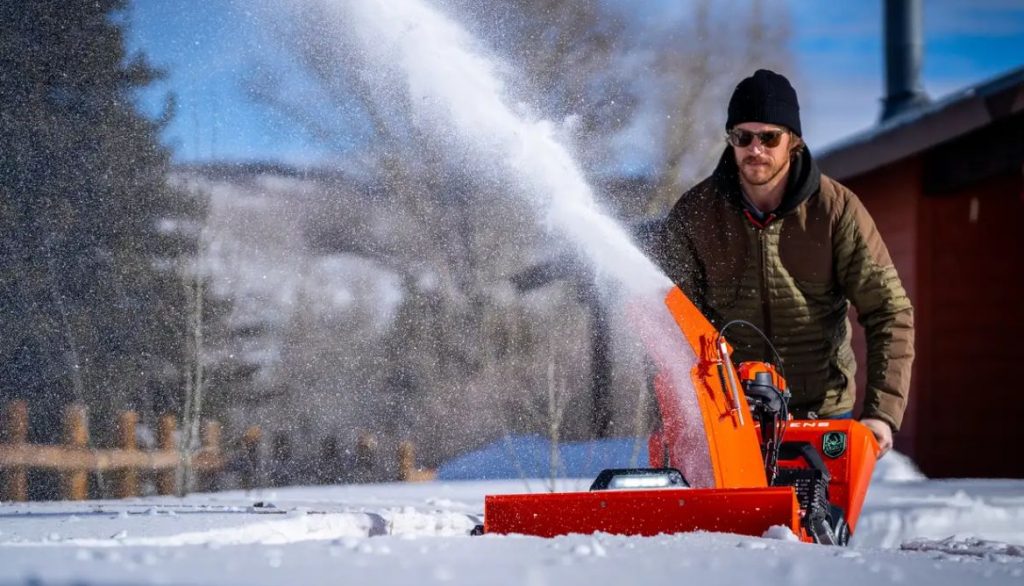 If you are confused about selecting the best snow blower concerning your needs then this can be easily taken care of by the "Snowblower selection service" provided on the website by Ariens.
You can easily do a comparative study of up to three (3) snow blowers side by side. This comparison will let you know many features and also fully understand your choice according to your requirements.
When selecting a snowblower, always keep in mind that make every buck count! If your area does not receive heavy snowfall then investing in a heavy-duty machine is not worth the risk. Instead, invest in something more affordable yet versatile and easy to use.
But if winter is harsh with more than a foot of snow then the smart investment would be in a value-for-money snowblower with close to professional performance. Regardless of what you need, always make sufficient research before locking in your final decision.
Ariens has your back in this aspect as they have a very detailed product list loaded with all the features they offer. This comprehensive guide will make it easy for you to select a suitable product for your use.
What to Look For in a Snow Blower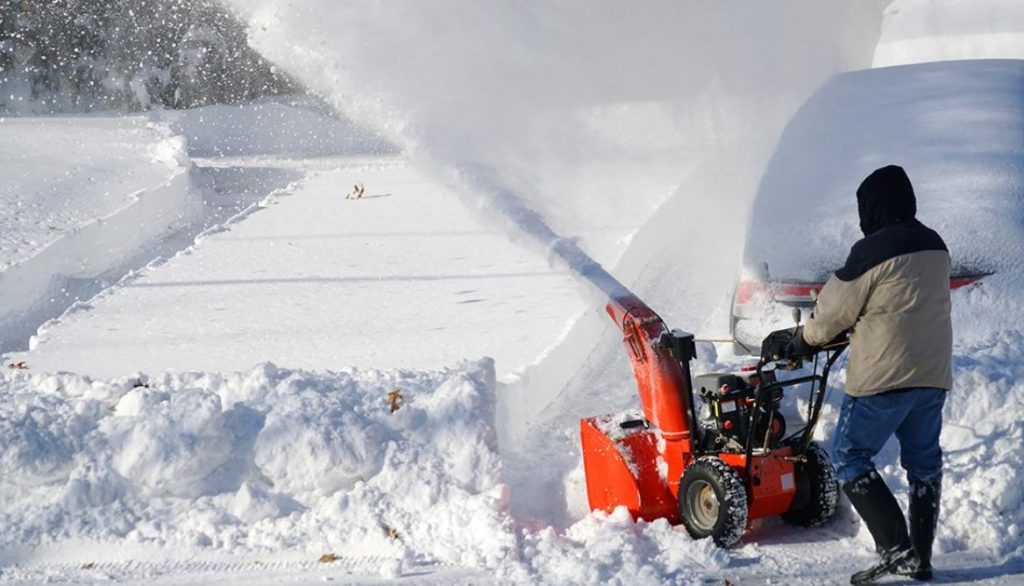 Many slow blowers offer various features that can help you efficiently remove the snow. It all depends on your needs and the weather conditions during the winter season in your area. Some key aspects to keep in mind are power, clearing width, track type, headlights, speed, and throw distance. Let us briefly describe some of the features that are important while selecting the perfect snowblower model for use:
Snow Blower/Snow Thrower
If you have a choice between a snowblower or a snowthrower, you should know the difference and your requirement during the winter season. If the snow level is no more than 6″ then snow throwers can be easily used for this purpose. For more snow, a snowblower is best.
What is the difference between snow throwers and a snowblower? The main difference is in the stages of the engine and the amount of power they deliver while removing the snow. A snowthrower is usually a single-stage machine while a snowblower is a two-stage.
While a snow thrower will only offer an average throw distance on the other hand a snowblower has a much stronger throw capability making your work easier and effortless.
Power
Power plays a major role in pushing the snowblowers through thick layers of snow. If the engine is not high power or does not have sufficient power then it can become a hassle for the user.
Usually, snowblowers can make their way through layers as thick as 6″ on snow with ease. It all depends on the type of engine fitted in the snowblower.
If you are someone who owns a commercial location and needs to clear large amounts of snow during a heavy snowfall. Then you better select a snowblower that has a high-powered engine fitted into it. Also, if you live in an area that has an extremely harsh winter season then the scenario will be the same.
Stage – Single-stage or two-stage snow blowers
The whole single-stage and two-stage might have confused you a lot. Let us break it down into simple, understandable chunks. The major difference between the both is in the power level they offer. And the second most notable difference is related to their use.
Single-stage is much more compact, average-powered, and designed for small-scale use. They are in a majority cased fitted into a snow thrower. The throw distance of the snow they offer is not long distanced.
Two-stage snowblowers offer higher power for clearing out the snow from the yard, driveway, or sidewalk. They offer a much stronger throw distance that can be more than 10 feet easily.
This powerful machine can easily handle snow that levels more than a foot. Manufacturers have innovated two-stage snowblowers to remove snow without choking.
The major advantage of using a two-stage blower is that a larger area is covered in less amount of time. Two-stage blowers are mostly used in commercial locations or large-sized residential locations.
Clearing width to maximize throw snow
Clearing width means the amount of snow the snowblower will clear in one go. Most snowblowers have a clearing width that ranges from 18″ to 30″. A customer should first decide how much clearing width is needed according to their need.
If there is a large area that needs to be cleared then opting for the highest clearing width is the smartest choice. But if there is moderate to light snow that needs to be taken care of then an average clearing width will do.
Small clearing-width snowblowers are mostly suited for sidewalks, small driveways, and small yards. Commercial snowblowers have a clearing width of 25 inches and above. They provide maximum removal of snow on a single passing over the area.
Generally, the clearing width is noted by the auger size. Which can easily be measured even by the customer via simple measurements.
Warranty
Warranty is an attractive feature that a snowblower company offers to its customers. Customers will prefer buying a product with an extensive 5-year warranty that Ariens sells. The dealership will offer an easy parts replacement facility that easily resolves product-related issues.
Electric Start
An electric start is a very innovative function that makes your task of starting the snowblower much easier.
On a chilling morning, pulling the snow blower's recoil string can exert strain on your shoulder. No one wants to get injured in such an extreme condition and end up in pain.
With an electric start snow blower, you simply need to plug it into the electrical socket at your home to start the machine. Then simply unplug the cord and easily use it for the desired duration. The electric start has made the ignition process an easy task!
Tracks
The track type of snowblower enables it to easily move on different terrains. Having suitable tracks will make your job easier while clearing the snow. For thin snow, a wheeled snowblower is suitable to get the job done. But if there is heavy snow and the level exceeds more than a foot then a track type is the best choice.
The wheel-type snowblower is suitable for plain surfaces while the track type is ideal for all types of terrain. the track type also offers an unmatched grip on uneven surfaces.
The tracks will help the snowblower to effortlessly make its way even on slippery icy surfaces. The tracks do not skid on ice, making them ideal for even wet snow and heavy snowfall conditions.
Variable speeds
Speed is a very important feature when selecting a snowblower. How fast you will clear the area solely depends on speed.
Variable speed options allow you to adjust the speed of the snowblower according to your need. Cutting corners and effortless turning are possible due to delicate speed-setting options.
Many snowblowers have a control panel with a joystick that allows power steering for the user to easily steer while adjusting the speed settings. It can move forward and backward with a simple push of a button.
One-hand operation
The single-hand operation allows you to control the wheels and the auger with a single hand. While your other hand is free to adjust the chute or any other needed function of the snowblower.
With this revolutionizing function, you can always ensure that you do not need a companion to help you snow blow your driveway, walkways, or yard. Many manufacturers know that operating the machine is already challenging in cold weather.
So, integrating features that make the operation of the machine much easier is the way to go. The more accessible the function on the handlebar the easier it is to complete the snow-blowing task.
Some snowblowers take this feature to the next level allowing you to completely control the snowblower with just one hand while adjusting the chute, speed, and direction with the use of just one hand.
Heated hand grips
You do not want to hold the cold handles of the snow blowers in winter and end up losing your fingers to frostbite. Right? The manufacturers know how hard it is to snow blow during the snowfall. The cold temperatures can be a source of discomfort while using the machine.
Heated handgrips ensure that the grips are warm even if the mercury falls below 0 degrees. Regardless of the temperature outdoors, the grips of the snowblower will remain at a temperature that is comfortable to hold.
You can easily remove all the ice and still not feel cold on your hands. In the frigid weather, the cold can numb your hand and this can be a hassle as you would not be able to operate the machine for long hours. During, this time the snow will stack up even more.
Heated hand grips are the ultimate solution to all these above-mentioned problems. Ensuring that the snow-blowing experience is as easygoing as possible.
FAQ
Is Ariens a good snowblower?
The American brand is somewhat decent in terms of price and quality. If you have a tight budget then getting an Ariens snowblower is a fairly justified decision.
Is Ariens snowblower better than Toro?
Ariens snow blowers have a long-lasting lifespan if used properly. They can be used for heavy-duty work. On the other hand, Toro is a brand that works excellently when there is an average amount of workload. But in terms of overall performance, Toro wins the battle!
Where is Ariens made?
Ariens was established in 1933 in Brillion, Wisconsin. The company is famous for lawnmowers, snow blowers, tractors, and other related products. Ariens is a name that has always promised and delivered quality products.
Is Ariens going out of business?
Since Ariens established Brillion Power Equipment in 2017, the company has shown more interest in it rather than other products. The company has decided to exit the direct marketing of some of its products to fully focus on its power equipment.
Who builds Ariens snowblower engines?
An American company known as LCT (Liquid Combustion Technology) is responsible for Ariens's engines. Most of the models of Ariens snow blowers are fitted with the Ariens AX engine.
What is the number one snowblower?
Toro is a well-known snow blowers brand in the industry. There is a justified reason why they stand on this position. They have improved their single-stage blowers by reassessing the design ultimately achieving the best-in-class status.
Conclusion
Ariens has a wide range of snowblowers and snowthrowers to choose from. If your requirements are residential or commercial, Ariens has got your back! Their products have features that make the removal of snow from your property a breeze even during challenging weather conditions.
The article provided a deep insight into the various factors that could make your selection easier. Also, highlighting the different aspects of each machine and model was the purpose of the article. Why? To provide a critical analysis that eases your decision-making!
Which snowblower did you choose from the list of Ariens snow blowers? Tell us about it in the comments section and add valuable feedback for everyone!
Latest posts by Mercy Stephens
(see all)