In this article, we'll talk about the best sprinklers for a large lawn including rectangular and long lawns. Some of our readers who own large lawns definitely deserve the attention after we did the piece on the small lawns.
Nelson 818653 Traveling Sprinkler
The Nelson 818653 Traveling Sprinkler is the best sprinkler for large lawns. It was a tough call, no doubt, but when you're inexpensive, adorned with an auto-shutoff and a cast iron body, you'll definitely catch people's attention. And if you've got a narrow lawn, we found one great sprinkler that's fit for it. It's the Orbit 58322 Traveling Sprinkler. We talked more about it in the review below, and in all honesty, it's the best sprinkler for narrow lawns.
---
Comparison Table Showing the Best Sprinklers For Large Lawn
| | Sprinkler | Coverage | Brand |
| --- | --- | --- | --- |
| 1 | Watex WX044 Traveling Sprinkler | 11,900 sq. ft. | Watex |
| 2 | Orbit 58322 Traveling Sprinkler | 13,500 sq. ft. | Orbit |
| 3 | Nelson 818653 Traveling Sprinkler | 13,500 sq. ft. | Nelson |
| 4 | Gardena Sled Base ZoomMaxx Sprinkler | 2300 sq. ft. | Gardena |
| 5 | Orbit 56186N Brass Impact Sprinkler | 6361 sq. ft. | Orbit |
| 6 | GARDENA 1975 Aquazoom Oscillating Sprinkler | 3900 sq. ft. | Gardena |
---
Buying Guide Water Sprinkler For Large Lawn
In our last article, we mentioned a handful of factors you should consider before buying a sprinkler. The same factors should be considered when getting a sprinkler for your rectangular lawn. However, there are three things we'd like to point out.
Don't wet your walkways unnecessarily
Make sure you set your sprinklers in such a way that it waters your lawn up to the edge. There's no need to waste water on your drive/walkway. You really don't want to raise your water bills high, or do you?
Length Of Your Hose
Rectangular lawns tend to be large in size and as such, they may require long hoses. Make sure your hose is long and don't forget to place it in a place where people won't step on it so that your sprinkler won't get damaged. Generally, the 5/8" hose is the most recommended hose for tractor sprinklers. However, if you have 1/2″ sprinklers, you can use them too.
Know the size of your lawn
It's important to know the size of your lawn. This will help you keep an eye out for sprinklers that will cover the given area with ease.
---
Best Sprinkler For Large Lawn: Reviewed
---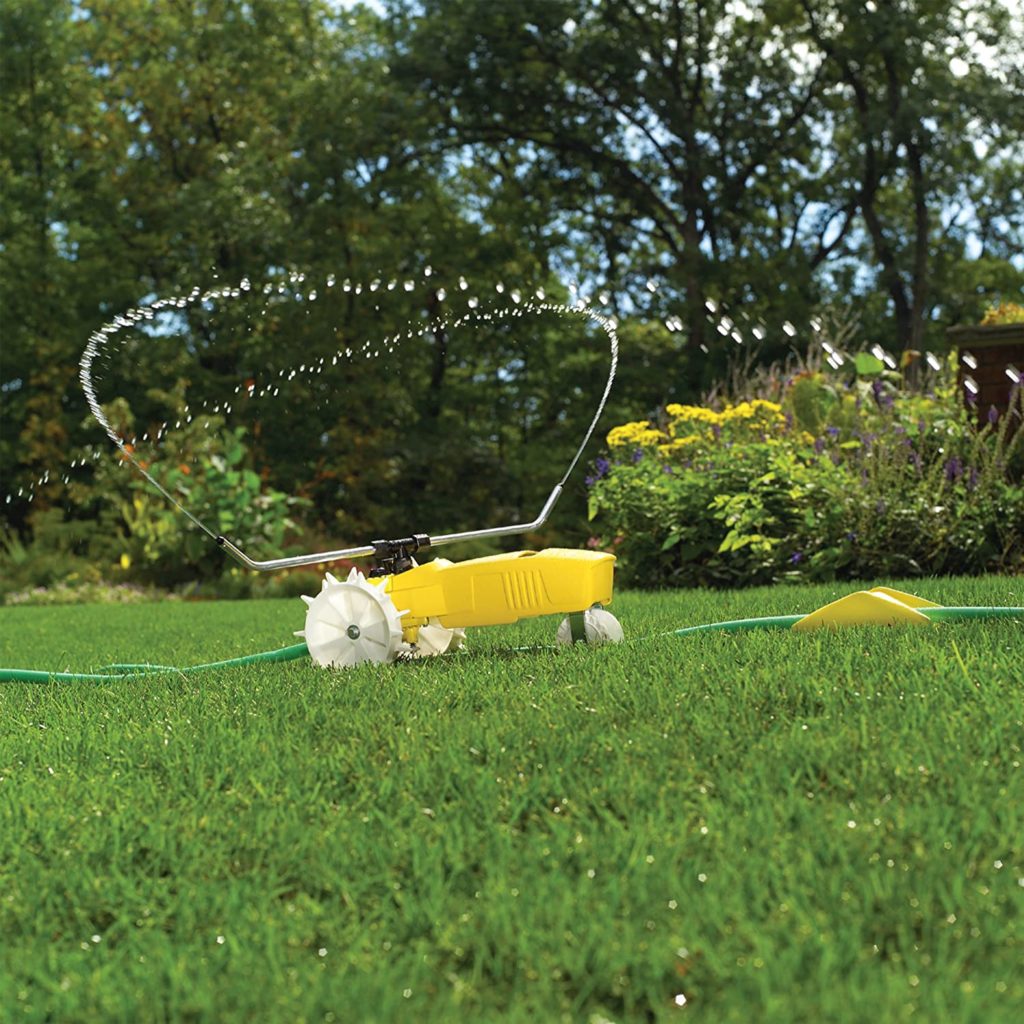 Nelson 818653 Traveling Sprinkler
Features: Ridiculously low price, auto-shutoff, 13000 sq ft coverage range, can travel 200ft, cast iron body for balance, adjustable arms.
The Nelson travel sprinkler is our top pick for the best sprinkler for rectangular lawns. It stands tall above the other travel sprinklers on this list, and it is the most affordable.
Out of the box, the sprinkler looks like a toy meant for a 6-year-old. Its yellow color isn't all that appealing. However, it makes up for that with functionality. Aside from being painted yellow, the body of the sprinkler is made of cast iron.
This makes the sprinkler chip-resistant – in essence, it will take some beating before it disintegrates. With respect to the coverage area, the Nelson sprinkler has the ability to cover as much as 13,500 sq. ft. in addition to its travel distance limit of 200ft. The extra addition of a hose track and water supply hose can extend the travel distance.
On top of the yellow-coated body sits two aluminum sprinkler arms with a coverage area that ranges from 15 ft. to 55 ft. Since the arm is adjustable, you can easily reach hard to sprinkle places on your lawn. Let's not forget to mention that the Nelson traveling sprinkler has 3-speed settings.
It also has the revered automatic shut-off feature. This works in tandem with the hose so that it can easily shut off when it reaches a defined hose length.
Unfortunately, it doesn't come with hoses so you'd have to spend a few bucks purchasing those. Again, the sprinkler isn't suitable for watering a newly seeded lawn especially if it's wet clay. You don't want the wheels stuck in your lawn, do you?
---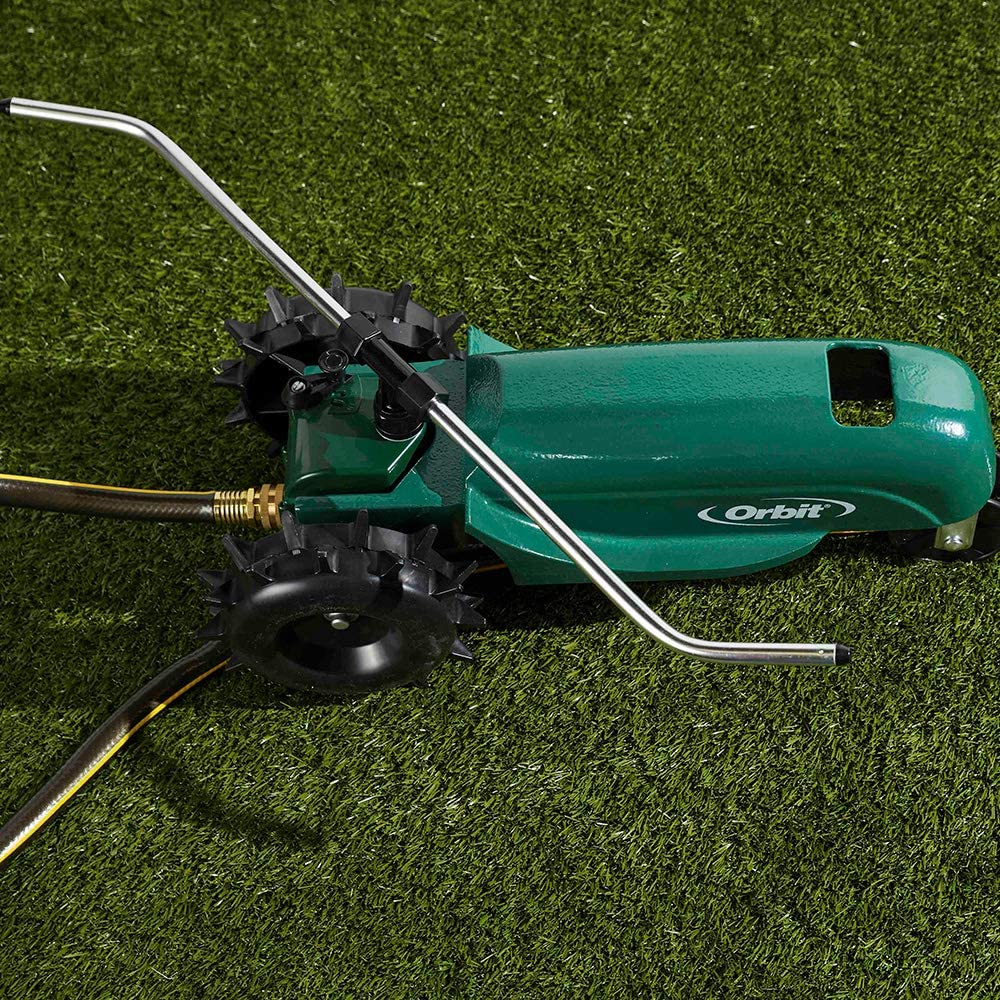 Sale
The Orbit 58332 traveling sprinkler is similar to the Nelson sprinkler in terms of design and features. With respect to design, it is coated in green – something better than the yellow color we saw on the Nelson sprinkler.
In addition, the body is made of cast iron and is slightly heavier than the Nelson but less than the Watex Sprinkler we reviewed below. This little heaviness gives it ample stability when it's in motion. And of course, it keeps it from rust and easy damage.
The Orbit sprinkler comes with 3-speed levels which help to control it as it travels along the defined hose path. It has a pre-defined speed of 37 feet per hour which cannot be changed.
This preset speed ensures the sprinkler distributes water evenly to all your grasses. Adding a timer can be helpful to help make watering much easier. And if you have a newly seeded lawn, the orbit traveling sprinkler will do just fine on a low-speed setting.
You need to move the hose every few hours to ensure that the hose doesn't damage the new lawn
Setting a traveling track for the sprinkler is as easy as ABC. The process requires little or no effort to get that task done. For supplying water to your sprinkler, the 5/8" hose is recommended given that the Orbit 8322 is strong enough to pull the hose along.
---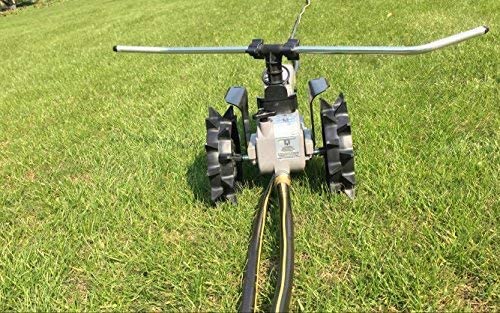 The Watex traveling sprinkler is the best tractor sprinkler – if that's what you're looking for. It's slightly superior to the other two sprinklers we reviewed above. However, their functions remain the same.
It weighs slightly more than the Nelson sprinkler above, which is our overall best sprinkler. As you'd expect, the sprinkler is constructed using durable materials, which increases the sprinkler's longevity. The sprinkler's body is made from cast iron, and it's coated in light gold color.
Concerning the coverage area, the Watex WX044 sprinkler serves us with a little disappointment. This comes from the fact that it has an 11,900 sq. ft coverage area, although it can travel up to 200 ft.
This is large, however, it is slightly lower than the coverage distance of the Nelson and Orbit sprinklers above. Also, its spray coverage range falls between 15 ft. and 45 ft. as against what we've seen so far in the course of this review.
These few flaws don't make it any less inferior. It makes up for its inefficiencies through some of the features it has. Watex recommends using a 1/2" hose but the 5/8" hose will be better since the 1/2" hose has a small diameter. This can cause the sprinkler to have stability issues.
---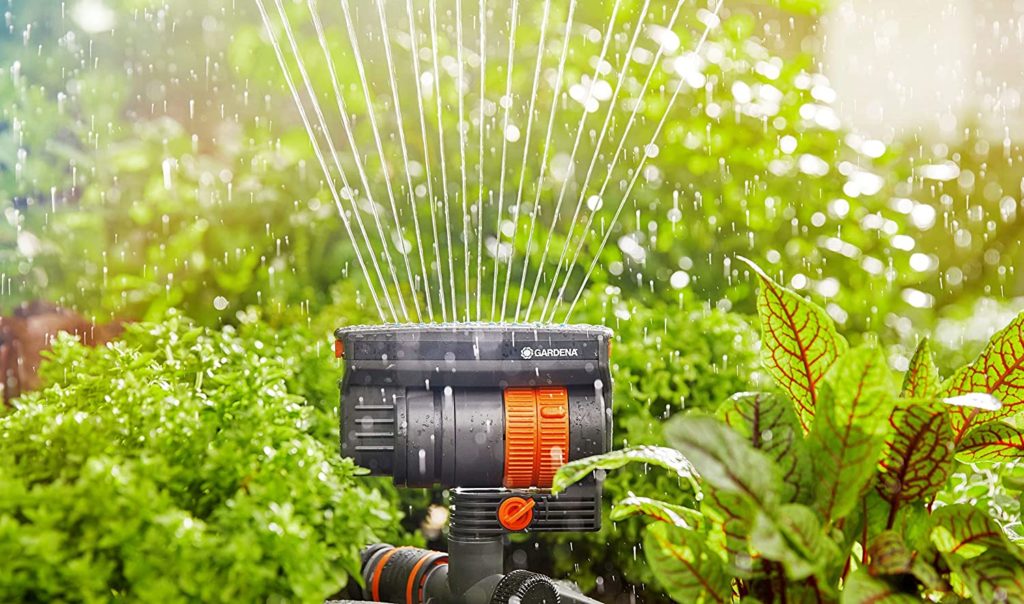 Gardena Sled Base ZoomMaxx Sprinkler
Features: Sled base, up to 120 minutes water timer, 2300 sq. ft. coverage area, adjustable controls, water flow regulation, sturdy build quality, etc.
Data from different sources show that the average lawn size in the United States is roughly 10871 sq. ft. Many people have lawns that are smaller than this, so it suffices to say that the Gardena ZoomMaxx Oscillating Sprinkler will cater to the needs of your lawn.
One of the best things about this ZoomMaxx sprinkler is that it is compact-sized and fully adjustable, giving you the freedom to choose how you want it to work. Again, it has a coverage area of about 2300 sq ft.
Two to three of these on your lawn will be sufficient to attend to the lawn's watering needs. With the ZoomMaxx sprinkler, you also get fully adjustable control for water flow, width, and coverage area length. It connects easily to your garden hose and stays in place for a long time.
Also, it has a weighted sled base that gives it stability and not to misbehaving when in use. Overall, the ZoomMaxx sprinkler is what spending money on. It's inexpensive, yet offers a ton of handy features compared to expensive sprinklers for large lawns on the market.
Let's not fail to mention that this sprinkler comes with a timer that allows you to set your sprinkling time between 1 and 120 minutes. Cool, right?
For those of us wondering if the nozzles are easy to change – yes, they are, and it takes only a few minutes to do that in the event of nozzle clogging.
---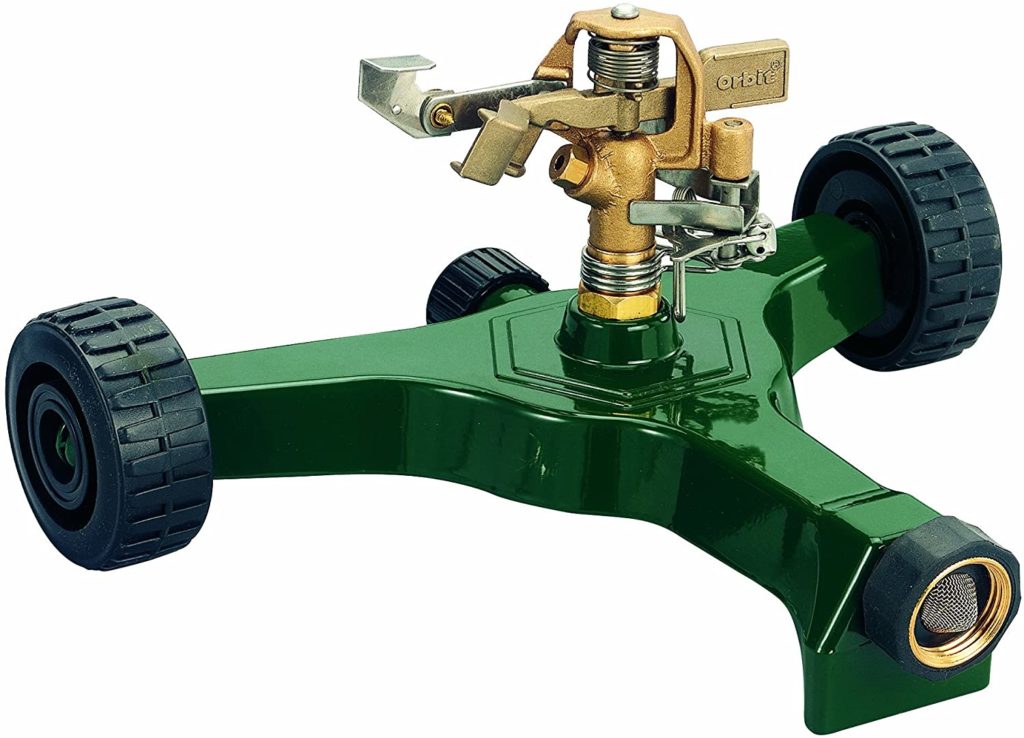 Sale
Orbit 56186N Brass Impact Sprinkler
Features: Sturdy brass fittings, wheeled base, easy to adjust, up to 45ft spray coverage distance and 360-degrees watering, up to 6361 sq. ft. coverage circle, perfect for narrow lawns.
The Orbit Brass Impact Sprinkler has three unique selling points; a large coverage area of up to 6,361 sq ft, sturdy brass fittings & finishing, and customizable settings. At first glance, the first thing you will notice about the Orbit Brass Impact Sprinkler is the wheeled base.
It has two wheels on both sides fitted to a weighted base that houses the sprinkler's brass connectors. These wheels are small but sturdy and are well lubricated for easy movement.
The sprinkler on the weighted base rotates 360 degrees to give you coverage up to 90 ft in diameter. You can easily adjust the sprinkler's radius from 20 to 45 degrees, depending on how large your lawn is. 
There is a deflector shield on the sprinkler that allows you to do this. This sprinkler is sturdy enough to withstand high water pressure, and it allows you to set the sprinkling stream strength. The Orbit Brass Impact Sprinkler supports multiple connections.
This means that you can easily connect multiple sprinklers like this together to serve a larger area. The sprinkler's design makes it clog-resistant, but that doesn't mean you will not have clogs occasionally.
You can also get this sprinkler in a tripod configuration if that's what you want. We are satisfied with this weighted base.
---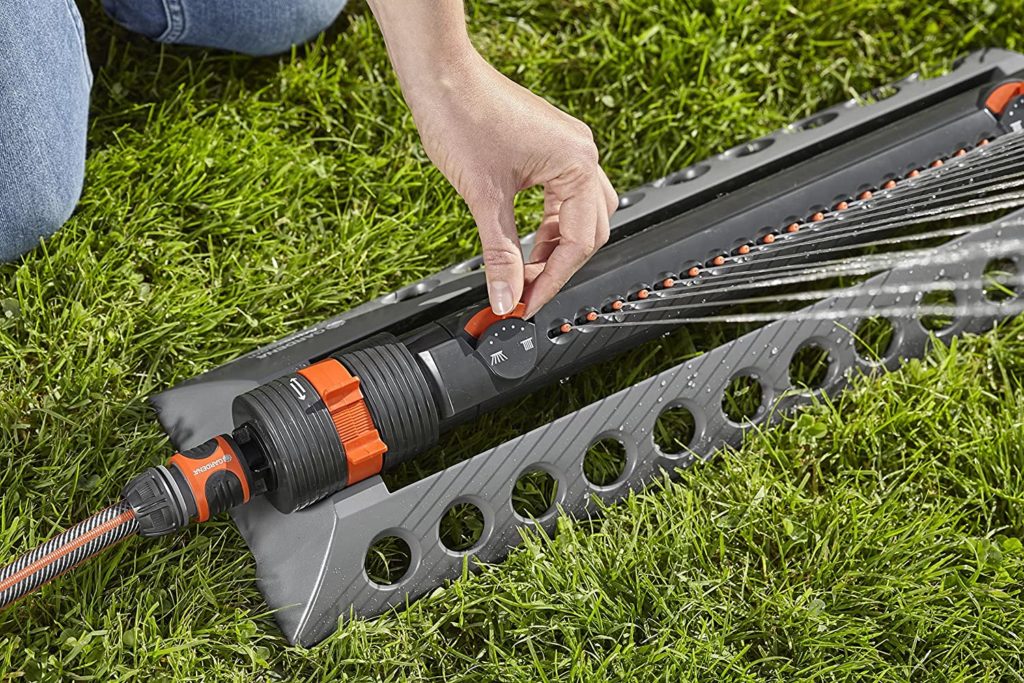 GARDENA 1975 Aquazoom Oscillating Sprinkler
Features: 3900 sq. ft. coverage area, adjustable controls, up to 69 feet spray length, perfect for rectangular lawns, no height adjustment, oscillates even in low water pressure.
We love the Gardena 1975 Aquazoom Sprinkler for a handful of reasons; it's compact-sized yet efficient and offers adjustable controls. It's also sturdy enough to withstand high water pressure even though it isn't made from metal.
The Gardena 1975 sprinkler sits on a sled base and offers nozzles that can be set to spray in opposite directions. It's perfect for anyone looking for the best sprinklers for a narrow lawn. It connects easily to your water hoses although it has no brass fittings.
Regarding spray distance, the sprinkler can reach widths of about 55ft and a spray length of about 69ft. This is impressive especially when you place it side by side with the other sprinklers of the same price range.
Overall, it has a coverage area of 3767 sq. ft. and 2 or 3 of it can serve a standard-sized lawn perfectly. As expected, the nozzles are anti-clog and are easy to unclog. The sprinkler will work even in low water pressure, although we recommend higher pressure to achieve the desired watering coverage.
---
FAQs
What is the most efficient way to water a lawn? If you're not watering your lawn with a sprinkler, I wonder how you're doing it. Honestly, the most efficient way to water a lawn is to use a sprinkler.
What kind of sprinkler will cover large areas of my lawn? Having multiple sprinklers connected can serve your large lawn. Make sure the sprinkler you're about to buy supports the flow-through design. A pulsating or oscillating sprinkler is perfect.
---
Final Words
Tractor sprinklers are great for large lawns, while circular motion sprinklers are great for round-shaped lawns. Take the responsibility of watering your lawns off your shoulders by buying one of these sprinklers. Please read our review of the best self-propelled lawn mowers if you're looking forward to a well-trimmed lawn.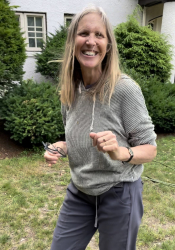 Latest posts by Jessica Zander
(see all)
Hello! I'm Jessica Zander, a garden coach and consultant based in the Boston area (zone 6b), offering virtual consultations across the country and Canada.
I've been passionate about gardening since the early 1990s, and in 2022, I launched You Can Do It Gardening to empower individuals to feel more confident in their gardening endeavors.
Following a 30-year career in nonprofit finance and operations, I transitioned out of that field in mid-June of 2023 due to the growing demand for coaching services. Interestingly, my years of presenting financial statements to boards and finance committees proved to be valuable experience for teaching people about gardening! I enjoy sharing skills, providing guidance and suggestions, and collaborating efficiently with clients to make significant improvements to their outdoor spaces, both small and large. I also regularly teach at the Arlington Continuing Education and Cambridge Adult Education.
My approach is direct and practical, akin to Mary Poppins, but tailored to your garden. Clients find satisfaction in saving money and taking pride in their own gardening achievements.