Self-propelled lawn mowers belong to the category of heroes that don't wear capes. If you live in a house where your lawn is hilly, you'll understand how tough it is pushing a non-self-propelled mower up the hill. Getting a good self-propelled mower that is less expensive can be tough considering the fact that a greater percentage of the ones available in the market are pricey. In this review, we've handpicked five self-propelled lawn mowers that get the job done for less.
Which brands made it to the list? Let's find out.
---
Self Propelled Gas Lawn Mowers: Comparison Table
| | Best Self Propelled Gas Lawn Mower | Engine | Speed | Type |
| --- | --- | --- | --- | --- |
| 1 | Remington RM310 Explorer Lawn Mower | 159cc MTD engine | Multiple | RWD |
| 2 | Greenworks 40V Self-Propelled Lawn Mower | Brushless motor engine | 2-speed | RWD |
| 3 | PowerSmart DB8621S Gas Self Propelled Mower | 159cc Briggs & Stratton engine | 1-speed | RWD |
| 4 | Troy-Bilt TB220 FWD Self-Propelled Lawn | 159cc MTD engine | 1-speed | FWD |
| 5 | Husqvarna LC121FH FWD Lawn Mower | 149cc Kohler engine | 1-speed | FWD |
---
Buying Guide: Self Propelled Gas Lawn Mower
---
Ready to make your purchase? Here are some pointers you should have at the tip of your fingers. This is a concise answer to the question, "what should I look for when buying a self-propelled gas lawnmower?"
The Type of Self-Propelled Mower
Self-propelled lawn mowers come either as
RWD – Rear-wheel drive mowers.
FWD-Front wheel drive mowers.
The rear wheeled mowers offer great maneuvering when compared to the front-wheel-drive models.
This is because the propelling force comes from the rear where the weight of the mower is concentrated.
Front-wheel drive mowers are not so great when it comes to maneuvering. However, this doesn't mean it will pose any challenges when mowing your lawn.
Having known these, the next thing to consider is the size of your lawn.
---
Best Self Propelled Gas Lawn Mowers Reviewed
---
The best self propelled lawn mower for this price category is the Remington RM310 mower. We selected it for several reasons, which are listed below. Firstly, it is a mower with the much revered 3-in-1 capability. As we mentioned in the buying guide section, lawnmowers with 3-in-1 capability allow you to do more than mow your lawn.
Again, it also saves you a considerable amount of time since it mulches and bags the grass clippings while you're mowing the lawn. Secondly, it is a rear-wheel-drive mower. RWD mowers are known to offer more mowing flexibility than their FWD counterparts. The RM310 mower comes with a great 159cc engine which is made by MTD in partnership with Remington. In all honesty, the engine is on par with engines from Briggs and Stratton.
We love the fact that the engine is paired with a SureCut blade that cuts effectively. It is designed in such a way that it lifts when cutting to enable proper mulching without clumps. And to ensure that enough power is delivered, Remington equipped the RM310 with an auto choke feature. In addition to that, the mower comes with a 21-inch steel deck.
The deck is made from rust-resistant steel which is properly coated to ensure longevity. In terms of speed, the RM 310 has a speed lever that allows you to increase the speed slightly. Raising the lever to the highest level will send the mower on its way and you'll have to do some jogging to keep up the pace with it.
For your height needs, you have the option to set your mowing height up to 6 different heights. This can be done by slightly adjusting the dual-lever which controls the height. The handle of the mower is also adjustable so you won't lean when using it. Out of the box, the mower is easy to set up. It requires just gas and oil to get going. You can also decide to adjust the wheel's height to suit your needs.
To turn on the mower, simply pull the pull cord to get the engine running. An electric start button would have been great, but it would have cost more considering RM310's features. Remington offers the RM310 self-propelled lawnmower as one of the R series mowers. Other members of the family include
The RM110 132cc engine mower with 2-in-1 function. (Push)
RM130 Push mower with a 140cc engine and 21-inch swath.
The RM210 FWD Self-propelled mower with a 159cc engine and 21-inch swath.
RM410 159cc 21-inch AWD self-propelled mower.
Let's not forget to mention that the mower comes with 8-inch wheels both in the front and the rear.
---
We previously reviewed the PowerSmart lawnmower. It's the best gas-powered self-propelled mower. It features a 159cc Briggs & Stratton engine and has just one-speed level and 5-height levels. However, it is a rear-wheel-drive mower. Out of the box, it is easy to set up and takes just one pull to get it up and running. We talked more about it in this review.
---
It's sometimes difficult to find an affordable product that can meet one's needs. However, we were able to find the Troy-Bilt TB220 mower. Troy-Bilt offers the mower in two different variants; one is the 2017 Edition while the other is the 2018 Edition. For this review, we took a look at the 2018 Edition.
The mower is powered by a 159cc OHV engine which is designed by MTD. It is almost exactly the same as the engine on the Remington RM310 mower we reviewed first. Like every other mower on this list, it comes with a 21-inch deck that is made of steel. The deck is coated in red and looks pretty much durable although time will tell if it's durable or not.
The TB220 mower is lightweight although it weighs a few pounds more than the PowerSmart DB8621S Gas Mower. For cutting your grass, you get to choose the height from three different height levels. You can also make use of the 3-in-1 capability and side discharge, mulch, or bag. It comes with a grass-catching bag. As for the wheels, they are 8 inches all round in contrast to the 6 and 8-inch wheels on the Greenworks mower. There is a lever that controls the front wheels and another that controls the rear wheels.
This helps you raise the height of the wheels when cutting rough terrains. The handle is adjustable allowing for more work to be done with more comfort. Aside from that, you can easily fold the handle when you want to store the mower away after use. Setting up the mower is easy and requires just one pull to get it up and running.
---
To wrap up this review of the best self-propelled gas lawn mowers, let's take a look at the Husqvarna LC121FH lawnmower. The Husqvarna LC121FH mower is a front-wheel-drive self-propelled lawnmower. It features a 149cc Kohler engine which gets the job done at a pretty brisk pace. We were kind of disappointed to find out that this mower had just one-speed setting. Even though the speed is okay, we think a dual or triple speed setting would have made it sell like hotcakes.
It does, however, make up for its deficiency by having a 3-in-1 capability as well as a 21-inch cutting deck. The mower offers a four-point cutting height adjustment. In addition to the adjustable cutting height, it features rear 8 inch wheels. A much smaller set of wheels are found in the front. The wheels move freely and even though it's an FWD mower, maneuverability is relatively easy.
Out of the box, it is easy to set up and it comes with free oil for the engine. It takes a quick pull to get the engine running. Top up the gas and you're good to go. When in use, you'll probably notice that the mower blows the grass out the back and then to the side. If you're not wearing work boots, you'll definitely have dirty feet to wash when you're done with the mowing. Unlike the Greenworks 40V mower, this Husqvarna mower cannot be pulled backward.
---
Greenworks 40V Self-Propelled Lawn Mower
Features: 40V Battery-powered, 21-inch deck, extra battery storage, 3-in-1 function, 8-inch wheels, can be pulled backwards, Electric start button, folding handle. .
If you're looking for a self-propelled electric start lawn mower, the Greenworks 40V mower fits the description. It's arguably the best electric start self-propelled lawnmower. From afar, the green and black color of the mower gives it an appealing look which blends perfectly with lush green grass.
Greenworks offers this mower in three different variants;
Two non-self-propelling 40V models without battery one of which comes with an extra cutting blade.
The 40V self-propelled model (under review).
Unfortunately, none of the models comes with a battery. This is a huge turn-off, honestly speaking. They're definitely going to arm-twist us into buying batteries although the batteries don't cost much. However, you get the battery chargers. The mower features a 21-inch steel deck made from durable steel materials. This steel deck comes with an added battery compartment that allows you to carry an extra battery.
Carrying an extra battery increases the runtime of the mower thus allowing you to do more before recharging. The mower automatically switches to the next battery when one battery is depleted. Make sure you charge the batteries for at least two hours before you begin to mow with them. The 4ah batteries are the best as they offer longer run time.
We didn't expect the mower to come with the 3-in-1 capability, but it does. So you can side discharge, mulch, and bag your clippings as you mow. Great way to save a ton of time, isn't it? Unlike the Remington RM310 we reviewed above, the Greenworks 40V mower comes with 8-inch tires on the rear. To the front, you'll find the smaller wheels. The wheels on the mower have ABEC 7 bearings which allow for easy maneuvering.
In this review, we came across a fundamental question; can this mower be pulled backward? Yes, you can pull it backward. However, it would be best to deactivate the self-propel mode by releasing the lever that controls it. Only then can you be able to move the mower backward. Greenworks added their new brushless motor on this mower. The brushless motor is designed to offer longer motor life as well as reduced noise. This is evident in this mower's low noise when compared to some of the other electric-powered cordless self-propelled mowers.
For speed controls, you'll have to stick with the single-speed they offer. A dual-speed model would have been great. We almost forgot to mention that this Greenworks mower comes with an electric start button. Yay! Finally, a self-propelled mower with an electric start button not to mention that the handle folds away making storage easier.
---
Final Words
---
For a cleaner environment and for easy mowing of your lawns, a self-propelled lawnmower is definitely a must-have. It takes the stress of pushing off your shoulders so you can mow with one hand and sip a cold drink with another.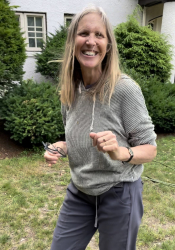 Latest posts by Jessica Zander
(see all)
Hello! I'm Jessica Zander, a garden coach and consultant based in the Boston area (zone 6b), offering virtual consultations across the country and Canada.
I've been passionate about gardening since the early 1990s, and in 2022, I launched You Can Do It Gardening to empower individuals to feel more confident in their gardening endeavors.
Following a 30-year career in nonprofit finance and operations, I transitioned out of that field in mid-June of 2023 due to the growing demand for coaching services. Interestingly, my years of presenting financial statements to boards and finance committees proved to be valuable experience for teaching people about gardening! I enjoy sharing skills, providing guidance and suggestions, and collaborating efficiently with clients to make significant improvements to their outdoor spaces, both small and large. I also regularly teach at the Arlington Continuing Education and Cambridge Adult Education.
My approach is direct and practical, akin to Mary Poppins, but tailored to your garden. Clients find satisfaction in saving money and taking pride in their own gardening achievements.