When it comes to gardening, having the right tools is crucial for success. One of those is tillers. Finding the best tiller for roots is essential to make room for young roots, break up loose soil compost, trigger fertilization, and start fresh turf.
However, not all tillers are created equal, and choosing the wrong one can result in frustration and disappointment. Hence in this article, we will review the top 5 tillers, their specs, pros, and cons. It will also include everything to know before purchasing and FAQs.
Let's build a beautiful garden!
A Sneak Peek Into Using Tillers for Roots
Tiller is an agricultural garden tool used for cultivating soil and preparing it for planting. Using tillers for roots aids the soil loosening around plants.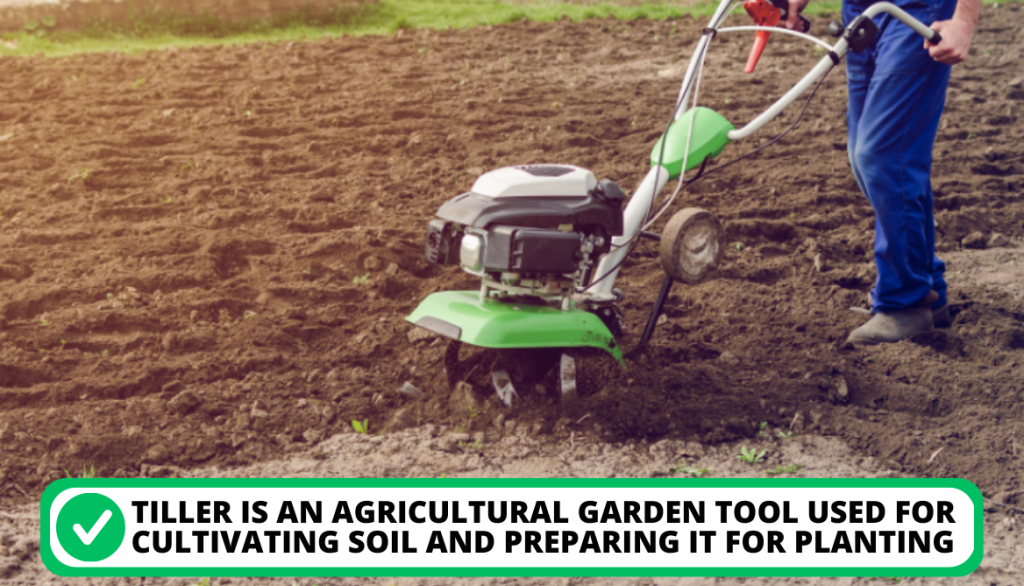 Tillers are especially useful for root vegetable gardens of carrots, potatoes, and turnips.
It creates better air circulation and provides space for water that helps roots suck nutrients from the ground easily.
They should not be used on soil that is too muddy or too dry.
Wet soil may create clumps. While if it is too dry, the tiller may not be able to penetrate the soil deep enough to reach the roots.
It is also important to use the correct tiller for the job. There are lots to consider including size, warranty, brand, etc. hence we have built a side-by-side comparison to help you with the decision. Check it out.
Adjustable 8.25

inches to 10 inches

Adjustable 11 Inches,

16 inches, 21 inches

11.64 inches

Removable Tines

13 inches self-

sharpening 
Our Picks for Best Garden Tillers for Roots
We selected these top 5 garden tillers for roots based on their ability to effectively till through tough soil conditions, particularly roots. Each tiller offers unique features and benefits including:
Powerful engines
Adjustable tines
Environmentally-friendly designs.
But most importantly, all of these garden tiller models have received positive reviews from customers, providing further confidence in their usefulness and reliability. Let's learn their specs and what specialty each model possesses.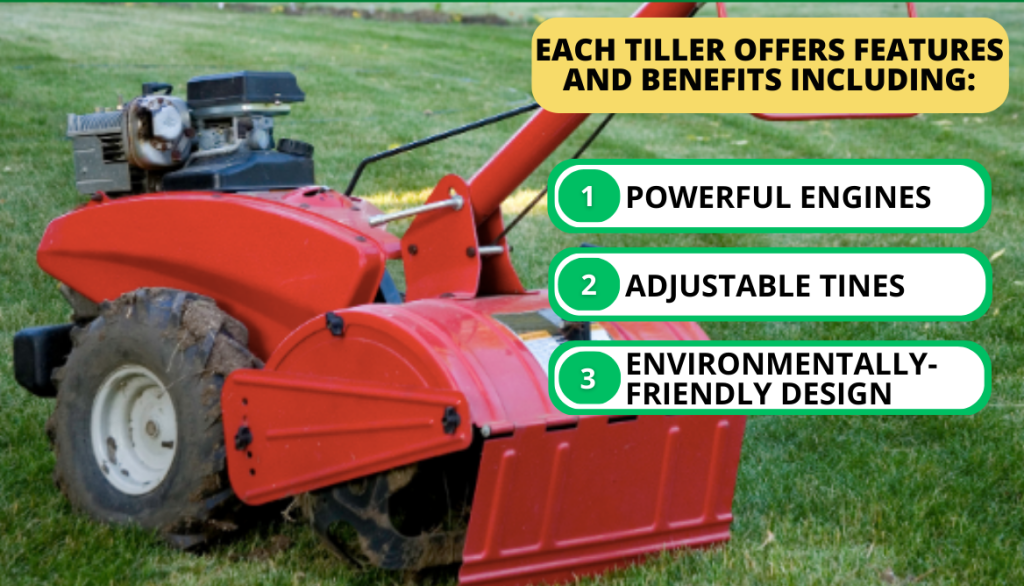 The Tazz 35310 2-in-1 Front Tine Tiller is versatile and easy to use and perfect for smaller gardens that have lighter soil conditions. Made with welded forged steel tines, and adjustable tines that can till up to 11 inches wide and 9 inches deep.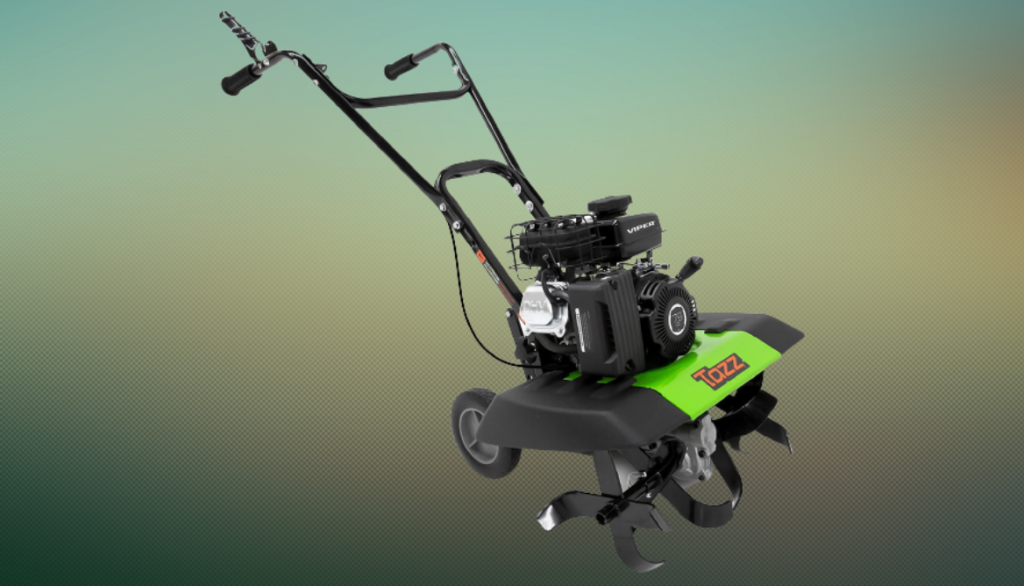 It features a powerful 79cc Cycle Viper Engine
This tiller also comes with a 3-year warranty, which is longer than most other models on the market.
Easy to maneuver and storing helped it feature on our list.
Let's see what else it offers.
Pros
2-in-1 design (tiller and cultivator.)
Ergonomic handle with 4 height position that doesn't let the operator strain.
Rugged forged tines give outstanding results.
Starts with a simple recoil pull.
Side shields and outer tines are easily removed.
Cons
Has a small engine. It may struggle with tougher soil conditions.
Assembly required.
Tazz 35310 2-in-1 Front Tine Tiller Specification
| | |
| --- | --- |
| | 11 inches, 16 inches, 21 inches |
| | |
| | |
| | |
| | |
| | |
The Greenworks 8 Amp 10-Inch Corded Tiller is an affordable and lightweight tiller that is perfect for smaller gardens and lighter soil conditions. It features a powerful 8-amp motor and adjustable tines that can till up to 10 inches wide and 5 inches deep.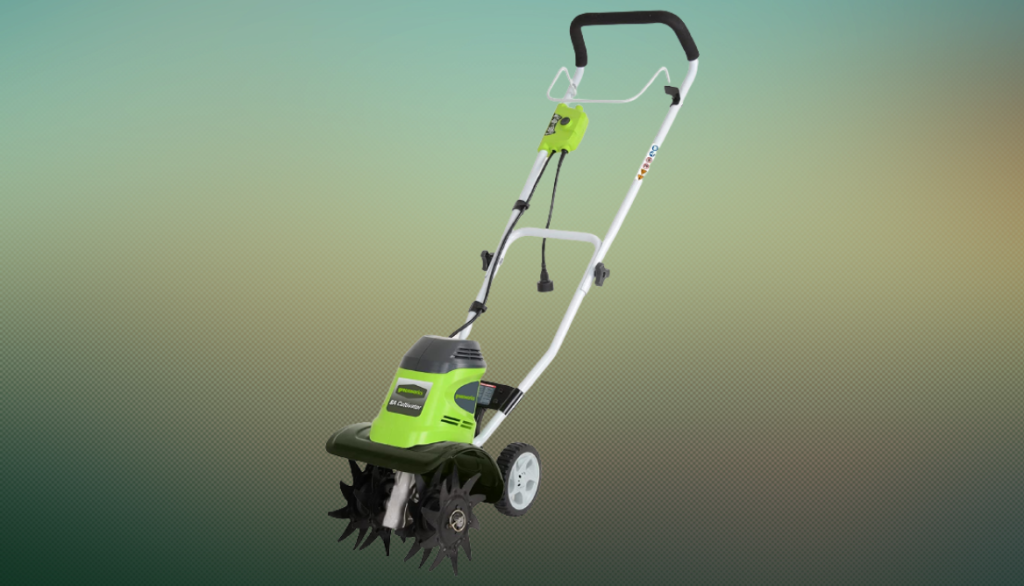 This electric garden tiller is also environmentally friendly and easy to maintain, as it doesn't require any gas or oil. Check out more of its amazing pros and cons.
Pros
4 tines break the toughest soil surface.
Affordable price point.
Quick push button start.
Low-maintenance design with no gas or oil required.
The power source is a cord for plug-and-go operation.
Foldable handles allow for comfortable storage.
Less noise.
Cons
Corded design limits mobility. Requires an extension cord.
Narrow tilling width compared to other models.
Greenworks 8 Amp 10-Inch Corded Tiller Specification
8.25 inches to 10 inches (Adjustable)

3 Years warranty on tool and battery,

4 Years warranty defects in materials
The YARDMAX Dual Rotating Rear Tine Tiller is a powerful and durable gas tiller that is perfect for tilling tough roots and compacted soil. It features a Briggs & Stratton 208cc gas engine that delivers exceptional power and performance.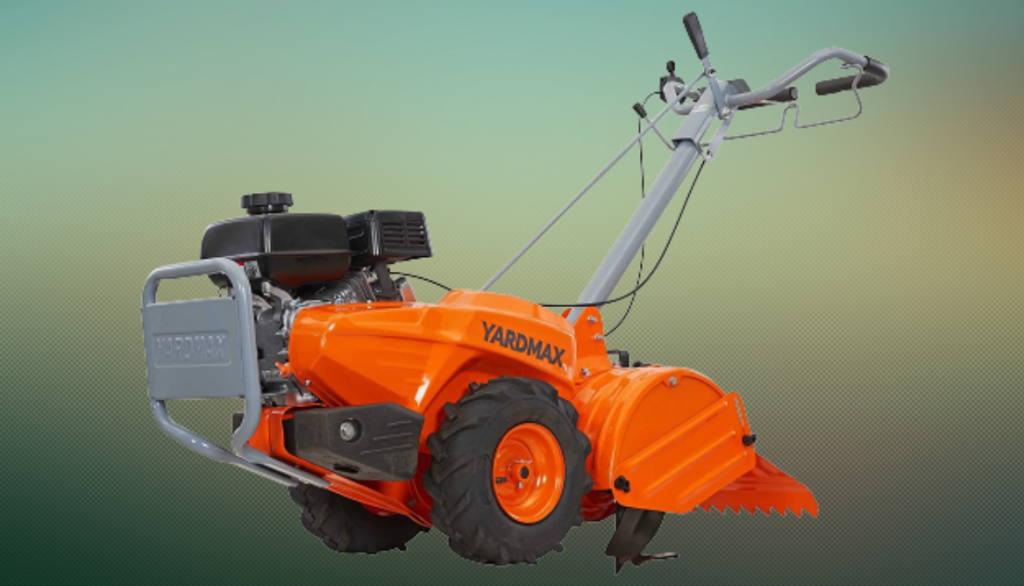 The dual rotating tines are adjustable and can till up to 18 inches wide with 6.5 inches of deep tilling.
This rear tine tiller also comes with a 2-year residential warranty, giving you peace of mind that your investment is protected.
Read below to learn more about it.
Pros
Throttle control helps adjust engine power.
Self-propelled design helps that is easy to maneuver
Has a reliable engine from the renowned brand Powerful Briggs & Stratton
Modifiable tines for customizing depth and width.
Durable and long-lasting ensure longevity.
Cons
Heavy and difficult to transport
Higher price point compared to some competitors.
YARDMAX Dual Rotating Rear Tine Tiller Specification
9.2 ft-lbs gross torque/

190 RPM rotational speed

2-Year Residential;

90-Day Commercial
The Sun Joe TJ604E is a powerful and versatile electric tiller that is suitable for both small and large gardens. It features a robust 13.5-amp motor and adjustable tines that can till up to 16 inches wide and 8 inches deep.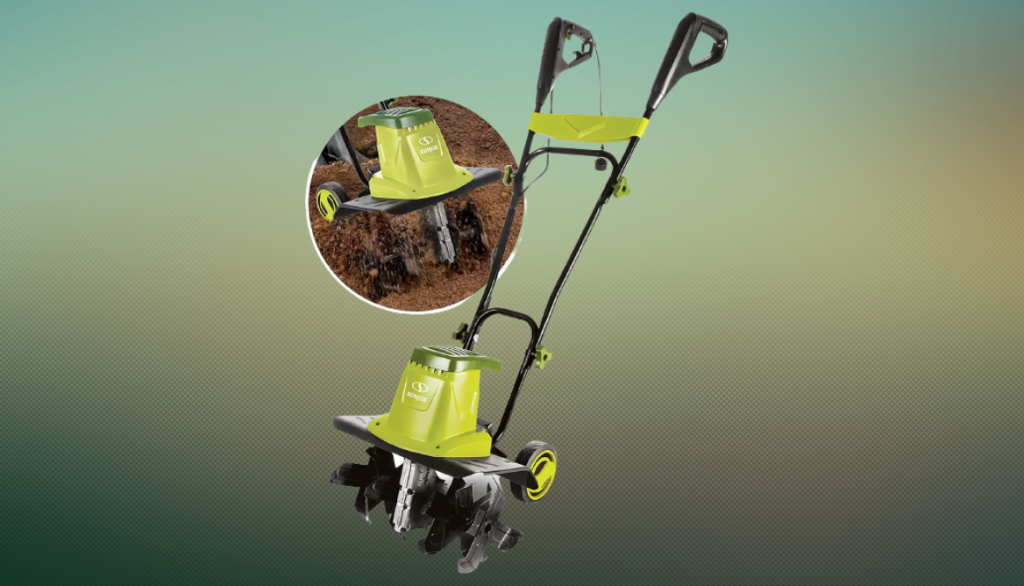 Additionally, this garden tiller also features 6 steel angled tines that are perfect for tilling tough roots and compact soil.
Scroll to learn what else is possible with this machine.
Pros
Foldable handle for compact storage in tight spaces.
Safety switch prevents accidental start-ups.
3-position wheel adjustment.
Adjustable height control for custom tilling depth.
Powerful motor gives great value for money.
Cons
Poor traction on muddy soil.
May not be suitable for very large rocky soil grounds.
Sun Joe Tiller TJ604E Specification
The Earthwise garden tiller (TC70016) is a corded electric tiller that is powerful and reliable. Earthwise tiller features a 13.5-amp motor and adjustable tines that can till from 11 inches up to 16 inches wide as well as 8 inches deep.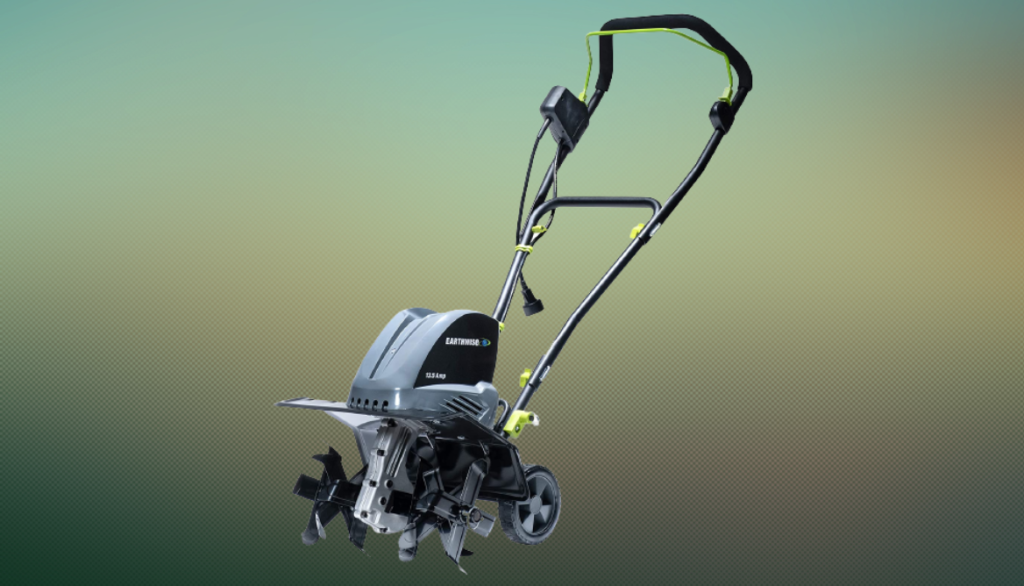 It is perfect for tilling through tough roots and compacted soil.
This electric garden tiller also has an ergonomic handle design that makes it comfortable to use.
It is environmentally friendly since it doesn't produce any harmful emissions.
Pros
Plenty of torque allows efficient tilling.
6 sharp and sturdy tines help break the hardest soil surfaces.
Environmentally friendly with no gas emissions.
No gas or oil is required.
Adjustable tilling depth and width make it suitable for a wide range of gardening needs.
Flip-down transport wheels.
Cons
Heavier than some other electric tillers.
Earthwise TC70016 16-Inch 13.5-Amp Corded Electric Tiller Specification
Garden Tillers for Roots – Must Know Before You Buy
If you're in the market for a garden tiller specifically designed for roots, there are a few things to keep in mind before making a purchase. Following are some key factors to consider when shopping for garden tillers for plant roots.
1. Power Source
The first thing to consider when shopping for a tiller for tree roots is the power source. There are three main types of tillers based on their power source. They are battery, electric, or gas tiller. Read below to determine which would be the best garden tiller power source for your roots.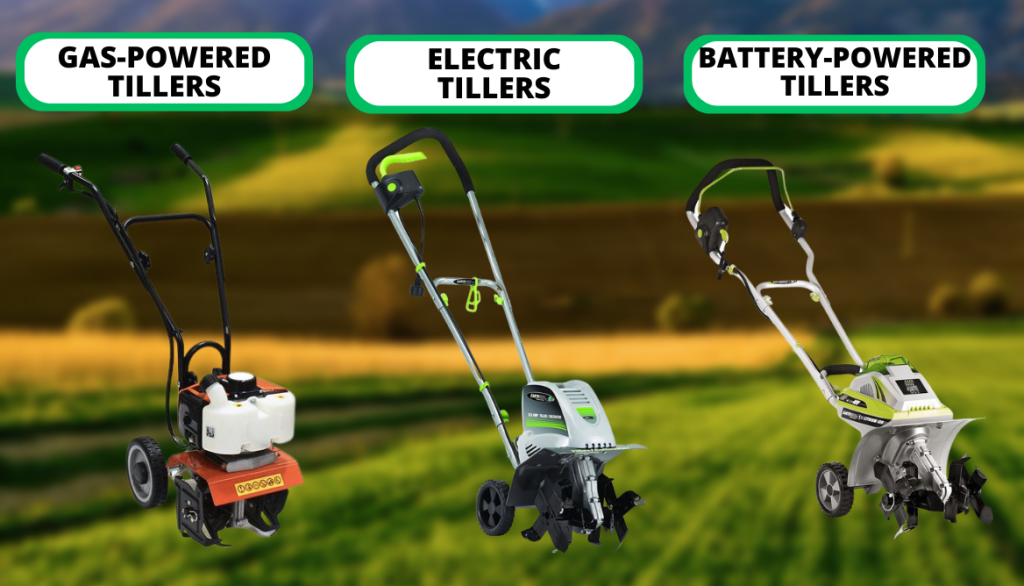 Gas-powered tillers
Gas tillers are typically the most powerful and are suitable for larger gardens or tougher soil conditions. However, they can also be heavier, louder, and more expensive than other types of tillers.
Electric tillers
Electric garden tillers are quieter, better for the environment, and require less maintenance than gas-powered tillers. Electric garden tillers are also typically lighter and more affordable. However, they may not be as powerful and are limited by the length of the power cord.
Battery-powered tillers
Battery-powered garden tillers or cordless tillers are a relatively new option that offers the convenience of cordless operation. They are quieter and more environmentally friendly than gas garden tillers and are typically more powerful than corded tillers and electric models.
However, a cordless tiller is limited by battery life and may not be suitable for larger gardens or tougher soil conditions.
2. Tine Position
Keep the tine position on top of the checklist when making the buying decision. The position of the tines is crucial because the blades do the actual tilling. Here are its three types:
Rear tine tillers: These are designed for large roots such as trees and shrubs. They are suitable for larger gardens and tougher soil conditions. They are typically more powerful and can dig deeper than front-tine tillers.
Front tine tillers: Use these for shallow roots. They are more affordable and suitable for smaller gardens with softer soil conditions. They are also typically lightweight tillers and more maneuverable than rear-tine tillers.
Mid-tine tillers: This type is used for vegetables and flower roots. These are less common option that offers a balance of power and maneuverability. They are typically suitable for medium-sized gardens with moderate soil conditions.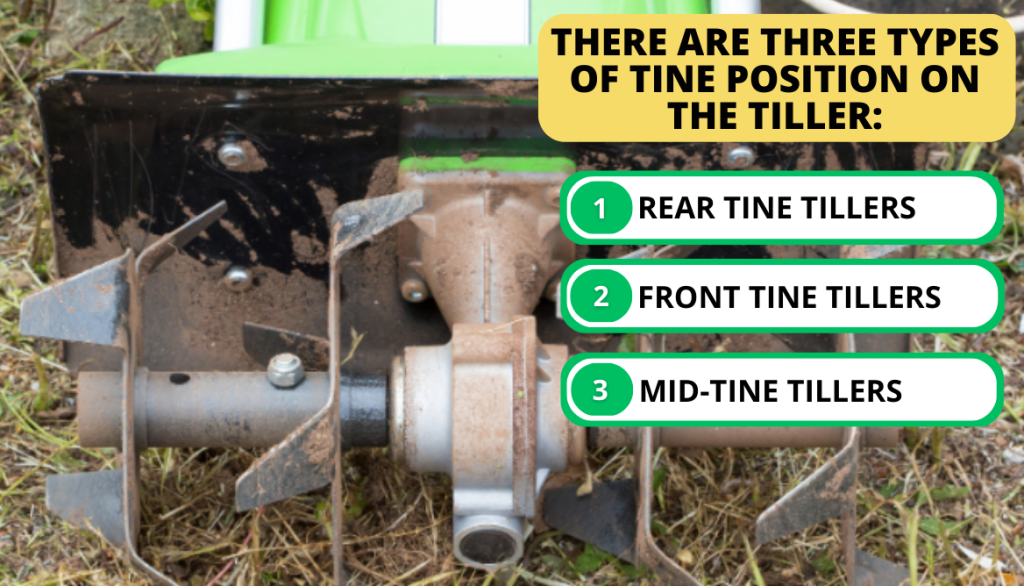 3. Size of the Land
The size of the tiller is an important consideration when choosing between garden tillers, as it will determine how well it will perform on your lawn.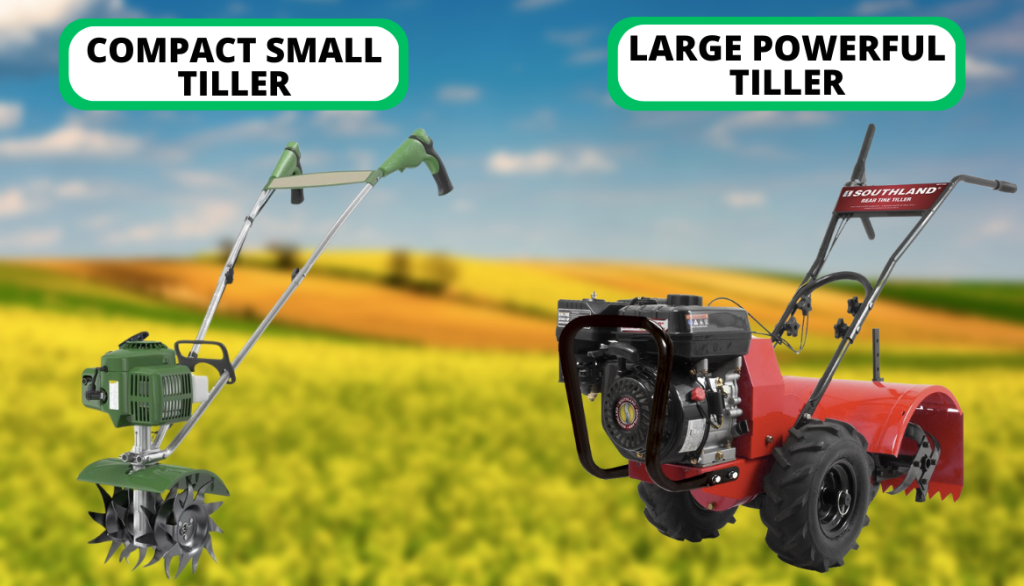 Compact Small tiller
If you have a small lawn, a compact tiller will be enough and save you space in the storage area. Go for corded electric tillers, with front tines. From our list, you can pick Greenworks 8 Amp, Earthwise TC70016, or Tazz 35310.
Large Powerful tiller
If you have a larger area to till or tougher soil conditions, you may need a heavier tiller to get the job done efficiently because a smaller one would break down and exhaust before you can cover the ground. You can select the YARDMAX Dual Rotating tiller from our list.
4. Soil Type of the Land
The type of soil is one of the keys to buying an appropriate tiller for roots.
If you have hard or compacted, tough soil, you'll need a tiller with enough power to break through it.
The number of blades needs to be 4 to 6. The teeth of the blades need to be sharp to chew through the soil.
If you have sandy soil, you'll want a tiller that can handle the loose texture of rocky soil.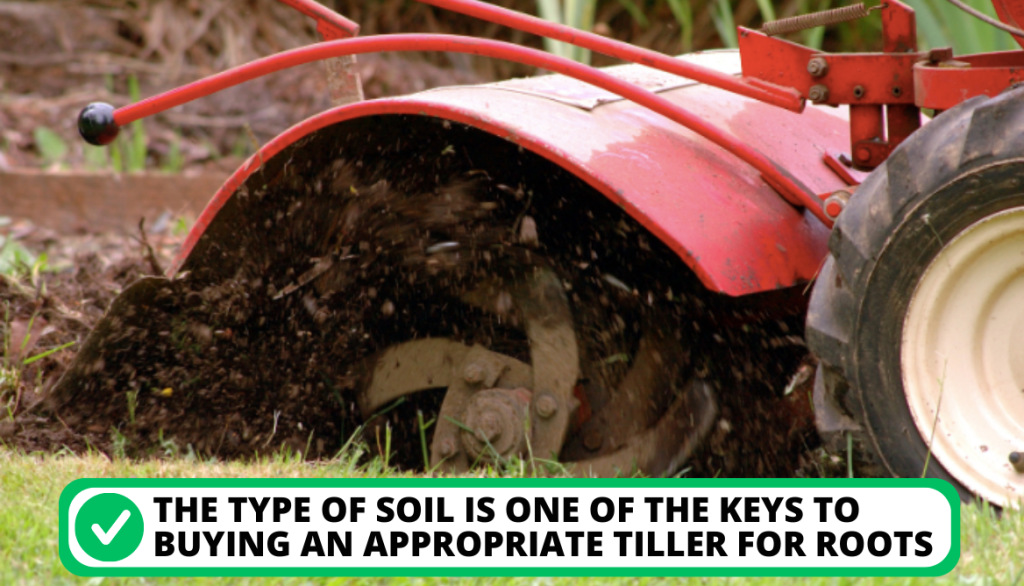 5. The Engine of the Tiller Cultivator
If you're considering an electric or gas-powered tiller, voltage, and engine displacement are important factors to consider. Let us break them down.
Corded electric tillers: Go for the motor having higher power for more effectivity, but do keep in mind that it will come at the cost of a higher price point.
Gas Garden tillers: You have to review engine displacement with gas tillers. Larger engine displacement typically means more power, but also a heavier tiller.
If you are looking for tillers that consist of engines rather than an electric motor then you must consult the vendor about the following. Give it a read.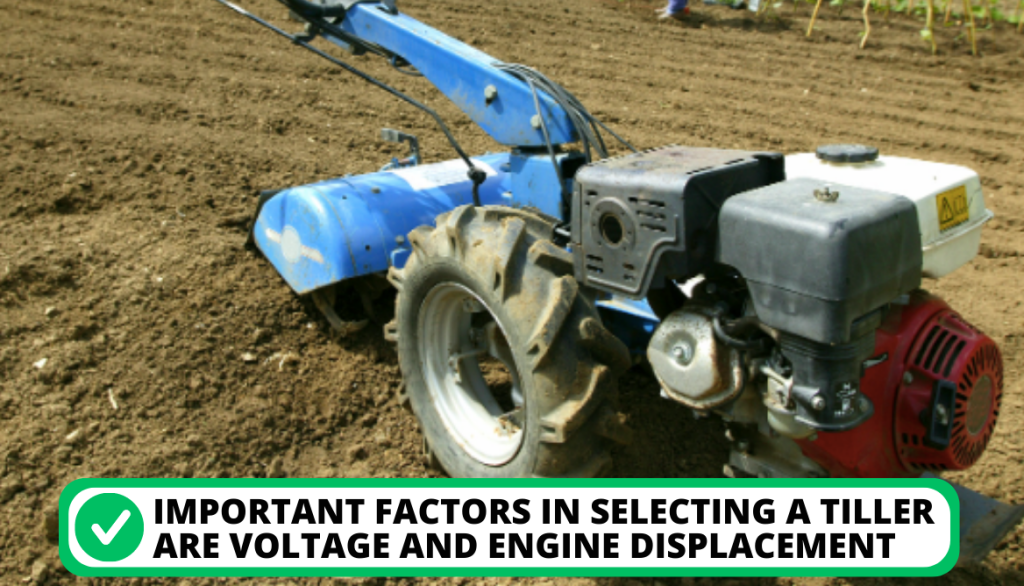 Engine size
The size of the engine is also an important consideration. Generally, larger engines will be more powerful, but they will also be heavier and more expensive. If you have a smaller garden or lawn, a non-heavy-duty engine may be sufficient.
Fuel type
Tillers can be powered by gas, electric, or battery. Gas-powered tillers are typically more powerful, but they are also heavier, noisier, and require more maintenance.
Electric tillers and battery tillers are generally more environmentally-friendly and easier to maintain, but they may not be as powerful as gas-powered models.
Starting Mechanism
The starting mechanism is another important consideration. Some gas garden tillers require a pull-start, which can be difficult for some users, while others have an electric start, which is easier to use. Electric and battery-powered tillers typically have a push-button start.
Over Verdict
Each of the garden tillers mentioned in the list has its own unique set of features and benefits. The best tiller for you will depend on your specific needs and preferences. Although if you ask us we will pick Tazz 35310 2-in-1 Front Tine Tiller. Here's why we love it so much.
Tazz 35310 2-in-1 Front Tine Tiller/Cultivator
It is both, a garden tiller and a cultivator.
Its massive 21-inch adjustable tilling width is heroic.
Recoil pull start saves us from a ton of headaches.
A torque of 3.32 ft-lb and 2500 RPM is unmissable.
The 79cc engine is not that heavy yet is able to cover the most stubborn grounds.
FAQ
Can a tiller remove roots?
A tiller can remove roots. Most garden tillers cut small roots effortlessly, the heavier tillers are able to cut even larger and stronger roots. The cutting ability depends upon blade size.
Which is better forward or reverse tiller?
The better option between forward and reverse tillers depends on the task at hand. If you need to run it on a small garden forward tiller is better but a bigger area will require reverse rotation heavy tillers.
What tool removes roots?
Gardening Tools that remove roots are gardening shears, shovels, spades, a pruning saw, or a tiller.
What is better a tiller or a cultivator?
The better option between a tiller or cultivator varies on the task you need to accomplish. A cultivator is used to prepare an established garden bed. Tiller is used to creating a new garden bed and digging deep for aerating soil.
How can I get rid of my roots fast?
Running a garden tiller on the garden beds and the old roots will remove them fast and new fresh soil for a garden bed will come at the top.
Conclusion
To purchase the best tiller for roots in your lawn keep in mind the size of the area you need to cover, the type of soil you will run it on, and the best power source you can provide.
If you have to cover a bigger area with hard soil, choose a gas-powered engine that has a wider tilling width and depth. If your garden is small you can choose an electric tiller or a cordless hand tiller. It will fold and would be lighter than average.
Do share with us, what decision did you come to? Which one of the tillers are you going to buy and why?