Selecting that perfect lawn grass for your home has become very difficult as there are many choices out there. But if we look at Fescues and crabgrass then a very easy crab grass vs fescue study would narrow down the whole argument!
Water needs, maintenance cost, drought resistance, foot traffic, growth habits, use, & mowing will decide which one you would choose. But do your research and find out what fulfills your requirements the most. In the meantime, let us enlighten you with what we know!
Fescues adjust to the cold better than crabgrass.
Crabgrass may be parasitic in nature but they have its uses. E.g. animal feed.
If the growth rate is what you need then crabgrass is your winner!
A Quick Comparison of Crabgrass vs Fescue grass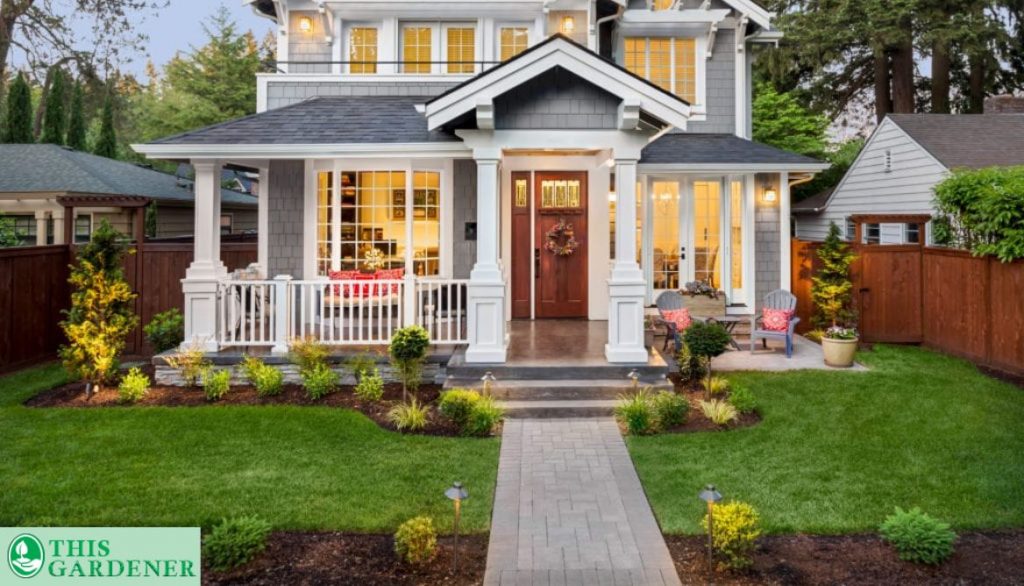 A critical comparison of these lawn turfs will decide whether you will select fescues or crabgrass. Regardless of what people say, you will find out that both of them have some very interesting secrets up their sleeves. Let's check it out ourselves!
If you are someone who owns livestock then both of the grasses are suitable for pastures.
Wanting an aesthetic lawn might convince you to opt for fescues rather than crabgrass.
If you have been looking for the all-year-round bright green grass then fescues are for you, not crabgrass.
Key Differences Between Crabgrass vs Tall Fescue
Let's highlight some of the emergent differences both the grasses:
Tall Fescue:
Ideal option for lawn turf.
Able to withstand sunlight.
Able to tolerate heat.
Survives easily in well-drained soil.
Rich green or dark green color.
Requires 7-21 days growth time.
Crabgrass:
It can be easily spotted on corners or edges of lawns.
Ideal for growing as a pasture grass.
Spreads quickly.
Produces seed and dies thus having a limited lifespan.
What is  Crabgrass?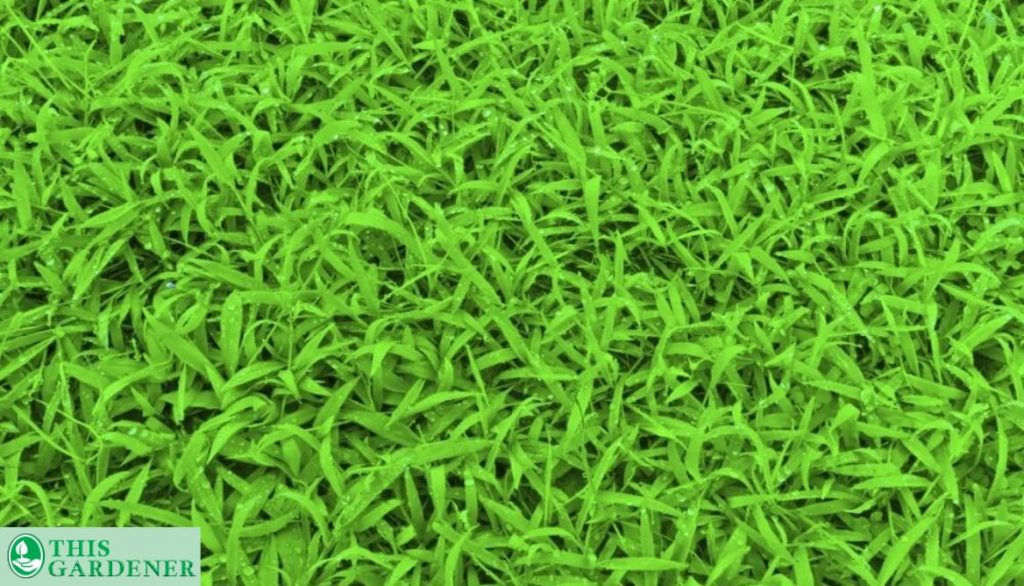 It is labeled as an invasive weed grass type that invades lawns. You may notice it more commonly during the month of May, June, & July.
Identifying Crabgrass
Grows at the sides of the lawns.
Bundle-like growth appearance.
Various shades range from light to dark green.
The leaf connects to the stem via a transparent membrane-like layer.
0.25 cm wide grass blades.
Grows well in early spring.
Considered in the grassy weeds species.
What is Tall Fescue grass?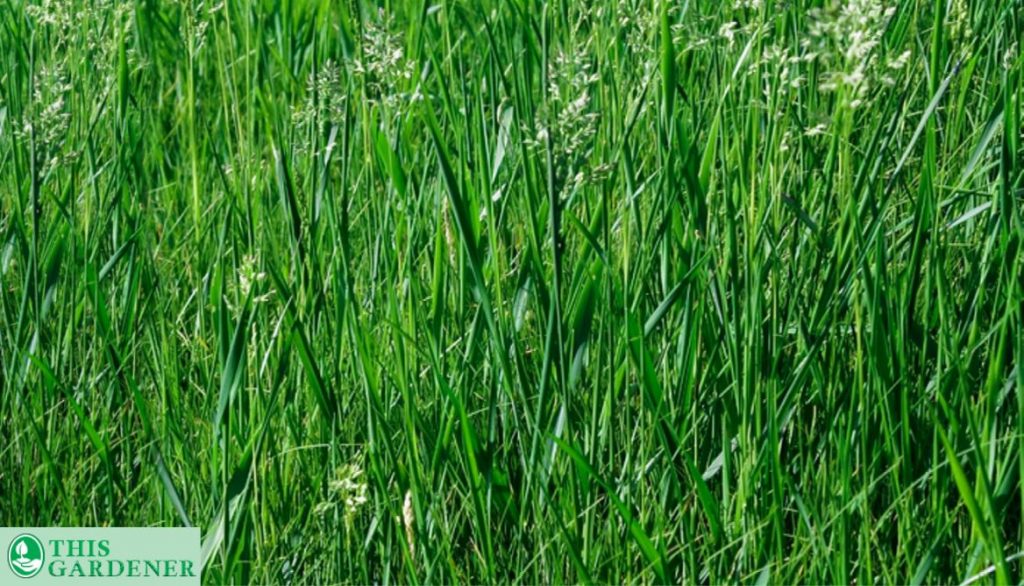 It is a grass type that is famous for its bundle-like growth habits. It is considered one of the most ideal plantations as a pasture grass for animals.
Identifying features of Tall Fescue grass
Bright green colored leaves.
Very attractive-looking grass.
Flat and broad grass blades.
Comparing  Crabgrass vs Fescue grass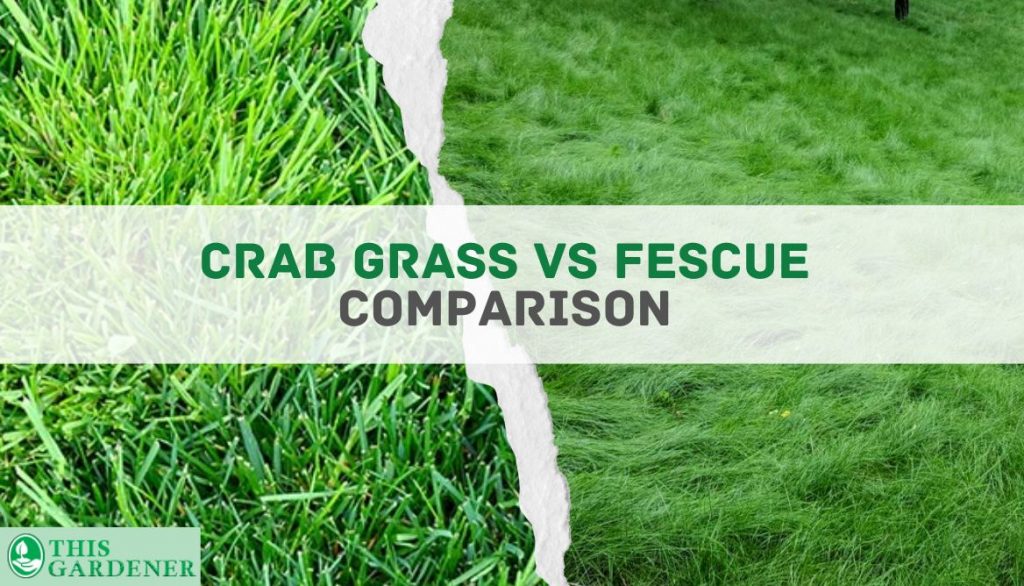 Tall fescue is very famous among lawn owners. Coarse tall fescue is considered a suitable candidate for growing as a turf grass for a beautiful look. You may notice it being grown for its thick and lush turf coat.
Crabgrass may not have a very dominant function as grass but as weed grasses, it serves its purpose. Since it is edible by livestock and it is aggressive in nature. The grass serves as a suitable choice for pasture grass in comparison to its counterpart aka coarse tall fescue.
Appearance
Tall fescue is easy to spot anywhere as it is dark green in color and has a bundle-like appearance. Crabgrass on the other hand varies in shades, it is also a bundle grass but its stems branch out like crab legs hence giving it its name.
Weeds, growth and sod formation
Tall fescue has above-average tolerance to most weeds that grow on the lawn. Hence, proving to be highly competitive in nature.
Crabgrass is in itself a grassy weed so it spreads quickly and chokes out any competitor weeds that might be present.
Best Uses for  Crabgrass vs Fescue grass  (Wear tolerance and recovery)
Fescue is a favorite diet for livestock and it can also be used in areas where there is heavy traffic such as school grounds, golf courses, etc.
Crabgrass does not serve much of a purpose. But it is edible, so you can feed your livestock to it or if controlled, it can fill in the bare spots in the lawn. It has excellent recovery and spreads quickly.
Soil Types and pH Needs
If you are worried about fescue grasses being sensitive grass then you are wrong. It can easily grow in various types of soils. The ideal pH level it demands is 5.5 to 7.0.
Crabgrass finds sandy and clay soil the best growing soil for itself. Well–drained soil is its favorite spot. This weed grasses species requires a 5.5 to 7.0 pH level to grow its grass seed.
Water Needs
Tall fescue is not a very demanding grass in terms of watering. A routine watering level of 1″ per week can easily sustain its growth. Less than that can kill tall fescue.
If you want crabgrass to not spread like a plague then watering less than twice can help control the weed spreading.
Fertilizer requirements
Among all other plants such as bermuda grass, perennial grass, and bluegrass lawn, coarse tall fescue requires an average amount of fertilizer. An amount of 1-3.5 pounds of nitrogen-based fertilizer per 1000 sq ft will be enough once during fall and then afterward during spring.
Among various weed kinds of grass, crabgrass is one of the kinds of grass that requires a little more than the average amount of fertilizer. An amount of 50-60 pounds per acre is more than enough to spread it as a pasture area for animals. Ensure to restrict excess fertilizing.
Sun, Shade, and Temperature Requirements
Tall fescue performs pretty nicely in sun and is shade tolerant. Furthermore, it can withstand hot temperatures with ease.
Crabgrass is a very greedy weed grass that thrives in sunlight. It can withstand average shade but long exposure can be a problem for it. Tolerating high temperatures has never been an issue for it.
Durability
Tall fescue is an excellent plantation that can tolerate the high amount of foot traffic. While on the other hand, you may notice that crabgrass compensates for this with its fast growth and spread also integrating heavy traffic tolerance. Making it an ultimate lawn-destroying weed type of grass.
Common Pests and Diseases
Grubs, armyworms, sod worms, and cutworms are some common pets that invade coarse tall fescue. And it can suffer from brown patches, grey leaf spots, & seedling disease.
Crabgrass is famous among weed grasses and there are no notable insects or diseases that it may suffer. It even competes well with quack grass in this category.
Mowing Needs
Tall fescue grows fast and it may need to be mowed to about 2-4 inches. Using a sharp blade will give it a beautiful look after mowing.
If you have planned to mow the crabgrass then make sure to keep it maintained to a height of 3.5 inches. Else it will overgrow and kill other grasses. It is a very invasive type among the weed grasses.
Cost of Maintenance
While choosing desirable grasses for your lawn, you may have to keep in mind that the maintenance cost matters a lot. Tall fescue demands very less maintenance and can survive easily with less water requirement.
Crabgrass struggles if there is less water to absorb. Being a weed, controlling crabgrass may sometimes be a tricky part. You may most of the time spend a lot on herbicides and chemicals to keep your lawn healthy.
Crabgrass vs Fescue grass: Which Option is Right for You?
if you have made up your mind about choosing cool-season grasses or warn season grass seed then be sure to check the perks of each. Let us help you decide!
Choosing the Best Option for Climate
If you live in an area where it's very hot then tall fescue should be your choice. As crabgrass becomes dormant during the very cold season.
Growing zones
The growing zones recommended according to USDA zones for tall fescue are 4 to 7. While zones in which crabgrass emerges best are 2 to 11.
Summary: Although, crabgrass has more zones it goes dormant during winter. Tall fescue wins this battle!
Choosing the Best Option Based on Maintenance
In terms of maintenance, tall fescue requires less water, easily gets mowed, & does not require also of fertilizer. Now presenting crabgrass, we know that you will spend a lot on chemicals to control it.
Summary: Fescue wins again!
Choosing the Best Option Based on Susceptibility to Pests and Disease
Comparing crabgrass to its counterpart aka quack grass, you may say that crabgrass is a much more resilient species. Although, it has fewer enemies that don't make it an ideal choice.
Fescue grasses might have many enemies but in terms of overall advantage, you can crown it the winner.
Summary: The fescue turfgrass species wins the battle here!
What are the similarities between Crabgrass vs Fescue grass?
These two types of grass are some of the most unique grass species that surprisingly have quite a number of traits that match with each other.
Some features such as water needs, drought tolerance, uses, & appearance is some factors that are common in them. While there are some aspects that make them different!
Traffic Tolerance
Yes! They both can withstand the frequent and heavy movement of people on the turf. Also, they are fast recovering desirable grasses.
This makes them ideal for places such as golf courses, school playgrounds, etc.
Appearance
At first glass, they may look very similar and you may be fooled but experts can quickly identify the main differences.
They both grow in a bundle-like manner and they maintain that style of growth.
Drought Resistance
Fescue is a highly drought-resistant grass type that is able to survive in very tough conditions.
The water requirement for fescue and crabgrass is not very high and they can make up for this disadvantage.
FAQ
How can you tell the difference between grass and crabgrass?
Crabgrass mostly likes to pop up at the edges of the lawn and it has very notable seed heads.
Can fescue crowd out crabgrass?
Affirmative! It is a very aggressive and greedy grass that can crowd out most of the grass species.
Does tall fescue look like crabgrass?
You are most likely to think of Fescue as your enemy instead of the Crabgrass, An out-of-the-book way is to notice the color and size of the grass as a precaution.
Could you mix Crabgrass and Fescue?
The chemical treatment that kills Crabgrass will also kill Fescue. Since you may mistake Fescue for a weed, you may end up exterminating it.
Is Fescue or Crabgrass easier to maintain?
You may consider them hard to control grasses. They need chemical treatments to control and caution while growing on the lawn.
Does Fescue look like Crabgrass?
You might think of Fescue as your enemy aka Crabgrass. You can spot the difference by checking out the color and thickness of the grass as well as the location it grows on the lawn.
Does Fescue spread like Crabgrass?
The way Fescue expands its territory is exactly like Crabgrass and that may usually end up in its demise by your hands.
What is the main disadvantage of Crabgrass against Fescue?
Looking like twins, you might end up eliminating Fescue instead of the Crabgrass. Crabgrass is much more challenging to get rid of and becomes very tricky.
What is the main disadvantage of Fescue against Crabgrass?
Crabgrass is like a brutal predator that hunts the other grass. Oh no! Fescue is always at its mercy and might get choked out!
Conclusion
While one grass type is ideal in many aspects then the other is a total bully that tries to eat away nutrients by force. The story of crabgrass and fescues is very strange yet interesting.
If you are a lawn owner and want to grow any one of these grasses then keep in mind that keeping check of the crabgrass will be your main concern for the new grass seed.
So, which grass are you growing on your lawn after reading this article? Made up your mind? Let us know in the comments section about your choice and why!
References