A garden party attire dress code may be labeled as casual, but it does not mean everyday clothes. So, what exactly should you wear? The key is to keep the wedding's outdoor setting in mind.
This article shares how to navigate the 6 variations of the appropriate attire for a garden party. It covers women, men, girls, and boys so you do not have to look elsewhere. We will also help you interpret the dress code mentioned in the invitation. So, let's dive in!
Garden Parties Attire – An Overview Related to Weddings 
Garden party weddings usually have a semi-formal or casual dress code. You should plan to wear a dress or suit that is appropriate for the occasion. There is more flexibility with your wardrobe when it comes to most garden parties. During the summer you should opt for:
Pastel Tones
Coral
Turquoise
Neutral Tones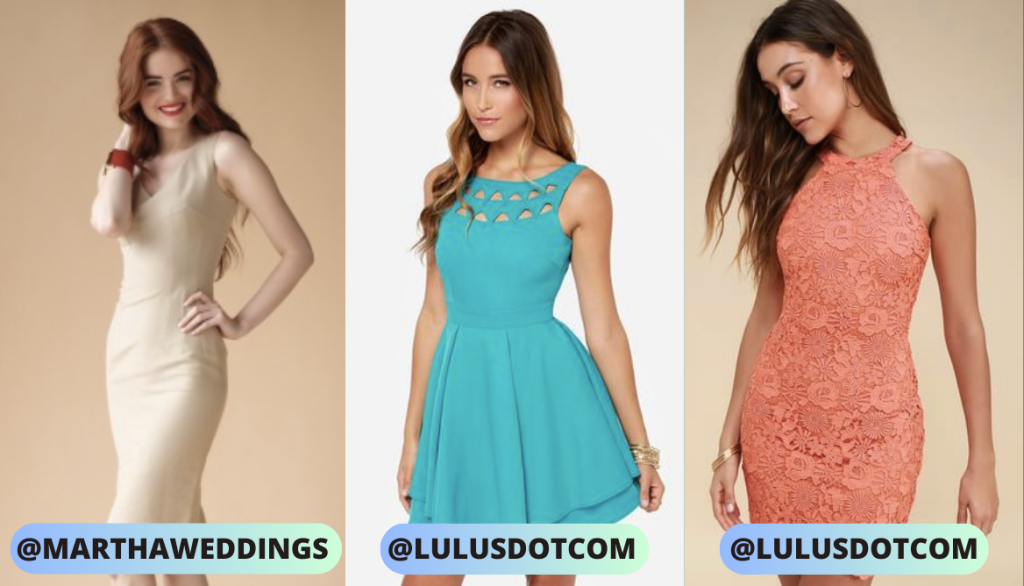 You can also incorporate patterns into your outfit to add a touch of elegance and style. To dress for outdoor parties or weddings, accessorize your outfit with floral accents such as:
Flower Pin
Flowery Scarf
Floral Headband
1. Women's Garden Party Wear – How to Style Yourself?
Women should wear a semi-formal dress in light pastel hues or flowery patterns to a garden party attire.
It can be knee-length or even floor-length.
If opting for a shorter dress, choose the one with a full skirt or some crinoline.
If you are going with a maxi dress, it is advisable to choose airy fabric.
Wear wedges instead of heels as they add a touch of elegance without the risk of sinking into the grass. Flats can also be an option, but sandals should be avoided.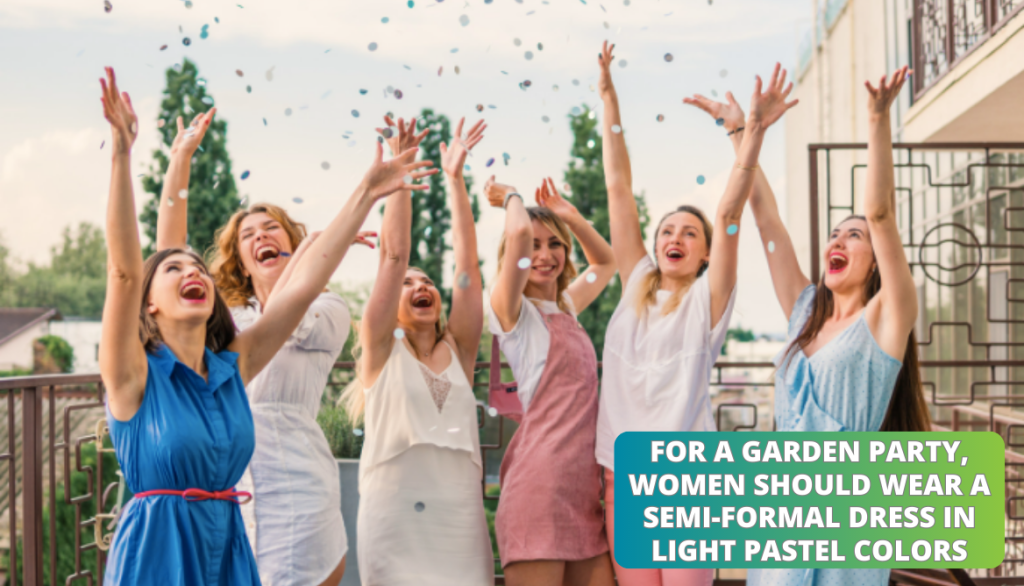 Attire
So, the appropriate attire is a dress. It can be either:
Above-the-Knee
Knee-Length
Maxi Dress
However, keep in mind that the longer the dress, the less formal the fabric should be. Opt for summer colors.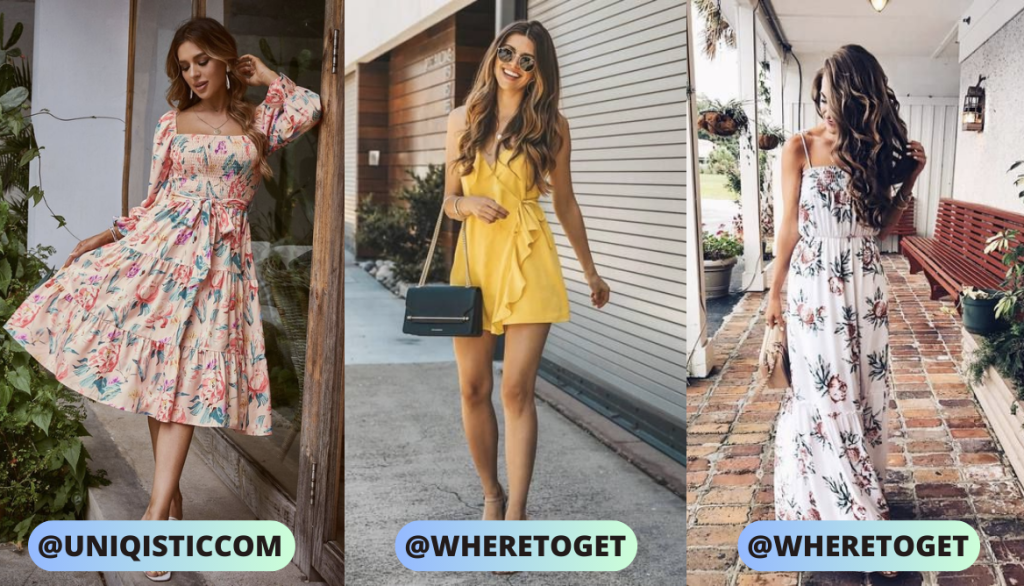 Accessories
Add charm to your dress by wearing a high-fashion necklace. You may add a clutch or a small handbag, sunglasses, or hats. Remember to keep it simple yet elegant.
2. Men's Garden Party Dress Code – Bring Out Your Best Look
Garden party attire for men can be relaxed yet sleek. A suit is appropriate for the occasion:
The color and fabric of the suit can vary on the time of day and season.
When choosing a shirt to wear with the suit, a simple white dress shirt is always a safe option.
Yet, men can also wear a shirt in a light pastel color or a subtle pattern.
A tie is also a must-have. A solid-colored tie can be worn with a patterned shirt or vice versa.
Wear dress shoes such as oxfords or loafers. Avoid wearing sneakers or sandals unless it's a casual event.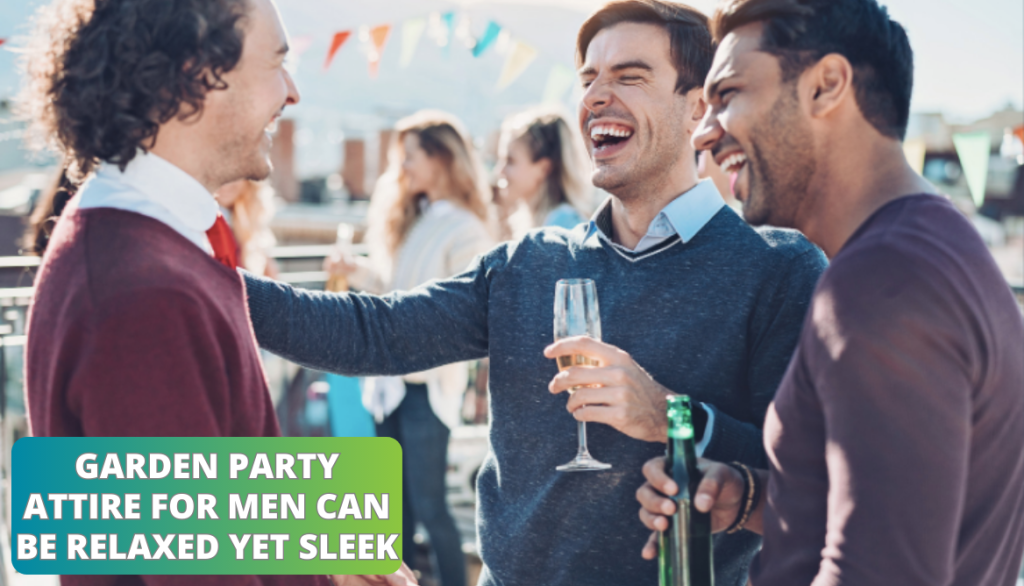 Attire
We recommend wearing a collared shirt with dress pants or khakis for men. You may also wear a blazer or a light-colored suit jacket, depending on the scale of the event. Opt for solid colors such as:
Don't go for loud prints or bold patterns unless it's a casual event.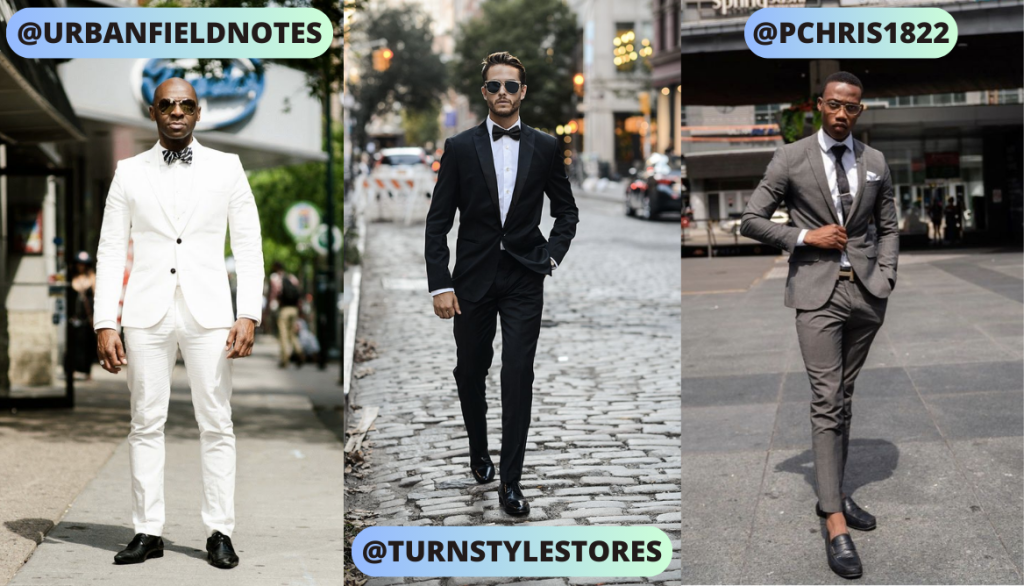 Accessories
Wear a leather belt that matches your shoes to complement your perfect outfit. You may also add a tie or a pocket square to add a touch of elegance. Lastly, carry a leather briefcase or a messenger bag to keep your essentials.
3. Boys Garden Party Attire Options for Staying Comfortable
For a boy attending a garden party, the dress code would be semi-formal:
It means a dress shirt with formal slacks or chinos.
A jacket or vest can be added to elevate the outfit, which would complement the formal pants nicely.
When selecting the color palette, light tan, khaki, light blue, and various dark hues of grey are all suitable options.
Additionally, a more casual attire rather than a complete suit can be considered. A young boy may add a tie or bowtie as an accessory, but it should not be too unmanageable for him.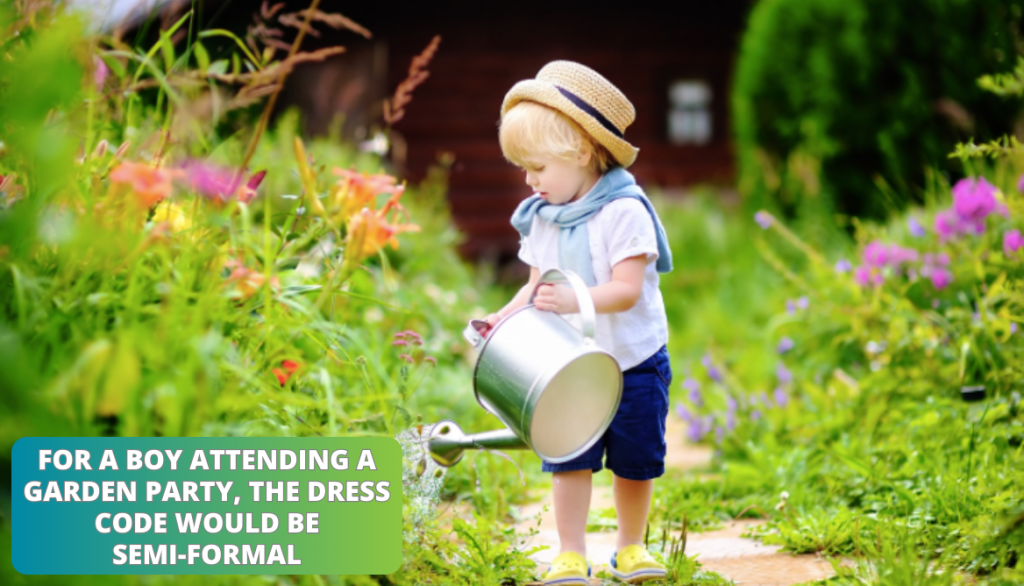 Note: It is essential to note that the casual dress code may differ based on the specific occasion.
Attire 
If you are looking for some different outfit ideas for boys, consider these options:
Khaki Pants/Shorts
Polo Shirt/Button-Up Shirt
Sweater/Cardigan
Jeans/Denim Shorts
T-Shirt/Graphic Tee
Sports Jersey or Hoodie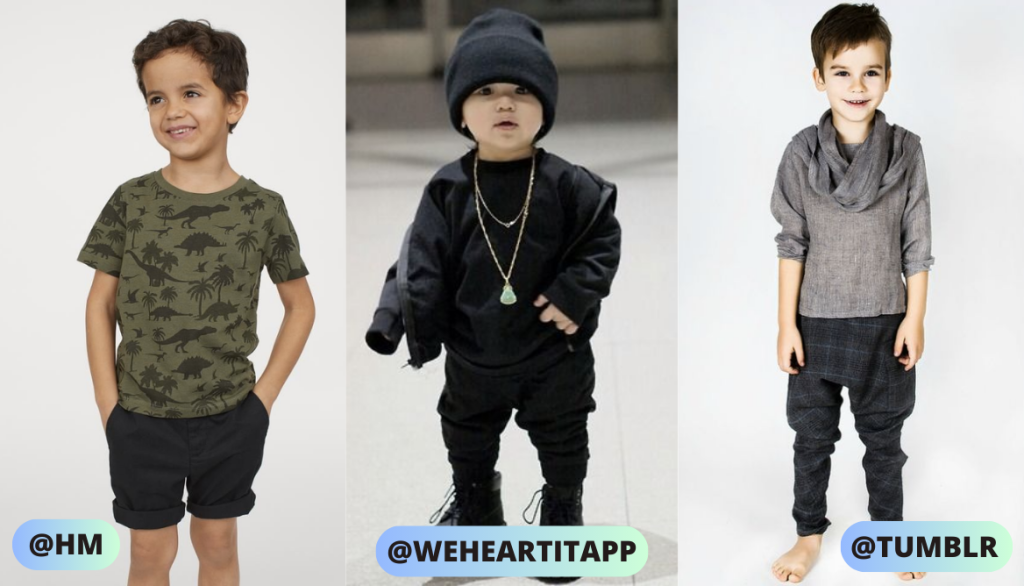 Accessories 
A belt is always a great addition to any outfit, as it can help keep pants up and add a touch of fashion. Suspenders are another option that can serve the same purpose while offering a unique style.
4. Girls Garden Party Attire – Choosing from Versatile Wardrobe
When attending a garden party, a young girl can opt for a fanciful tulle dress in a summery hue:
It can be pink or light blue, with floral print designs.
This will create a feminine and whimsical look that is perfect for the occasion.
The dress should be flowy and comfortable.
Depending on the venue and weather, a cute pair of glittery flats can complement the dress.
Attire
Dresses made from fun fabrics like tulle are playful and add a touch of whimsy to the outfit. Summer colors such as:
Bright Pink
Yellows
Blues
Green
They are perfect for a garden party. These colors complement the natural beauty of the flowers and foliage around you.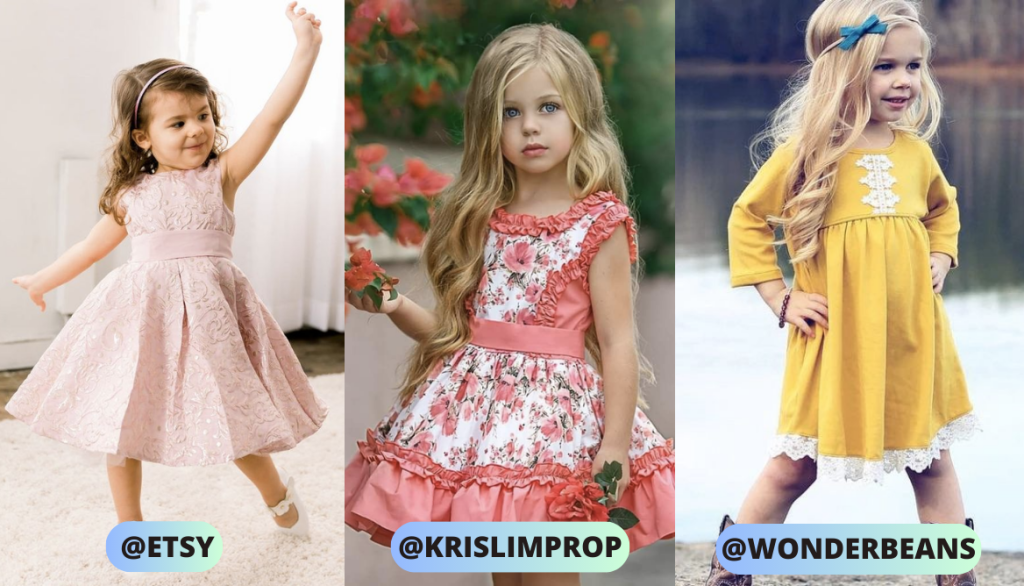 Accessories
A flower or butterfly headband is perfect for adding a touch of nature to your look. These headbands come in a variety of styles and colors, so they match the dress.
The Basics and Appearances of Garden Chic Dress Code
This modern take on traditional garden party attire incorporates elements of formal wear while still maintaining a business casual vibe. To create a chic dress code you will need:
Flowery Designs
Light-Colored Linen Blend Jackets
Well-Tailored Pants. Instead of heavy woolen and leather.
Keep accessories to a minimum with simple jewelry and headwear. As for footwear, opt for stylish sandals or flat lace-up boots.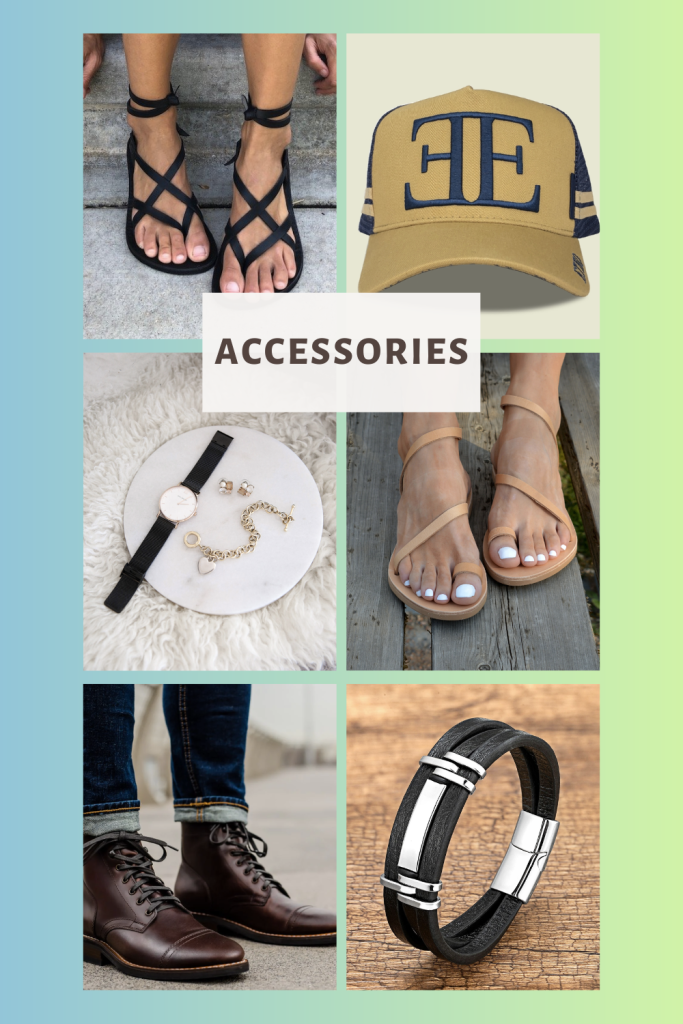 Advice: The key to nailing the Garden Chic dress codes is to strike a balance between casual and sophisticated.
Semi Formal Dress Code Invitation to a Garden Party
When hosting a party in summer, it is important to consider including a garden party dress code invitation in your mailings to ensure your guests arrive in appropriate attire.
This will help your visitors understand the required dress level and make appropriate dress choices. Below we have outlined some suggestions for conveying a dress codes invitation:
1. Determine Theme and Mood
Determine the mood or theme of your gathering, as it will dictate the acceptable style of apparel to wear. For a casual barbecue, guests can probably get away with wearing jeans and t-shirts, while a more formal event like an evening party calls for guests to dress up.
2. Write the Matching Invitation Text
Write the invitation text to match the mood you have established. It is essential to make the event dress codes crystal clear so your guests can prepare accordingly.
For example, you might say, "Join us for an evening of cocktails, and the code for dress is cocktail attire."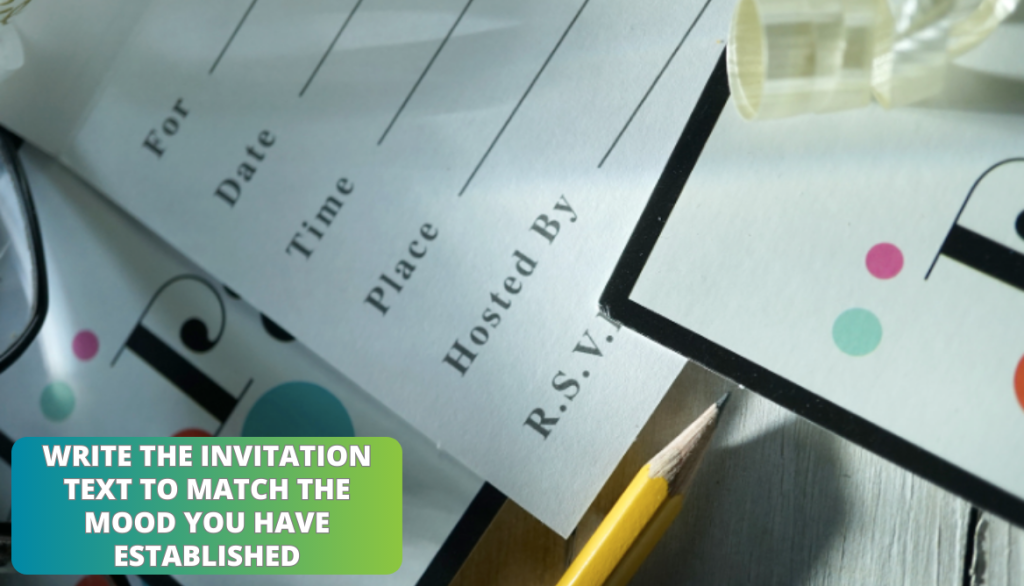 3. Sent the Invitation Way Beforehand
Send the invitations at least two weeks before the event to avoid any last-minute hassle. This will provide your guests ample time to choose appropriate garden party attire.
Consider including information on where your guests can rent or buy formal attire if they need it. This will be appreciated by those who may not have the appropriate attire on hand.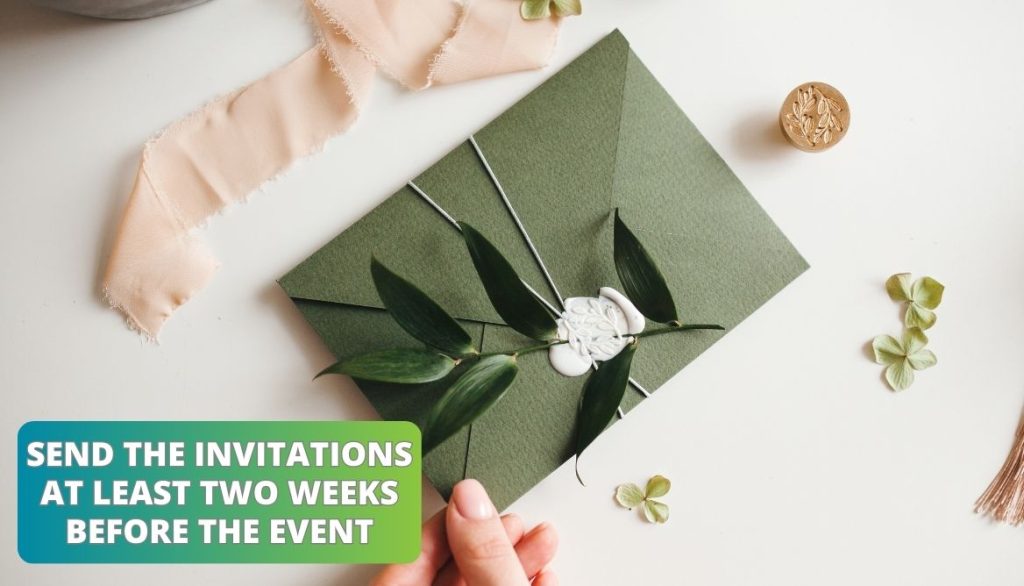 By working on our tips, you will be sure to host a stylish and well-dressed next garden party that your guests will enjoy.
The Dress Codes Ethics for the Winter Season
Winter outdoor garden party can be just as fun and stylish as their summer counterparts, but they require a different approach to garden party attire. Have a glance at some tips for dressing warmly while looking good as a cold-weather garden party wedding guest:
1. Layer Up the Clothes
Layer Up Layering is an excellent way to keep warm during the winter:
Start with a light long-sleeved shirt or tank top as your first layer.
Add a cardigan for extra warmth.
Bring a warm coat to be on the safe side if the weather gets cold.
A scarf and hat can bundle you nicely as well.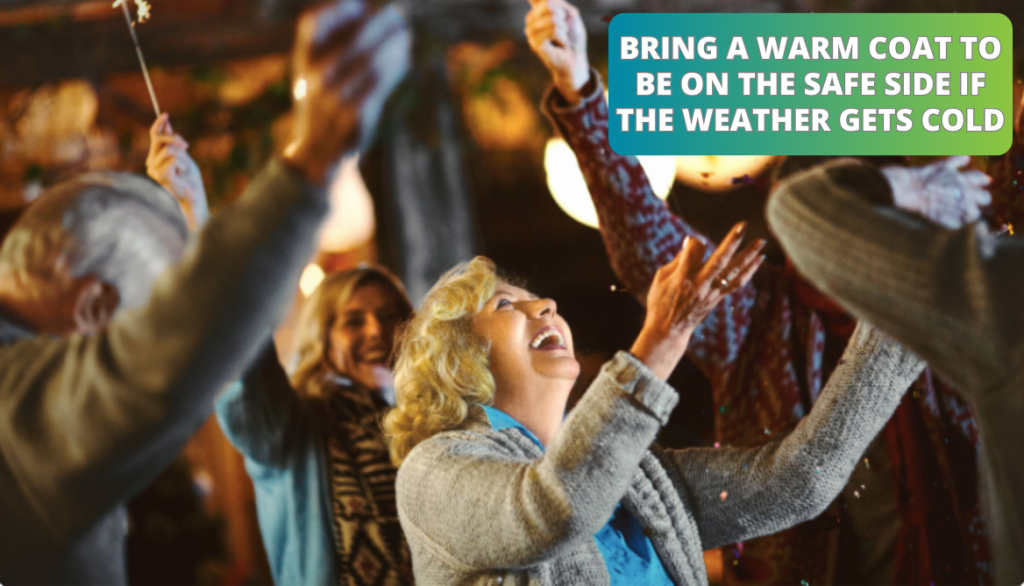 Important! Our suggestion would be to wear leggings under a dress or skirt can also provide an additional thermal layer.
2. Go for the Cozy Fabrics
Opt for Cozy Fabrics When choosing an outfit for a winter garden party, consider the weather and temperature outside.
If you need something lighter but still able to keep the chill at bay, a combination of cotton and linen is a good choice.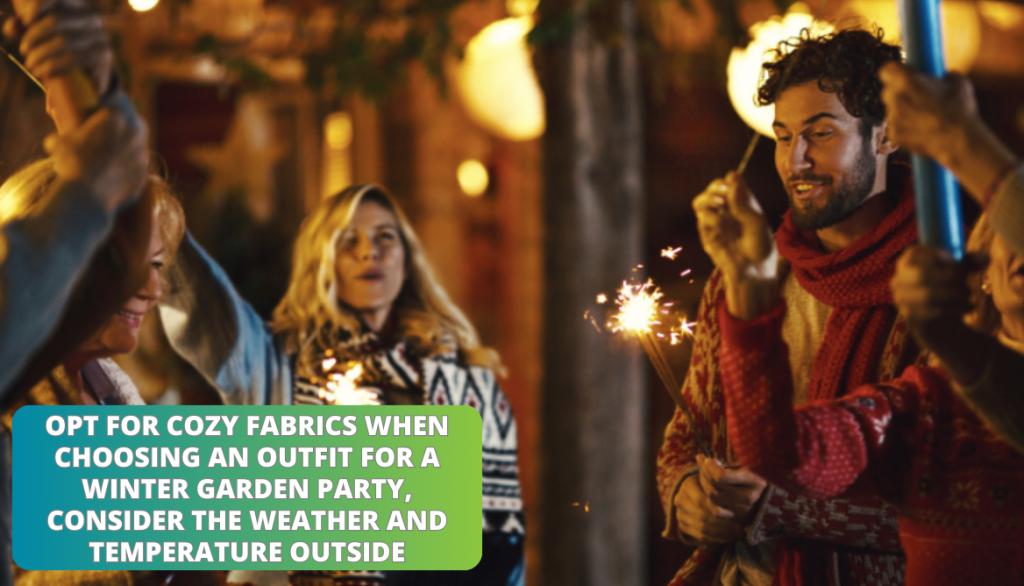 3. Dark Colors are the Better Choice
Stick to Dark Colors When dressing for a winter garden party. Choose black, navy, brown, or grey.
These hues are generally more flattering in colder weather as they don't wash you out as much as lighter shades.
They'll keep you looking stylish while also keeping you warm.
These tips above will help you enjoy a cold-weather garden party in comfort and style. Do not let the chill of winter keep you from having fun outdoors with friends and family.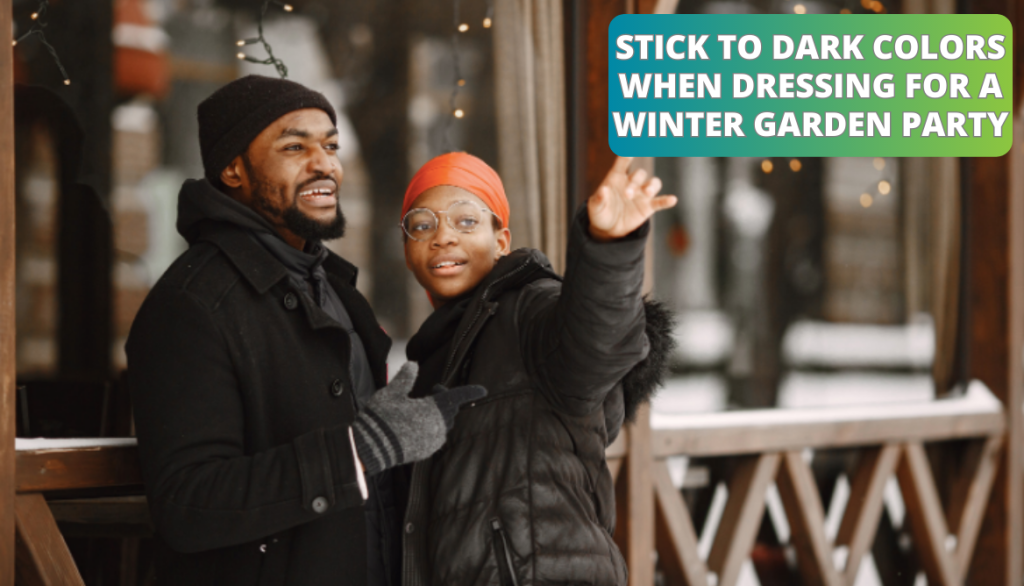 FAQ 
What kind of dresses is appropriate for garden party wedding attire?
Women can opt for sundresses or flowy skirts when choosing what to wear to a garden party wedding. While men can go for a more casual look with khakis or linen pants paired with a button-down shirt.
What is the best way to accessorize for a garden party wedding?
The best way to accessorize for a garden party wedding is to wear high-fashion jewelry to add charm to the dress. Other items like earrings can be dainty. A clutch is a great addition. For men, a belt, pocket square, hat, and tie should be worn.
What is appropriate garden party wedding attire for men?
For appropriate garden party wedding attire, Men should aim for a comfy yet polished look. A light-colored suit, such as beige or light grey, is a great option. A white dress shirt paired with a solid-colored tie will make a great outfit.
Is it bad to miss a dress code for a garden party?
It is bad to miss a dress code for a garden party. It may not be a big deal but the host's wish should be respected even if it is an outdoor event and not a formal affair.
What do you wear to a cocktail party?
You wear chinos or suit pants paired with a button-up or suit shirt to a 'cocktail' party. Avoid wearing jeans and sneakers, as they are too casual for this type of event.
Conclusion
To sum up, in the context of a garden party attire is most probably be casual than traditional. However, if the reception takes place in the evening, you can step up your style game.
Incorporate accessories and opt for higher heels to add elegance. You will be moving around and socializing, so wear something that makes you feel comfortable and confident.
So, what is your go-to outfit for a garden party? Do you prefer a more casual or dressy look? Share your thoughts with us in the comments below because we highly appreciate your feedback!