"So, I've got an oscillating sprinkler, and I'm wondering how long I should leave it on for.  I don't want to overwater or underwater my lawn. How do I go about this?" – Mrs. Sprinkles.
If you're like Mrs. Sprinkles above, don't stress.
Oscillating sprinklers are one way to feed water into your lawn without stress, but there's a need to know how long your sprinkler should run to avoid the same problems as Mrs. Sprinkles. That said, these are a few things to consider in order to know the length of time your sprinkler should be put to work.
Amount of water your lawn needs.
Determining your sprinkler's water flow rate.
Number of times a week to water lawn.
Climatic conditions
Before we look at the aforementioned factors, you should know the following…
How long does it take to water 1-inch?
This depends on the setting of your sprinkler and they type of sprinkler you are using. However, if you are using an automatic sprinkler, the time taken can be about an hour – this is just based on assumptions.
Amount of Water Your Lawn Needs
About 1 to 1 ½ inches of water each week. Anything less than an inch or more than 1 ½ inches of water is too little or too much. The size of your lawn also plays an important role in determining the amount of water to sprinkle.
How much water does a sprinkler use in 1 hour?
This is also an important question that shouldn't be overlooked. Watering your lawn without knowing the amount of water your sprinkler uses in an hour can spell doom for you if you release excess water to a small lawn, for instance.
According to statistics from WSSCWater, water from a standard 5/8 hose can use about 1020 gallons of water each time it is turned on for about an hour. Having this in mind now, it is pertinent to take note of the amount of water your lawn needs.
Determining Your Sprinkler's Water Flow Rate
Let's find out how long it takes your sprinkler to deliver one inch of water to the lawn. You're going to do what is called The Can test.
Get a Tuna can that's about an inch high.
Place it on your lawn in a place where the water will get to it. Turn the sprinkler on.
Take note of how long it takes for the can to fill up.
Assume this time is 5 hours. Based on our assumed time, your sprinkler should run for 5 hours. That's not all, though, except you water your lawn once a week.
So How Long Should You Water Lawn With An Oscillating Sprinkler?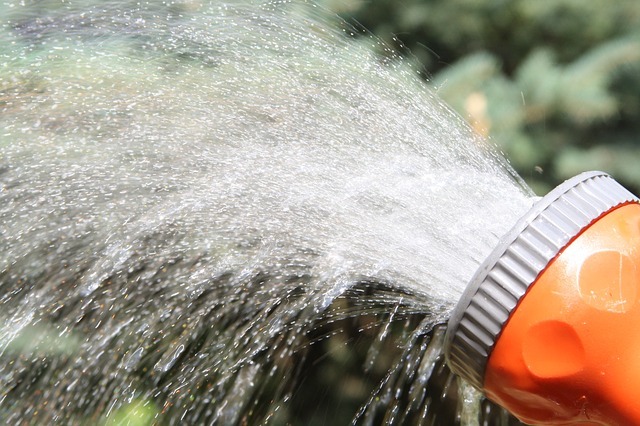 You probably water your lawn once a week, or twice, or maybe even thrice a week.
If you water your lawn more than once a week, and your sprinkler flow rate is one-inch in 5 hours, you're going to be over watering your lawn (because that's two or three inches of water a week!)
Instead, what you want to do is divide the time it takes your sprinkler to fill a 1 inch can by the number of times a week you water your lawn.
So if that's 3 days a week, 5 hours divided by 3 days means your sprinkler should run for 1 hour 40 minutes each of the three days.
Climatic Conditions
This seems to be the most important condition. If the climate condition around you is really dry, so much so that one inch of water a week turns out to be insufficient. Or, there's rainfall that doesn't deliver up to an inch of water, you're going to have to determine the amount of water that's suitable for your lawn in those conditions (you could ask the authorities).
---
Wrapping Up…
Turning on and leaving your sprinkler to run continuously without taking into consideration other factors can lead to excess water on the lawn. You certainly don't want that to occur, or do you?
By the way, we looked at a few fertilizers that can help you green up your lawn.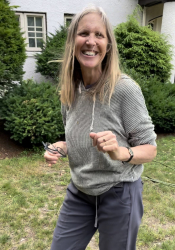 Latest posts by Jessica Zander
(see all)
Hello! I'm Jessica Zander, a garden coach and consultant based in the Boston area (zone 6b), offering virtual consultations across the country and Canada.
I've been passionate about gardening since the early 1990s, and in 2022, I launched You Can Do It Gardening to empower individuals to feel more confident in their gardening endeavors.
Following a 30-year career in nonprofit finance and operations, I transitioned out of that field in mid-June of 2023 due to the growing demand for coaching services. Interestingly, my years of presenting financial statements to boards and finance committees proved to be valuable experience for teaching people about gardening! I enjoy sharing skills, providing guidance and suggestions, and collaborating efficiently with clients to make significant improvements to their outdoor spaces, both small and large. I also regularly teach at the Arlington Continuing Education and Cambridge Adult Education.
My approach is direct and practical, akin to Mary Poppins, but tailored to your garden. Clients find satisfaction in saving money and taking pride in their own gardening achievements.