With the numerous Net Pots for Hydroponics available, it is easy to get confused about the best quality, design, and functionality.
In this blog post, we shall look at what Net pots and Hydroponics are and co-relate how the two impact each other's output. Read through to also understand the basics of the new modern mode of farming.
Net Pots – Everything You Need to Know
Net Pots are hydroponic gardening products crafted from porous material, mainly a plastic mesh body. You'll get these varieties with different hole designs to allow the crop to grow through nutrient-rich water.
Which are the Best Net Cups Designs
Square and round/cylindrical Cups versions are readily available and equally important in their output. They have distinct features as follows:
Square Build: These Net Cups designs are convenient when removing your crops but may have implications in several growing spaces
Round Cups: They accommodate more crops, but be careful, as this increases the chances of root entanglement.
How to Use Net Pots in Your Hydroponic 
You'll generally have no problem utilizing these tools:
Fill net pots with various elements, such as Rockwool.
Follow by placing your crops in the Pot and specific nutrients plus water as required.
Your Net Pot netting material is essential to keep the clay or Rockwool in place as the roots grow freely. The process is also convenient if you also practice transplanting, as the Net Cups are removable without disturbing the root system.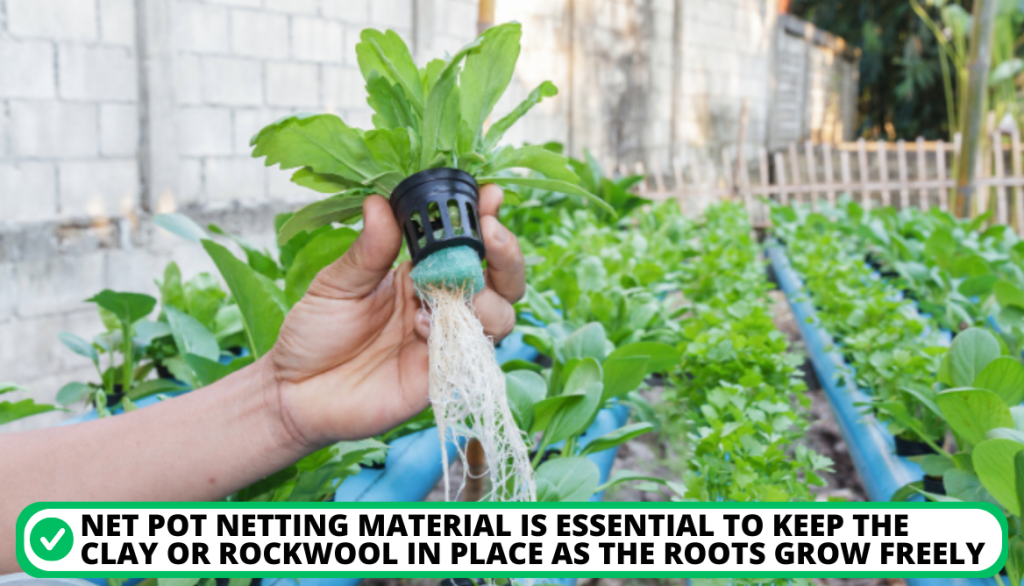 Why Net Pots are Essential
A Pot's material allows for excellent airflow, also helping you prevent root rot and impact exceptional growth. Here are additional advantages of Net pot cups:
They allow the plant access to water and air, ensuring you create a working hydroponic system that maximizes crop growth.
You'll also be going green as you can reuse Net pots and save money in the wrong run.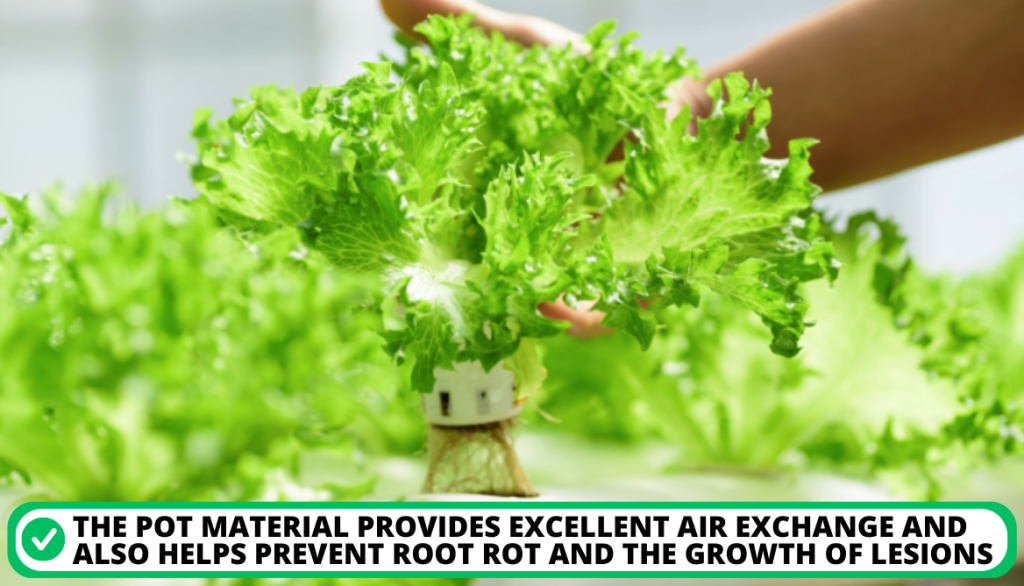 Cost Factor
There isn't a fixed rate for these gardening accessories:
You can expect to spend between $5-$10 when acquiring a dozen.
For large-scale purposes, a pack of 50 will cost around $8 and upwards of $20.
That said, continue reading to discover the in-depth dynamics of a quality Net Pot.
How These Net Pots Work
As mentioned, these gardening products include various hole designs key in your Hydroponic system. Let's look at the container designs which are key to your gardening success.
Holes Designs and Oxygen
The Net Pot's holes allow for excellent air circulation around your plant, quickly obtaining oxygen. These holes allow the plant roots to dangle freely in the water to access the air component.
Enough oxygen enables your plants to absorb more minerals efficiently. 
These holes allow ideal aeration for the plant to grow healthy and strong.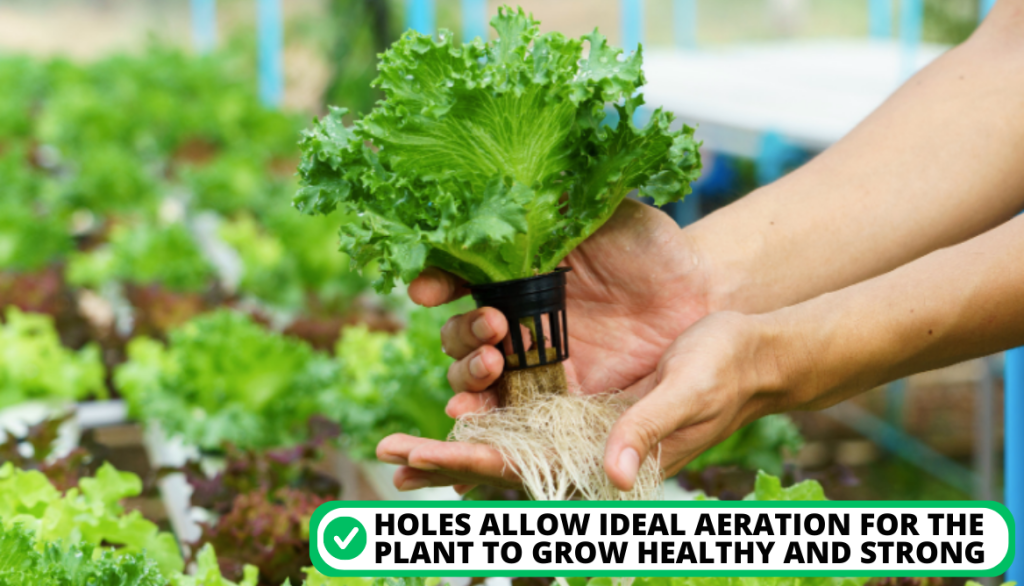 Holes and Roots
Net Pot holes enable root movement, unlike growing in soils where they have to toil for aeration and mobility. Therefore, your vegetation in a Hydroponics setup allows the crop to get necessary nutrients. 
Note: An essential tip is ensuring you get the right variety for your chosen plant. Also, get to know the growth rate of your crops to know if the spacing on the pots will be enough.
The Plant Roots as an Anchor
You'll also realize that Pot sizes pivot the seeds planted to your Hydroponics space. Generally, it maintains within the Net Pot, where the leafy section grows upward while the plant roots are directed downwards. 
Note: The ideal non-soil environment, is one with a deep water culture system, helping your crop grow stronger by creating a balanced Hydroponics context. 
Does Pot Size Matter in Hydroponics Setups? 
Your Net Cups dimensions come into play in hydroponics gardening, directly impacting the plant's development. Different experts are also advising that acquiring a bigger size is better. Here are examples of a Net Pot's size:
Why You Should Consider a Net's Pot Size
There are different advantages to be enjoyed with the correct size Net Pots. You can utilize these tips to understand the impact of a Pot's size on your plant's growth. 
1. Impacts the amount of nutrient composition available to the crop
Bigger Net cups hold more minerals, providing the plant with a significant amount of water and key elements. This is essential in larger setups, where plants require more water and elements to thrive.
2. Influences the rate at which the water in the hydroponic system is circulated
A smaller net pot enables water to circulate faster, while a larger pot has a slower water flow. Slower water flow is more beneficial since it distributes nutrients equally throughout the root system.
3. Affecting the amount of oxygen in circulation
Another tip is that having more water in the container means less air circulating. As mentioned, adequate aeration is essential for healthy root growth; thus, a Net Pot size with enough O2 provision is needed.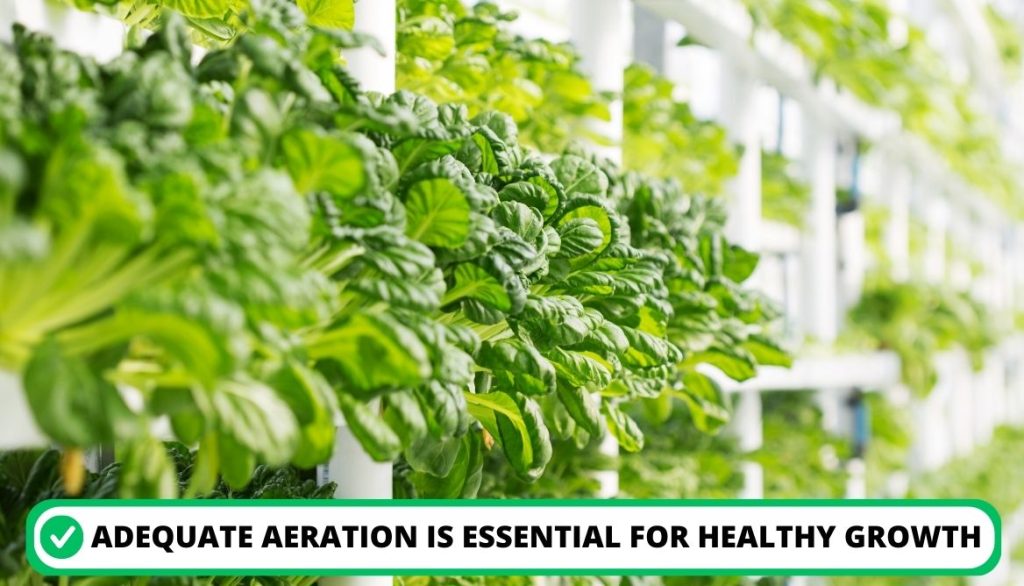 4. Impacts the overall Plant stability 
Acquiring a smaller net pot may cause instability for larger plants, causing imbalance or breakages. On the other hand, a larger Net Pot version may provide too much space for smaller vegetation and potentially damage the root system.
Why You Should Consider if the Lip and Lid Fit
A pot's lip should fit your hydroponic gardening system. More lip is mostly preferred in the industry. The pot's lids also need to be the perfect fit to protect the gardening setup from excess light, ideally.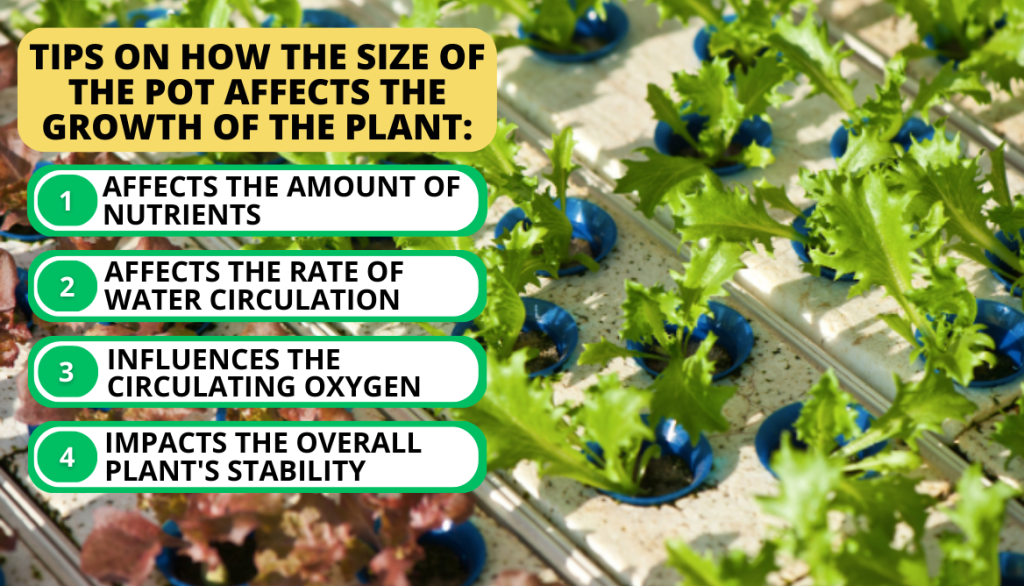 Choosing Quality Hydroponic Net Pots for Healthy Plants
With an understanding of Net pots and the factors to consider, the next step is selecting the appropriate version for your plant's effective growth. Therefore getting the right will involve purchasing one that allows easy access to minerals, and the following factors play a big role.
Spacing Available
Your setup should determine the room to be occupied by your vegetation. Therefore, your indoor or outdoor space greatly impacts the sizes of Net Pots to be bought.
It would be best to go for a net pot size fitting within your space for proper growth and sufficient water flow.
Confirm the dimensions of your system and choose setups allowing ideal crop spacing while maximizing your growing area.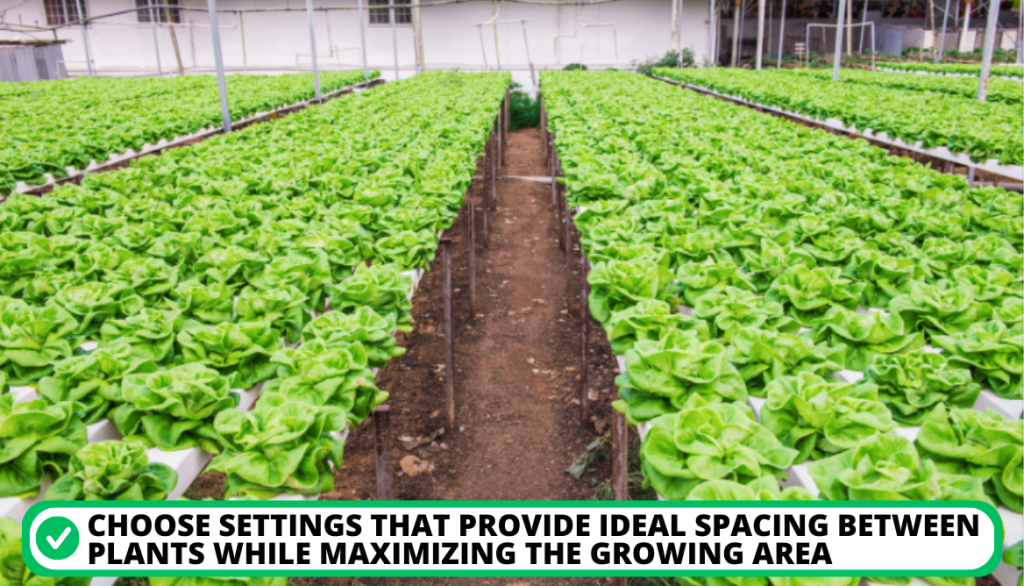 Temperature Conditions
The water temperature in your setup can affect your plants' growth, and different varieties of Net Pots are better suited for varying conditions. 
For example, plastic net pots are ideal for warmer water temperatures, while ceramic net pot cups are better suited for cooler ones. 
It is best to consider the temperature range of your hydroponic system ambiance and select Net containers that can withstand those conditions.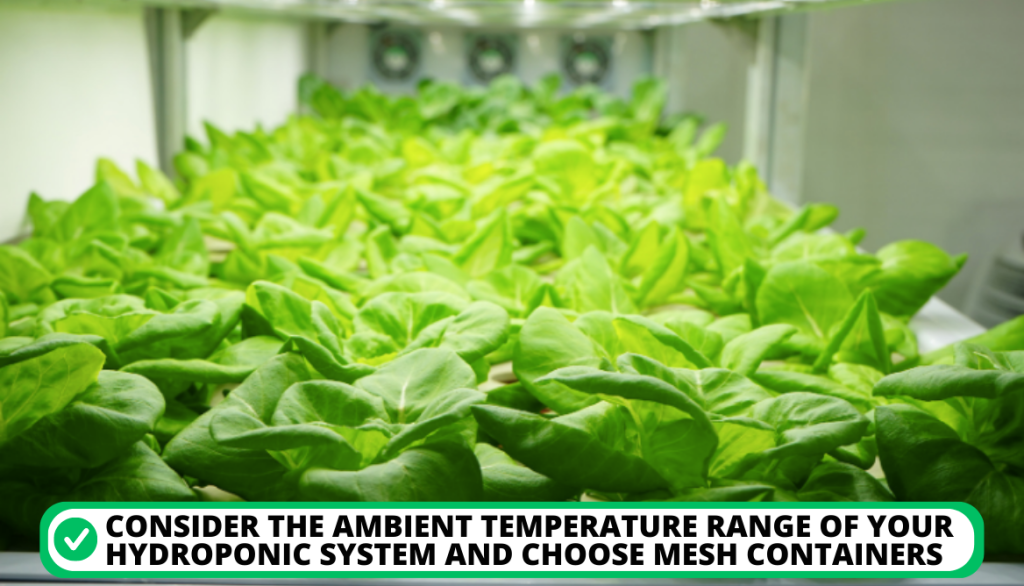 Crop Varieties
You'll find that plant varieties have different root structures and growth dynamics, a factor you should consider when selecting the ideal Net Pot. 
For instance, crops with extended taproots may require deeper versions, while plants with shorter root systems may thrive well in shallow designs. 
Additionally, it is essential to confirm if your plants require more space between net pots to accommodate their growth over time. Remember, some plants can thrive in tight spaces.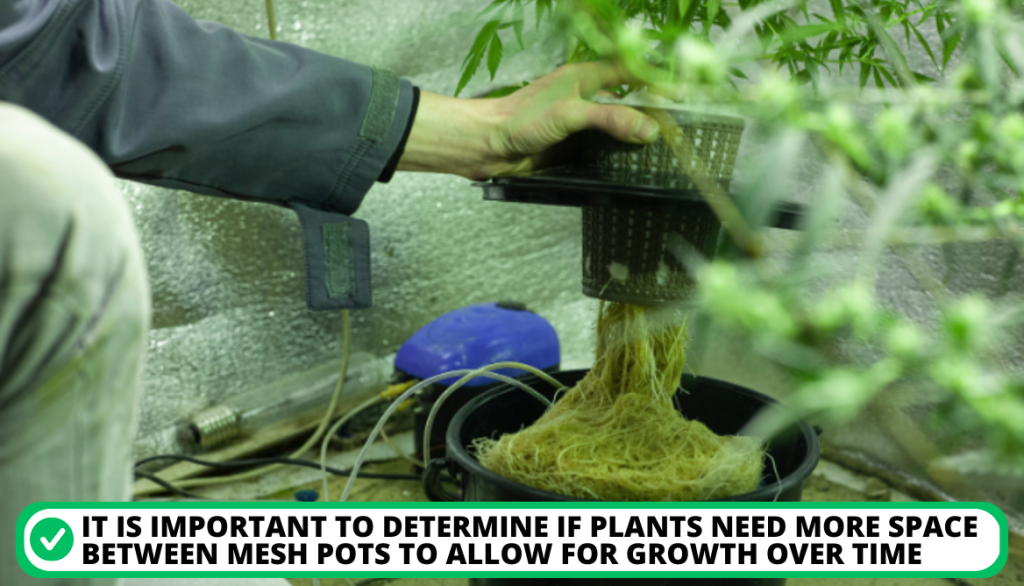 Determining the Net Pots Sizes for Hydroponics? 
If you're still in a dilemma about the Pot's size to purchase, here's a look at factors (through different crop types) to help you determine the right size options for the soil-free environment.
1. Hydroponic Lettuce
You'll love the small leafy hydroponic crops as your plant of choice:
It has a fast growth rate and requires low maintenance.
The dimensions recommended for plants are 2-3 inches in diameter. 
The size is large enough for roots to grow into the nutrient composition.
It's not excessively large to cause water logging or nutrient depletion.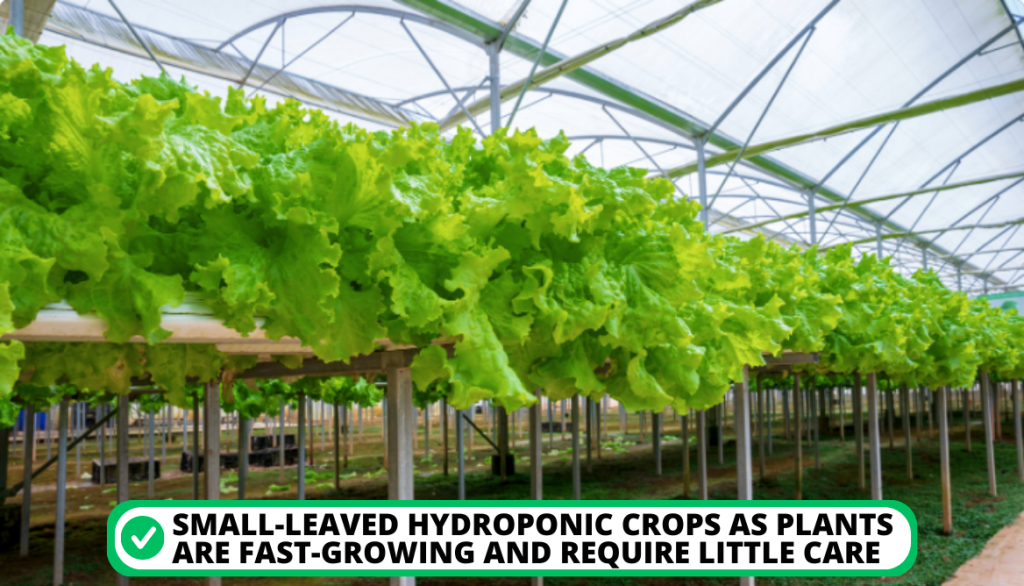 2. Best Net Pots Sizes for Hydroponic Tomatoes
You can also opt for non-soil gardening of tomatoes, another popular hydroponic crop known for its high yields and great taste:
You'll be required to get the Net Pot larger than the Lettuce measuring 3-5 inches in diameter. 
Considering tomatoes' growth habits, these size dimensions allow for the root to grow and for nutrient uptake.
This is especially important for supporting larger-sized tomato plants.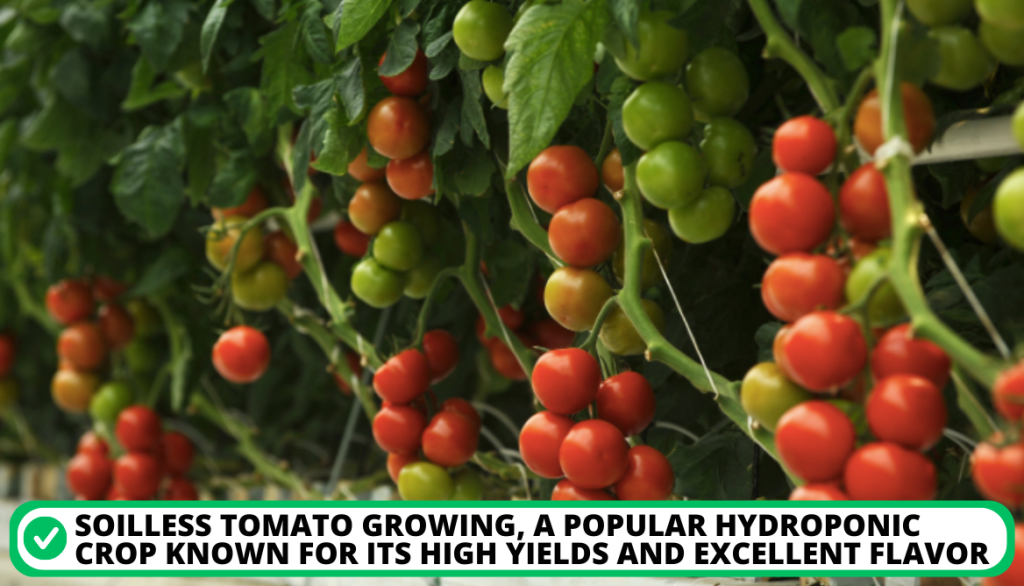 3. Pepper Plants
You won't have difficulty growing Peppers due to their high yields and ability to grow well in various soil-free systems. Their ideal net pot size for peppers is 2-3 inches in diameter.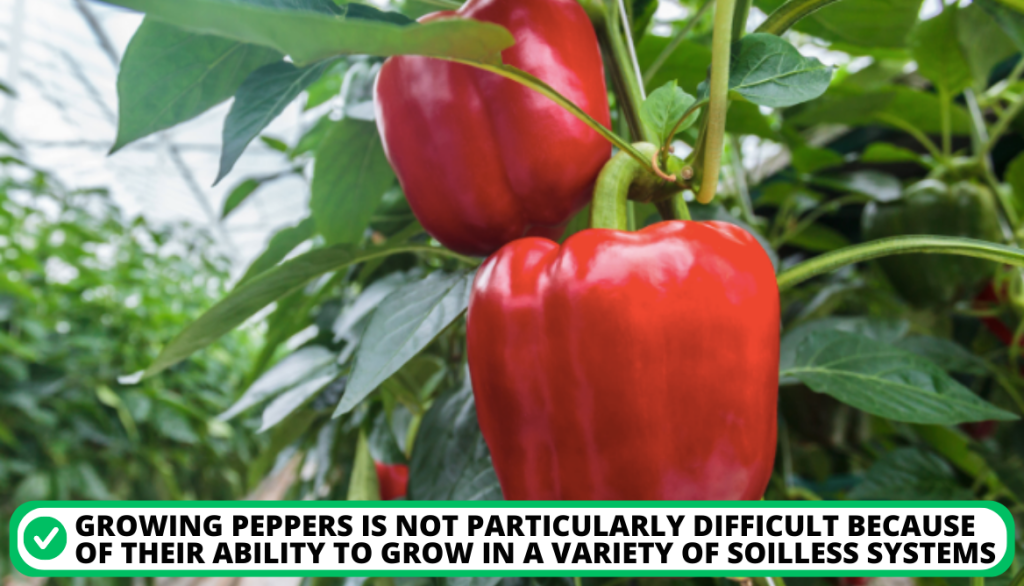 4. Strawberries
Experts will confide that Strawberries are unique to grow in a hydroponic, popular for their high yields and delicious flavor. If you're interested in its plantation, the recommended size for the lids is 2-4″ in diameter.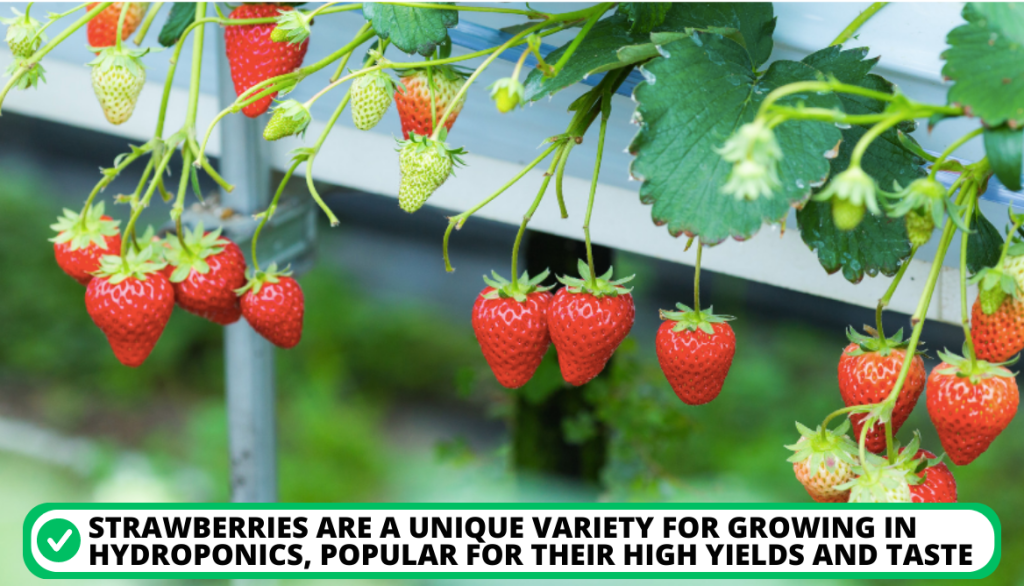 Using Net Pots for the Hydroponics Purpose – Step-by-Step Guide
If you are new to hydroponics, here is a step-by-step guide on how to use these accessories in hydroponics setups:
Step 1: Getting your Crop of Choice
With ample space to sort out your soil-free environment, you can select the ideal crop for your space and temperature specifications. Also, the plants will come in handy in the preceding steps.
Step 2: Selecting the Right Net Pot Size
As discussed earlier, the appropriate size (including that of the lids) varies depending on the type of vegetation you'll grow. For a start, the primary diameter size for most pots is 2-6 inches. Take a look at the following to get an idea of the specific dimensions:
Net pot size

sort by inches
Step 3: Pick and Prepare your net pots
There are different Net cups' sizes you can explore for your various crop types. When analyzing different makes, consider several details, including build quality, lids' size, and general structure. These brands include the following:
xGarden
Cz Garden
Growneer
Viagrow
Preparing your nest pots will include washing them thoroughly to remove dirt or debris. You can use a mild soap solution and rinse well with clean water.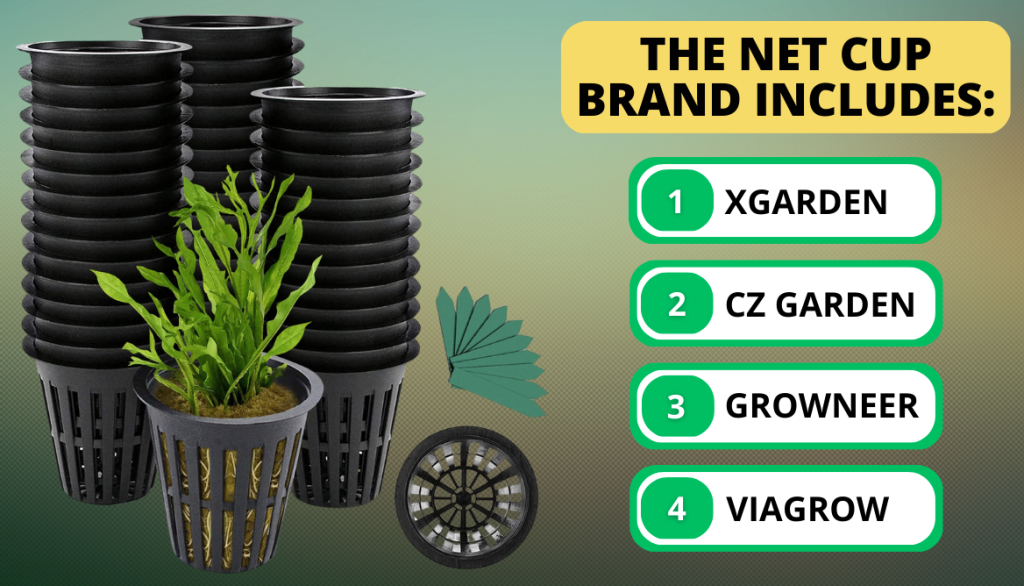 Step 4: Add Your Plants to Your Net Pots
The process of adding your plants involves different steps. Let's analyze each of these stages:
Stage 1: Fill the Net Pot with the growing media, leaving enough space for the vegetation to grow and the nutrient solution to circulate. The elements are (including hardy growing mediums): perlite, vermiculite, and coconut coir.
Stage 2: Follow by carefully placing the crop into the Net Pot, ensuring it is well-covered by the few growing mediums. Also, confirm that the media is packed around the plant to hold it in place.
Stage 3: Setting the Pots in the Hydroponic Growing System. While placing, remember to ensure that your pots are securely placed to allow the plant's minerals to move evenly. Depending on your Hydroponic setup system, you may need to do the following:

Position the net pots on a floating raft.
Hang them on a support structure.
Place them in a grow tray. 

Step 4: You should confirm the nutrient solution levels, pH, and concentrations are within the recommended range for your plants. Keenly observing each will guarantee a fruitful harvest when the plants fully develop.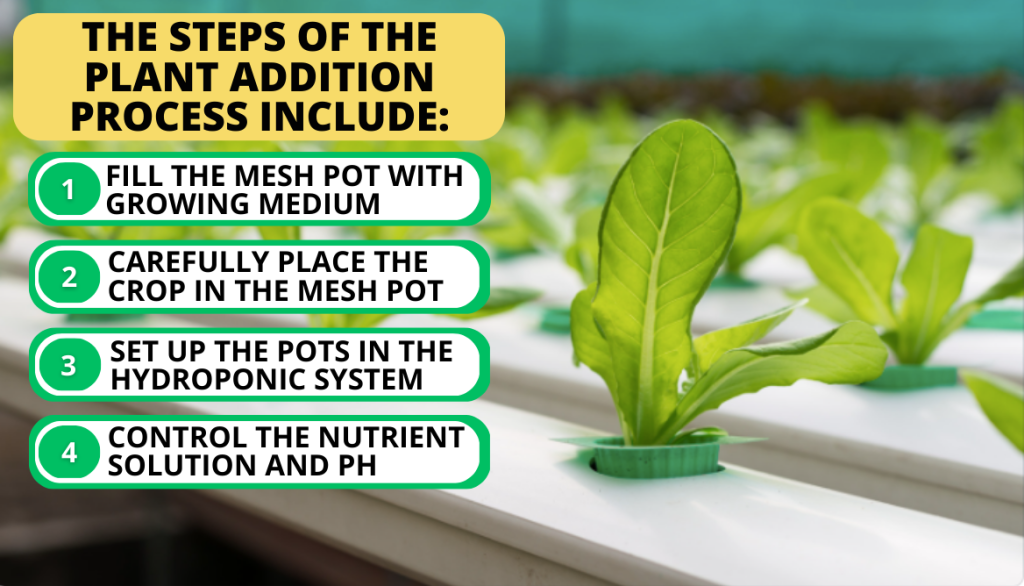 If you'd like more practical tips on utilizing Net Cups, watch this video for a tutorial on going around a Hydroponic setup.
FAQ
What can you grow in 3-inch net pots?
3-inch Net Pots are ideal for fruit, leafy plants, and flowering climber vegetation that grows up to 2 ft tall with a mesh of dense roots.
What do you fill in a net pot for hydroponics?
Net Pots usually are filled with various growing mediums, like Clay Pebbles, Rockwool, and Clean Gravel.
Which is better to use, net pots or cups in hydroponics?
Net Pots provide an excellent option for non-soil gardening, but you can also depend on different cups as a great backup plan.
Do bigger pots increase yield?
Bigger pots have a higher chance of giving you a significant harvest.
What is the best medium for net pots?
The best medium is arguably Rockwool, but you can get quality results with another variety like Clay Pebbles.
Conclusion
Therefore, understanding what Net Pots are and their specific use in Hydroponics positively impacts your crops' harvest. You can follow the essential tips from the article if you want to order and use a quality Net Pot.
So, which Pot do you use for your Hydroponic setup? Comment below with your answer, and tell us any gardening tips you might know for our readers.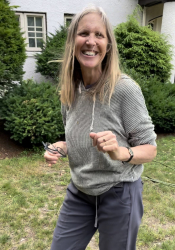 Latest posts by Jessica Zander
(see all)
Hello! I'm Jessica Zander, a garden coach and consultant based in the Boston area (zone 6b), offering virtual consultations across the country and Canada.
I've been passionate about gardening since the early 1990s, and in 2022, I launched You Can Do It Gardening to empower individuals to feel more confident in their gardening endeavors.
Following a 30-year career in nonprofit finance and operations, I transitioned out of that field in mid-June of 2023 due to the growing demand for coaching services. Interestingly, my years of presenting financial statements to boards and finance committees proved to be valuable experience for teaching people about gardening! I enjoy sharing skills, providing guidance and suggestions, and collaborating efficiently with clients to make significant improvements to their outdoor spaces, both small and large. I also regularly teach at the Arlington Continuing Education and Cambridge Adult Education.
My approach is direct and practical, akin to Mary Poppins, but tailored to your garden. Clients find satisfaction in saving money and taking pride in their own gardening achievements.