Snowblowers are your best friend during the winter season. Shoveling such a large amount of snow out of your property is impossible. So, the best track snowblower is needed to easily achieve this task.
The article will critically assess the best snowblowers. Explaining their features such as larger engine type, type of snowblower, best suited for, snowblower according to the amount of snow, and snowblower for a small or large area are some aspects that will be shed light on.
If you are skeptical about using or buying a suitable snowblower then this article will shovel away your confusion in no time. Let's get started!
Ariens Kraken 32″

W / 420cc with EFI

(926520)

Ariens Platinum

RapidTrak 28 SHO

(28") 369cc 2-Stage

Snow Blower

(921057)

Honda HSS928AT /

HSS928ATD
Best Professional Track-Drive Snow Blower for Wet Snow
Wet snow can prove to be a challenge for most snow blowers, but these hassles have been overcome by many brands. Here is a list of the most reliable track-drive snowblowers for wet snow: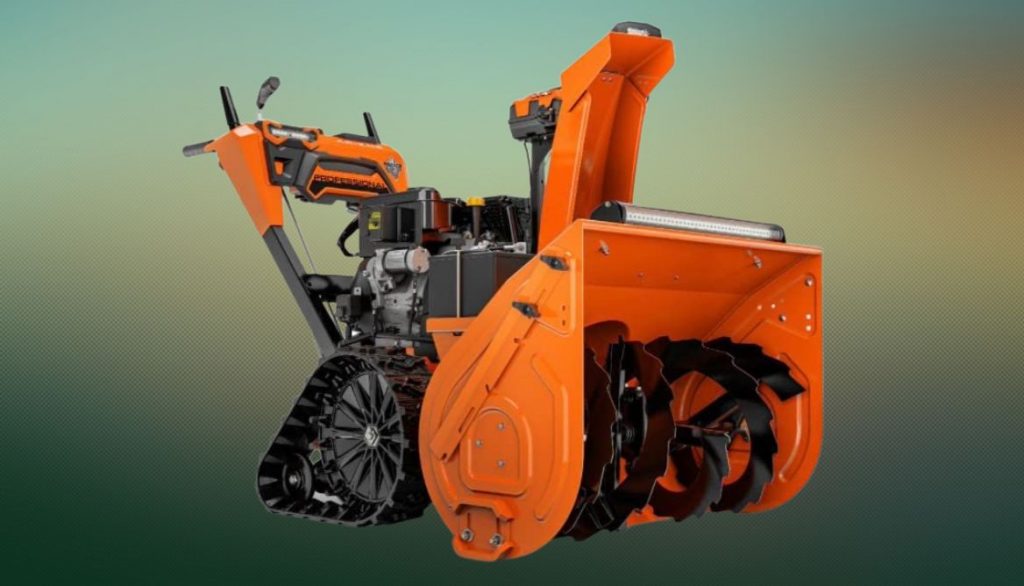 The Arens Kraken is a beast when it comes to clearing out snow covering a large area. It can easily get rid of heavy and moist snow. A powerful engine, large clearing width, and excellent control make it an all-rounder machine.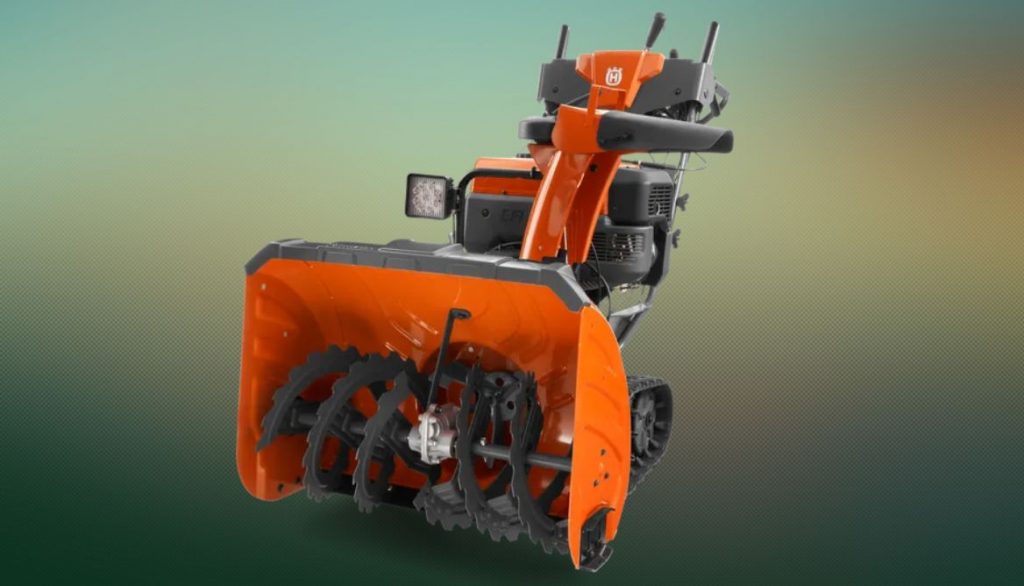 High performance, excellent control, ability to easily cut corners, and powerful throw define the Husqvarna perfectly. This snowblower means serious business when dealing with medium or heavy snow.
Most Powerful Track Snow Blower
When removing large amounts of snow, power is your greatest ally to ensure that a larger area is covered in less time. A level of snow more than 12″ will require a powerful machine that can throw the snow further and quicker. Here are some of the best picks: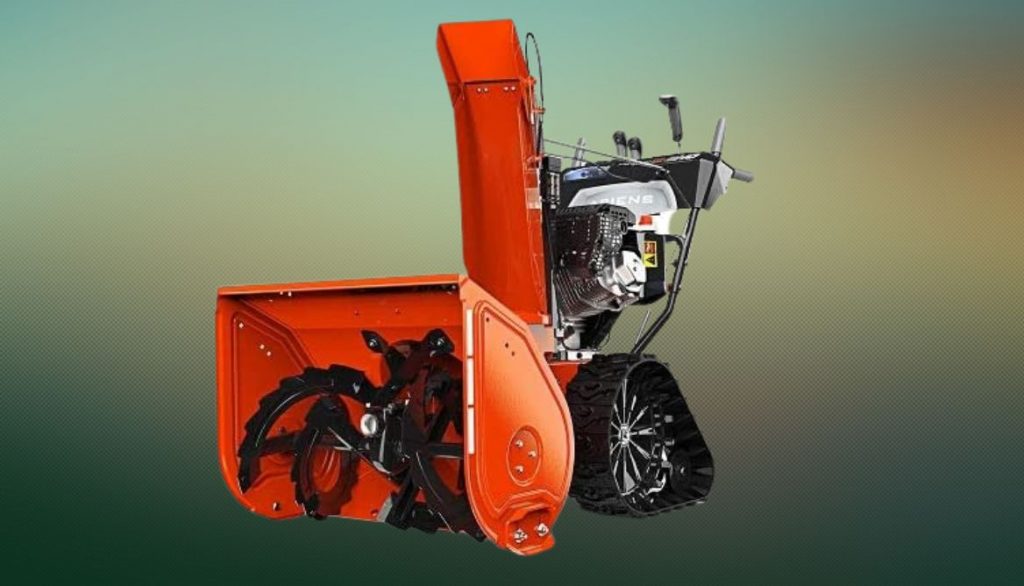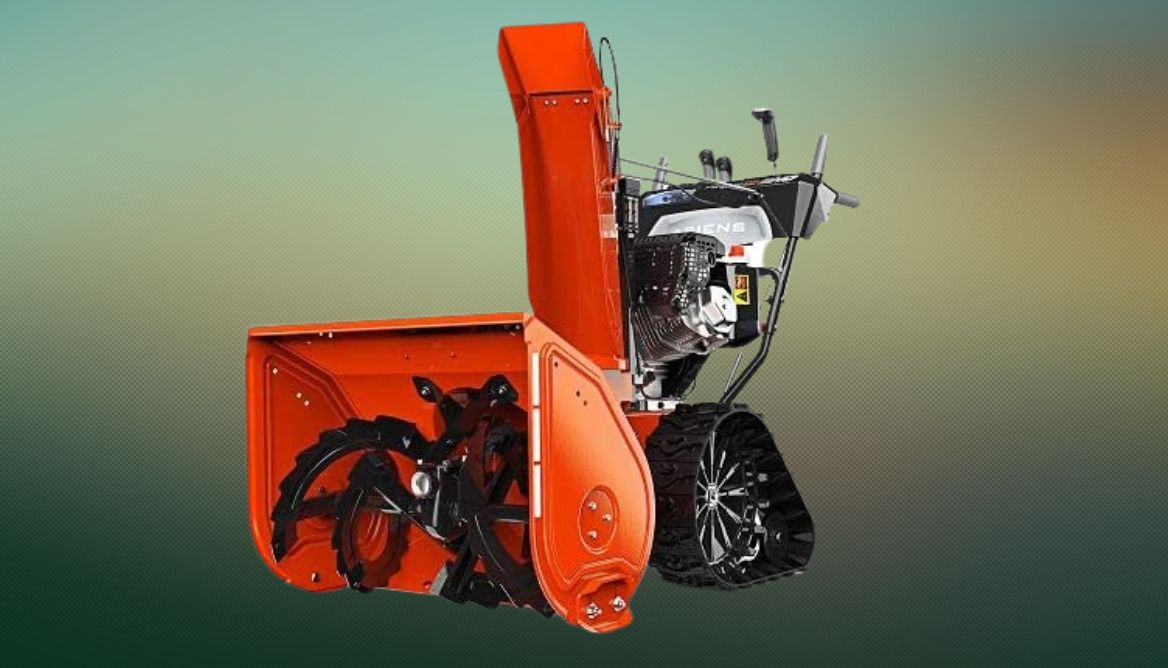 If you need power to clear out a large amount of snow then a powerful engine backed by a 28″ clearing width is the perfect combo for this job. The ARiens Platinum RapidTrak is a machine built to deliver a strong traction on slippery surfaces and a strong throw for an easy job!
Best Track Snowblower – 2022/23
Track snowblowers are known for exceptional grip on all surfaces. Additionally, they provide a non-slip experience even on steep slopes and smooth ice.
They may be pricey, but if you are looking for a heavy-duty snowblower that can outperform any wheeled version, then these are your best pick. Here are some of the best picks: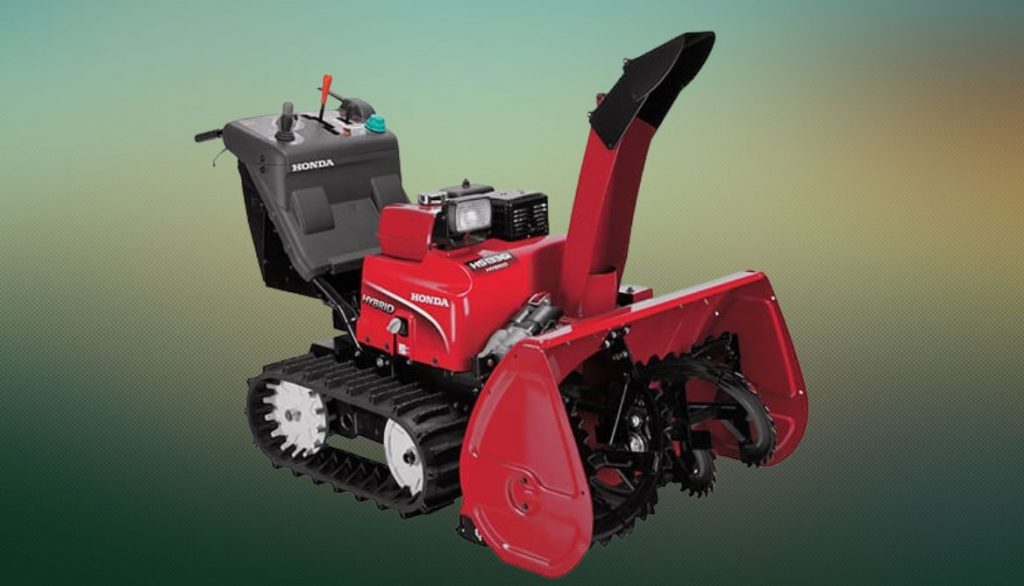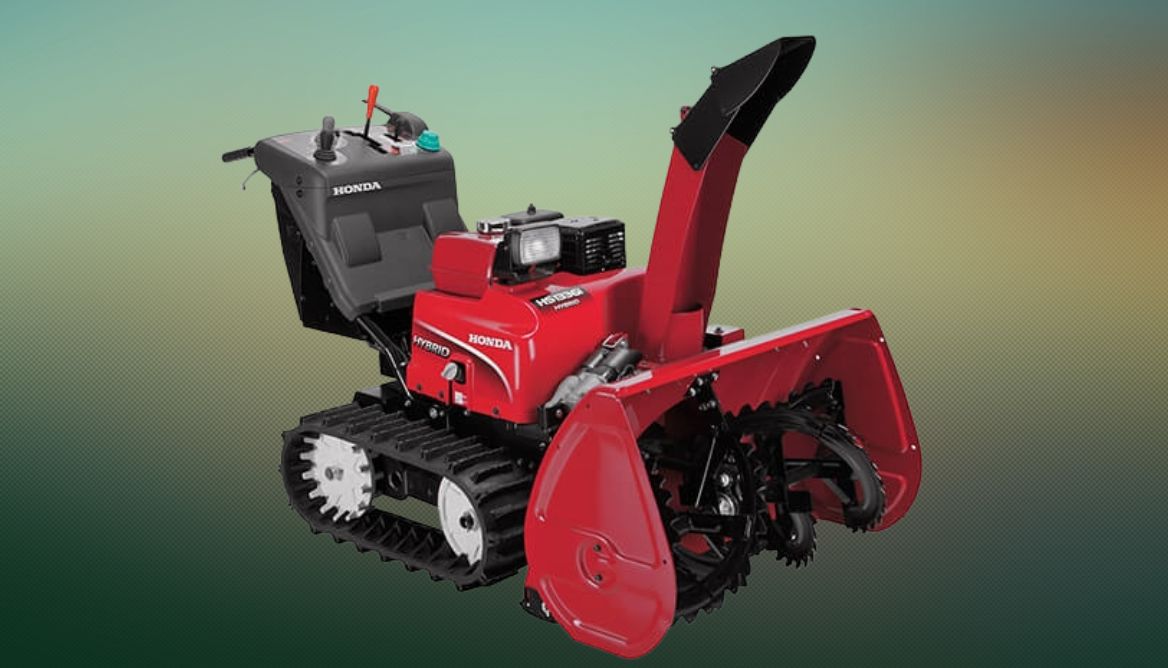 | | |
| --- | --- |
| | |
| | |
| | |
| | Honda GX270 (Four-stroke engine) |
| | |
High-quality construction material, durability, and reliability have been the notable features of Honda snowblowers. The HSS928AAT is a very agile and speedy snowblower that can quickly remove snow with less effort.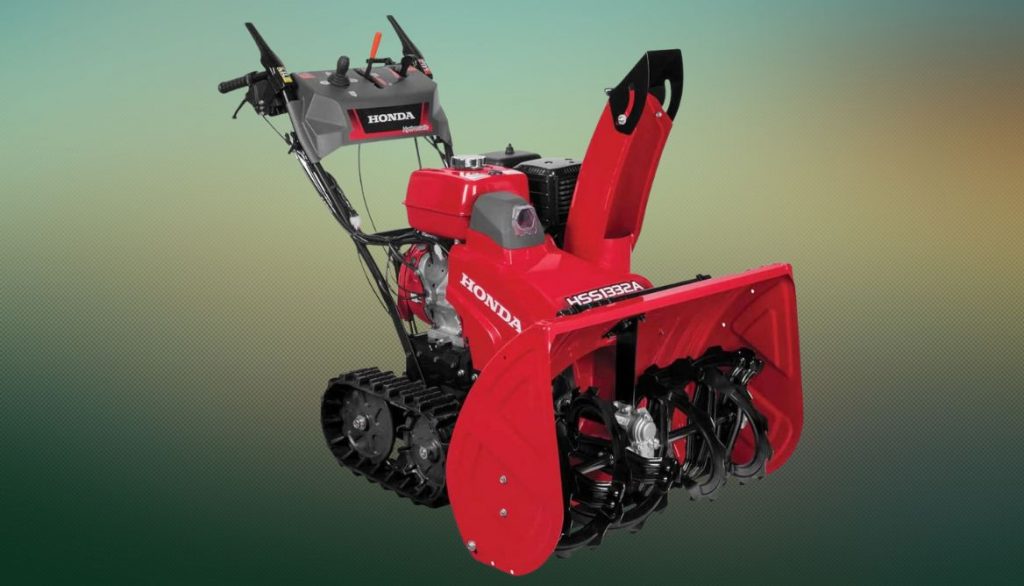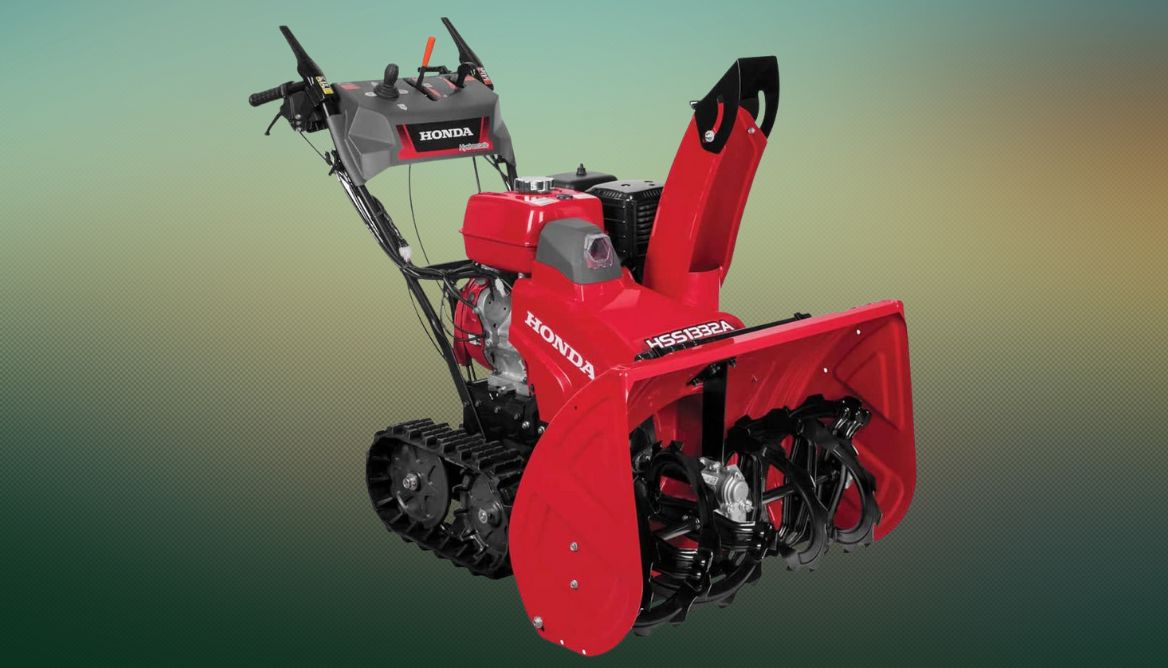 | | |
| --- | --- |
| | |
| | |
| | |
| | Honda GX390 (Four stroke engine) |
| | |
The HSS1332AAT is fitted with a powerful Honda GX390 engine that delivers massive power making cutting through thick snow and throwing it out of the property an easy task. The large clearing width can chew a large amount of snow in less time and clear it out.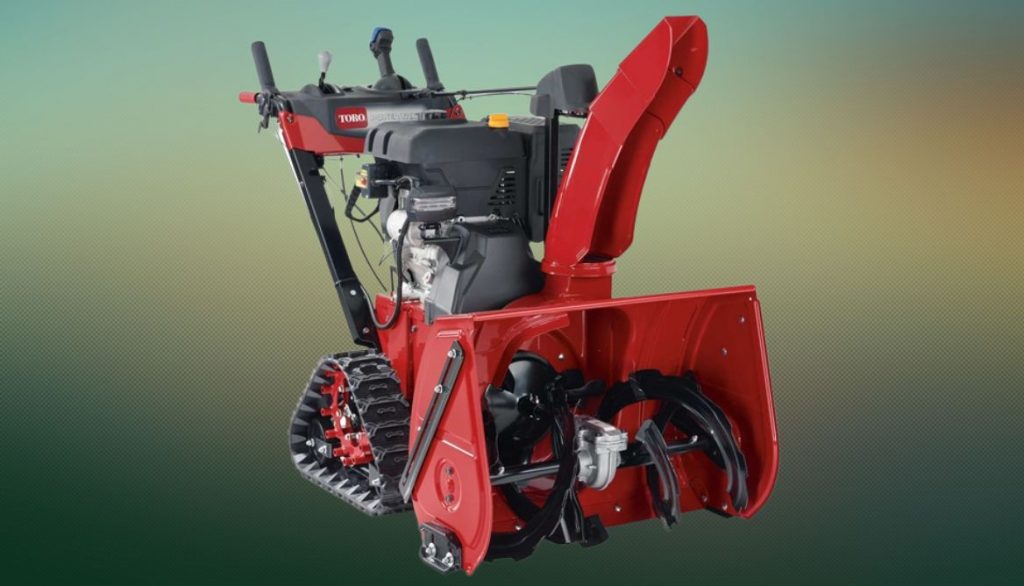 | | |
| --- | --- |
| | |
| | |
| | |
| | 420cc OHV 4-cycle (Four-stroke engine) |
| | |
Toro never ceases to amaze its customers! Do not be fooled by the mere 28″ clearing width. This snowblower packs quite the punch when clearing out snow. The 440cc two stage engine delivers the power you need to break down the thickest snow cover with ease!
Track-Drive Snow Blowers vs Wheel-Drive Snow Blowers
Higher powered (Two-stage)

Average power (single-stage)

Low traction but high

maneuverability

Slow but suitable for various

surfaces

All surface types (smooth or

uneven terrain)

Large areas, commercial use,

yards, etc

Sidewalks, driveways, small

yards, etc.
Benefits of Track Snowblowers
Track snowblowers offer unmatched advantages when using them in any scenario. Let us look at some of the benefits:
The track snowblowers work exceptionally when used on slippery surfaces on ice. So, rest assured that there is ice below the snow-covered on your property.
If your driveway has a slope, the track snowblower will move easily compared to a wheeled snowblower.
You do not need to worry about uneven surfaces as the snowblower has tracks that adapt to the uneven structure.
These types of snowblowers offer extra traction and control, making it easy for you as it has reversible skid shoes.
They are designed to remove heavy snow with ease. Also, they can easily remove wet snow without any hassle.
While extra effort is needed on a wheeled snowblower to push through the snow. The track snow blowers will make their way while moving ahead in the thick layers of snow.
Working through deep snow is not an issue for this type of snowblower.
What We Are Looking For In a Quality Option?
This post can help you as a buying guide when shopping for a track drive snow blower or a simple track snow blower. Keep in mind that a quality product will offer features you may prefer and need while using the snowblower during winter.
Clearing Width: Make sure that the snowblower has an excellent clearing width to remove a large amount of snow in less amount of time.
Height: Sometimes, plowing close to the ground can result in mishaps. The height of the snowblower also helps to adjust to thin or thick layers of snow that need to be removed. A track type can easily adjust from 6″ to 24″ of snow.
Traction: A wheeled type may lose traction on slippery surfaces, but a track version will have exceptional grip even on ice or uneven surfaces.
Build Quality: Remember that snow might seem harmless when turned into ice, but it can cause damage to the deck. If the deck is made of multiple layers of steel or high-grade material, then it is long-lasting.
Pricing: When seeking out a snow blower, the price tag should justify the quality and features offered by the equipment. Avoid a very pricey option, and make sure to buy something worth every buck!
Features: As they say, "the more the merrier"! The same is the case with a quality product. Always opt for an option that has more features to offer. High-end snow blowers will ensure you get numerous features to make snow removal easier.
FAQ
Is a snowblower with tracks worth it?
A snow blower with tracks is definitely worth the investment as it is an all-terrain machine that offers superior traction and grip. The snow blower can even move easily on uneven surfaces while maintaining excellent control.
What stage snowblower is going to be the most effective for walkways and small driveways?
A single-stage snowblower is most suited for small jobs such as driveways or sidewalks. So, if you do not have a lot of snow to remove then better opt for a single-stage snowblower rather than spend on larger equipment.
How many inches of snow before you use a snowblower?
Generally, most people will use a snowblower when there is 6″ of snow on their property. People may also wait for more snow to settle before using a snowblower to remove it.
What is better a single stage or two stage snow blower?
Two stage is better! Both are used in different ways depending on the need and amount of snow. A two stage is bettter as it has a more powerful engine, can move in heavy snow, and offers a more powerful snow throw. Overall , it is a better machine than a single stage.
Is a 3X snowblower better than a 2X?
Yes, a 3X snowblower is better the 2X. It all depends on the amount of snow settled on the surface, the amount of snow for removal, and the type of snow. Also, keep in mind the budget you need to invest smartly in a 3x or 2x snowblower.
What is the difference between a Snow Thrower and a snowblower?
The most notable difference is in the type of engine they use. Snowthrowers usually have a smaller, single-stage, and less powerful engine suited to handle less snow. While, a snowblower has a slightly larger, more powerful, and two-stage design for even wet snow.
Can you leave snowblower out overnight?
Snowblowers are built with top-quality materials and they can be left outside overnight and even during winter. But, ensure that they are covered and safe from elements such as rain and snow.
Conclusion
No matter which snow blowers you use for removing snow from your sidewalk, driveway, or yard you should keep in mind the type of snowblower best suited for it. Using a single-stage or two-stage snowblower efficiently will save you time, money, and effort.
The article narrowed down the choices for you by explaining in detail the features, pros, cons, and even the engine type of snow blowers.
What type of snow blowers do you use? If you don't have one. Did you buy a suitable snowblower after reading the article? Let us know your feedback after using the snow blower.
Latest posts by Mercy Stephens
(see all)