Raking your garden and cutting large twigs is one way to keep your yard clean and attractive. How do you quickly take care of the thousands of twigs, leaves, and other garden debris after trimming? You can turn them into rich mulch, which is the main ingredient for organic compost. This approach not only improves the growth of your plants but is also eco-friendly.
With the best chipper shredder, you can turn your twigs, leaves, and other small debris into mulch. We have gone through customer reviews, recommendations, and specifications. We want to share our findings with you in less than 10 minutes; continue reading this review.
Worx Electric Leave Shredder
If you're in a hurry, you should consider the Worx Electric Leave Shredder. It's decked with a handful of features that make it worth the amount you spend on it. You'll get up to 53gal of mulched leaves per minute from the shredder, in addition to a 13-inch cutting diameter, and it's easy to assemble.
---
Comparison Table: Chipper Shredder
| | Chipper Shredder For Composting | Power | Weight |
| --- | --- | --- | --- |
| 1 | Worx Electric Leave Shredder | Electric | 24.3 lbs |
| 2 | Yard Force Electric Leave Shredder | Electric | 13.45 lbs |
| 3 | Sun Joe Electric Shredder | Electric | 13.49 lbs |
| 4 | Patriot 10 Hp Gas-Powered Chipper | Gas | 139 lbs |
---
What to consider before buying a chipper shredder.
Most gardeners love the summer season but prepare to get busy when summer gets in full swing. It's a period of clipping, cutting, and pruning tasks as maintenance is essential in gardening. Your vines and trees require a lot of trimming in summer to keep your garden looking squeaky clean during this season. Once you gather the wastes in your yard, don't be in a rush to dispose of them.
Technology can help you reduce the amount of effort you put into your garden. Buying a chipper shredder enables you to convert waste to mulch and compost, but it is also an excellent way to improve soil nutrients.
---
Best Chipper Shredder for Composting Leaves: Our Reviews
Worx Electric Leave Shredder
Features: 13-inch cutting diameter, corded 13 amp bladeless electric motor, 8500 pm motor, 11:1 mulching ratio, weighs just 20lbs, 53 gals per minute cutting ability, easy to assemble, etc.
The Worx Electric Leave Shredder is our top pick for this review. Unlike other chipper shredder models, WORX is a bladeless mulching electric system with a heavy-duty grass trimmer. The box contains the leaf mulcher, one universal bag holder, and 24 replacement lines. It takes less than 10 minutes to assemble with no additional tools.
The shredder comes with a 13 amp electric motor rated 120V and 60Hz. It is sturdy and can efficiently mulch up to 53 gallons of leaves per minute but it does not come with a debris bag, so you have to buy one before using it. Regarding the blades, it sports a flex-a-line bladeless system that uses thick trimmer lines to achieve a reduction ratio of 11:1. It comes with 24 cutting lines with a diameter of 0.99 inches and a durable bag support ring.
This WORX product has a unique design that allows for both paper and plaster debris bag usage. The mulcher component connects to the sturdy stand placing the debris opening at an ergonomic height. It also features an oversized on/off switch for ergonomic operation, and the high capacity opening allows for more leave mulching per minute.
The shredder struggles with wet leaves and sometimes gets clogged by it.
---
Sale
Yard Force Electric Leave Shredder
Features: Electric 13 amp motor with 8,000 RPM, push-button start/stop, replacement lines, safety glasses, two years warranty, 12:1 reduction ratio, 0.95-in trimmer, etc. 
The Yard Force leaf shredder is another recommended leaf shredder. It comes in a small package but offers more power than its size. At a glance, you'll see a motor housing, three adjustable legs, funnel and funnel cover, a removable air filter, and more. 
It's powered by a 13 amp AC electric motor with 8,000 RMP. The motor comes with an adjustable setting for pine needles, dry and wet leaves. And concerning the reduction ratio, this unit has an approximate reduction ratio of 12 to 1. The YF8000 features long-lasting lithium-ion batteries and sturdy chipper shredder frame designs made with advanced technology. This product is quiet, simple, and has a lightweight design for smooth movement. 
This shredder makes use of a standard 0.95-in trimmer line and does not require any tool replacement. The only thing you will need to change is the line replacement (comes with ten shredder replacement lines). It also comes with 3-adjustable legs that allow you to use this product safely on all terrains. 
Yard Force Electric Leave Shredder is super easy to assemble using the operation manual with pictorial help. A bungee elastic band holds plastic and paper waste bags attached to this product for effective use. 
---
Sale
Sun Joe Electric Shredder
Features: 13-Amp electric motor, a control dial, 50ft power cord, hopper compatible with a trash can, dust reducing motor, motor cooler, lightweight, etc.
The Sun Joe Electric Shredder is our budget pick with a difference. It comes with features you will love. If you are looking for a chipper shredder with mulching controls and one with less dust, you should consider it. 
This model is what you need to buy. It is powered by a 13-amp electric motor with 8,000 RPM and an easy-to-read control dial for fine and coarse shredding. The shredder takes less than 10 minutes to assemble and disassembles easily for storage. The motor is durable, lightweight, and has a cooling system designed with Sun Joe's Smart Shred technology. This feature diverts air from shredded leaves, reduces dust generation, and allows you to use it for long hours. 
It can handle twigs with a diameter of about a quarter of an inch without changing the shredding line. However, feeding this product with larger twigs means you have to replace the shredding lines frequently. Changing the shredding line is easy, though, and takes up to 5 minutes. Concerning the cutting diameter, this shredder comes with a 12-inch diameter cutting line and can mulch up to 55 gallons of leaves per minute. 
This product works best with extension cords with a 16 gauge rating and a maximum length of 50 feet. As for the warranty, you'll get two years out of this shredder.
---
Patriot 10 Hp Gas-Powered Chipper
Features: Briggs and Stratton Vanguard Commercial Engine, three-year warranty, 7 x 2 inches wide chipping cone, six hardened-steel y-hammers, direct power transfer, etc.
While other chipper shredders in this review cannot handle branches up to 3 inches in diameter. Patriot's ten hp product is designed for people with a need for a large chipper shredder. As you'd expect, it's a tad more expensive than its counterparts.
This Patriot wood chipper is gas-powered and has a unique construction you can rely on for top performance every season. It features six hardened steel y-hammers that beat debris into coin-size chips irrespective of the wood type. The tool steel knives in this machine are heat-treated for wear resistance to ensure they last for years. 
It has a 7-inch long, and 2-inch wide side discharge cone tapered chipping cone. We love the position of the discharge cone because it allows you to chip and shred woods in one location for hours. The feed opening is 14 x 16 inches wide, which allows you to load as much wood and leaves as you please. It can handle green branches, sunflower, and corn stalks, turning them into cone-sized chips. 
This chipper also comes with a large wheel that makes it easy to move around. Briggs and Stratton's engine features an overhead valve design for a cleaner, cooler, and more fuel-efficient operation. At first, we thought this product was loud until we found out it features a super low-tone muffler that reduces its noise. It also comes with a low oil sensor that points out when the oil levels are low.
---
FAQs: Chipper Shredders For Composting
Here are a few questions regarding chipper shredders used for composting.
What's different between a chipper shredder and a wood chipper? There's only but a slight difference between the two. A chipper processes wood while the chipper shredder handles as much debris that comes from a tree/bush.
Can I use a wood chipper to shred leaves? A wood chipper can shred leaves properly although not as exactly as the shredder would. It'll still come out fine when you're done.
What should I look for when buying a wood chipper? We highlighted a handful of factors to consider in the buying guide section of this article. Some of the factors include reduction ratio, your budget, and the chipper's price as well as extra features, power cord length, and reviews from other users.
---
Final words
The right chipper shredder for your friend might not be able to handle the leaves and twigs in your yard. Hence, you need to buy a product suited for your gardening needs. Consider the factors we highlighted in the buying guide and use it as a pointer to see what will fit your needs.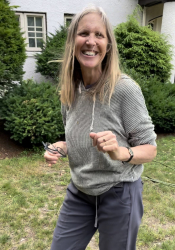 Latest posts by Jessica Zander
(see all)
Hello! I'm Jessica Zander, a garden coach and consultant based in the Boston area (zone 6b), offering virtual consultations across the country and Canada.
I've been passionate about gardening since the early 1990s, and in 2022, I launched You Can Do It Gardening to empower individuals to feel more confident in their gardening endeavors.
Following a 30-year career in nonprofit finance and operations, I transitioned out of that field in mid-June of 2023 due to the growing demand for coaching services. Interestingly, my years of presenting financial statements to boards and finance committees proved to be valuable experience for teaching people about gardening! I enjoy sharing skills, providing guidance and suggestions, and collaborating efficiently with clients to make significant improvements to their outdoor spaces, both small and large. I also regularly teach at the Arlington Continuing Education and Cambridge Adult Education.
My approach is direct and practical, akin to Mary Poppins, but tailored to your garden. Clients find satisfaction in saving money and taking pride in their own gardening achievements.