If you own a garden or you're looking to start one in your backyard, then you must have thought about watering your plants. Watering your plants is an important part of gardening because it ensures that your plants grow well.
However, no one likes to spend hours watering plants daily. There are different efficient watering methods available, and one of them is the use of a soaker hose. For your convenience, we've compiled a guide of the best soaker hose.
Melnor 65062-AMZ Flat Soaker Hose
If you're in a hurry, we'd like to quickly let you know we selected the Melnor 65062-AMZ Flat Soaker Hose as the best soaker hose for gardens. With the ability to expand up to 75ft in length from its original 50ft length, a great price, and durable finishing, it's undeniably a good pick.
---
Soaker Hose: Comparison Table
| | Best Soaker Hose | Length |
| --- | --- | --- |
| 1 | Melnor 65062-AMZ Flat Soaker Hose | 75 ft. |
| 2 | Water Right Soaker Hose | 50 ft. |
| 3 | Gilmour Soaking Hose | 50 ft. |
| 4 | BUYOOKAY Soaker Hose | 50 ft. |
| 5 | Dramm 17010 ColorStorm Soaker Garden | 50 ft. |
---
Buying Guide: Soaker Hose
A soaker hose is a convenient and efficient method of watering your garden, but this only happens if you are able to pick the best from amongst the many options available in the market. To do this, there are some factors to put into consideration, and they include:
---
Best Soaker Hose for Gardens Reviewed
Efficient watering usually requires an efficient method; this is what a soaker hose offers every gardener. It is cost-effective and saves you the stress of having to stand for hours every day watering your garden. However, there are lots of soaker hoses out there today, which is why we've reviewed the best ones you can get to narrow down your choices; let's get right to it.
Melnor 65062-AMZ Flat Soaker Hose
Features: 75 feet long, made from vinyl material, weighs 2.73 pounds, 2 washers set, designed flat, easy storage, easily connected, two years warranty, flexible and versatile.
This soaker hose from Melnor is simply one of the best in the market for many reasons; it comes with a flat design that ensures that gardeners can easily fold it up for storage when not in use. The Melnor 65062-AMZ is durable and, therefore, will be able to withstand being buried under soil, unlike other soaker hoses.
The Melnor soaker hose also comes with 2 washer set that allows you to replace the used set when it becomes rusted or old. Expectedly, it has porous holes that allow water to seep out slowly, depending on your settings. This arguably makes it a suitable option for your vegetables as well as a raised bed.
Connecting this soaker hose to other hoses is quite easy due to the rust-resistant caps. However, the long length makes the connection unnecessary, and you can water your large garden comfortably. Melnor offers a two-year warranty on this hose.
---
Sale
Water Right SKR-050-MU Soaker Hose
Features: 50 ft. long, weighs 4.93 pounds, made from FDA-approved polyurethane, flexible and durable, y-shaped connector, strain relief on both ends.
If you're in the market for soaker hoses that are suitable for your edible plants, then the Water Right Soaker Hose might be the best option for you. This soaker hose is made from polyurethane, a top-quality material that is FDA-approved and contains no lead, which makes it suitable for your vegetable.
The material is also UV resistant and therefore ensures that exposure to the sun doesn't damage your soaker hose. Its flat design is also flexible and stays like that even in freezing weather conditions. However, we don't recommend leaving the hose outside in winter, considering that you won't be watering anything in winter.
With brass-coated fittings, you're assured of your soaker hose never getting tarnished. It also comes with strain relief gizmos on both ends to avoid any form of kink. The Water Right soaker hose is also a top choice among many gardeners because of how freely water flows through the holes.
---
This soaker hose is produced from recycled vinyl, which makes it good for your plants and vegetables. It is a top-quality material that is durable and clog-resistant; it ensures that your plants are properly watered when it needs to be, and no debris gets clogged inside.
This soaker hose is flexible and allows the user to snake it throw rows of new seedlings or beneath grown plants to ensure deep watering when needed. Switching it on and off with the use of the spigot is easy, but you can also buy a separate timer that you can attach and set how long you want to water your garden. This soaker hose flat design allows it to be easily rolled up and stored when not in use.
To ease your fears of not getting a quality soaker hose, Gilmour Soaker Hose comes with a 7-year warranty. It is lightweight and comes with removable end caps that allow it to be connected to several other hoses for length. Length-wise, the hose is about 50ft long.
---
BUYOOKAY Soaker Hose
Features: 50ft long, weighs 3.18 pounds, saves water, flat design, easy storage, great for flower beds, made with recycled rubber, lead-free, lightweight, and durable.
Another top soaker hose to be considered is the BUYOOKAY soaker hose. This flatly designed soaker hose easily unfolds for use in flower beds, gardens, and other areas. You can easily set up this soaker hose wherever you require it. Also, its lightweight designs allow it to be moved at any time necessary.
This soaker hose is made from recycled rubber and is fit for heavy-duty use in the garden; it is clog-resistant, and the porous holes allow water to seep out slowly. The BUYOOKAY soaker hose is also durable and will last through different seasons; it comes with removable cap ends that allow it to be connected to several other soaker hoses.
Concerning length, the hose measures about 50ft and is devoid of contaminants like lead. Let's also add that the black color of the hose makes it conspicuous.
---
Sale
Dramm 17010 Soaker Garden Hose
Features: 50 ft. long, weighs 6.07 pounds, lifetime guarantee, made from recycled rubber, evenly waters gardens, durable, crush-proof, and kink-resistant.
This Dramm ColorStorm Premium soaker hose is a great option for effectively watering your plants; it is made from recycled rubber and has a somewhat thicker body than other soaker hoses. This ensures that it can withstand rough handling by varying weather conditions.
The Dramm soaker hose measures about 50ft long and comes seeps water slowly and nicely. It's pores are pretty tiny, but they get the job done. The Dramm soaker hose allows you to soak water over a wide area by simply attaching to other hoses while ensuring even water dispersal.
This soaker hose also saves about 90% more water than other brands and is therefore ideal for slowly watering your garden because everything gets evenly watered with no soggy patches around your garden. It is kink-resistant and free of abrasions. This soaker hose is durable and allows for easy storage when not in use.
---
Soaker Hose – FAQs
Why is a soaker hose considered an excellent watering source? Installing a soaker hose is easy, and it saves water becomes it uses far less water than most garden hose does. It is also environmentally-friendly and helps to cultivate your garden efficiently.
Can a damaged hose be repaired? Yes, it is possible to repair a damaged hose but take note to ensure this doesn't repeat itself. It is often caused by high pressure; a pressure regulator can help avoid this problem and ensure the durability of the soaker hose.
---
Final Thoughts
If the plan is to start a garden from scratch or you're looking for a better watering technique to keep your plants healthy, a soaker hose is always a good choice. It saves more water than a garden hose can and saves you time as well.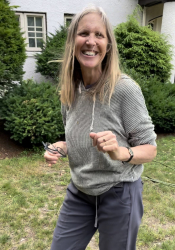 Latest posts by Jessica Zander
(see all)
Hello! I'm Jessica Zander, a garden coach and consultant based in the Boston area (zone 6b), offering virtual consultations across the country and Canada.
I've been passionate about gardening since the early 1990s, and in 2022, I launched You Can Do It Gardening to empower individuals to feel more confident in their gardening endeavors.
Following a 30-year career in nonprofit finance and operations, I transitioned out of that field in mid-June of 2023 due to the growing demand for coaching services. Interestingly, my years of presenting financial statements to boards and finance committees proved to be valuable experience for teaching people about gardening! I enjoy sharing skills, providing guidance and suggestions, and collaborating efficiently with clients to make significant improvements to their outdoor spaces, both small and large. I also regularly teach at the Arlington Continuing Education and Cambridge Adult Education.
My approach is direct and practical, akin to Mary Poppins, but tailored to your garden. Clients find satisfaction in saving money and taking pride in their own gardening achievements.