Before the season's turn and leaves start cluttering your yard, it's best to prepare. Get all the tools that are necessary for this. A rake, a leaf shredder if you may, a wheelbarrow, a composter, and of course, a leaf blower. You can opt to get a push-blower, a handheld blower, or a backpack blower. If you're looking for backpack blowers for wet leaves, this piece is for you.
Husqvarna 350BT 2-Cycle Gas Blower
The Husqvarna 350BT 2-Cycle Gas Blower is the best backpack blower for leaves. It's darn affordable, weighs roughly 23lbs, dons an X-Torq Engine, has a cruise control function, 494 CFM airflow, and a 180 MPH airspeed. And of course, there is a dampener for reduced vibrations as well as an auto-stop switch.
---
Best Commercial Backpack Leaf Blower: Comparison Table
| | Backpack Blower | CFM | Weight | Air Speed |
| --- | --- | --- | --- | --- |
| 1 | Poulan 2-Cycle Gas Blower | 475 CFM | 22 lbs | 200 MPH |
| 2 | Husqvarna 350BT 2-Cycle Gas Blower | 494.41 CFM | 22.5 lbs | 180 MPH |
| 3 | Husqvarna 150BT 2-Cycle Gas Blower | 434.37 CFM | 22.5 lbs | 251 MPH |
| 4 | Maruyama 900 CFM Blower | 900 CFM | 20.9 lbs | 200 MPH |
| 5 | Husqvarna 360BT Blower | 693 CFM | 23.5 lbs | 180 MPH |
---
Commercial Backpack Leaf Blowers: Buying Guide
Raking leaves into a bag can be a whole lot of work. Even the lightest rake and handheld leaf blower will leave your hand hurting when used for hours. Imagine what happens when you have a large property and trees on it – just imagine.
At this point, a backpack leaf blower comes in.
It shifts the weight of the blower onto your back; evenly distributes it to make the leaf blower comfortable to use for hours. To find a suitable backpack blower, you need to look out for some features.
---
Best Commercial Backpack Leaf Blower Reviewed
All the backpack blowers for leaves we reviewed below are gas-powered since they offer more power and longer runtimes than other models.
Sale
Greenworks 580CFM Cordless Backpack Leaf Blower
If you're looking for battery-powered models, the Greenworks 580CFM Cordless Backpack Leaf Blower is our recommended pick. It has great power but an abysmal runtime of about 25 minutes – that's why we skipped electric models in the first place.
---
Husqvarna 350BT 2-Cycle Gas Blower
Features: X-torque engine, ergonomic design, 180 MPH airspeed, 693 CFM, padded harness, weighs 23 lbs, carburetor air purge, easy to use controls, and an adjustable tube length.
The Husqvarna 350BT 2-Cycle Gas Blower is our top pick blower because it has an overall fantastic performance, a user-friendly design, and a pocket-friendly price. It comes with a heavy-duty X-torque engine design. The engine is touted to increase fuel efficiency. This blower is somewhat loud but not in an annoying way.
The Husqvarna 350BT 2-Cycle Gas Blower is powered by a 2-HP 2-Cycle gas engine with up to 7,500 RPM to handle the annoying wet leaves. It allows you to utilize the full blow force from its engine with less arm strain. An offset handle prevents the arms from being pulled downwards, making it easier to control the blowing force. Also, you'll find suitable dampeners that reduce engine vibrations.
The blower also comes with variable speed and cruise control functions to easily control the 494 CFM airflow. With long hours of use arises the need for more comfort. In this case, the blower comes with a one-size-fits-all belt and padded harness. You'll find the intuitive controls helpful along with the adjustable tube length. With a 0.3 gal fuel tank, you're good to go for a couple of hours. We think the chest strap should have been bigger because chest sizes differ.
---
Poulan 2-Cycle Gas Blower
Features: 48CC 2-stroke engine, 200 MPH and 475 CFM, cruise control, variable speed control, adjustable shoulder straps, harness, and weighs 22 lbs.
The Poulan 2-Cycle Gas Blower comes with a 48CC 2-cycle engine with an airspeed of 200 MPH and an airflow rating pegged at 475 CFM. The device has a heavy-duty frame and is built with solid materials.
That notwithstanding, it is lightweight; it weighs just about 22 lbs. To further ensure comfort when the blower is in use, the Poulan 2-Cycle Gas Blower offers a load-reducing harness. The blower fits users of most sizes, thanks to its adjustable shoulder straps. Regarding speed controls, there are cruise control and variable speed functions available. Both controls help keep your hand less busy and the task, less straining.
For assembly, we'd like to point out that it's somewhat hard to assemble it. It'll take quite a great deal of time to get through with setup, but when you do, it starts at one pull of the cord. The blower works best with Poulan Pro pre-mixed fuel; this is a mixture of gasoline, synthetic oil, and fuel stabilizer. Another way for Poulan Pro to arm-twist you into buying its products!!! The blower arguably has less power than advertised. You may probably notice this as soon as you start using it.
---
Husqvarna 150BT 2-Cycle Gas Blower
Features: 434 CFM and 251 MPH, auto-return stop switch, cruise control, X-Torque engine, weighs 22.5 lbs, has dampeners for reduced vibrations, and an air purge controller.
Here's another backpack blower that comes with a 50cc 2-Cycle X-Torque engine like most Husqvarna blowers. For starters, it has a great design that is easy to assemble, and it is lightweight. The weight is pegged at rough 22.5 lbs – a tad less than its siblings. The engine on the unit is the X-Torque Engine touted to be environmentally friendly.
The Husqvarna 150BT 2-Cycle Gas Blower has an airflow rating of about 434 CFM and an air velocity of 251 MPH. It efficiently removes even the pesky wet leaves. It's surprisingly small but efficient enough so that you can quickly clear the leaves without having to take breaks too often. There are dampeners between the engine and the chassis to reduce vibration when you're using it.
And the throttle is on the airflow tube for easy usage. Let's not forget to mention that there's a cruise control feature as well as an air purge controller. The only concern you'll have about this blower is that it doesn't handle large amounts of leaves well. Other than that, it gets a yes from us.
---
The Maruyama 900 CFM Leaf Blower is not designed with homeowners in mind. Instead, it is targeted at commercial landscape professionals who are looking for something powerful to get the job done quickly. However, that does not mean you cannot buy it for home use. The Maruyama 900 CFM Blower is rugged, super comfortable for long hours of usage, and comes with a good engine.
It is powered by a 64.7cc Kawasaki 2-cycle engine, which generates an impressive 900 CFM airflow and an airspeed of 200 MPH. This amount of power comes with many vibrations. Hence, Maruyama fits it with four suspension springs independent of each other. Their sole responsibility is to dampen the vibrations and keep your body comfortable for the duration you're using the unit.
Also, there are back pads and extra heavy-duty padded straps that secure the blower to your body frame. Surprisingly, the blower weighs just 20.9 pounds, a tad lower than some of the less powerful units we've seen on this list. Honestly, the Maruyama 900 CFM Blower is somewhat tricky to assemble, no thanks to unclear diagrams. As for the warranty, it comes with a five years commercial warranty – impressive.
---
Husqvarna 360BT Leaf Blower
Features: X-torq engine, high airspeed, high airflow, air purge, cruise control, variable speed controls, an adjustable tube length, and a sizeable fuel tank.
Husqvarna is known for making great outdoor power tools for rugged outdoor needs. This Husqvarna 360BT Blower is their offering to those in need of a commercial-quality backpack blower. It shares the same similarities with the 150BT and 350BT models. As expected, Husqvarna fits this blower with an X-Torque engine that increases fuel efficiency and reduces emissions.
The blower offers you full blow force with minimal arm strain. An offset handle makes it easier to control the blowing power and prevent a downward pull. And there's the rugged 66cc X-Torque engine that is easy to start and produces a high airspeed of up to 180 MPH. The airspeed isn't the largest in the market, but the higher the CFM, the better.
A look at the engine shows a 2-cycle engine with 3.81 HP with an efficient fan design with maximum airflow. The Husqvarna 360BT Blower is easy to assemble. As we mentioned earlier, this leaf blower is designed for commercial use or for people who embark on demanding tasks. However, homeowners with large properties – over 1 acre – can comfortably use it without any hassles.
---
FAQs: Backpack Blowers For Leaves
What backpack leaf blower should I buy? The best answer to this question is to choose what suits your needs and your budget. If you're satisfied, you can opt for the blower we selected at the beginning of this article.
Do I need a backpack blower? If you have a large property and you're tired of spending long hours using a handheld blower on it, you should get yourself a backpack blower. On the other hand, you can opt for a rake and a garden wheelbarrow to clear out the leaves. But bear in mind that a rake will take your energy and time and still not get the job done correctly.
Are leaf blowers worth it? If you find a suitable leaf blower that fits your budget, grab it with both hands. However, we recommend you stay away from the electric models because of their abysmal battery life.
What should I look for when buying a blower? The short buying guide we included at the beginning of this piece listed a handful of features and factors you should consider when you're looking for a blower to buy.
---
Final Words
Finding the right backpack blower for your yard is a matter of defining what you want to achieve and setting a budget. Choosing a defective model is equivalent to annoyance when you're working. We do hope you'll find one that suits your budget and needs.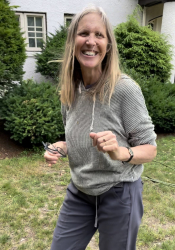 Latest posts by Jessica Zander
(see all)
Hello! I'm Jessica Zander, a garden coach and consultant based in the Boston area (zone 6b), offering virtual consultations across the country and Canada.
I've been passionate about gardening since the early 1990s, and in 2022, I launched You Can Do It Gardening to empower individuals to feel more confident in their gardening endeavors.
Following a 30-year career in nonprofit finance and operations, I transitioned out of that field in mid-June of 2023 due to the growing demand for coaching services. Interestingly, my years of presenting financial statements to boards and finance committees proved to be valuable experience for teaching people about gardening! I enjoy sharing skills, providing guidance and suggestions, and collaborating efficiently with clients to make significant improvements to their outdoor spaces, both small and large. I also regularly teach at the Arlington Continuing Education and Cambridge Adult Education.
My approach is direct and practical, akin to Mary Poppins, but tailored to your garden. Clients find satisfaction in saving money and taking pride in their own gardening achievements.