Moving compost, farm feeds, tools, grow bags, etc., from one part of the garden/yard to the other can be a chore. You may have to make several trips or need several hands to carry these items to and fro where you need them. A garden wheelbarrow can help you take as many things within its weight limit as possible at once. After sampling different wheelbarrows and wagons, we have this to say.
Sale
---
Comparison Table: Wheelbarrows For Gardening
---
| | Best Wheelbarrow For Gardening | Weight | Size | Load Capacity |
| --- | --- | --- | --- | --- |
| 1 | Garden Star Garden Barrow | 20.1 lbs | 37 x 26 x 27 in | 300 lbs |
| 2 | Gorilla Carts Poly Garden Dump Cart | 32 lbs | 38.7 x 20 x 19.5 in | 600 lbs |
| 3 | Green Works Garden Cart | 75.8 lbs | 53 x 25 x 42 in | 200 lbs |
| 4 | Patio Watcher Heavy Duty Collapsible Wagon | 26 lbs | 40 x 20 x 38 in | 150 lbs |
| 5 | Polar Trailer Utility Cart | 40 lbs | 65 X 29 X 29 in | 400 lbs |
---
Garden Wheelbarrows – A Simple Buying Guide
Having read through our review, the question on your mind will be 'how do I choose the right wheelbarrow?' Well, we anticipated your question and took our research a step further to answer your question. Here are some things you should have at the back of your mind – we took some of them into consideration when we put this piece together.
---
Tires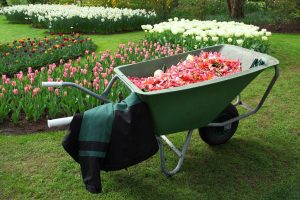 Not all wheelbarrows have a single wheel.
Moreover, in our review above, non-of the best garden wheelbarrows we selected has a single wheel. While a single wheelbarrow appears easier to turn, a four-wheel model handles more weight with better support.
Now, a two-wheel model offers you a compromise – they combine stability and maneuverability. Most wheelbarrow wheels are pneumatic while some are flat-free. They're as good as the air-filled tires. Air-filled tires ensure you have a smooth ride.
The type of wheelbarrow tire you choose determines the amount of ground clearance your wheelbarrow cart will have. Now, this is another important thing to closely consider. If your house has uneven rocky terrain, then it is best to buy a wheelbarrow with a large clearance. This is also one of the factors when looking for lawnmowers.
---
Best Wheelbarrow For Gardening Reviewed
---
Sale
The Garden Star wheelbarrow is our top pick for the best wheelbarrow for gardening. It sports a unique design that gives it a lot of edge over other wheelbarrows on the market. This wheelbarrow features two sturdy air-filled rubber tires that make movement easy. The tires seem to be heavy-duty and will definitely last long on the barrow.
We love it because it comes with only six bolts, which makes it super easy to assemble. If it was preassembled, the size would be enormous and would definitely lead to higher shipping fees. In terms of features, the Garden Star Wheelbarrow also features an easy to carry poly tray built to carry various things such as sand, gravel, mulch, dirt, or sand.
Undeniably, the Garden Star Wheelbarrow is the perfect best wheelbarrow for weeding, hauling, and doing other garden projects. Weight-wise, it's one of the few lightweight wheelbarrows to buy. It weighs 20.1 pounds and sports a loop handle which is strong. It makes it easy to push, pull, and lift with ease.
However, we think separated handles would have been a better option. It's not all rosy for the Garden Star Wheel Barrow as it does have some downsides, one of which is the fact that it can't be used for heavy-duty work.
---
Sale
If you're interested in having something larger than the Garden Start wheelbarrow we reviewed above, the Gorilla Carts Dump cart is worth taking a look at. This wheelbarrow is designed by Gorilla Carts who has been in the business of making garden products for years. They aim to design products that exceed your expectations and allow you to have fun and achieve more. For this reason, this wheelbarrow made our list. But bear in mind that it's not for everyone.
It was designed for people who have large gardens or farms and need to haul a lot of things around the farm at once. The Gorilla Carts Poly Garden Dump Cart has a 600-pound carrying capacity and a padded dipped-grip pulling handle for easy haulage. It's not lightweight per se, but it's not heavy when empty. It sports 4 rugged 10-inch pneumatic tires that give it a nice lift off the ground and make haulage a less daunting task, especially on rough terrain.
Furthermore, this wagon features a solid 38.5 x 20-inch anti-rust poly tub base for hauling heavy loads. One feature we love about this Gorilla cart is the quick-release dumping mechanism. Obviously, this amazing feature allows you to roll a heavy load into the bed before lifting it upright. This tilts the tub like a dump truck and makes it easy to unload manure, dirt, and other items placed in the tub.
The frame design of this cart gives it a turning radius absent in most wheelbarrows. Gorilla Carts Poly Garden Dump Cart weighs exactly 32 pounds and has a height of 19.5-inches which meets the need of a light-duty gardener.
---
Green Works Garden Cart
Features: Multiple speed options, brake pedal for parking, quick-release mechanism, firm and robust 10-inch tires.
We're halfway into our review of the best wheelbarrow for gardening. If you're looking for an electric model, this might just be it. The Green Works Garden Cart is a self-propelled electric wheelbarrow powered by a 40V battery. It features a quick charger that charges the battery full in just two hours.
Unfortunately, the battery has a run-time of 40 minutes in an ideal condition (on pavement or flat grass) which is definitely low compared to the time you'll probably be spending in your garden. You can, however, purchase spare batteries to augment each other, but that too doesn't come cheap. The Green comes with a rust-resistant 3.75-inch cargo tub with a maximum load capacity of 200 pounds. Also, it has an off-loading handle which makes it easy to off-load items from the cargo tub.
Another interesting feature of this wheelbarrow is the 10-inch wheel which is capable of moving over all terrain. The Green Works Garden Cart has unlimited use and is designed for yard work, beach, camping, and so much more. Now, just like the Gorilla Carts Poly Garden Dump Cart, the Green Works Garden Cart also features a quick-release dumping technology for easy loading and unloading.
Weight-wise, the Green Works Garden Cart wheelbarrow has a weight of 75.8 pounds which is definitely higher than we expected. In fact, it's much higher than the weight of the Gorilla Cart we reviewed above. The Green Works Garden Cart is a durable and heavy-duty electric wheelbarrow with multiple speed options. It is super easy to use, and in just five minutes, you will definitely get the hang of it after reading the manual.
---
Patio Watcher Heavy Duty Collapsible Wagon
Features: 2 wheel braking system, easily foldable, made from high-quality fabric material and is easy to clean, can fit into a car trunk when folded. weight capacity of 150 pounds.
If storage of your gardening tools and equipment is an issue of concern for you, the Patio Watcher Heavy Duty Garden Wagon is definitely worth looking at. The Patio Watcher Heavy garden cart can be folded into a carry bag for easy storage. The Patio Watcher Heavy Duty Collapsible Wagon is a utility wagon constructed to be sturdy and easy to use. It features a 16-1/2-inch stretchable handle and a body made of fabric.
The fabric used in this wagon is highly durable and made from 600D polyester fabric which is removable for washing. It's akin to the type you'll find on some high-quality grow tents. The durable fabric is held in place by a sturdy aluminum frame (better and more stable than steel).
For color lovers, the Patio Watcher Heavy Duty Collapsible Wagon comes in different colors you can choose from – blue, red, and gray. It also features four 7-inches rubber wheels for moving in different directions. They rotate 360 degrees and are controlled by a telescoping handle – absolutely easy to control on most terrains.
The wheels come with a two-wheel brake system that secures this garden wagon in place and allows you to load or unload your materials. This Patio Watcher Heavy Duty Collapsible Wagon is perfect for garden trips, camping, and other events that require you to move things. With a weight capacity of 150 pounds, this best folding garden wagon is sturdy and easy to use, and clean.
---
Sale
Polar Trailer Utility Cart
Features: Impressive carrying capacity of 400 pounds, it's very lightweight, comes with 20-inch rugged tires, it features good handles and a sizable tray for carrying items.
For hauling firewood, mulch, or compost, we recommend the Polar Trailer Utility Cart. It's not the nicest-looking wheelbarrow on our list, but it gets the job done. The Polar Trailer Utility Cart has the spot for the best wheelbarrow for firewood because of its durable high-impact polyethylene tub and size. It is easy to assemble, weighs 40 pounds, and a surprising hauling capacity of 400 pounds.
Despite the Polar Trailer Utility Cart's hauling capacity, it does not buckle or strain under the weight. The 20-inch wheels have a twin-spoke design with solid rubber to prevent flats. However, you can choose to order it with a rim flat tire. The Polar Trailer Utility Cart is an all-purpose cart and one of the few perfect wheelbarrows for hauling material across rocky and tricky terrain.
This wheelbarrow is a combination of a relatively light frame and tough tires for a variety of tasks for beginners and professionals. Did we mention that the handle gives a good grip and increases maneuverability?
---
Wheelbarrow For Gardening – FAQs
How do I choose a wheelbarrow? Choosing the best wheelbarrow for gardening boils down to a handful of factors, including a budget, usage requirements, durability, and brand. In our buying guide section, we highlighted a handful of the factors to guide you in choosing the right wheelbarrow.
Are plastic wheelbarrows any good? A plastic wheelbarrow is good for light carrying tasks within the confines of the wheelbarrows weight limit. Don't use it to carry items like concrete or heavy sand/stones as it'll damage the wheelbarrow.
---
Final Words…
Once you have made up your mind on the wheelbarrow to buy, you need to consider if it fits your budget, your carrying needs, and the type of warranty that comes with it. Lastly, to extend the life of your wheelbarrow, you need to have a maintenance schedule. Again, always ensure you don't exceed the weight capacity of your wheelbarrow.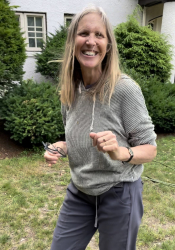 Latest posts by Jessica Zander
(see all)
Hello! I'm Jessica Zander, a garden coach and consultant based in the Boston area (zone 6b), offering virtual consultations across the country and Canada.
I've been passionate about gardening since the early 1990s, and in 2022, I launched You Can Do It Gardening to empower individuals to feel more confident in their gardening endeavors.
Following a 30-year career in nonprofit finance and operations, I transitioned out of that field in mid-June of 2023 due to the growing demand for coaching services. Interestingly, my years of presenting financial statements to boards and finance committees proved to be valuable experience for teaching people about gardening! I enjoy sharing skills, providing guidance and suggestions, and collaborating efficiently with clients to make significant improvements to their outdoor spaces, both small and large. I also regularly teach at the Arlington Continuing Education and Cambridge Adult Education.
My approach is direct and practical, akin to Mary Poppins, but tailored to your garden. Clients find satisfaction in saving money and taking pride in their own gardening achievements.