Every gardener needs a rake for their gardening chores. Whether you're raking leaves together or making compost or you're gathering the grass clippings from the lawn, a good rake will make the task much easier. In this article, we reviewed a handful of the best rakes for lawn and for general raking activities. Some are pricey, but they're worth every penny you spend on it.
Below are the other rakes we selected. Need a blower for the grass?
---
Grass Rakes – Comparison Table
| | Name of Rake | Handle | Folding | Weight |
| --- | --- | --- | --- | --- |
| 1 | Bully Tools 92309 16-Inch Bow Rake | Fiberglass | No | 3.1 pounds |
| 2 | Corona RK 62061 Fixed Tine Leaf Rake | Aluminum | No | 1.3 pounds |
| 3 | TRG Inc The Groundskeeper Rake | Fiberglass | No | 1.03 lbs |
| 4 | Gonicc Adjustable Garden Leaf Rake | Stainless Steel | Yes | 2.5 pounds |
| 5 | Gardenite Garden Leaf Rake | Steel | Yes | 2.13 pounds |
| 6 | Midwest 10036 Aluminum Landscape Rake | Aluminum | No | 4.9 pounds |
---
What To Consider Before Buying A Rake?
Here are a few factors to have at the back of your mind before you make that purchase.
Durability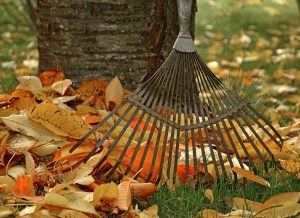 Plastic rakes are cheap, do not last, and usually break after using them for one season. This is not the type of lawn rake you need. On the other hand, good rakes can last a very long time.
One of the rakes in my house lasted from when I was a kid till when I was a teenager. It did lose a few of its tines, but it was darn tough.
Typically, what makes a rake durable is the type of handle and tines it's made of. As a gardener or homesteader who rakes regularly, you need to buy a sturdy rake.
---
---
Rakes For Grass Reviewed
---
Here's what we think about the rakes we've selected.
If you intend to do a lot of heavy-duty work on your lawn, this Bully Tools bow rake is worth considering. It is a product of Bully Tools, an American company founded in the mid-90s with a specialty in farm tools.
The Bully Tools bow rake is made for tough environments. It has a strong build quality, and it is quite cheap when compared to some rakes of its kind. As earlier mentioned, the build quality is good. The handle is bigger and somewhat better than what you'll find on the Gardenite Garden Leaf Rake which we reviewed below although the latter is longer.
It comes with a 16 tine steelhead and is made with an extra thick durable 14-gauge steelhead. That's undeniably perfect for some heavy-duty raking activities. The 58-inch handle is made from high-strength triple wall fiberglass which makes it light and resistant to breakage. It has a rubber grip to make it super easy to use.
In terms of weight, the rake didn't do well in that regard. It weighs about 3 lbs and is noticeably heavy – not meant for people who are in need of something light.
---
The Gardenite garden leaf rake is one of our top picks for the best leaf rake. It is about 63-inches long and comes with an adjustable head. This adjustable head sports a slide mechanism that makes it expand from 7 inches to 22 inches.  
With this sliding feature, getting the rake into tight corners won't be difficult. We did a full review of the best rakes for dead grass here. As for the handle, it is ¾ inches wide and is made of steel but coated in zinc to last you for a very long time. This is a break away from conventional wooden handles that may deteriorate over time.
With respect to weight, the rake itself is lightweight, weighing only about 2 lbs. It's, however, a tad heavier than the Corona Rake and the Groundskeeper Rakes which weigh 1.3lbs and 1.03lbs respectively.
Overall build quality is good, but you'll not be able to do much work with the rake since it's not designed for heavy-duty raking. If you're intending to rake rocky areas with this rake, think otherwise. There are no rubber grip points on the handle so if your hand or gardening gloves are oily, you may have a tough time holding this properly.
---
If you're facing the challenge of dealing with the leaves on your lawn, then you should get the Gonicc Garden Leaf Rake. There's nothing very special about it, save for the design. The rake comes with an adjustable head that sports 15 tines. It can expand to about 23-inches and can fold back to 8 inches thus making it easy to fit into tight spaces.
Adjusting the rake is smooth and there is a tight locking switch that keeps it from going out of position. As for the handle, it is made from stainless steel, and it's large enough to offer some level of comfort to your grip. With respect to weight, the Gonicc lawn rake weighs about 2.5lbs, a tad higher than the weight of the Gardenite rake we reviewed above. It does have a feeling of heftiness but that doesn't make it heavy in any way.
This Gonicc garden rake isn't designed for heavy-duty work, so if you're looking to get busy with some tough raking, go for the tougher rakes. And if you're looking for something similar, the TABOR TOOLS Telescopic Metal Rake is worth considering.
---
The Midwest 10036 garden rake is a good landscape rake fit for raking the lawn. It features a handle made of aluminum and a rounded tine which offers smooth raking action. This prevents any gouging during raking and the striking edge is excellent for grading. You might just be able to use the edges to edge some parts of your lawn.
The rake features a strong handle with a wrap bracing whilst the head comes with a heavy-duty double rib construction for maximum stability and performance. Additionally, the handle is 66-inches long steel coated with aluminum powder for more durability. It also has a 6-inch slip vinyl grip for added comfort when raking – something that is missing in some of the other rakes on this review list.
Also, the head features a solid aluminum plug to handle the connection. The rake is available in a variety of sizes from 24-inch through 48-inch.
---
Sale
The Corona RK Leaf Rake looks slightly different from the rakes we've reviewed so far in this article. It's one of the few that sport aluminum handles on this list. Unlike the other leaf rakes that feature only 15 tines, the Corona rake has 19 tines which are somewhat extra-wide.
The extra-wide nature of the tines allows for easy raking although you may have to pass the rake through the same spot over and over again to get the debris off. Overall build quality is good, no doubt, but there aren't a lot of colors to choose from. As earlier mentioned, it sports a 54-inch aluminum handle which is lightweight.
The handle features a vinyl grip point that adds extra comfort and ensures a tight grip even if your hands are oily or wet while you're raking your lawn. As for the rake head, it is made from steel–tempered spring steel to be exact. It has a feel of durability and the coating looks like it will last if it's not exposed to the elements.
---
Pine needles are known to litter the lawn every now and then. If you're looking for a rake to pull them all together and possibly use it for mulch, the TRG Inc Groundskeeper Rake is available.
Sporting 28 steel tines and a 55-inch fiberglass handle, TRG touts this rake as "not your average rake" – not like it has electric or remote controls. There's nothing "very special" about the rake, but it's worth mentioning that it has a good build quality.
The TRG Inc Groundskeeper is good for also removing items like sticks from your lawn. This stems primarily from the fact that the 28 steel tines are appropriately spaced and are strong enough to withstand a backward pull.
They appear to be stiff, although, with a mild pull, you'll just be able to bend them backward or forwards. The handle of the rake is yellow in color, so you won't have any issues locating it in the storeroom.
We do have just one issue with this rake. It doesn't have an adjustable head and as such, it cannot be used for raking tight places.
---
Frequently Asked Questions – Rakes
In this section, we tried to provide answers to the most common questions concerning raking and lawns.
Is it good to rake your lawn?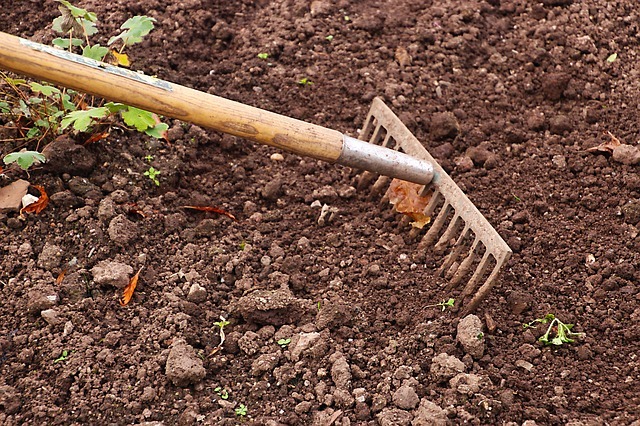 That's not supposed to be a question, but you'll find a few individuals asking it in some forums.
Simply put, it is good to rake your lawn.
Why?
If you don't rake your lawn after mowing or when the leaves have littered the whole place, you risk being penalized by the authorities. Then, of course, your lawn gradually loses its beauty, and then it makes your house like it was deserted.
Should you rake out dead grass?
If you don't rake out dead grass, you might as well be indirectly increasing the thatch layer on your lawn. This significantly adds up and can make dethatching a lot of work.
Should I rake my lawn after mowing?
Raking your lawn immediately after mowing is a matter of personal preference. If the amount of cut grass on the lawn isn't much, you might as well let it be.
However, you should bear in mind that it can lead to the building up of thatch on the lawn. Do you know that there are a lot of things you can do with the grass you cut off your lawn?
Is a metal or plastic rake better?
Plastic rakes are not suitable for heavy raking activities, but they are very lightweight. On the other hand, some of the metal rakes are designed for tough raking activities but they sometimes trade in their lightweight nature for that.
Generally, you're better off with a metal rake if you're looking to do some good raking work.
Which kind of rake is best for pine needles?
A tough rake with a good handle and well-spaced tines is great for pine needles. We reviewed the TRG Inc The Groundskeeper Rake and it's great from taking pine needles off your lawn.
---
Conclusion…
With a good rake and a good neighbor who rakes simultaneously with you, chances of ever getting bored raking your lawn or yard will be slim.
Which of these rakes will you go for? Tell us via the comment section below.