When growing plants in a grow tent or room, you need to provide good ventilation for your plants. There are fans that are specifically designed for this purpose. Taking note of factors like price, size, CFM, etc. can be helpful for picking the one that suits your needs. We looked at some fans that have great specs.
AC Infinity CLOUDLINE T6 Inline Duct Fan
The AC Infinity CLOUDLINE T6 Inline Duct Fan is arguably the best inline fan for a grow tent. It is easy to control and has a CFM of 351. Its 351 CFM should be ample for a medium-sized grow tent. And the central control system makes controlling the fan a lot easier than others.
---
Comparison Table: Inline Fans
| | Inline Fan | Brand | Noise | Air Flow | Duct Size |
| --- | --- | --- | --- | --- | --- |
| 1 | AC Infinity CLOUDLINE T6 Inline Duct Fan | AC Infinity | 32 dB | 351 CFM | 6 Inch |
| 2 | iPower 4-inch 190 CFM Inline Fan | iPower | 48 dB | 190 CFM | 4 Inch |
| 3 | Formline Supply Quiet 6 inch Inline Duct Fan | Formline Supply | 52 dB | 390 CFM | 6 Inch |
| 4 | Hurricane Inline Fan 12" 1060 CFM | Hurricane | > 58 dB | 1060 CFM | 12 inch |
---
Buying Guide: Inline Fans
Here's a checklist of things to have in mind now that you're about to purchase an inline fan for your grow tent.
Size
There are different diameters of inline grow fans. The ones available on the market include the 4-inch, 6-inch all the way to 12-inch. To get the nearest accurate size that will fit your grow tent/room, there's a formula. First, find the cubic feet of the grow tent/room where the inline fan will be installed. To do this, multiply the length, width, and height of the room/tent.
For instance, a 4ft grow tent may have dimensions such as 4ft x 2ft x 5ft. Its cubic feet will be 40ft3.
4ft x 2ft x 5ft = 40ft3.
40ft3 x 1.25 = 50 CFM (where 1.25 is used to allow for air resistance…)
A grow tent with the aforementioned dimensions will need an inline fan of about 4-inches most of which have a CFM of about 190 – more than enough for the tent. In the review below, we included some larger inline fans for people who have large grow rooms and larger grow tents.
---
Best Inline Fan For Grow Tent: Our Reviews
In the lines that follow, we shared our thoughts on some of the best inline fans for grow tents. Take your time and find that perfect fan that suits your needs.
For AC Infinity, the Cloudline T6 inline fan is perhaps one of their best sellers. For us, it's a leader of the pack of their best sellers. The other members include the Cloudline T4 and the Cloudline S6. Both the Cloudline T4 and the S6 are 4-ich and 6-inch fans respectively. Back to the matter at hand, the Cloudline T6 inline fan is compact-sized and has a diameter of 6 inches. It's perfect for large grow tents with more air requirements.
The fan has a CFM rating of 351 – the same as the CFM on the Cloudline S6 model which closely shares a lot of features with. With regards to features, the Cloudline T6 fan packs a handful of them. Some of these features include an easy-to-use control center that allows you to program the humidity and temperature settings into the unit. Aside from that, you can also control the alarm, timer as well as fan speed.
The fan on the Cloudline T6 is powered by a DC motor. During operation, it is noticeably audible. It's rated 32dBA as the sound level. You must, however, bear in mind that the sound level increases when the fan speed increases. Overall, the build quality is good. The fan comes with other items such as a sensor probe, power plug, and duct clamps.
---
Sale
The last time we saw a product from iPower, it was an iPower grow bag for growing tomatoes. This time around, we want to take a look at an iPower 4-inch inline fan. For a considerably low price, the iPower 4-inch offers great value whilst helping you save a few bucks. It does so with a few shortcomings.
First, the fan is a tad loud – louder than some of the fans it falls into the same price range with. In fact, it is slightly louder than the FormLine 6-inch inline fan which we reviewed below. That aside, its CFM rating – 190 CFM – Is small compared to what you'll find on similar models. It will, however, serve you're your small or medium-sized grow tent with little hassles.
The iPower 4-inch inline fan comes with all that you need to set it up. That's not all – you also get to enjoy lower energy consumption.
---
The Formline Supply Quiet inline fan is in no wise different from the other inline fans. It shares most features with them but there's one difference we'd like to point out – Price! When compared with its counterparts, the Formline Supply 6-inch inline fan is half the price of most.
For the price, we didn't expect a steel material, and the fan didn't let our expectations down. It's made using plastic materials that will probably not last more than five years – just my opinion. The fan is relatively quiet during operation at faint speeds, but at full power, you get an audible hum. Some would categorize it as a not-so-silent fan.
With respect to airflow, the fan has a 390 CFM rating. Connecting the fan with other appliances is possible. You can even install the fan as an attic fan or as a bathroom fan as the case may be. Generally, it's a good fan with a few bad quirks that are worth neglecting considering its price range. If you want something better, go for Terra Bloom, Power, or AC Infinity fans.
---
Sale
The Hurricane Inline fan is undoubtedly the best inline fan for large grow tents and rooms. For an inline fan that has a CFM rating of about 1060, it's definitely more than enough for most of the large-sized grow tents on the market. Its build quality is appreciable, no doubt, as it is made with a combination of high-quality materials.
The fan is made from steel and dons a finish that looks like a powder-coated finish. This fan is available in different sizes ranging from 4-inches all the way to 12-inches. Similarly, the CFM rating of the respective fans increases from 171 all the way to 1060. This Hurricane inline fan lacks controls of its own – you can't control the speed and the climate.
However, the fan is compatible with controllers that can help you control such factors. So if you'd like to control the fan's speed, for instance, a dimmer switch will come in handy. In addition to that, the fan is also compatible with an air duct. This is especially important if you want to regulate the air in the tent and the environment around the tent.
There's one warning on the instruction manual of this fan which you should not neglect. If your grow tent is outside your house, say on the backyard lawn or porch, you should make sure the fan isn't exposed to the sun, snow, or rain. You risk damaging the fan if these weather elements come in contact with it.
---
Wrapping Up…
Which of the aforementioned inline fans for grow tent are you willing to spend your money on? Share your thoughts using the comment section below.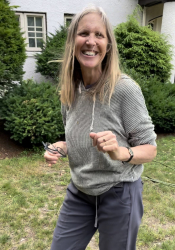 Latest posts by Jessica Zander
(see all)
Hello! I'm Jessica Zander, a garden coach and consultant based in the Boston area (zone 6b), offering virtual consultations across the country and Canada.
I've been passionate about gardening since the early 1990s, and in 2022, I launched You Can Do It Gardening to empower individuals to feel more confident in their gardening endeavors.
Following a 30-year career in nonprofit finance and operations, I transitioned out of that field in mid-June of 2023 due to the growing demand for coaching services. Interestingly, my years of presenting financial statements to boards and finance committees proved to be valuable experience for teaching people about gardening! I enjoy sharing skills, providing guidance and suggestions, and collaborating efficiently with clients to make significant improvements to their outdoor spaces, both small and large. I also regularly teach at the Arlington Continuing Education and Cambridge Adult Education.
My approach is direct and practical, akin to Mary Poppins, but tailored to your garden. Clients find satisfaction in saving money and taking pride in their own gardening achievements.