Shoveling snow is not always easy, and most people don't enjoy carrying out the task. After a long night of snow, thinking about shoveling the driveway brings up a feeling of dread. Although shoveling snow can be stressful, you can make it comfortable for yourself with gloves. Gloves will keep your hands quite dry and warm while you're shoveling snow to make shoveling more tolerable. This article examines the best gloves for shoveling snow and the factors to watch out for.
You can skip shoveling and use a snowblower instead.
---
Ski and Snow Waterproof Gloves
If you're in a hurry, we urge you to check out the Ski and Snow Waterproof Gloves. It's one of the most comfortable gloves for snow blowing on the market. They are affordable, fit most hand types, have drawstrings for closing them, and are made of high-quality faux leather materials.
Here are some of our favorite gardening gloves.
---
Comparison Table: Gloves for Shoveling Snow
Gloves for Shoveling Snow – Buying Guide
Snow shoveling requires working in the cold, and that's usually a difficult job. Shoveling might seem simple, but the harsh winter cold makes it challenging. That's why snow gloves are essential. It will keep your hands warm and dry. However, there are features to watch out for if you want to make the best choice for yourself. Below are vital characteristics you must take note of when shopping for gloves.
Insulation
Insulation is a vital feature that you need to take note of when purchasing gloves for shoveling snow. Insulation helps to keep the warmth and heat within the gloves. When working in icy conditions, you should ensure that the gloves you're purchasing can keep you warm for as long as you need. Ensure that the outer part of the gloves is made of tough material and is also thick enough to protect your fingers while working against the snow and wind. Additionally, the inner lining should also possess a soft and smooth texture that offers comfort. You also want your gloves to provide moisture-wicking properties that will keep your hands entirely dry.
---
Best Gloves for Shoveling Snow: Our Reviews
Looking for the best pair of gloves for shoveling snow isn't always easy. There are a lot of options available even after narrowing it down with the buying guide. Each glove has weaknesses and strong features, and knowing what to prioritize is essential.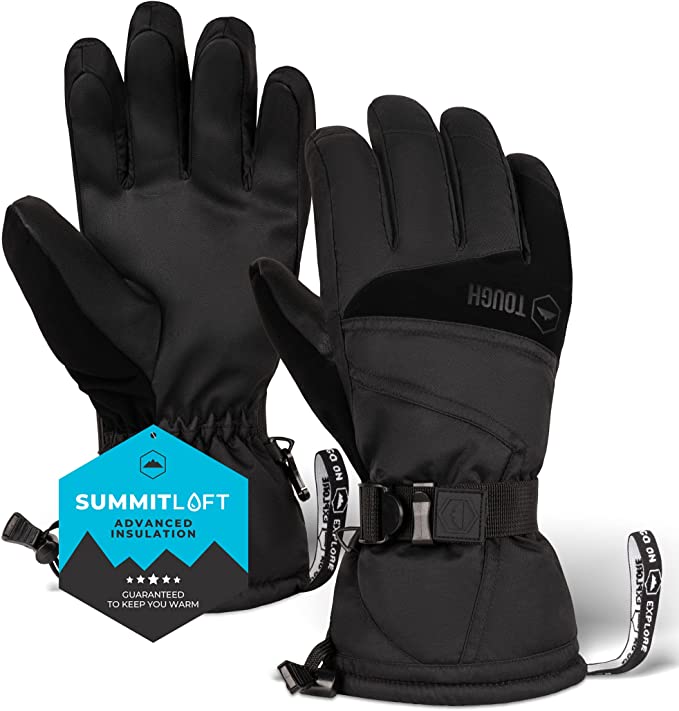 Ski and Snow Waterproof Gloves
Features: Synthetic leather materials, waterproof, thermal insulation, thick lining, lightweight, nylon outer shell, adjustable wrist buckle, warm, durable, and water-resistant. 
These Ski and snow gloves make the top of our list because of their many features. We love these gloves because they're one of the warmest you'll find today, and they're pretty affordable. Its palm comes from synthetic leather that ensures a superior grip while you're shoveling snow. It is ideal for both moderately cold and extremely cold. It also features long cuffs that help to keep the cold air away from your hands.
These Ski and Snow Gloves are water-resistant and waterproof, so you don't have to worry about moisture seeping into the gloves. If you have chronically cold fingers, these gloves are ideal for you as they're guaranteed to keep you warm. Its thermal insulation ensures optimum warmth even when the temperature falls below freezing.
The outer shell of these snow shoveling gloves features nylon material. It comes in three layers that also ensure optimum protection from the harsh weather and every other element it comes with. To ensure that your hands don't begin to feel stuffy in the gloves, it features TPU membrane fabric. This material prevents the need to take them off as there's enough room to escape the moisture and sweat.
The gloves provide an adjustable wrist buckle that helps the gloves fit properly throughout use. You won't have to fiddle, and the adjustability feature allows it also fit different hand types. The best part is on snotty days; you can still keep your gloves on when you feel like wiping. These gloves feature a nose wipe placed on the thumb of the glove for your snotty days.
---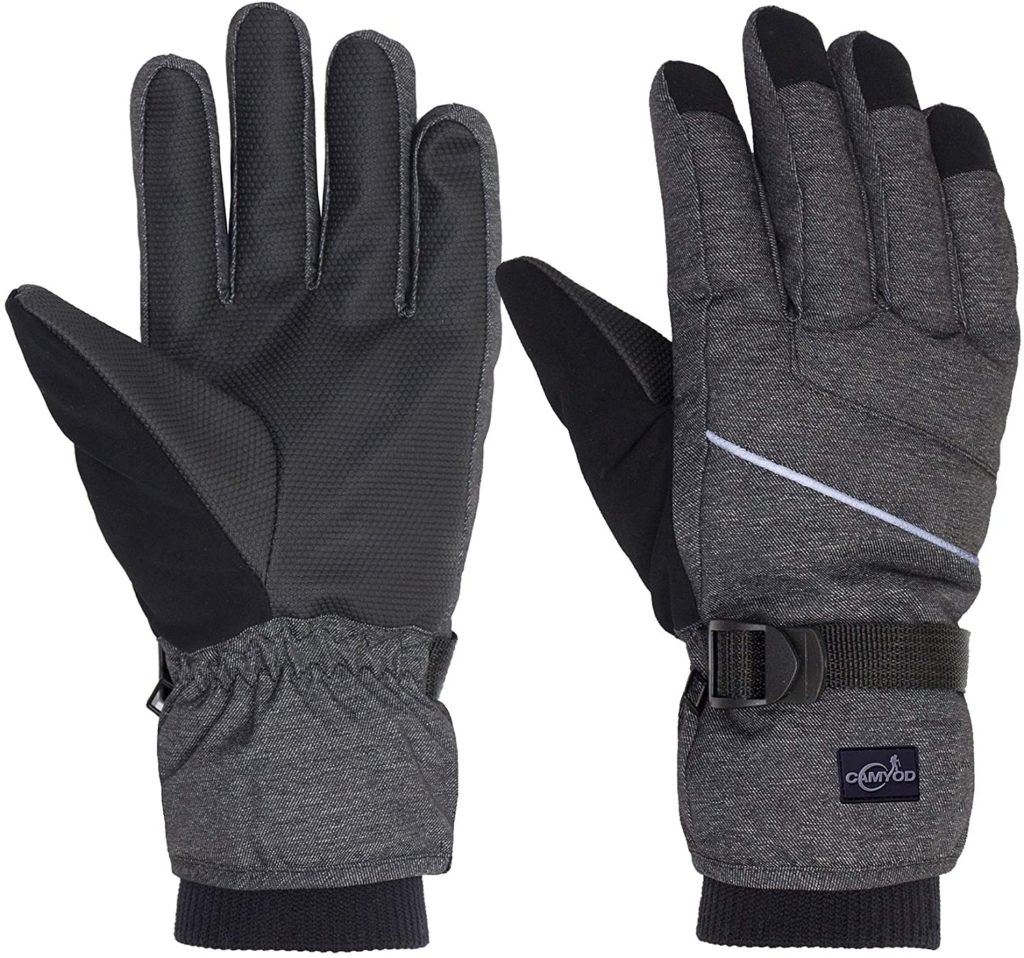 Waterproof Ski Snowboard Gloves
Features: Nylon material, 3m Thinsulate, waterproof, air vents, zipper pockets, flexible, adjustable wrist buckle, polyfill interlining, lightweight, excellent grip, and durable.
These Waterproof Ski Snowboard Gloves are also excellent gloves. They come with top-quality nylon fabric that ensures warmth and optimum safety from the cold weather. This outer shell also features a waterproof coating that provides waterproof qualities. It is a versatile glove that you can also use for snowboarding, skinning, and many more.
It offers flexibility and agility, which makes hand movements easy in the gloves. The palm of this glove features top-quality leather, which features a 3M Thinsulate that ensures warmth in harsh weather. It also comes with a polyester filling, making the gloves even more comfortable, warm and provides excellent grip properties. The cuffs are adjustable and provide an easy method of removing and putting on your gloves.
There are vent holes in the gloves that allow the moisture and sweat to escape. It also comes with rubber wipers on the thumb to wipe the sweat away without taking off your gloves. These rubber wipers also come in handy on your snotty days when you need to wipe your nose. A top benefit you get with these gloves is zipper storage when you can store your phone and other simple items while you're shoveling snow out of the way.
---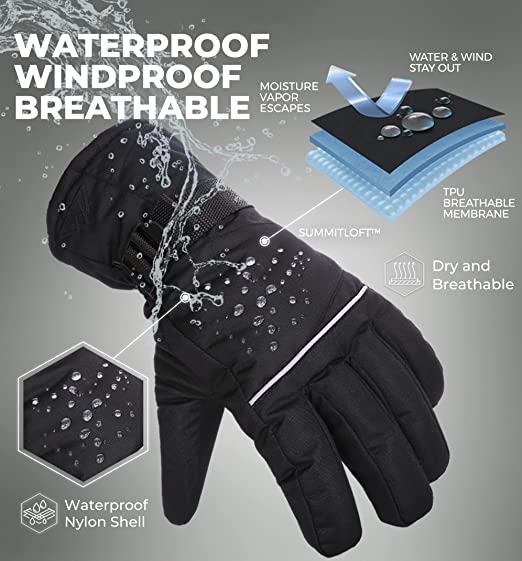 Tough Outdoors Winter Snow Gloves
Features: Waterproof, nylon material, synthetic leather palm, breathable, wrist straps for safety, flexible, thermal insulation, versatile and durable.
If you want gloves resistant to winter, these are one of the gloves you should consider. These gloves come with a heavy-duty nylon shell and a synthetic leather palm. These materials don't only ensure your hands' warmth in freezing temperatures; it also ensures that your hands don't slip while you're shoveling. Its anti-loss buckle system is another feature we love about these gloves.
They ensure that you never have to lose the gloves. Even when you take them off, they'll remain attached at the wrist. These gloves are also breathable and ensure that the moisture and sweat get out while you're staying warm. These gloves are quite versatile because you can use them beyond snow shoveling for other outdoor activities.
Therefore, these gloves are waterproof and ensure that the moisture never gets through to provide optimum warmth. It is also durable due to its sturdy construction materials. The adjustable buckle ensures that these gloves fit perfectly on your hands and ensures easy hand movements. These gloves' material also protects your hands from any form of abrasion while you're shoveling snow while improving your grip. The exciting part is that it is affordable and gives you the best value for your money.
---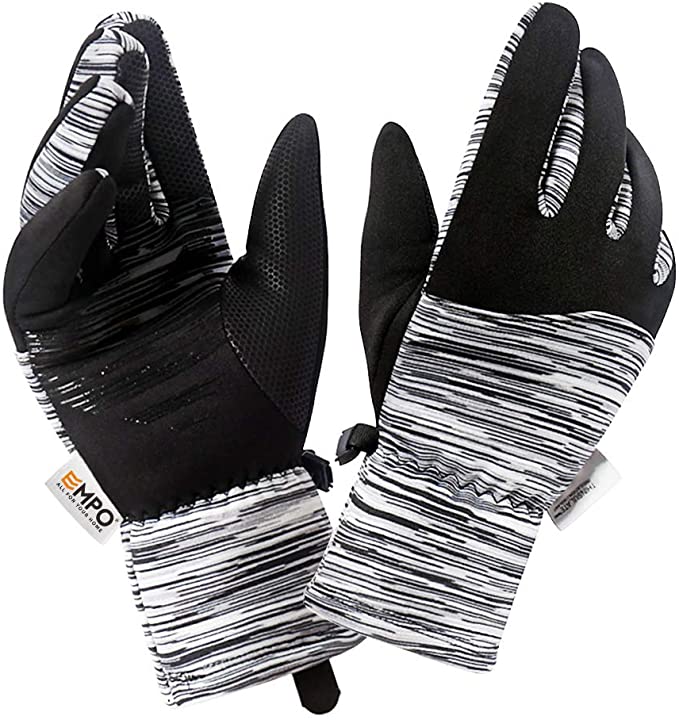 Sale
Here's the EMPO Waterproof Winter Warm Glove. It is an outstanding glove that provides warmth throughout the day. With these gloves, you can comfortably shovel snow without worrying about your fingers freezing over. They're comfortable and versatile for you to use for as many outdoor activities as you want.
A top feature of these gloves is the gel padding that helps to absorb shock. It also ensures that the gloves don't slip off while you're shoveling snow. The palms are made with skid-proof leather to ensure your safety while wearing them. It is also smartphone-compatible; this means that you can comfortably pick calls and text with your gloves on. The Thinsulate insulation fabric used in its construction ensures maximum heat retention.
It is also breathable so that moisture and sweat can get out of the gloves without taking them off. These gloves are also lightweight in construction to ensure mobility and flexibility. The best part is that they are waterproof, so you don't have to worry about the snow melting and the water seeping into the gloves. These gloves will comfortably last you many years of use and keep you warm for many winters to come.
---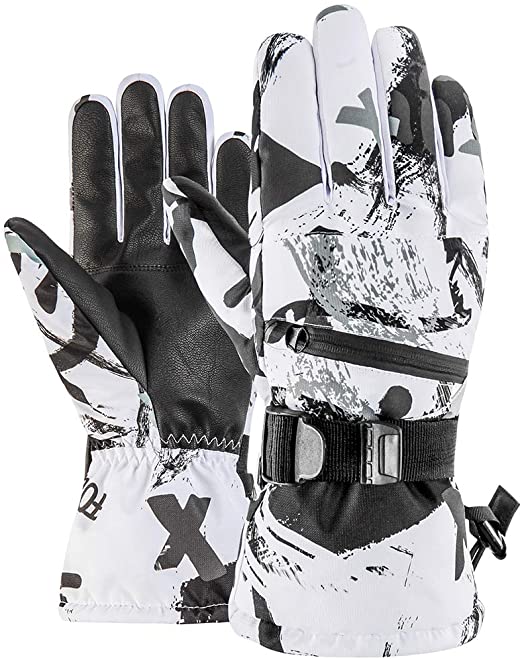 Snowboard Waterproof Snow Ski Gloves
Features: Waterproof, breathable, polyester lining, zipper pocket, adjustable cuffs, cotton material, touchscreen-compatible, anti-slip design, and durable.
The Snowboard Waterproof Touchscreen Snow Ski Gloves is also worth taking a look at. These gloves come from cotton material; they're thick enough to keep your hands warm but also flexible enough to ensure mobility. These gloves are quite versatile, and you can use them for any outdoor activity you want during the winter
It features PU leather palms that not only help to protect your hands from cuts but only ensures a solid grip when shoveling. It also provides a touchscreen design that allows you comfortable receive calls and sends messages without taking off your gloves. Another feature of these gloves is their waterproof quality. It ensures that snows melting do not seep in and get your hands wet.
It is also breathable and moisture-wicking to prevent your hands from getting stuffy inside the gloves. These gloves also come with an adjustable cuff to ensure a perfect fit for you. The drawstring closure and buckled wristband also ensure it stays on your hand when you remove them. This feature ensures the safety of the gloves, so you never have to lose them. They also come with zipper pockets where you can keep your keys, cards, phone, and any other small item you would like to keep close. These durable gloves for shoveling snow will keep you warm all winter.
---
FAQs – Gloves For Shoveling Snow
What's the difference between waterproof and water-resistant gloves? Water resistance repels water splashes or light rain, while waterproof offers complete protection. Waterproof gloves don't get wet even when you dip your hand in a puddle.
Can I use my smartphone while wearing gloves during snow shoveling? It usually depends on the glove design. Some gloves are touchscreen compatible, while others aren't.
Can the gloves I use for shoveling snow be machine-washed? The answer also depends on the design of the gloves. Some gloves used for shoveling snow can be machine washed but air-dried. However, others are best hand-washed. Ensure you confirm which option is acceptable for your gloves before washing.
---
Conclusion
If you have snow shoveling duties, then you understand the need to be prepared for frostbite and other inconveniences that come with exposure to the cold. Apart from warm clothes, gloves are crucial in keeping your arms warm while you shovel snow.