Well, walk-behind mowers are simple everyday mowers. As long as you walk behind your lawnmower while using it, it is a walk-behind lawnmower. A walk-behind lawnmower can either be gas-powered, electric, or a reel mower. They also include self-propelled lawn mowers – after all, you have to walk behind a self-propelled mower when using it.
Honda HRX217 Mower
If you're in a hurry, our top pick is the Honda HRX217 Mower. It's arguably expensive but beneath that price lies a powerful machine with 4 cutting levels, a Honda engine, and great build quality.
---
Lawn Mowers: Comparison Table
| | Large Walk Behind Mower | Type | Size | 3-in-1 |
| --- | --- | --- | --- | --- |
| 1 | Honda HRX217K5VKA 187cc Gas Lawn Mower | Gas | 21-inch | 4-in-1 |
| 2 | Greenworks 20-Inch Corded Lawn Mower | Corded/ Electric | 20-inch | Yes |
| 3 | EGO Power+ 20-Inch Cordless Lawn Mower | Cordless/ Electric | 20-inch | Yes |
| 4 | American 14-Inch 4-Blade Push Reel Mower | Reel Mower | 18-inch | Nil |
---
Buying Guide: Walk-Behind Mowers
At this point, your question will most likely be "What should I look for when buying a walk-behind lawnmower?" We've tried to answer it in simple terms in this section. Read on and find out which things you should consider.
How do you handle the leaves on your lawn?
---
Best Large Walk Behind Mower: Our Reviews
---
Honda HRX217K5VKA 187cc Gas Mower
Features: 188cc Honda engine, 21-inch cutting swath, 4 cutting surfaces, twin-blade cutting system, manual fuel shut off valve, etc.
The Honda HRX217 mower is undeniably the most expensive mower we have on this list. It, however, lives up to that most expensive title. The mower comes with the 187cc GCV190 Honda engine which directly controls the blades beneath. Honda used its proprietary twin-blade MicroCut system on this mower.
This new technology uses 4 cutting surfaces to slice the hell out of the grass on your lawn. In terms of appearance, it looks just like the Troy-Bilt mower we reviewed some time ago. It sports a 21-inch deck that houses the blades. As for the wheels, they are the same in the front and the rear. For ease of use, Honda equipped this mower with a handful of features.
First, it has an auto-choke feature – something we've not seen in a while. This auto choke helps to get the engine running immediately you pull the starting cord. In addition to that, it comes with a brake system that automatically disengages when your hand releases the lever. And of course, there's a manual fuel shut-off valve for turning off fuel flow.
The Honda HRX217 mower has a 4-in-1 capability. You can mulch, bag, side discharge, etc. However, it does leave a few grass clippings on the ground when you're mowing – an opening that isn't closed is responsible for this.
You'll definitely be needing oil changes constantly on this mower since it lacks an oil filter. We sure don't know why it's missing. The mower does run fine and is as close to being as quiet as possible. If you're keen on owning a large walk-behind mower that is likely to last a long while, then this should be on your radar.
---
Let's talk about a few things you may not like about this lawnmower – just a few things. First of all, this particular mower isn't self-propelled and it may be a huge turn-off for those of you who are interested in a self-propelled electric lawnmower.
Next, Greenworks doesn't include the extension cord in the packaging. This means you may have to dole out some extra dollars to make that purchase. Apart from that, the plastic parts seem to be very fragile. They certainly look like they'll break the next minute. These are just the two things we really didn't fancy about it.
Let's talk about the good sides. This Greenworks mower is simple in design and compact in shape. Its green color though glaring definitely blends well with any grass or driveway it's sitting on. We love the pricing of this mower. A lot of individuals can definitely afford to grab one. By the way, it is available in two different options.
At a glance, you'll quickly deduce that the mower has a 3-in-1 capability. This is to say that you can mulch, side discharge, and rear bag with the mower. Greenworks equipped the mower with a 7-inch tire to the front and 10-inches to the back.
The deck size measures 20-inches and houses the cutting blade which is powered by a 12Amp motor. We kind of think the motor will have a little bit of a hard time dealing with wet grass – just an opinion, not that we tested it.
Greenworks equipped this mower with a push button. This takes away the stress of pulling cords all the time. Again, it also makes the mower suitable for seniors or elderly people who may have a hard time pulling the cord.
The mower also comes with foldable handles that make storage easy. In addition to that, the handles can adjust to 7 different height levels. This makes it possible for you to mow your lawn comfortably hurting your back. Moving the mower about won't be tough as it weighs only about 56 lbs.
---
The Ego Power Cordless lawnmower is the real deal for many people who see it as the Tesla of mowers. It's a cordless electric lawn mower with the sturdiness and strong build quality of a tractor; a glance at the mower gives it away like a master of the lawn – and it is.
Design-wise, it's made to withstand the harsh weather elements yet it has a moderate weight. Did I even mention that storing it won't be a chore as the handle folds so you can tuck it away into the space in the corner? To the front of the mower are the small 7-inch wheels and to the back, you'll find the larger 10-inch models.
The mower is made by Ego Power+ and they offer the mower in different options. For this review, the test model was the Bare Tool model. The other available models come with battery kits of different amps. Given its design, the Ego Power+ mower has the power to cut tall grass. However, if the grass bends forward horizontally when you are mowing, it will take a few passes to get it properly cut.
To take care of your grass clippings, there is a 3-in-1 capability. This is essentially the standard mulching, bagging, or side discharge feature on most 3-in-1 mowers. The Ego Power+ mower comes with headlights that make it possible for you to mow the lawn even at night. You can switch off the headlights and turn on external power sources.
With regards to weight, it does feel lighter when compared to gas lawn mowers like the Troy-Bilt mower. Setting up the mower out of the box doesn't take much time. Just follow the instructions manual, and you'll be fine.
---
Sale
Last but certainly not least on our review of the best large walk behind mower is this push reel mower. They are a great pick for anyone looking to reduce noise, exercise their arms, save on maintenance, gas, and oil, and on electricity bills.
The American Lawn Mower Company makes one of the best push reel mowers. Our test model is the 18-inch 5-blade model without expert assembly. This model we picked is just one out of the other models available in the lineup. Other variants include a 14-inch 4-blade model and a 5-blade model, and a 16-inch 5 blade model.
Let's start with the handle. The handle of the mower is cushioned properly. This makes it easy to push the mower along and is gentle on the hands. As for the build quality, it is definitely a step up from what we saw on the Scotts Push Reel Mower.
The American Lawn Mower Push Reel Mower has a cutting width of 18-inches, a few inches shy of the 21-inches on the Ego Power+ electric mower. It has five blades against the 4 blades on the 14-inch model.
With this push reel mower comes the flexibility of mowing at any time of the day, thanks to the quietness of the wheels, which I think are 10-inches. The cutting heights on the mower adjust from ½ to 2 ¾-inches so you can get a much lower cut. However, your grass should not be very high. If it is, then the mower won't do a neat job as it will bend most of them over.
Feel free to choose from the 3 available settings if you feel like adjusting the mowing height. You can as well adjust the wheels. Now, that's flexibility. The American Lawn Mower Push Reel Mower weighs about 29 lbs. This is quite high especially when you compare it with the 27 lbs of the Great States Push Reel Mower. The two, however, have the same cutting width.
---
Wrapping Up
After selecting a lawnmower that meets your needs and budget, it's important to plan a maintenance schedule for your mower. Whether it's a gas or an electric mower, maintenance is necessary for longevity.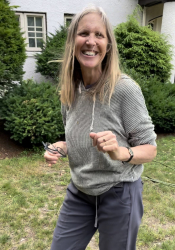 Latest posts by Jessica Zander
(see all)
Hello! I'm Jessica Zander, a garden coach and consultant based in the Boston area (zone 6b), offering virtual consultations across the country and Canada.
I've been passionate about gardening since the early 1990s, and in 2022, I launched You Can Do It Gardening to empower individuals to feel more confident in their gardening endeavors.
Following a 30-year career in nonprofit finance and operations, I transitioned out of that field in mid-June of 2023 due to the growing demand for coaching services. Interestingly, my years of presenting financial statements to boards and finance committees proved to be valuable experience for teaching people about gardening! I enjoy sharing skills, providing guidance and suggestions, and collaborating efficiently with clients to make significant improvements to their outdoor spaces, both small and large. I also regularly teach at the Arlington Continuing Education and Cambridge Adult Education.
My approach is direct and practical, akin to Mary Poppins, but tailored to your garden. Clients find satisfaction in saving money and taking pride in their own gardening achievements.