Are you looking for lawn mowers made in USA? Buying a lawn mower is an important decision and one that most Americans have to make. A lot of people prefer US products for their high-quality standards and top-notch features. You need to do a lot of research before selecting the best lawn mower that is suitable for your garden.
I have made things much easier for you by doing all of the research by myself and have come up with some of the best lawn mowers made in USA. Let's hop right into it!
Lawn Mowers Made in USA
There are different companies in the USA that are making top-of-the-line lawn mowers. Some of the best lawn mower brands in the USA are:
American Lawn Mower Company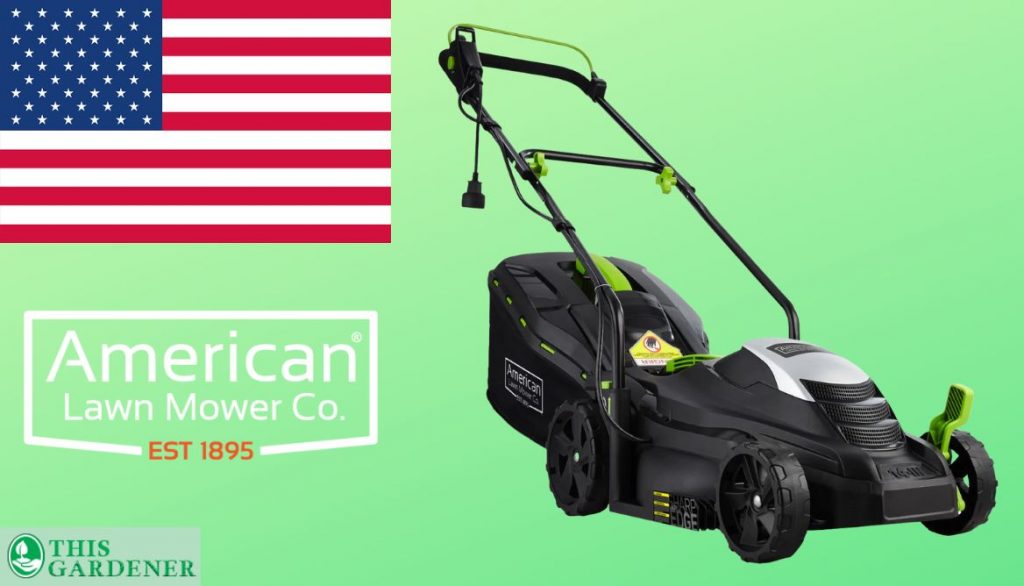 The American Lawn Mower Company produces the largest amount of push reel mowers. This is a family-owned company with operations in places like Indiana and Shelbyville. Their push mowers are some of the best in the market and come with a lot of advantages as well. Due to their excellent performance, zero noise, and no emissions, they are the top pick for most people. An american lawn mower truly shines in all of its aspects.
Cub Cadet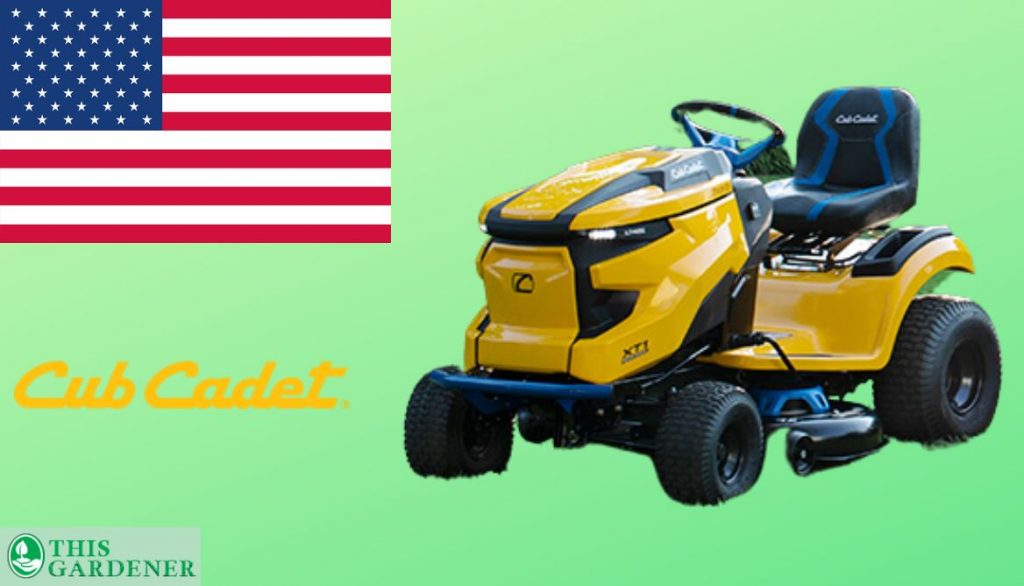 Cub Cadet is yet another renowned USA lawn mower company. They have three manufacturing facilities that are present in Ohio, Mississippi, and Tennessee. This is a company that likes to innovate in its products and thus offer quality that is unrivaled. They are also known for developing a lot of industry-first technologies. Cub Cadet self-propelled lawn mower makes a great cut.
John Deere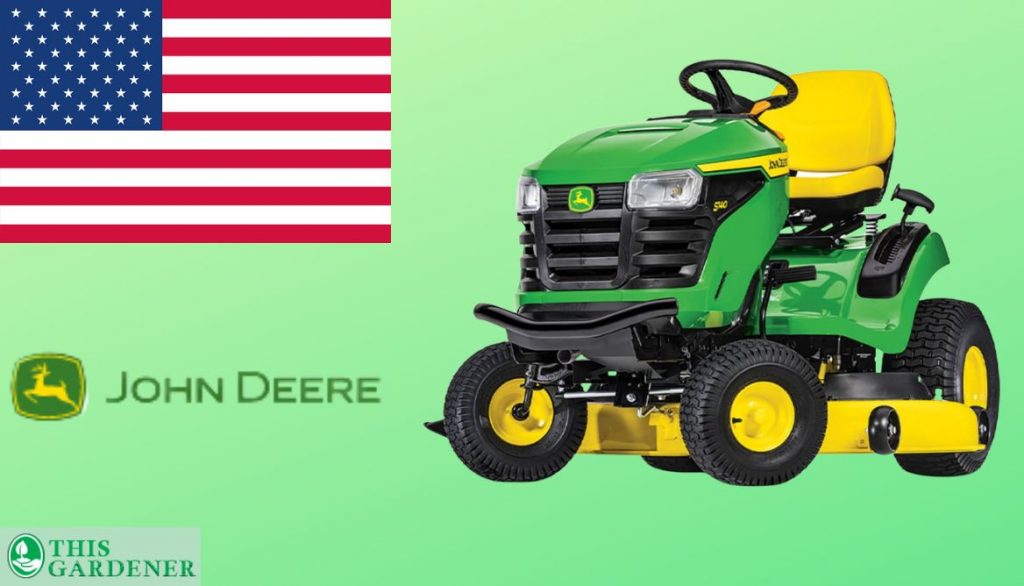 This American company was established in 1837. John Deere is known for their excellent customer support. They also produce some of the best products in the market. John Deere has manufacturing plants in 7 countries. But there is no need to worry as the john deere riding mowers are made in the USA from American components.
Troy-Bilt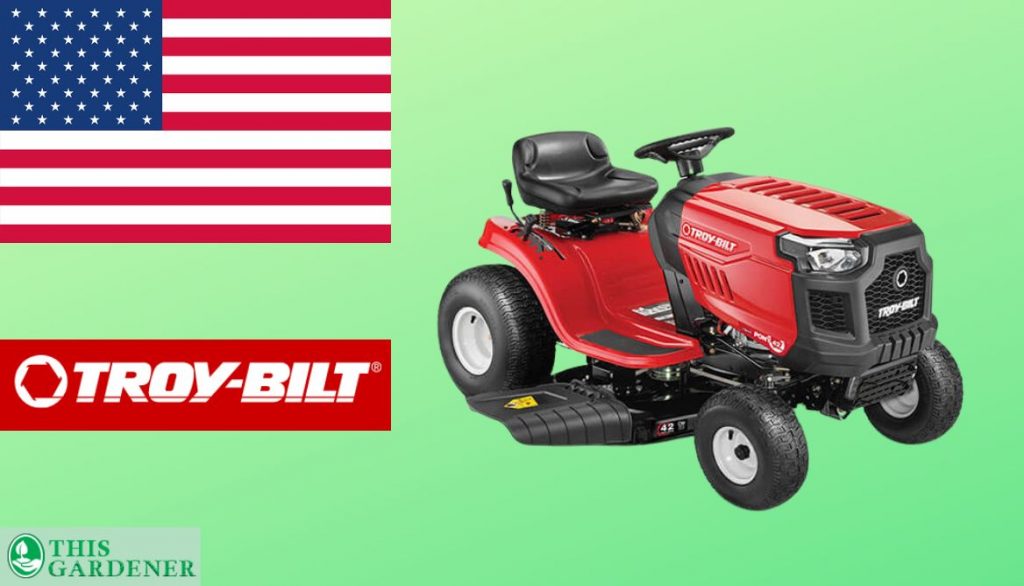 Troy Bilt makes some of the best bang-for-buck mowers in the market. Their small engine mowers are some of the most robust machines and are also cheap when compared to the competition. Troy Bilt lawn mowers also come with four-wheel drive so you get excellent performance as well.
McLane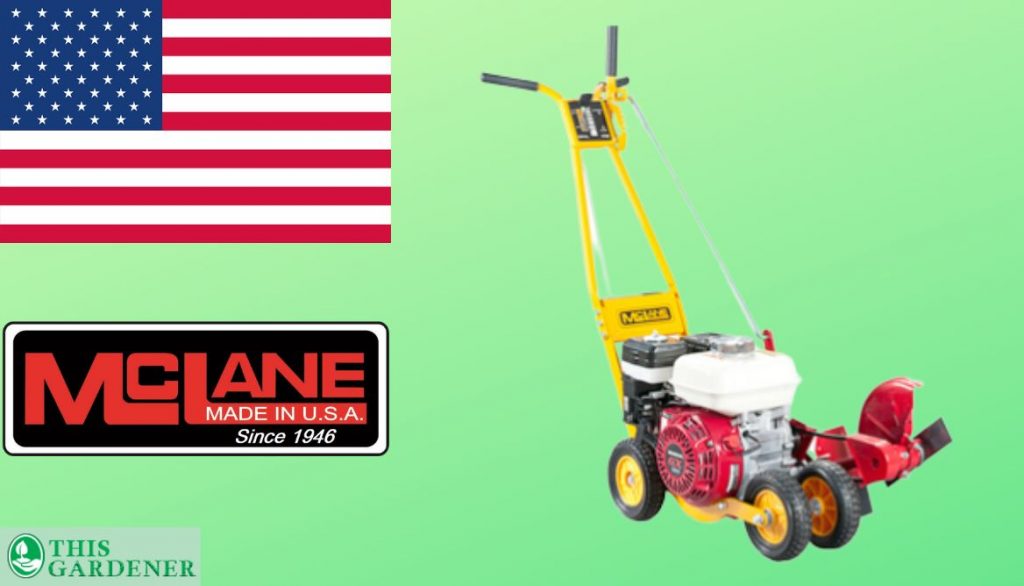 McLane mowers are known for their competitive pricing and products that are built to last. Their mowers are built well and have great cutting performance. You can also get different accessories for McLane mowers as well. Overall, their offerings are quite reliable with a decent price tag.
Craftsman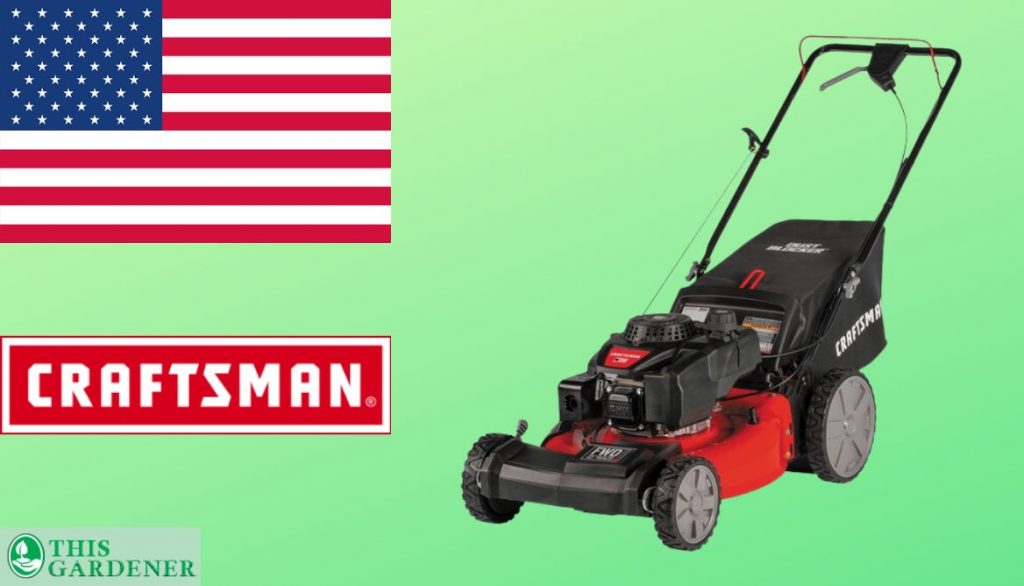 Craftsman mowers while not having the same horsepower as their competitors, make it up by providing hydrostatic gearboxes and excellent comfort. Their tractors are also really great and available at competitive prices. Craftsman mowers come with Auto Choke technology that allows them to be more efficient.
Bad Boy Mowers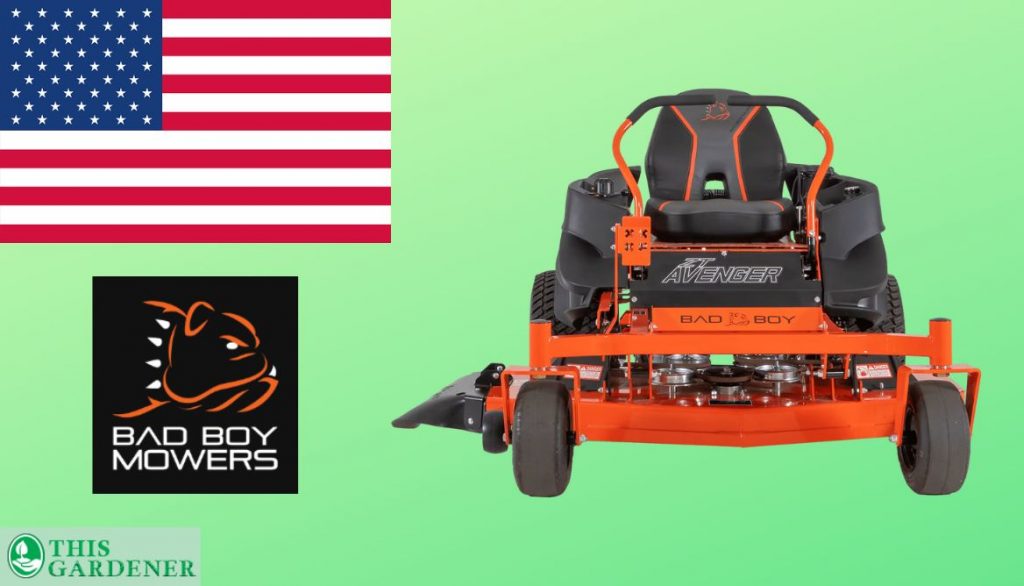 Bad Boy mowers are revolutionary due to their groundbreaking performance and technological innovations. Making a value product is hard and this is exactly what Bad Boy excels at. They have all the different mowers present in their inventory that can satisfy the needs of homeowners as well as professionals.
Ferris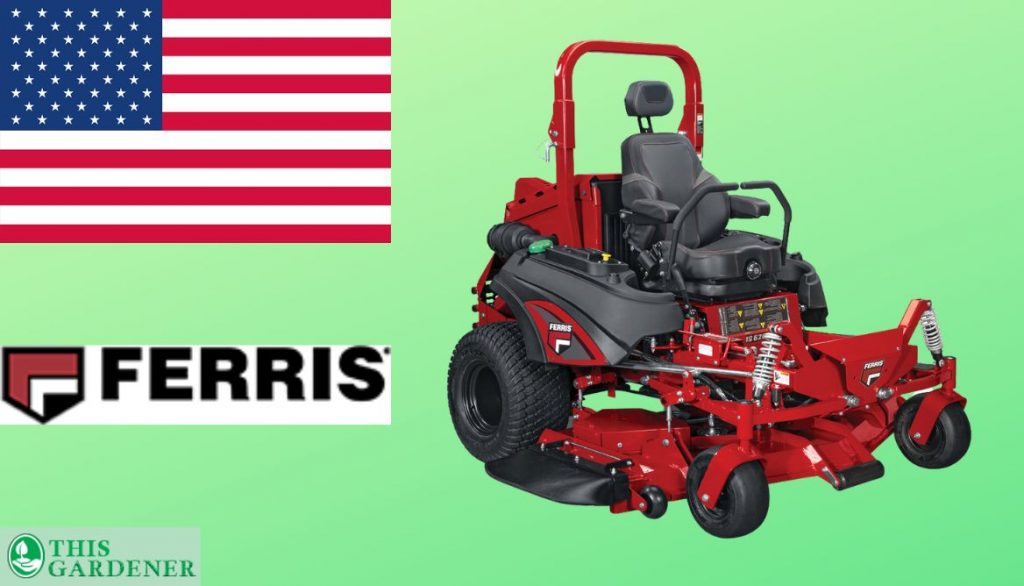 If you are considering top-of-the-line mowers then Ferris offers some of the most innovative and advanced mowers. Due to their flexibility, strong build quality, and performance, Ferris mowers are the choice of a lot of people. Their warranty service is also really appealing as well.
Spartan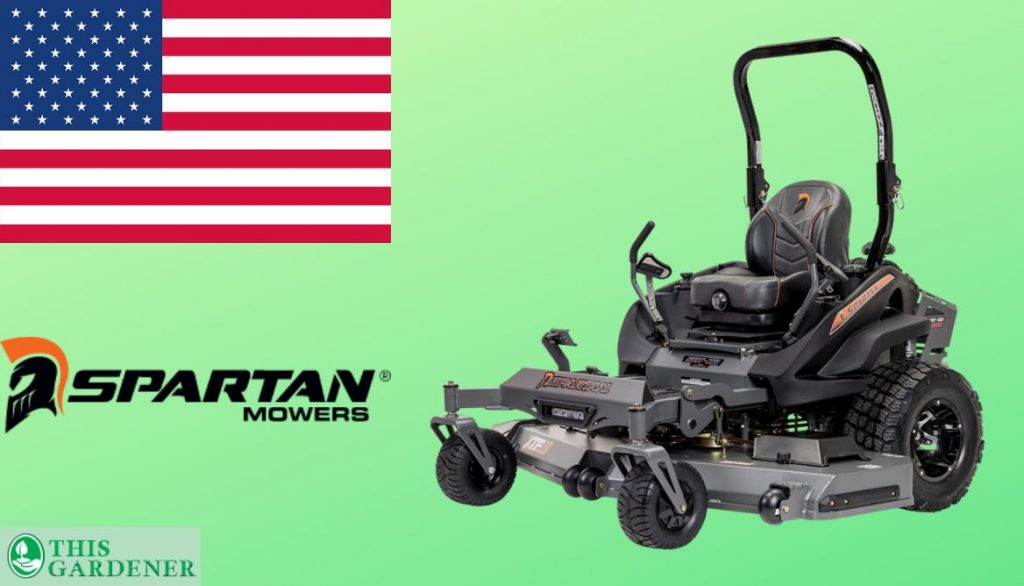 When it comes to zero-turn mowers, Spartan is the leader in the industry. They excel in making high-quality products that have a simplistic design and an approachable price point. You also get a lifetime warranty on their mowers which is simply amazing.
Remington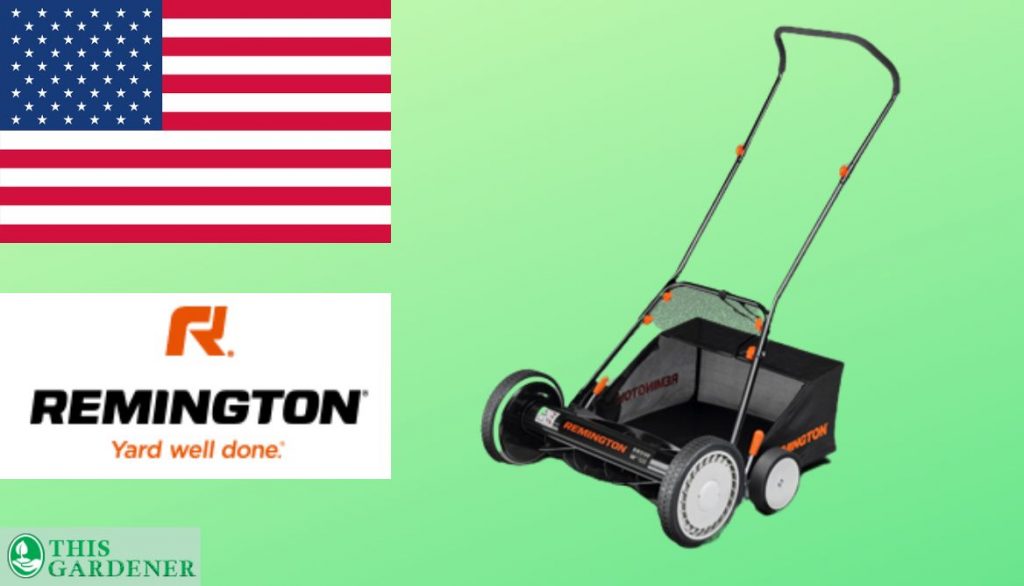 Remington is another highly reputed USA brand. It makes high-quality mowers that provide good performance and also offer a good set of features. Their mowers can mow and mulch at the same time. They also offer a two-year warranty on their lawn mowers as well.
Exmark
Exmark started its operation in 1982 in Nebraska. It is an independent turf care equipment company. At first, they only had walk-behind mowers but with advancements in their technology, they started the production of riding mowers. Their riding mowers are highly regarded in the mower world.
The Best USA-Made Gas Mowers
Troy-Bilt 21-inch TB115 159CC Push Lawn Mower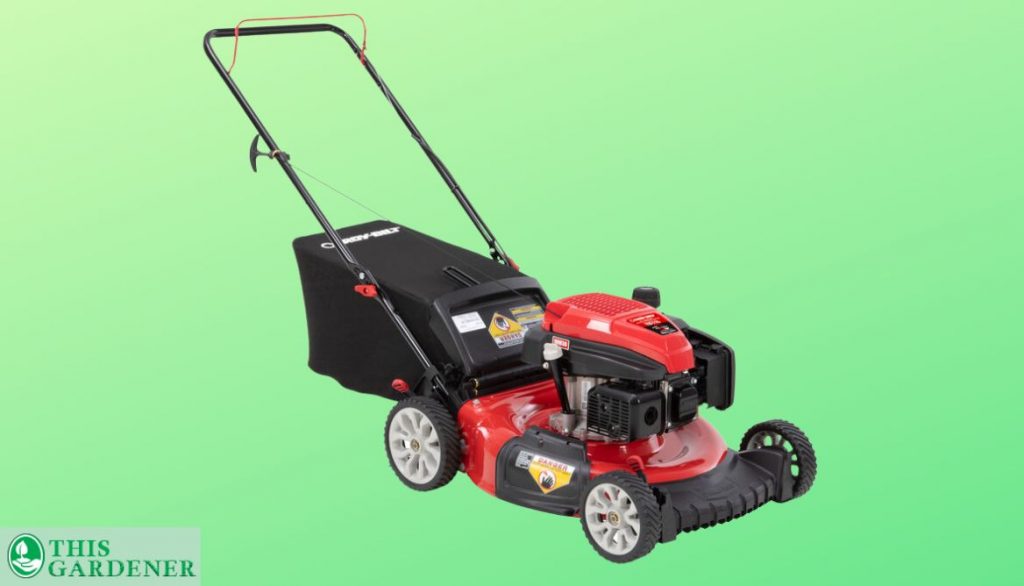 The Troy Bilt TB115 is a simple yet excellent gas mower that is best for most people. One of the best features of the Troy Bilt TB115 is its blade which provides multi-purpose functionality. Not only does it provides robust mulching but also great grass cutting as well.
The deck is made in a doughnut shape and when combined with the blade allows for higher air movement in cutting. This is the reason behind the excellent cutting performance of the TB115. It cuts the grass clean while mulching all of the particles into the bag.
The thing that makes this push mower unique is that it provides a really simple functionality. You don't need to make any adjustments to the mower. The blade of the TB115 is also made in the USA and is really durable. It withstands rigorous cutting pretty easily.
Most people want a push mower that provides them with sufficient cutting performance and in that case, the TB115 is a solid choice. It is clear that Troy Bilt TB115 doesn't have the latest features but it makes up for it by providing good performance and ease of use.
Generac PRO Trimmer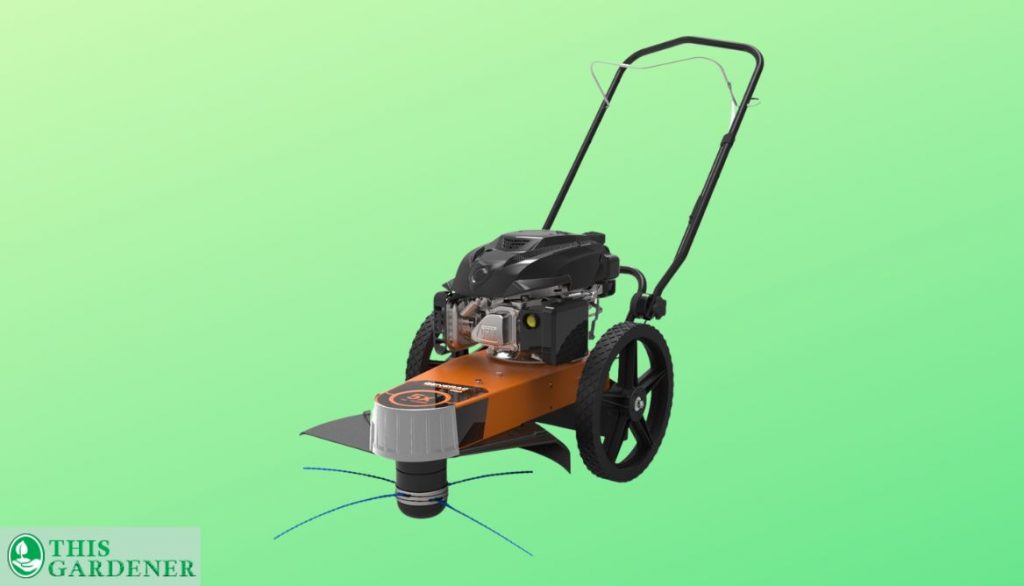 When it comes to walk behind mowers, only some offer the same performance as the Generac Pro Trimmer. It comes with the G-Force engine that provides really good performance. The highlight of this self propelled lawn mower is its ease of use.
The whole trimmer is made in a way so that you can use it without any issues. It also offers adjustable mowing as well. You can adjust the mowing height to fit your needs. This made-in-the-USA lawn mower can easily mow around fences and foundations.
The best thing about the Generac Pro Trimmer is that it has a powerful engine which is also really easy to start. It comes with oversized wheels that provide a really good grip and maneuverability. You won't experience any lockdown on this model as it comes with an anti-warp trimmer head.
You can easily change the trimmer cord on the Generac Pro Trimmer. Collision protection is also really good on this lawn mower as it comes with an aluminum nose plate. All in all, an excellent walk behind mower.
Remington Trail Blazer 132CC RM110 21-inch Gas Push Lawn Mower 2-in-1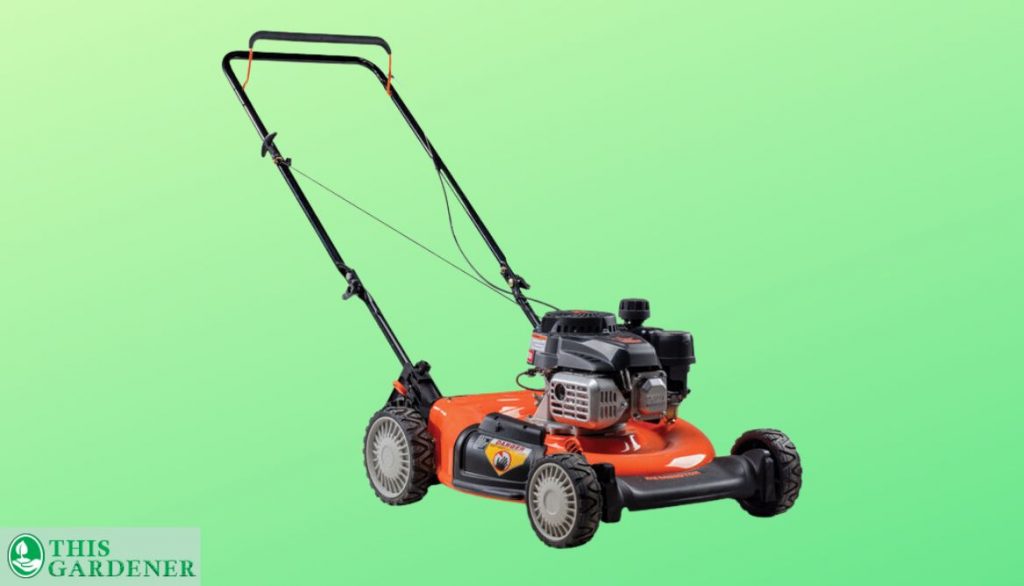 The Remington Trail Blazer is a gas push lawn mower made in USA. It is a feature-rich product and is perfectly suitable for every lawn owner. With its 132cc powerful engine, you can easily cut any grass. The deck of this mower is also excellent as it is completely built of steel. It is also rust-proof as well.
The cutting performance of the Trail Blazer is just on another level. The blades cut the grass evenly and thus prevent the formation of clumps. It also offers really good height adjustment as well. You can fine-tune the height in six different levels.
Every push mower needs to have really good traction with the ground. Due to its sturdy wheels, the Trail Blazer can easily work on uneven land. Starting up the push mower is also easy and straightforward. The turn radius is small and with a wide cutting path, you can mow a lot more in less time.
This American lawn mower is really easy to use. The handle is super comfy and absorbs all of the vibrations. The Trail Blazer also doesn't take up a lot of storage space which makes it more portable. The blade assembly and disassembly are also easy.
Cub Cadet SC300 21-inch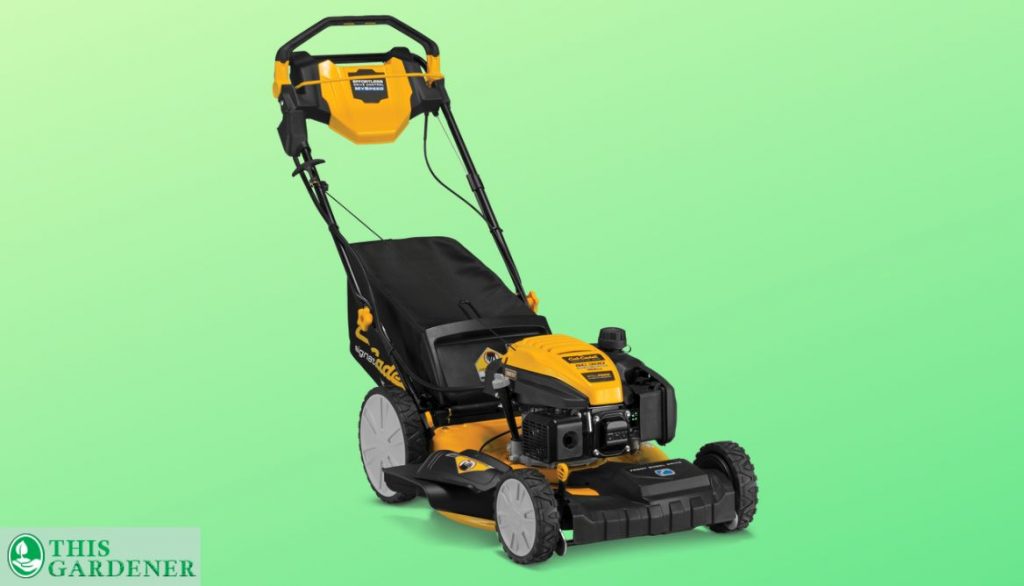 If you are looking for an entry-level walk-behind mower, then the SC300 by Cub Cadet is one of the best choices. It comes with a 159cc engine that is powerful and efficient. You also get their Auto Choke functionality as well. SC300 is a really good choice for people wanting superior performance.
The best thing about the SC300 is its drive system. You can easily adjust the speed of the mower based on the terrain and your personal choice. It comes with a dust-blocking bagger and the bushel capacity is 1.9. There is also a washout port present as well.
You also get a lot of adjustability in the height of the front and rear wheels. There are six different heights to choose from that allow you to perfectly maintain your lawn. The wheels are also solid and provide high maneuverability on rough terrain.
Another highlight of the SC300 is its ergonomic handlebar. The wrists are flared and with a wider gap, you won't feel any discomfort. You can also adjust the handlebar in 3 ways to fit your style.
McLane 20″ Front-Throw Reel Mower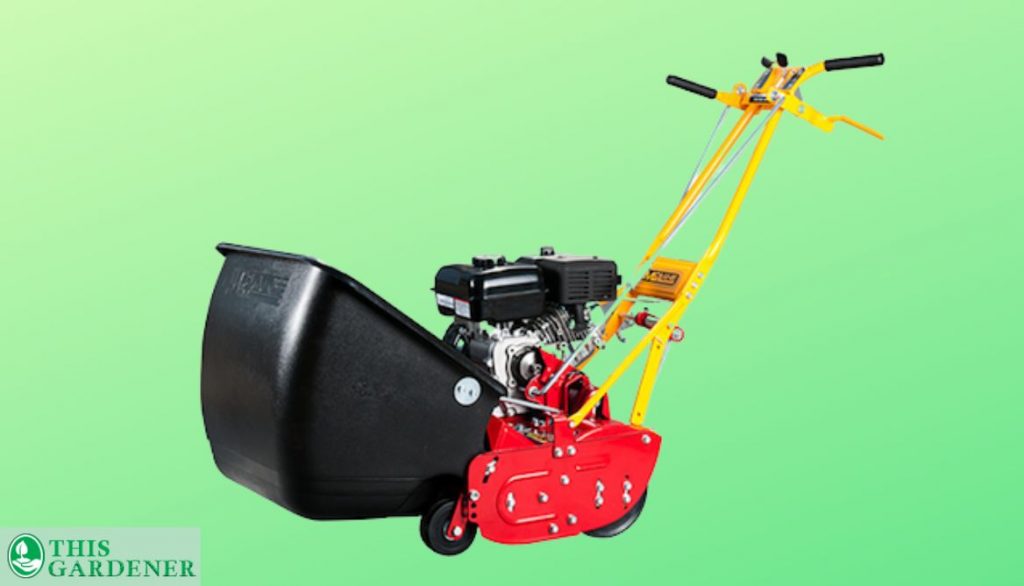 The McLane 20″ is yet another solid offering that provides a combination of robust build and good performance. There are 7 blades present that offer superb grass cutting. The Briggs and Stratton engine provides high performance on all terrains. This reel mover delivers quite the performance.
You also get a heat-treated armor plate on the McLane 20″. When it comes to a reel mower, everyone wants good performance but more importantly, easy operation. This is exactly what you get with the McLane 20″ due to the Touch-A-Matic engine.
It also comes with a roller drive to provide really good traction. Most lawn mowers even if they are good on even surfaces, tend to perform worse on rough terrain. This isn't the case with the McLane 20″. The wheels of this reel mower also contain ball bearings as well.
Consistency is key in lawn mowers but not all of them are reliable. The McLane 20″ provides you with the consistency that you need. It is also perfect for St. Augustines grass.
Runner Up – Craftsman M215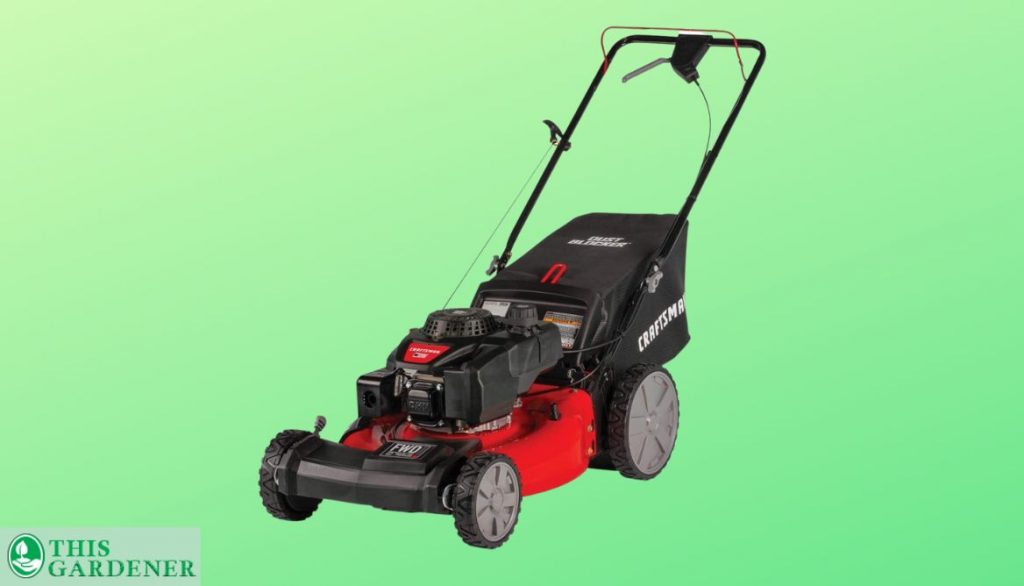 The Craftsman M215 Mower is best for people who are looking for a no-compromise experience. If you are looking to perfect your lawn then this propelled lawn mower is for you. Powering the M215 is a 159cc engine that contains both auto choke and recoil start.
The M215 is a front-wheel drive mower and comes with a side and rear discharge. You also get mulching capabilities as well. It also features a dual-level system as well to adjust the trimming height. There are six different heights that you can use to perfect your lawn.
One of the best things about the Craftsman M215 is that it has a 21″ cutting deck. With a large deck, you can easily mow a large area in a single pass. There are big rear wheels present that allow for better traction. You also get a two-year warranty as well.
The M215 is a very versatile mower and with a front-wheel drive allows for really good maneuverability. If you want something that offers good performance, easy operation, and robust build, then the Craftsman M215 is a solid option.
The Best USA-Made Riding Mowers
Cub Cadet Ultima ZT1-54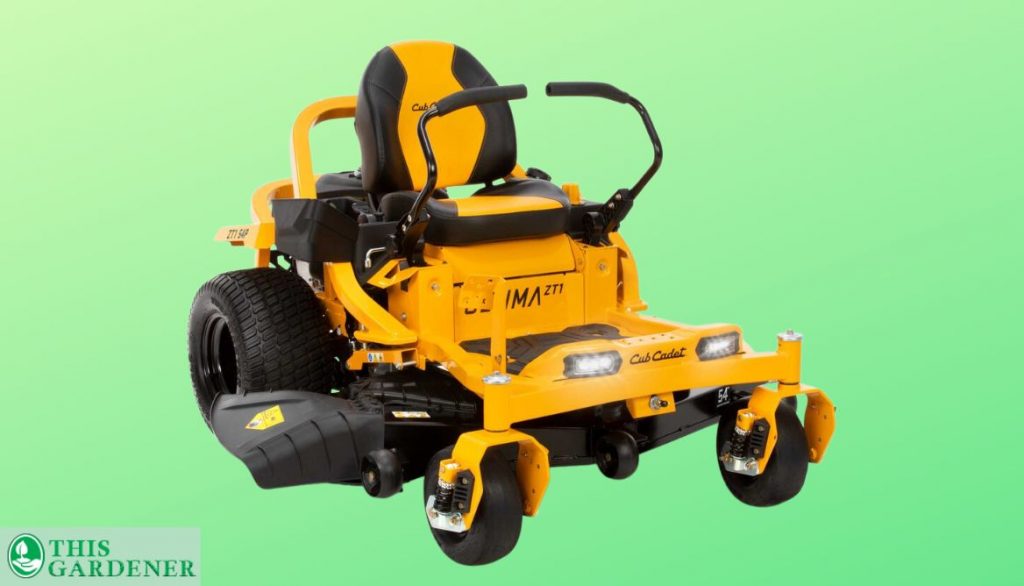 The Cub Cadet Ultima ZT1-54 is an excellent zero-turn mower that is made in the USA. There is PRO filtration present in the Ultima ZT1-54. It allows for increased fuel, air, and oil capacity. Due to the smart choke technology present in this riding lawn mower, you can easily start this mower regardless of the weather.
With a 725cc engine, you get cuts that are cleaner and more precise. It is also easy to maintain speed on uneven terrain. The highlight of the cub cadet mowers is their hydrostatic drive system. This system ensures that optimal torque is produced to provide the best performance at all times.
The most impressive thing about the ZT1-54 is the different number of cutting heights that you get. You can choose from 15 cut heights on this lawn mower. With Cub Cadet's Aeroforce Cutting System, you get better airflow and high-quality cuts.
The frame of the ZT1-54 is designed from steel and thus there is no flex in the chassis. This also helps in giving you a cleaner cut. And for better engine protection, Cub Cadet has also included a steel bumper as well.
Troy-Bilt Pony 42K Lawn Tractor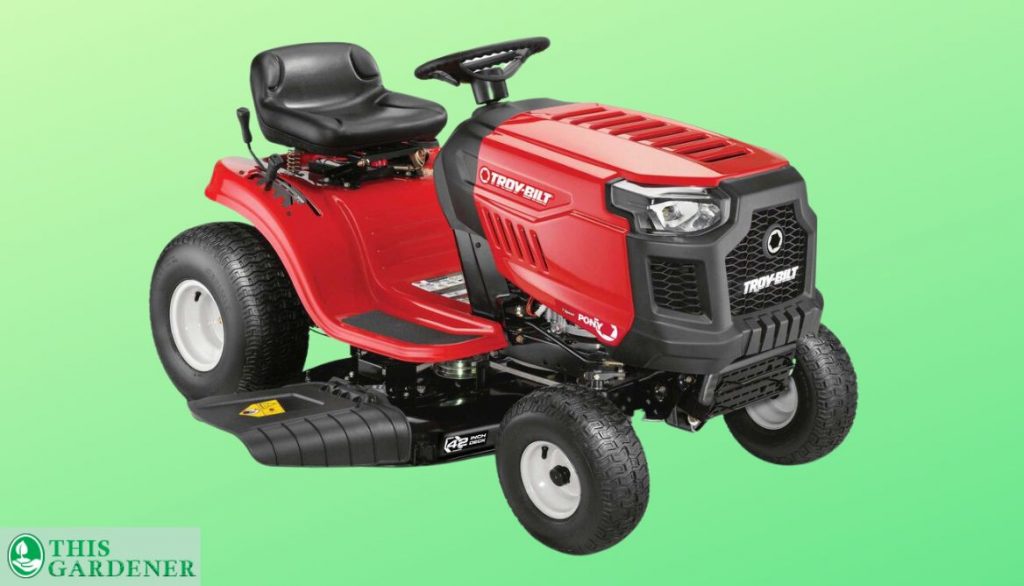 When it comes to mowing the yard, it shouldn't feel like a chore. That is only possible if you are using made in the USA lawn tractors. The Troy Blt Pony 42K allows you to take care of your yard without any hassle. The 42″ steel deck of the Pony 42K is incredible as it provides more space for the rider.
You get a 17-horsepower engine from Kohler that provides plenty of power. Another good thing about this made in the USA mower is that it features a Shift-on-the-Go transmission system. It allows you to quickly adjust your speed depending on the current situation.
Furthermore, the Pony 42K comes with a turning radius of 18″. With such a radius, you can easily maneuver around obstacles without any issues. The performance that you get from this lawn tractor is reliable and remains the same even in rough weather.
The cutting performance of this riding lawn mower is also great. The mower is made out of steel and thus provides extra durability. You can easily adjust the deck in 5 positions as well.
Bad Boy Maverick Zero-Turn Mower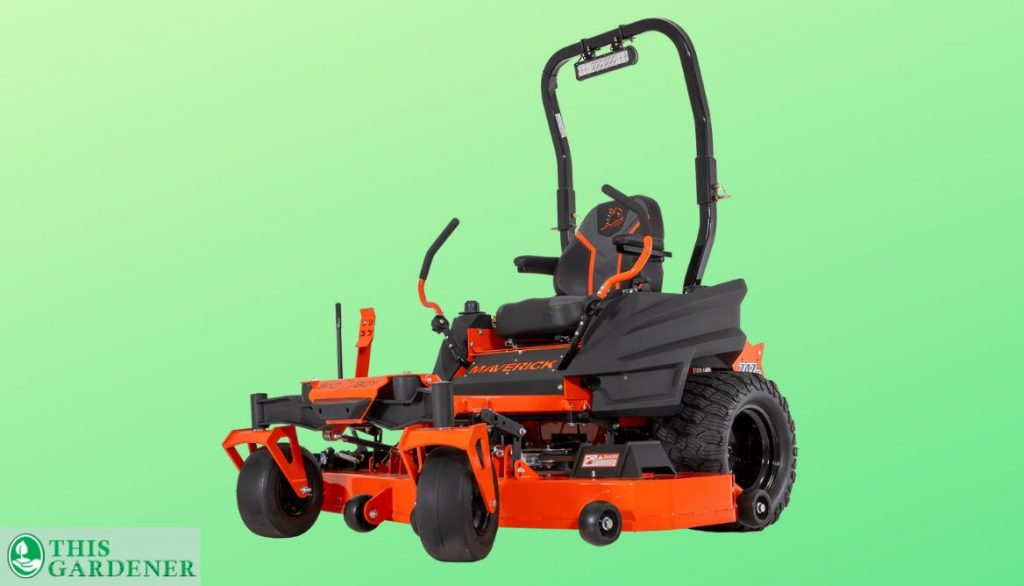 Bad Boy Maverick is another flagship product of Bad Boy that incorporates great performance, durable build, and comfort in a package that is suitable for every homeowner. There are no compromises to the build quality of the Maverick as its frame is made from steel.
They have also used their EZ ride system in the Maverick which drastically reduces the vibrations. Bad Boy Maverick also has a unique design feature as it has split front arms. The drivetrain is also split alongside twin shocks. All of these features combined smooth out the vibrations for a more comfortable mowing experience.
The steering is also really good on the Maverick due to the SteerTek Precision system. Using this system, you can easily figure out the best position for your zero-turn mower. There is a plastic covering present on the fuel tank for easy control access.
Maverick also has a really powerful engine that allows for precision cutting. If you are looking for a product that offers unmatched performance with no caveats then the Bad Boy Maverick is going to be a suitable option for you.
Husqvarna 18.5 HP YTH Lawn Mower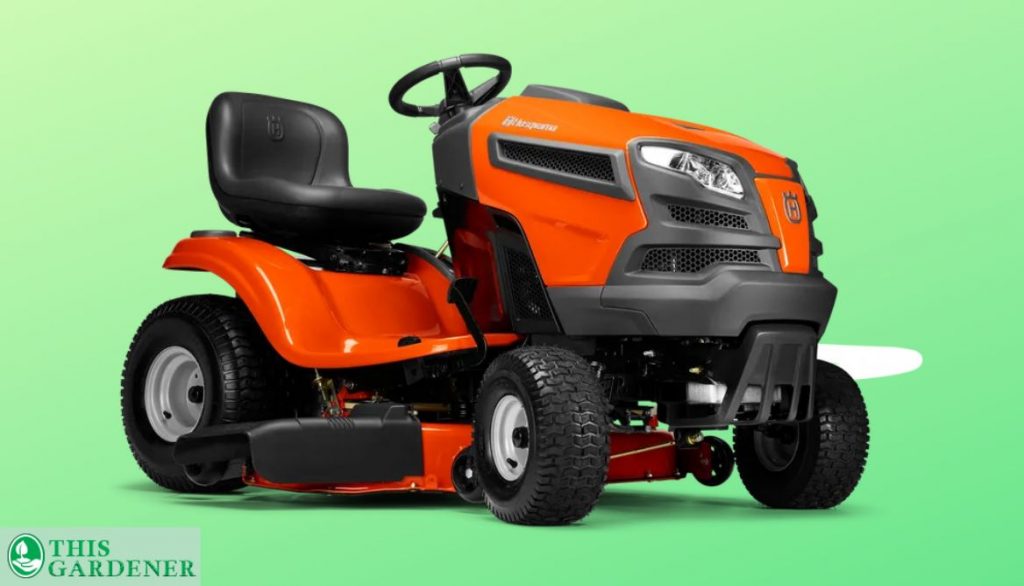 Husqvarna HP YTH is yet another made in the USA lawn mower that delivers cutting-edge performance and is built to last. Unlike other lawn mowers, the Husqvarna has a compact design that makes it more maneuverable. Storage is also a major win for this lawn mower.
You also get different cutting heights in the Husqvarna as well. This allows you to easily adjust the height depending upon the terrain. In this way, you get the best performance despite the ground condition. You can also adjust the seat to make it more comfortable.
This made in the USA lawn mower is really versatile and is suitable for all seasons. The Briggs and Stratton engine produces a horsepower of 18.5 to provide good performance. There is a reverse switch present that you can use to move the mower backward.
The turning radius is really tight on the Husqvarna and thus easily moves around tight corners. This made in the USA lawn mower can also be equipped with different accessories as well. Overall, this is a really good offering that provides high performance in a compact package.
Spartan RZ Mowers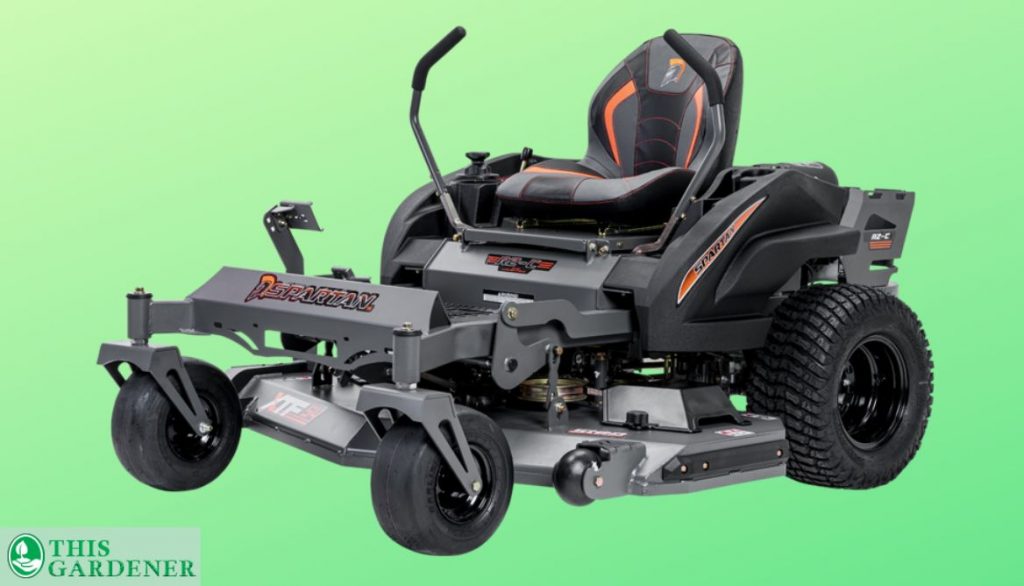 Spartan has some of the best-made in the USA lawn mowers on the market. Their mowers not only excel in their feature set but also perform exceptionally as well. Their braking system is industry-leading. The electric panel on the RZ is also easy to use.
The seat is ergonomic and thus provides a really comfortable position. Controlling the mower is also easier to the presence of GT Trac. If you are looking to use your mower on inclined surfaces then the Spartan RZ is one of the best. The deck of the Spartan is 5″ and allows for excellent cutting.
You also get a lot of different cutting heights. So, you can easily cut the grass according to your needs. If you need it to be shorter, then you mow it down to 2 inches. The chassis of the Spartan RZ is also robust. It will seemingly last you for a long time.
There are a lot of high-tech features present as well such as a keyless start and LCD panel to name a few. You can get the Spartan RZ in different engine options and but worry not as all of them provide really good options.
Exmark Riding Mowers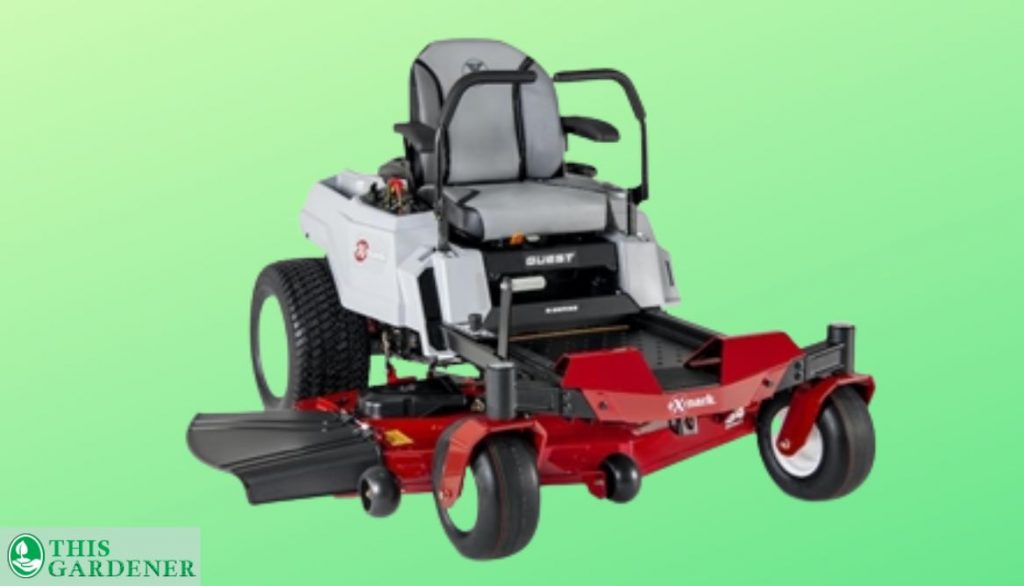 If you are looking for commercial-grade mowers made in the USA then Exmark stands out as a reputable brand. The best thing is that they offer value products that are suitable for most people. They come with their own unique features that them apart from others made in the USA mowers.
They come with large tires that provide a strong grip on the ground. They also have a unibody frame that allows for better centralization of the mass. Due to such an intuitive frame design, the Exmark lawn mowers stick to the ground and are more stable.
With their UltraCut decks, the Exmark mowers come with reduced downtime compared to the competition. They also prioritize safety and come with ROPS as well. You can easily adjust the system as well for increased flexibility.
The Exmark mowers also come with an easy-to-use fuel gauge that provides accurate info. If you want to make a specific cut then you can easily adjust the mower to get the exact cut that you need.
The Best USA-Made Reel Mowers
Clipper USA 19″ Reel Mower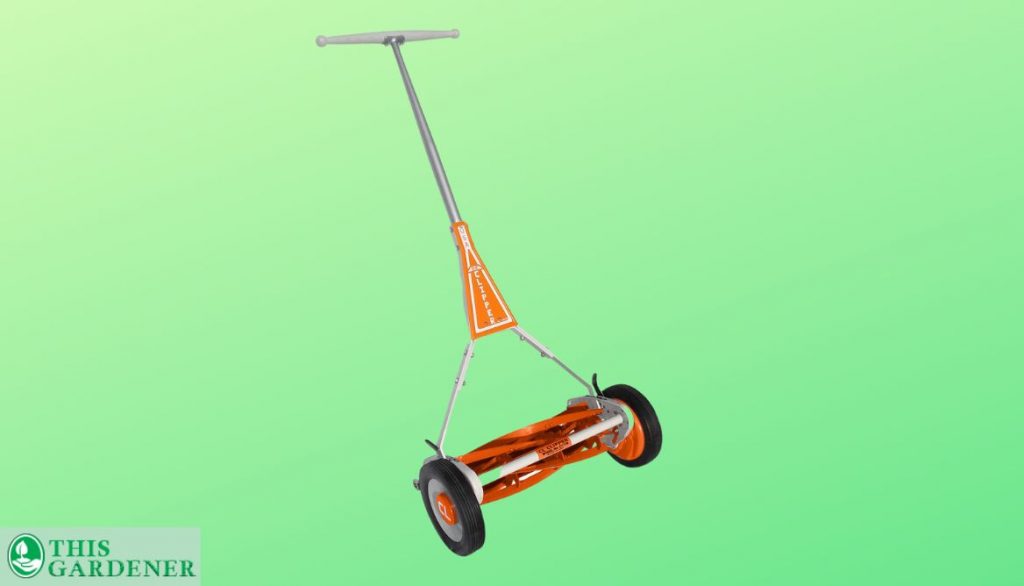 If you want an all-rounder reel mower made in the USA then the Clipper USA 19″ takes the crown. There are no compromises to the build quality of the mower as it comes with a rust-proof steel shaft. The blades of the Clipper are also amazing as they are heat treated and provide great sharpness.
Moreover, the blades have a spiral design for precision cutting. There is a powder-coated finish present on the blades that helps in avoiding environmental damage. Another highlight of the Clipper is its handle. Due to the T-shape, you get a comfortable grip every time.
The wheels of the Clipper are made from Aluminum and roll over smoothly on rough terrain as well. So, you get excellent cutting even on an uneven surface. If you want to mow tight corners, then Clipper has also got you covered due to its intuitive kick bar.
You can easily adjust the mowing height on this made in the USA lawn mower. The adjustment is pretty straightforward and is good for mowing in different situations.
Horse or ATV Drawn Reel Mower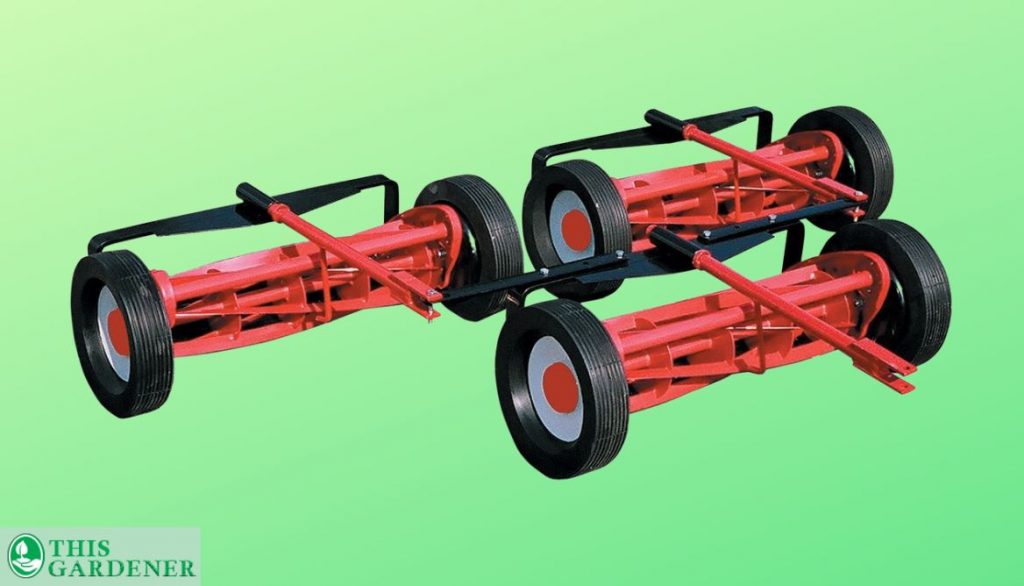 There are some made in the USA reel mowers that people use with their horses. But this process is not viable as your horse needs training. Instead, we bring you a better solution. That is to use walk behind mowers that you can hook to your ATV or tractor.
You get all of the features of a standard reel mower but with the benefit of doing everything quickly. You won't need to manually push the reel mower. With sharp blades, you will get amazing performance. For this purpose, you can choose any made-in-the-USA reel mower.
Most of the reel mowers nowadays come with weather-resistant coating as well. Therefore, the mower won't get damaged even if you use them in rough weather. Due to the spiral design of the blades, the reel mower cuts the grass evenly.
As the reel mowers are built from steel, you get long-lasting durability. So, if you are in the market for a made in the USA mower then you can use an ATV-drawn reel mower.
Silver Pro Push Reel Lawn Mower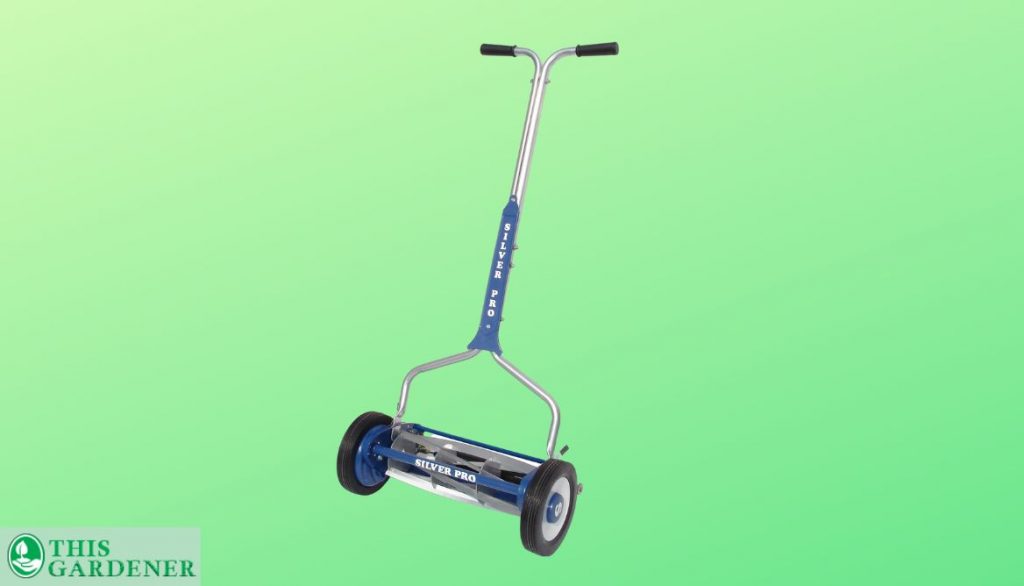 Reel Mowers are still very prominent in American culture and are actually great for long-term usage. The Silver Pro is a reel lawn mower that is economical and perfect for small yards. Reel mowers don't need any gas to work so they are environment friendly as well.
The Silver Pro is made in the USA reel mower that provides really good performance. The blades are heat treated so their sharpness lasts for a long time. The wheel frame of the Silver Pro is made from metal. The rubber tires provide excellent grip on the ground to maximize cutting performance.
You can also move around the tight corners using the kick bar. It comes with a weather-resistive coating so it won't develop any rust. The best thing about Silver Pro is that it comes with a 5-year warranty. When it comes to mowers made in the USA, only a few stand out as the Silver Pro.
Did We Skip Over Any US Lawn Mowers? Please Provide Your Feedback!
As there are so many different lawn mower brands, it is possible that we might have missed some. This is where you guys come in. You can let us know of any made-in-the-USA mowers that are worth putting on the list. You can reach out to us either through the comments or by email. Any type of feedback is highly appreciated.
How To Be Sure If A Mower is Made in the USA?
A lot of the companies say that their mowers are made in the USA. There are some who assemble their mowers in USA. But FTC clearly states that if most of the parts in your mowers are outsourced from overseas then your mowers are "Not Made in the USA". However, you can say that they are assembled in the US.
Lawn mowers made in the USA = built in the USA?
According to the ruling by FTC in 2017, both of these statements are the same. People raised their voices against some brands as they claimed that their riding lawn mowers were built in the USA but in reality, they were importing all the different parts from overseas. So, after 2017, every company needs to meet the FTC standard for its products to be declared as Made in the USA.
Popular Lawn Mowers that are not from the USA
There are some brands that have really popular lawn mowers but are not made in the USA. Some of these brands are:
Snapper
A lot of the parts used for assembly are imported from overseas by Snapper. They only assemble a few of their mowers in the USA. Moreover, their electric lawn mower lineup is totally overseas. Snapper doesn't have an electric lawn mower made in the USA.
Toro
Most people think Toro mowers as made in the USA but they are wrong. Their riding lawn mowers are only assembled in the USA. Most of the parts for their electric mowers come from Japan and then they assemble them in the US. So, Toro is also another popular mower brand that imports electric mowers from outside of the US.
FAQ
Are John Deere lawn mowers made in the United States?
Yes, John deere riding lawn mowers are made in the United States. Most of their parts are developed in the US.
Are Cub Cadet lawn mowers made in the USA?
Yes, Cub Cadet lawn mowers are made in the USA. They have different facilities located in Mississippi, Tennesse,e and Ohio where they make their parts.
Where are Husqvarna lawn mowers made?
Husqvarna lawn mowers are made in Orangeburg, South Carolina.
Are Troy-Bilt lawn mowers made in the USA?
Yes, Troy-Bilt lawn mowers are made in the USA. Most of their equipment is produced in the United States.
Who are Toro mowers made by?
All of the mowers till 2007 were made by Toro itself but now the mowers are by MTD Corporation.
Who makes Walmart Snapper mowers?
One of the engine customers of Briggs & Stratton is responsible for the production of Walmart Snapper mowers.
Where are Honda mowers made?
Honda mowers are made in different facilities including the one in Swepsonville, North Carolina.
Conclusion
American lawn mowers are really technologically advanced and feature-rich, which is why it is preferred by most people. Even if you consider a riding lawn mower or propelled lawn mower, the US has some of the best products. We hope that this article will help you in choosing the best American lawn mower suitable to your needs. Share your opinion about our listing. Trust me we read every single comment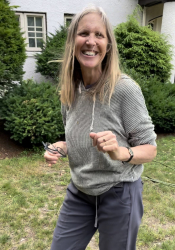 Latest posts by Jessica Zander
(see all)
Hello! I'm Jessica Zander, a garden coach and consultant based in the Boston area (zone 6b), offering virtual consultations across the country and Canada.
I've been passionate about gardening since the early 1990s, and in 2022, I launched You Can Do It Gardening to empower individuals to feel more confident in their gardening endeavors.
Following a 30-year career in nonprofit finance and operations, I transitioned out of that field in mid-June of 2023 due to the growing demand for coaching services. Interestingly, my years of presenting financial statements to boards and finance committees proved to be valuable experience for teaching people about gardening! I enjoy sharing skills, providing guidance and suggestions, and collaborating efficiently with clients to make significant improvements to their outdoor spaces, both small and large. I also regularly teach at the Arlington Continuing Education and Cambridge Adult Education.
My approach is direct and practical, akin to Mary Poppins, but tailored to your garden. Clients find satisfaction in saving money and taking pride in their own gardening achievements.