In this article, we reviewed the best potato grow bags. Find out which bag is our top pick and why we chose it instead of the others. If you're planning to grow potatoes, but you don't have the planting space, a grow bag is what you need. Not long ago, we reviewed the best grow bags for tomatoes. But for this review, we'll focus on the grow bags specially designed for growing potatoes.
Below is the table showing the potato grow bags that we've picked.
---
Comparison Table
| | Potato Grow Bags | Material | Size (gal) |
| --- | --- | --- | --- |
| 1 | ANPHSIN 10 Gallon Garden Potato Grow Bags | Plastic | 10 |
| 2 | Grow Planter 10 Gallon Garden Bags | Plastic | 10 |
| 3 | Amazing Creation Garden Potato Grow Bags | Fabric | 10 |
| 4 | Growsun 7 Gallon Fabric Potato Grow Bag | Fabric | 7 |
| 5 | Kyerivs Garden Potato Grow Bag | Polyethylene | 10 |
---
Buying Guide
Here are a few important things to have at the back of your mind now that you're about to buy potato grow bags. Read the benefits of the plant grow bags
The Size
Grow bags come in various sizes, with the 10-gallon bags being the most popular. We've seen large ones – as large as 1,000 gallons. For planting potatoes, the grow bag's size can influence the yield of the potatoes planted in the bag. We recommend opting for 10-gallon bags or larger.
---
Best Potato Grow Bags Reviewed
---
Here's our review of some of the best grow bags for potatoes.
When it comes to growing potatoes, the ANPHSIN potato grow bag has all you need. And it is available for a relatively affordable price. The bag is made from a plastic material. On a close feel, you find that the plastic material is thick, yet it allows for enough air to reach your plants' roots.
ANPHSIN takes time to make these bags; the result is a sturdy and durable bag. As you'd expect, the grow bag comes with a flap, mostly found on potato grow bags. The flap gives you unhindered access to view the roots of your growing plants while they're growing. You can take and share pictures of your plant roots with your followers on social media.
On the bottom of the bag, you'll find small ventilation holes. They help to improve aeration inside the bag. Also, they provide good airflow and help the roots to become air pruned. Carrying the bag is made easy via strong handles. The ANPHSIN potato grow bag is available in only one color, and it's sold in packs of 2 or 4.
In case you want to plant carrots, lettuce, watermelon, or a range of plants, you're free to do so. The bag can serve the same purpose.
---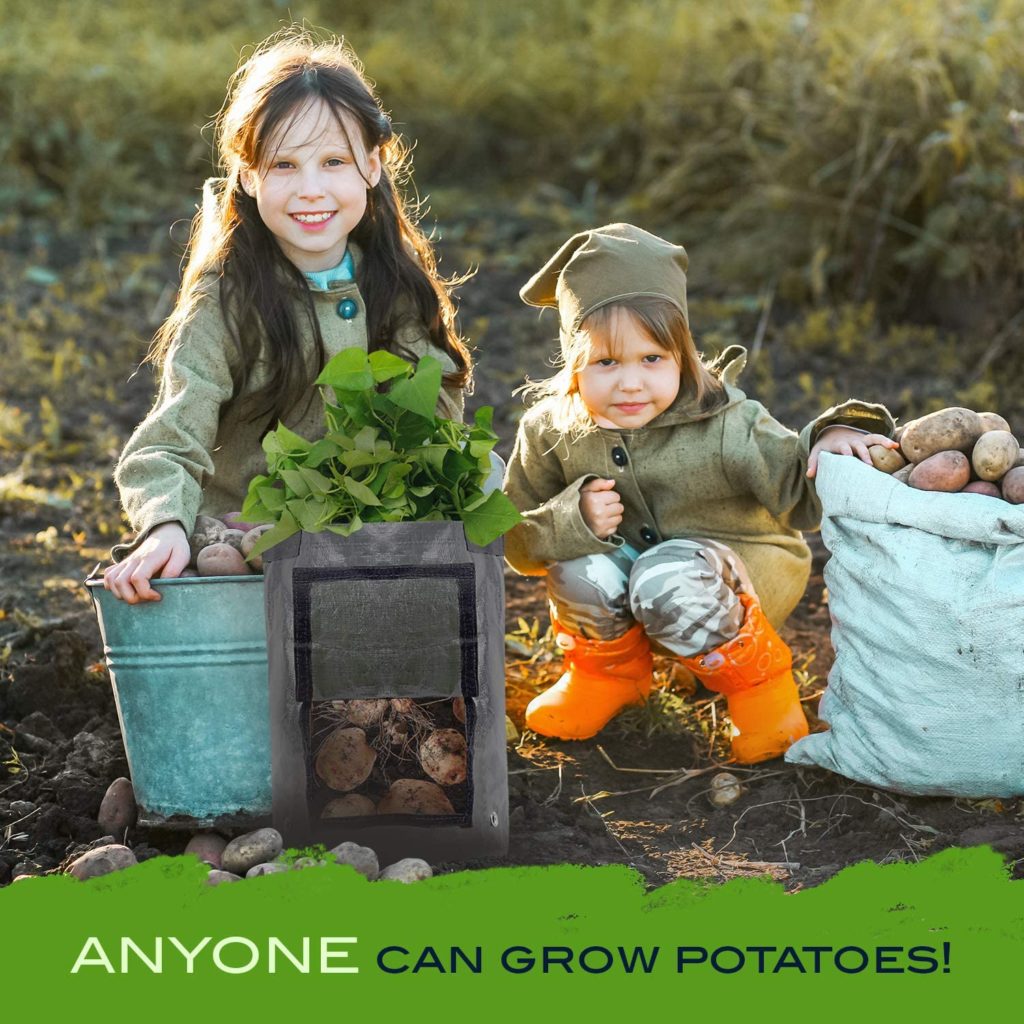 For great value for your money, the grow planter 10-gallon potato grow bags are the way to go. The bag is made from plastic material, which has been refined to look sturdy and durable. Its quality can easily be compared to the quality of the ANPHSIN grow bag we reviewed above.
Both bags are made of plastic and have almost the same dimensions – that's by the way. Quite unfortunately, the Grow Planter grow bags are only available in 10-gallon sizes.
By the way, they're sold only in packs of 4. This can be a huge turn-off for people looking to buy a pack of 4 and a pack of 2 bags. This, however, doesn't reduce the quality of the bag in any way. It offers the revered versatility you get from top-notch grow bags.
The bag is reusable – wash it and allow it to be sundry after using it. Store in a clean, dry place ready for your next use. You can view your plant roots easily via the access flap. This helps you to keep your eye open to know when things go wrong.
---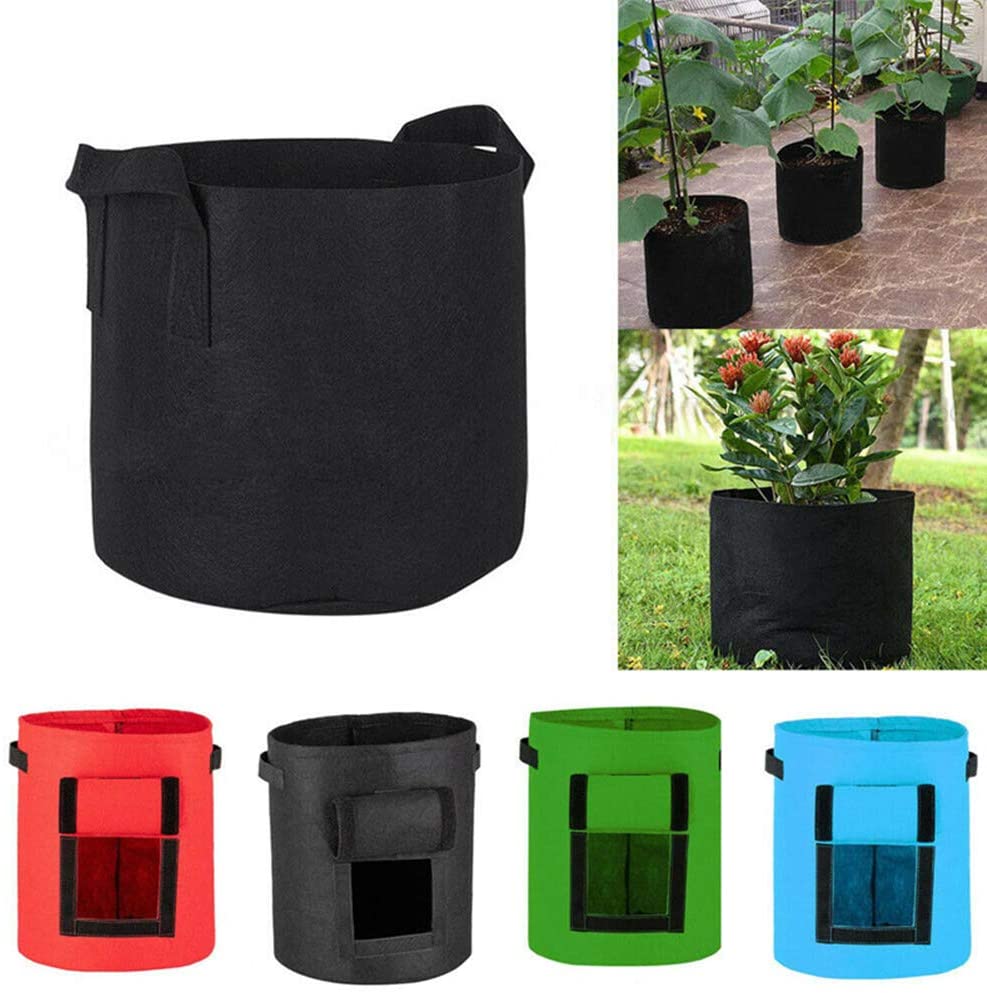 If you have a soft spot for fabric grow bags, you'll definitely love the Amazing Creation potato grow bags. They're made of fabric and kind of remind us of the 247 Garden grow bags which we reviewed when we did a review of tomato grow bags.
The Amazing Creation potato grow bags have quite a handful of features that make them likable. First, the bags are made of fabric material – fabric materials are known to promote good aeration. You don't have to punch in holes like you would on a plastic material bag.
Secondly, the bags are designed to prevent overwatering as well as regulate temperature to a certain degree. It has a large access flap for easily viewing how your plant roots are doing. Apart from being designed to grow potatoes, one can also use it to grow carrots and the like.
On close observation, you'll discover that the bags have triple stitching. This is definitely a good indication that the bag will last long. The Amazing Creation potato grow bag is reusable and can easily be washed and stored away for later use. Let's not also forget to mention that they are pretty much affordable.
---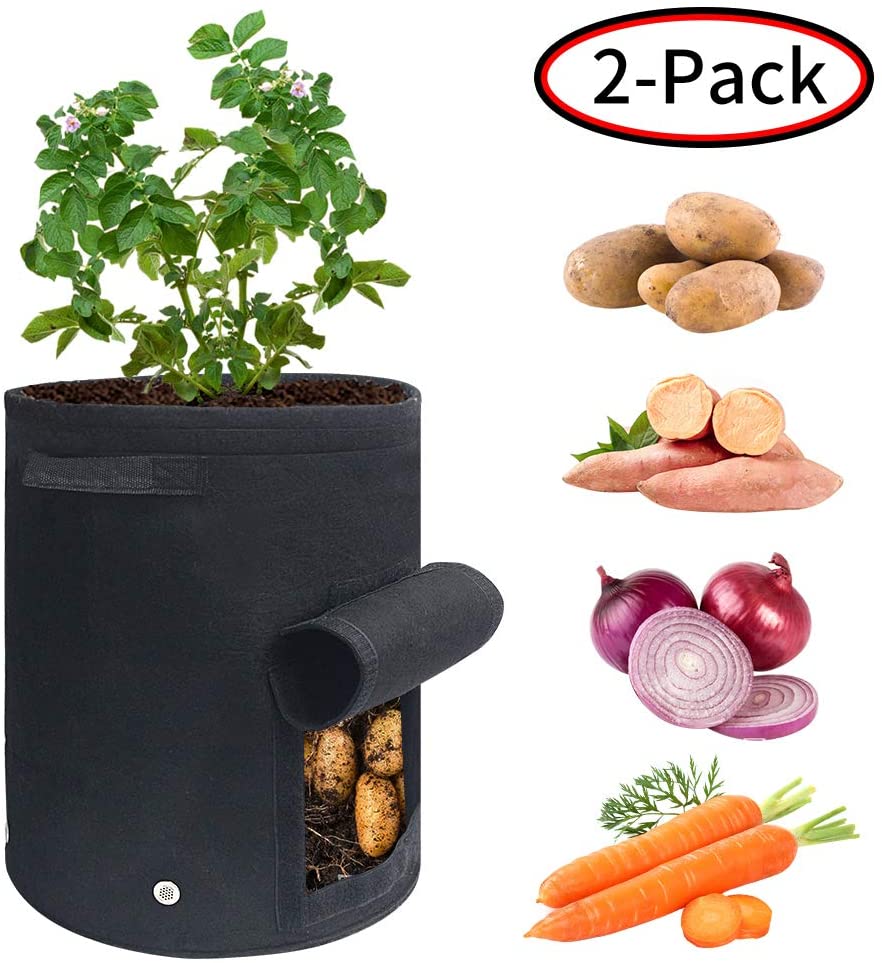 If you're on a tight budget but you still want to grow something nice, the Growsun 7-gallon potato bag is here. It's the only 7-gallon potato grow bag on this review list.
The Growsun potato grow bag is available in a variety of sizes with this 7-gallon size being the lowest. In addition, it also offers different packs of 2 or 5. The 2-pack 7-gallon model we're reviewing is purely designed for growing potatoes, carrots, onions, etc.
On close observation, you'll feel how light the fabric used in making the bag is. According to Growsun, the bag is tear and wear-resisting. Only time, however, can tell if their claims are true or not. We believe that the bag's iron sand net design has something to do with its claims of durability. The iron sand net design helps keep the pests out of your bag.
The bag features the access flap, which is available on most potato grow bags allowing you to look at how your plants are doing deep in the soil. For the records, the bag is BPA-free – in fact, it is made of ten percent propylene and ninety percent polyester.
---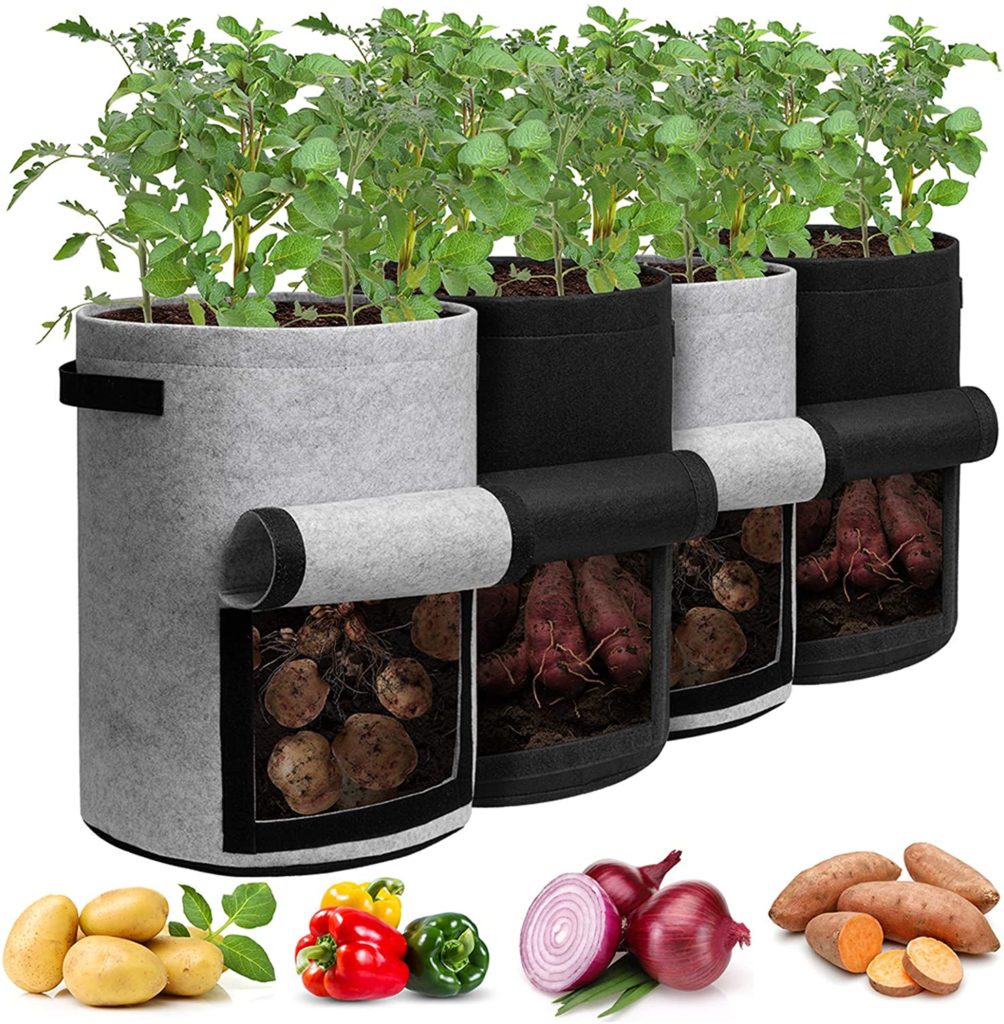 Kyerivs Garden Potato Grow Bag
Features: Made from polyethylene, multiple bag sizes, drainage holes at the bottom, has an access flap, double stitching for sturdiness.
We'll wrap up our review of the best potato grow bags with a review of the Kyerivs potato grow bag. The Kyerivs potato grow bag is the only bag on this list that is made from polyethylene. Every other bag is made from fabric or plastic-like material.
Again, the Kyerivs potato grow bag is also the only grow bag available in different pack sizes. This means you can have the number of bags you need without spending more than necessary.
The bags come with drainage holes at the bottom, similar to the ones on the Anphsin grow bags. As you'd expect, the Kyerivs grow bag features an access flap. Furthermore, it is reusable and is eco-friendly.
When you closely look at the bag, you'll find that the stitches on the bag is well stitched. This prevents the bag from tearing starting from the seams.
Moving the bag from one place to another is also made easy, thanks to the bags sturdy handles. The Kyerivs potato grow bags are similar to the Senigol grow bags – the difference being that the latter is more expensive.
---
FAQs
Can you grow potatoes in grow bags?
Well, from our review, you know the answer already.
It is important, however, to use containers or grow bags designated for growing potatoes as they have special features you may not find in other grow bags. Using a grow bag makes growing easy – and if the bag is reusable and versatile, you can also use it for growing other items.
To grow your potatoes in a grow bag, you'll need a growing space, your potato seeds, a grow compost, fertilizer, and good soil.
What type of soil do potatoes like to grow in?
Potato can do well in most soil types, however, for them to grow properly, the soil must not be alkaline nor saline. The soil should have a pH of about 5.2 – 6.4.
What is the best fertilizer for growing potatoes?
Organic manure and chemical fertilizers can help boost growth. A combination of the two can help boost yield and growth. However, care should be taken not to overuse both as too much of everything is not good.
How often do you water potatoes?
The rate at which you will water your potatoes can be influenced by some factors. These factors include the temperature in your locality and the water retention ability of the grow bag.  You should ensure that your potato has enough water but the soil in the grow bag shouldn't be waterlogged or too wet.
---
Conclusion
You've decided which grow bag to use for growing your potato, no doubt. Make sure the potato variety you're about to grow is viable in your zone and can thrive in your weather. Read this article if you want to learn how to make your own grow bags.
References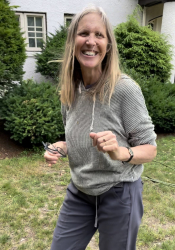 Latest posts by Jessica Zander
(see all)
Hello! I'm Jessica Zander, a garden coach and consultant based in the Boston area (zone 6b), offering virtual consultations across the country and Canada.
I've been passionate about gardening since the early 1990s, and in 2022, I launched You Can Do It Gardening to empower individuals to feel more confident in their gardening endeavors.
Following a 30-year career in nonprofit finance and operations, I transitioned out of that field in mid-June of 2023 due to the growing demand for coaching services. Interestingly, my years of presenting financial statements to boards and finance committees proved to be valuable experience for teaching people about gardening! I enjoy sharing skills, providing guidance and suggestions, and collaborating efficiently with clients to make significant improvements to their outdoor spaces, both small and large. I also regularly teach at the Arlington Continuing Education and Cambridge Adult Education.
My approach is direct and practical, akin to Mary Poppins, but tailored to your garden. Clients find satisfaction in saving money and taking pride in their own gardening achievements.