Spring is coming around again soon, and when it does, many people will be spending time outside. It would be the ideal time to grow vegetables and flowers, and you might want to do this in a grow bag because it helps to save money and is also quite convenient.
Picking the right grow bag for your vegetables can be hard, and so is knowing what to look out for. This is why we'll be covering these sections in this article to make it easier for you to make your choice.
VIVOSUN Plant Grow Bags
If you're in a hurry, the best grow bags for vegetables are the VIVOSUN Plant Grow Bags. VIVOSUN's reputation is evident in this bag made from high-quality thickened fabric material. It comes with heavy-duty handles stitched to the body with serging stitches.
---
Grow Bags Comparison Table
| | Best Grow Bags | For |
| --- | --- | --- |
| 1 | VIVOSUN Plant Grow Bags | All plants |
| 2 | ANPHSIN Garden Potato Grow Bags | Potato |
| 3 | VIVOSUN Fabric Grow Bags | Tomatoes |
| 4 | JERIA Aeration Fabric Pots | Vegetables |
| 5 | FiveSeasonStuff Grow Bags | Strawberries |
| 6 | WINNER OUTFITTERS Fabric Pots | Tomatoes, Pepper |
| 7 | VIVOSUN Square Grow Bags | Carrots |
---
Buying Guide: Grow Bags
Grow bags are a popular alternative to using a pot; it helps to save space and money. Apart from this, they can be easily stored when not in use. There are many grow bags in the market these days, and it has become increasingly difficult figuring out the best amongst the hoard.
That's why we've compiled some features to look out for when purchasing a grow bag for vegetables, let's take a look:
---
Best Grow Bags For Vegetables Reviewed
Below are some of the best grow bags for vegetables you can find in the market; one of them or two would fit perfectly in your home.
VIVOSUN Plant Grow Bags
Features: weighs 3.05 pounds, made with nonwoven fabrics, designed for heavy-duty, comes with handles, pack of five, 20 gallons, provides drainage and aeration, durable and padded.
One of the best brands to get a grow bag from is VIVOSUN; their products come in packs of different sizes, and this is the 6 pack 10-gallon size. Made from non-woven materials and fully padded, this grow bag is thick enough to withstand heavy weight as your plants begin to grow.
It comes with sturdy handles that allow for easy movement and will not tear under pressure. The handles are serge stitched so that they can adequately hold a full bag of soil. This VIVOSUN plant grow bag doesn't retain water too much water, thus reducing plants' chances of rotting.
The fabric is environmentally friendly because it is BPA-free and gives the plants ample room. This allows plants to grow vigorously and healthily while ensuring that they have enough space and don't get tangled up.
You can wash and store the bags away when they're not in use. This grow bag comes with a one-year warranty and will definitely last longer owing to its tough-build quality.
---
ANPHSIN Garden Potato Grow Bags
Features: Ventilated holes, large size, made from sturdy fabric materials, great for planting potatoes and carrots, easy to wash and store.
Contrary to certain opinions, you don't need a Ph.D. to grow items like potatoes. With the right potato variety, favorable conditions, and a nice grow bag like the ANPHSIN Garden Potato Grow Bag, you're good to go.
The ANPHSIN bags are tough and sturdy and are durable – you can easily deduce this by simply touching the bag. It comes as a pack of four, all of which have the same quality. They're made from fabric materials.
As you'd expect, the bag features small ventilation holes on the bottom as well as a flap for easy access to the food you're growing. The bag is good for growing foods like potatoes, carrots, onions, etc. With the ventilation holes, aeration is improved and this, in turn, leads to increased yields.
We talked more about these bags in our review of the best grow bags for potatoes.
---
VIVOSUN Fabric Grow Bags
Features: 10 gallon & multiple sizes available, sturdy handles, made from thick fabric materials, loops to the side for holding sticks, breathable, and drains water appropriately.
This is the VIVOSUN grow bag for tomatoes. It's nothing short of the quality we expect from such a renowned brand. Available in different sizes, these square-shaped grow bags give your tomato plants enough room to grow.
Take a few minutes and examine the grow bags you've been using to grow tomatoes. Are you satisfied with how they serve you? If you're satisfied, you're welcome to skip: otherwise, you should embrace this VIVOSUN grow bag.
Aside from ample growing space courtesy of its 10-gallon size, the bag offers sturdy handles and enough room for the root of the tomato to grow. It drains water properly and is made from breathable fabric material.
Let's not fail to mention that it has loops for fixing stakes to the sides of the bag for your tomato plant to grow upright. Cool, right? When last did you see a tomato grow bag with such loops? We highlighted more features of this grow bag in our review of the best grow bags for tomatoes.
---
JERIA Aeration Fabric Pots
Features: Made with nonwoven fabrics, weighs 3.64 pounds, comes in 12-pack 7 gallons, high breathability, provides water drainage, handles for easy movement, and easily stored.
This is one of the best grow bags you can find in the market because of the many features that come with it. It comes in a pack of twelve, and its size is seven gallons, which allows you to grow your vegetables conveniently.
There are also sturdy handles attached for easy transportation and movement. The JERIA aeration fabric pot is made from nonwoven fabric, ensuring that plants get as much air as they need, thereby promoting ample growth.
The design also provides water drainages to ensure that your plants don't get waterlogged and be at risk of rotting. This grow bag comes in black color which retains heat for your plant and keeps it warm in colder times.
You can easily fold this grow bag up and store it when not in use; the JERIA fabric pot is great for creating a simple and quick garden. And it's easy to wash after use. If you intend to plant trees, ensure that the bag sizes you use are the largest.
---
A top consideration when choosing a grow bag for your vegetables is the FiveSeasonStuff Grow Bag; it is a bag that comes in 7 packs and is 15 gallons in size. It is made from non-woven materials that ensure that plants are breathable.
There is also adequate draining to ensure plants are not overwatered at any point, so excess water is always drained out. You should expect your plants to grow very well as long as you'll obey the other instructions that must be met for proper plant growth.
This grow bag does not require any support as it can stand on its own at any time and is quite thick. Another feature we love is the sturdy, tear-resistant handles on both sides that will not give in to pressure no matter how heavy it gets.
It is a lightweight bag and can be easily kept in storage to be used during another planting season. This grow bag is ideal for different plants, including strawberries, tomatoes, and pepper. By the way, the bag is available in different sizes, some large enough to grow trees till the transplanting stage.
---
WINNER OUTFITTERS Fabric Pots
Features: Comes in a pack of six 10-gallon size, weighs 1.5 pounds, offers aeration, is made with nonwoven material, is washable, is durable, and drains well.
This WINNER OUTFITTERS offers you a pack of six 10-gallon grows bags; it is designed with a nonwoven material and comes with sturdy handles which makes moving the bag easy and quick.
Even though this bag comes in a round shape, it is very breathable, and roots can grow freely and healthily. The fabric material ensures the bag is ready to drain the water in the bag while leaving enough for the plants to use.
As expected, the grow bag is made from environmentally-friendly, and BPA-free felt materials. It is also quite durable, and the bag is stitched to last for a long time. Anyone looking forward to switching from fabric to felt grow bags shouldn't ignore this grow bag.
When not in use, wash the bags and store them in a cool dry place for reuse. You can get a few planting seasons out of each of the bags.
---
VIVOSUN Square Grow Bags
Features: Made with nonwoven fabric, pack of five, 10-gallon size, square design, double-stitched handles, breathable fabric, excellent drainage, multiuse, washable, and durable.
Another VIVOSUN grow bag to watch out for is this VIVOSUN 5-pack 10-gallon grow bags. It is square-shaped and is made from sturdy thick nonwoven material—the square design help to give the bag balance even when placed on sloping ground.
These grow bags also come with double-stitched handles that allow you to easily move the bag indoors and outdoors if the sun pattern changes. It is breathable and enables your plant's roots to grow freely, unlike some bags that limit root growth.
Drainage is also efficiently taken care of with these grow bags as it is designed to drain out any excess water in the bag. This ensures that your plants stay moist but not soggy so that the roots don't begin to decay.
Another amazing feature that comes with these grow bags is loops on each side meant to hold poles that help the plants grow. As expected, these grow bags are durable and can be rewashed, stored, and repeatedly used for a few years.
---
Grow Bag Disadvantages & Advantages
What are the disadvantages and advantages of using grow bags? Let's take a look at a few of them.
Pros
Grow bags are useful in areas with bad soil.
They can be used anywhere even in places with limited space.
The bags are easy to use and wash.
These bags are breathable and make the roots grow well.
Cons
They don't last longer than two to four planting seasons.
They may not be as aesthetically pleasing as containers like the ceramic pots.
Larger 50-gal grow bags may not be very easy to move.
---
FAQs – Grow Bags
What can I grow in a grow bag? You can grow anything in a grow bag; most grow bags are versatile and allow you to grow vegetables, flowers, and even potatoes in them.
Can I reuse the potting soil in my bag? Yes, you can definitely reuse the potting soil. However, it is highly recommended that gardeners avoid using the same plant in the same soil twice in a row.
Can I use a grow bag on a shaded deck? You totally can! But you need to cut down your expectations in terms of yield. If you want a bountiful harvest, try going for vegetables that don't require much sunlight to thrive.
Can You Reuse Grow Bags? Yes, you can reuse your grow bags if you want to. But if the bags are old and worn out, you should replace them so that your plants will thrive well in it.
---
Wrapping Up
Grow bags are useful, and with the right bag, your plants will grow smoothly and vigorously. There are many options in the market, and it can be hard to tell which is ideal. However, the provided buying guide should make it easy to make your choice.
All the grow bags are made with top-quality material and double stitching that ensures that it lasts for a very long time.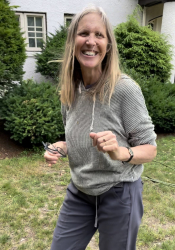 Latest posts by Jessica Zander
(see all)
Hello! I'm Jessica Zander, a garden coach and consultant based in the Boston area (zone 6b), offering virtual consultations across the country and Canada.
I've been passionate about gardening since the early 1990s, and in 2022, I launched You Can Do It Gardening to empower individuals to feel more confident in their gardening endeavors.
Following a 30-year career in nonprofit finance and operations, I transitioned out of that field in mid-June of 2023 due to the growing demand for coaching services. Interestingly, my years of presenting financial statements to boards and finance committees proved to be valuable experience for teaching people about gardening! I enjoy sharing skills, providing guidance and suggestions, and collaborating efficiently with clients to make significant improvements to their outdoor spaces, both small and large. I also regularly teach at the Arlington Continuing Education and Cambridge Adult Education.
My approach is direct and practical, akin to Mary Poppins, but tailored to your garden. Clients find satisfaction in saving money and taking pride in their own gardening achievements.