Wood chippers come in handy for different purposes. If you have a small farm and looking for the best wood chipper you can get, then it's your lucky day because this guide is for you. We've compiled a list of the best wood chippers for small farms for you; read on to find one ideal for you.
Sale
---
Wood Chippers Comparison Table
| | Wood Chipper | Cutting Diameter | Weight | Reduction Ratio |
| --- | --- | --- | --- | --- |
| 1 | Super Handy Multi-Function Wood Chipper | 3 inches | 130 lbs. | 15:1 |
| 2 | Sun Joe CJ603E Wood Chipper | 1.73 inches | 38.6 lbs. | 21:1 |
| 3 | Sun Joe CJ602E Wood Chipper Renewed | 1.57 inches | 26.2 lbs. | 17:1 |
| 4 | Landworks Mini Wood Chipper | 3 inches | 130 lbs. | 15:1 |
---
Buying Guide – Wood Chippers
Any farm equipment you intent to buy requires serious consideration; you need to have a clear idea of what you want and the features that are a necessity to you. To help you make a better choice, here is a buying guide.
Cutting Diameter ✂️
Every wood chipper has its limit; there is a specific diameter of a branch it can shred or diminish to chips. You need to know your chosen wood chipper's cutting diameter and make sure that it is ideal for the branch sizes you would be chipping. 
Simple chippers can easily cut through fruit branches and saplings, but you need a heavy-duty and powerful chipper with a larger cutting diameter when you're dealing with larger trees.
---
Best Wood Chippers For Small Farm: Our Reviews
The wood chippers reviewed below are a variety of gas-powered and electric wood chippers.
Sale
SuperHandy 3-in-1 Wood Chipper
Features: 7 HP 4-Stroke 212cc gas engine, portable, steel construction, powder-coated, 3-inches cutting diameter, 15:1 reduction ratio, heat-treated for rust prevention, adjustable discharge chute.
The SuperHandy 3-in-1 multi-function wood chipper is our best pick because it is highly effective and perfect for your chipping needs. This wood chipper is designed with a large cutting diameter of 3 inches and comes with a discharge chute elongated and can easily adjust to your preferred length.
This 3 in 1 multi-function wood chipper also comes with a 3-year warranty and the fact that it can handle wood of about 3 diameters with which makes it great for trimming your trees. It also comes sporting a steel powder-coated body treated with heat to avoid rust.
With a fuel capacity of about 0.7 gallons, this wood chipper can last you a pretty long time. Its large wheels measure about 6-inches helps you quickly move it from one place to another. If you're worried about the noise, it's noticeably loud but not annoying like some models.
Another nice feature of this wood chipper is its mobility and how easy it is to hook it up to your lawnmower, ATV, and other accessories so you can easily transport it to whatever location you need it.
---
The Sun Joe Electric wood chipper sports a powerful 15 amp motor with a voltage of 120V ~ 60 Hz that allows you effectively turn your branches, twigs, brush, and leaves into mulches.
It has a cutting diameter of 1.73 inches, and with its 21:1 reduction ratio, your farm and garden will soon become cleaner and nutrient-rich in no time. It is portable and comes with 7-inch wheels for easy mobility.
If you're scared of disturbing your neighbors with the noise, you would love the Sun Joe CJ306E for its noiselessness. With safety in mind, this wood chipper comes with a safety hopper and locking knobs, ensuring that the motor stops functioning when it is opened.
It also comes with a 2-years warranty and no-carb emission to help preserve your clean air. With this electric wood shredder, reducing, recycling, and reusing your farm debris just became easier.
---
If you're looking for a lightweight wood chipper that will effectively shred your twigs, leaves, and branches into debris to enrich your garden soil, then the Sun Joe Electric Garden Chipper is the one for you.
With a two-year warranty, this wood chipper is the best choice if you're looking for something portable.
Its powerful 25 amp electric motor with about 4300 RPM allows it to make quick work of branches and twigs within its 1.5 cutting diameter. Its portable weight of 36 pounds allows for easy mobility.
The Sun Joe Electric Garden Chipper is perfect for home use and will demolish your debris into 1/16 of its initial size. If you're worried about its blades, then be assured it is made to last and of the finest quality.
It also comes with safety features like the safety hopper and a locking knob, which prevents the engine from working when it is opened, but there are no branches to chip. The 6-inches wheel also allows this chipper to move from one place to another. It is electrically powered, and this helps minimize maintenance tasks and noise.
---
Landworks Mini Wood Chipper
Features: Gas-powered 212cc Engine, 3 inches cutting diameter, 15:1 reduction ratio, lightweight and easy mobility, durable, and weighs 130 pounds.
The Landworks Mini Wood Chipper is another fantastic choice for anyone looking for a high-quality wood chipper. Like the SuperHandy 3 in 1 multi-function wood chipper, this chipper is also gas-powered and comes with a 212cc engine.
It is a robust chipper with a cutting diameter of 3 inches and can reduce branches and twigs to 1/15 of its size. This wood shredder is reliable and will last you for a long while; it also carries a large hopper that allows you to shred bulk branches.
The hopper is also easy to attach to other accessories for easy mobility and when you want to move the chipper to a particular spot on your garden or farm.
This compact-size wood chipper weighs 130 pounds and provides the speed and strength that bigger chippers offer. It is easy to assemble and created with the operator's safety in mind. This wood chipper promises you smooth shredding with no hiccups during the whole process.
The 0.7 gallons fuel tank allows you to work for extended periods.
---
FAQs: Wood Chippers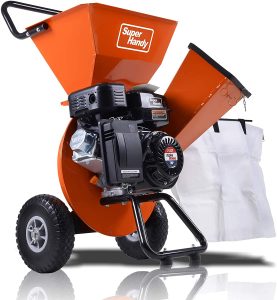 How do I operate a wood chipper safely? 
Wood chippers are pretty straightforward to use; make sure you read the user manual before you start, and you'll find the instructions pretty simple.
It would help if you also put on protective gear like safety glasses, gloves, hard hats, boots, etc. Also, ensure the wood's diameter does not exceed the cutting diameter of the wood chipper.
Can a Wood Chipper chop all debris? 
As the name implies, a wood chipper is for chopping and shredding woods. They are highly durable and will cut through twigs, branches, and leaves quickly. When you try to add other debris like nails, papers, metal, plastic, etc. to the wood chipper, you could damage the chipper severely and end up having to repair it.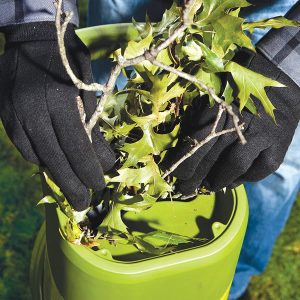 Which is better? An electric chipper or a gas chipper? 
Both perform the work efficiently and are very useful; they vary in functionality and convenience. Electric wood chippers are easier to maintain, lightweight, quieter, and very mobile but have a lower cutting diameter and chip small woods. 
However, gas chippers are louder and may require more maintenance but sport a higher cutting diameter and handle the bulk of debris at once.
How do I maintain the blade of the wood chipper? 
After some time, you might start to observe that your wood chipper is taking more time to chip wood. This might indicate that the chipper's blades are becoming blunt and need to be sharpened or changed. 
You can sharpen it with a filing stone or ask a professional to do the job for you. Make sure you disconnect the wood chipper before you try detaching the blades from the machine.
---
Final Thoughts
If you need an efficient wood chipper, any of these four wood chippers highlighted above will serve your needs. They can also do the purpose of shredding your leaves, although we recommend using a shredder to that effect.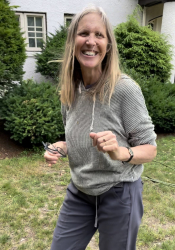 Latest posts by Jessica Zander
(see all)
Hello! I'm Jessica Zander, a garden coach and consultant based in the Boston area (zone 6b), offering virtual consultations across the country and Canada.
I've been passionate about gardening since the early 1990s, and in 2022, I launched You Can Do It Gardening to empower individuals to feel more confident in their gardening endeavors.
Following a 30-year career in nonprofit finance and operations, I transitioned out of that field in mid-June of 2023 due to the growing demand for coaching services. Interestingly, my years of presenting financial statements to boards and finance committees proved to be valuable experience for teaching people about gardening! I enjoy sharing skills, providing guidance and suggestions, and collaborating efficiently with clients to make significant improvements to their outdoor spaces, both small and large. I also regularly teach at the Arlington Continuing Education and Cambridge Adult Education.
My approach is direct and practical, akin to Mary Poppins, but tailored to your garden. Clients find satisfaction in saving money and taking pride in their own gardening achievements.