Keeping a lawn free from dirt can be quite difficult to achieve, but it's better than having a lawn that looks terrible. After a windy day/mowing day, you need a lawn sweeper or blower to take care of the leaves and grass clippings left behind. We've compiled some of the most preferred and satisfactory lawn sweepers that would make all the difference; let's take a look.
Sale
---
Best Lawn Sweeper For Leaves: Comparison Table
| | Lawn Sweeper | Hopper Capacity | Sweeping Width | Weight |
| --- | --- | --- | --- | --- |
| 1 | Agri-Fab 45-0492 Lawn Sweeper | 25 cubic feet | 44 inches | 92 lbs. |
| 2 | Brinly Tow-Behind Lawn Sweeper | 20 cubic feet | 42 inches | 80 lbs. |
| 3 | Agri-Fab 45-0320 42-Inch Tow Lawn Sweeper | 12 cubic feet | 42 inches | 68 lbs. |
| 4 | Craftsman CMXGZBF7124266 Tow Lawn Sweeper | 22 cubic feet | 42 inches | 72 lbs. |
---
Lawn Sweeper For Leaves: Buying Guide
Below are the main factors you need to look out for when shopping for a lawn sweeper for your home:
Sweeping Width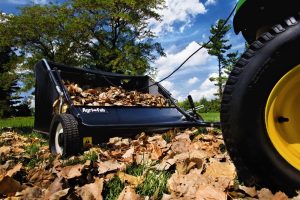 Many manufacturers categorize their lawn sweepers by how wide the sweeping width is. This informs you about how much area the lawn sweeper can sweep in one pass.
To make sweeping your lawn easier, it is best to go for a lawn sweeper with a much wider sweeping width. Most sweepers have between 20 to 26 inches sweeping widths.
The sweeper type also determines how wide the sweeping width is as tow-behind lawn sweepers usually have wider sweeping width, unlike the push-behind models.
---
---
Best Lawn Sweepers For Leaves Reviewed
Below is a review of the best lawn sweepers in the market to keep debris off your lawns.
Sale
Agri-Fab 45-0492 Lawn Sweeper
Features: 2-step assembly, 25-cubic feet hopper size, adjustable brush, 92 lbs, tow behind, 44 inches sweeper width, 3-years warranty, mesh hopper, easily assembled, six-velocity brushes, easy storage, adaptable to different terrains.
This Agri-Fab lawn sweeper makes the top of our list because it is packed with many features and is ideal for any terrain or lawn size. With its wide sweeping width, you can save a lot of time while cleaning up.
---
Brinly-STS-427LXH Tow-Behind Lawn Sweeper
Features: 20 cubic feet hopper bag, weighs 80 pounds, 2-years warranty, 42-inches sweeping width, 5:1 Brush-to-wheel ratio, convenient storage, six high-velocity brushes, adjustable height with durable fabric.
The Brinly Tow-Behind lawn sweeper has a simple design but effectively captures twigs, leaves, and every other kind of debris in your garden.
---
Sale
Agri-Fab 45-0320 Tow Lawn Sweeper
Features: Tow behind sweeper, weighs 68 pounds, 42-inches sweeping width, hopper bag of 12 cu. ft, three years warranty, attaches to tractors, easy maintenance, etc.
If you're looking for a lawn sweeper to attach to your riding lawn mower, then the Agri-Fab 45-0320 Tow Lawn Sweeper should be on your radar.
---
The Craftsman Tow Hi-Speed Lawn sweeper might look compact, but don't let it fool you. It is a high-speed sweeper that comes with a 22-cubic feet hopper bag.
---
FAQs – Lawn Sweeper For leaves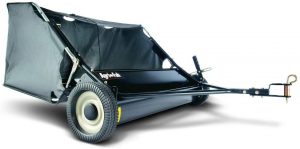 Why Should I use a Lawn Sweeper? 
If you're quite an avid gardener, you must know how important it is to keep the space clean. A lawn sweeper will help you save time and preserve the garden while clearing up debris. It also works much better than a leaf blower, and it a good investment for your garden.
How do I use a Lawn Sweeper? 
Lawn sweepers come in varying categories; some are tow-behind sweeper while some require being pushed forward manually. Lawn sweepers work just like a vacuum cleaner; the brushes sweep up debris into the hopper bag as you move.
How Do I empty a lawn sweeper? 
Most sweepers come with a dump function that allows you empty the hopper bag with a handle or simply pulling on an attached rope. When this is done, the bag opens up, and the debris gathered is released.
Do Lawn Sweepers work on Wet Lawns? 
Some lawn sweepers work better on we lawns than others. However, most lawn sweepers get clogged by the wet leaves. To avoid future inconveniences, it is advised you let the leaves dry off first.
---
Conclusion
Getting rid of leaves is easy and requires not many tools. If you have other ways of dealing with debris on your lawn, kindly share it with us. We don't mean using leaf blowers and rakes.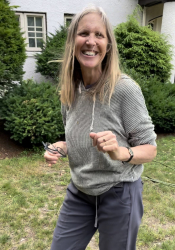 Latest posts by Jessica Zander
(see all)
Hello! I'm Jessica Zander, a garden coach and consultant based in the Boston area (zone 6b), offering virtual consultations across the country and Canada.
I've been passionate about gardening since the early 1990s, and in 2022, I launched You Can Do It Gardening to empower individuals to feel more confident in their gardening endeavors.
Following a 30-year career in nonprofit finance and operations, I transitioned out of that field in mid-June of 2023 due to the growing demand for coaching services. Interestingly, my years of presenting financial statements to boards and finance committees proved to be valuable experience for teaching people about gardening! I enjoy sharing skills, providing guidance and suggestions, and collaborating efficiently with clients to make significant improvements to their outdoor spaces, both small and large. I also regularly teach at the Arlington Continuing Education and Cambridge Adult Education.
My approach is direct and practical, akin to Mary Poppins, but tailored to your garden. Clients find satisfaction in saving money and taking pride in their own gardening achievements.