Having set up your grow tent, you need to regulate the humidity in the room and a humidifier or dehumidifier will help you do that, depending on whether you want to reduce or increase humidity. The size of your tent is the first thing to consider before buying a grow tent dehumidifier. To make your job easy, we focused on dehumidifiers best suited for 4×4 grow tents. 
The success of your harvest is mainly dependent on investing in the right portable dehumidifier. As you already know, a dehumidifier controls the humidity in a room – in this case, your grow tent – and regulates the moisture in the air. Listed are our top picks.
---
---
Grow Tent Dehumidifiers Comparison Table
| | Grow Tent Dehumidifier | Tank Capacity | Coverage |
| --- | --- | --- | --- |
| 1 | Pro Breeze Electric Mini Dehumidifier | 18 oz. | 150 sq. ft. |
| 2 | Hysure Portable Electric Dehumidifier | 68 oz. | 100 sq. ft. |
| 3 | AUZKIN Compact Dehumidifier | 35 oz. | 260 sq. ft. |
| 4 | SEAVON 1500ml Electric Small Dehumidifier | 51 oz | 250 sq. ft. |
---
A Simple Buying Guide: Grow Tent Dehumidifiers
Before you purchase a dehumidifier for your grow tent, you need to know the size tent. It's pretty easy to determine, and in this case, we're looking at 4×4 grow tents. If you have a larger or smaller tent, then you should consider the size.
Having done that, you need to bear in mind the number of plants you are growing and the moisture in the tent. Also, you need to know the amount of water you feed your plants daily for the dehumidifier to do its best job. Now let's dive into the things you need to know and consider before buying a 4×4 tent dehumidifier.
---
Best Dehumidifier For Grow Tent Reviews
The dehumidifier pack contains a power adapter, the user manual, and the dehumidifier fitted with the ultra-quiet Peltier Technology to prevent any unpleasant noises when you're using it. We want to point out that it has a noise level of 38 dB. Owing to its small size, finding the perfect spot for it in your grow tent won't be difficult.
It doesn't have a compressor; thus, it's lightweight, although it's probably not the market's lightest. Arguably, it is a highly efficient dehumidifier and removes about 16 ounces of water per day at 80 RH and 86ºF humidity. 
There's an air inlet that comes with a grid that efficiently eliminates tiny particles in the air, leaving the air in your grow tent clean. This dehumidifier is designed with a one-button start-up that starts dehumidifying your tent with the push of a button. 
It's energy-efficient, thanks to a design that allows for energy conservation. This dehumidifier is effective, environmentally, and budget-friendly when compared with chemical absorbents. This dehumidifier's optimal operating temperature is between 41ºF to 122 ºF as low temperatures will affect its operation. 
---
Here's the Pro Breeze mini dehumidifier. It's a compact dehumidifier that removes up to 9 ounces of water daily. If you are looking for a portable dehumidifier that will not hurt your pocket, this dehumidifier is the best option for you. It features an 18-ounce water tank.
For optimal operation, you should place the Pro Breeze Electric Mini Dehumidifier in grow tents with a size of up to 150 sq. feet. A 4×4 grow tent is a perfect fit for this unit. It can also serve a 4×8 tent, although the number of plants in the tent will be a major deciding factor.
As you'd expect, this tent comes with the auto shut off feature, which turns off the dehumidifier when the tank is full. The shut-off feature turns on the LED light to indicate that the water container is at its maximum level. It is super-quiet that you will not hear it working when you stand 2 feet from your grow tent. 
The dehumidifier comes with built-in Thermo Electric Cooling Technology (Peltier), which means this dehumidifier does not require a compressor to operate. The Peltier technology makes it energy efficient while keeping it at the optimal operating temperature between 59-86ºF.
Water collected by this dehumidifier is easy to dispense. First, disconnect the water container, remove the plug, and empty it. Once you empty the water tank, place it into the dehumidifier, and press the on button. 
---
Small but mighty is the phrase that best describes the Hysure Portable Dehumidifier. It removes an impressive amount of humidity from your grow tent, thanks to its 67-ounce tank. It's quiet during operation – in fact, its noise rating is about 33dB.
This low noise level is a result of the Peltier technology that removes moisture without a compressor. 33dB. The compressor's absence also makes the dehumidifier lightweight, although we've seen lighter units in the market.
Expectedly, there's the auto shut-off feature that saves energy and automatically shuts off the dehumidifier once the water container reaches it is maximum capacity. Going deep into the functionality, this dehumidifier hygienically and efficiently extracts moisture in grow tents at 80 Relative humidity (RH) and 86ºF. 
Considering its small size, it's not surprising to know that it fits into any small space. We recommend placing the tent in the center of your 3×3 grow tent to ensure that it gets adequate coverage. Always ensure the top air outlets and front air inlets are free to prevent them from being blocked while in use. 
Also, make sure the power adapter of this dehumidifier is off the ground to prevent an electric hazard. This dehumidifier requires a necessary temperature of 68ºF and relative humidity of 60% before use. The performance of the compact dehumidifier is influenced by temperature, space, airflow speed, and humidity. 
---
SEAVON Electric Small Dehumidifier
Features: Thermo-Electric cooling technology, auto-shutoff, 50.7oz tank, lightweight, minimum 41oF operating temperature, LED lights, etc.
The SEAVON dehumidifier is small, efficient, and adorned with a ton of features to make it one of the best dehumidifiers for grow tents. It comes with a tank capacity of 50.7oz and can extract up to 13.5 ounces of moisture per day.
Arguably, it's suitable for small and medium-sized grow tents, and for larger tents, having two of them in the tent will make a huge difference. Like its counterparts on the market, the dehumidifier has the auto-shutoff feature that automatically stops the machine when the tank is full.
Once the dehumidifier stops, it flashes a yellow LED light located on the side as a reminder to empty the tank. The water tank is easy to remove and replace. This SEAVON dehumidifier also has Thermo-Electric cooling technology that does not require a compressor, so you should expect ultra-quiet runtimes.
The best operational temperature is between 59 to 86ºF, as this dehumidifier will not work below 41ºF. This dehumidifier will work well irrespective of where it's placed in the grow tent but we recommend placing it in a central spot that is easily accessible so you can empty the water tank easily.
---
FAQs – Dehumidifiers
Can I put a dehumidifier in my grow tent? Yes, you can put a dehumidifier in your grow tent. Take note of the tent's size and the number of plants in it before placing a dehumidifier. If you place a large dehumidifier in a small grow tent, your plants will be impacted.
Is it okay if I water my plants with the water from my humidifier? Don't use the water from your dehumidifier on your plants. This is because the dehumidifier removes many bacteria and microorganisms from the humid air, and they're contained in the water.
Will a dehumidifier consume energy? No, many of the dehumidifiers on the market are energy efficient. And so, you'll find them consuming fewer amounts of energy.
What size of dehumidifier do I need for my grow tent? To know the size of the dehumidifier that's perfect for your grow tent, we recommend taking note of the number of plants in the tent, as well as the size of the tent.
---
Final Words
Finding the right dehumidifier is one step along the way, and getting the dehumidifier to last for a long period of time is another part of the equation. We recommend opting for dehumidifiers that can cater to small and medium-sized grow tents as that is what many of us have.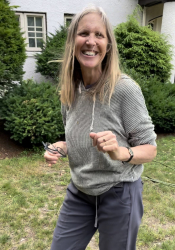 Latest posts by Jessica Zander
(see all)
Hello! I'm Jessica Zander, a garden coach and consultant based in the Boston area (zone 6b), offering virtual consultations across the country and Canada.
I've been passionate about gardening since the early 1990s, and in 2022, I launched You Can Do It Gardening to empower individuals to feel more confident in their gardening endeavors.
Following a 30-year career in nonprofit finance and operations, I transitioned out of that field in mid-June of 2023 due to the growing demand for coaching services. Interestingly, my years of presenting financial statements to boards and finance committees proved to be valuable experience for teaching people about gardening! I enjoy sharing skills, providing guidance and suggestions, and collaborating efficiently with clients to make significant improvements to their outdoor spaces, both small and large. I also regularly teach at the Arlington Continuing Education and Cambridge Adult Education.
My approach is direct and practical, akin to Mary Poppins, but tailored to your garden. Clients find satisfaction in saving money and taking pride in their own gardening achievements.