The legalization of cannabis in some countries has made grow tents more popular in recent times. This has, in turn, led to a significant increase in the demand for tents. The demand is primarily fueled because many people don't have space and can't control the environmental conditions when planting outside.
So what do you do? Ditch the idea of growing your own plants? Of course not. You simply buy a grow tent kit. In this article, we looked at some popular small and large growing tents.
---
Comparison Table of Different Grow Tents
| | Grow Tent | Size | Mylar Rating |
| --- | --- | --- | --- |
| 1 | Apollo Horticulture 60x60x80 Grow Tent | 5 x 5 x 6.7 | 100% |
| 2 | Gorilla Grow Tent Kit LITE (4′ x 4′) | 4 x 4 x 6.5 | NA |
| 3 | Oshion 4x4x6.5 FT Indoor Grow Tent | 4 x 4 x 6.5 | 99% |
| | Small Grow Tents | | |
| 4 | CoolGrows 2x2x4 Grow Tent | 2 x 2 x 4 | 99% |
| 5 | Hongruilite 600w LED Light + Grow Tent | 3 x 3 x 6 | 96% |
| | Medium Sized Grow Tents | | |
| 6 | VIVOSUN 60x60x80 Grow Tent | 5 x 5 x 6.7 | 98% |
| 7 | Quictent Eco-Friendly 48x48x78 Grow Tent | 4 x 4 x 6.5 | 100% |
| | Large Grow Tent | | |
| 8 | VIVOSUN 120x120x80 Grow Tent | 10 x 10 x 6.7 | 100% |
---
Grow Tent: Buying Guide
In this part of the article, we've listed several things you should bear in mind before you make your purchase. The first thing you should consider is…
Size
It's no news that these tents come in various sizes. A handful of factors can greatly influence the size of tent you eventually buy. These factors include;
#1. The number of plants you intend to plant. Before starting out planting, it's recommended that you know the number of plants you would like to grow in your tent. This way, you can determine easily what the tent's dimensions will look like.
In addition to that, you will also be able to know if the currently available space in your home will accommodate the tent. For instance, if you want to have just 1 – 2 plants, you'll be gunning for a 2 x 4 tent.
#2. Available space for the tent. Armed with the knowledge of the size of the plants you want, it can be easy to determine if the space in your room can accommodate the tent. Take a measuring tape and measure out the space available in the room where you want to put the tent. Write down the measurements of the space so you don't forget it easily. A 2 x 4 tent can fit into a closet if you'd like to grow in your closet.
#3. Your budget. How much are you willing to spend on getting a growing tent? If you're tight on budget or you're a beginner grower, it's always advisable to start small and scale up in the long run. A small budget is equal to a small tent and vice versa. Get what you can afford! Based on the size, a growing tent falls under three categories;
Small
Medium
Large/Big
We saw this insightful size guide from Hydrobuilder.
---
Best Grow Tent Setup For Beginners Reviewed
---
Sale
Three things make the Apollo Horticulture grow tent stand out; its size, high-quality materials, and tear and light-proof certifications. This particular grow tent is one out of the family of four highly sought-after Apollo Horticulture grow tents. In fact, it's our best grow tent for the money.
The Apollo grow tent we reviewed measures 60″ x 60″ x 80″ (5 ft x 5 ft x 6.7 ft). From our calculations, it can accommodate up to 25 plants, although the size of your plant may influence that number. To make sure your plant grows properly, Apollo offers this grow tent as a kit. In essence, you'll be getting a good grow tent kit for a ridiculously affordable price.
This kit includes
The grow tent
One Mylar floor tray which is removable
Two filter straps as well as an instruction manual to help you with your grow tent setup.
The grow tent is made from reflective and sturdy tear-proof mylar material. A glance at this Apollo Horticulture grow tent immediately shows off the quality of the product. Its double stitching adds credence to the aesthetics of the tent. Little wonder it's highly sought after.
It comes with heavy-duty zippers which is important if you want to keep pests and rodents away from your plants. The material is reinforced by thick metal poles which give it rigidity and stability.
There are three total bars middle way across the top. You can easily hang your grow lights and filters here. Furthermore, the bottom of the tent is waterproof so you shouldn't be afraid of having water seep into the unit if you keep it in a water-prone environment.
It's no news that assembling a grow tent can be a little bit tough for newbies. However, the case is different with the Apollo Horticulture grow tent. As we mentioned earlier, there's an instruction manual that comes with the kit. It's clear and concise and will help you with your grow tent setup.
The Apollo Horticulture grow tent, it can hold a 1000w grow light, but you must vent out the heat properly or risk damage. Also, you should have enough plants to use the grow light. You'll find a total of 10 vent holes – use them wisely.
This tent can hold about fifteen 5-gallon grow bags but they'll be cramped. It can also accommodate up to thirty 3-gallon grow bags as the case may be. The Apollo Horticulture grow tent has a downside; the ports are not screened. This can easily lead to a bug infestation. However, you can simply purchase a light screen to keep the clever insects out.
---
Are you a professional indoor grower looking for a premium grow tent? If yes, then Gorilla Grow Tent LITE (4′ x 4′) LED Combo Package is the grow tent kit for you. Aside from being a premium grow tent, it is also one of the best 4 x 4 grow tent kits on the market.
One thing drives people away from this 4 x 4 grow tent – it's the price. Gorilla is one of the few grow tent companies that make premium grow tent kits and they charge a premium price for it.
Of course, it's worth the price although we think a lesser price would have attracted more lovers of the brand. The Gorilla grow tent kit comes with a long list of items. They include
Your 4″ x 4 " grow tent.
The 750 watts KIND LED light with a full-spectrum panel.
An 8″ Active Air duct fan and two 6″ clip-on fans.
A hygro-thermometer and fan speed adjuster all from Active Air.
An Active Air premium ducting measuring 8″ x 25″ as well as carbon filters measuring 8″ x 24″.
And lastly, a Hydrofarm dual-outlet analog grounded timer and a 1/8 rope ratchet.
When you purchase this tent, the company sends the unit along with a clearly written installation guide. This Gorilla grow tent kit is ideal for any stage of indoor plant growth such as sprouting, flowering, and vegetative stages. The tent can cover a maximum space of 6 square feet.
For ease of use, the lights for this unit come with a remote. The lights are programmable, meaning you can set the lights to your desired settings. On the other hand, you can decide to select pre-programmed settings. Gorilla Grow Tents left out an intake fan. Simply put this unit has no intake fan.
However, the work of the intake fan is taken care of by the active exhaust system. In addition, you can also add your own booster fan. If you decide to get a booster fan for your tent, make sure you don't exceed the CFM of your exhaust.
---
Oshion 4x4x6.5 FT Indoor Tent
Features: An observation window, easy peasy assembling, lightproof, flaps over zippers, multiple tent sizes available.
No doubt, Oshion 4x4x6.5 FT Indoor Hydroponics Mylar Grow Tent Room is our budget-friendly because it is affordable even for beginners. It comes in black color and it's light proof. This grow tent is durable and features sturdy metal connector bars which give the unit the required rigidity on the floor.
A 600D rugged, super thick canvas material is fitted onto the metal frame to prevent light from escaping the tent. This cloth is made of rugged material and stitches carefully sown to prevent light from leaking out of the tent.
Also, it sports a 99% reflective Mylar lining in its interior that works with any power configuration. The tints on the tent are smell/odor-proof to an extent. However, you should install a filter to checkmate odors.
Furthermore, it comes with a small window at the top left corner of the tent which helps you to observe your plants easily. To view, your plants roll up the cloth on the window to get a clear view of your plants.
In the same vein, the door is very easy to access and unzips smoothly to grant you access to your plants. To ensure this grow tent is lightproof, the zipper laps smoothly and comes with flaps that overlap the zippers and give it a wardrobe look.
Oshion offers this grow tent in a variety of sizes many of which have an observation window. Available sizes include the
24″ x 24″ x 48″ (with or without an observation window)
32″ x 32″ x 63″
48″ x 24″ x 60″
48″ x 24″ x 72″
96″ x 48″ x 78″
For this review, we took a look at the 48″ x 48″ x 78″ unit.
The observation window on this Oshion grow tent makes it possible to see how your plants are doing at a quick glance. This saves you the stress of zipping and unzipping and minimizes the chances of unwanted insects getting into the tent.
There are two crossbars included in the tent's metal support frame. Hanging a grow light on it is as easy as ABC. We recommend hanging grow lights below 400W. Two 200W LEDs will do justice to it. You need to purchase straps for hanging your lights as the unit lacks a light hanging strap.
---
CoolGrows 2x2x4 Small Indoor Tent
Features: Compact-sized, lightproof, mylar lining with 99% reflection, easy to set up, observation window with velcro straps, metal bars for hanging lights and accessories.
The CoolGrows grow tent is our top pick for the best grow tent for weed. Why? It's small, budget-friendly, and it's light-proof; its interior surface has Mylar lining making it 99% reflective. This provides the required lighting for the plants. It sports strong metal poles that come with easy click connectors which makes it resilient and firm when assembled. The metal bars provide unrivaled support for the tent.
Now to the tent material; it is a 600D tear-proof durable oxford cloth closely stitched to perfectly block light. This tent seals up perfectly and it even has privacy flaps covering the zippers. The unit comes with an observation window which allows you to take a peek inside the tent to see how your plants are doing.
CoolGrows offers the tent in two different sizes;
24″ x 24″ x 48″ (the model we're reviewing)
48″ x 24″ x 60″
Cleaning a grow tent can be tough but the CoolGrow grow tent is different.
CoolGrow decided to make a grow tent that many have touted as the best grow tent for cannabis. It comes with a water-resistant and removal Mylar spill tray that collects water spills.
For your grow tent setup, CoolGrow includes an instruction manual. The instruction manual can be a bit confusing at first. But if you follow the diagrams, installing the unit won't be difficult. This 24″ x 24″ x 48″ size is suitable for growing less than 4 plants.
Lighting-wise, a 400W LED light is recommended. The metal bars are strong enough to hold your lights. However, the weight of the lights should not exceed 3 pounds. The tent is not totally odor-proof, so you'll need to deal with the smell.
---
Hongruilite 600w LED Light Tent
Features: Easy to assemble, made from thick materials, includes dual LED grow lights for 3 x 3 grow tent, comes with a duct fan, multiple tent sizes are also available.
This is one budget-friendly grow tent you wouldn't like to miss. The Hongruilite 600w LED Light Grow Tent is a tent with dual grow lamps – 300 and 600 watts.
One of the reasons why this grow kit is on our list of the best grow tents is because it's affordable, easy to set up, and filters odor using an inline fan fitted with a carbon filter. In addition to that, the unique equipment in its package makes it very easy to use for any plant growing cycle such as germination, flowering, seedling, etc.
This grow tent kit comes with a 96% reflective waterproof diamond mylar which enhances the reflective effect. The cloth of this grow tent is a lightproof 600D oxford cloth.
Furthermore, most of the material it sports is made of activated carbon which is environmentally friendly. Surprisingly, the material is very thick, much more than we expected. The frame of the Hongruilite 300w/600w LED Light Grow Tent is a 16MM coated metal rod with a connector material of 16MM made of sturdy plastics.
This grow tent also comes with an activated carbon filter in this grow tent which has a high absorption odor control rate. Hongruilite offers the tent in a variety of options and configurations which includes the following;
300W LED (24″ x 24″ x 48″/ 32″ x 32″ x 63″/ 36″ x 20″ x 63″)
600W LED (24″ x 24″ x 48″/ 32″ x 32″ x 63″/ 36″ x 20″ x 63″/ 36″ x 36″ x 72″)
Lest we forget, the tent comes with multiple vents for the fans and filter output. The fan is a 4″ inline duct fan that has an RPM of 2850 and a CFM of 189.
---
Medium-Sized Grow Tents
---
Medium-sized grow tents fall within the 4 ft and 6 ft categories. The Apollo Horticulture grow tent which is our top pick measures 5 ft x 5 ft x 6.5 ft. They can contain anywhere between 6 to 20 plants depending on the sizes of plants.
Sale
VIVOSUN 60
Features: Observation window, easy to set up, metal frame, made from 600D tent material, multiple tent sizes are available.
The VIVOSUN 5 x 5 grow tent is one of the many grow tents offered by VIVOSUN. This medium-sized tent shares the same heritage with a host of other high-quality tents. The VIVOSUN lineup includes
30″ x 18″ x 36″
36″ x 20″ x 62″
36″ x 36″ x 72″
48″ x 24″ x 60″ (includes a 300W LED)
48″ x 48″ x 80″ (includes a 600W LED)
At a glance, the VIVOSUN tent gives itself away as a strongly built tent. It's made from thick 600D canvas material which is properly double stitched. There are a handful of tents in the market that are not stitched properly.
The thick canvas is supported by strong metal frames that give the tent its rigidity after setup. That aside, the tent also features state-of-the-art zippers – you need no seer to tell you that they're heavy-duty.
This tent comes with the mylar reflective material which has a rating of 98%. This is one of the top ratings we've seen so far in the course of this review. As for tent setup, it's a breeze, thanks to the clearly spelled out instruction manual that VIVOSUN provides.
No tools are needed when you are setting up this tent courtesy of the tool-free clips and connectors. The joint of the connectors has a seal that prevents the rods from passing through and tearing the tent at the edges.
The tent sports an observation window from where you can view your plants without opening the zippers. As we mentioned in the buying guide below, the observation window is highly helpful although it isn't a must-have.
There's room for your tools on the side of the tent. However, no tools are included – purchasing tools for your tent isn't a problem, or is it?
---
In the course of our review, we saw only a few eco-friendly grow tents, but none of them could rival this Quictent eco-friendly grow tent. It's approved by the SGS – an attestation of the eco-friendly nature of the tent. With this certification, you're assured that the tent won't release any harmful gases to your plants.
Although this medium-sized tent is darn cheap, it has quite a handful of bells and whistles. Our review model was the 48″ x 48″ x 78″ tent. There are other tent sizes to choose from, including
24″ x 24″ x 36″
48″ x 24″ x 72″
96″ x 48″ x 71″
48″ x 24″ x 84″
96″ x 96″ x 78″
The tent comes with 100% reflective PET silver-colored mylar. This 100% rating is undeniably better than the VIVOSUN grow tent we reviewed above. As a result, your plants will have the right amount of light to grow.
Aside from giving the tent a 100% reflective mylar, Quictent also ensured that only 600D thick tent material was used to make this tent. The thickness is noticeable from the first time you set your eyes on the tent.
Let's talk about the frame. The tent comes with a trustworthy hanging bar with the capacity to support up to 100lbs weight. This is more than enough weight for most of your equipment – light, filter, etc.
---
A Large Grow Tent For You
---
Nigerians would probably call large grow tents the "oga kpata kpata" of tents – "oga kpata kpata" simply means the grandmaster. Large tents measure above 6 ft.
VIVOSUN 120x120x80 Mylar Hydroponic Tent
Features: Heavy-duty zippers, reflective mylar with 98% rating, 600D tent thickness, easy to set up, observation window, tool pockets, floor tray, dual chambers, sturdy metal bars.
The VIVOSUN 120″ x 120″ x 80″ tent is our top pick for the best large grow tent. It is a dual-chambered tent that can contain as many plants.
This tent is, surprisingly, much better than the VIVOSUN 5 x 5 grow tent we reviewed above. It is, however, sad that this particular model has only one sibling which measures 48″ x 48″ x 80″. The tent is as thick as you'd expect sine 600D thickness has become the standard for most indoor tents.
In addition to that, the tent also has 98% mylar – a tad lesser than the 100% mylar we saw in the Quictent grow tent. Furthermore, the tent comes with heavy-duty zippers which have also become a standard for tent companies. The zipper zips up nicely and smoothly and locks light right into the tent.
Away from the zipper, you'll find the poles sturdy enough to support the weight of your equipment. Setting up the tent isn't entirely tool-free, however, it's easy to do and the corner pieces snap into place with ease.
Other things you'll love about this VIVOSUN grow tent includes the observation window as well as the floor tray. In addition to that, the floor tray has velcro straps – this makes it easy to remove and clean the floor of the tent.
Lest we forget, this tent has an edge over some other tents with its two-year warranty. We also recommend the GROWNEER 2018 Upgraded 96″x48″x80″ Mylar Grow Tent which is arguably the best 8 x 4 grow tent you'll find in the market.
---
Are grow tents worth it?
---
Aside, from housing your plants indoors and providing a conducive environment for plants to thrive easily, tents also provide a regulated environment for different stages of plant growth. It takes away issues with privacy especially if you intend to grow weed.
Besides, buying a growing tent puts you in the driver's seat to set up your own indoor garden. They require low maintenance and are really easy to assemble using the instructions. Again, they promise maximum yield because the plants are free from harsh weather and pest.
---
FAQs
---
How much does a grow tent cost? Grow tents can cost from a few dollars to several thousand dollars. The cost of getting growing equipment can also increase the cost of the tent significantly.
How big of a grow tent do I need? The size of the growing tent you need depends on the plant you want to grow and the space available in your grow room. Therefore, there is no pre-defined tent size – the one you pick depends on what you need. We advise picking something slightly bigger than what you need at the moment if you can afford it.
Are grow tents smell proof? Yes, to a large extent. Most of the growing tents in the market are designed to absorb the smell of your growing plants. In addition to that, with proper ventilation to the outside, you will also be able to grow plants inside your house without discomforting your neighbors.
What size of LED grow light does your tent need? This depends on the size of your grow space. The larger the growing tent, the larger the LED grow lights you'll need for the tents.
---
Final Words
---
From our review, you can see that picking a good growing tent determines the success of your indoor growing activities. Get your sizes right, and don't forget to get your budget right! If you get these two right, all other things will definitely fall in place.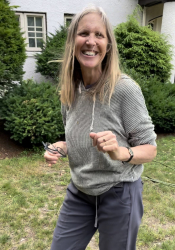 Latest posts by Jessica Zander
(see all)
Hello! I'm Jessica Zander, a garden coach and consultant based in the Boston area (zone 6b), offering virtual consultations across the country and Canada.
I've been passionate about gardening since the early 1990s, and in 2022, I launched You Can Do It Gardening to empower individuals to feel more confident in their gardening endeavors.
Following a 30-year career in nonprofit finance and operations, I transitioned out of that field in mid-June of 2023 due to the growing demand for coaching services. Interestingly, my years of presenting financial statements to boards and finance committees proved to be valuable experience for teaching people about gardening! I enjoy sharing skills, providing guidance and suggestions, and collaborating efficiently with clients to make significant improvements to their outdoor spaces, both small and large. I also regularly teach at the Arlington Continuing Education and Cambridge Adult Education.
My approach is direct and practical, akin to Mary Poppins, but tailored to your garden. Clients find satisfaction in saving money and taking pride in their own gardening achievements.