"You have a garden and it's time to dig up some weeds. You're going to need a shovel for that, but don't just go out into your garage and grab the first one you can find. There are specific shovels for different jobs."
In this blog post, we will talk about which kind of shovel is best for digging up roots from plants in your garden. We'll also share what features you should look out for when shopping around so that you get the right product! In this article, we'll detail how to choose the right type of shovel as well as provide tips on how to care for your tools.
---
Roamwild Multi-Digger Garden Spade
If you're in a hurry, take a look at the Roam Wild Multi-Digger Garden Spade which packs a decent amount of features in a lightweight body. It features a fiberglass D-handle, an arrowhead design, a and can be used on most soil types including rocky soil. Hence, it can also pass as one of the best shovels for digging in clay soil.
Comparison Table: Shovel For Digging Up Roots
| | | | |
| --- | --- | --- | --- |
| Shovel For Digging Up Roots | Material | Weight | Handle |
| Roam Wild Multi-Digger Garden Spade | Fiberglass | 2lbs | D-handle |
| Radius Garden Root Slayer Shovel | Carbon steel | 5lbs | O-Handle |
| HOSKO Round Point Shovel Spade With Long Handle | Stainless Steel | 4lbs | D-Handle |
| Root Assassin Carbon Steel Shovel | Carbon steel | 2lbs | D-Handle |
| Fiskars D-Handle Digging shovel | Wood and Fiberglass | 5lbs | D-Handle |
---
Shovel For Digging Up Roots – Buying Guide
When the root of a tree is long, you need the removing tool to be quite effective. There are many features that each shovel comes with, and knowing what to look out for will help you make the right decision. We've outlined the features below; let's take a look.
Blade
A sharp blade is what you're looking for when you're shopping for a good shovel. You want a durable blade and can cut through roots like butter. Most times, it's best to go for a pointed blade. It helps to ensure easy penetration into the soil.
If you want the blade to have a high impact, you need to ensure it is solid enough. If the blade isn't solid, it can easily bend when it comes in contact with hard surfaces. Look out for a shovel with a 12-14 steel gauge. The best blades for digging up roots are round point blades, inverted V blades, and serrated blades.
Round points are ideal for hard surfaces like rocky soils. They find it easier to enter the earth. This is possible because it focuses on a single point. However, cutting and extracting a root using this blade can take a while.
Serrated blades work like a knife and come in such shapes. They're best for compacted soils and find it easy to break and cut roots. Many would argue that inverted V blades are the best option because they have two-point tips instead of one. You can easily penetrate surfaces using the inverted V blade, and they're pretty efficient in cutting out roots.
---
Best Shovel For Digging Up Roots
In this review, we selected products based on the buying guide mentioned above. The shovels below are of top quality and will help you dig up roots effectively. Explore the list below to find out if one of these shovels is the ideal choice for digging up roots in your yard or garden.
Roamwild Multi-Digger Garden Spade
Features: dual handle design, lightweight, fiberglass material, a versatile, compact, serrated edge, padded grip, ideal for tough digging, and durable.
This shovel is the best shovel for digging up roots for many reasons. It is a top-quality product that offers more features than you can find in a basic shovel. It is ultra-lightweight and will therefore not cause any issue with working for long hours.
It also offers you a padded dual-grip handle that allows you easily grip and control the shovel. The Roamwild Multi-Digger Garden Spade design will enable you to drive all your power into the ground where the steel blade can effectively penetrate the soil and cut through effectively.
Overall, the Roamwild Multi-Digger Garden Spade is an excellent choice for digging up roots and features top-quality materials that ensure its durability. Its versatile design allows it to work as a shove, digging spade and root cutter.
The arrowhead shape makes it easy to dig into rocky soil, dense clay, and rigid surfaces. With two sets of grips available, you have more control and flexibility to work with. It is made out of reinforced fiberglass, ensuring that you have used this blade for many years with little maintenance.
---
Sale
Radius Garden Root Slayer Shovel
Features: Inverted V design, sleek design, powder-coated tip, versatile, lightweight, O-handle design, weather-resistant, and durable.
Another top shovel for digging up roots is the Radius Garden Roots Slayer Shovel. It is the best choice for those trying to dig roots in a gravel driveway. Its design, however, allows you successfully dig in any terrain type.
This shovel is versatile as you can use it to create trenches when preparing your soil for planting. It is a sawtooth shovel that allows for precise digging without any stress whatsoever. It also doubles as a hatchet or saw when you need it to. All stubborn roots are no match for the sturdy blades that the Radius Garden Root Slayer Shovel features.
The refined design of this shovel features an O-handle design that makes it easy to grip while you're working. Its handle offers greater gripping power than a regular shovel and offers you convenience while you work. Long-term work can be stressful and cause back pain, but you don't have to worry about that with this root slayer.
It provides a serrated design that will reduce wrist and hand stress while you're working. The inverted V design of the blade allows you to apply more force over a wider area. Therefore, there's more efficiency in the market, and its broad edges offer you more support while you cut roots.
---
If you want a blade with a long handle, then the HOSKO Round Point Shovel Spade With Long Handle is the best option for you. It is a perfect gardening tool for many reasons. It features durable steel construction. Therefore, you shouldn't bother about the shovel breaking under pressure while you're digging.
Its handle is 1.2inch diameter and is quite sturdy to offer you more power while digging in rugged terrains. The shovel also features an ergonomic design that provides comfort and ensures your safety while you're digging. The shovel handle is adjustable, so you can increase or decrease to your preference. This feature works to maximize productivity while saving you time and stress.
This sturdy shovel will break through compacted dirt quickly without causing you any discomfort and with less fatigue. Its versatile design also allows you to dig holes big enough for planting your shade tree, rosebush, and others. Storing this shovel is relatively easy because you can twist the parts together and reduce the length to 42inches to store away. This sturdy blade requires little maintenance and will last the user for many gardening seasons.
---
Root Assassin Carbon Steel Shovel
Features: Versatile, lightweight, rugged design, compact, serrated shovel, metallurgic material, curved tip, easy use, low maintenance, and durable construction.
The Root Assassin Carbon Steel Shovel is as sturdy as it looks. It can remove large chunks of dirt faster than another shovel. It can also cut through weeds and roots without much effort. That's what makes this versatile shovel great for seeding and fertilizing your plants.
This root assassin shovel is unique in many ways and comes with a sturdy handle design to offer you a firm grip. The handle provides you with balance when you're digging through the soil. The metal handle is D-shaped and comes coated with rubber to ensure comfort when you're digging.
The handle is also long to provide the user with digging leverage as they cut out roots. This shovel is made using metallurgic materials and features a curved tip that allows for deep digging. This feature will enable you to cover a broader ground without exerting yourself.
It is also lightweight so that you don't begin to feel wrist pain after an extended period of use. It also features a silver powder coating that ensures protection against corrosion and moisture. This shovel requires low maintenance and will last you many years of use.
Overall, this is an excellent shovel for digging up roots as no root is powerful enough to withstand the force it offers users.
---
Sale
Fiskars D-Handle Digging Shovel
Features: Large D-handle, lightweight, durable, powder-coated shovel, steel shaft, corrosion-resistant, large foot platform, sharpened steel blade, low maintenance, and durable.
This shovel stands out amongst the many shovels in the market for many reasons. Its features are vast, which makes it the a strong contender for the title. This shovel is strong and offers you an 18-gauge steel blade to cut through the rigid surface. It is powder-coated, which ensures that it is rust-resistant and relatively easy to clean after use.
It also features a large D-handle design that allows you to use both hands while digging for two-handed control. The shovel's shaft will conform to your hand to provide you with a sturdy grip and increase your digging leverage.
The Fiskars D-Handle Digging shovel is versatile and can be used for trench maintenance, root separation, and even transplanting. It is lightweight to prevent back or wrist pain that comes with heavy shovels. It is also quite durable, and the handle is made of plastic to avoid blisters while you're working. You need very little maintenance to keep the Fiskars D-Handle Digging Shovel in excellent condition for many years.
---
FAQs – Shovels
Which material is ideal for the shovel shaft? This depends on the purpose, but for digging up roots, steel might be the best. If you want to dissipate your effort, you should settle for hardwood, but fiberglass offers less weight.
How do I know the best size for my shovel shaft? This feature is dependent on your height. The distance between the shovel top and the pointed top should be close to your chest midpoint and your feet tips.
What handles are best for shovels when digging up roots? It depends on your preference. However, most people find that shovels that feature D-handles and have a soft cover are the best.
---
Final Thoughts
When it comes to digging loose soil, most shovels come in handy. However, not all of them are useful for digging up roots. Therefore, when searching for the good shovels for digging up roots, you need to look out for features. You can find the right features in the buying guide above. Shovels come in different designs and sizes, and searching for the right fit can be time-consuming and stressful. Luckily, our reviews provide you with the best shovels for digging up roots. It will help you narrow down your choices and help you pick the shovel that best fits your purpose.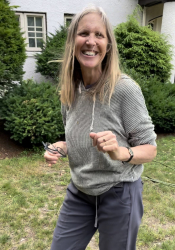 Latest posts by Jessica Zander
(see all)
Hello! I'm Jessica Zander, a garden coach and consultant based in the Boston area (zone 6b), offering virtual consultations across the country and Canada.
I've been passionate about gardening since the early 1990s, and in 2022, I launched You Can Do It Gardening to empower individuals to feel more confident in their gardening endeavors.
Following a 30-year career in nonprofit finance and operations, I transitioned out of that field in mid-June of 2023 due to the growing demand for coaching services. Interestingly, my years of presenting financial statements to boards and finance committees proved to be valuable experience for teaching people about gardening! I enjoy sharing skills, providing guidance and suggestions, and collaborating efficiently with clients to make significant improvements to their outdoor spaces, both small and large. I also regularly teach at the Arlington Continuing Education and Cambridge Adult Education.
My approach is direct and practical, akin to Mary Poppins, but tailored to your garden. Clients find satisfaction in saving money and taking pride in their own gardening achievements.