Winter is usually a great season until it starts snowing. Many people live in locations with annual blizzards and have to clean up piles of snow all the time. In wintertime, a snowblower can make all the difference in clearing slippery ice and snow from your small driveway. There are some excellent options in the market, and it can be easy to get lost in the sea of options proclaiming to be the best. For this reason, we've included a buying guide to help you along and a list of the best snowblowers for a small driveway.
Snow Joe SJ627E Electric Snow Thrower
If you're in a hurry, kindly take a look at the Snow Joe SJ627E Electric Snow Thrower because it's our top pick as the best snow blower under 500. It's affordable, has a decent clearing width and cutting depth, and a 25ft throwing distance. In addition, it's affordable and you can enjoy the electric power.
---
Comparison Table: Snow Blowers
| | | | |
| --- | --- | --- | --- |
| Snowblowers | Clearing Width | Cutting Depth | Throwing Distance |
| Snow Joe SJ627E Electric Snow Thrower | 22 inches | 13 inches  | 25 feet |
| Ariens Path-Pro 21 Inches Single-Stage Snowblower | 12 inches | 12 inches | 25 feet |
| Snow Joe SJ625E Electric Snow Thrower | 21 inches | 12 inches | 20 feet |
| EGO Power+ SNT2100 21-Inch Cordless Snowblower | 21 inches | 8 inches | 35 feet |
| Snow Joe iON100V-21SB Cordless Single-Stage Snowblower | 21 inches | 12 inches | 35 feet |
A Short Snow Blower Buying Guide
With the many options in the market, it can be hard to make your decision. That's why we're providing a list of all the top features you should look out for when shopping for the best snowblower for the small driveway. With the guide below, you should be able to choose the best snowblower that meets your requirements.
Motor Type
Snowblowers are either electric, gas-powered, or battery-powered. Most single and two-stage snow blowers can be electric or gas-powered. However, three-stage snow blowers are only powered by gasoline. Electric snowblowers are more lightweight and ideal for light snow. That's what makes them suitable for small driveways and clearing patios. They can also clear short sidewalks only as they have to be plugged into a power outlet before you can use them.
On the other hand, battery-powered snow blowers do not need plugging. They're also lightweight and can clear up to 8 inches of snow at a time. The downside to using a battery-powered snow blower is that they have a short runtime. Once the battery runs down, it needs charging before you can use them again.
Finally, we have gas-powered snowblowers who offer more power to the users. They're perfect for clearing a large pile of snow and eliminating the need for a power outlet or batteries. They are primarily used commercially and for a large driveway. However, gas-powered snow blowers are not usually lightweight and sometimes need more maintenance than battery and electric-powered snowblowers. They are also quite hard to control due to the bulky size they possess.
Speed Control
Another feature we need to consider when purchasing the best snowblower for a small driveway is speed. Usually, speed control is mainly for two and three-stage snow blowers. To do this, two-stage snowblowers possess a self-propelled system that you can use for moving forward and reserving speed. On the other hand, single-stage snowblowers use augurs to grip the ground and move the snowblower forward. So, the type of speed control you want when clearing your small driveway will determine the best snow blower for you.
Clearing Width and Depth
Another factor that determines the best snowblower for a small driveway is the clearing width and depth. The clearing width is the amount of snow the snowblower can collect in a single pass.
On the other hand, the depth refers to how deeply it can collect the snow and discharge it. For small driveways, you don't need a snowblower with a wide clearing width/depth. However, this fantastic feature can come in handy when you're in a hurry and clear up the snow even much faster.
Additionally, your location matters when determining the best clearing width and depth for you. If you reside where there's heavy snowfall, you need a snowblower with a significant clearing depth. This way, it would easy scoop the fallen snow out of your driveway.
Extra Features
Other features that make your clearing snow tasks easier are the rotatable chute and heated handle grips. With a rotatable chute, clearing your driveway becomes easier because you don't have to turn the snowblower all the way to discharge the snow. You can turn the chute in the direction you want and get rid of the snow.
Additionally, it can get freezing while you're clearing snow from your driveway. A heated handle grip will protect your hand from the cold and keep you warm throughout the process. A snowblower with LED lights also come in handy. It allows you clear snow efficiently even in low-light conditions and will keep you safe from dangers lurking in the dark.
---
Best Snowblower Under 500 Bucks
A snowblower would always be an excellent investment as you don't have to spend hours trying to shovel the snow away. While the buying guide is handy, it can still make it challenging to narrow the list down to the best. Bearing the features listed in the buying guide in mind, we have researched, and below is a list of the best snowblower for a small driveway that you should explore.
Snow Joe SJ627E Electric Snow Thrower
Features: versatile, powerful, LED lights, easy to start, safety switch, adjustable chute, 25ft throwing distance, 13inches clearing depth, 22inches clearing width, top quality, lightweight, and durable.
If you no longer want to indulge in the backbreaking work of using a shovel to clear snow from your driveway, then a snowblower you should explore is the Snow Joe SJ627E Electric Snow Thrower. It comes with many features that make it easily the best snowblower for a small driveway.
This snow thrower is lightweight, which ensures easy mobility and maneuverability. This snowblower also offers maximum power as a 15amp motor powers it. It is also fast as it can move more than 720lbs of snow in under a minute. This affordable snow blower is easy to start as it comes with a trigger that sets it off when pressed. The clearing width is 22inches which makes it ideal for a small driveway. It also offers users 13inches depth to clear up light snow.
Additionally, this snowblower also offers an adjustable chute for conveniently getting rid of the snow without turning the snowblower around. It also comes with LED lights for when you need to work in low-light conditions. Unlike other snowblowers with plastic augurs, this fantastic model comes with a steel augur.
Its wheels glide so smoothly and make the process of clearing snow easier, especially in tight spots. There's also a safety switch that's automatically activated when you loosen your grip on the handle. It protects the user from starting the machine accidentally and saves you from any form of danger.
---
We also like another top snowblower you should consider for your small driveway is the Ariens Path-Pro 21 Inches Single-Stage Snowblower. It is a powerful option with great features that makes it an ideal choice for any home. This snow blower comes with an ergonomic design for comfortable use and is a powerful engine that ensures efficient usage.
It is an affordable option and is relatively lightweight for easy maneuvering. One of its fantastic features is the foldable handlebar for easy storage. Starting the machine is also easy with the electric start button it comes with. It is best for paved surfaces and can clear up to 9inches of snow at the same time. Although it is ideal for small driveways and light snow, it will still get the job done in any condition.
This snowblower offers users 21 inches clearing width and 12 inches cutting depth that ensures your driveway is clear within minutes. It also features rubber paddles that will scrape the surfaces clean to create a clear new path for you. The wheels are also relatively easy to maneuver, which makes cleaning tight spots easier for the user.
It is an excellent option for new homeowners looking for a simple snowblower that they can operate. Ariens Path-Pro 21 Inches Single-Stage Snowblower also requires little maintenance. Therefore, it will last the users for many winter seasons.
---
Sale
Snow Joe SJ625E Electric Snow Thrower
Features: large clearing path, 15 amp engine, steel augur, rotatable chute, LED lights, little maintenance, easy start, lightweight, 21inches clearing width, 12inches cutting depth, 20ft throwing distance, and compact.
If you want a lightweight option, this makes a list. It is easy for the user to push this down the driveway, and the machine makes it even easier with gliding wheels. It also comes with a 20ft throwing distance which is considerable. When it comes to clearing snow, this snowblower gets the job done.
It can effectively clear up to 800 pounds of snow in just a minute. Its 15 amp motor makes it a powerful choice and makes it unique amongst other options. For most people who worry about clear snow when there's low lighting, this snowblower efficiently takes care of the problem. It comes with LED bulbs that provide users with light at night so you can keep using the machine even in the dark.
This snowblower requires very little maintenance to continue offering its services. It is easy to start with just a button and comes with an adjustable chute to easily throw snow. The wheels are large enough to get through vast piles of snow without any problem. This durable option will last you many winter seasons of use.
---
Ego Power+ is known for developing powerful equipment, and this snowblower is one of them. It is equipped with top-notch technology and offers excellent performance. This cordless snow blower is battery-powered and has a high-efficiency motor that can throw snow up to 35ft. It also comes with a 21inches clearing width and can cut deep into 8inches of snow.
This snowblower is quiet when clearing snow, so you don't have to worry about disturbing the neighborhood. Turning it on is easy with the push button, and the speed control lets you determine how far you need it to go. This snow blower comes with a sturdy steel construction which makes it weather-resistant and a durable choice.
When not in use, you can choose to fold up the handle for easy storage. Its cordless status allows the user to clear snow from a far distance from the house. It also comes with LED lights that will enable you to keep your driveway clear irrespective of the sun settings. The Ego Power+ SNT2100 snowblower also comes with a remote chute adjustment that allows you to throw snow away in any direction without turning the snowblower around. This snowblower is an affordable choice that gives you the best value for your money.
---
Sale
If your small driveway is bumpy, you have to take careful note of the snowblower you purchase. If you're looking for a long-lasting choice, then the Snow Joe iON100V-21SB Cordless Single-Stage Snowblower is the best option for you. It is a powerful snowblower with over 16-ton snow-shredding abilities.
This cordless snowblower can clear snow within 21inches and cut into 12 inches depth of snow. It comes equipped with variable speed control that you can use to pace the movement of the snowblower. It also provides a scraper bar to help you clear snow from your driveway without causing any damage. The best part of it all is that you can work at any pace you want.
This snowblower also features low-operating decibels, which ensures quiet operations. This way, you don't have to bother about disturbing your neighbors while you're clearing snow. The handle design is all-inclusive. This means you can adjust to your preference as the original height might not be suitable for everyone.
Additionally, you get LED lights that provide visibility when you're clearing snow at night or in low-light conditions. Little maintenance is required to keep this snowblower in excellent condition for many winter seasons. 
---
FAQs – Snow Blowers
Are snowblowers risky? Snowblowers churn snow and discharge it through the chute. It is only dangerous if not used appropriately. When clearing your small driveway, take note of all debris on the ground so you don't damage properties and carry out regular maintenance on your snowblower.
What differentiates a two-stage snowblower from a single-stage snowblower? A single-stage snow blower uses one augur to clear and discharge snow. On the other hand, a two-stage blower uses its augur to clear snow and a fan to discharge snow through the chute.
When is the proper time to purchase a snowblower? There's no perfect time for buying a snowblower. You can choose to get an early start in late summer to prepare for the season. Alternatively, you can purchase one in the fall when suppliers are gearing up for winter.
---
Final Thoughts
Snowblowers are always important; they're an excellent investment for any home. Choosing the ideal snowblower can be tricky, but the buying guide above makes the process easier. We have also provided you with an all-inclusive review of the best snowblowers to explore. These snowblowers meet all the requirements and offer different features that make them a great addition to any home. Knowing the more essential features makes it easier to determine which of these best snowblowers for small driveways is the ideal choice for you.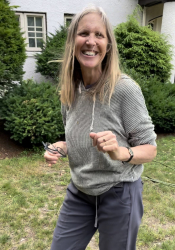 Latest posts by Jessica Zander
(see all)
Hello! I'm Jessica Zander, a garden coach and consultant based in the Boston area (zone 6b), offering virtual consultations across the country and Canada.
I've been passionate about gardening since the early 1990s, and in 2022, I launched You Can Do It Gardening to empower individuals to feel more confident in their gardening endeavors.
Following a 30-year career in nonprofit finance and operations, I transitioned out of that field in mid-June of 2023 due to the growing demand for coaching services. Interestingly, my years of presenting financial statements to boards and finance committees proved to be valuable experience for teaching people about gardening! I enjoy sharing skills, providing guidance and suggestions, and collaborating efficiently with clients to make significant improvements to their outdoor spaces, both small and large. I also regularly teach at the Arlington Continuing Education and Cambridge Adult Education.
My approach is direct and practical, akin to Mary Poppins, but tailored to your garden. Clients find satisfaction in saving money and taking pride in their own gardening achievements.