As the winter season approaches, many want the best practice when dealing with snow piles from our driveways and sidewalks, especially when the elderly are involved in snow removal services.
The goal of this article is to help you find the best snowblower for elderly people who want to keep active and clear their own yard without affecting their health concentrating on the lightweight, nature of snow, self-propelled, cost, clearing width, and depth.
We would look at the most user-friendly snowblowers for elders, state their pros and cons, and compare their technology. So let's get into it.
Briggs & Stratton 1022 Snow Blower
If you're in a hurry, the best snow blower for elderly people is the Briggs & Stratton 1022 Snow Blower. To a lot of people, it is all that they're looking for in a snowblower. It's compact-sized, easy to use, has a small but efficient engine, and can remove up to 12-inches of snow.
---
Best Snowblower For Elderly People. Snowblowers Comparison Table
You can freely choose from the electric or gas snow blowers on the market. Also, you can opt for single-stage, two-stage, or three-stage models. For this review, we've selected a handful of the best snowblowers that run on electricity and gas, and if you're an elderly person, you'll not find them difficult to use. Check out our top comparison table.
---
Buying A Snowblower For Elderly People? Here's What You Should Know.
Let me quickly point out that this buying guide is somewhat applicable to other snow blowers on the market. The key difference here is that the models we're reviewing all run on gas and are somewhat suited for older adults. Having that in mind, let's proceed.
Type of Snowblower
There are different types of blowers on the market ranging from electric to track drive models, single-stage, two-stage, and three-stage blowers. These snow blowers are suited for use in different areas and conditions. For instance, a single-stage snow blower may only remove about 12" to 18" of snow compared to up to 23" on three-stage models. The single-stage models are suitable for paved surfaces while the three-stage models are great for use on both paved and gravel surfaces.
---
Best Snow Blower For Elderly People: Our Reviews
Here's what we think about the units we handpicked.
Briggs & Stratton 1022 Snow Blower
Features: 22-inch deck size, 10-inch clearing depth, 208cc engine, easy starting with recoil starter, 3-year limited warranty, plastic chute, weighs 93lbs.
This Briggs & Stratton 1022 snowblower is our top pick for a couple of reasons. First, it offers about 22 inches of clearing width, arguably one of the largest in the market. Then it goes a step further to offer a three-year warranty against the two-year warranty you'll find on some of its rival models on the market.
If you're not a fan of gas snow blowers, you can opt for the electric version of this particular unit. However, for this review, our focus is on the gas models. As mentioned earlier, this Briggs & Stratton snowblower has a 12.5-inch intake height paired with a 22-inch clearing width. This can help you move large amounts of snow within a short period of time.
The unit draws power from a 208cc 950 snow series engine that delivers 9.50 lb-ft of torque. It's powerful, and it's efficient. You get features like a recoil start, a deflector, and manual chute rotation. This snow blower is compatible with synthetic oil.
---
Snow Joe SJ623E Electric Single Stage Snow
Features: Weighs about 34lbs, 25ft max throw distance, 4-blade steel auger, suitable for mid-sized driveways, 15-amp motor clears 18-inch wide and 10-inch deep snow, adjustable chute, 23W halogen light for working at night, etc.
Here's one amazing snow blower you'll love – it is the Snow Joe Electric Single Stage Snow Blower. It's a corded electric unit that weighs about 34 lbs and has a 10-inch clearing depth. Additionally, it has an 18-inch clearing width. This snow blower has a maximum snow-throwing distance of about 25ft, courtesy of its adjustable chute that rotates 180 degrees.
You'll find this snow blower easy to use. Since it's not gas-powered, there are no maintenance schedules to adhere to. The 15-amp motor on this unit can move a decent amount of snow off your driveway, especially for medium and large-sized driveways.
Snow Joe added a 23W halogen light to this unit to make sure you can use it any time of the day. The light is bright enough to light up your paths, but you can also use other light sources to illuminate your work environment. As we mentioned earlier, this unit is a corded electric unit, and thankfully, it comes with a 100ft extension cord.
---
It is powered by a powerful Troy-Bilt 208cc 4-cycle OHV engine with electric start capability, and a self-propelled drive system, the Troy-Bilt Storm 2420 provides the power and convenience you need to make snow removal service less of a chore.
This compact two-stage gas-powered Troy-Bilt features a clearance width of 24 inches and an electric start. With tough, 12-inch sharpened steel augers intended to quickly clear up to 12-inch of icy snow.
---
Sale
This Greenworks model may be powered by up to 13 amps. It has a 20-inch route clearance and a 10-inch depth clearance with an adjustable 180-degree directional chute that makes snow tossing simple.
It includes powerful dual LED lights for improved visibility at all times of day and can discharge icy snow up to 20 feet. It's also perfect for decking because of its lighter weight, as it won't damage the wood while tossing heavy snow.
---
5. Toro Power Max HD 828 – Best Gas-Powered Snow Blowers for elderly people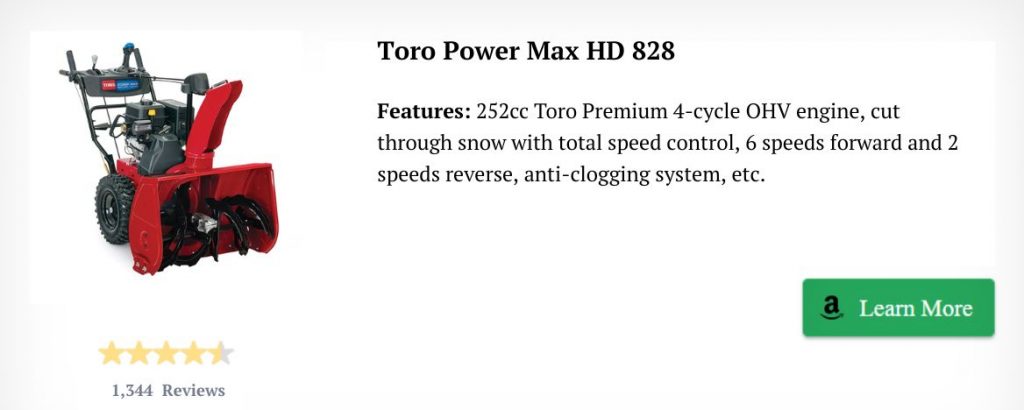 The Toro Power Max HD 828 is a monster among the best snow blowers designed for clearing vast areas after major storms, with a broad 28-inch clearing width, gas-powered motor, and adjustable chute.
The two-stage operation can fling snow up to 45 feet, and the machine is self-propelled, so users only need to steer the Power Max over the regions that require clearing.
It also has user-friendly features such as an electric start button and an LED lamp. The Power Max, like all gas-powered vehicles, is loud.
Nonetheless, its large clearing width and self-propelled engine ensure you swiftly get the job done.
---
FAQs – Snowblowers
Can my parents use a gas snowblower? Yes, your parents can use a gas snowblower, but this depends on the features of the snowblower, the level of snow it'll be used on, and your parent's age. For some older adults, electric snow blowers are better options to gas-powered units.
What is better: a single-stage or two-stage snow blower? There's no direct answer to this question, considering that each snow blower is suitable for certain tasks. However, we'd like to point out that a two-stage snow blower will have greater clearing ability than its single-stage counterpart.
What's the best gas to use in a snow blower? Experts recommend that you use gas with little or no added ethanol as it is perfect for small engines. Gas with an octane rating of 87 is okay for your snowblower.
Should I use ethanol-free gas in my snowblower? Yes, you should use ethanol-free gas in your snowblower if you want to preserve the life of the engine.
What is the easiest snowblower to use? Toro Power Max HD 828 is the best for use, especially for the elderly.
---
Wrapping Up
These are some of the most incredible snow blower solutions available for the elderly but before deciding on a brand, consider its cost, storage, capability, dependability, weight, and performance. After reading this article, which snowblower would you go for? Please leave a comment below.