Winter is always something to look forward to; there are several inches of snow to deal with, and clearing it up can be quite difficult to carry out. If you're in such a situation, the best choice for you is to get a snowblower for your home. A snow blower is always a great investment as you can use it for many years, and it saves you hours otherwise spent moving heavy loads of snow. Choosing the right snow blower can be quite tricky, but we're here to make the process much easier for you. If you are wondering which snow blowers are suitable for use in Canada, keep reading.
Snow Joe SJ627E Snow Electric Snow Thrower
In a hurry? Take a look at the Snow Joe SJ627E Snow Electric Snow Thrower. It's one of the best snow blowers in on the market, thanks to its durable build quality, resplendent finishing, and a plethora of features to make usage easy-peasy. This snow thrower dons headlights, a 22-inch clearing width with 13-inch depth, and even a 2-year warranty, to mention a few.
---
Comparison Table – Snow Blowers
| | Snow Blower | Clearing Width | Clearing Depth | Type |
| --- | --- | --- | --- | --- |
| 1 | Snow Joe SJ627E Snow Electric Snow Thrower | 22-inch | 13-inch | Corded |
| 2 | Earthwise SN71022 Cordless Electric Snow Blower | 22-inch | 14-inch | Cordless |
| 3 | GreenWorks 2600502 Corded Snow Thrower | 20-inch | 10-inch | Corded |
| 4 | Snow Joe Cordless Snow Blower | 18-inch | 10-inch | Cordless |
| 5 | GreenWorks PRO Cordless Snow Thrower | 20-inch | 10-inch | Cordless |
---
Buying Guide – Snow Blowers
The ideal snowblower for you will make life much simpler in wintertime. There are many snow blowers out there to choose from, but without considering the right factors, you could end up selecting a snowblower that's not right for your needs. Below are features you need to consider when choosing a snow blower for your home.
Snow Blower Type
There are various types of snowblowers, and knowing the style that best suits your need will save you a lot of stress. You'll find that there are electric snow blowers, single-stage, three-stage, track drive, and 2-stage snow blowers. There are varying factors to consider when selecting the right snow blower for you. Most people tend to go with electric snow blowers because of how easy it is to operate. They are also lightweight and ideal for various situations. However, the type of area determines the type of snow blower to buy. If you choose to go with a single-stage blower, ensure you don't have to deal with deep, sticky snow. If that is the case, then a 2-stage or 3-stage blower is the best option for you. They can scoop and throw off deep and wet sticky snow because of the big and powerful engines that make them very capable of clearing heavy snow.
---
Best Snow Blowers Canada: Our Reviews
When it's wintertime, you would have to deal with the snow, and the best way to save yourself time and stress is by purchasing a powerful snowblower. The right snow blower makes removes snow from your driveway a walk in the park and can be effortless to operate. We've reviewed the best snow blowers to make it choosing easier for you; let's take a look.
Snow Joe SJ627E Snow Electric Snow Thrower
Features: weighs 35 pounds, clears 25 tons of snow per hour, electrical power, easy to maintain and use, simple assemblage, easy maneuverability, dual headlights, adjustable chute, durable scraper, sturdy, and features 4 heavy-duty blades.
Most people settle for gas-powered snowblowers because of the power it offers you. However, this Snow Joe SJ627E Electric Snow Thrower offers you as much power as you would get from a gas-powered snowblower. It offers about 15 amps of power, which makes it ideal for clearing large walkways. It comes with a button for easy operation after being plugged in, so no worries about tune-ups or pull-cords.
This snow blower features a steel augur and is equipped with four heavy-duty rubber-tipped blades. If you have a lot of snow or a tall snowbank to deal with, this is the snowblower for you. You can clear off over 25 tons of snow each hour with this machine. It goes thirteen inches deep in just a single pass and will therefore have your driveway and walkway clean in no time at all.
The chute is adjustable and can rotate up to 180° to ensure you're firmly in control of your actions. It is lightweight at just 35 pounds and can therefore be moved in any location whatsoever. We also loved the scraper bar it came with; this allows you clear snow right from the ground without fear of causing havoc to your yard. The installed LED headlights ensure you can work conveniently at any time of the day with this snowblower.
You're assured that you won't miss any spot while cleaning up or spend too much time cleaning up with this efficient heavy-duty snowblower.
---
Earthwise SN71022 Cordless Electric Snow Blower
Features: cordless, easy assemblage, comfortable handle, 22 clearing width, 14 inches depth, throws snow up to 30 feet, installed LED lights, dual-curved augur blade, thermal-protected snow shovel, and sturdy design.
This is another lightweight snow blower you can add to your home. It doesn't look like it can do much, but you would be surprised by the amount of power it packs. Earthwise SN71022 Cordless Electric Snow Blower can throw up to 800lbs of snow in a minute and therefore works as well as a gas-powered snowblower. This snow blower will clean up your yard in a jiffy.
It comes with about a 14-amp motor and is cordless, so you can use it to clear up long driveways without fear of it being disconnected. This snow blower features a snow shovel with 6 inches rear wheel; this allows you to transport it around your home very easily. There is an auxiliary handle for easy maneuvering, a chord retention hook, and thermal protection to ensure the shovel doesn't get rusted.
Even with a cleaning depth of 12 inches, this snow blower's shovel is light enough to clear up thicker snow. It does this by throwing the snow in layers. Since it is powered by electricity, there is no need for oil or gas before your snow blower can function adequately. This is a snowblower that is ideal for medium and light snow throwing tasks.
---
Sale
GreenWorks 2600502 Corded Snow Thrower
Features: 13 amp motor, adjustable chute, 7 inches wheel for easy mobility, durable, no maintenance needed, 20 inches clearing width, 10inches cleaning depth, push-button for easy operation, and lightweight design.
This is a great snowblower that offers a 13 amp motor. It is a great choice for anyone who's looking for the right snow blower for their small walkway. It can save you time and back-breaking stress. GreenWorks 2600502 Corded Snow Thrower is a great alternative to gas-powered snow blowers and is very easy to operate.
It comes with an adjustable chute for easy maneuverability and is lightweight for easy transportation. Additionally, it has a 20 inches clearing width and 10 inches of cleaning depth; this makes it ideal for residential snow cleanup. Although it is not ideal for commercial use or large driveways, it features a powerful engine that makes it fast and efficient.
This GreenWorks snow blower can throw snow up to 20 inches and comes with 7 inches wheel that makes it so much easier to move around. It also features a compact handle for easy usage when cleaning up snow and to ensure easy steering.
---
Sale
Snow Joe Cordless Snow Blower
Features: 48-volt power, adjustable chute, installed LED headlights, 18 inches clearing width, 10 inches cleaning depth, battery-powered, throws snow up to 20ft away, safety switch, 4-blade rubber-tipped steel augur, and sturdy design.
Another masterpiece from Snow Joe that can clean up your driveway in no time at all is the Snow Joe Cordless Snow Blower. It comes with long-lasting battery power, so users do not have to worry about cors getting in the way. Based on its design features, it can clear snow about 18 inches wide and 10 inches deep.
This snow blower can blow up to 14 tons of snow with every charge and, therefore, throws up 700lbs of snow per minute. The adjustable chute allows you to throw snow about 20 feet away from your position. There are also installed LED lights to ensure you can also clean out your driveway conveniently when it gets dark.
Other features of this snow blower include a 4-blade durable rubber-tipped steel auger and a scraper bar, which also ensures you can effectively clean your driveway or deck without fear of causing damage to the surface. You'll also find a safety switch to ensure the snowblower doesn't turn on accidentally.
---
Sale
GreenWorks PRO Cordless Snow Thrower
Features: Battery-powered, 80V motor, quiet operation, easy assemblage, maintenance-free motor, adjustable chute, 20 inches clearing width and 10 inches clearing depth, installed LED lights, and durable design.
The GreenWorks PRO Cordless Snow Thrower is battery-powered, although it doesn't come with a battery. Users are provided with the highest voltage available in the industry, which is 80V. This makes this GreenWorks snowblower a heavy-duty snowblower. The battery can run for a long time, and it is fast in cleaning up the driveway.
It is cordless and, therefore, can be easily used in long driveways and walkways. It comes with about 20-inches of clearing width and about 10-inches of clearing depth. This ensures that your driveways get cleaned up, no matter the thickness. This snow blower also comes with LED lights, which allows you safely and conveniently work at nighttime. It is easy to set up, and its compact design allows for easy storage when not in use.
The overall build quality of this snow thrower is good when compared to other models in the same price range. There's also nothing special about it.
---
FAQS – Snowblowers
How long can a snowblower last? A snow blower can last as long as 15 to 20 years, depending on the quality and maintenance level it receives.
What differentiates a snowblower from a snow thrower? A snow thrower is single-stage; it picks up the snow and throws it out in one motion, while a snowblower is usually a two-stage snow removal machine.
How deep does the snow need for you to use a snow blower? You can choose to use a snowblower if the snow is about 6 to 9 inches deep. Even the strongest snow blowers struggle when the snow is more than 16 inches deep.
Do I need a snow blower? If you live in areas where there are several feet of snow to deal with every wintertime, then a snow blower is an investment you will enjoy for many years.
---
Final Thoughts
If you have to deal with heavy snowfall every year during the wintertime or you're simply looking for easier ways to clean up your pavement or driveway, a snowblower would be the best choice for you. With the right snow blower, you don't have to struggle with cleaning up snow from your home, and it will save you time. Deciding which snowblower to settle for can be really hard, but we've narrowed down the list for you as well as provided a buying guide to help you with the shopping process.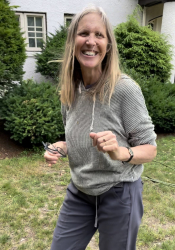 Latest posts by Jessica Zander
(see all)
Hello! I'm Jessica Zander, a garden coach and consultant based in the Boston area (zone 6b), offering virtual consultations across the country and Canada.
I've been passionate about gardening since the early 1990s, and in 2022, I launched You Can Do It Gardening to empower individuals to feel more confident in their gardening endeavors.
Following a 30-year career in nonprofit finance and operations, I transitioned out of that field in mid-June of 2023 due to the growing demand for coaching services. Interestingly, my years of presenting financial statements to boards and finance committees proved to be valuable experience for teaching people about gardening! I enjoy sharing skills, providing guidance and suggestions, and collaborating efficiently with clients to make significant improvements to their outdoor spaces, both small and large. I also regularly teach at the Arlington Continuing Education and Cambridge Adult Education.
My approach is direct and practical, akin to Mary Poppins, but tailored to your garden. Clients find satisfaction in saving money and taking pride in their own gardening achievements.