Grow bags are an amazing alternative to carrying out planting practices as they help in overcoming the challenges that come with the lack of space for planting.
The varying sizes in which grow bags come also breaks the limits on how small or big a plant you can plant.
For most of us that have used grow bags, you'll agree with me when I say that the smaller the bags, the more limited the type of plants you can grow inside them. Even John thinks so.
Grow bag manufacturers offer a lot of choices for buyers, thanks to the plethora of grow bag sizes available. Chief amongst the popular grow bag sizes are the 5 and 10-gallon bags.
In this piece, I pointed out a few reasons why you should take a look at the 10-gallon grow bags. Again, I also shared Ross's thoughts on grow Bags.
---
Ross Raddi is a gardener at Growing Fruits. He shares tips, experiences, and ideas on his YouTube channel. Here is one of his videos on grow bags.
---
Here are the reasons to use a 10 gallon grow bag!
It permits mobility.
They're an in-between size
They are inexpensive.
They are reusable.
Easy storage.
---
#1. Mobility
Moving a 10 gallon grow bag around is much easier than moving a 20 gallon-sized grow bag. Perhaps a need to alter the arrangement of the plants in your garden may pop up, having this size of grow bag does come in handy.
#2. They're an in-between size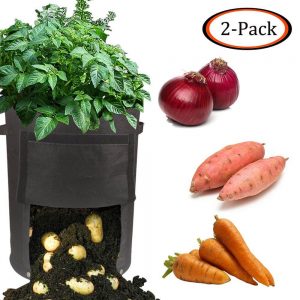 What this means is they can be considered to be the right size for a wide range of plants. Though some plants are better suited for smaller sized grow bags, multiple smaller plants can be grown in a 10 gallon grow bag.
For clarity's sake, it saves more time and energy to move two 10 gallon grow bags—each of them holding, maybe, 4 small plants —from one area to another than moving several 1 gallon grow bags in multiple journeys.
Also, it serves to create an order. Its size allows you to be able to grow a group of the same plants in the same bag instead of having them grow in separate bags.
#3. They are inexpensive
Creating a garden where there is none is made a lot easier if little money and time are involved. Grow bags tend to make gardening a lot less expensive than most people think. All that is to be done is top it up with soil, and place the bags in a place where sunlight and other requirements for plant growth are available.
#4. They are reusable  
Using grow bags once before doesn't mean you can't reuse them once you're done growing a plant. The fabric from which they're made is durable enough to ensure that they don't get destroyed as a result of being in close contact with soil and water and that they can be used several times.
However, you must take care not to damage the bags or handle them roughly, you can be sure you don't have to buy a new bag once your plant has completed its life cycle.
#5. Easy storage
As I earlier mentioned, the fabric materials used in making grow bags makes them durable enough to hold soil and plant. In terms of storage, the grow bag material is easy to fold when not in use. Again, you can make special storage arrangements for your plants in these grow bags.
That is not to say that grow bags of other sizes can't be used, but 10-gallon grow bags fall in the range of bag sizes that make gardening less stressful should a need for change come up.